Adventure bikes have gained immense popularity among riders looking for versatility and long-distance capability, with the added advantage of getting off the paved road whenever possible. While these motorcycles undoubtedly excel off-road, many models are also built to tackle the open road with ease – the so-called mellowed-down versions of the more spontaneous adventure bikes.
Google Ads
In this article, we will explore 10 such adventure bikes that are specifically designed for highway riding. That means most of these models feature alloy wheels as opposed to spoke, slightly less suspension travel, smaller wheels compared to the big 21 inches in the front and so on. Whether you're planning a cross-country trip or seeking a comfortable and powerful machine for your road commute, these bikes may just what you're looking for.
Related: 10 Best Adventure Bikes For Riding Off-Road
10
Pan America 1250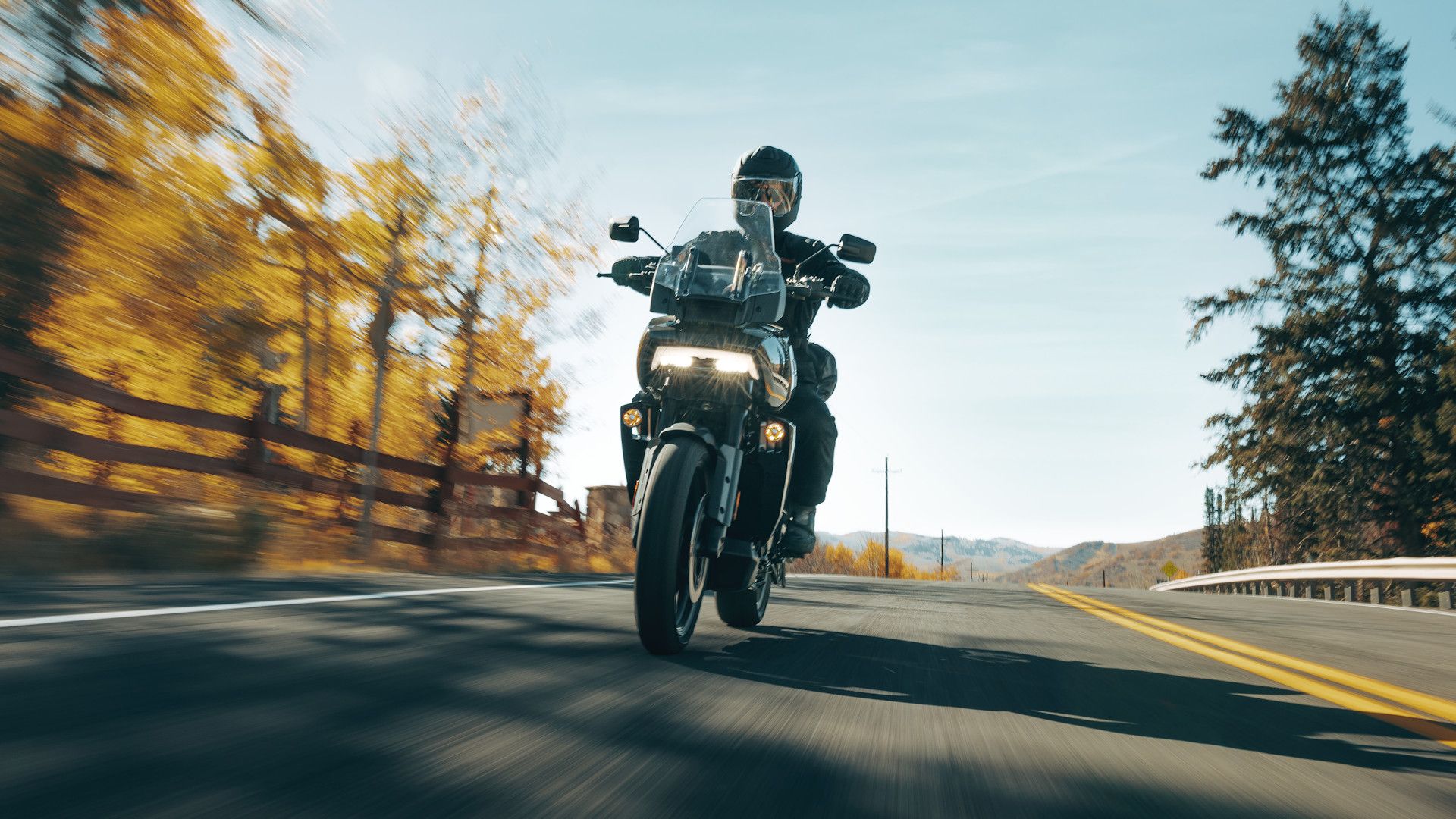 Vivid Black 2023 Harley-Davidson Pan America 1250 head-on shot riding on the road
Harley-Davidson's entry into the adventure bike segment, the Pan America 1250, brings its iconic brand heritage to the highway. Equipped with a robust 1250cc Revolution Max engine, the Pan America delivers 150 horses, more than you'll definitely need. Then there's the presence of your usual adjustable suspension and 5 pre-programmed ride modes. Then you can also choose to get the 'Great Escape' accessories package that gets you all the necessary luggage options for touring. With the Pan America 1250, Harley-Davidson has a formidable choice for riders seeking a highway-ready adventure machine.
Pros
A powerful and torquey engine
Well-designed wind protection and fairings
Versatile enough for both highway cruising and off-road adventures
Cons
Heavy
Limited color options
At this price point, it's tough to beat the more established BMW and Triumph
9
BMW F 750 GS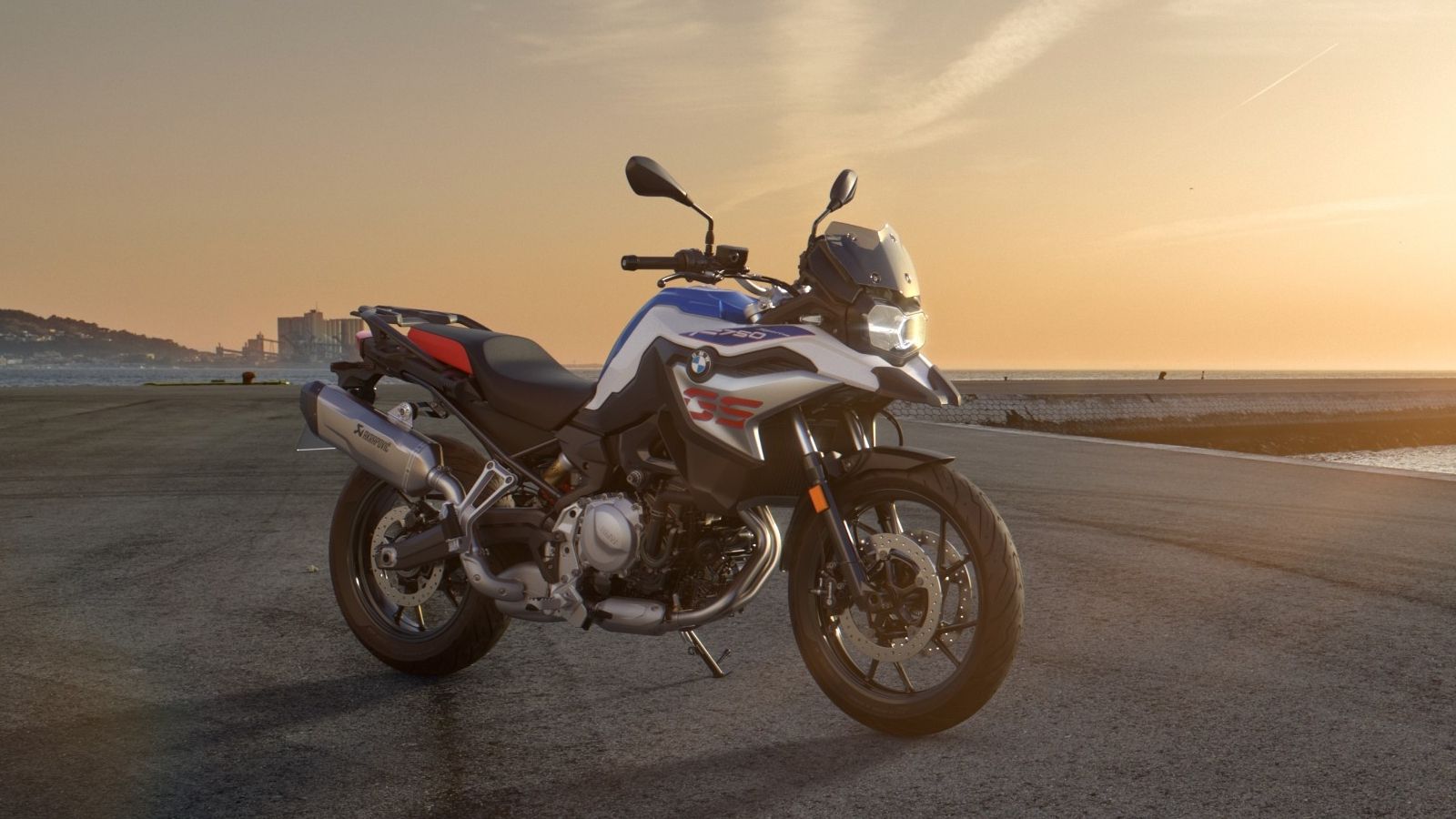 BMW 750GS static right side profile
Google Ads
For those aspiring for a lighter, more agile option among the road-ready adventure motorcycles, the BMW F 750 GS strikes a perfect balance between agility and long-distance touring capabilities. With its 853cc parallel-twin mill, the F 750 GS offers 77 horsepower and 61 pound-feet of torque, all with impressive fuel efficiency. This is something mile munchers will appreciate. Its compact and nimble nature makes it an ideal choice for riders navigating crowded highways. If we might say so, this might be a better pick for 80% of riders out there, simply because the heft of the bigger ADVs is simply unnecessary.
Pros
Nimble and agile handling
Fuel-efficient engine
A more practical option for most riders
Cons
Smaller engine displacement may not provide the same level of power
Fewer color options
Less advanced technology and rider aids compared to higher-end BMW models
8
Kawasaki Versys 1000 LT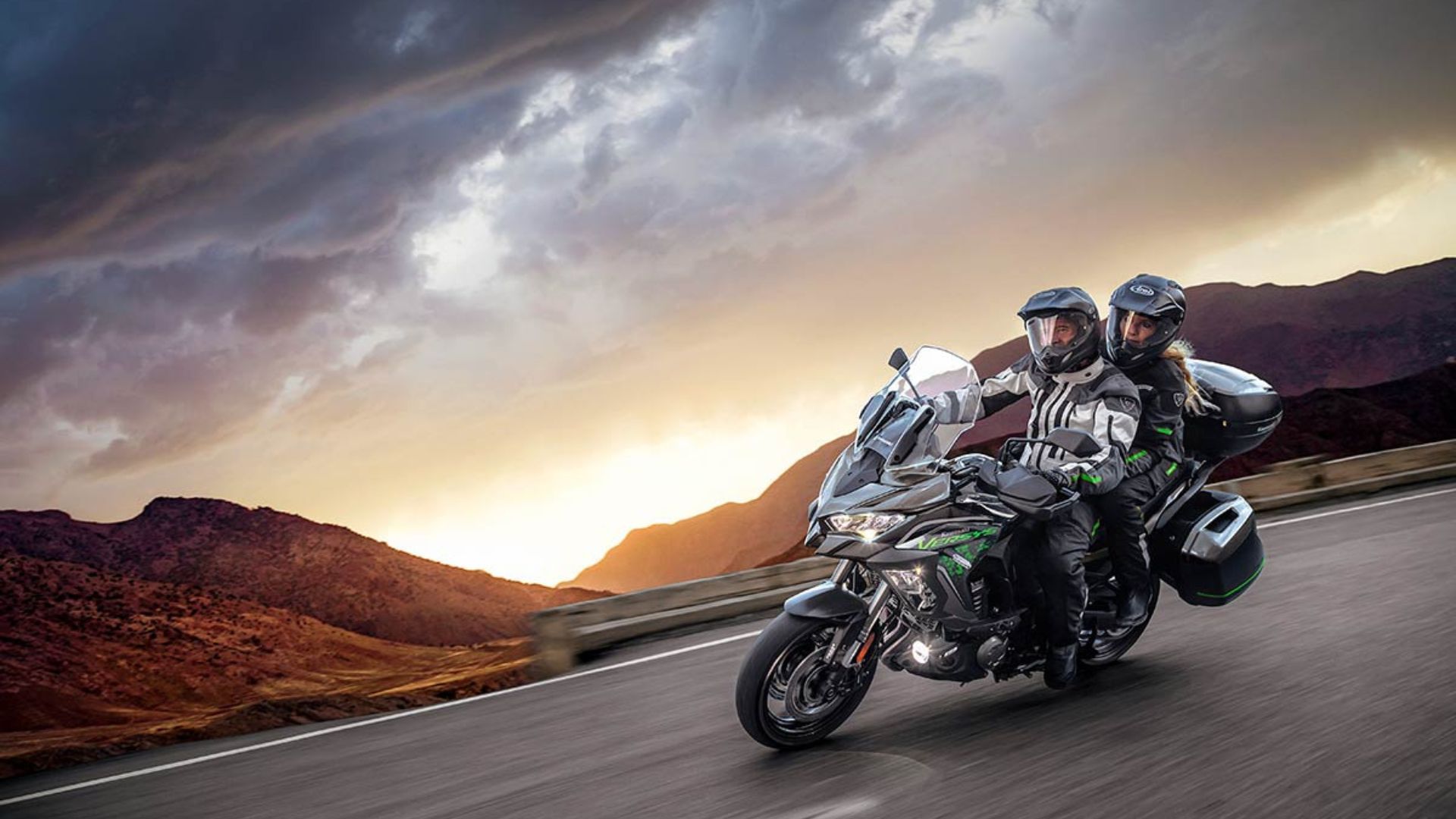 Kawasaki's Versys 1000 LT is a true highway-focused adventure bike that offers a smooth and comfortable ride. It might as well foray into the tourer segment as much, meaning it might as well prove to be the ideal road-focused motorcycle on this list.
Powering the big Versys is a 1043cc inline-four mill – perfect for strong acceleration and ample power for highway cruising. The Versys features a spacious riding position, excellent wind protection, and an adjustable windshield for customizable comfort. With integrated saddlebags and a top case, it offers ample storage for your touring adventures.
Pros
Smooth and powerful inline-four
Comfortable riding stance
Generous storage capacity with integrated saddlebags and top case
Cons
It is a big bike – may not be for everyone
Limited off-road capabilities compared to others on this list
Does not match the C14 Concours/GTR load ability
7
Suzuki V-Strom 1050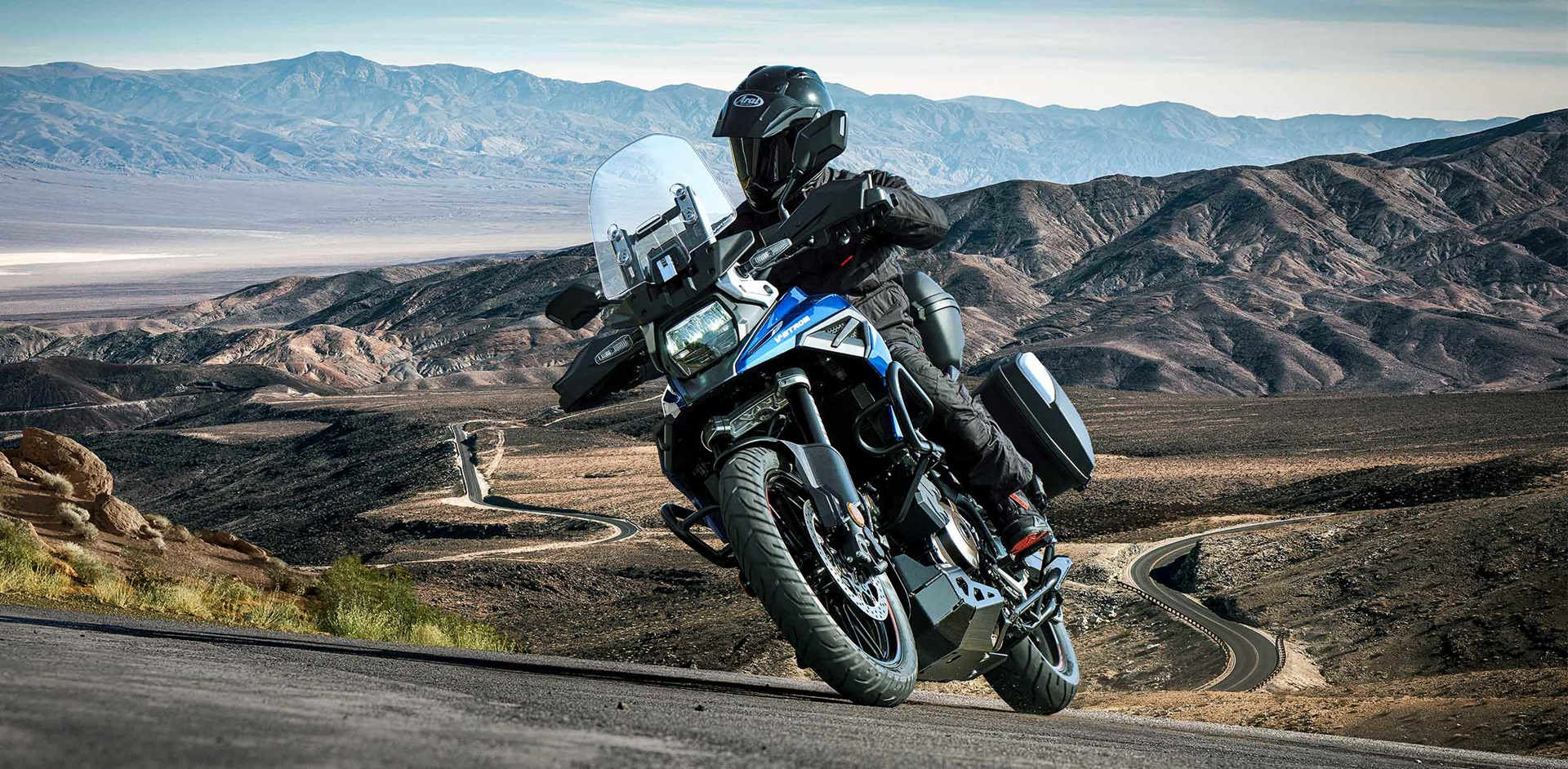 Suzuki V-Strom 1050 on the road with mountain range in background
Suzuki's biggest V-Strom has a subdued trim that is a versatile and capable road option for those who want something different from your usual BMWs and Triumphs. As for the design, Suzuki's classic rally-beak appearance is retained on the V-Strom, paying respect to previous Suzuki Dakar Rally bikes.
Being a Suzuki, it has the potential to be your only bike for years to come. With its reliable performance and accessible price point, the V-Strom 1050 is our recommendation for more price-sensitive buyers.
Pros
Strong V-twin engine with long-term reliability
Comfortable riding position
Competitive pricing compared to other adventure bikes
Cons
Limited color options
Taller riders may feel cramped
Potential vibration at higher speeds due to the V-twin engine configuration
Related: Better Than Ever: 2023 Suzuki V-Strom 1050 Range Debuts With Significant Upgrades
6
KTM 1290 Super Adventure S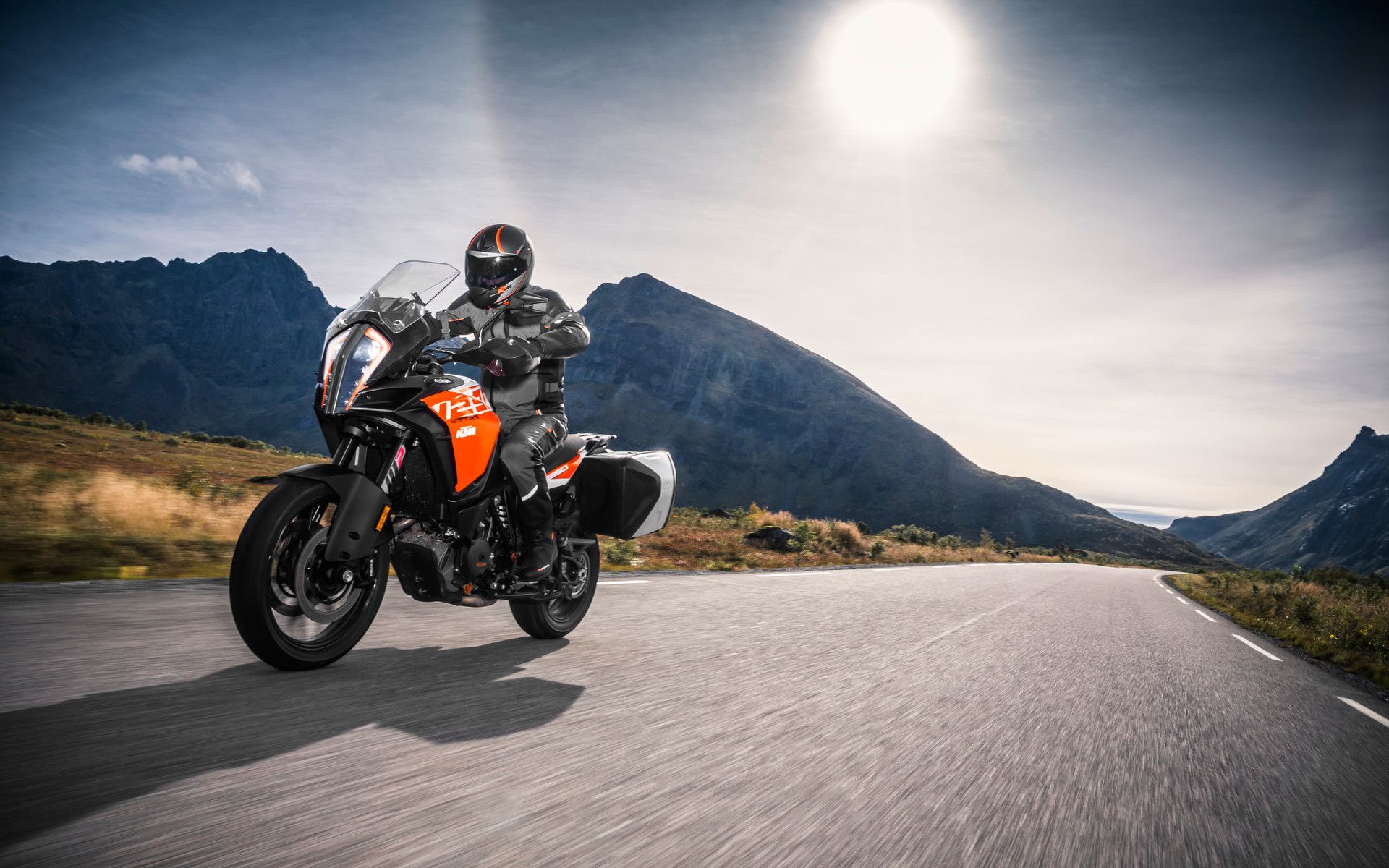 KTM 1290 Super Adventure S riding right to left
The KTM 1290 Super Adventure S is a high-performance adventure bike and has the advantage of being one of the new kids on the block. Its 1301cc V-twin engine delivers 160 horses and 102 pound-feet of peak torque – impressive figures allowing for thrilling highway overtakes. The Super Adventure S features advanced suspension, multiple riding modes, and a comprehensive suite of electronic rider aids for optimal performance and safety. It comes with aggressive styling and sport-oriented features, so it will appeal to riders seeking a sport-focused adventure machine with a touch of adrenaline.
Pros
Powerful V-twin engine
A great, plush suspension setup
Sporty design and performance-oriented features
Cons
We would rather pick the more versatile 890 over this
Somehow too heavy to be a KTM
Potential higher maintenance and servicing costs
5
Honda NC750X DCT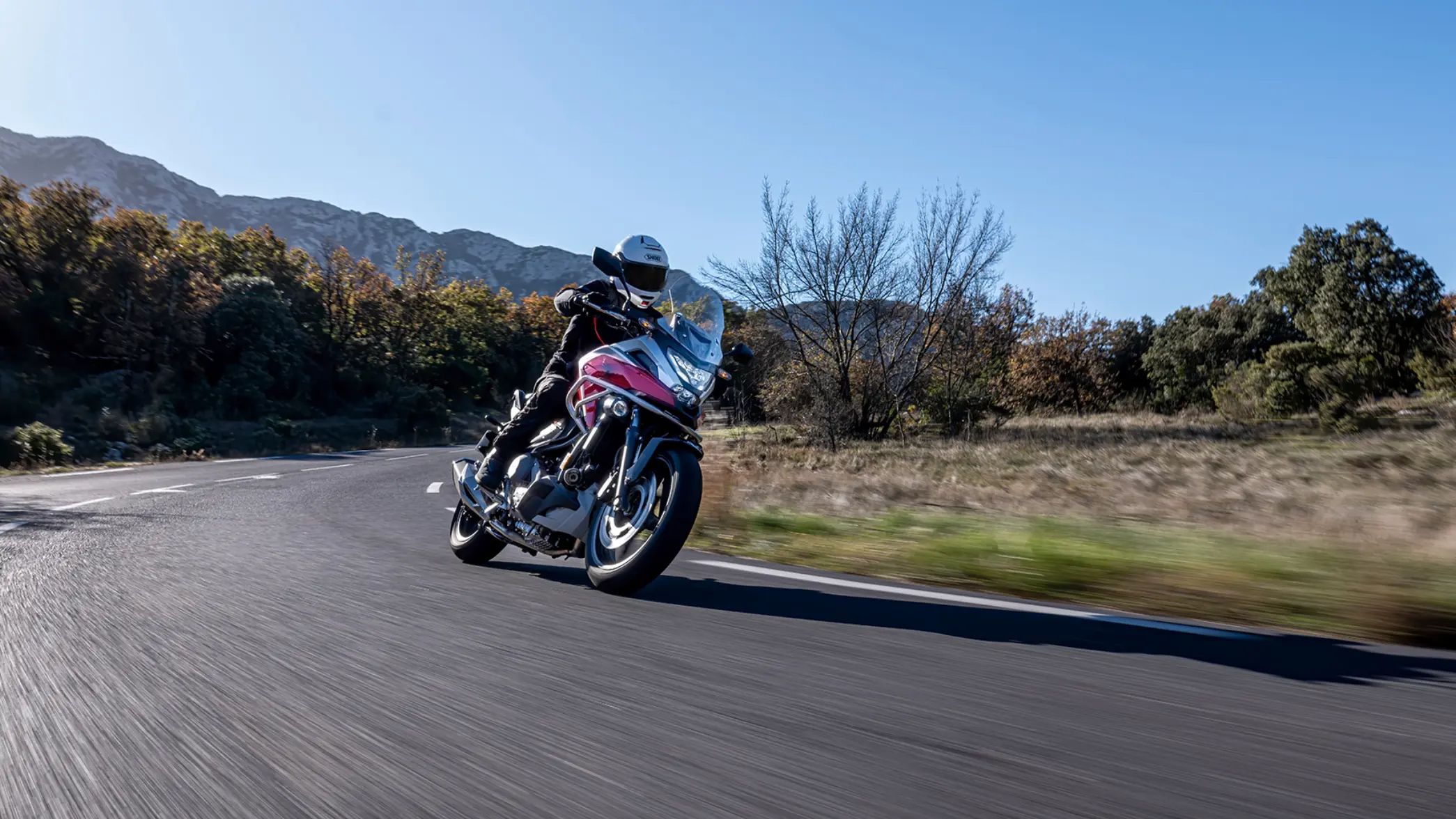 A red Honda NC750X DCT cornering on a paved road
The Honda NC750X DCT combines practicality and efficiency with a focus on highway riding. Its 745cc parallel-twin engine provides a smooth power delivery, something Honda engines do quite capably, while the Dual Clutch Transmission (DCT) offers seamless gear changes for a stress-free riding experience. The NC750X DCT features a large fuel tank, excellent fuel economy, and a comfortable riding position, making it another great choice for long highway journeys.
Pros
Efficient and user-friendly Dual Clutch Transmission (DCT)
Large fuel tank and excellent fuel economy
Spacious storage compartment
Cons
May not satisfy riders seeking high-performance highway riding
Limited off-road capabilities
Less advanced technology and rider aids
4
CF Moto Ibex 800 S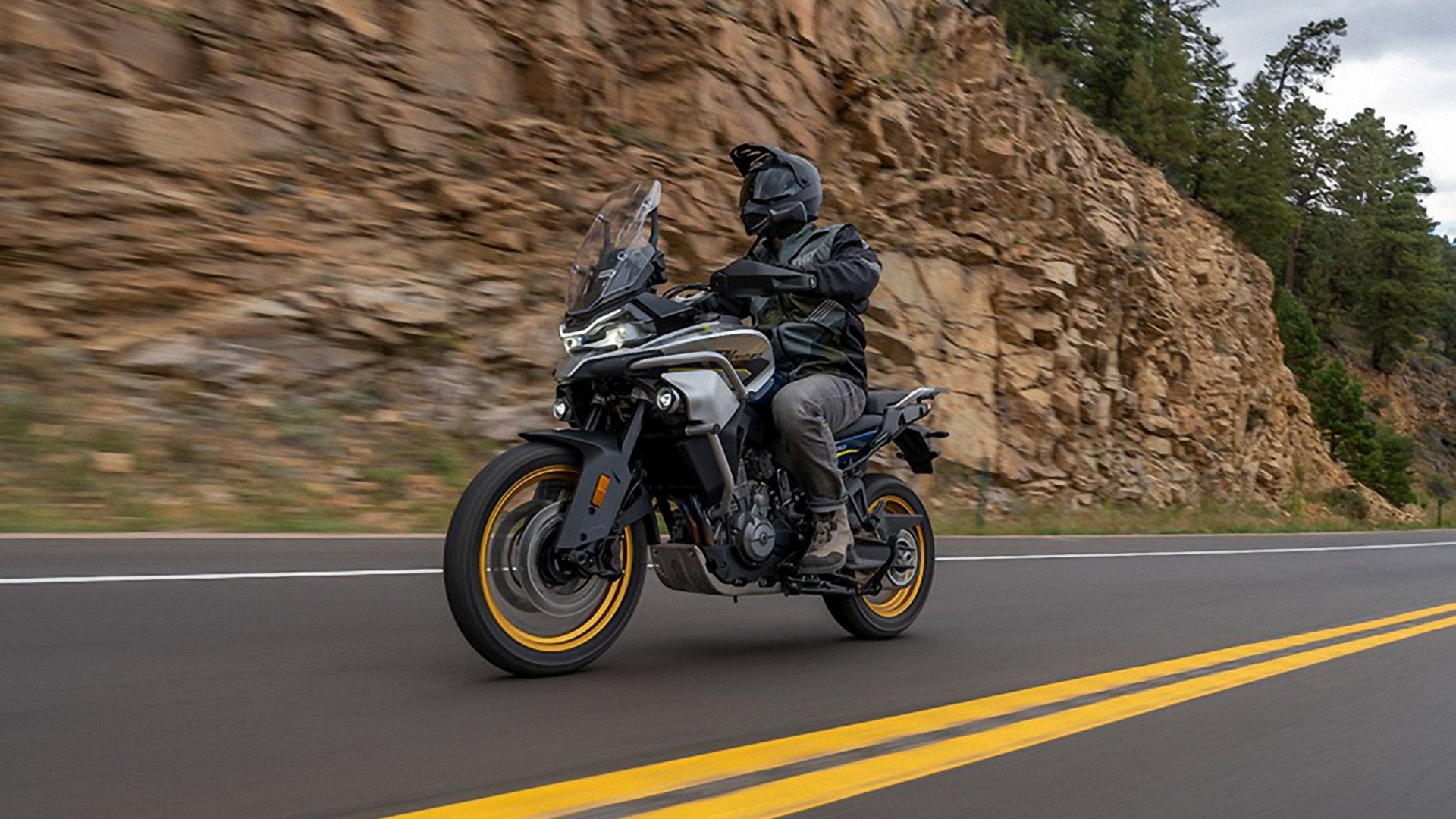 The CFMoto Ibex 800 is a capable adventure bike by the Chinese manufacturer. Its 'S' trim has smaller wheels, alloys and a tiny bit less travel, but it retains all the good things from its adventure-focused twin. A 800cc parallel-twin engine offers smooth power delivery and ample torque. Among the middleweight options on this list, the Ibex makes a tall claim of being the best in its class. With its affordable price point and versatile performance, the Ibex 800 S is a compelling option for riders seeking a highway-ready adventure machine on a budget.
Pros
Affordable price point
Capable performance for both highway cruising and off-road adventures
Eye-catching design and aggressive styling
Cons
Buyers may stay away due to its Chinese origins
Limited aftermarket support
Potential concerns about long-term reliability and durability
Related: 2023 CFMoto Ibex 800 Hits American Shores To Stir Up The ADV Segment
3
Ducati Multistrada V4 S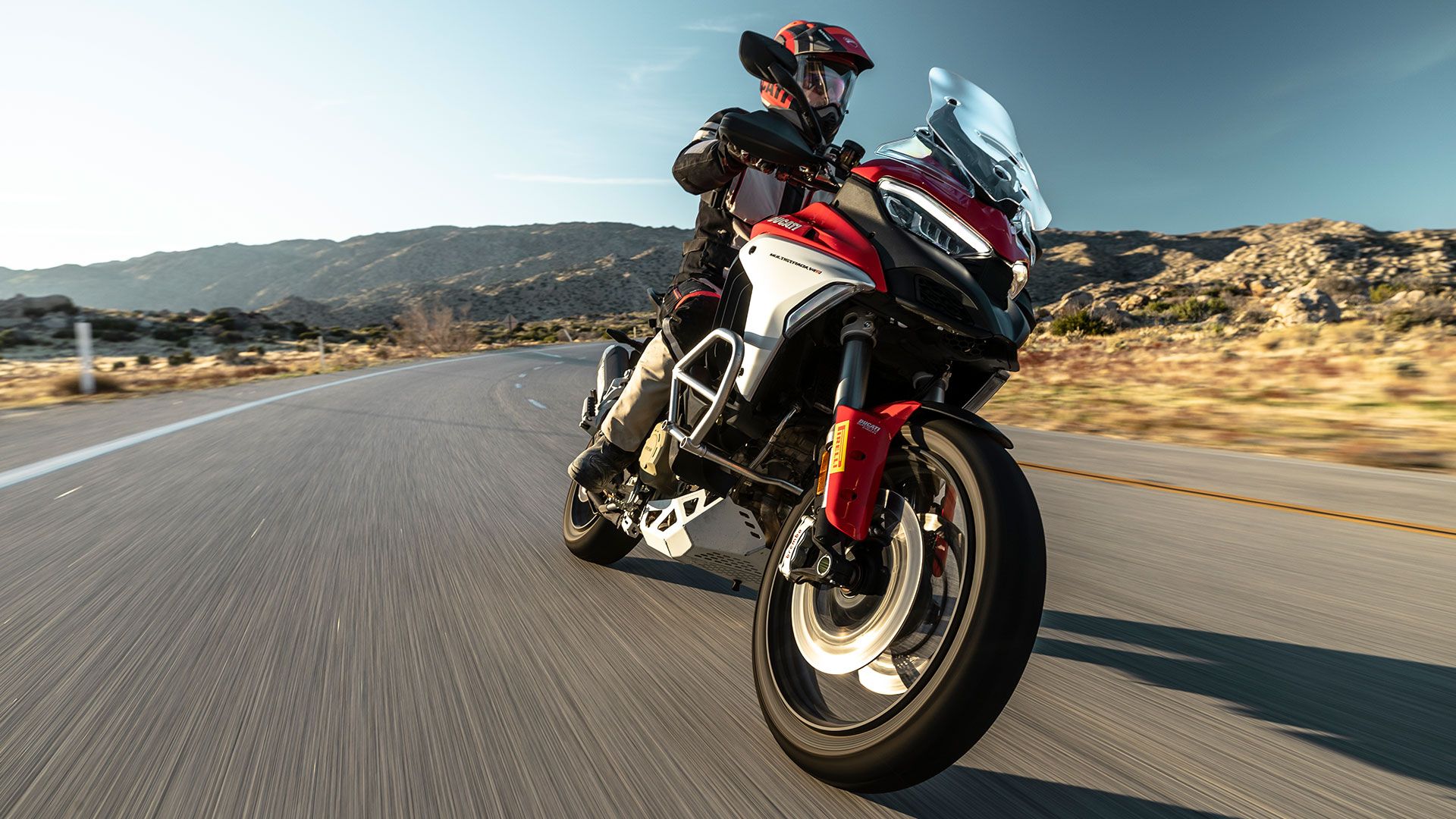 Ducati Multistrada V4S cruising on a highway
The Ducati Multistrada V4 S is the motorcycle to go for, for those aspiring for a premium road-focused touring bike designed for comfortable highway performance. Equipped with a 170-horsepower V4 engine, it offers exhilarating acceleration and power for dynamic highway rides. If acceleration gets you going, the Strada might just be your poison. The V4 S features state-of-the-art electronic suspension, multiple riding modes, and your usual rider aids. With its sporty and aggressive styling, the Multistrada V4 S stands out as one of the best-designed motorcycles ever!
Pros
Powerful V4 engine
The Ducati red!
Striking design language
Cons
Pricey
Limited color options (The Ducati red!)
Potential higher maintenance and servicing costs compared to some competitors
2
BMW R 1250 GS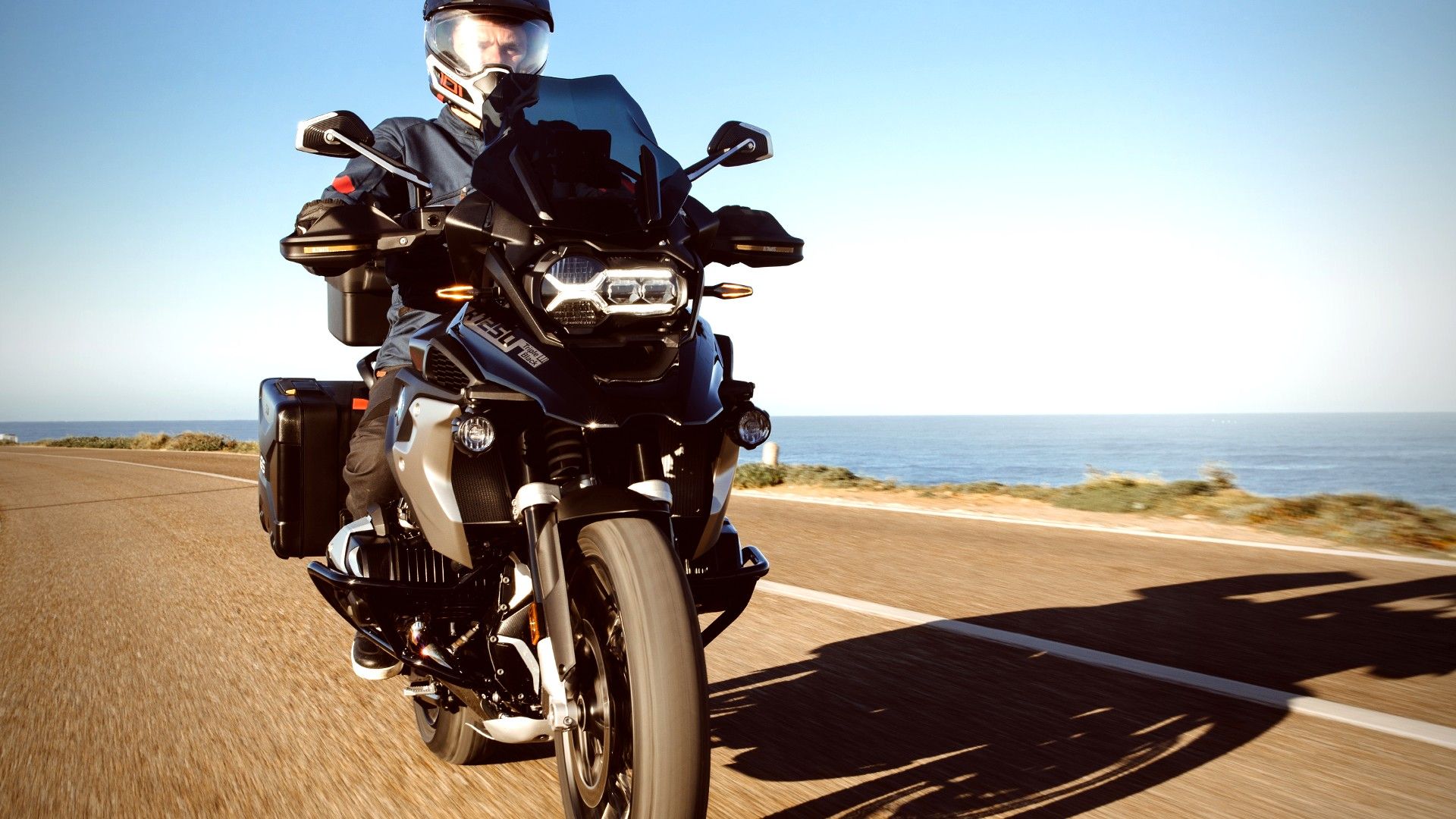 The Ultimate Edition could be the last hurrah for the R 1250 GS
A legendary adventure bike that has set the standard in the industry – say hello to the R 1250 GS. The GS along with the Triumph Tiger are the best adventure motorcycles money can buy in this day. With a refined Boxer engine and innovative technology, the GS excels on both highways and rough terrain. We really like its comfortable riding position, which makes long-distance rides a breeze. The advanced suspension together with the optional Dynamic ESA helps adapts to diverse road conditions. So do not worry about uncertainties when you're on the GS.
Pros
The Boxer engine has excellent low-end torque
A comfortable and adjustable riding position
Adaptive cornering headlight
Cons
Comes with a hefty price tag
Not the easiest to maneuver in traffic
An
updated 1300cc GS
is in the works
1
Triumph Tiger 1200 GT Pro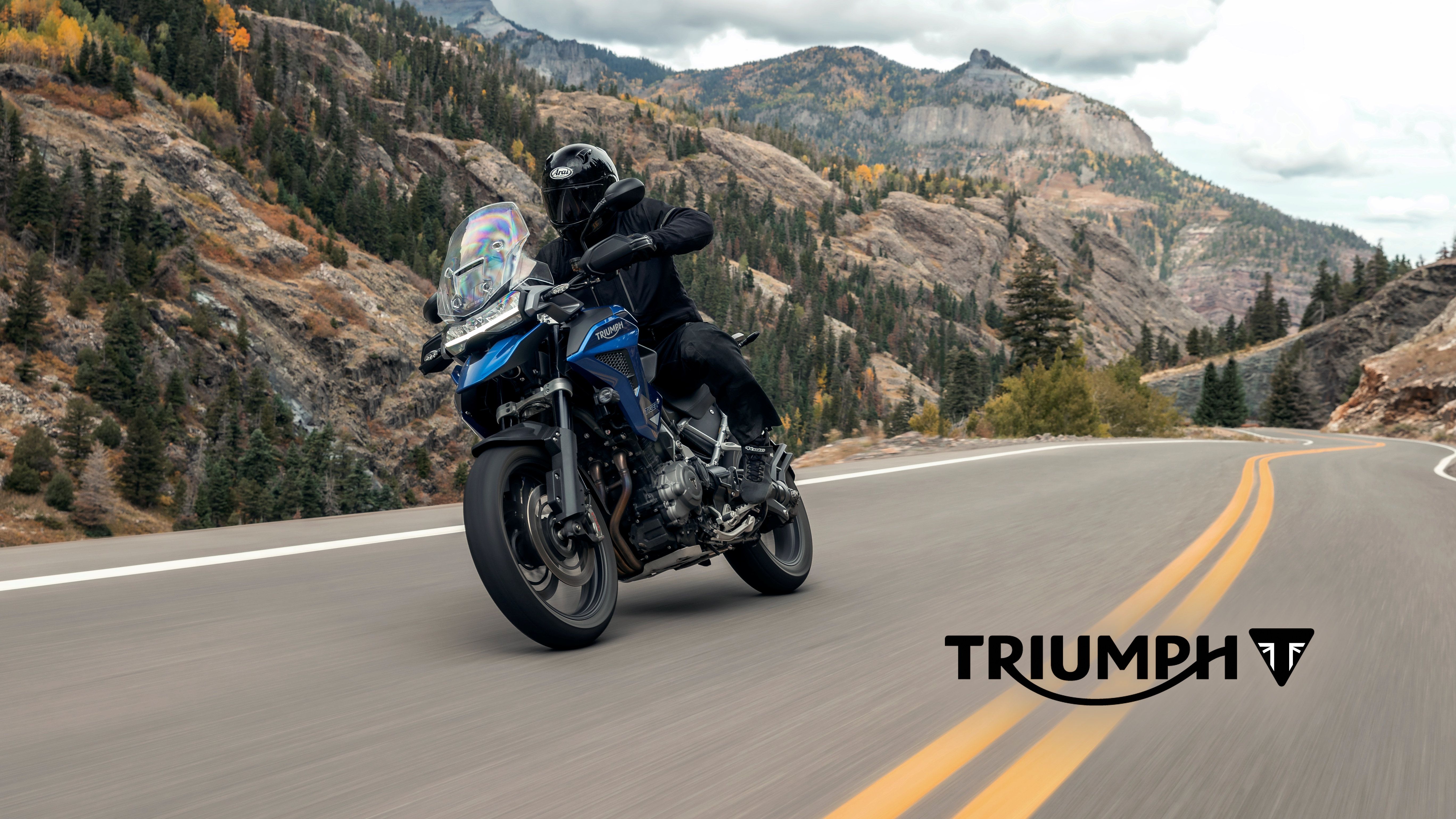 Triumph Tiger 1200 GT & GT Pro riding right to left
The Triumph Tiger 1200 GT Pro is a top-tier adventure bike that effortlessly combines luxury with high-performance ride quality. Its off-road-oriented Rally Trim is considered among the best adventure motorcycles out there, so we're sure you cannot go wrong with the subdued GT trim as well.
Its powerful 1160cc triple engine provides ample torque, that will allow for easy overtaking and smooth cruising on the tarmac. The GT Pro offers excellent wind protection, thanks to its adjustable windshield and aerodynamic fairings. With advanced rider aids, including electronic suspension, multiple riding modes, and cruise control, the Tiger ensures one of the most comfortable experiences on the highway that an ADV can provide.
Pros
Comfortable ride quality
Powerful triple engine with ample torque
The presence of ample electronic rider aids
Cons
Heavy
Comparatively more expensive than other models in its class
Can seem intimidating to shorter, newer riders
Google Ads