Enduro motorcycles look a lot like dirt bikes. That's because they are. However, there are a few small differences that make them more suitable for enduro duties. You see, enduro, and especially hard enduro routes will challenge bike and rider to the limit and beyond.
Google Ads
There is no predetermined track to optimize the motorcycle for. Therefore, you require some characteristics that will help on a hard enduro ride. Light weight is crucial because you're going to drop the motorcycle a lot, which is why two-strokes are still popular. Not only are they light, they also offer better power to weight ratio. Next up: smooth fueling and a broad powerband, because you don't know what you're going to encounter from one minute to the next, and you might even want to ditch the complexity of fuel injection for something that simply works, like carburetion. We've come to think of two-stroke dirt bikes as peaky demons but that simply isn't true of a two-stroke enduro machine. Enduro bikes also typically have taller gearing than their dirt bike counterparts because an aggressive setup will more often than not work against you.
Related: KTM Doubles Down On Two-Strokes By Adding EFI
10
Husqvarna FE 350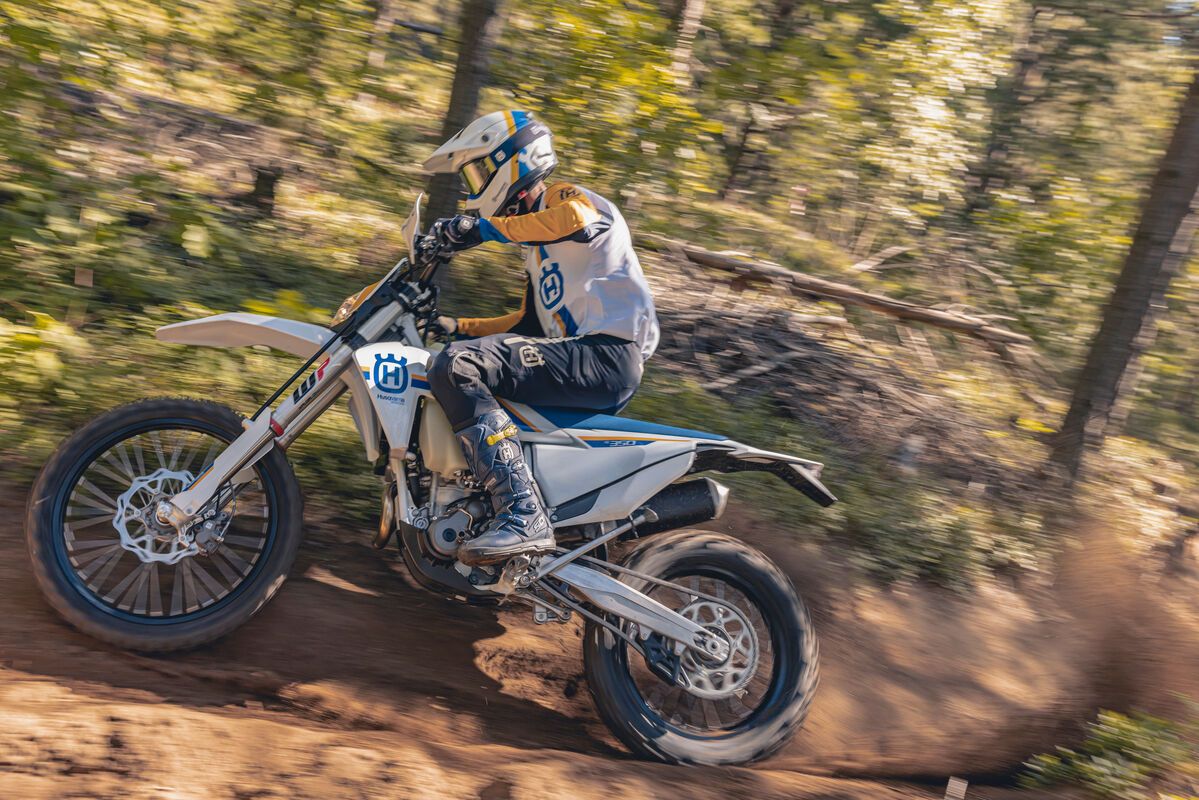 An action shot of Husqvarna FE 350 being ridden on a dirt trail
The 350cc platform is Husqvarna's most popular platform, and with good reason. These products have universal appeal, and offer something for everyone. The FE 350 is designed to be a cross-country machine, but a forgiving one. There's a mere 35 horsepower on tap, and that power is made smoothly rather than aggressively. There are Braktec brakes with GSK wave discs, WP suspension with a linkage-type rear shock, a chrome-moly-steel frame, and a carbon fiber rear subframe. Oh, and the radiator fan is standard on this one. It weighs a svelte 243 pounds, making it one of the lightest motorcycles here. All of this adds up to a light motorcycle with usable power that is extremely reliable. The FE 350 is as near perfect a first enduro machine as you could want.
Pros
Is a forgiving machine
One of the lightest
Extremely reliable
Cons
Only 35 horsepower
Might not excite advanced riders
Components aren't as good as the KTM's
9
Honda CRF450RL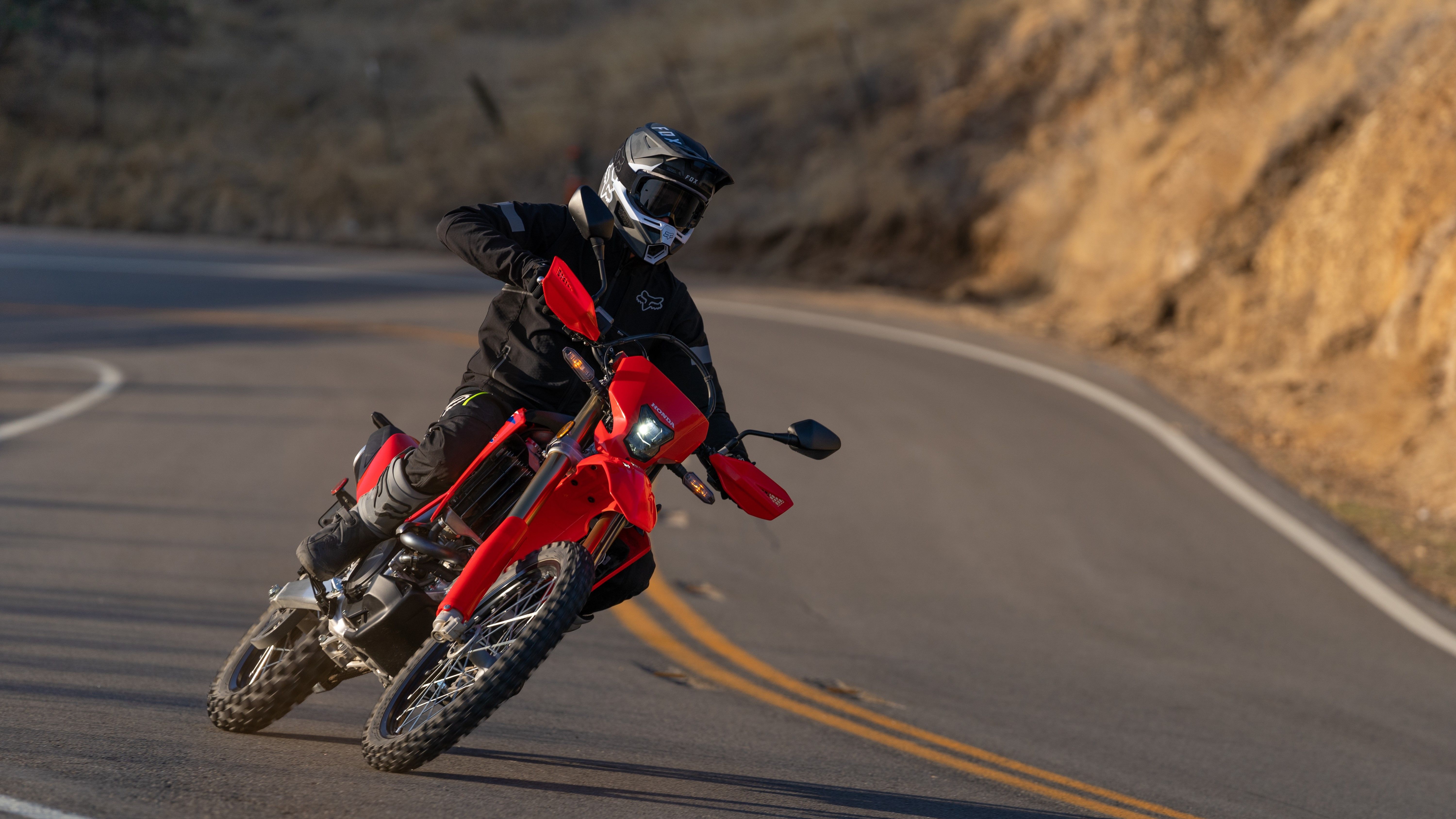 A Honda CRF 450RL cornering on a curvy mountain road
Google Ads
The CRF450RL is the street-legal version of its race-focused siblings. In fact, it is the only street-legal CRF in the entire lineup. Besides the lights, indicators and number plate mount, it has a few other changes made to make it suitable for enduro. The 450 cc engine has a less aggressive valve timing, a heavier crank, and a wide ratio gearbox. It still generates 41.7 horsepower and 23.6 lb-ft of torque, which will offer enough fun for the whole family. It is a little portly given the present company, at 291 pounds. Showa suspension with one foot of travel takes care of the terrain at both ends. The CRF450RL is for the customer who doesn't want a street-legal all-out race bike. This one is intentionally a little softer and easier to live with.
Pros
Is the only street legal CRF
Is reliable
One foot of suspension travel at both ends
Cons
Is the
only
street legal CRF
Not the most exciting one
Honda can certainly do better
8
Yamaha WR250F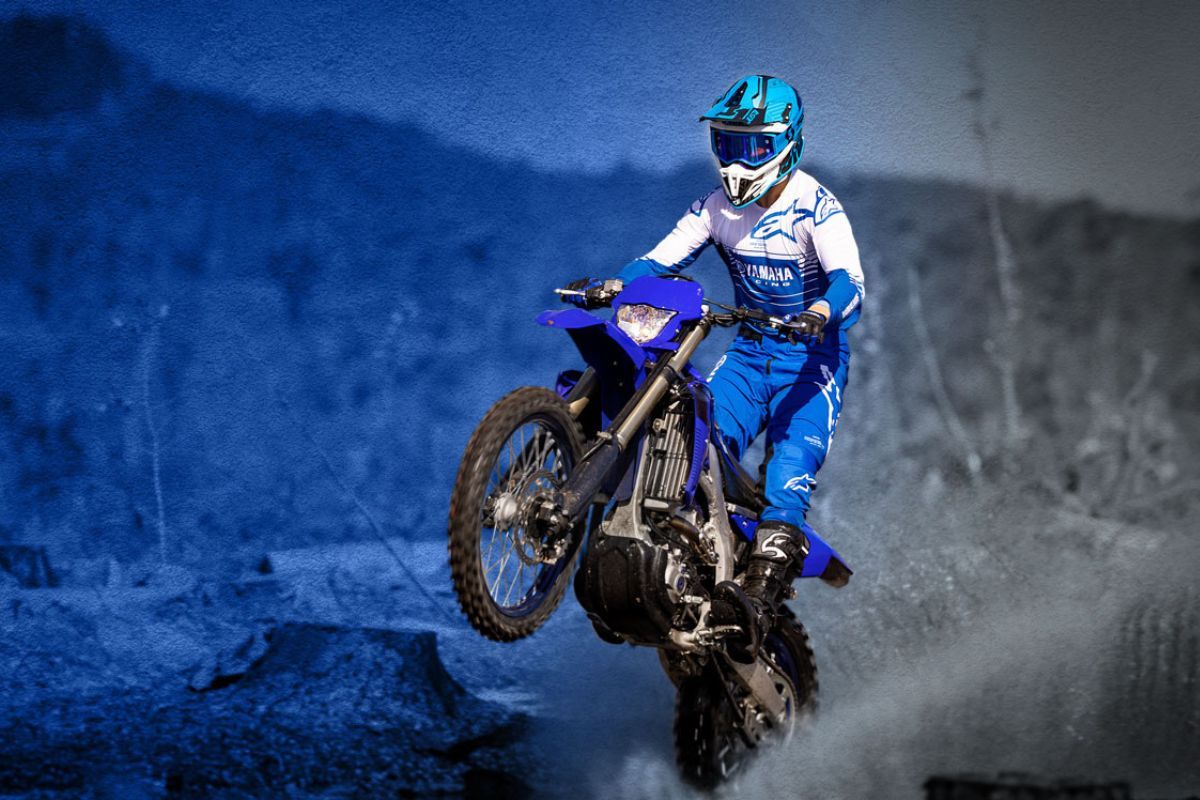 The new Yamaha WR250F doing a wheelie
The WR250F cuts no corners just because it is a 250 – it is as tall as the 300s and 450s elsewhere in this list. As such, it can be a confusing motorcycle to understand; is it for the beginner who wants a taste of the big leagues, or is it a plaything for the expert enduro rider who doesn't want to ride hell for leather all the time? Truth is, it is a little bit of both. The WR250F shares DNA from its dirt bike siblings, but tones it down with 36 horsepower and 18 lb-ft of torque, and has a kerb weight of 254 pounds. That weight is considerably lighter than the 450cc four stroke enduro machines, which is another reason why it is a better choice for a beginner.
Pros
Doesn't cut corners just because it is a 250
Considerably lighter than the 450
Universal appeal regardless of skill
Cons
Only 36 horsepower
Appeal can be confusing
Only one color available
Related: Epic Ride on Speed feat. Yamaha WR250F and WR450F
7
Yamaha WR450F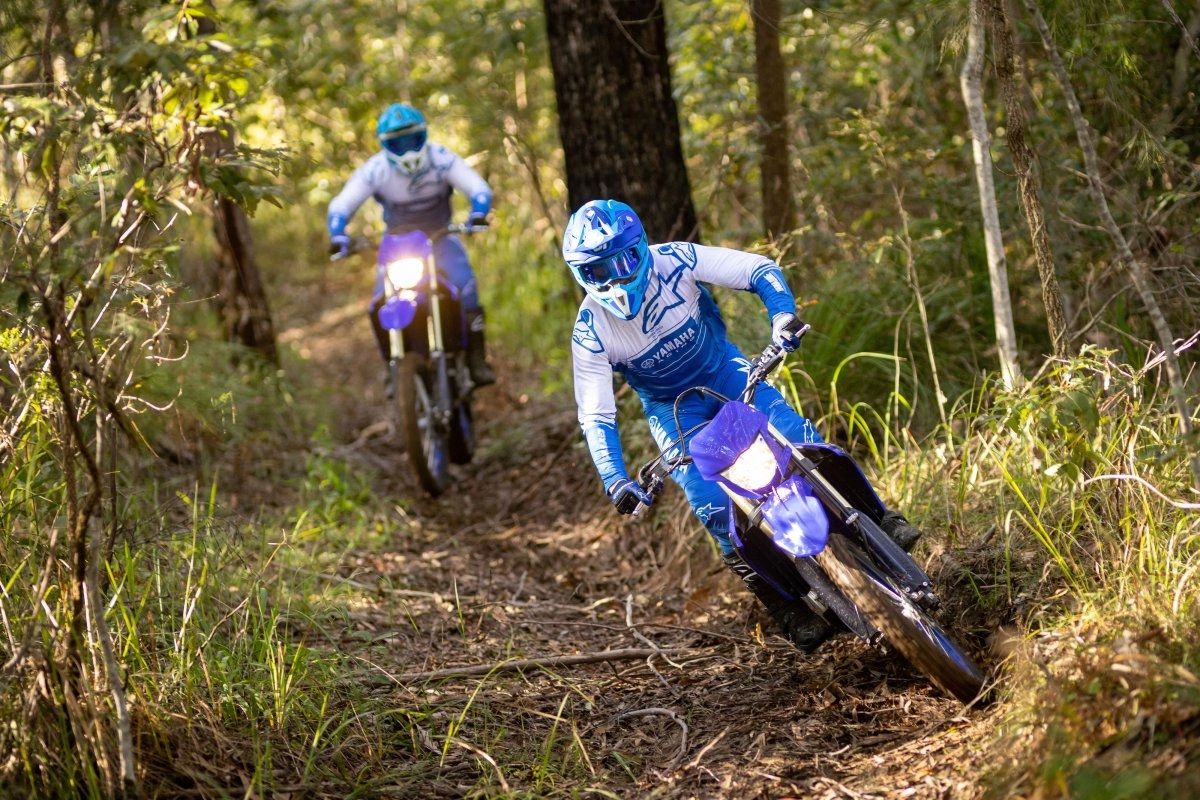 A couple of riders on a trail on a set of Yamaha WR450Fs
The WR450F is for you if the 250 is a little too little for your taste. It derives a lot from the YZ450F racer, with a few changes. The 450cc motor in the WR doesn't get titanium valves, for example. That results in an output of nearly 49 horsepower and 31.8 lb-ft of torque, and is mated to a five-speed gearbox. It is considerably lighter than the Honda CRF450RL though, at 262 pounds. It has two engine maps, a digital LCD with useful information like a fuel consumption indicator, and remote wireless engine tuning, which lets you load maps via your smartphone and Bluetooth. You can have it in any color you like – as long as it is blue. The graphics are not stickers, which is another interesting quirk about the Yamaha.
Pros
Is a 450!
Low kerb weight
Remote wireless engine tuning
Cons
Only a five speed
Only one color available
Needs to outdo the 250cc sibling comprehensively
6
KTM 450 XCF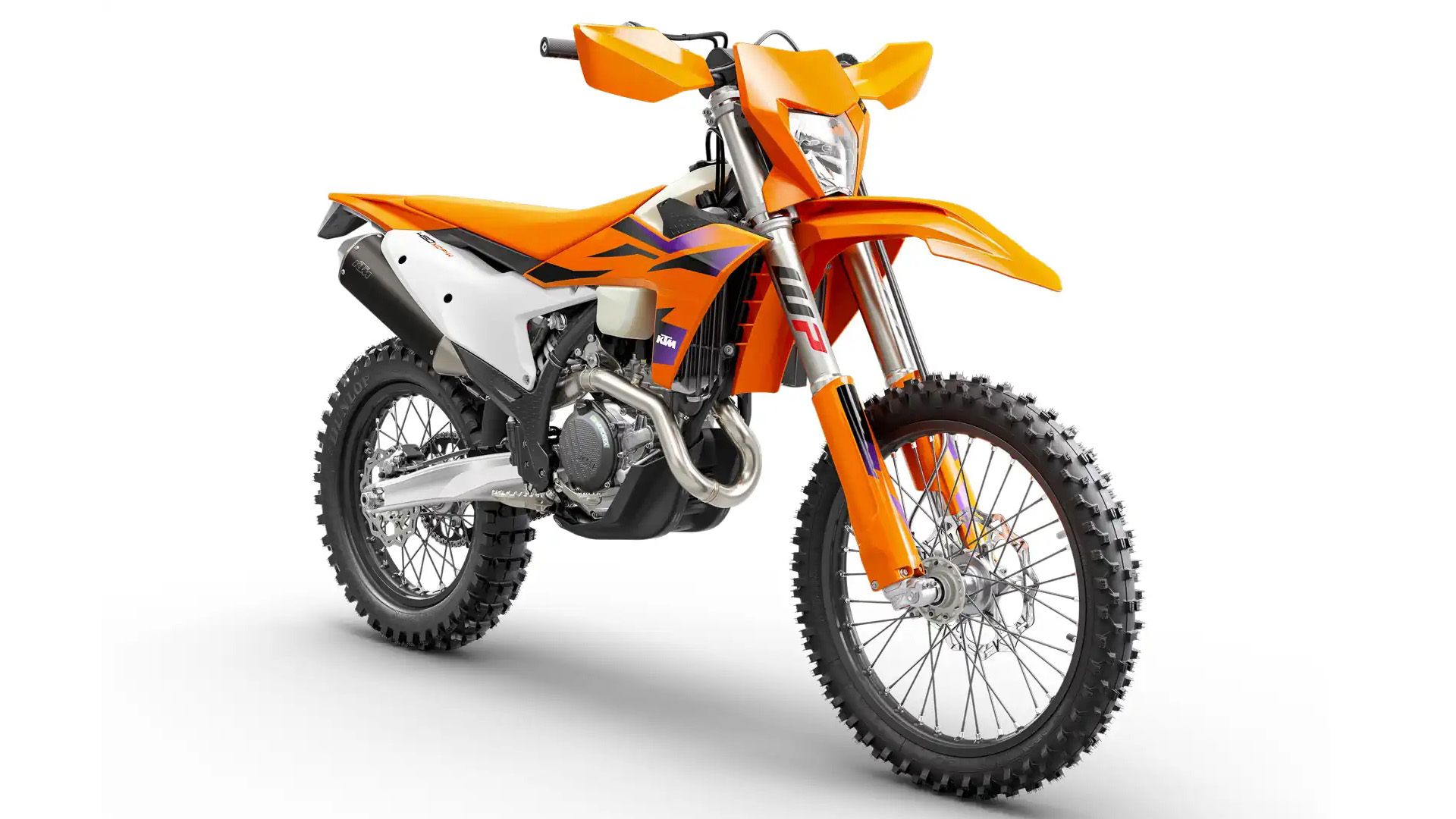 A front three quater studio shot of KTM 450 XCF with white background.
The KTM 450 XCF is the four-stroke version of the 300 XCW. It has similar hand-adjustable WP suspension front and rear, and the airbox that needs no tools to open and clean. The engine has been designed with easy servicing in mind, so that even novices can do it themselves. That 450 cc engine generates a humongous 54.6 horsepower and 33 lb-ft of torque, which is probably why it has electronic aids like traction control and a quickshifter that works on gears 2 through 5. Launch control is also present, and the traction control can be switched off relatively easily. There are two throttle maps, a hollow swingarm, but surprisingly the rear shock has a linkage. Still, this is the pinnacle of four stroke enduro motorcycles, and we wouldn't recommend it to a beginner.
Pros
No tools required for suspension adjustment
Full suite of electronics
Almost 55 horsepower
Cons
Not for beginners
Four-stroke engine complicated to work on
Radiator fan isn't standard
5
Sherco SE 300 Factory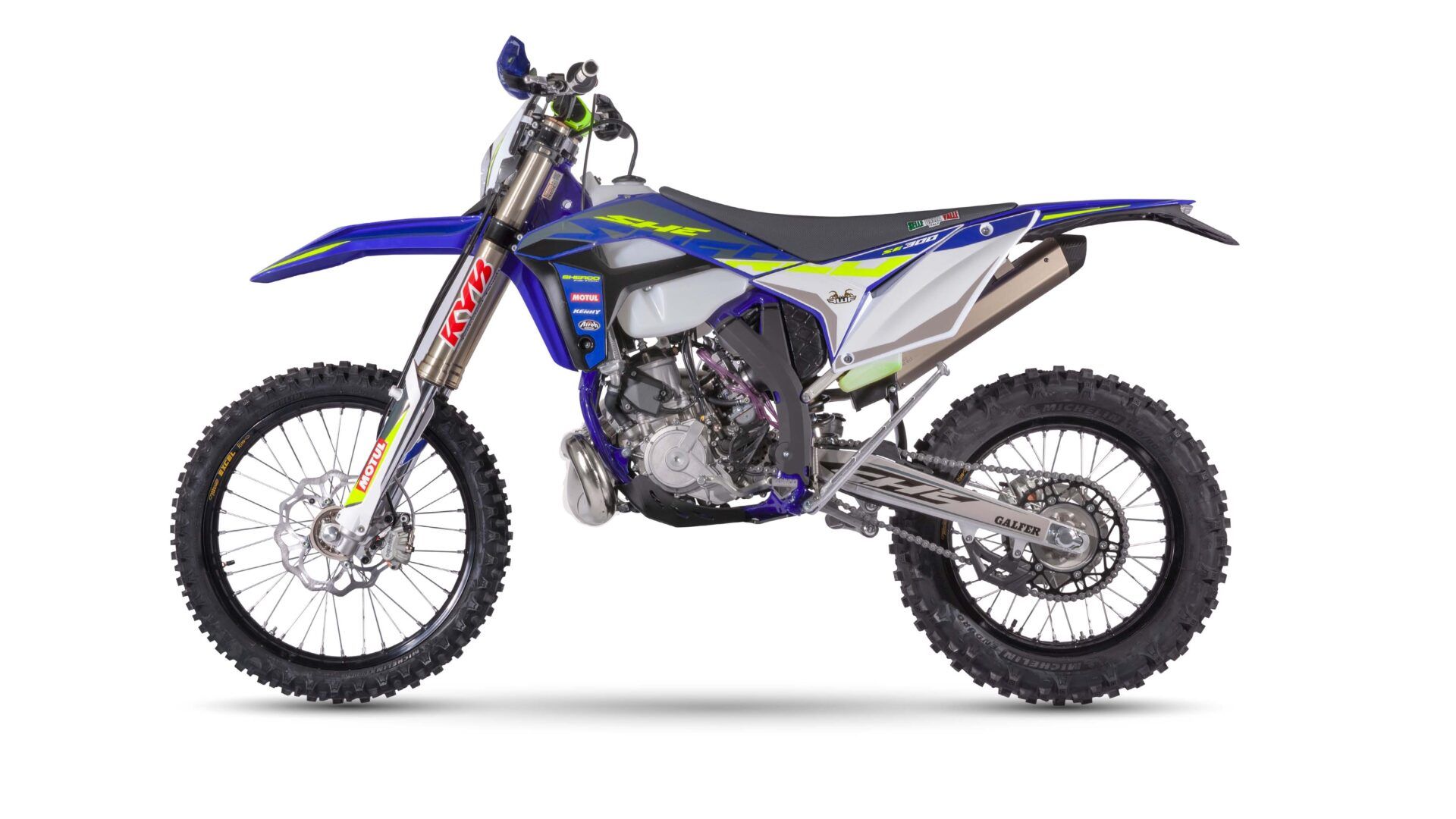 Sherco is a French motorcycle company that is most well known for its trials bikes. The SE 300 Factory takes that know-how to make an enduro machine. The manufacturer is coy about the power and torque output from the 293cc two-stroke engine, probably because of the carburetted setup. Unlike the two-stroke KTMs mentioned here, it requires a premix fed to the motor. It weighs 257 pounds wet, which is among the lightest in class. There are top-quality components like KYB suspension, Brembo brakes and hydraulic clutch, and a 6mm skid plate and radiator fan are standard. The last two items are all add-on accessories for the other 300cc two-stroke products here, which makes the Sherco a great value proposition.
Pros
Skid plate and radiator fan are standard
One of the lightest in class
Top quality components
Cons
Brand value is not as good as the others here
Carburetted engine might not be the best for enduro
Service support might not be great where you are
Related: Boutique Brands Dominate Enduro Racing
4
Beta 300RR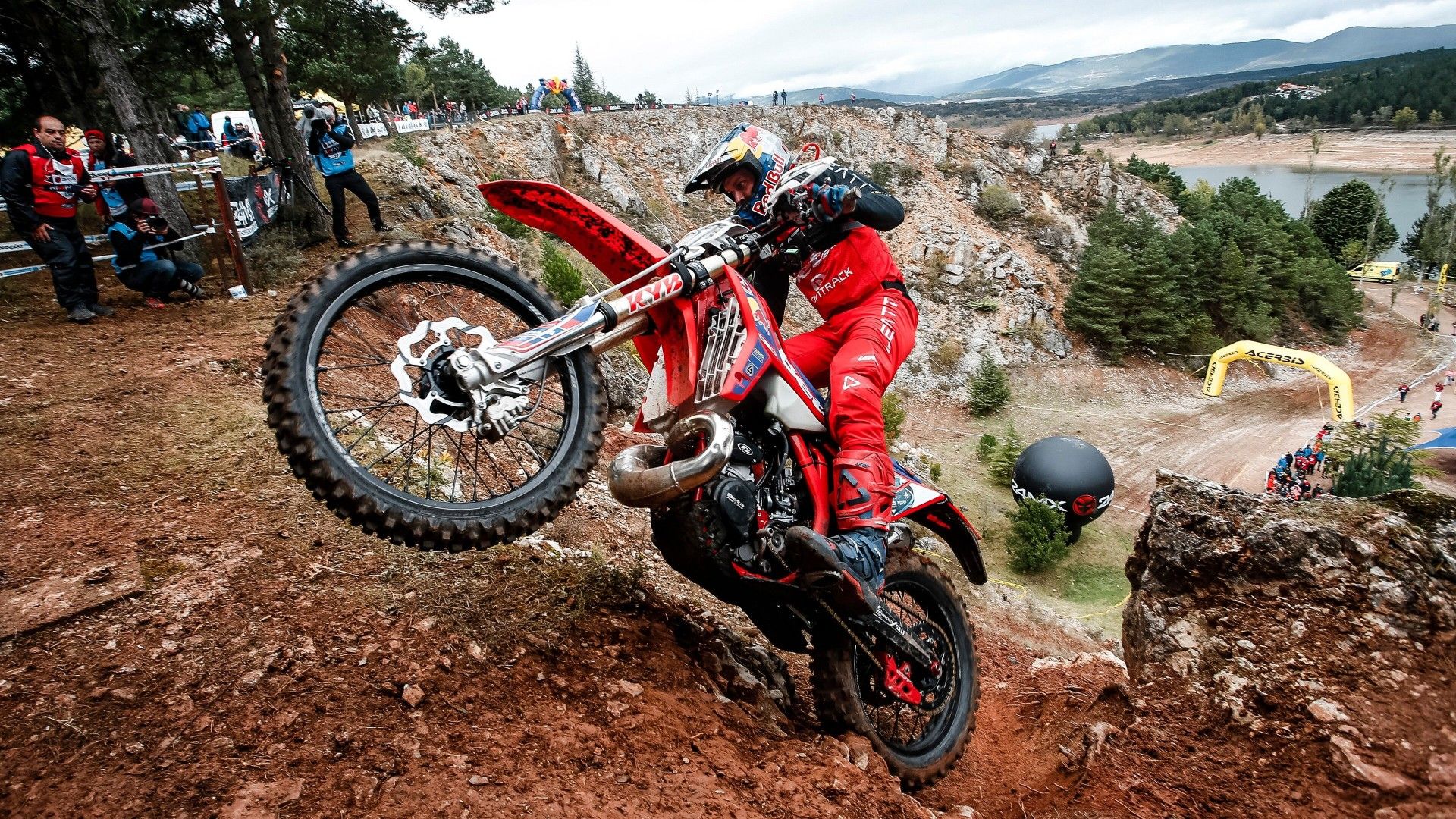 Jonny Walker aboard a 2021 Beta 300RR at the 2021 Hixpania Hard Enduro
On the surface of it the Beta is a match for the Husqvarna TE300I. It has a rear linkage-type shock, with suspension by Sachs all around. It also has electronic oil injection, a counterbalancer in the engine for smooth operation just like the Husky and KTM, and a molybdenum steel frame to keep weight at a trim 228 lbs. The 293 cc engine runs carburettion instead of fuel injection but still offers two power modes. However, power tops out at a relatively low 40 horsepower for a 300 cc two-stroke, with torque at 28.4 lb-ft. The brakes aren't half bad, with Galfer discs and Nissin calipers. The Beta then is for those who are on a budget – although there is the opportunity to add on quality upgrades, which will then bring it to the same price as the Husqvarna or even KTM.
Pros
Great low kerb weight
Good value
Electronic oil injection, so no premix required
Cons
Brand value
Low power output for the displacement
Adding quality components brings price to KTM/Husky levels
3
Gas Gas 300 EC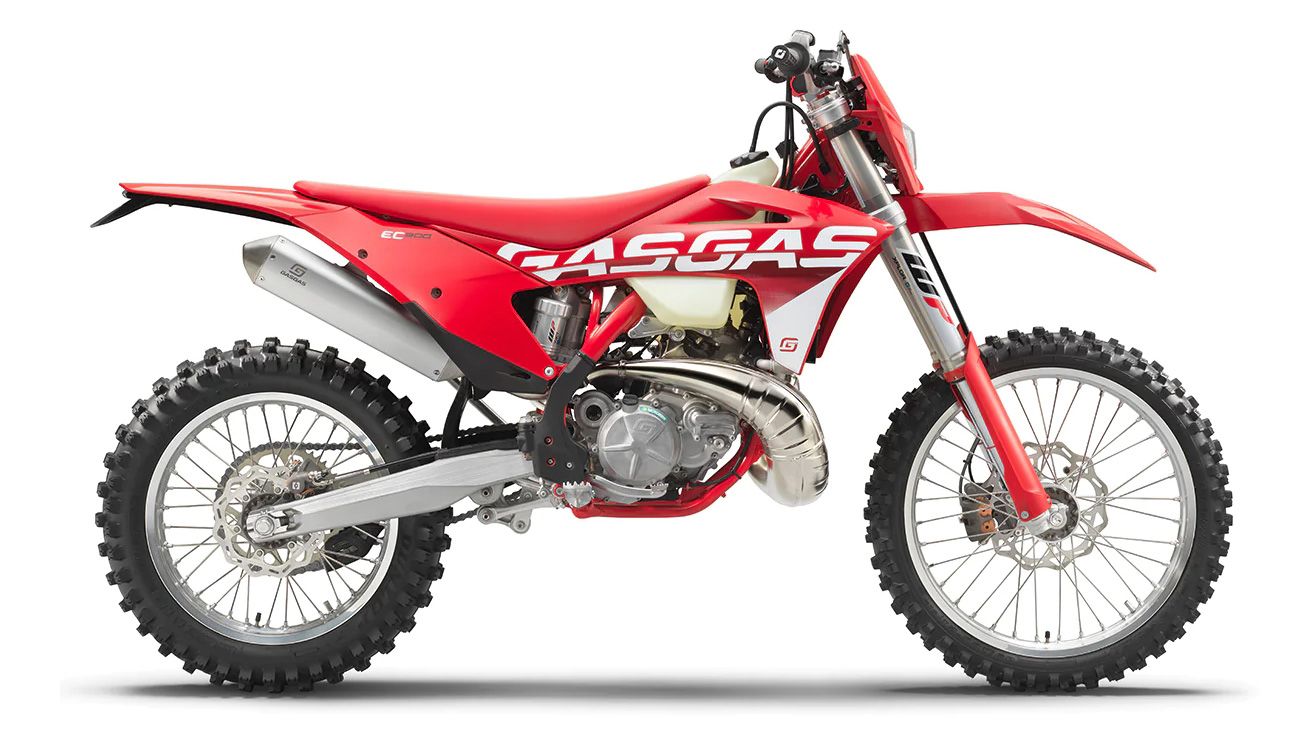 Gas Gas is a Spanish brand that comes under the KTM umbrella, like Husqvarna. As a result, you will see commonality of parts among these three brands. The 300 EC has a 293cc two-stroke motor mated to a six speed transmission. There are no official power figures, but it is reasonable to assume that it makes the same power and torque as the Husqvarna and KTM, and it has the two engine maps as well. It has electronic oil injection, which means you don't have to worry about premix. It runs WP suspension at both ends, with a linkage-type rear shock. The rear subframe is made of aluminum, however, unlike the Husky. It weighs a slight 233 pounds. This is for those who don't want the KTM or Husqvarna brands, but still want the good points.
Pros
Is similar to the KTMs and Husqvarnas. Spares should be easily available
Electronic oil injection means no premix needed
Aluminum subframe is easier to repair than carbon fiber
Cons
Brand value – why buy a KTM that isn't called a KTM?
Carbon fiber is lighter than aluminum
Official service support might not be great
2
Husqvarna TE300I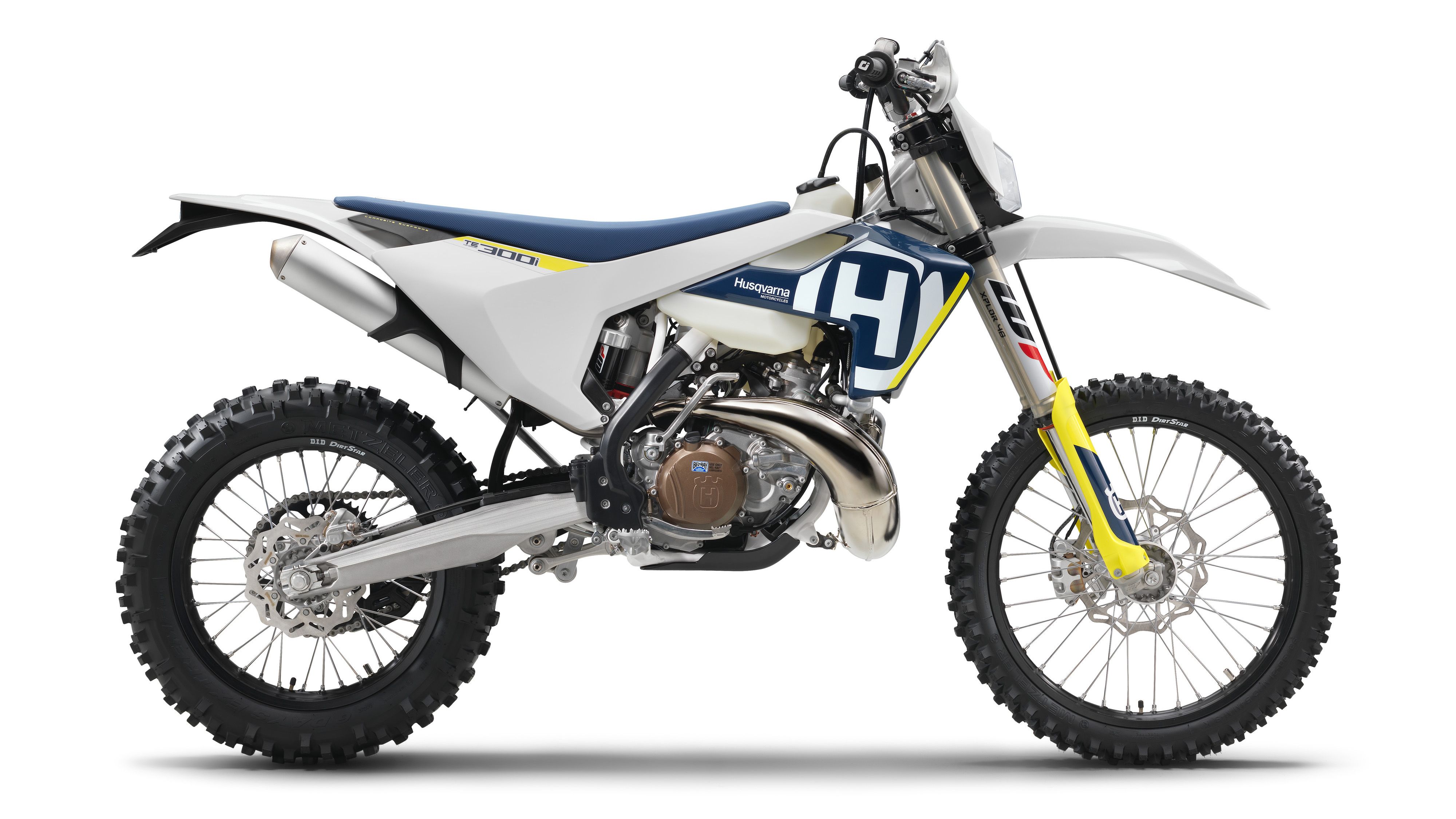 The Husqvarna TE300I is a sibling to the KTM 300XCW, with much of the same quality parts. It gets the same suspension, the same oil injection, liquid cooling, chrome-molybdenum steel frame, carbon fiber subframe, fuel injection with two maps, and the same 300 cc two-stroke motor with the 49 horsepower and 32.2 lb-ft of torque. Here, too, you can purchase official aftermarket radiator fans that will plug and play and be managed directly by the ECU. There are a couple of different things, though: the rear suspension is a linkage type one, because some riders prefer the feel of a linkage shock, and the brakes are a lower spec 'Braktec' system with GSK wave discs. As a result of this, it weighs slightly more than the KTM at 234.5 pounds.
Pros
Is almost identical to the KTM
Rear linkage suspension
Electronic oil injection means no premix needed
Cons
Why not just get a KTM?
Radiator fans are an aftermarket addition
Brakes could be better
Related: 2024 Husqvarna Motocross Lineup
1
KTM 300 EXC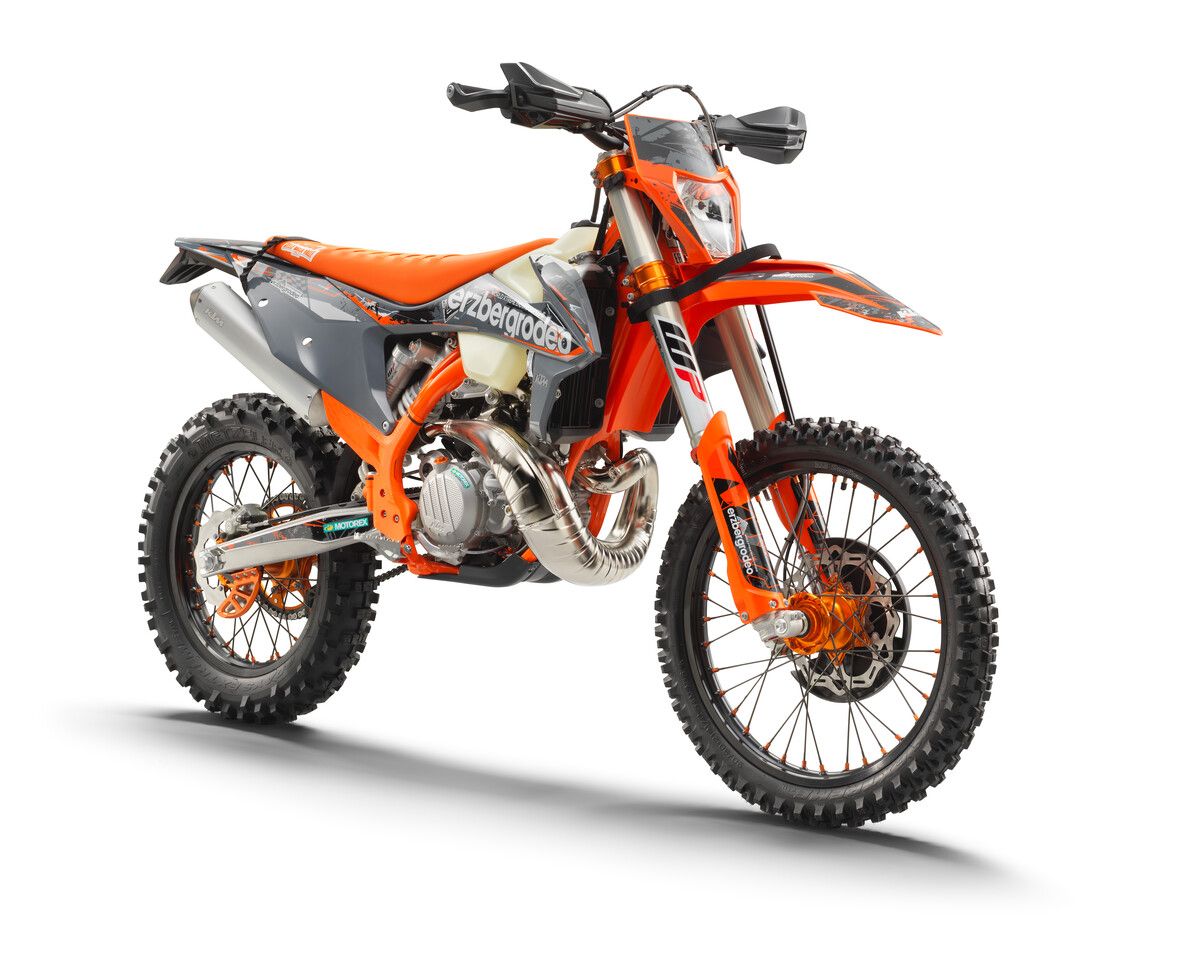 Studio shot of an orange 2023 KTM 300 EXC ERZBERGRODEO
This is the gold standard for enduro motorcycles, with premium tech and components. The WP suspension at either end does not require any tools to adjust, and neither does the airbox if you want to open and clean the filter. The rear shock has no linkage, for better clearance. The 293cc two-stroke gets oil injection that allows it to run cleaner and with better fuel efficiency while still churning out 49 horsepower and 32.2 lb ft of torque.
That's a lot of shove for something that weighs just 228 pounds. This engine has liquid cooling but no radiator fans, although one can be purchased from the PowerParts bin. Brembo brakes round out the quality components. You also get a digital trip meter and the choice of a second, more aggressive fueling map because of the fuel injection. The only thing left out here was the kitchen sink.
Pros
Gold standard for enduro motorcycles
Electronic oil injection means no premix needed
Fully hand-adjustable suspension
Cons
Radiator fans aren't standard fitment, they cost extra
No linkage rear shock might not be to everyone's liking
We'd like the kitchen sink as well, please.
Google Ads