Who doesn't love a bobber? They're fun, simple, and they've maintained a healthy reputation as some of the most reliable motorcycles for nearly one-hundred years! The term «bobber» first came into existence when someone (who isn't an engineer or mechanic) would perform a DIY customization job on their own motorcycle. Bobber motorcycles first began in the 1920s when owners would remove extra, unnecessary parts off of their Harley-Davidson J-series V-twin motorcycles when they started to show a little wear and tear with age. In an effort to improve both the bike's appearance and performance by trimming the fat to lighten the load, it resulted in a more stripped-down version of itself that was able to take advantage to the extra kick its pre-existing motor. In the 1930s, many «official» bobbers would appear when these same enthusiasts would take the larger, heavier bikes and modify them to resemble something closer to the Harley-Davidson WR and WLDR, as well as the Indian Daytona Scout.
Google Ads
By the end of the second World War, many soldiers returning from duty managed to acquire some very effective skills as mechanics that would allow them to further personalize their own motorcycles, carrying on the bobber tradition into a new era. From there, bob-jobs really took off as many owners began to get more creative with their bikes by adding vibrant paint jobs, raised handlebars, smaller, sportier fuel tanks, and upward-facing exhaust pipes. It wasn't until the 1990s when major manufacturers began producing factory-made bobbers ready to be ridden by every hippie, surfer, blue collar worker, and non-conforming outcast everywhere. Now that bobbers remain some of the most popular motorcycles on the market today, let's take a closer look at some of the best models available in the year of 2023.
Related: 10 Best Metric Cruisers On The Market
10
Harley-Davidson Softail Standard
Starting MSRP – $14,399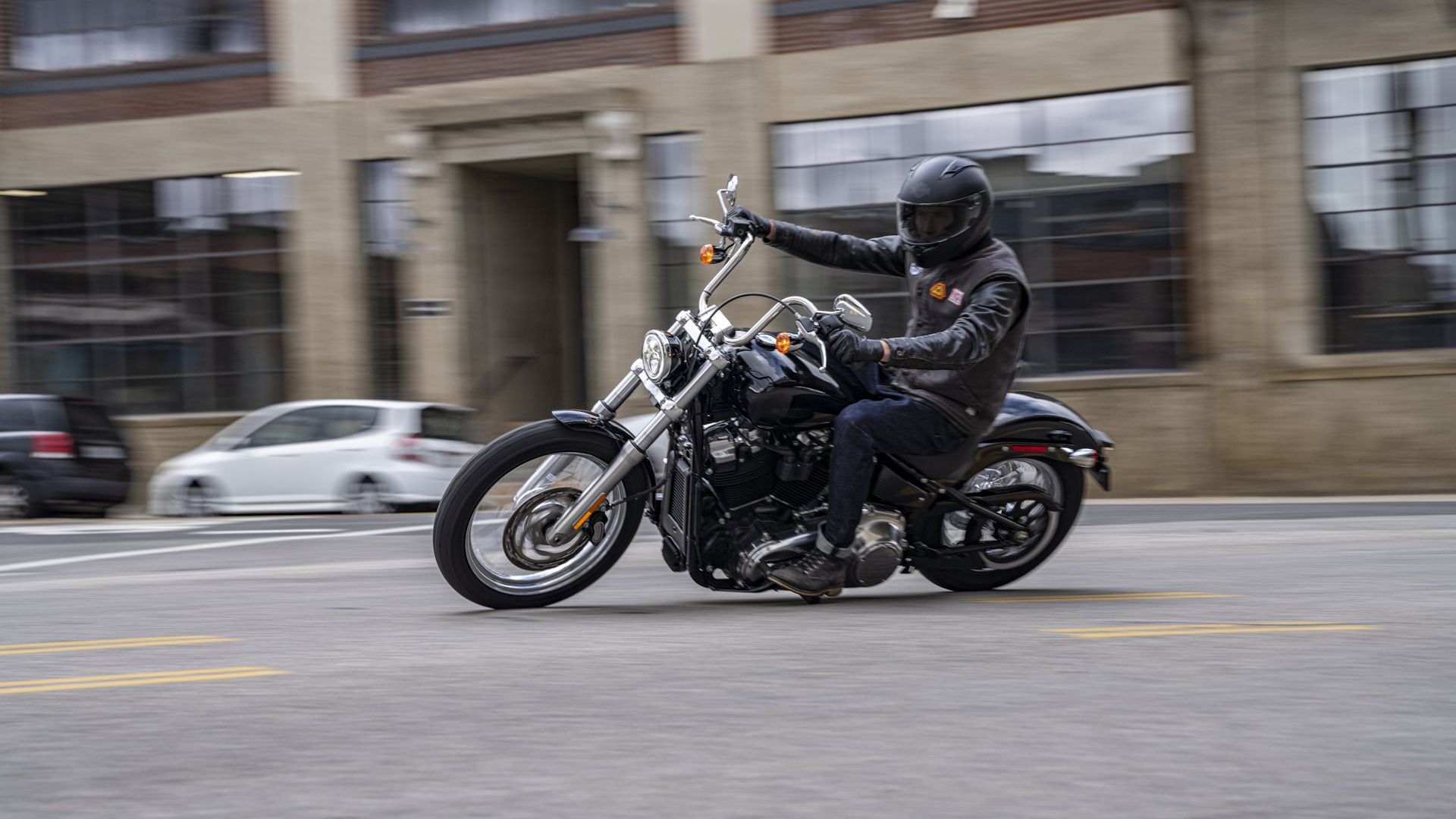 Vivid Black 2021 Harley-Davidson Softail Standard leaning into a turn
Simplicity at its absolute finest, the Harley-Davidson Softail Standard is the brand's go-to choice for a stripped down cruiser while paying tribute to the old-school stylings of bobbers from the past. Available in Vivid Black and outfitted with lots of chrome, the Softail Standard is the perfect entry-level bike for a beginner rider looking to cruise around town on something cool, retro, and very user-friendly. Able to be ridden in urban, suburban, and rural areas, this bike is like the Swiss Army Knife of Harley-Davidson's softails. But what really makes it such a crowd-pleaser is how it sets itself up to be a blank canvas for customization. Whether you are looking to turn this bike into a high-performance drag bike, a laid-back chill-out bike, or a modified lightweight touring bike to tackle the highway, there is no wrong answer when it comes to making the Softail Standard yours. Because if you take two customized Softail Standards and put them side-by-side, it is very likely that neither one of them will look anything like the other.
Engine

Milwaukee-Eight 107

Horsepower

85

Google Ads

Torque

110 lb-ft

Weight

655 lbs
9
Harley-Davidson Street Bob 114
Starting MSRP – $16,599
Harley-Davidson<\/a>»»>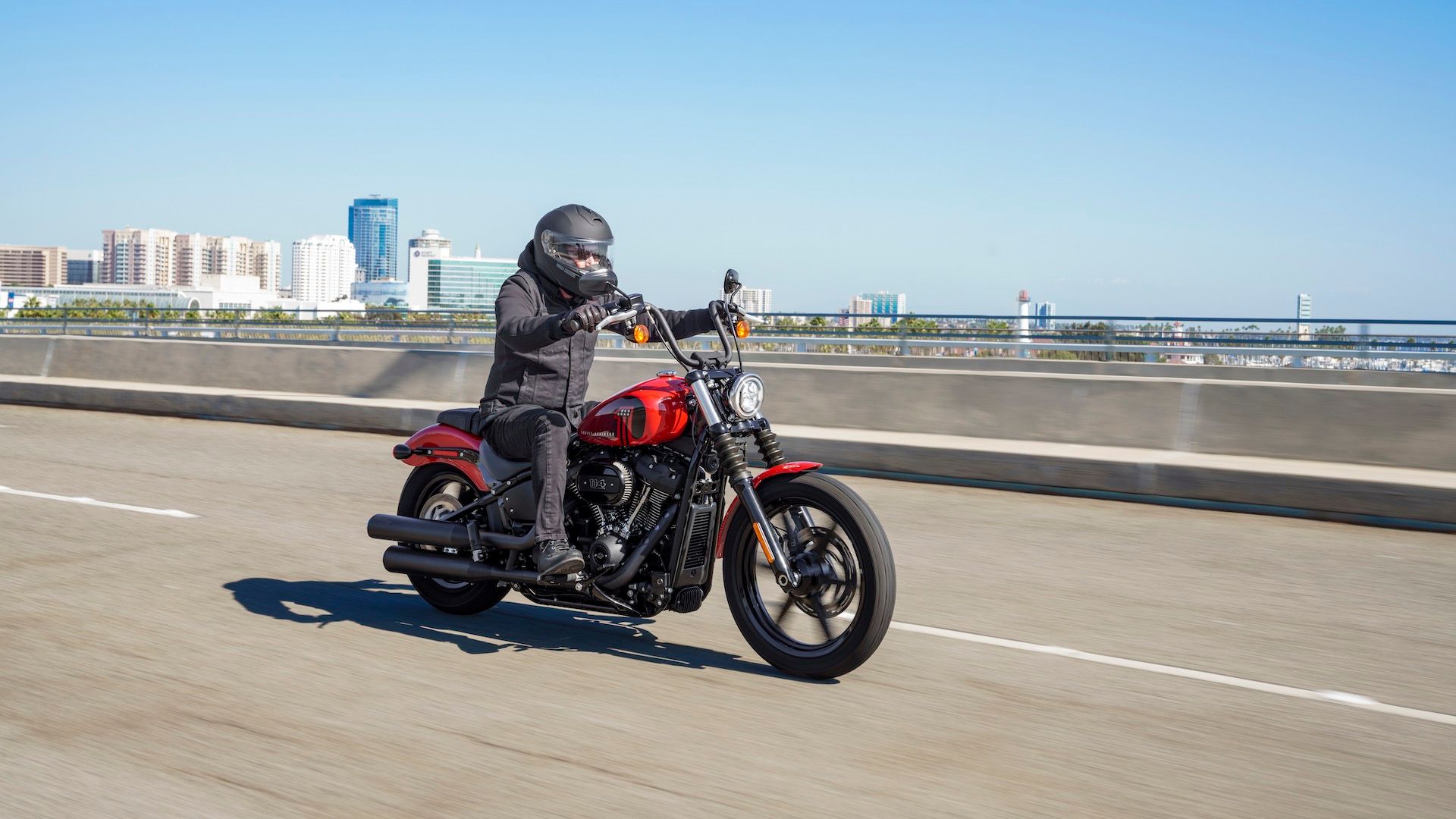 Side and front view of a moving 2022 Harley-Davidson Street Bob
If there was a modern-day Harley-Davidson that epitomized the very concept of what it means to be a simplified, stripped-down bobber, then the Street Bob 114 would be that very bike. While Harley's softail line is quite diverse in cruiser models, the Street Bob 114 remains one of the more popular bikes due to its stripped-down, simplified design, upgraded Milwaukee-Eight 114 engine, and user-friendly handling ability. Both new and experienced riders admire the Street Bob's ability to thrive under any kind of riding environment, from the busy streets of a major metropolitan city, to the quiet winding back roads of the countryside. Beginners love it because it has all the comfortable handing abilities of a sportster, while providing the size and comfort of a softail. Meanwhile, veteran riders love it because after decades of riding, they know how to properly maximize this bike's performance.
| | |
| --- | --- |
| Engine | Milwaukee-Eight 114 |
| Horsepower | 100 |
| Torque | 119 lb-ft |
| Weight | 655 lbs |
8
Harley-Davidson Fat Bob 114
Starting MSRP – $18,899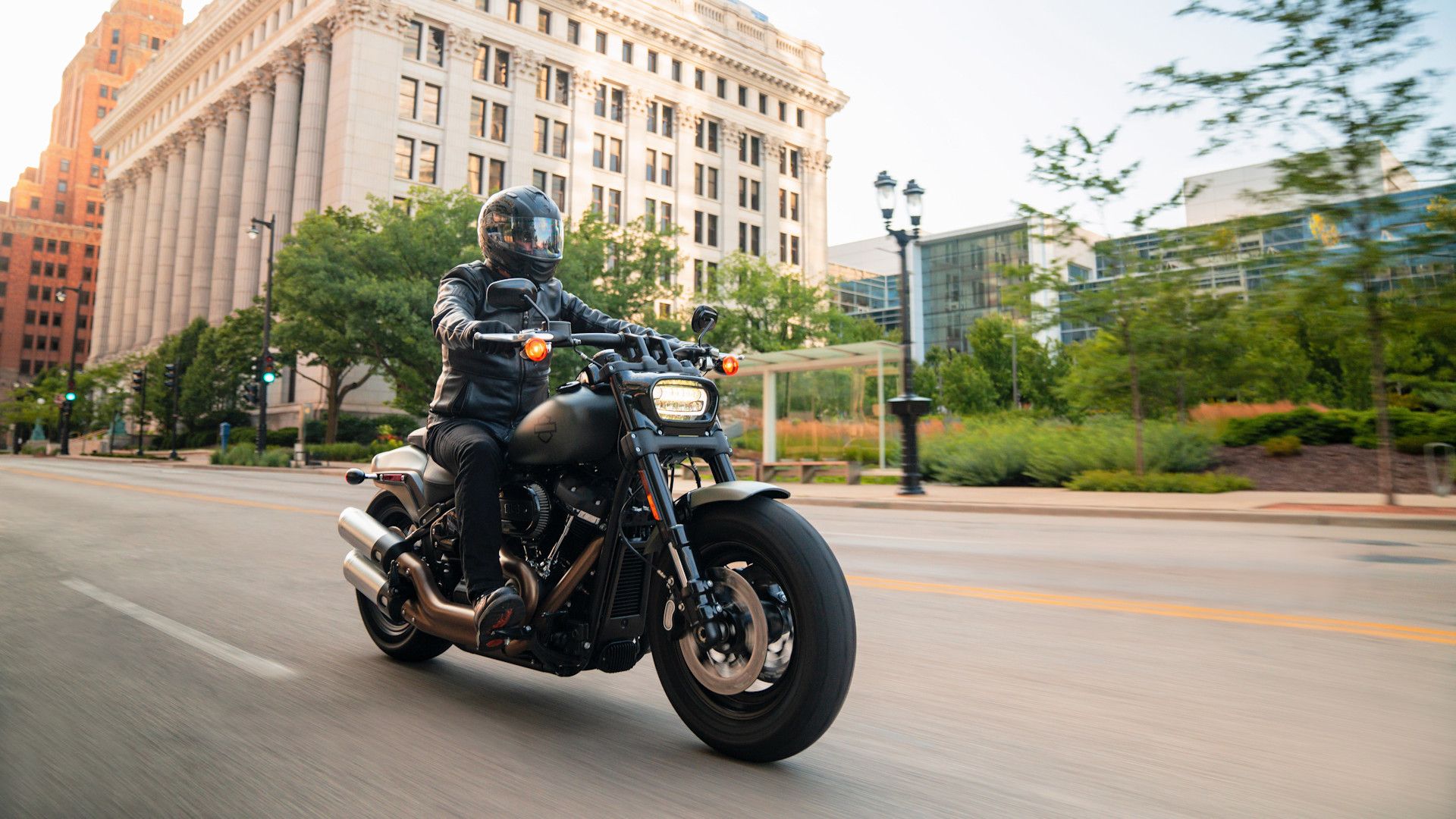 2021 Harley-Davidson Fat Bob 114 cruising through town
If you were in the market for a high-performance cruiser with a little bit more of a post-apocalyptic, Mad Max-styling to it? Then the Harley-Davidson Fat Bob 114 is right up your alley. This motorcycle brings an extra sense of «toughness» and «muscle» whenever it's around many Japanese sport bikes. You can attribute that to its signature pair of meaty front and rear tires that eat cracks and bumps up for breakfast, its horizontal LED headlamp, its upward-facing exhausts, and its more comfortable forward controls. Not to mention that it too is equipped with the Milwaukee-Eight 114 engine. So you're outgoing for a casual cruise, this bike is happy to oblige. But if your throttle hand is feeling a little twitchy, the Fat Bob will also be satisfied in going full send down the highway.
| | |
| --- | --- |
| Engine | Milwaukee-Eight 114 |
| Horsepower | 100 |
| Torque | 119 lb-ft |
| Weight | 675 lbs |
Related: A Closer Look At The Harley-Davidson Fat Bob
7
Indian Scout Bobber
Starting MSRP – $12,249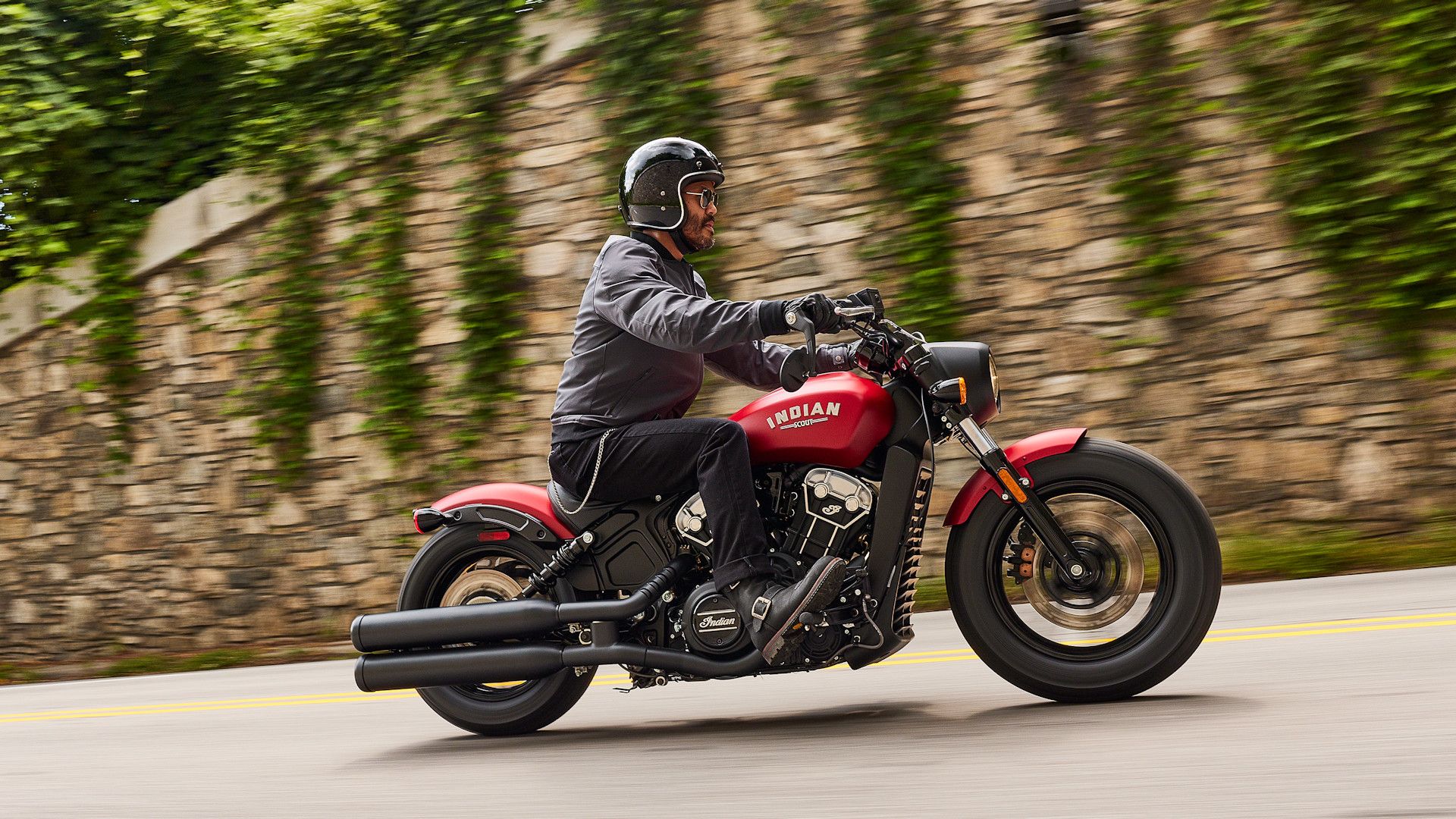 Ruby Smoke 2023 Indian Scout Bobber cruising on the road
Another all-American motorcycle brand that specializes is bobbers is Indian with their very popular Scout Bobber. With its own take on the old-school bobber design, the Scout Bobber is another example of a perfect entry-level motorcycle for new riders that aren't in the market for a lightweight sportster. On the contrary, this medium-sized bike is just as maneuverable and controllable as its smaller brethren, but brings with it more comfort and a laid-back attitude. Plus, since it is 2023, the Indian Scout Bobber also comes with some of today's modern conveniences like ABS brakes, a USB charger, and electronic fuel injection. This is another perfect example of a stripped-down motorcycle that brings with it a chill-out vibe, but can really crank up the RPMs if you really wanted to.
| | |
| --- | --- |
| Engine | Liquid-cooled 1,133cc V-twin |
| Horsepower | 100 |
| Torque | 72 lb-ft |
| Weight | 533 lbs |
6
Indian Chief Bobber Dark Horse
Starting MSRP – $16,499
Indian Motorcycles<\/a>»»>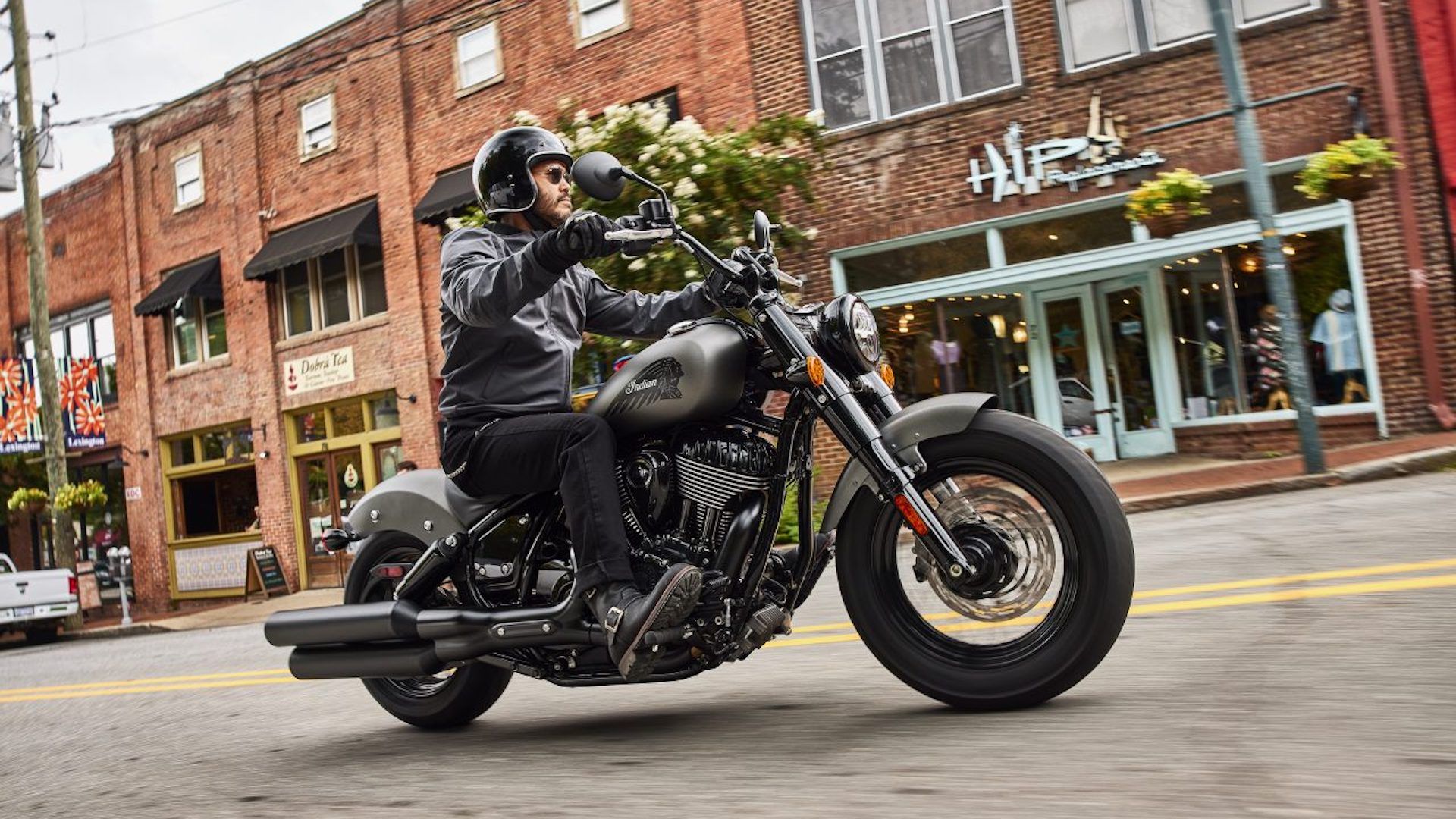 Press photo of the 2023 Indian chief bobber dark horse
Say you are a fan of Indian's take on the bobber, but you could use a little more size and muscle. Then take a good, long look at the Indian Chief Bobber Dark Horse. Blacked-out and full of attitude, this bike checks off all the boxes on what it means to be a bobber, like a shortened rear fender, solo seat, and simplified style. Did we mention that all of its components come in black? But what sets this bike apart from the crowd is the addition of a 4-inch circular touchscreen system that serves as your spedometer, odometer, fuel capacity indicator, and even features turn-by-turn navigation, traffic and weather alerts, and Bluetooth compatibility that will allow you to receive phone calls directly to your synched-up helmet. As we've said before, not all bobbers look alike. This one has just been going to the gym a lot.
| | |
| --- | --- |
| Engine | Thunderstroke 116 V-twin |
| Horsepower | 79 |
| Torque | 120 lb-ft |
| Weight | 694 lbs |
5
Yamaha Bolt R-Spec
Starting MSRP – $8,899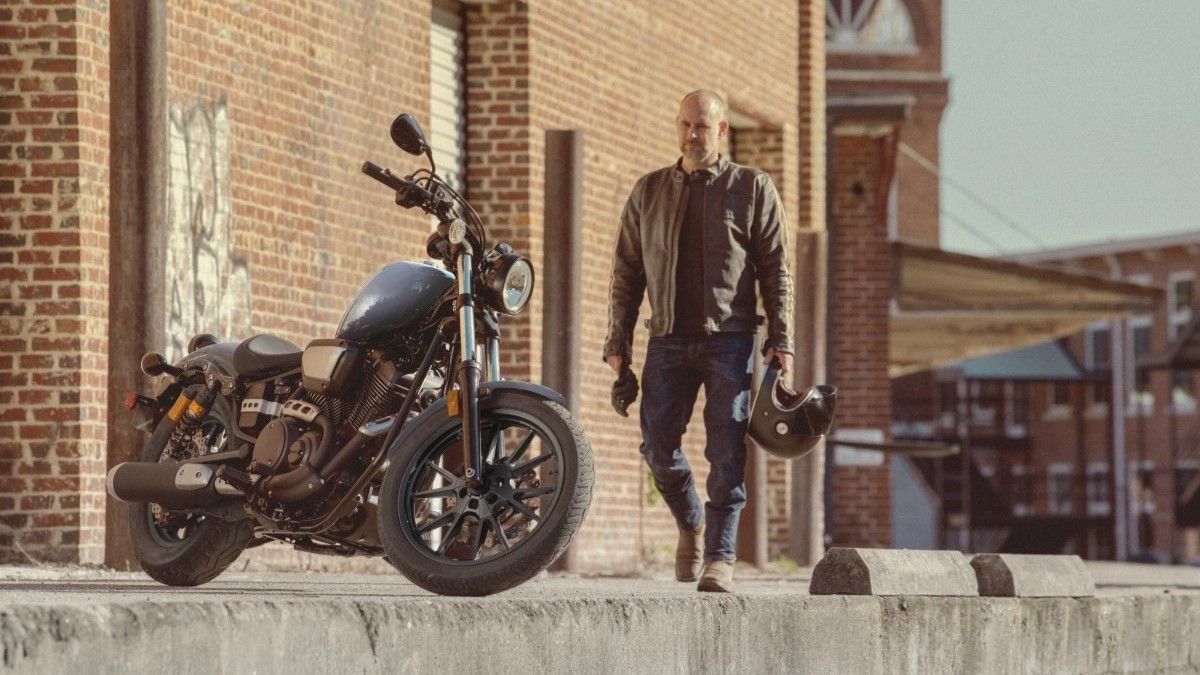 A rider approaches a blue Yamaha Bolt R-Spec parked on its side stand
In order for a bobber to be a bobber, it needs to be stripped down, have a decently-strong engine, and slightly larger than your typical sporty bike. Yamaha's Bolt R-Spec is the brand's contender for a bobber that can be ridden anywhere, but feel especially home in the city. This bike features shortened fenders, a compact body, and solo seat, along with a very compact price tag for anyone looking for a new cruiser under $10k. Just like the previous models on this list, the Yamaha Bolt R-Spec also has a wide range of customization options available right from the manufacturer. Naturally, this bike could use a facelift to really give it that bobber look, but its size and riding ability are enough for it to skirt by. Definitely a good choice for a starter bike for someone to get their bearings, or for a modder that really wants to build their very own Frankenstein-monster for a good price.
| | |
| --- | --- |
| Engine | Air-Cooled 942cc V-twin |
| Horsepower | 65 |
| Torque | 59 lb-ft |
| Weight | 542 lbs |
4
Triumph Bonneville Bobber
Starting MSRP – $13,795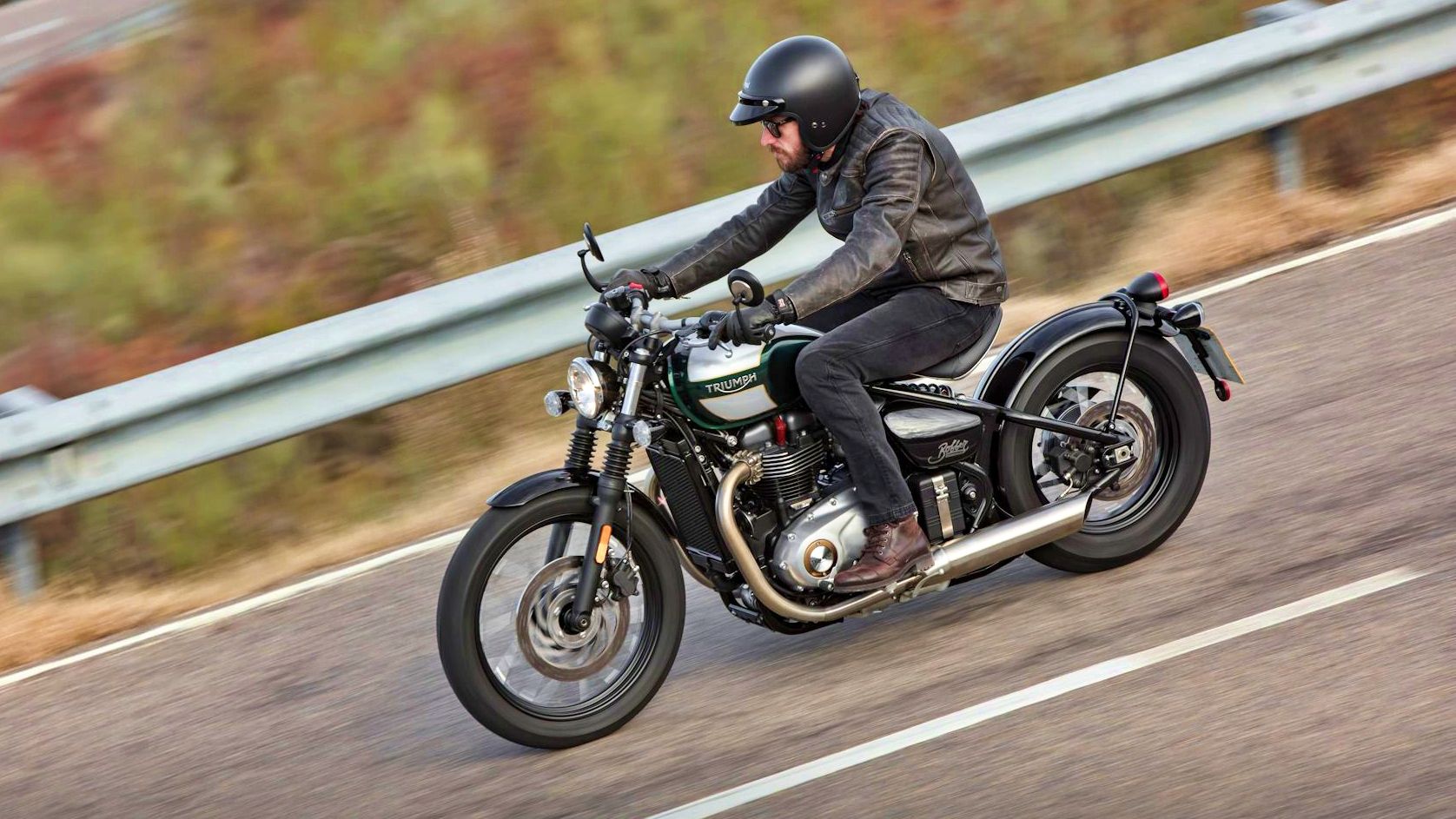 An action shot of a Triumph Bonneville Bobber
If there was a motorcycle brand outside the United States that really did wonders for bobber popularity, Triumph would rank at the top of the list. The Triumph Bonneville Bobber may be one of the brand's more recognizable models since it made its debut only a few years ago in 2017. Since then, the bike really skyrocketed in popularity due to its compact, yet mighty design that includes a 1200cc engine, and checks off all the boxes that qualify it to be categorized as a bobber. As an added bonus, despite its size, the Bonneville Bobber handles like a larger touring bike, allowing its riders to embark on a weekend vacation with ease. Another notable feature on this bike is its floating single seat that can be adjusted to three different positions to best suit your riding style. All that is left is to break open the Triumph accessory book and make this bike uniquely yours.
| | |
| --- | --- |
| Engine | Liquid cooled, 1200cc, 8 valve, SOHC, 270° crank angle parallel twin |
| Horsepower | 76.9 |
| Torque | 78.2 lb-ft |
| Weight | 553 lbs |
3
Triumph Rocket 3 R Chrome Edition
Starting MSRP – $24,795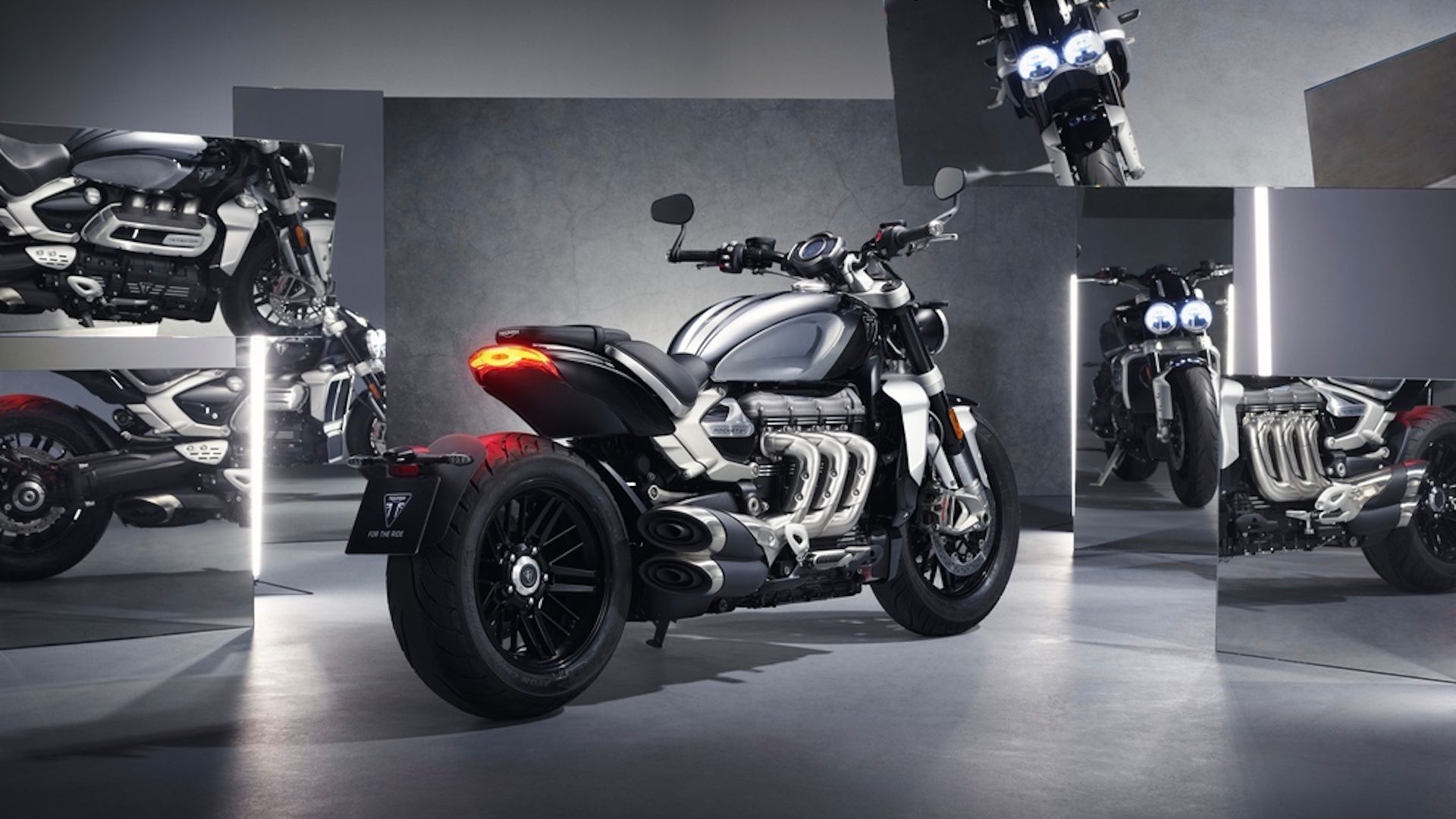 Press photo of the 2023 Triumph Rocket 3 R Chrome Edition
If the pioneers of bobber motorcycles could travel into the future, they probably never would have expected their work would eventually go on to inspire the Triumph Rocket 3 R Chrome Edition. Normally, bobbers are simple and don't draw a lot of attention toward themselves. Well, the Rocket 3 R Chrome Edition is the exception. Shining bright with heavy uses of chrome and a Jet Black paint scheme, this bike is truly a modern, and over-the-top take on the classic bobber style. Featuring mudguards, headlight bowls, fly screen, radiator cowls, side-panels, and rear bodywork, this cruiser packs a punch with a 2,458cc engine ready to tackle any street, back road, and highway. This bike also comes with the latest in riding technology, like ride-by-wire throttle, choice of four ride modes, cornering optimized traction control, and ABS. Its two-way adjust suspension system is a nice addition as well.
| | |
| --- | --- |
| Engine | Inline 3-cylinder, 2,458cc, water-cooled, DOHC |
| Horsepower | 165 |
| Torque | 163 lb-ft |
| Weight | 641 lbs |
Related: 5 Reasons Why We Love The Triumph Rocket 3 (And 5 Reasons Why We Think The Ducati Diavel V4 Is Better)
2
Honda Rebel 1100
Starting MSRP – $9,499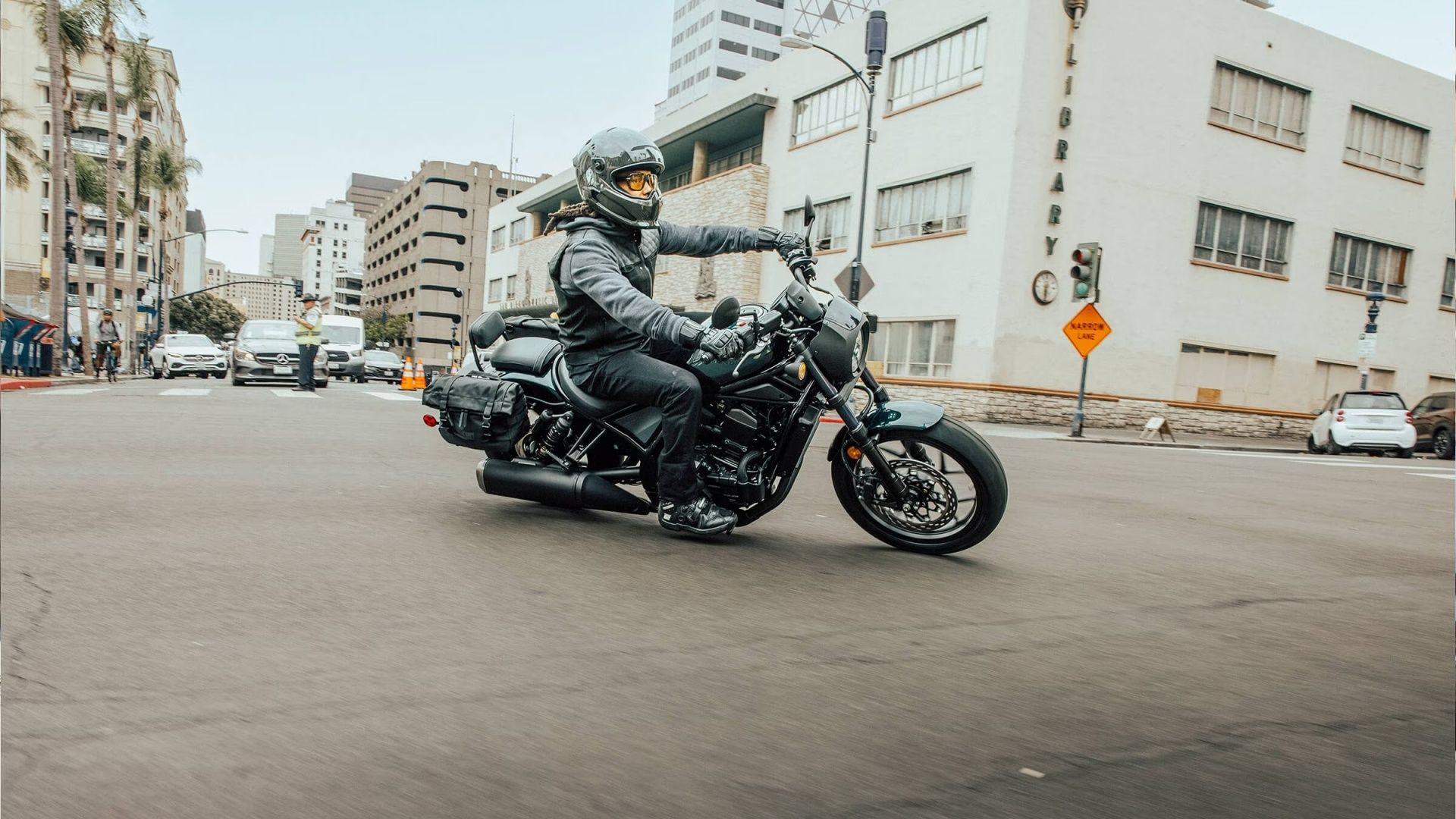 A 2023 Honda Rebel leaning hard on a corner
Honda's Rebel has been around for a very long time, and for good reason. With a reign spanning four decades, the Rebel has proven to be one of the brand's most reliable and resilient cruisers, and the Honda Rebel 1100 maintains the models high reputation as one of the best bobber motorcycles around. A perfect mix of old-school and new-school styling, the Rebel 1100 carries on the classic bobber traditions by remaining simple and trim, but with more boldness and attitude than its predecessors with its blacked-out paint job. Its 1,084cc engine provides enough power to satisfy both newer and experienced riders for fun putts around town, as well as long-distance hikes should they ever arise. Finding the perfect balance of power, comfort, style, and affordability, this motorcycle on its own is a strong contender when faced off with other bobbers on the market.
| | |
| --- | --- |
| Engine | 1083cc liquid-cooled 22.5° parallel-twin four-stroke |
| Horsepower | 86 |
| Torque | 72 lb-ft |
| Weight | 487 lbs |
1
Kawasaki Vulcan S
Starting MSRP – $7,349
Kawasaki<\/a>»»>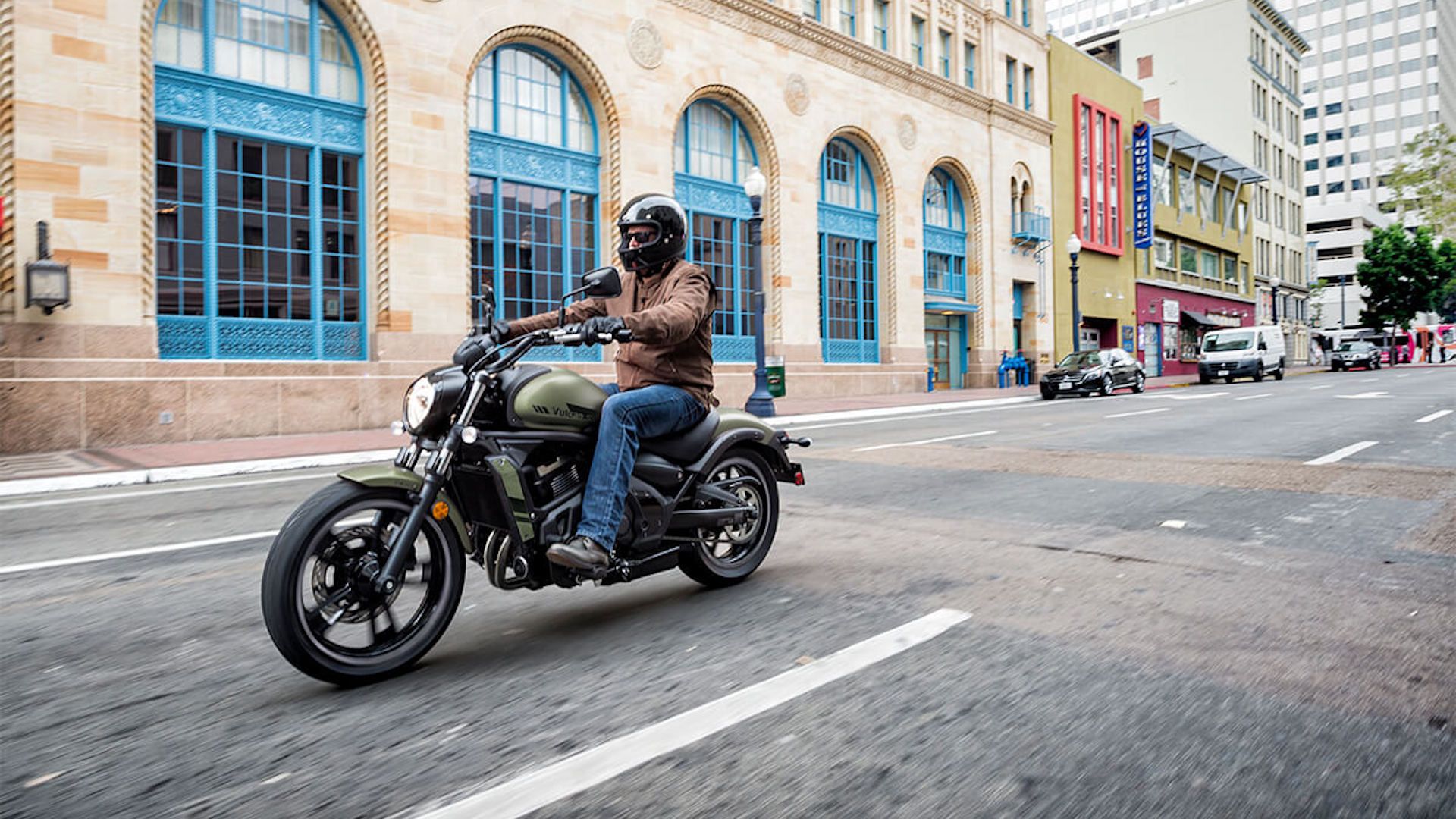 2023 Kawasaki Vulcan S
Lean, mean, and ready to ride, the Kawasaki Vulcan S is like if a bobber decided it wanted to stretch itself out a bit. Adhering to the blacked-out paint scheme and stripped-down design, this bike has bobber enthusiasts looking over at Kawasaki as a potential option. At first glance, the Kawasaki Vulcan S looks like a laid-back cruiser, which it can certainly be. But don't be fooled, because its ER6n parallel twin engine packs a very deceiving punch once unlocked. Best of all, you can rank the throttle without feeling overwhelmed. Favored by beginners, this bike is very user-friendly and has some of the best handling that Kawasaki has ever produced. It can cruise along the streets of your neighborhood with ease and many owners feel a sense of complete control whenever they start this bike's ignition. While it doesn't feature as many customization options as the rest of the competition, you can't go wrong with that price tag.
| | |
| --- | --- |
| Engine | 4-stroke, 2-cylinder, 649 cc, DOHC, liquid-cooled engine |
| Horsepower | 61 |
| Torque | 46.3 lb-ft |
| Weight | 491.7 lbs |
Google Ads