Since the invention of the automobile, carmakers have constantly been working on improving performance. It goes without saying that cars are one of the few things that have captivated the mind of man, and this is even truer for high-performance vehicles. While history has recorded many iconic models, there are those that fall more into obscurity. Whether it's the ambitious pricing, low production figures, or the brand that made them, these vehicles came, saw, and went away quietly, rarely to be spoken of.
Google Ads
Sometimes, a car isn't fully appreciated because of the company that made it. Car manufacturers with questionable track records, sometimes, create unexpectedly good cars and British carmakers certainly have their fair share of those, although they are not the only ones. Among them are high-performance sports cars and supercars from American, British, and Even Italian carmakers, some of which forgotten, only to be resurrected by a renowned design studio.
These high-performance models are highly sought-after by knowledgeable enthusiasts and collectors, and finding one for sale is not as easy as walking into a dealership. These 10 models are undeservedly forgotten and are among the fastest, most exquisite automobiles ever made.
Related: Supercars That Were Sadly One-Hit Wonders
Google Ads
10
Noble M600
One of the last truly-analog supercars came in 2010 and was built by British carmaker, Noble Automotive. On paper, the Noble M600, not to be confused with the Noble M500, has it all – a mid-engine layout, rear-wheel-drive, powerful V-8, manual transmission, and no driver assists. All that came from a small, boutique carmaker, based in Leicester, England. The car's most notable feature was in Top Gear Series 18, Episode 1, when Richard Hammond drove one. The engine was a Yamaha-built V-8 that was, originally, a naturally-aspirated mill, made for Volvo's full-size models.
| | |
| --- | --- |
| Engine | 4.4-liter twin-turbo V-8 |
| Transmission | 6-speed manual |
| Drivetrain | RWD |
| Power | 650 hp |
| Torque | 604 lb-ft |
| 0-60 mph | 3.2 seconds |
Inside the Alcantara-rich cockpit, there was a rotating knob for the engine's three power levels – Street (450 horsepower), Track (550 horsepower), and Race (650 horsepower). Officially, production of the M600 hasn't stopped, but reports indicate that out of the 50 cars planned, only 20 are built so far. The main reason is the US$333,000 sticker price, which puts it in Ferrari and McLaren territory.
9
Mosler MT900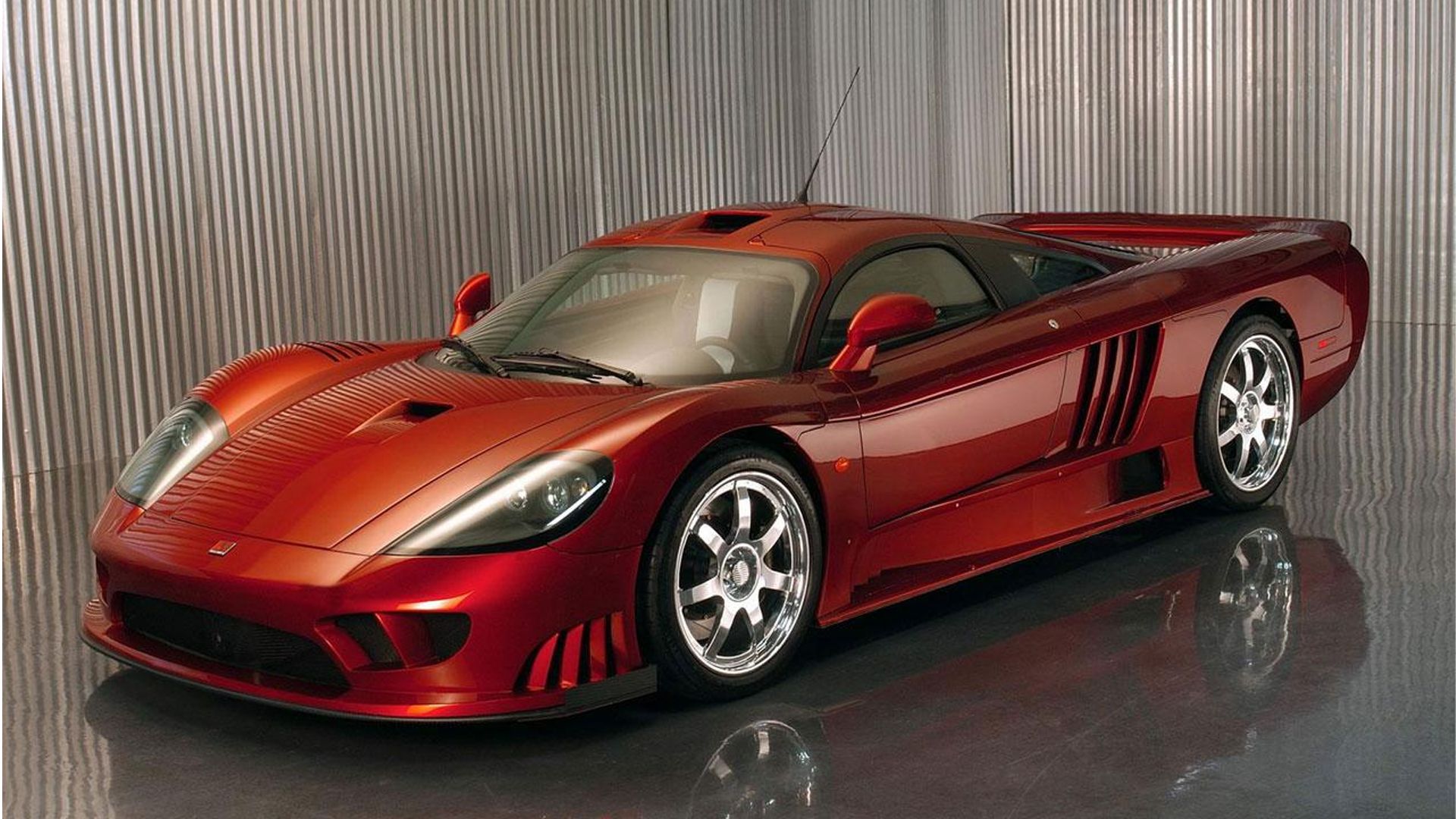 Saleen S7 Twin-Turbo
In some ways, Steve Saleen started out similarly to Carrol Shelby. His company started out in 1983 and since, some of the fastest Fords were touched by Saleen. In 2000, the founder and owner decided he wants to make his own supercar. The Saleen S7 came as a mid-engine model powered by a Ford 427 Windsor V-8. A few years later, the S7 Twin-Turbo arrived. Less than 100 examples were made, of which only 30 were S7 Twin Turbo. Even fewer received the Competition package, which made the Saleen S7 Twin Turbo almost as fast as a Bugatti Veyron.
| | |
| --- | --- |
| Engine | 7.0-liter V-8 |
| Transmission | 6-speed manual |
| Drivetrain | RWD |
| Power | 550-1,000 hp |
| Torque | 525-700+ lb-ft |
| 0-60 mph | 2.7 seconds |
Each car was specifically tailored to its driver, meaning the driver seat wasn't adjustable. In 2017, Saleen announced the S7 LM, which was said to be capable of 298 mph (480 km/h), but it was never made.
Related: 10 Supercars Everyone Should Drive Once In Their Life
7
TVR Griffith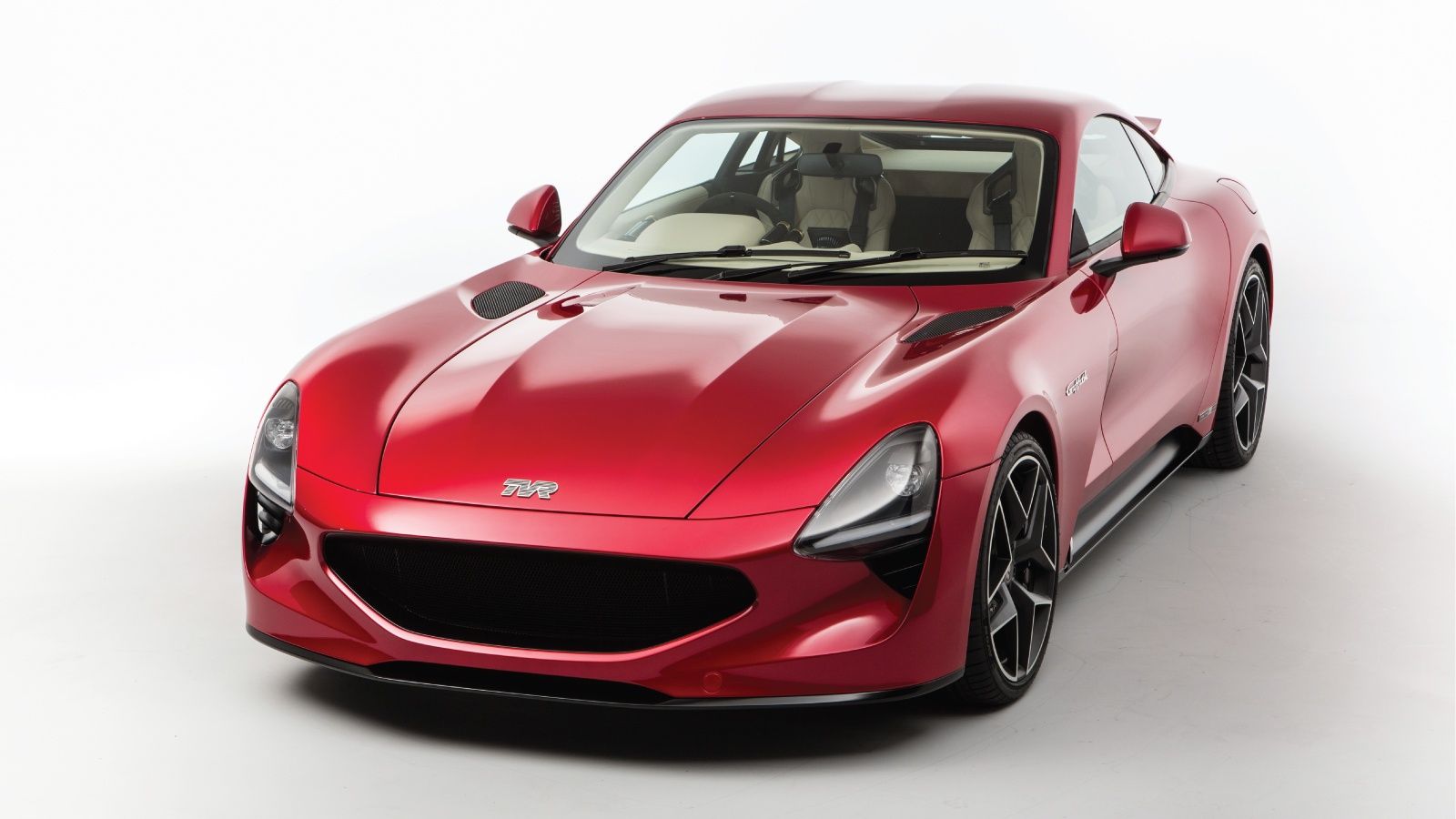 front 3/4 view of a red 2023 TVR Griffith
TVR is one of those brands we need to keep around, especially in these times when cars are becoming identical and soulless. The company dates back to 1944 and "TVR" is short for the founder's first name – Trevor Wilkinson. Together with co-founder Jack Pickard, they focused on lightweight sports cars that are incredibly fast and nimble. Even more contemporary TVRs came with zero driver aids while packing potent inline-six and V-8 engines.
| | |
| --- | --- |
| Engine | 5.0-liter V-8 |
| Transmission | 6-speed manual |
| Drivetrain | RWD |
| Power | 500 hp |
| Torque | 420 lb-ft |
| 0-60 mph | 3.5 seconds (estimated) |
The company went bankrupt several times, but is now, supposedly, back on its feet. In 2017, TVR teased a new Griffith, featuring a lightweight, front-engine, rear-wheel-drive chassis and a Cosworth-tweaked Coyote V-8 from the Mustang GT. Production was to begin in 2023 but has been delayed until 2024. Just like the 1990s original, the new Griffith is to be an analog, featherweight sports car.
6
9ff GT9
It's always refreshing when a car tuner decides to make its own car. 9ff Fahrzeugtechnik is a German tuner based in Dortmund that focuses on Porsche models. The 9ff GT9 was (very) loosely-based on the Porsche 997. The chassis was extensively reworked to create a mid-engine layout, accommodating high-horsepower, water-cooled flat-six engines. The GT9 got a few versions throughout its production, including the high-performance GT9-R and a lightweight, track-focused GT9 CS, which was less-powerful.
| | |
| --- | --- |
| Engine | 3.6-4.2-liter twin-turbo flat-6 |
| Transmission | 5-speed Tiptronic auto/ 6-speed manual/ 6-speed sequential |
| Drivetrain | RWD |
| Power | 738-1,381 hp |
| Torque | 712-856 lb-ft |
| 0-60 mph | 3.9-3.0 seconds |
Most versions of the GT9 were capable of over 250 mph, but the GT9 Vmax sat at the top of the lineup, and was said to be capable of 272 mph (437 km/h). Around 150 examples of the GT9 are said to be built, of which 20 are the GT9 Vmax.
5
Noble M500
We already talked about the M600, but the truth is, Noble makes a new model once every decade it seems. For this decade, the British, boutique carmaker is giving us the M500, and it's the most innovative car we've seen from the brand. The M500 embraces the winds of change, by going the downsize route. Instead of the M600's big V-8, the M500 features a Ford EcoBoost V-6. Power from it still goes to the rear wheels, exclusively, through a manual transmission and there's still no ABS.
| | |
| --- | --- |
| Engine | 3.5-liter twin-turbo V-6 |
| Transmission | 6-speed manual |
| Drivetrain | RWD |
| Power | 550 hp |
| Torque | 550 lb-ft |
| 0-60 mph | 3.5 seconds |
This means the Noble M500 will, likely, not be sold in the U.S. due to federal mandates regarding driver aids. This time, Noble hasn't gone mad with the pricing as the goal is for the M500 to keep up with more established players at a lower price. That still, the M500 still starts at $205,000.
Related: 10 Concept Cars That Should Have Gone Into Production
4
Falcon F7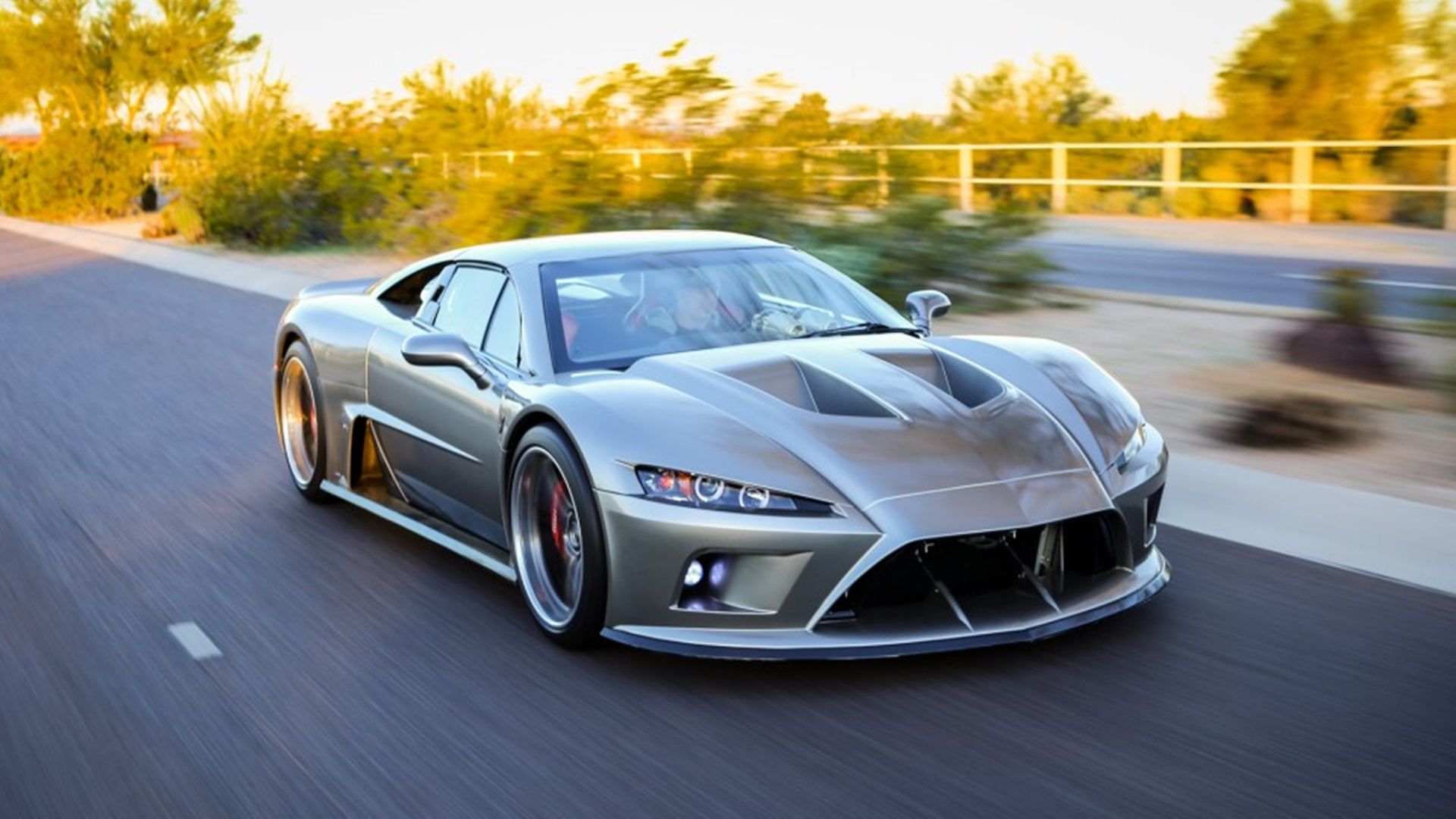 3/4 rolling shot a Falcon F7
Falcon F7 is another American, mid-engine supercar that was built throughout the 2010s. The F7 is undeservedly referred to as a kit car, sometimes. In truth, the boutique manufacturer made only seven examples. To no surprise, the Falcon F7 shared many components with the Chevrolet Corvette, most notably, the LS7 V-8 engine. The 427 cubic-inch engine was modified using racing parts. Lingenfelter – a well-known name in the Corvette community – assembled each Falcon F7 engine by hand.
| | |
| --- | --- |
| Engine | 7.0-liter V-8 |
| Transmission | 6-speed manual |
| Drivetrain | RWD |
| Power | 620 hp |
| Torque | 520 lb-ft |
| 0-60 mph | 3.3 seconds |
The company also offered a twin-turbo kit bumping power to 1,100 horsepower. The Falcon F7 was designed by Jeff Lemke who drew inspiration from the Ford GT, which explains the front and rear clamshells. The F7 also featured design elements inspired by classic models like the Ferrari 308, and is even believed to have been an inspiration for the C8 Corvette.
3
RUF CTR3
RUF is known as the first manufacturer that makes reimagined Porsches. Company founder, Alois Ruf Sr. started out as a Porsche repair shop, but everything changed when he bought a crashed 356 and rebuilt it using custom-made parts. The company based in Pfaffenhausen, Germany started producing cars by buying white body shells directly from Porsches. The company started producing its own bodies only in recent years, but RUF cars still resemble Porsche's models.
| | |
| --- | --- |
| Engine | 3.7-liter twin-turbo flat-8 |
| Transmission | 6-speed manual/ 7-speed PDK |
| Drivetrain | RWD |
| Power | 691-766 hp |
| Torque | 656-723 lb-ft |
| 0-60 mph | 3.2 seconds |
The CTR3 was RUF's answer to the Carrera GT. The CTR3 front resembled a Porsche 997, but was based on a completely bespoke, steel tubular frame chassis, dipped in aluminum and zinc. The CTR3 boasts a curb weight of 3,035 pounds (1,377 kg). A total of 37 examples were made, seven of which are the more powerful CTR3 Clubsport model. To this day, the CTR3 is the fastest road-going Porsche.
2
Bristol Fighter
Bristol is one of the many British automakers that started out great, but eventually, succumbed to the winds of change. The Bristol Fighter was the last model of the company and although it was built in the 2000s, it was as 1990s as it can get. The bespoke chassis was made of welded steel and aluminum and housed the Dodge Viper's V-10 engine. The body featured a neo-retro styling combining gull-wing doors and two-piece rear glass similar to the Alfa Romeo TZ3. T
| | |
| --- | --- |
| Engine | 8.0-liter V-10 |
| Transmission | 6-speed manual/ 4-speed auto |
| Drivetrain | RWD |
| Power | 525-628 hp |
| Torque | 525-580 lb-ft |
| 0-60 mph | 4.0 seconds |
The Bristol Fighter had a drag coefficient of 0.28, which allowed even the standard version to reach 210 mph (338 km/h). The exact number of Bristol Fighters built revolves around 9 and 14, with only one of them being the more powerful Fighter S. The intellectual rights to the brand were bought in 2021, and it was rumored that the eight remaining, unassembled Fighters would be made, including a twin-turbo and GT2 race variant that were never finished.
Related: The History Of American Supercars
1
GTA Spano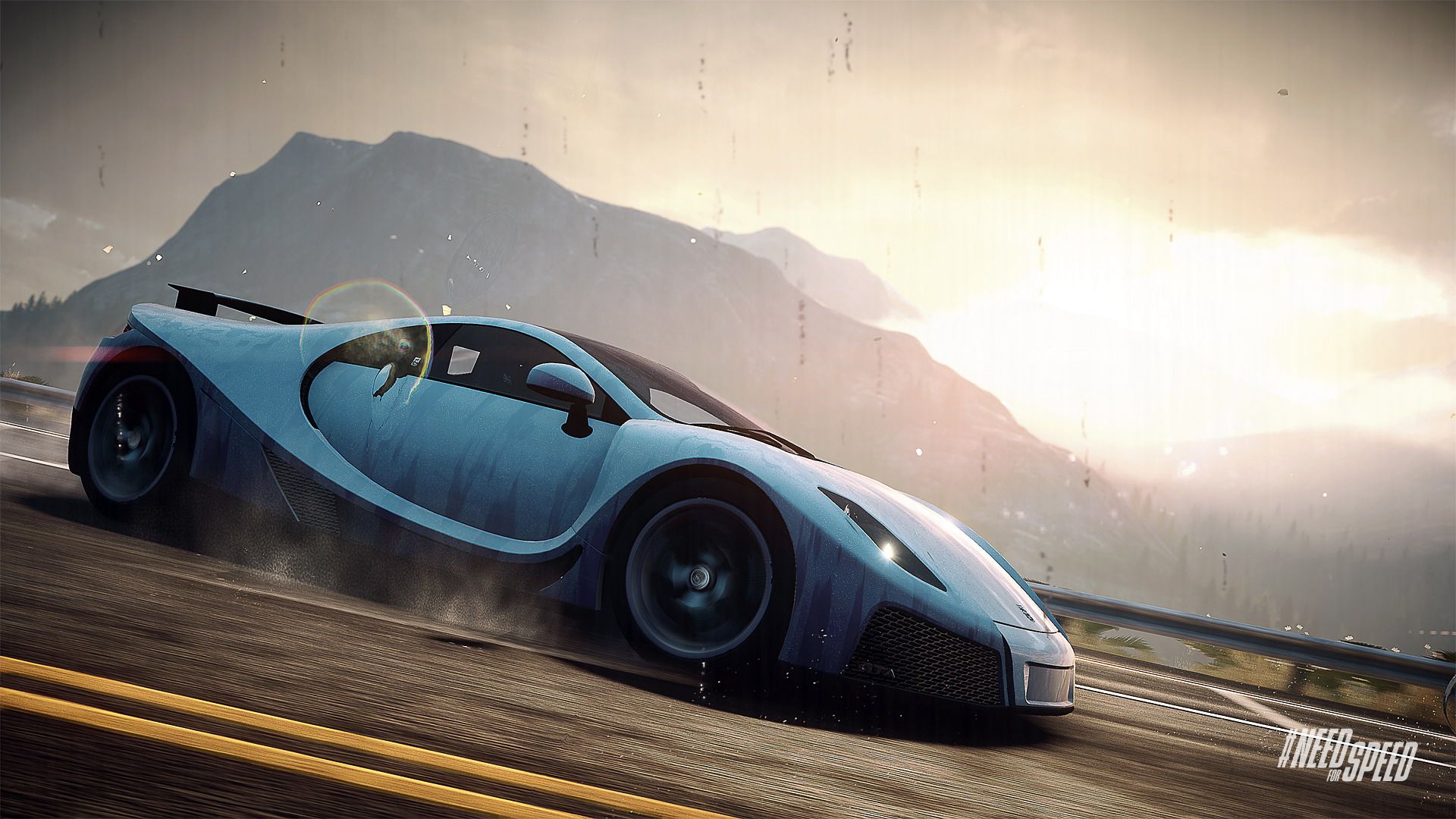 Spain isn't, typically, associated with making supercars, but that doesn't mean there aren't any. In 2010, Spania GTA Competición racing team director, Domingo Ochoa, fulfilled his dream of creating a Spanish high-performance supercar. The GTA Spano features a mid-engine layout and a pushrod V-10 from the Dodge Viper. Depending on the model year, the American V-10 is either supercharged or twin-turbocharged while the top speed is 217 mpg (350 km/h) or 230 mph (370 km/h).
| | |
| --- | --- |
| Engine | 8.0-liter V-10 |
| Transmission | 7-speed manual/ 7-speed auto |
| Drivetrain | RWD |
| Power | 780-900 hp |
| Torque | 679-738 lb-ft |
| 0-60 mph | 2.9 seconds |
The GTA Spano was introduced in 2010, but production did not start until 2013. Just 99 units of the Spano were built. The car was featured in numerous racing games from the Asphalt, Forza Horizon, and Need for Speed series. A replica of the car was also featured in the 2014 movie, Need for Speed where it crashed into a cop car, during the movie's last race.
Google Ads