Chevrolet used to run ads claiming that there was nothing more American than baseball, hotdogs, and their vehicles. While the Bowtie is certainly a great American brand, so are Ford and Dodge. There's nothing quite as patriotic as the thunderous roar of a 426 Hemi, the smell of a GT350 doing a burnout, or the blurry image of an SS zooming by. American muscle is American might.
Google Ads
We can talk about our democracy being the shining beacon for the world, but the true symbol of American exceptionalism is American ingenuity and invention. The U.S. led the way in the industrial revolution, the space race, and the information and technology age. More importantly, thanks to a genius named Henry Ford, this country perfected the automobile. In reality, the car represents individual freedom more than any other single example.
On July 4, 1776, America declared its independence from the British monarchy, and the American car is a symbol of individualism, so it is a natural fit that car customizers and automakers alike would combine those two things into some awesome vehicles that literally scream, «USA! USA! USA!» For this 4th of July it's time to celebrate these patriotic-themed rides that honor American independence and freedom.
RELATED: The Fastest American Cars Ever Produced
10
1976 Bicentennial Eldorado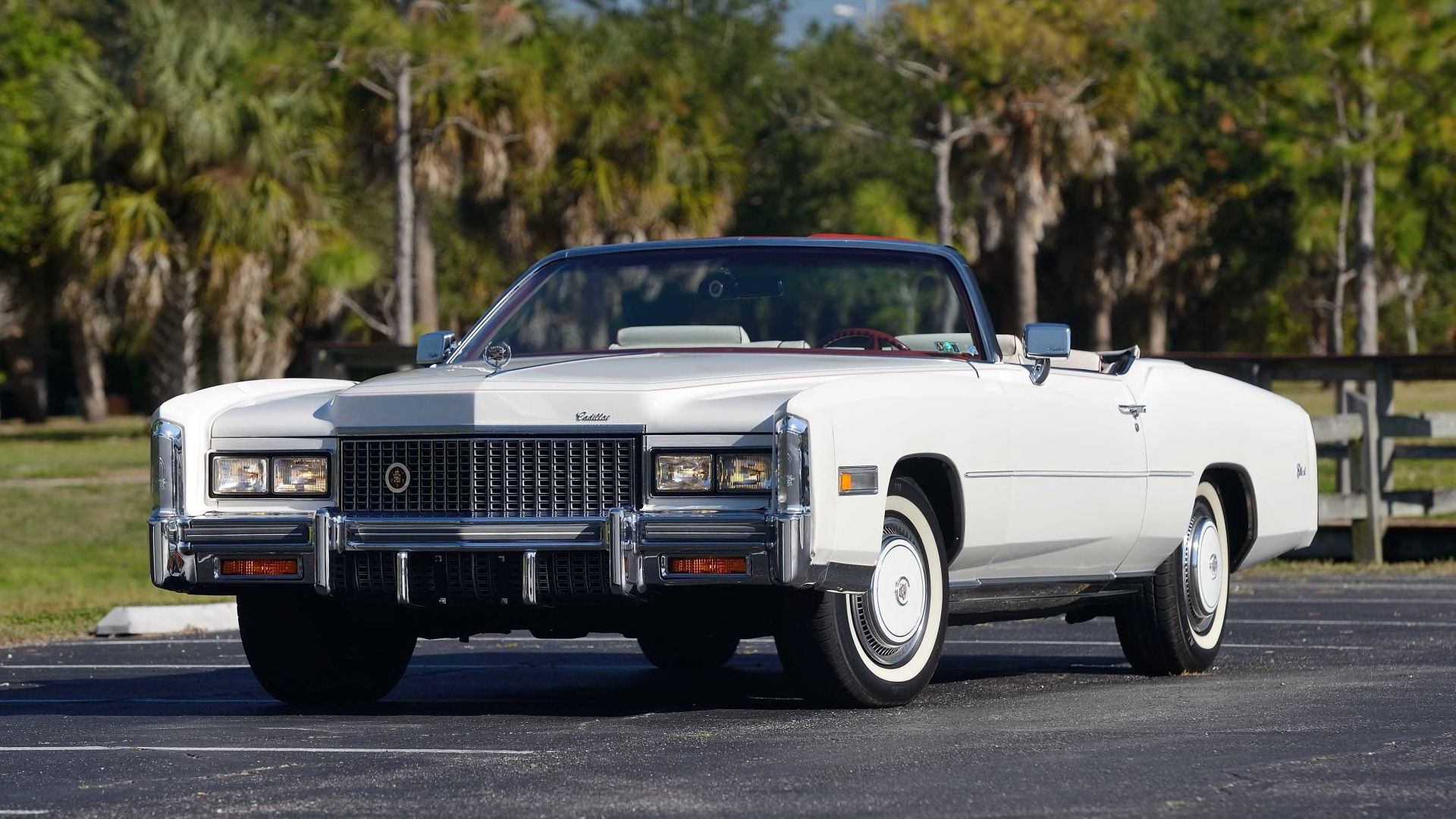 Google Ads
3/4 front view of 1976 Bicentennial Cadillac Eldorado
When picturing a Cadillac Eldorado, no one ever imagines it winding down the tight roads of Monaco or navigating the narrow thoroughfares in Honk Kong. The reason is that an Eldorado is the quintessential American car that belongs on the streets of Detroit or NYC, rolling slow and looking smooth. To celebrate 200 years of freedom in 1976, Cadillac issued a special edition Bicentennial Eldorado.
199 were sold to customers, with GM keeping the last
GM dropped a 502ci V-8 in for power
These last Eldorados were built from parts scavenged from GM suppliers
Limited to just 200 vehicles, the land-yacht convertible was painted triple Cotillion White with red accents and red and blue pinstripes. It came with a plaque proclaiming: "This 1976 Fleetwood Eldorado is one of the last 200 identical U.S. production convertibles." Though it was supposed to be the last convertible Cadillac would make, they got back in the ragtop business in the 80s and Bicentennial owners unsuccessfully sued them
9
The Patriot Monster Truck
The American spirit is all about going big, so no list would be complete without a red, white, and blue Monster Truck. The Patriot, driven by Dan Rodoni, was as its name would suggest, a celebration of all things USA in an extreme package. Based on a Chevrolet Silverado, the monster truck is covered in American imagery from flags to bald eagles.
Donkey Kong and El Toro Loco have ridden on The Patriot's chassis
Rodini retired from Monster Jam in 2015
The Patriot was sold and now competes as Outlaw
Rodoni was successful in the Patriot, making it all the way to the Monster Jam World Finals in 2014. After 2015, Rodoni stopped driving The Patriot, handing the steering wheel over to teammate Andrew Peckman. Sometime after 2018, The Patriot persona was mothballed, but lives on in a variety of toys and collectibles.
RELATED: 10 Biggest Pickup Trucks In The World
8
1968 AMC Javelin Bonneville Speed Spectacular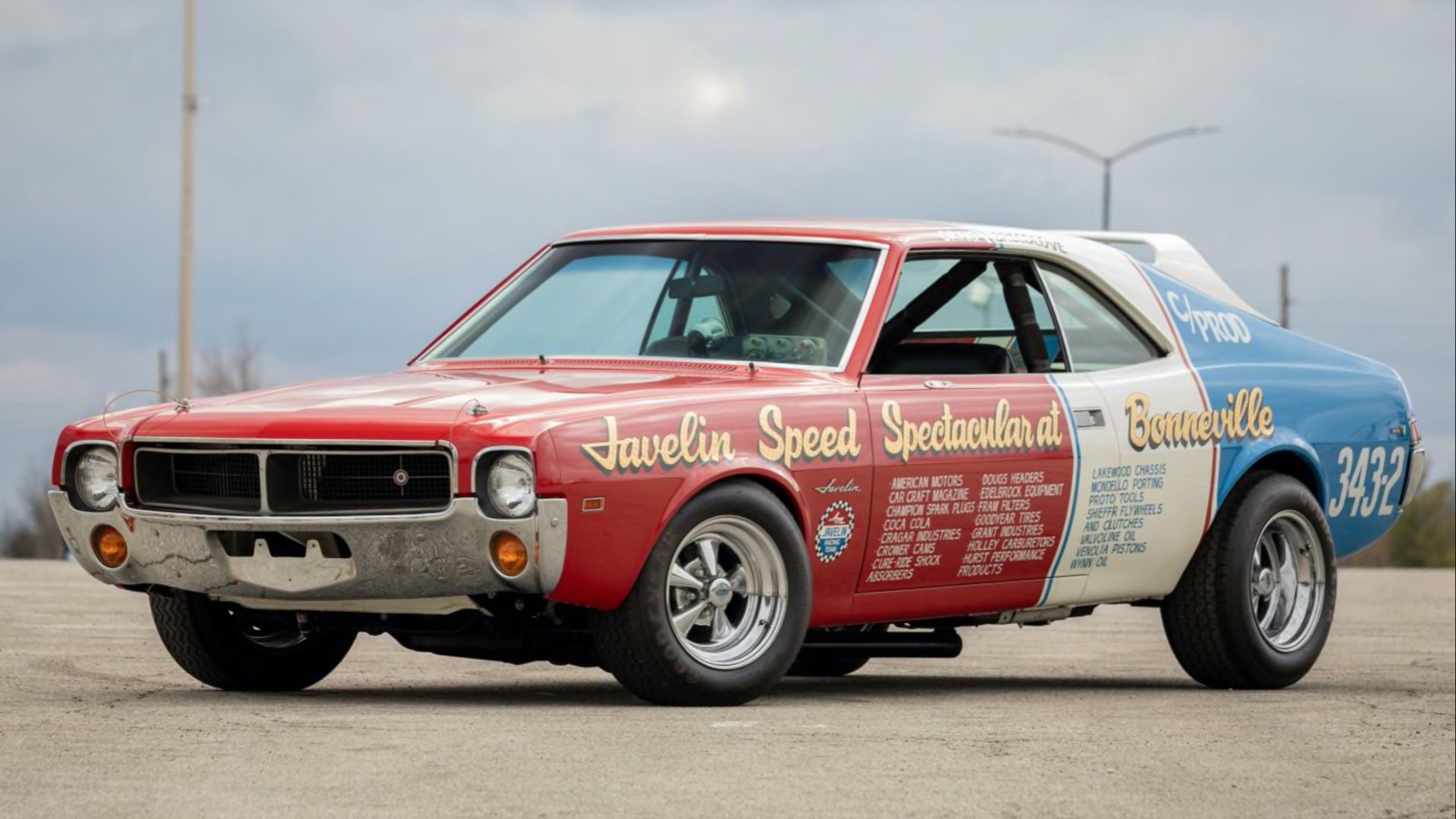 3/4 front view of 1968 AMC Javelin Bonneville Speed Spectacular
American Motors Corporation (AMC) has «American» right there in the middle of its name, so chances were good that they'd make the list. Especially since they tended to make some really patriotic red, white, and blue rides like the 1970 Rebel Machine and the Mark Donohue Trans-Am Racing Javelin. Nothing compares however to the 1968 Javelin Bonneville Speed Spectacular.
This is one of three cars produced by AMC
A heavily modified 343ci V-8 powers this Javelin
Craig Breedlove set land speed records 5 times in jet-powered cars
Just like the name says, this car was a champion at the Bonneville Salt Flats, setting a C/Production record with a flying mile speed of 161.733 mph. As if that weren't impressive enough, the Javelin was driven by Craig Breedlove, the first person to go 500 mph and 600 mph in a land vehicle. The Javelin sold at a Mecum Auction for an undisclosed amount in 2022.
7
1972 Ford Mustang Olympic Sprint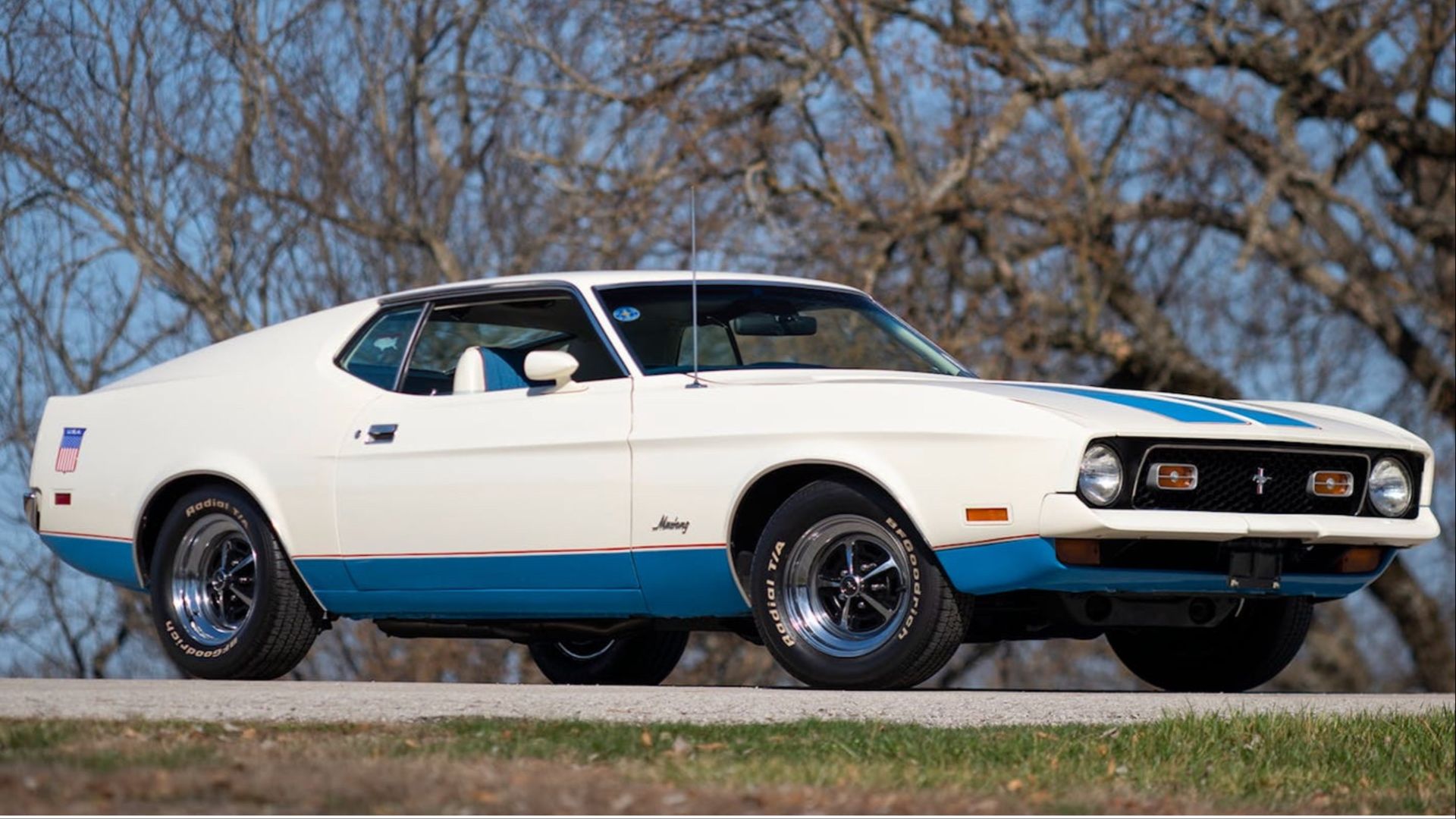 3/4 front view of 1972 Ford Mustang Olympic Sprint
Nothing gets the patriotic juices flowing like international sporting competitions and Ford did its best to honor American athletes in the 1972 Munich Olympic Games by coming up with a Sprint package for the Pinto, Maverick, and Mustang. With blue hood stripes and rocker panels, red pinstripes, and twin stars-and-stripes shields, these rides were as American as it got.
9,383 '72 Mustang Olympic Sprints were produced
50 Mustang Sprint convertibles were made and only 37 still exist
U.S. swimmer Mark Spitz won seven gold medals in Munich
The package proved successful as they accounted for 7.5 percent of all Mustang sales in 1972, which isn't bad for an extremely limited edition. Unfortunately, that same success didn't translate to the U.S. men's basketball team, which lost the Gold Medal to Russia in the most controversial game in Olympic history.
6
Buddy Dickerson's 1966 Charger Drag Car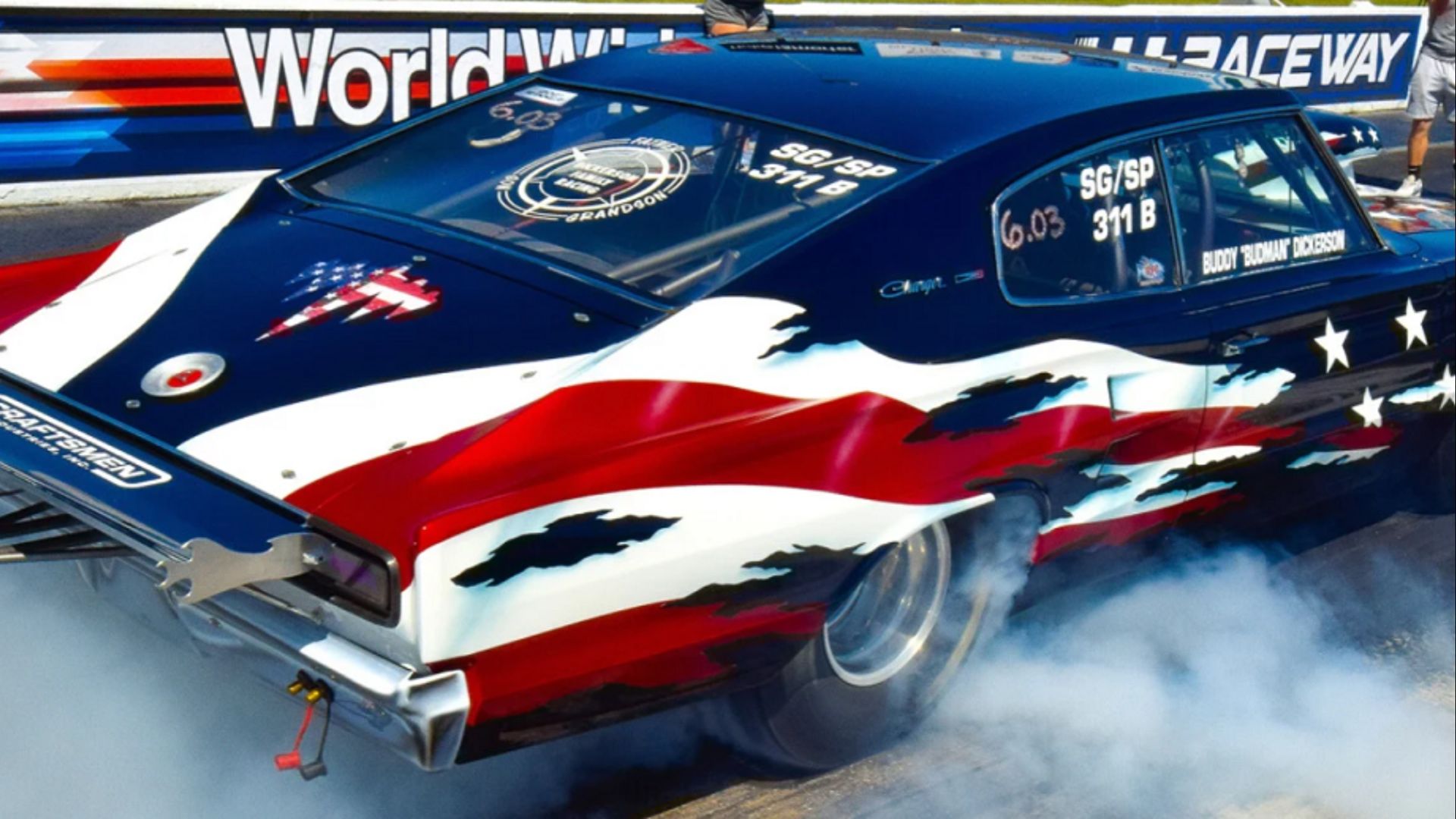 Buddy Dickerson's 1966 Charger Drag Car burns off the line
Buddy Dickerson races in the Nostalgia Drag Racing League, which is cool enough, but he does it in a modified 1966 first-gen Dodge Charger slathered in patriotic paint. According to Dodge Garage, he says he was inspired to build this America-themed drag car after a visit to the Pearl Harbor Memorial in Hawaii.
Bigfoot Monster Truck painter, Danny Patterson, also did the USA '66 Charger
An original 426 Hemi '66 Charger did a 1/4-mile in 14.3 seconds
A 2023 Dodge Charger SRT Hellcat Widebody Redeye Jailbreak does a 1/4-mile in 10.6 seconds.
Dickerson dropped in a 493ci V-8 and pulled out over 1,000 pounds of unnecessary weight to make this a light, fast retro dragster. This particular Charger was the seventh off of the production line, making it as rare and historic as it is fast. Dickerson's best quarter-mile time with this patriotic ride is 9.41 seconds.
RELATED: Best Dodge Charger Muscle Cars From Every Generation​​​​​​​
5
1975 GMC Indy 500 Edition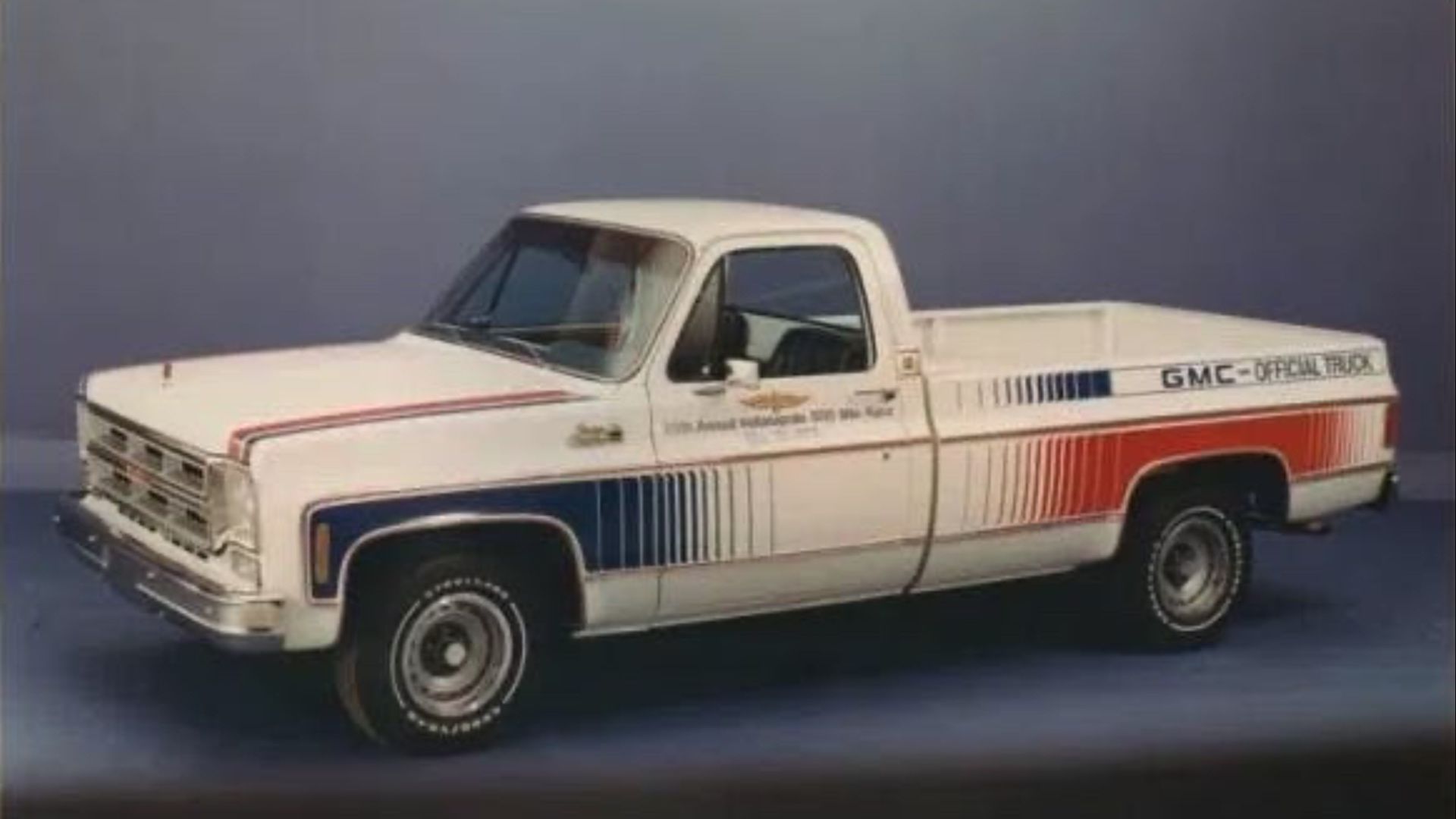 Shot from vintage GM ad of 1975 GMC Indy 500 Edition Pace Truck
While it seems weird to have a pickup truck at the open-wheel racing of the Indianapolis 500, GMC has often provided a pace truck for the ultimate Indy Car race. In 1975, it produced a special edition truck for the Indy 500 that was just as patriotic as the iconic American race.
GM only made 2 or 3 of these trucks, nobody is sure
The 1975 Indy 500 was called because of rain at lap 174
A.J. was leading and was declared the winner
The GMC Indy 500 Edition was driven by none other than James Garner from The Rockford Files and Grand Prix. Somehow this Indy 500 was even cooler because the first three cars behind the pace truck were driven by Bobby Unser, Gordon Johncock, ad A.J. Foyt with the pole position.
4
Bruce Larson's USA-1 '68 Camaro Funny Car
Bruce Larson is a drag racing legend known for his patriotic USA-1 Funny Cars. After a bad fire caused him to retire in 1972, he came back to the strip a few years later to dominate. In 1989 he won 6 national events, had 5 runner-ups, and captured the NHRA Funny Car Championship. He was also named Car Craft's Funny Car Driver of the Year.
Larson began racing at 16 in a '32 Ford Coupe
He won his first NHRA Winternationals in a Ford Cobra
Larson has 109 NHRA National Event Wins
That championship car is one of two drag race cars in the Smithsonian, the other being Don Garlits' Top-fuel Dragster Swamp Rat XXX. Interestingly enough, Larson would take over Garlits' dragster when the «Big Daddy» retired from a detached retina. Larson has had many cars branded as USA-1 over the years, but none is cooler than his 1968 Camaro.
3
2019 Dodge Challenger Stars & Stripes Edition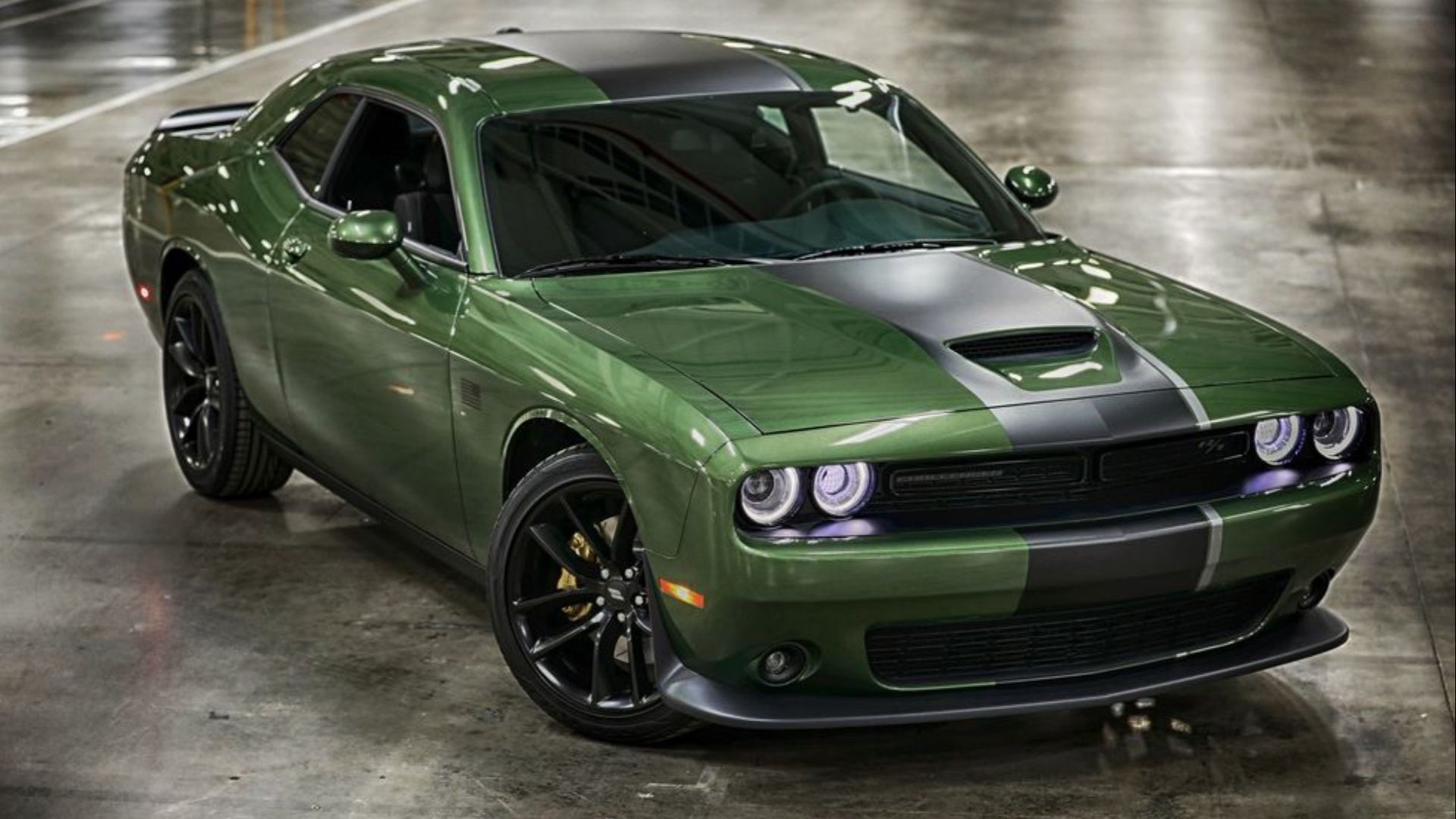 Military-themed 2019 Dodge Challenger Stars & Stripes Edition
Unlike the other «USA!» rides on this list, the Dodge Challenger Stars & Stripes Edition is not adorned in red, white, and blue, but is no less patriotic. In 2019, Dodge offered a special trim package for both the Challenger and Charger models as a salute to the American troops. The package included a wide, body-length matte black stripe, American flag emblems on the fenders, and gold stars embroidered in the seats.
«We have a strong following of buyers who are in the military, as well as many buyers who are patriotic,» said Steve Beahm, Fiat Chrysler's head of passenger-car brands
The military-themed package could be applied to the R/T, R/T Scat Pack, and GT trim levels, for just under $2,000. Conceivably, a patriot could have supported the troops with a 485 horsepower 6.4-liter Hemi V-8 under the hood. It really doesn't get any more American than that, unless Dodge decides to add a Stars & Stripes package to the 1,025 horsepower Demon 170.
2
1965 Chevrolet Corvette Sting Ray From Austin Powers
One of the best ways to pump up the patriotism is for a 1965 Chevrolet Corvette Sting Ray convertible, painted like an American flag, to pull up with American Woman sung by Lenny Kravitz blasting. Even better if that car is driven by Felicity Shagwell, A.K.A Heather Graham. That was the case in the film Austin Powers: The Spy Who Shagged Me, with one of the most iconic scenes and iconic cars.
The movie car license plate reads: CIA 1
The '67 has a 350 horsepower 326ci V-8

Austin Powers: The Spy Who Shagged Me
grossed $312 million worldwide
Despite being such a famous car, that would be its last film appearance. There was no role for Graham in the third Austin Powers movie, so the car was unceremoniously exiled to a warehouse where it collected dust. MotorTrend reports that the patriotic '65 'Vette was eventually purchased and completely restored, but the original movie paint was left untouched.
RELATED: 10 Cars That Were Genuine Movie Stars​​​​​​​
1
Spirit of America Sonic 1
The Saturn V rocket that sent the Apollo 11 astronauts to the moon in 1969 is the most American vehicle there is, but that thing didn't have any wheels. The Spirit of America Sonic 1 jet-propelled car however had four wheels and set the land speed record in 1965 with a pass of 600.6 mph. Piloted by race car driver Craig Breedlove, it was the last jet-powered vehicle to hold the record.
The Sonic 1 was powered by an F-4 Phantom II fighter-jet engine
The engine produced 14,980 pounds of thrust
The Beach Boys' song
Spirit of America
was an ode to Breedlove and his ride
Breedlove's first Spirit of America car only had three wheels so his initial land speed record was never officially recognized. When he brought the four-wheeled Spirit of America Sonic 1 to the Bonneville Salt Flats and blew through space and time, he was finally acknowledged as the fastest man alive. Though his record would eventually be broken, no car has ever captured the spirit of American ingenuity or elicited as much patriotism as Breedlove's amazing ride.
Google Ads