The automotive industry is experiencing a rapid and remarkable shift towards electrification and the market is now positively flooded with hybrids and all-electric vehicles. Some of these are completely new models while others, like the Ford Escape, are familiar names getting some electric treatment. Introduced in 2001, the Ford Escape became the first hybrid SUV in 2005. It entered its fourth generation in 2020 before getting a facelift in 2023. The existing trims have been replaced completely by a new-look lineup consisting of the Active, ST-Line, and Platinum models. It is now offered in two different hybrid versions, one of which is a plug-in. Power comes from a 2.5-liter four-cylinder engine mated to two electric motors for a combined output of 210 horsepower, and the efficiency ratings are more than satisfying. The facelift gives it a bold new look and the interior is now dominated by an enormous touchscreen. Front-wheel drive comes standard in all versions, with a mechanical AWD option available in the base hybrid model. The plug-in hybrid doesn't get the AWD option, but it still offers an array of impressive features to make a strong case for itself. Here are 10 things that make the Ford Escape Hybrid special!
Google Ads
Related: 10 Best Plug-In Hybrid SUVs
1
The First Ever-Hybrid Crossover, Refined
A 2005 Ford Escape Hybrid driving on a road
The hybrid version of the first-generation Ford Escape was the first-ever hybrid SUV to go on sale in the U.S. and it was a groundbreaking vehicle for its time thanks to its unique combination of performance and efficiency. It helped pave the way for the popularity of hybrid SUVs today and will always hold this legendary status. The 2023 Ford Escape Hybrid is an evolution of that, embodying everything the original stood for and adapting to the ever-changing climate of the modern automotive market. Overall, the Ford Escape Hybrid is a very well-rounded compact crossover SUV that stays true to its roots while delivering an efficient and practical package that will definitely fit a lot of people's needs.
2
The Escape Hybrid's Looks Will Please All And Offend None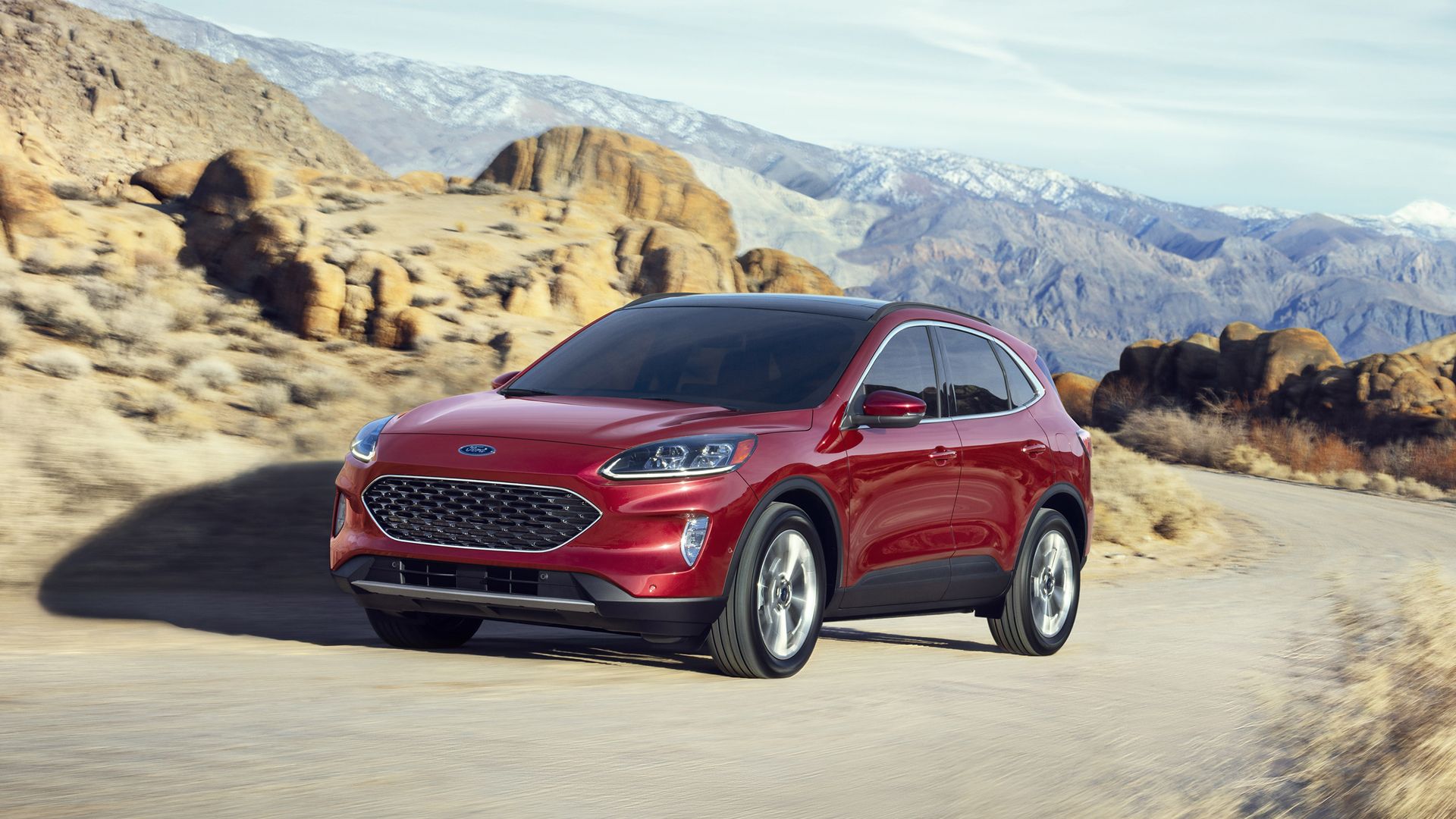 Front three-quarters shot of a red Ford Escape Hybrid
Google Ads
The fourth-generation Ford Escape was often described as a 'happy-looking' car, but the facelifted new version has shifted the aesthetic a bit. The 2023 Ford Escape Hybrid gets a new front fascia including a larger grille, reshaped headlights connected by a lightbar, and a new bumper. This gives it a more contemporary and aggressive look as opposed to the 'smile' it had before, but the Ford Escape Hybrid is still the same accessible crossover SUV as ever before. The rear end has also received some minor changes including new taillights and a slightly-redesigned bumper. Overall, the changes are minor but give it a more modern look, establishing the Ford Escape as a practical and stylish SUV that is perfect for everyday driving. You won't be turning any heads with it, but it gets the job done when needed.
Related: 10 Hybrid Vehicles That Offer Incredible Fuel Efficiency
3
The Ford Escape Hybrid Offers More Than Enough Of Power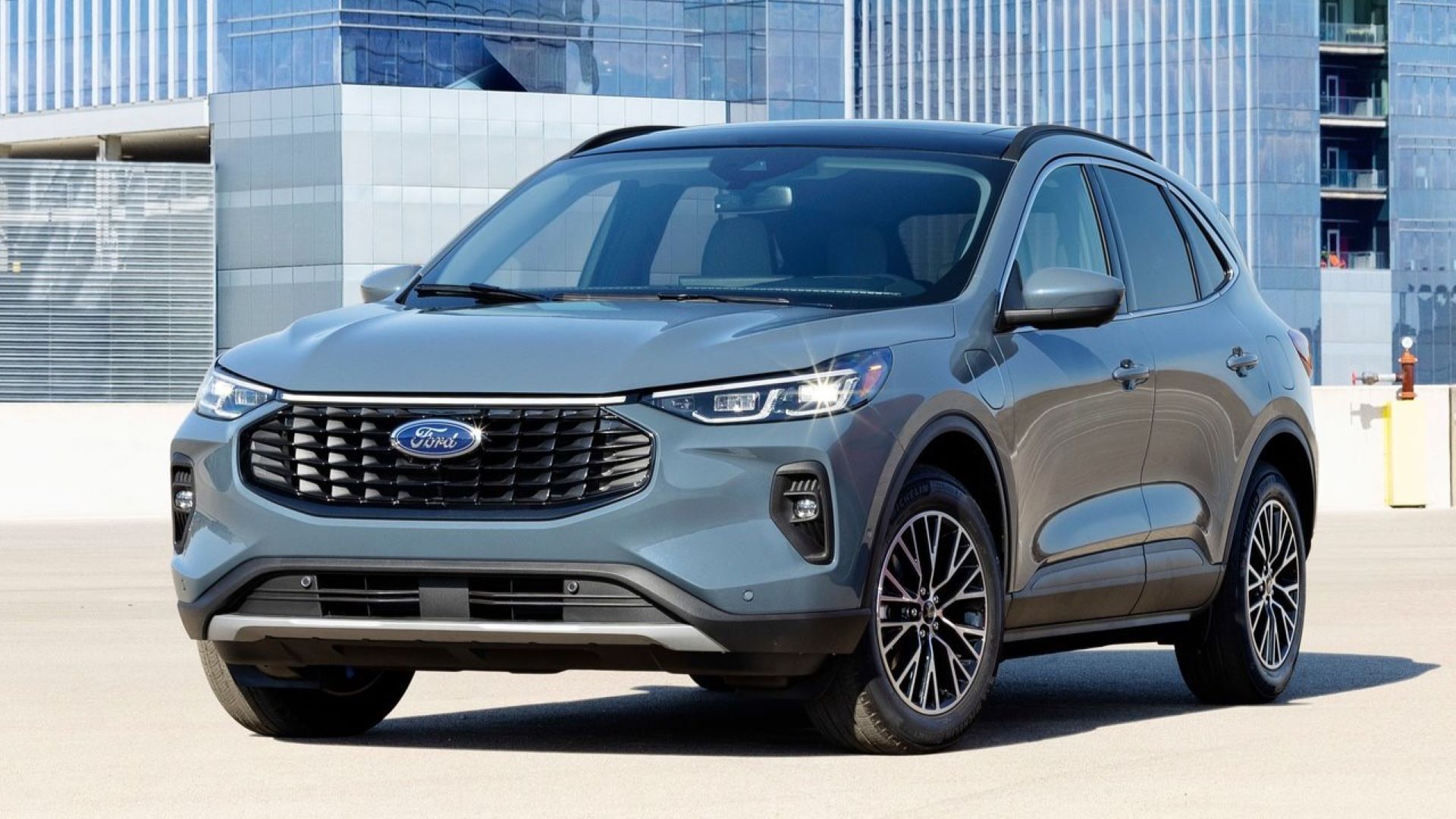 Front three-quarters shot of a 2023 Ford Escape Hybrid
The base non-hybrid version of the 2023 Ford Escape is powered by a 1.5-liter, three-cylinder EcoBoost engine producing 181 horsepower. Both of the hybrid versions are powered by a 2.5-liter Atkinson cycle engine paired with two electric motors for a total output of 210 horsepower in the PHEV model and 192 horses in the standard hybrid. This isn't the most powerful combination you will ever see, but the Ford Escape Hybrid isn't meant to be a performance vehicle, it is meant to be a reliable everyday driver, and it delivers sufficient power to serve that purpose. This amount of power should allow the Ford Escape Hybrid to go from 0-60 mph in about 7.7 seconds. If you do want more power, though, you can also opt for the upgraded 250-horsepower turbocharged engine, but you will lose the hybrid powertrain.
Ford Escape Hybrid Specs
| | |
| --- | --- |
| Engine | 2.5-liter Atkinson cycle engine paired with two electric motors |
| Engine Output | 210 horsepower and 155 pound-feet of torque (PHEV) |
| Electric Range | 37 miles |
| Transmission | CVT |
| Drivetrain | Front-wheel-drive (AWD disconnect optional) |
| Fuel Economy | 42 MPG (city) / 36 MPG (highway) / 39 MPG (combined) |
4
37 Miles Of Electric-only Range Is Impressive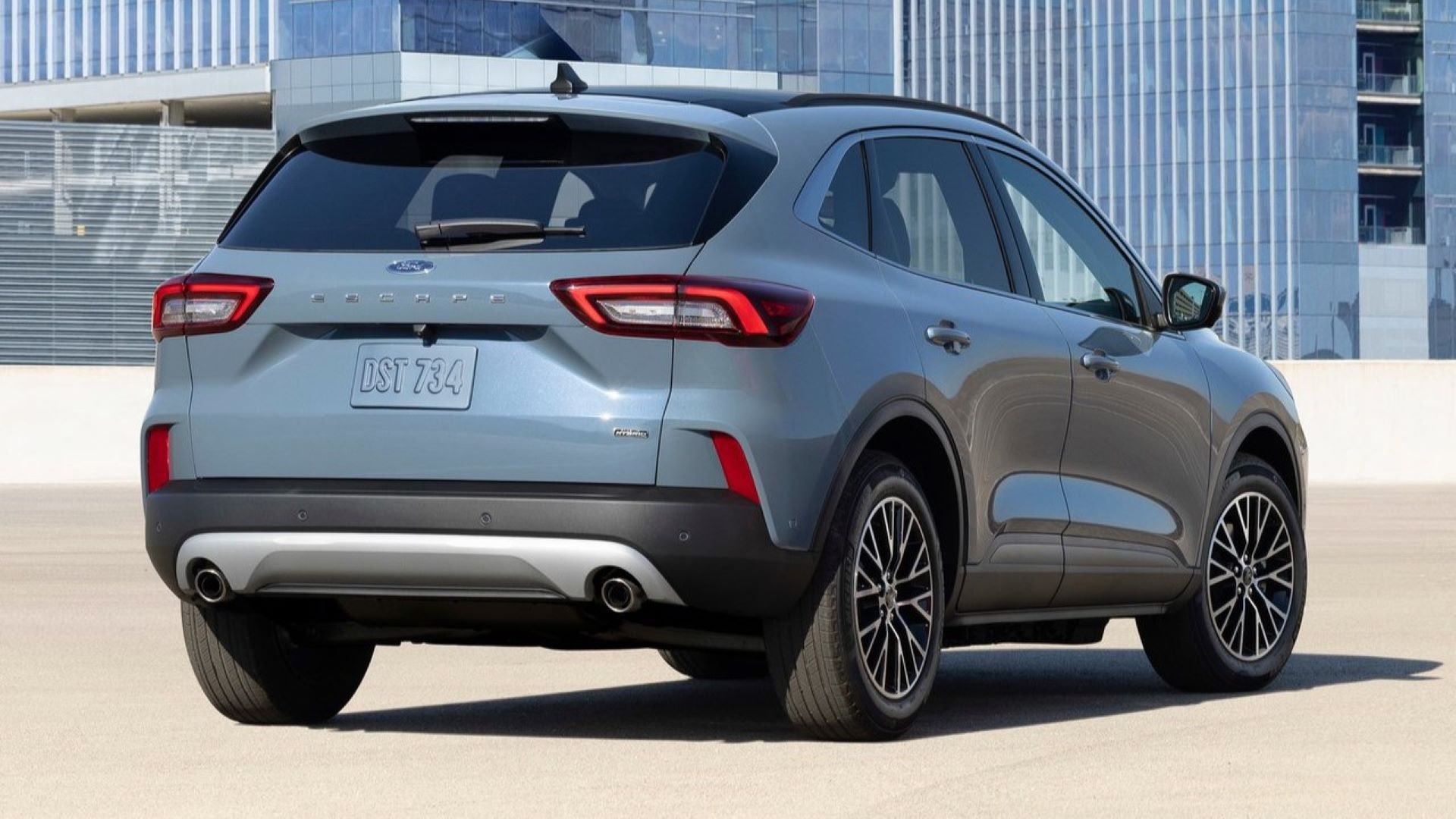 Rear shot of a grey 2023 Ford Escape Hybrid
Performance may not be its forte, but the driving range is where you can get your money's worth. Thanks to its efficiency, the Ford Escape Hybrid can go more than 550 miles on a single charge according to the EPA. This range depends on a lot of factors such as driving style, the amount of load you are carrying, and weather conditions, but the Ford Escape Hybrid will not let you down on longer journeys. If you opt for the plug-in hybrid version, you can get an EPA-estimated 37 miles of electric range. This electric range might be enough for the daily commuting needs of many individuals, adding to the practicality of the Ford Escape Hybrid. Overall, it is a versatile crossover SUV highly suited to daily driving and the occasional long road trip.
Related: 10 Plug-In Hybrid SUVs With The Most Electric Range
5
The Hybrid Powertrain Is Extremely Efficient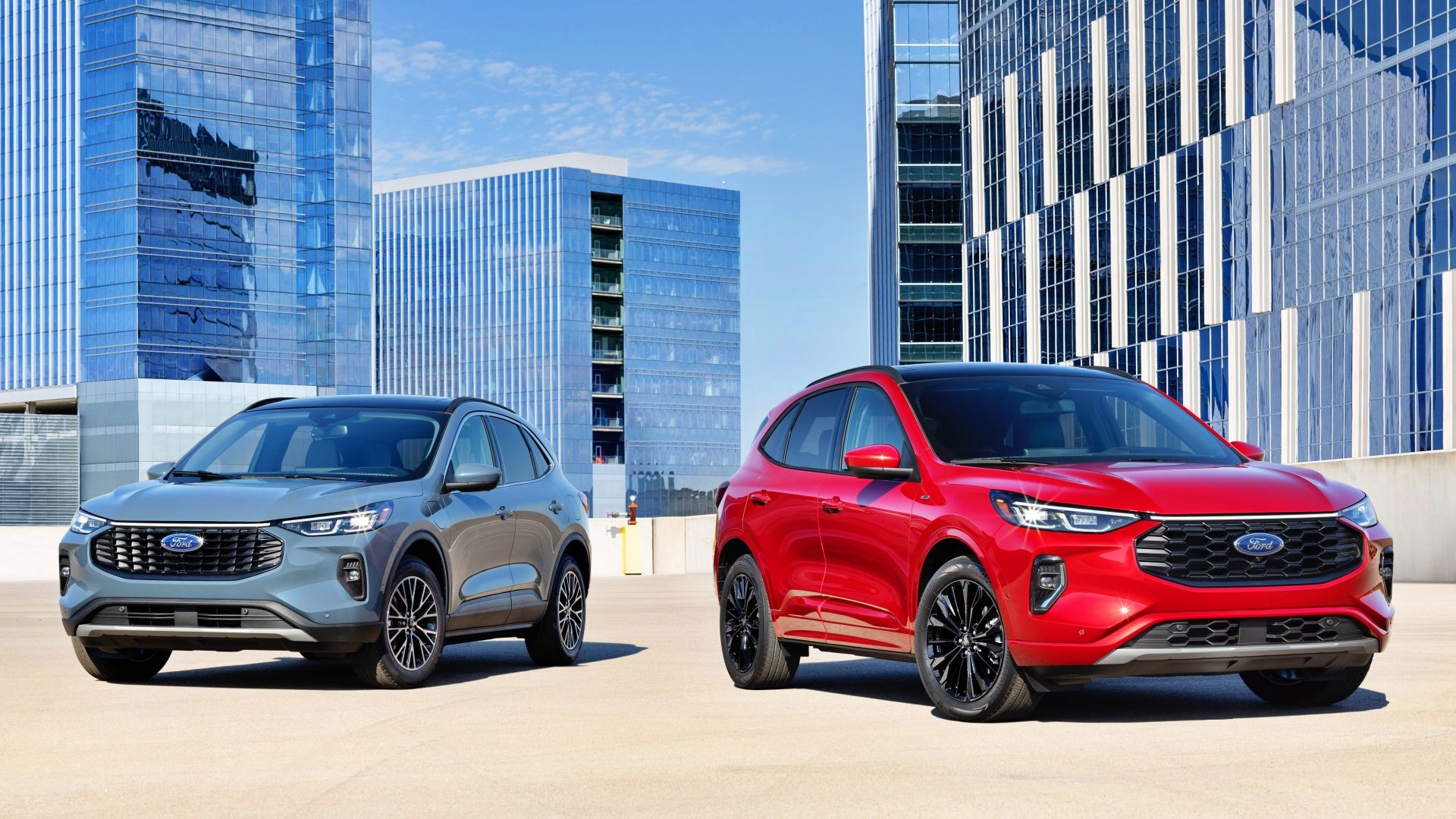 An outdoor shot of a 2023 Ford Escape Plug-In Hybrid
One thing that hybrids are good at is efficiency, and the Ford Escape Hybrid is no exception. The 2023 Ford Escape Hybrid is rated at 42 MPG city and 36 MPG highway by the EPA for a combined rating of 39 MPG. For the sake of comparison, the gas-only base model Ford Escape gets ratings of 27 MPG city and 34 MPG highway for a combined 30 MPG. Not only is the hybrid version more powerful, but it is also much more efficient and allows you to save up to $2750 in fuel over five years compared to the average new vehicle, according to the EPA. The plug-in hybrid version has received a combined 40 MPG rating and an overall rating of 105 MPGe thanks to the 37 miles of electric range provided by the battery, making the Ford Escape Hybrid one of the most efficient compact crossover SUVs you can get today.
6
It Boasts A Very Spacious Cabin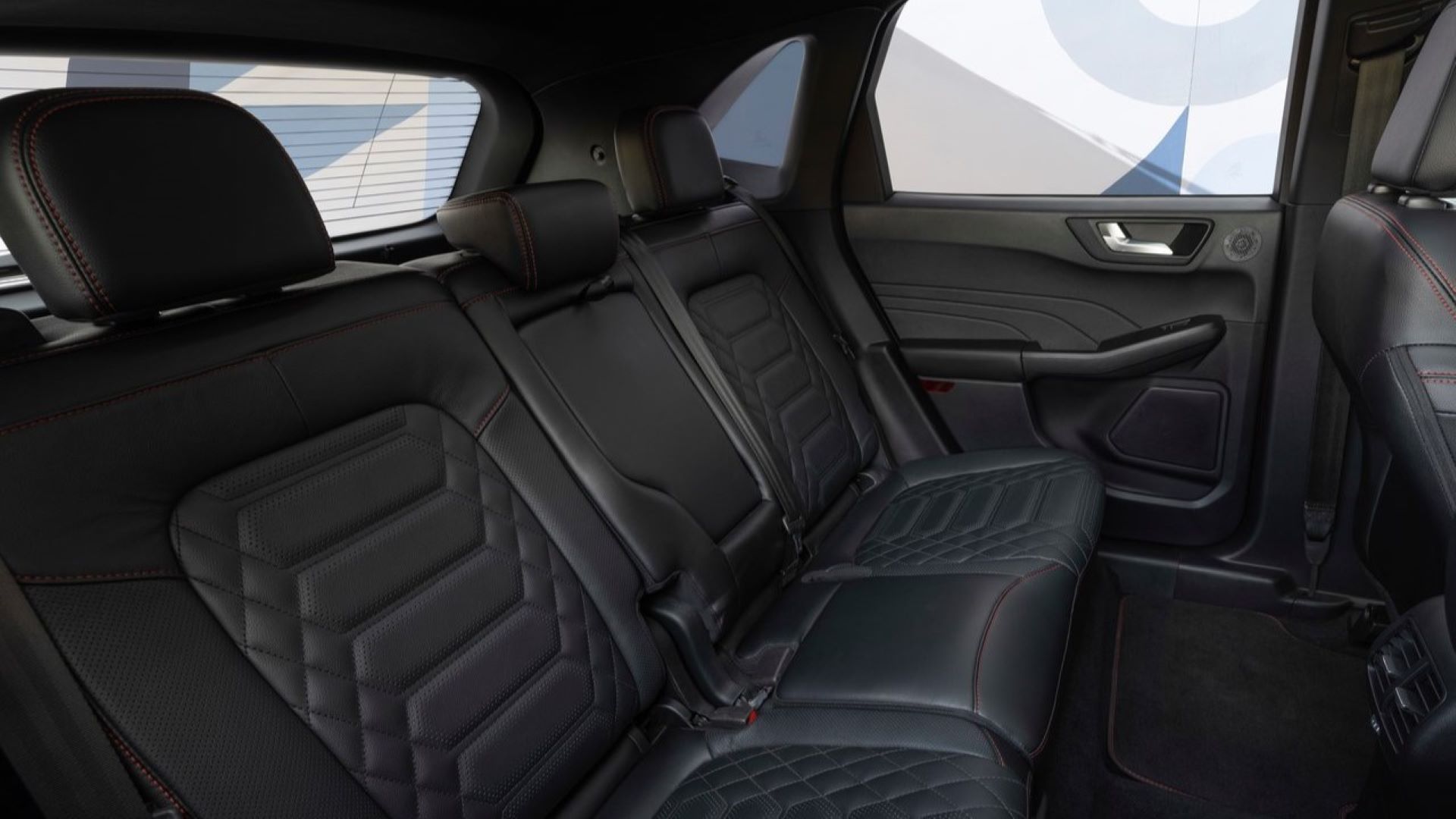 A shot of the rear seats of a 2023 Ford Escape Hybrid
Since the Ford Escape Hybrid differs from the regular Ford Escape only in terms of the powertrain, it offers as much cabin space as the gas-only version. Being a crossover SUV, it is expected to provide a spacious and comfortable cabin, and it does just that. The front passenger seats have plenty of head, leg, and shoulder room, and the rear seats have enough space to accommodate tall passengers. The front seats are manually adjustable and the rear-row seats can slide back and forth, so you can make the most of the space you have. The Ford Escape Hybrid is a family-friendly SUV in every way, and the rear seats are equipped with connectors to install child safety seats. Overall, the Ford Escape Hybrid has a spacious cabin that can easily fit five passengers without anyone feeling like they are starved for room.
Interior Dimensions
| | |
| --- | --- |
| First-row Headroom | 40 inches |
| First-row Legroom | 42 inches |
| First-row Shoulder room | 57.6 inches |
| First-row Hip room | 55.2 inches |
| Second-row Headroom | 39.3 inches |
| Second-row Legroom | 38.9 inches |
| Second-row Shoulder room | 56 inches |
| Second-row Hip room | 53.3 inches |
Related: 10 Best Plug-in Hybrid SUVs Under $50000, Ranked
7
It Offers A Generous Amount Of Cargo Space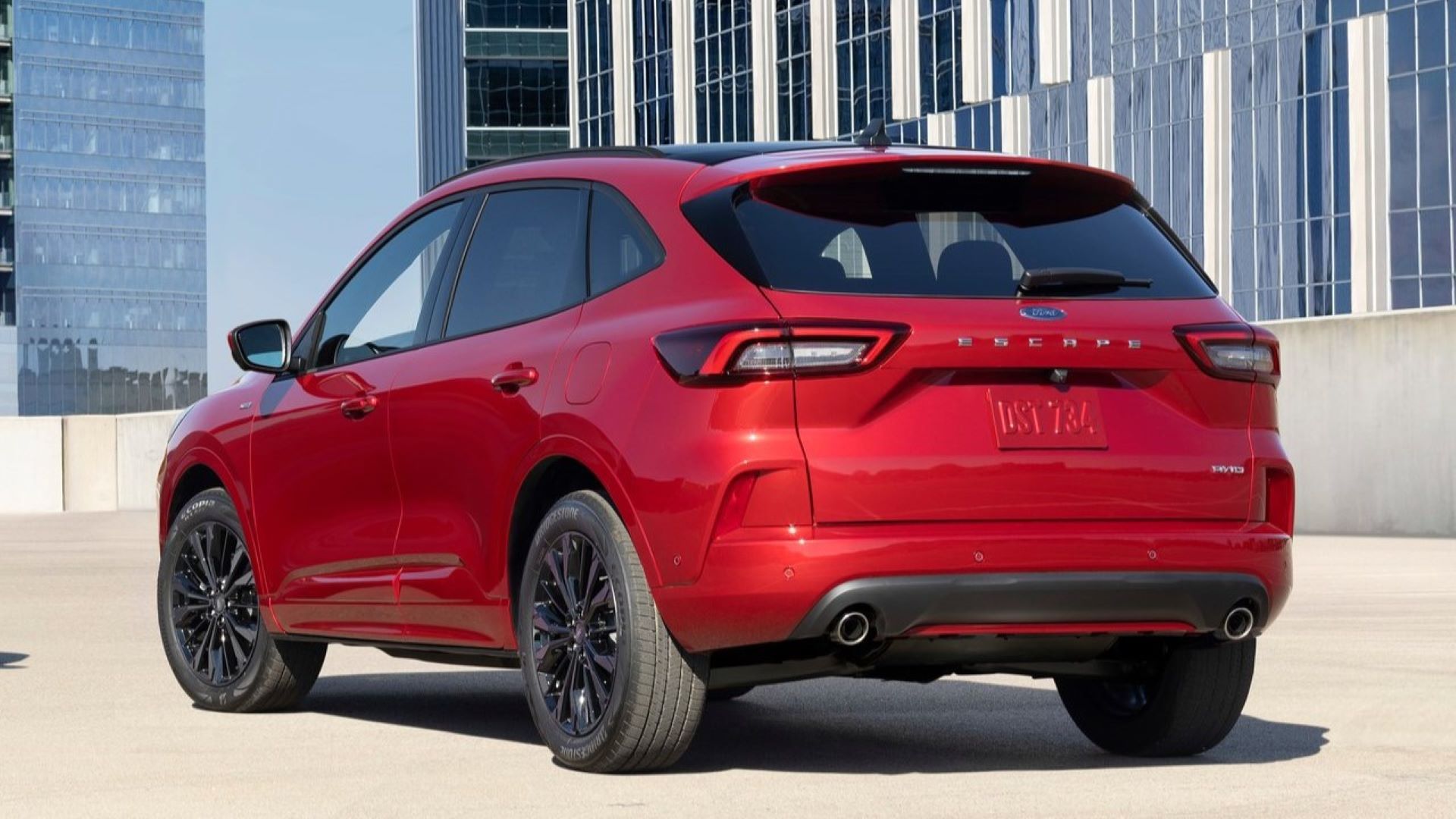 Rear three-quarters shot of a red 2023 Ford Escape Hybrid
Cargo space is another metric that matters greatly for vehicles in this segment, and the Ford Escape offers a commendable amount of cargo space considering it is a compact SUV. You get 37.5 cubic feet of cargo space behind the rear seats and this number can be boosted to 65.4 cubic feet if you fold the rear seats down in the standard model. The battery setup compromises the volume in the hybrid models, bringing the cargo space to 34.4- and 60.8 cubic feet with the all seats in place and the rear row folded, respectively. The rear cargo hold has a low floor, further increasing its utility and helping in the loading and unloading of various items. A manual liftgate comes standard while a power liftgate is an optional extra. Whether it's groceries, luggage, or something else, the Ford Escape Hybrid has ample cargo space and the convenience provided by the floor and liftgate add to its value as a practical everyday vehicle.
Ford Escape Hybrid Cargo Volume
| | |
| --- | --- |
| Cargo Space (with all seats in place) | 34.4 cubic feet |
| Cargo Space (with rear row folded) | 60.8 cubic feet |
8
Ford Has Equipped It With A New Infotainment System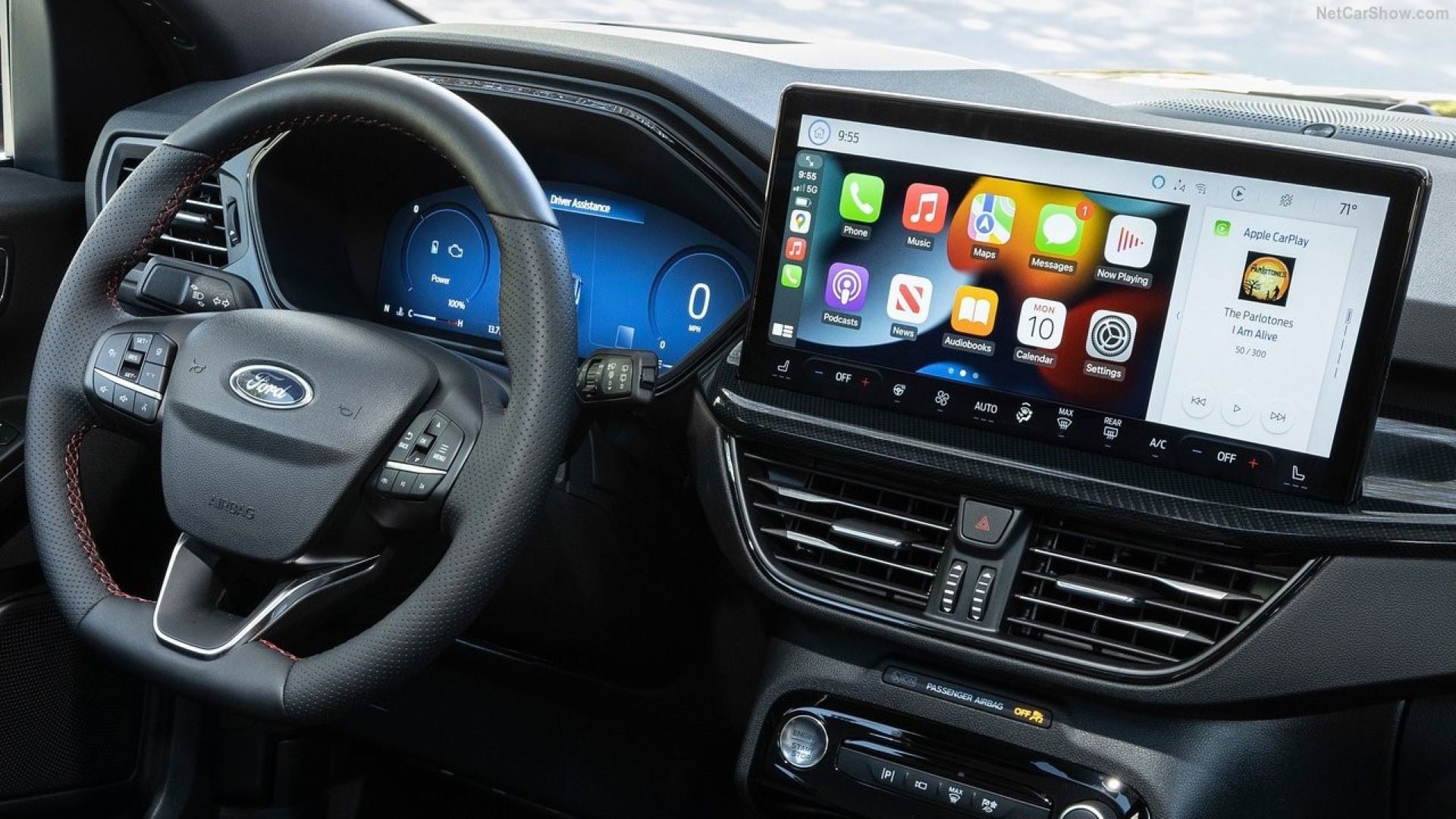 The infotainment system of a 2023 Ford Escape Hybrid
Huge touchscreens are becoming the norm in new cars, and the Ford Escape Hybrid is jumping on this trend in 2023 as well. Gone is the tiny 8.0-inch screen to be replaced by a 13.2-inch touchscreen. This new display comes equipped with an updated software system named Sync 4. The Sync 4 represents a significant upgrade over its predecessor, boasting a new design, enhanced performance, and an expanded array of features. It supports both Apple CarPlay and Android Auto while also supporting over-the-air updates to keep your system up-to-date at all times. It also supports voice commands thanks to its natural language voice recognition, and you can ask it to perform simple tasks such as playing music and navigating to places.
Related: The 10 Best Hybrid SUVs Of 2023, Ranked
9
The Interior Is Loaded With A Lot Of Bells And Whistles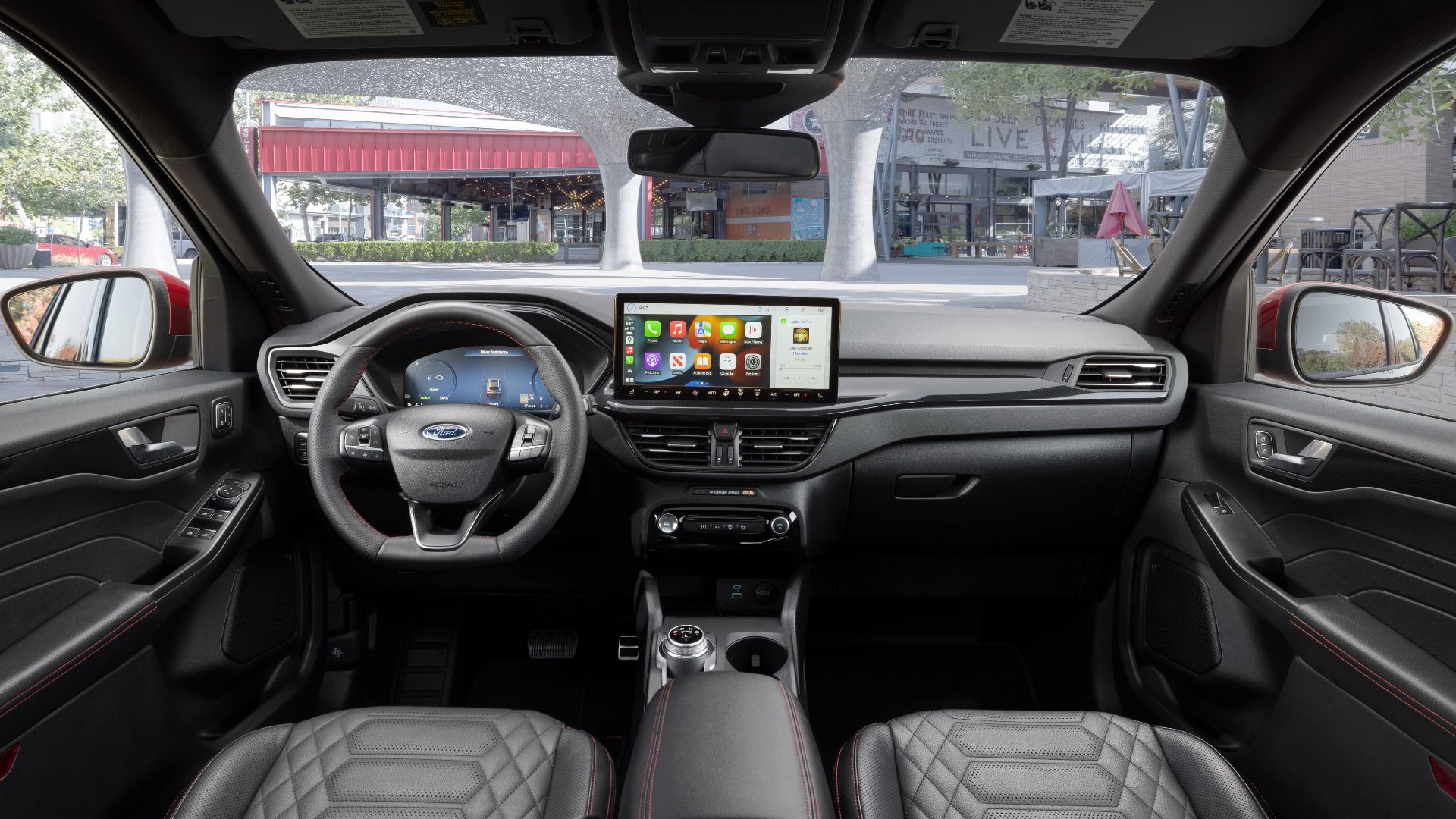 Shot of the 2023 Ford Escape ST-Line Elite's interior showcasing the dash
In addition to the upgraded infotainment system, the interior of the Ford Escape Hybrid offers a host of features to enhance comfort, convenience, and connectivity. This includes an optional 10-speaker B&O Play audio system, in-dash navigation, a pop-up head-up display, and an optional 12.3-inch digital gauge display. In terms of creature comforts, the Ford Escape hybrid is offered with heated front seats and an optional panoramic sunroof along with an optional wireless charging pad to keep your devices juiced up. The Ford Escape Hybrid may not be the most luxurious SUV out there, but it is equipped with enough features to establish itself as a very practical and versatile everyday vehicle.
10
It Comes With A Lot Of Safety Features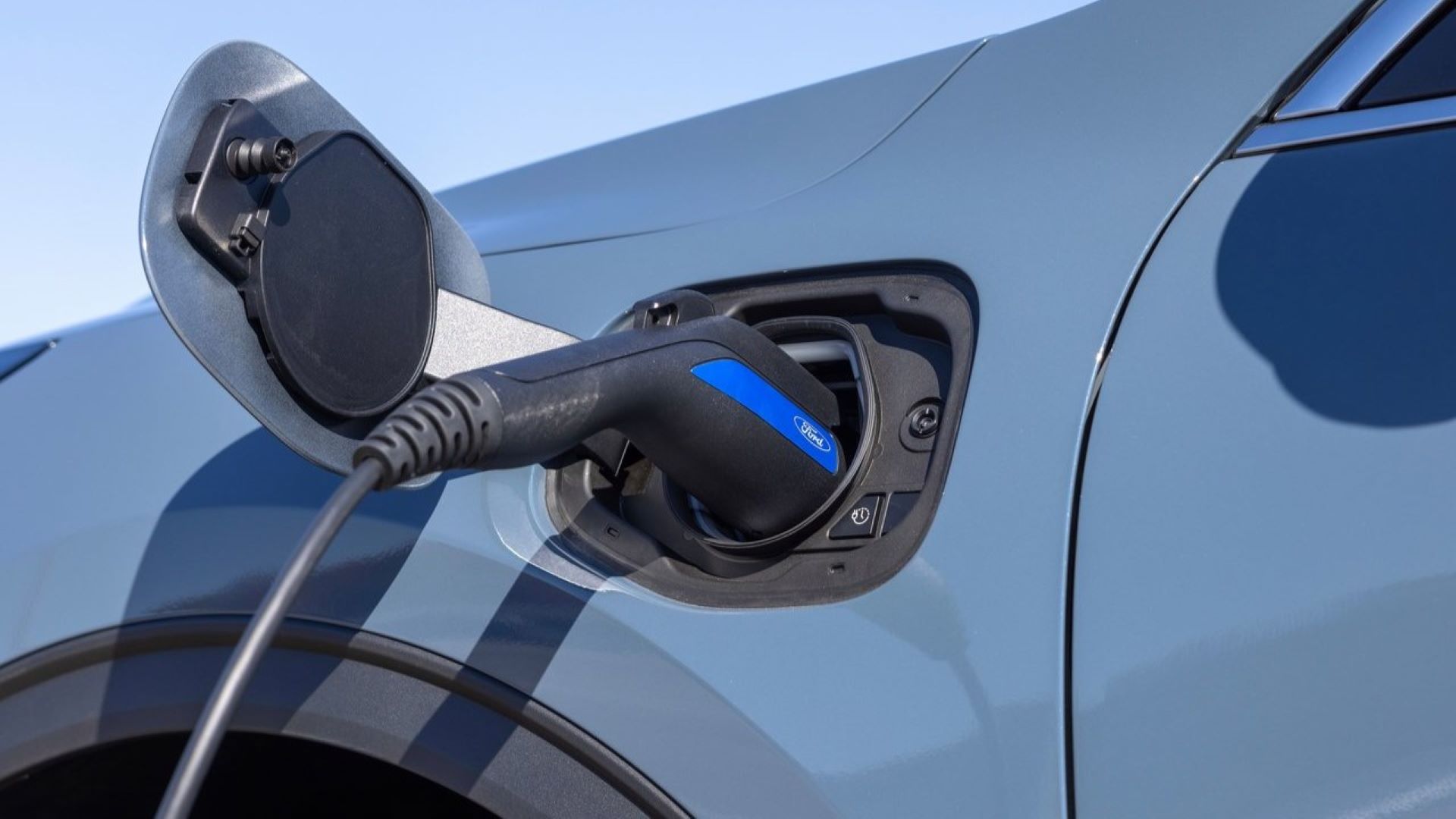 The charging port of a 2023 Ford Escape PHEV
Starting at around $33,000, you shouldn't expect the Ford Escape Hybrid to be the most cutting-edge vehicle in the world, but it is surprisingly high-tech for a vehicle in its class. It comes with a host of driver-assistance features such as:
– Pre-collision assist
– Lane-keeping assist
– Blind-spot monitoring
– Rear cross-traffic alert
Ford calls this suit Co-Pilot360, and it is standard in all models of the Escape. The infotainment system allows connectivity of all kinds and the optional 10-speaker system and panoramic sunroof complete the package.
Here's how the 2023 Escape Hybrid is priced:
2023 Ford Escape Pricing
| | |
| --- | --- |
| Base | $28,000 |
| Active | $29,345 |
| ST-Line | $30,340 |
| ST-Line hybrid | $33,340 |
| ST-Line Select | $34,040 |
| ST-Line Select Hybrid | $35,040 |
| Platinum | $37,465 |
| Platinum Hybrid | $36,965 |
| ST-Line Elite | $38,460 |
| ST-Line Elite Hybrid | $39,460 |
| PHEV | $40,500 |
Google Ads