Off-road enthusiasts are hard to please as we cannot settle for the «mediocre». This also leads to a never-ending battle concerning what's the best «off-road» vehicle out there. Nevertheless, this topic is very subjective as no «one size fits all». Despite that, we see, us off-road lovers engaging in constant debate. One such famous debate is — Jeep Wrangler or Toyota 4Runner? Placing these two SUVs on a scale, we might not have a heavier side. The scales tip towards the Jeep Wrangler in some aspects, and for some, it might lean towards the Toyota 4Runner. Wrangler finds its edge in many aspects like modern exterior looks, interior features, and off-road capabilities. On the other hand, the 4Runner takes it home in utility, interior, and cargo space, and performance on the tarmac. While Jeep has upgraded the option with the latest 2024 Wrangler, we take this opportunity to speculate what the 6th generation 4Runner aka, the 2025 Toyota 4Runner might look like!
Google Ads
Related: What You Need To Know About The 2025 Toyota 4Runner
1
Powertrain Inspired By Tacoma Could Take The Performance A Notch Higher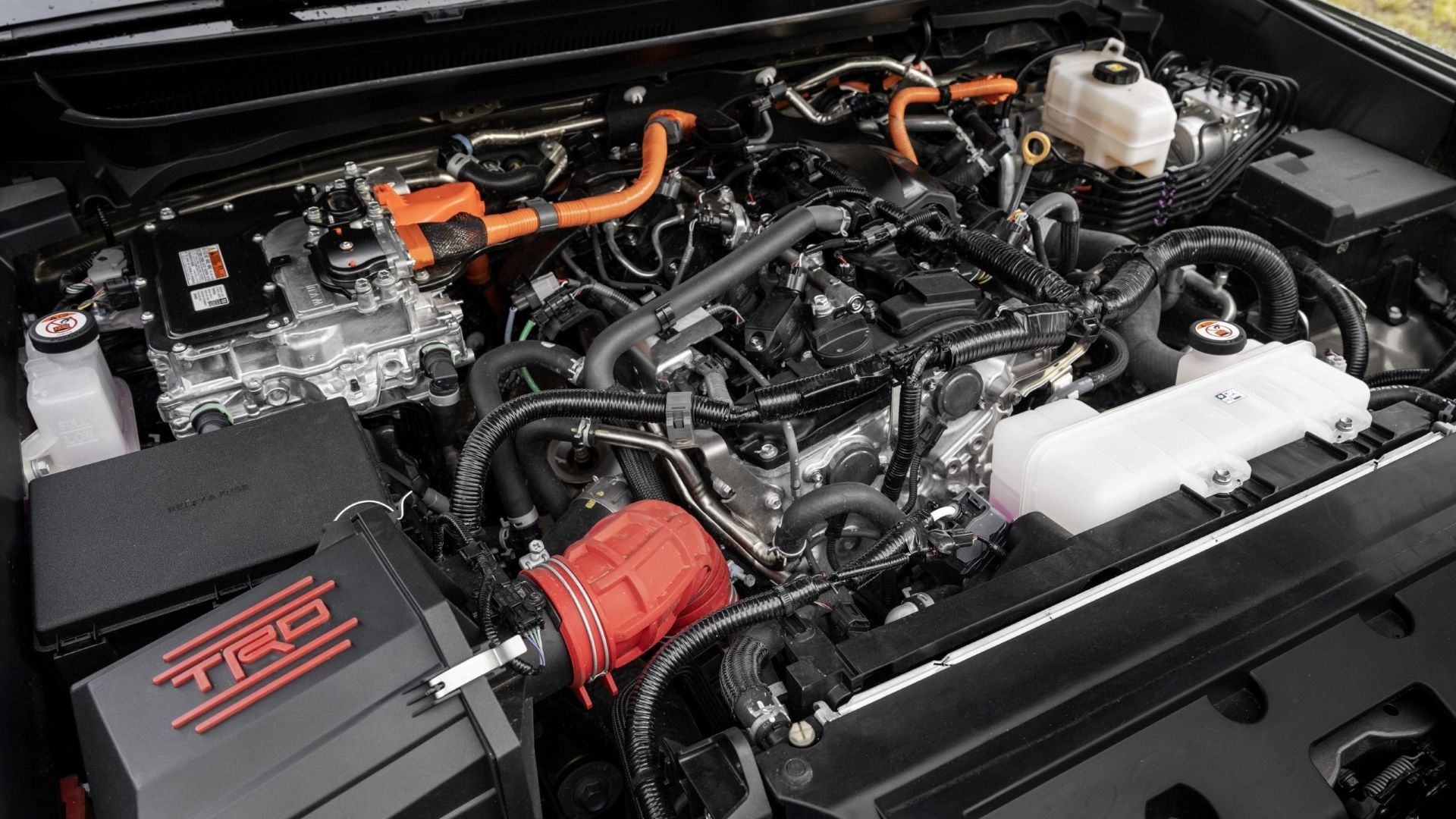 Engine bay of the 2024 Toyota Tacoma TRD Pro
The current generation of 4Runner takes a beating when it comes to the drivetrain. It lacks a full-time 4WD drive train. To topple its competitor in this department, we can only hope the 2025 4Runner takes inspiration from its rugged sibling, the Tacoma. Tacoma's hybrid powertrain delivers a combined horsepower of 326 and an impressive 465 pound-feet worth of torque. It features an electric motor and a 2.4-liter turbocharged engine and eight-speed automatic transmission. With its Tacoma-inspired powertrain, the 2025 Toyota 4Runner is guaranteed to deliver impressive acceleration and towing capabilities. Whether you're conquering steep terrains or hauling heavy loads, this beast of an SUV won't disappoint. This could take out the noisy and thirsty operation that exists under the hood of the current 4Runner with rusty tech.
2024 Tacoma TRD Pro Specs
Engine

2.4-liter, four-cylinder i-Force Max Hybrid setup

Motor

48V electric motor

Google Ads

Horsepower

326 HP

Torque

465 pound-feet

Transmission

Eight-speed automatic
2
It Needs To Look Aggressive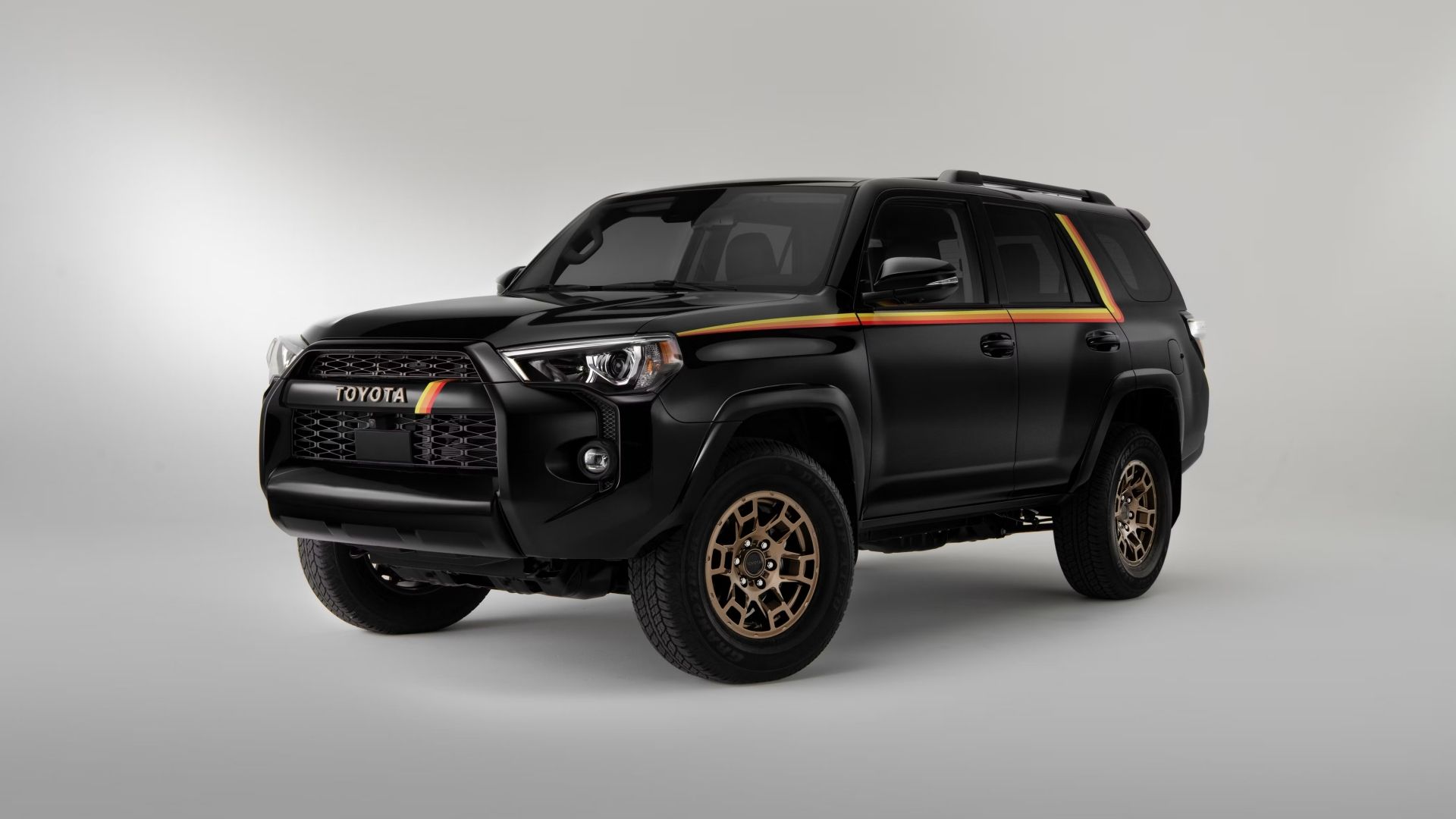 A front 3/4 studio shot of a 2023 Toyota 4Runner 40th Anniversary Special Edition 
The Toyota 4Runner has always been known for its rugged and adventurous spirit, but the same couldn't quite reflect in its exterior appearance, unlike the Jeep Wrangler. This is one point that Toyota might take into consideration in the 2025 model. Standout features like a bold and muscular front grille could exude power and confidence, making a statement on the tarmac or off-road. The headlights could also be redesigned to give them a sleeker and more modern look, further enhancing the overall aggressive vibe. The 2023 4Runner does not boast all-terrain tires like the Wrangler, we can only hope it won't be the case with the 6th generation Toyota 4Runner as well.
Related: 10 Reliable Used SUVs That Will Last You A Lifetime
3
An Even Larger Cargo Space Would Do Wonders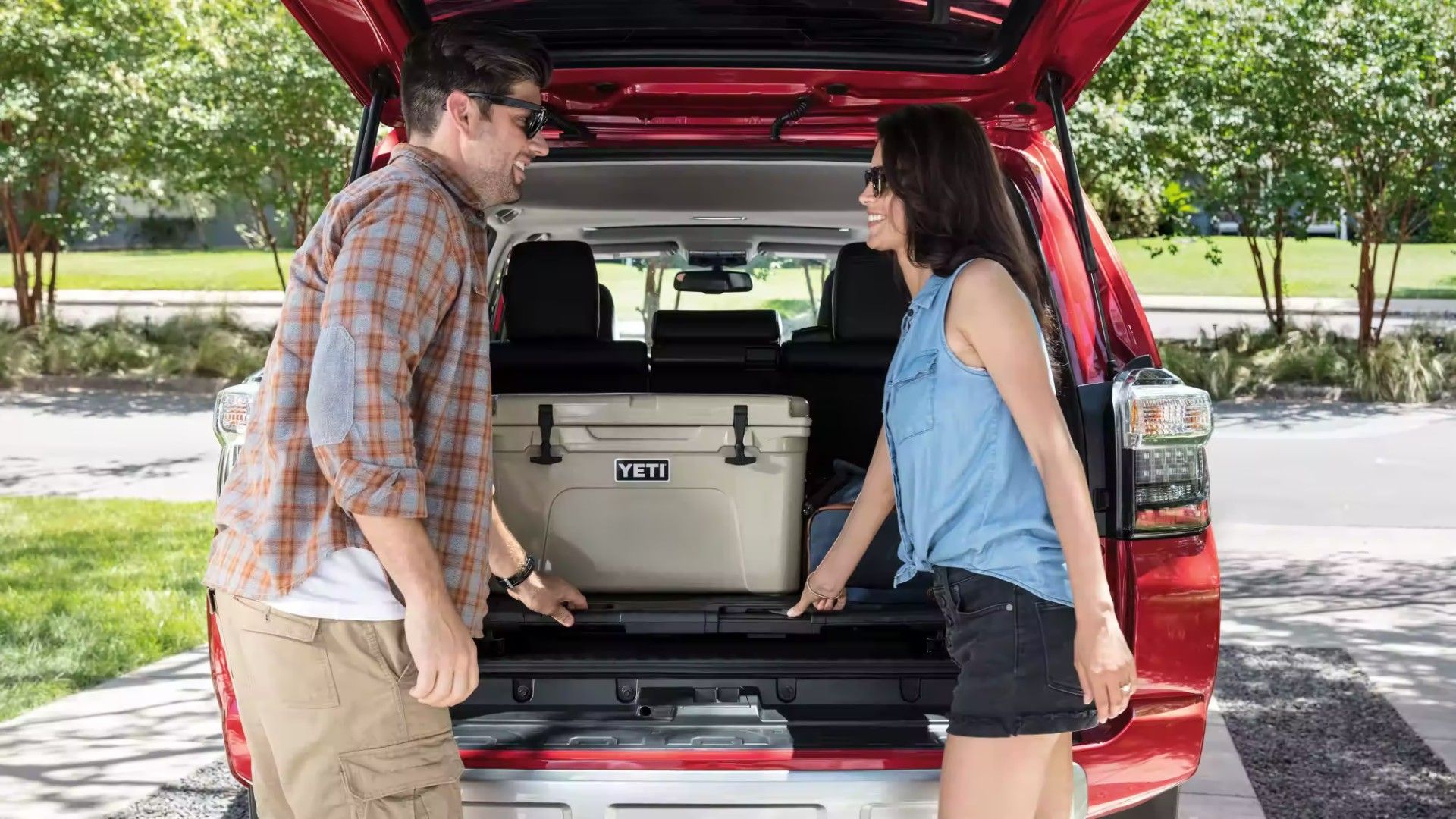 Massive cargo space of the 2023 Toyota 4Runner
When it comes to the Jeep Wrangler, its iconic design and off-road capabilities are hard to rival. However, one area where it falls short is in cargo space. The current model offers a decent amount of room for your gear, but it isn't much. The 2023 4Runner is already ahead of Jeep Wrangler by miles in terms of cargo and passenger space. The 4Runner has a massive cargo space of 89.7 cubic feet as compared to the Wrangler's 72.4 cubic feet. Let's also not forget that it is only the Sahara trim that will offer you that much space. The rest provides merely 31.7 cubit-feet of cargo space. The same goes for passenger volume. Toyota 4Runner has an added option of third-row passenger seats, which cannot be claimed by Jeep for Wrangler. With a facelift on the cards, we can be confident that the 6th generation 4Runner could make the Wrangler look much tinier.
4
A Better Interior Design Is A Must
The cockpit of the 4Runner with focus on steering wheel and infotainment screen
When it comes to interior design, the 2025 Toyota 4Runner is expected to bring some exciting updates that will surpass both its current model and the Jeep Wrangler. The cabin of the 2023 4Runner is a conventional one with gigantic knobs and limited USB/Charging ports. Toyota could take a lesson or two from Jeep to renovate its SUV from the inside and bring it close to the future tech. This also includes replacing the current eight-inch screen with a bigger, bolder one. This will also apply to the materials used within. We can expect high-quality upholstery options, soft-touch surfaces, and premium finishes throughout the cabin. This attention to detail will create an upscale feel that rivals even luxury SUVs. Lastly, Toyota may also focus on improving ergonomics and overall layout. With the thoughtful placement of controls and intuitive technology interfaces, driving the 4Runner will be a breeze for both experienced off-roaders and everyday commuters.
Related: 10 Hardcore SUVs That Push Capability To The Next Level
5
The 4Runner Needs To Come With Improved Off-roading Specs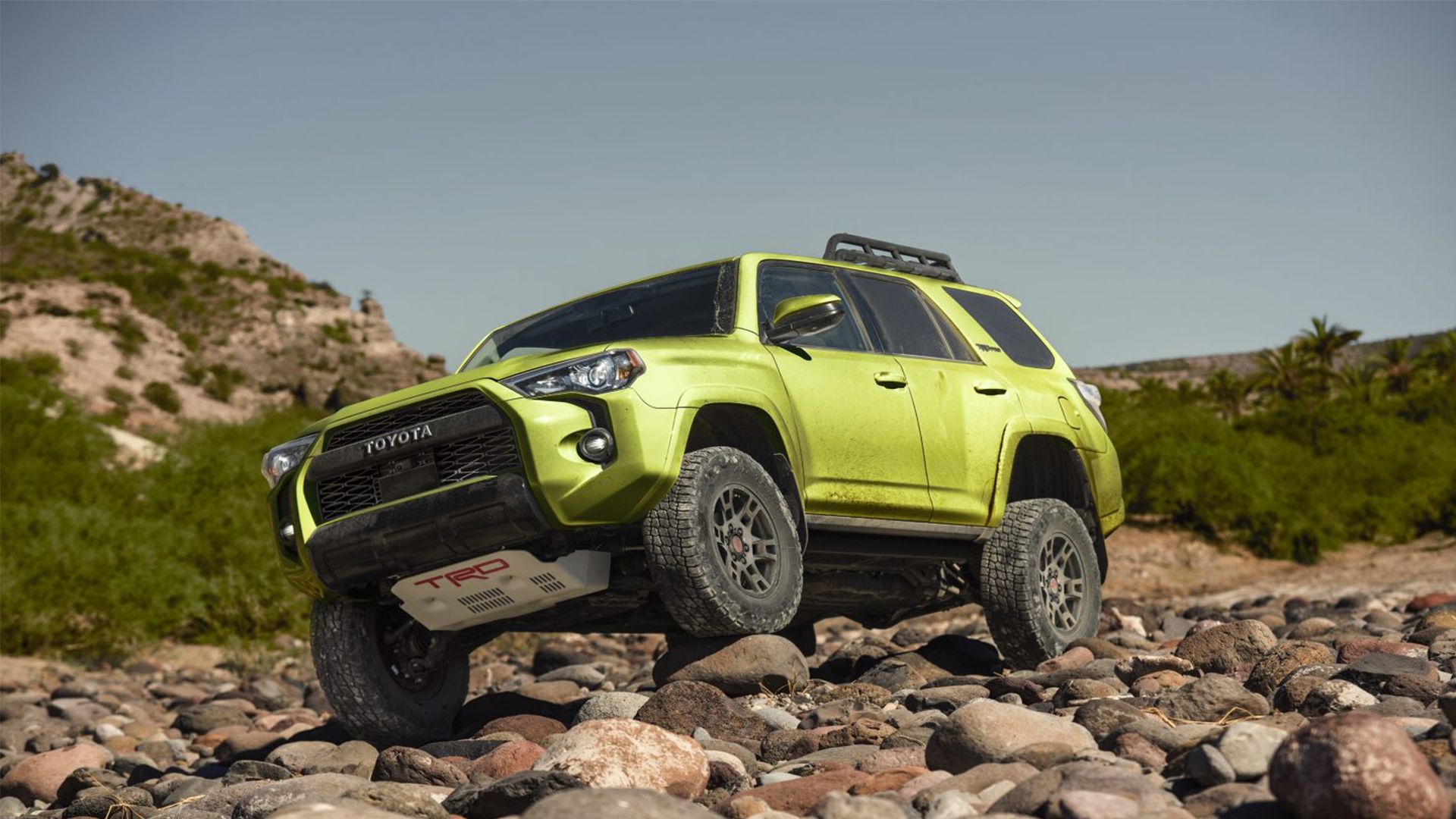 A Toyota 4Runner TRD Pro Rock Crawling 
Jeep Wrangler's off-road capabilities cannot be questioned, period! This is arguably the most crucial department where Toyota will try to outdo its rival. The 2025 Toyota 4Runner's benchmark must be the Wrangler Rubicon 392 which packs a 6.4L V8 engine delivering 470 horses and 470 pound-feet worth of torque. Combined with massive 35-inch tires, this colossus vehicle can traverse through any terrain and even dive into the water until 34 inches. Toyota will need to get back to the drawing board and draw inspirations for Tacoma once again for the 4Runner. The 2025 4Runner must feature a multi-link rear suspension, Stabilizer Disconnect Mechanism (SDM), and Multi-Terrain Select with Crawl Control to rival the Wrangler Rubicon 392. The 4Runner might rely on third-party accessories just like the Tacoma to help its customers build their dream off-road rig. This includes:
ARB Steel Rear Bumper and Trail-Ready Features: High clearance front bumper along with ARB steel rear bumper, ARB modular sports bar, and high-mount air intake.
Old Man Emu® Suspension With Underbody Protection: Old Man Emu® shock absorbers with 33-inch Goodyear Territory R/T tires, and underbody protection with frame-mounted rock rails.
6
Surprise The Customers With A Hybrid Setup Under The Hood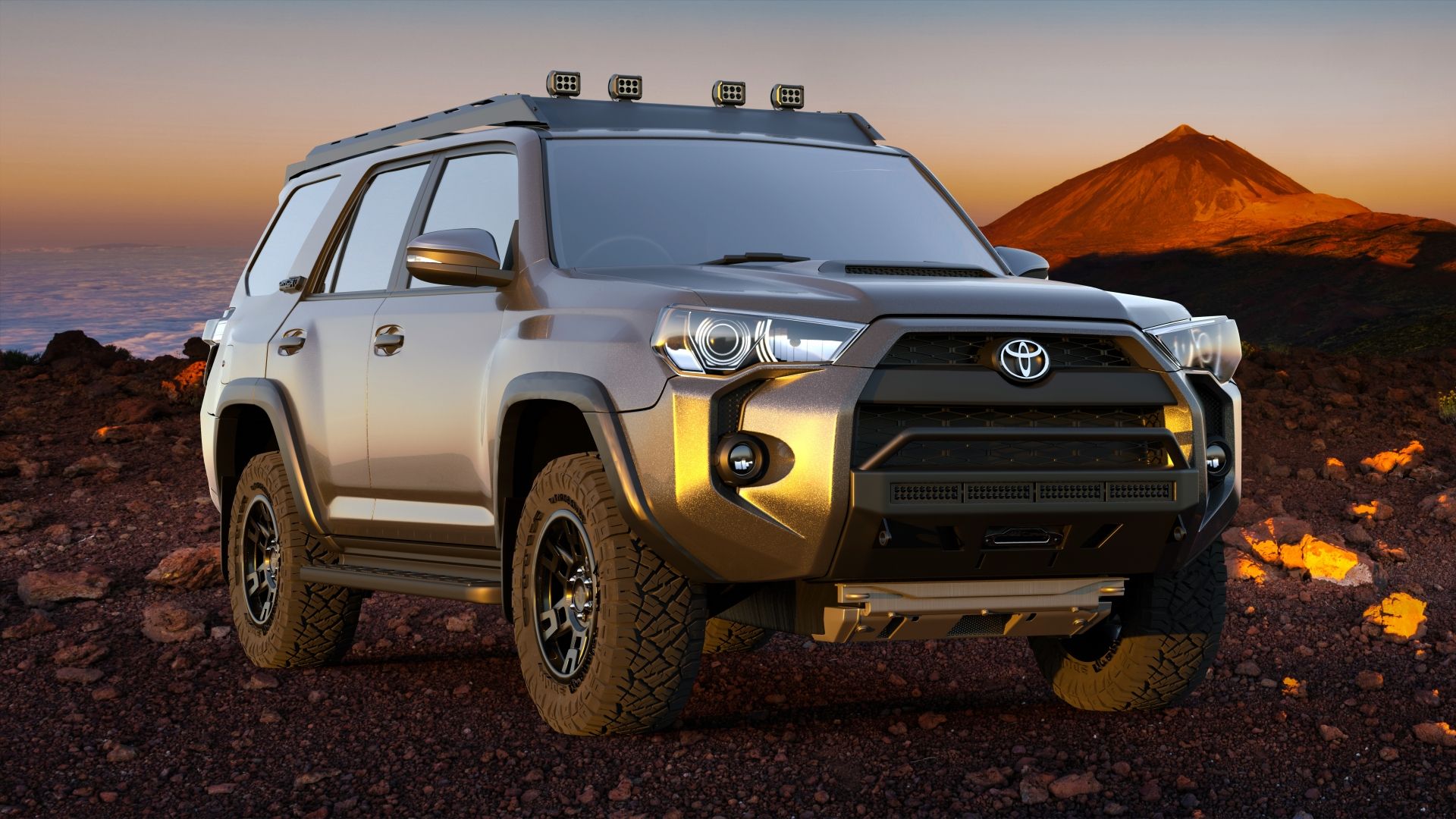 A 3D render of Toyota 4Runner
Except for the Rubicon 392, each of Wrangler's trims boasts a decent MPG of 17/25/20 (city/highway/combined). Whereas, the Toyota 4Runner falls behind at 16/19/17 MPG (city/highway/combined). However, it is a fact that Toyota 4Runner boasts better towing capacity and performance on the road. But that isn't enough. The subpar mileage lets customers favor the Wrangler over the 4Runner. With effective hybrid line-ups under the brand name, Toyota might not shy away from introducing the all-new 4Runner as a PHEV, or borrow the hybrid system from the Tacoma and plonk it in here. If that is the case, then there isn't doubt about outplaying Wrangler in this department as well.
Related: 15 Most Reliable SUVs According To Consumer Reports
7
The Sixth-gen 4Runner Might Have A Better Infotainment System To Rival The Wrangler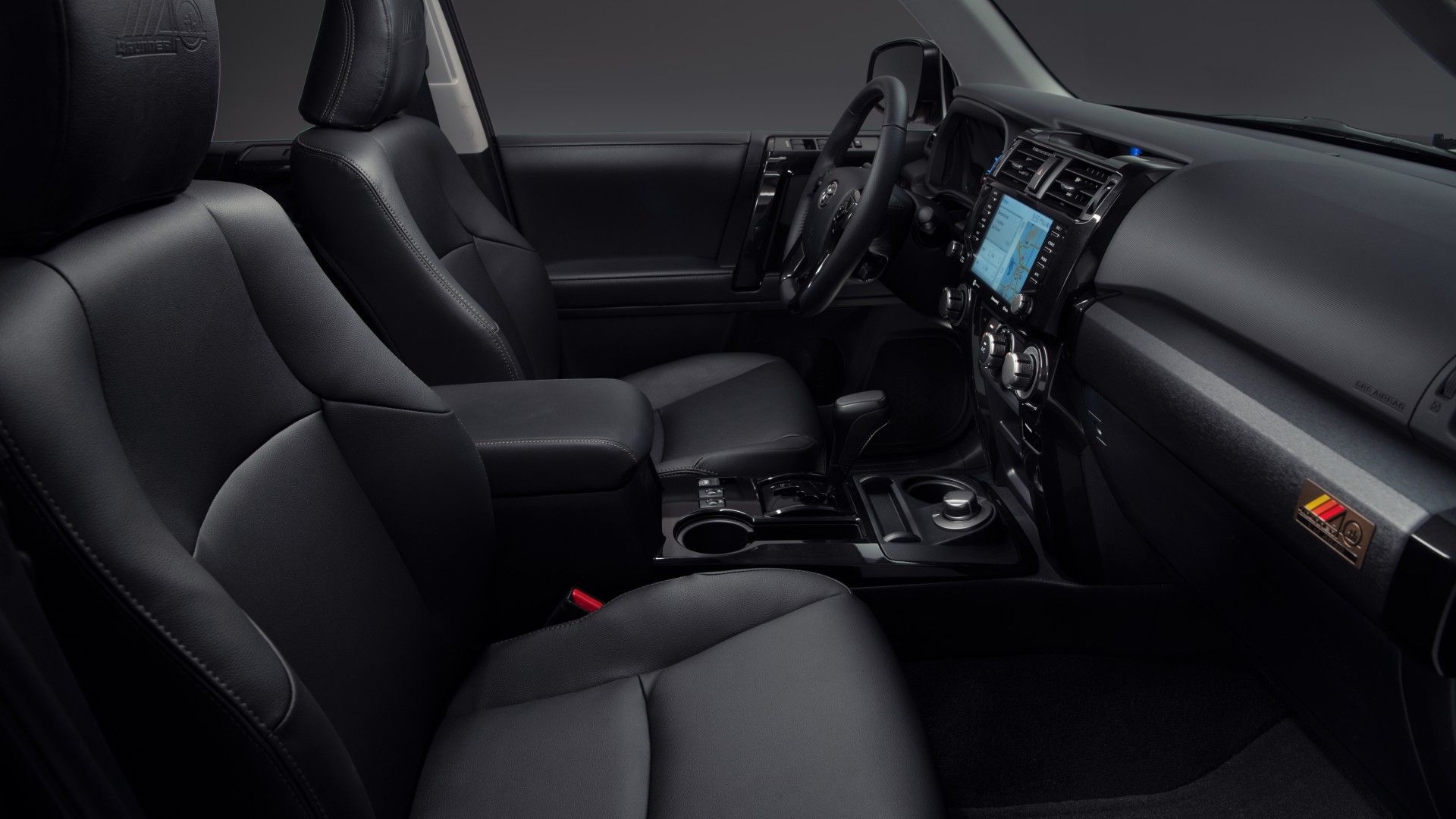 Interiors and infotainment system of the 2023 Toyota 4Runner 40th Anniversary Edition
The 6th Gen 4Runner is rumored to come equipped with a premium infotainment system that will enhance the overall driving experience. With advancements in technology, Toyota has the opportunity to integrate cutting-edge features into its newest model, unlike the one that exists. Imagine having a sleek touchscreen display right at your fingertips, allowing you to effortlessly control various functions of the vehicle. The fifth-generation 4Runner already features a 15-Speaker JBL Premium Audio System, so the latest one can only be better than this. Apart from this, there's also a horde of driver-assistance features. It could also feature Toyota's new Safety Sense 3.0 system as standard.
8
The 4Runner Needs To Offer Better Bang For Your Buck Despite The Higher Price Tag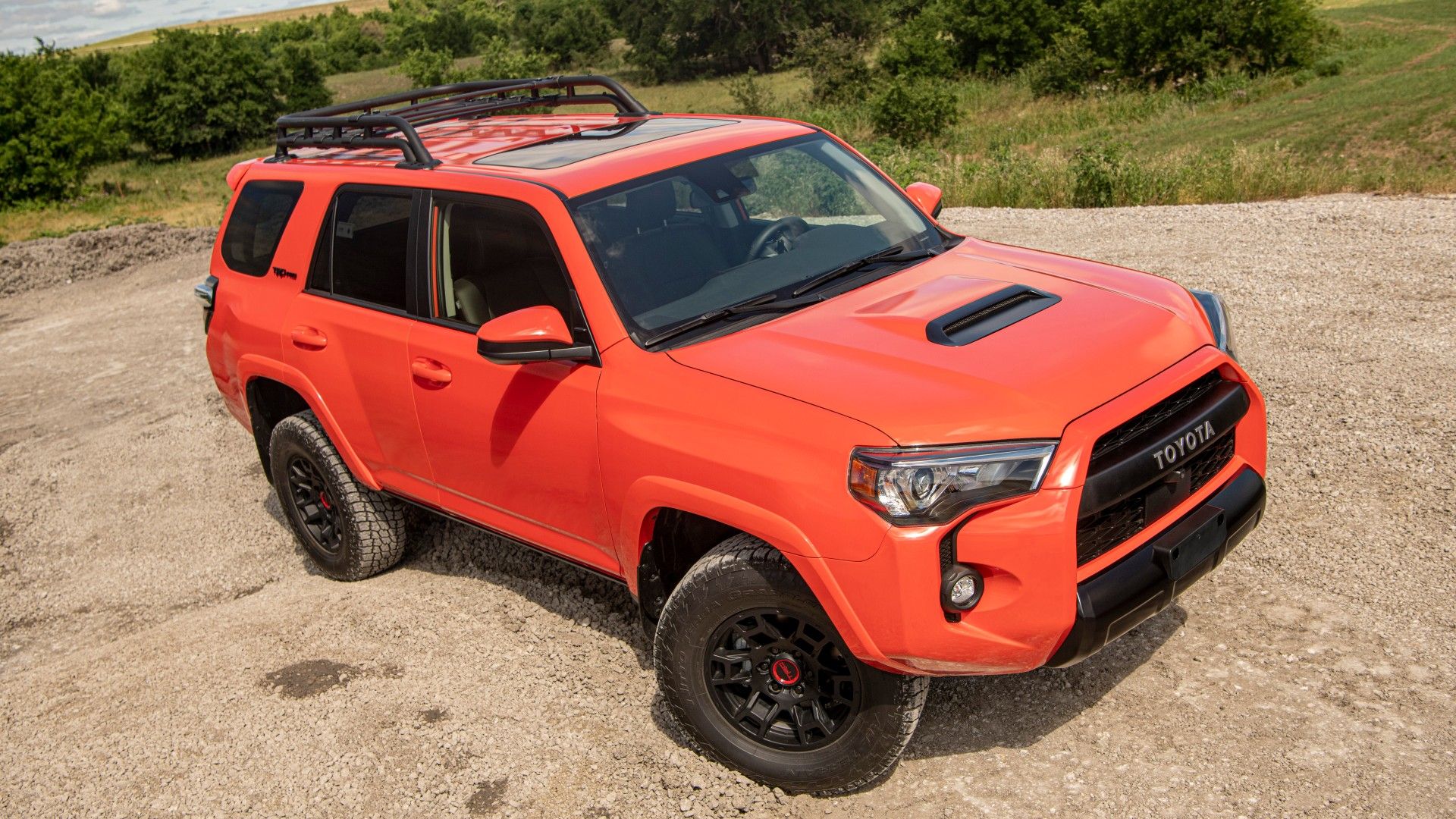 Front 3/4th view of 2023 TRDPro 4Runner
Price is another factor where the Jeep Wrangler finds its edge. The starting MSRP of the lowest trim (Sport) is $31,895. On the other hand, that of the Toyota 4Runner SR5 trim is $40,155. With a bunch of facelifts on the card the 2025 Toyota 4Runner will certainly surpass its current price tag. However, just like every other time, it will prove its worth. The same is evident from JD Power consumer ratings. With better off-road performance, fuel efficiency, exterior appearance, and interior features than the existing version, we really cannot expect a humble price tag, can we? Moreover, we have been seeing 4Runner on the streets since 1984 and the nameplate has earned quite a reputation for being the «people's car» over the years.
Related: Why The Hyundai Santa Cruz Just Can't Compete With American Trucks
9
The Extensive Warranty Coverage Is A Plus Point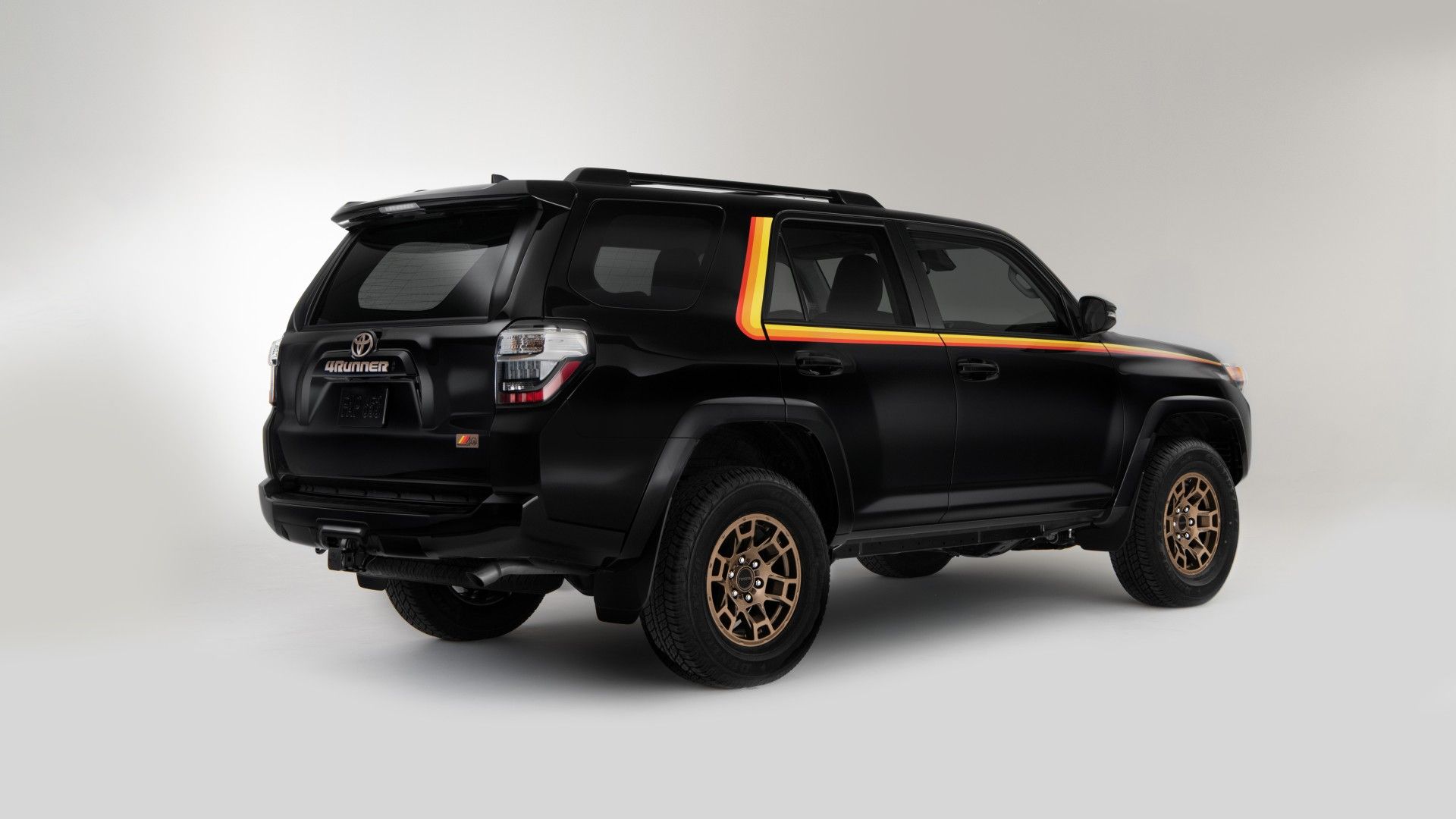 Rear 3/4th view of the 40th Anniversary Edition
When it comes to buying a new vehicle, one of the biggest concerns for many people is warranty coverage. After all, no one wants to be left with expensive repairs and maintenance costs after just a few years of ownership. That's where Japanese automakers have a considerable edge over their American counterparts. Toyota is no different and offers the following.
Basic Coverage: 36 months/36,000 miles
Powertrain Coverage: 60 months/60,000 miles
Rust-Through Coverage: 60 months/unlimited miles
Should we see the 2025 4Runner go hybrid, Toyota provides extended warranty coverage for that too. Add to the above list:
Hybrid Battery Warranty: 10 Years / 150,000 Miles
EV Drive Components Warranty: 8 Years / 100,000 Miles
10
The New 4Runner's Towing Capacity Might Leave The Wrangler In Dust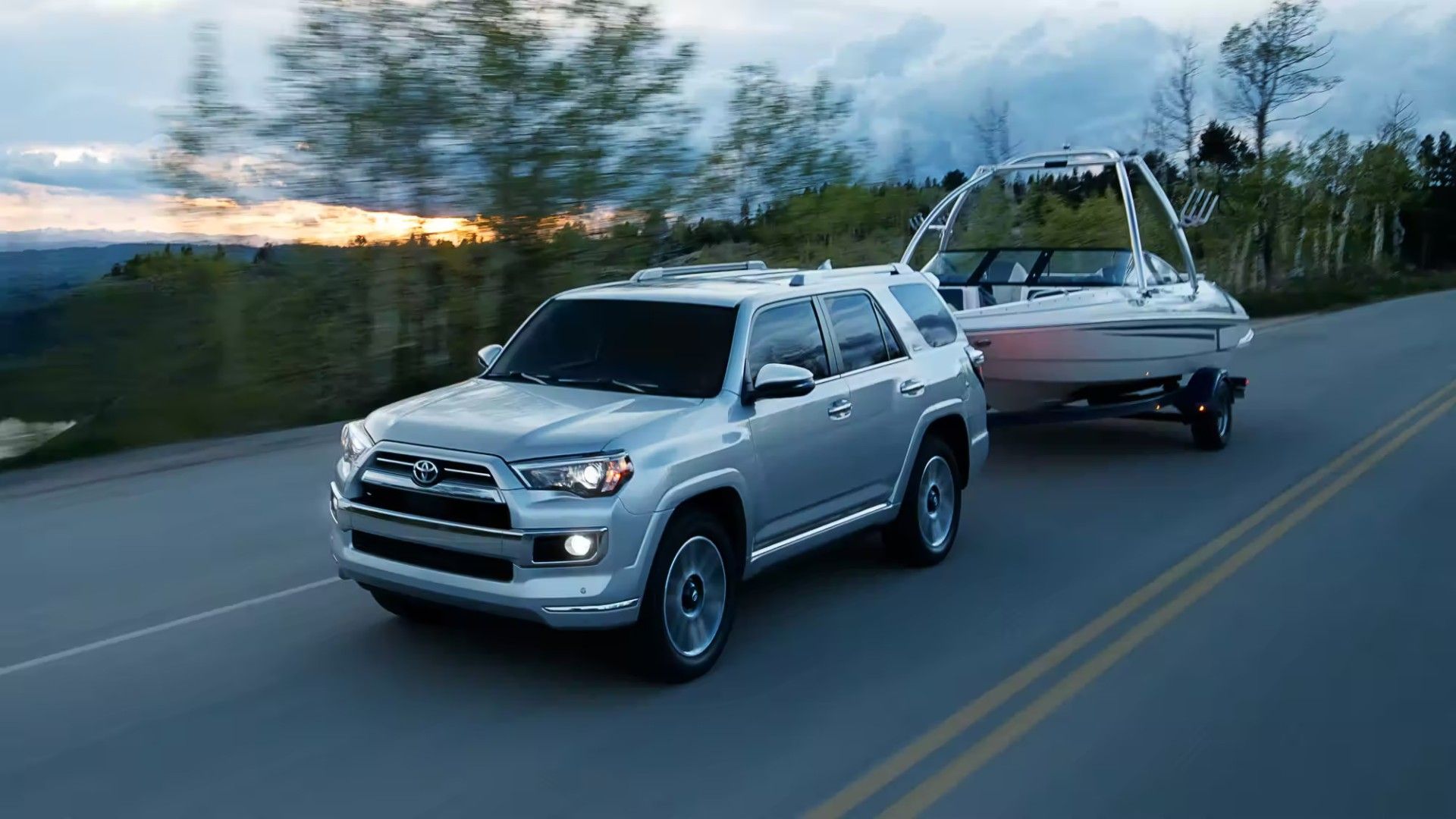 Toyota 4Runner effortlessly towing goods 
The fifth generation Toyota 4Runner possesses a towing capacity of 5,000 pounds which is already 3,000 pounds more than most of Jeep Wrangler's trims. Select models of the Wrangler boast a towing capacity of 5,000 pounds, which is standard across all 4Runner trims. As per our anticipation, if the 6th generation of this SUV is set to have an engine inspired by Tacoma and a hybrid setup, the towing capacity could reach new levels and much beyond Jeep Wrangler 2024's reach. We speculate somewhere around 6,500 to 7,000 pounds of towing capacity with the all-new 4Runner.
Google Ads