Scrolling the rapidly expanding universe of electric vehicles can feel like an exhilarating, albeit slightly daunting, journey. With new models launching at a blistering pace, it's easy to get lost in a sea of specs, stats, and futuristic buzzwords. That's where the Kia Niro EV emerges from the crowd, not as a mere contender but as a game-changer. Yes, this electric dynamo stands its ground amidst the whirlwind of EV offerings, proving itself as a compelling blend of affordability, usable performance, and quirky style. With a price tag of $39,550, the 2023 Kia Niro EV isn't just a footnote in the ever-growing EV narrative. Instead, it's a headline act—a star performer that promises to deliver a clean, green driving experience without breaking the bank. Perhaps you've toyed with going electric but are unsure about the details. But, if you have and are considering getting an electric crossover, here's all you need to know about the Kia Niro EV.
Google Ads
Related: 10 Electric Crossovers That Offer Long Range
1
The 2023 Kia Niro EV Is Affordable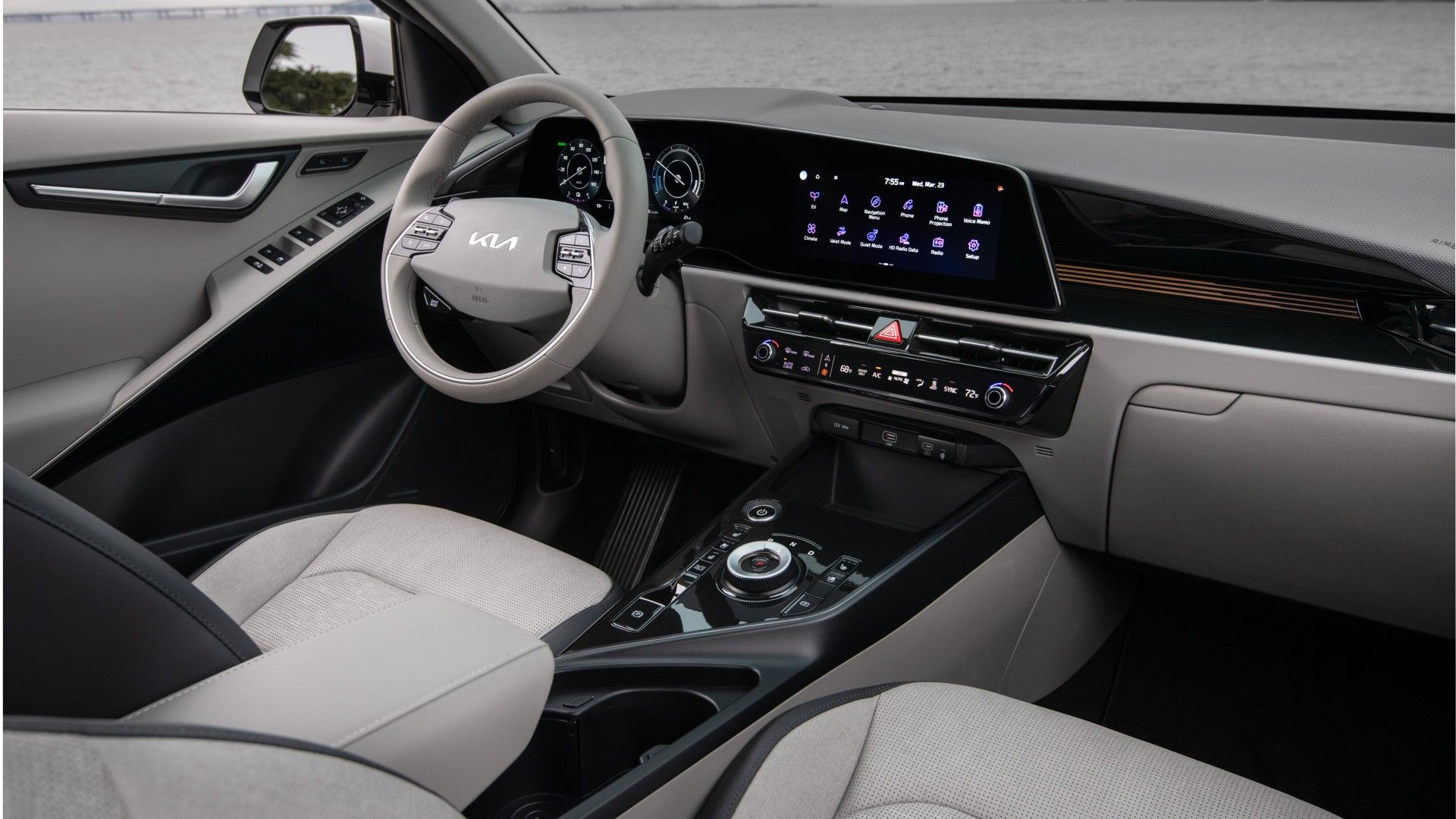 The 2023 Kia Niro EV interiors
In the ever-popular realm of electric vehicles, the 2023 Kia Niro EV has carved out a niche for itself, offering a compelling blend of affordability and excellence which makes it a big step up from the 2022 Kia Niro EV. With its attractive starting price of $39,550, it delivers an impressive range, robust power, and a well-appointed interior, challenging the perception that electric vehicles require a hefty investment. When compared to rivals like the Chevrolet Bolt EV and the Nissan Leaf Plus, the Niro EV emerges as a paragon of value. Despite this price advantage, the Niro EV doesn't cut corners on essentials. It offers a long list of standard features, including a 10.25-inch touchscreen, Apple CarPlay and Android Auto, and a suite of advanced safety aids. It's not just an affordable entry point into the world of electric vehicles; it's a well-rounded package that delivers on all fronts, from performance to comfort and convenience. For those seeking to transition to electric mobility without incurring an exorbitant cost, the 2023 Kia Niro EV presents an excellent choice.
Price Comparison
Kia Niro EV – Wind

$39,550

Kia Niro EV – Wave

Google Ads

$44,550

Chevrolet Bolt – 1LT

$27,495

Chevrolet Bolt – 2LT

$30,695

Nissan Leaf – S

$28,040

Nissan Leaf – SV Plus

$36,040
2
Not The Fastest Off The Line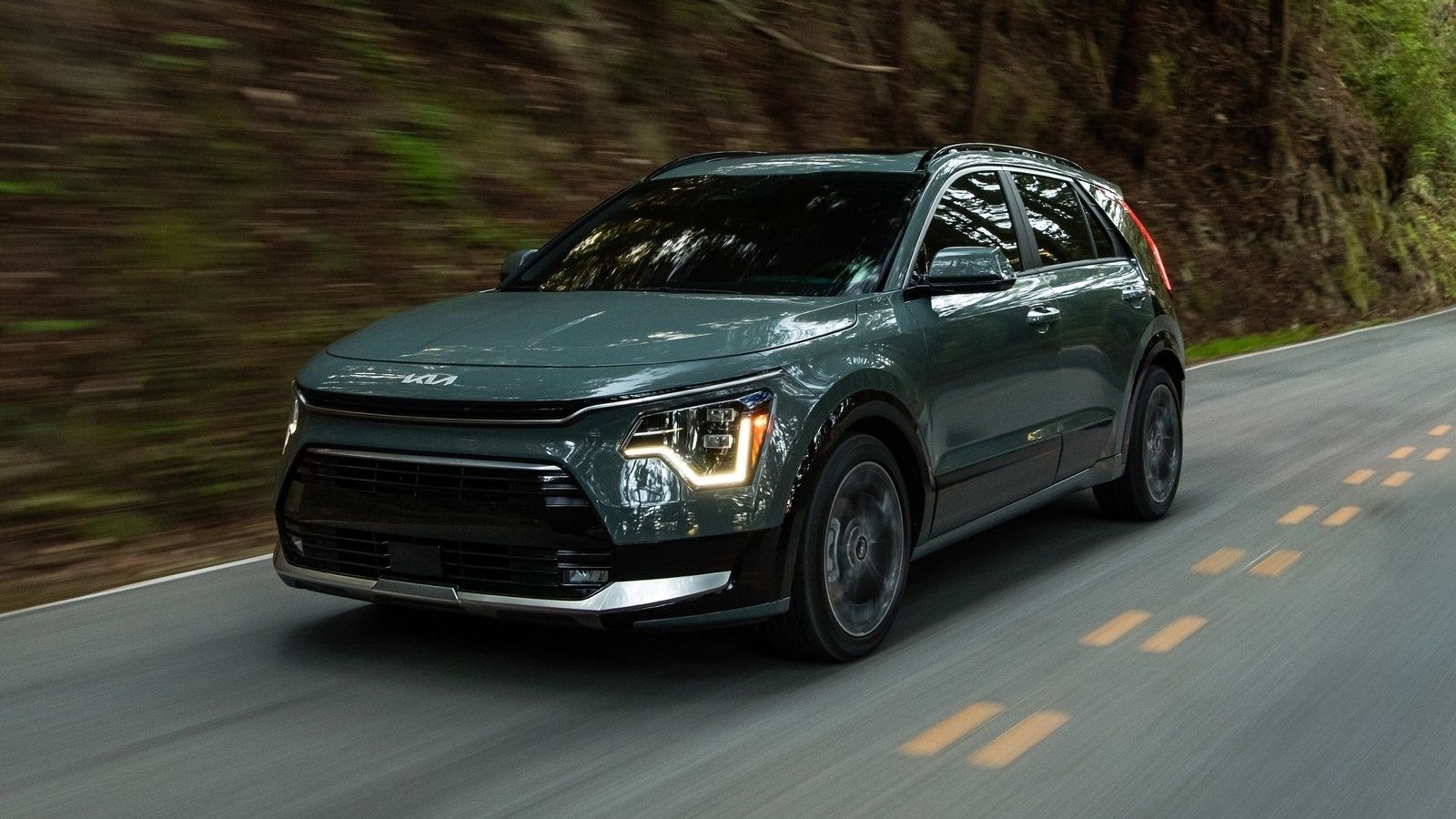 Side shot of a 2023 Kia Niro PHEV model in Cityscape Green
The heart of the 2023 Kia Niro EV, an electric drive motor that's nestled under the floor rather than under the hood, is a marvel of modern engineering. It manages to deliver an impressive 201 horsepower and a hearty 188 pound-feet of torque which is plenty for a vehicle of this size and segment. This powertrain, consistent with the 2021 and 2022 Kia Niro EV models, balances energy efficiency with ample oomph to keep your drive zippy and engaging. The Niro's electric motor has its charm not just in the numbers, but also in how it delivers that power. With a near-instantaneous supply of torque, the Niro EV doesn't hesitate to leap into action. It manages to sprint from 0-60 mph in a respectable 7.4 seconds. While not the fastest, it is on par with some of the models in the segment. Moreover, it's not just about raw power. The electric motor operates with a whisper-quiet smoothness, reinforcing the sense of refinement and sophistication that pervades the entire vehicle. The 2023 Kia Niro EV proves that an electric vehicle can deliver the thrills often associated with their gasoline-powered counterparts, without the emissions. In the realm of electric compact SUVs, the Niro EV's powertrain is a testament to Kia's commitment to creating vehicles that harmonize performance and sustainability.
Related: 10 Electric Crossovers That Are Perfect For Families
3
It Offers 253 Miles Of Range On A Full Charge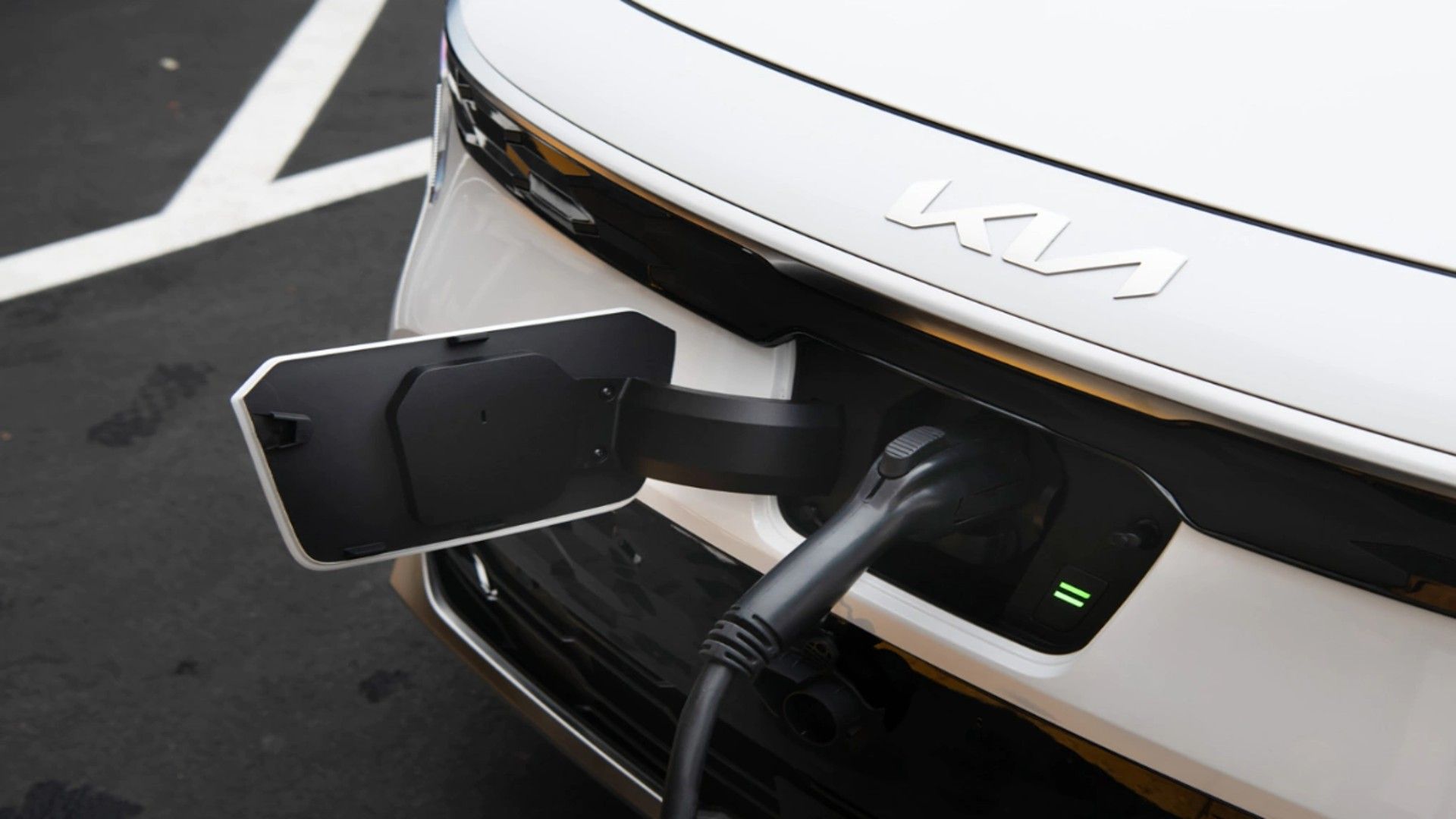 2023 Kia Niro EV displaying the charging plug
The 2023 Kia Niro EV boasts an EPA-estimated range of 253 miles on a single charge, an enhancement over its predecessor models. This signifies a sizable leap that places the Niro EV in the same league as formidable competitors like the Hyundai Kona Electric and the Tesla Model 3. This extended range capacity underscores the practicality of the Niro EV for both city commuting and long road trips. For context, this kind of range could comfortably see you through a journey from New York to Boston with miles to spare, reducing the need for frequent charging stops. However, it's important to remember that the actual range can vary based on driving conditions, vehicle conditions, and driving habits. Factors such as aggressive driving, heavy loads, or extensive use of climate control can reduce the actual range. Therefore, while the Niro EV's range is impressive, prospective owners should consider their typical driving patterns to gauge the real-world range better. By offering a robust range, the 2023 Kia Niro EV stands as an efficient and viable option for those looking to transition to electric without compromising on the freedom to travel long distances. With this, Kia continues to dispel the misconceptions about EVs and their abilities.
Range Comparison
| | |
| --- | --- |
| Kia Niro EV | Up to 253 miles |
| Chevrolet Bolt | Up to 259 miles |
| Nissan Leaf | Up to 212 miles |
4
The 2023 Kia Niro EV Looks Handsome
Blue Kia Niro PHEV driving along the road next to a body of water
The Kia Niro EV isn't just a powerhouse under the hood, it's also a striking thing to look at, rolling down the road. The 2023 model continues Kia's distinctive design language, featuring a sleek, aerodynamic silhouette that not only aids efficiency but also lends the car a futuristic appeal. The Niro EV proudly sports the brand's signature tiger-nose grille, a design element that has been cleverly integrated into the EV's aesthetic and is a functional element in the Hybrid versions of the Niro. The grille, along with the car's bold lines and contours, evokes a sense of motion even when the car is stationary. The 17-inch alloy wheels are well-proportioned to the vehicle's boxy profile, while the LED lights at the front and back contribute to the car's sophisticated appearance and ensure superior visibility. The Niro EV's somewhat boxy styling might have raised eyebrows when it was first released back in 2016, but it has aged well. The design, now seen as quirky and distinctive, aligns well with the vehicle's modern and innovative ethos. Moreover, this design choice isn't purely aesthetic; it also enhances the car's practicality by maximizing interior space. This design approach shows that Kia is not afraid to break from convention, creating vehicles that combine style, practicality, and innovation. The 2023 Kia Niro EV, therefore, isn't just an electric vehicle; it's a statement on wheels.
Exterior Dimensions
| | |
| --- | --- |
| Length | 174 inches |
| Width | 71.9 |
| Height | 61.8 |
| Wheelbase | 107.1 |
| Weight | 4,784 pounds |
Related: 10 Electric Crossovers That Are Perfect For City Driving
5
The Niro EV's Interior Is Fairly Spacious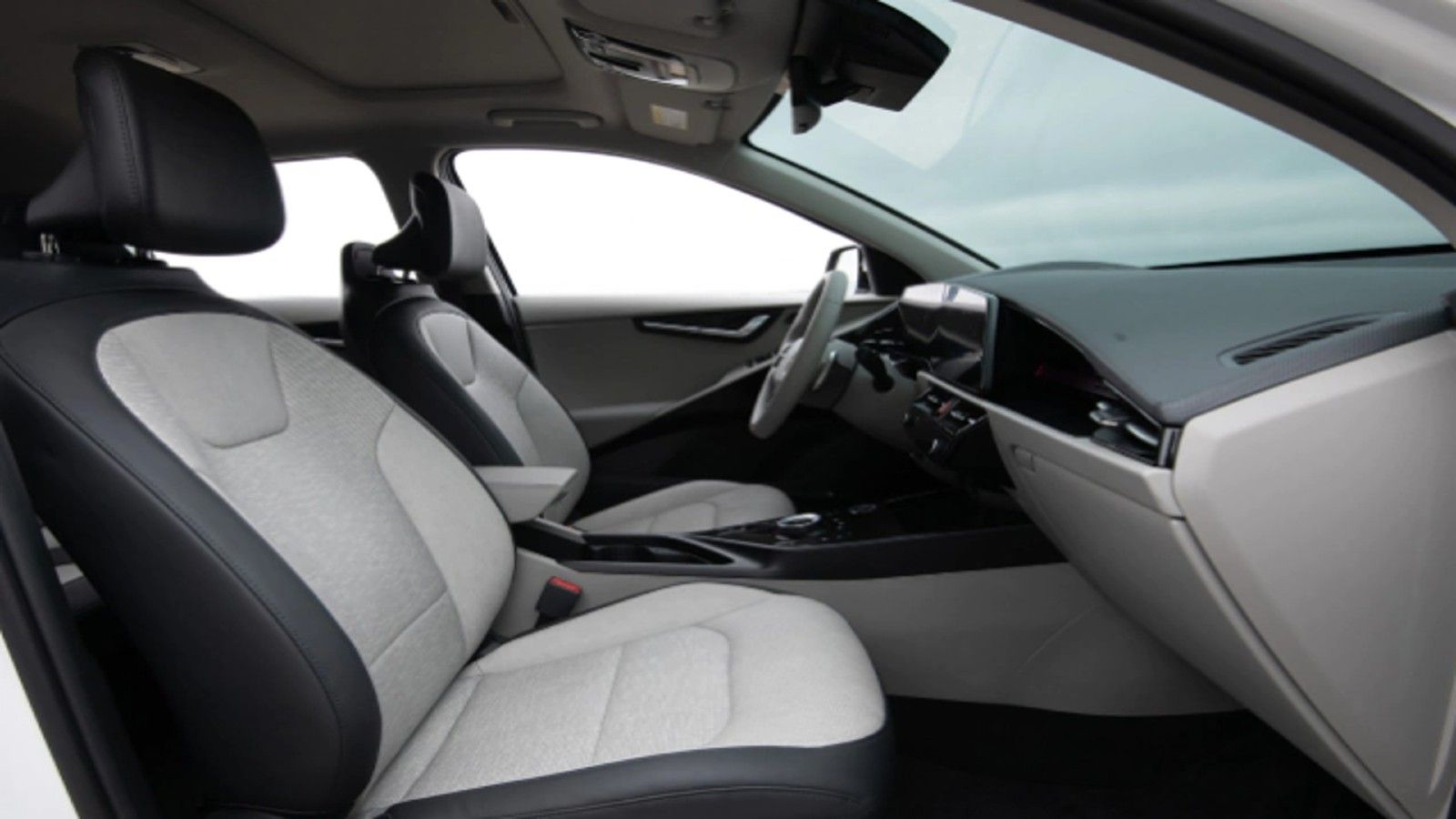 Kia Niro EV showing off the comfort and available cubbies for storage
When you step into the 2023 Kia Niro EV, you'll immediately notice the premium atmosphere that Kia has created through its attention to detail and refinement. The cabin is a significant upgrade from the 2021 Niro EV, with high-quality materials and an intuitive design that borrows the best elements from the latest Kia models. The 10.25-inch infotainment system and driver's instrument display are both impressive, with clear displays and easy-to-use controls. What really sets the Niro EV apart from competitors like the Chevrolet Bolt EV and Nissan Leaf is its spacious interior. Despite its boxy exterior, the Niro EV offers a roomy and comfortable environment that makes long journeys just as enjoyable as short ones. The Niro EV strikes a perfect balance between functionality and luxury, making it a standout choice among electric vehicles for a pleasurable and eco-friendly driving experience.
Interior Dimensions
| | |
| --- | --- |
| First-row Headroom | 40.5 inches |
| First-row Legroom | 41.5 inches |
| First-row Shoulder room | 56.3 inches |
| First-row Hip room | 53.3 inches |
| Second-row Headroom | 38.1 inches |
| Second-row Legroom | 36.9 inches |
| Second-row Shoulder room | 55.4 inches |
| Second-row Hip room | 52.7 inches |
6
No Dearth Of Safety Features In Here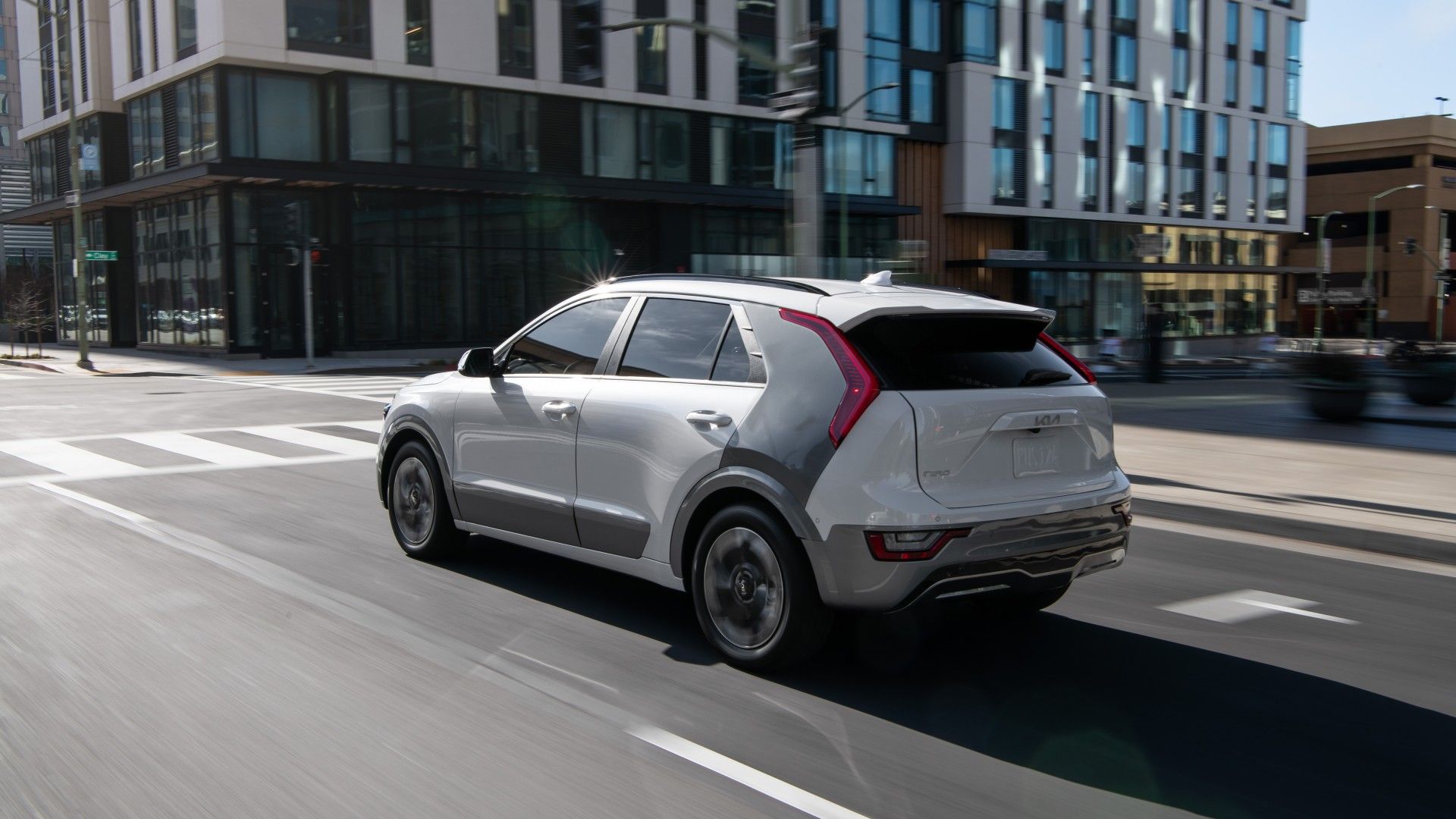 Back three quarters of 2023 Kia Niro EV cruising through city
The 2023 Kia Niro EV places a high priority on safety. Kia has invested heavily in ensuring that both the driver and passengers are secure by equipping the vehicle with an impressive array of safety features and advanced driver aids. The Advanced Driver Assistance Systems (ADAS) is at the heart of the Niro EV's safety proposition. This suite of technology includes:
– Forward Collision-Avoidance Assist
– Lane Keeping Assist
– Blind-Spot Collision Warning
– Enhanced Auto Emergency Braking Technology w/ Junction Turning Detection
– Blind Spot Detection Technology
– Rear Cross-Traffic Collision Avoidance Assist
– Driver Attention Warning w/ Leading Vehicle Departure Alert
– High Beam Assist
The newly updated monocoque structure is a critical aspect of Niro EV's safety arsenal. The structure is both rigid and lightweight, offering enhanced protection in the event of an accident. The boxy design of the Niro EV is not just aesthetically pleasing but functionally sound, as it provides higher visibility and structural integrity compared to its competitors such as the Chevrolet Bolt EV and Nissan Leaf. Additionally, the Niro EV's safety credentials have been recognized by the National Highway Traffic Safety Administration (NHTSA), which awarded the model a coveted 5-star safety rating. This endorsement solidifies the Niro EV's standing as a safe and reliable choice for families and individuals.
Related: 10 Electric Crossovers That Are Fun To Drive
7
The 2023 Kia Niro EV Supports Fast-Charging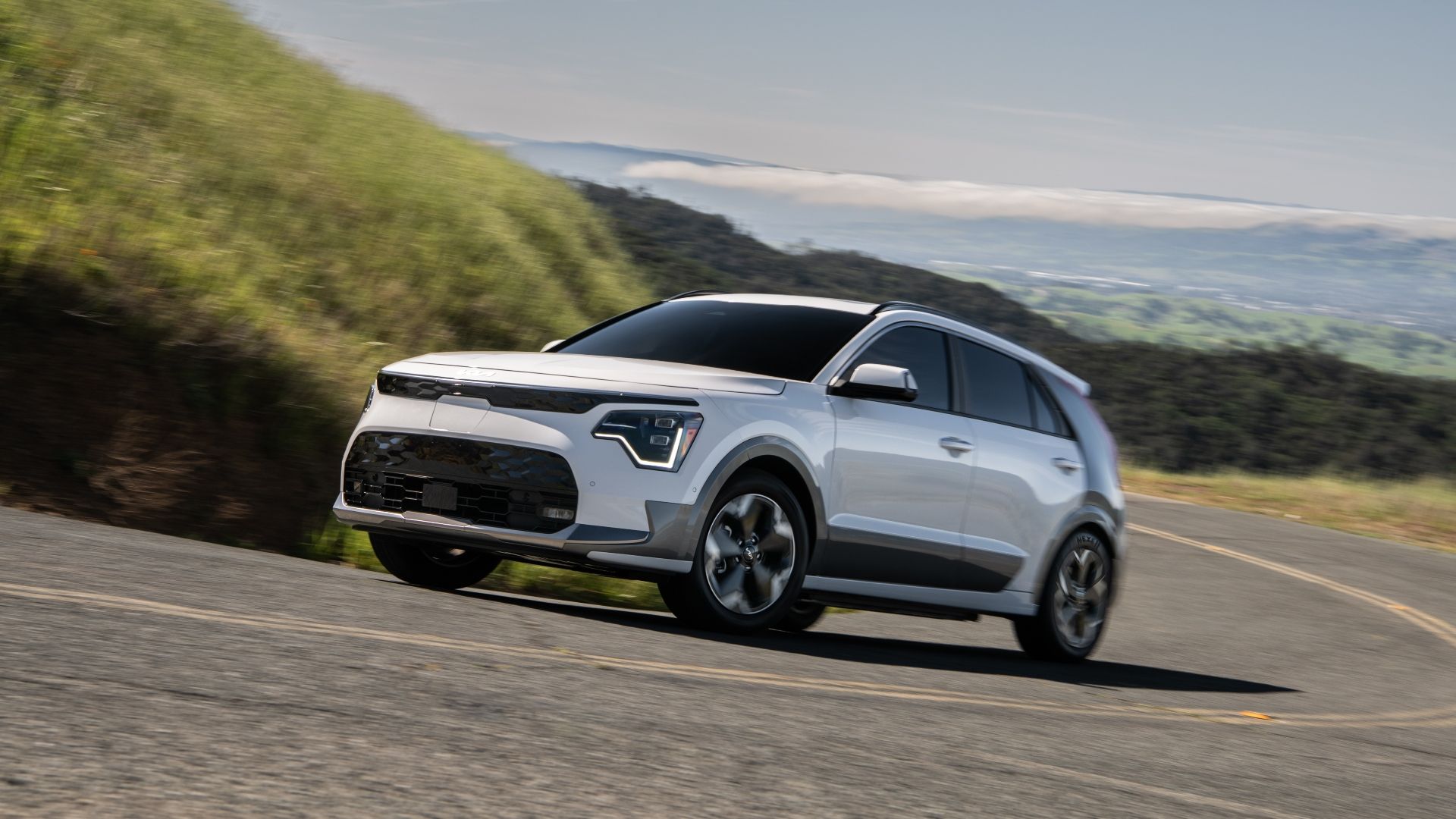 Side shot of a 2023 white Kia Niro EV ascending an inclined road
Charging the Kia Niro EV isn't just easy—it's incredibly adaptable to your lifestyle. Kia has incorporated flexible charging options that cater to a range of scenarios. For those days when you're lounging at home, the Niro EV comes with a standard Level 1 charging cable, designed to conveniently connect with your home's electrical outlets. But where the Niro EV truly shines is its compatibility with DC fast charging. This remarkable feature catapults the vehicle into a league of its own, offering the ability to juice up the battery to 80% in just around an hour at a DC fast-charging station. That's equivalent to a good lunch break or a quick shopping spree. When compared to some competitors, the updated Kia Niro EV pulls ahead in the charging race. For instance, it significantly outpaces models like the Chevrolet Bolt EV and Nissan Leaf, which take longer to charge at the same fast-charging stations.
8
How Practical Is The 2023 Kia Niro EV?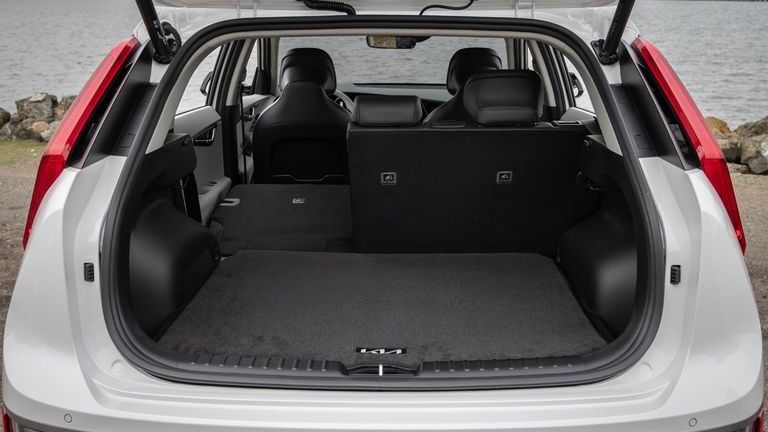 Kia Niro EV with internal functions on display
The 2023 Kia Niro EV is a highly practical and functional compact car. It cleverly maximizes interior space, allowing even adults in the back seats to enjoy ample legroom and headroom. Moreover, the vehicle's cargo area is spacious enough to easily accommodate your daily shopping haul or luggage for a weekend getaway. This exceptional practicality is thanks to the updated design of the 2023 Kia Niro EV. Despite its departure from the last generation Niro's more conventional, curvier look, the car's boxier style brings a fresh aesthetic and more functional benefits. Its more vertical stance creates better use of space inside the cabin, providing a comfortable and roomy interior. Kia's willingness to innovate has resulted in a vehicle that perfectly balances practicality, comfort, and style, even if it may have caused some controversy among fans of the older Niro design.
Cargo Dimensions
| | |
| --- | --- |
| Cargo Space (all seats in place) | 22.8 cubic feet |
| Cargo Space (rear row folded) | 63.7 cubic feet |
Related: The Best Electric SUVs, Ranked
9
The 2023 Kia Niro EV Comes With A 10-year Warranty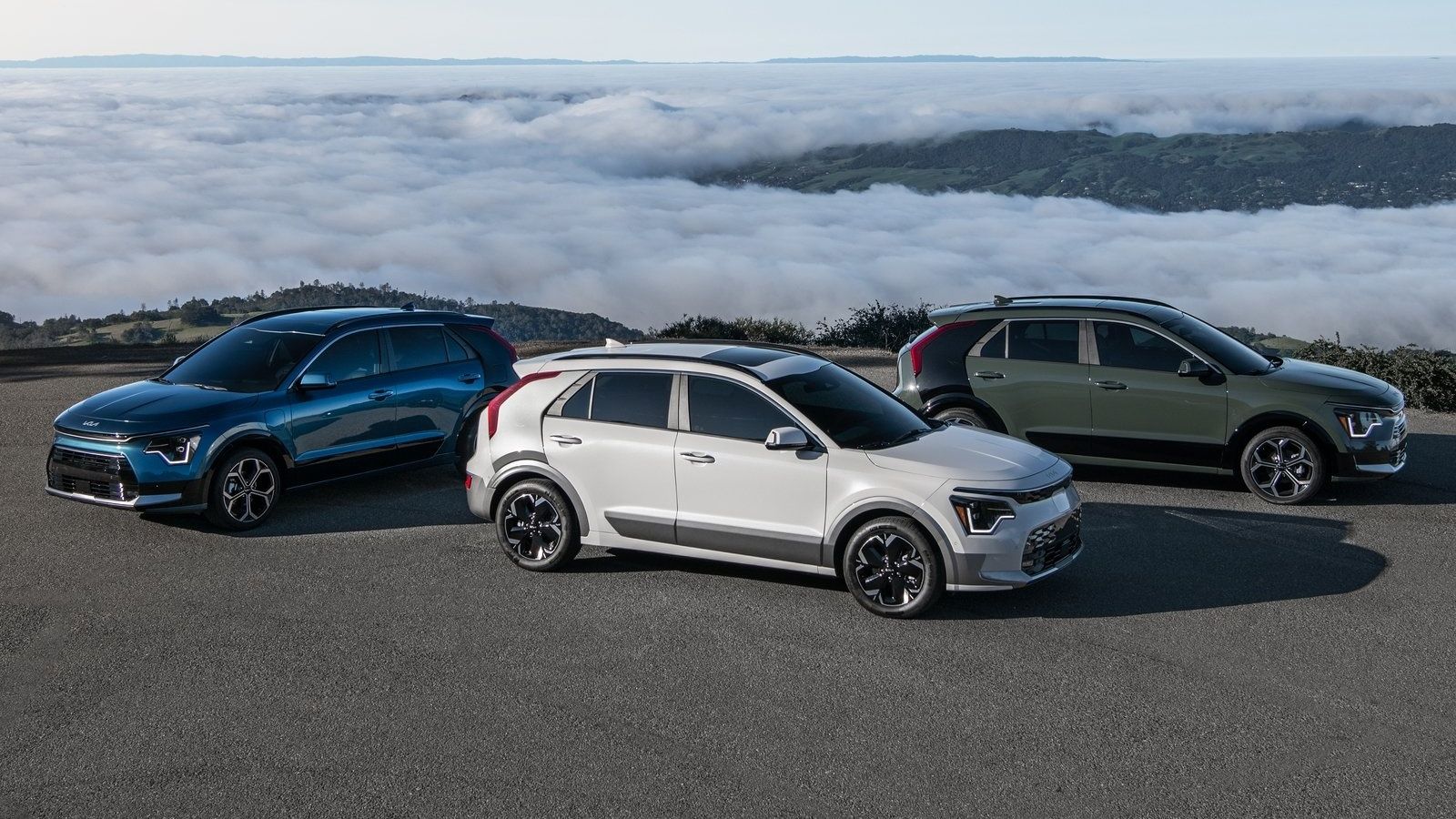 A shot of the 2023 Kia Niro debut at the New York International Auto Show. 
The 2023 Kia Niro EV is an excellent electric vehicle that offers a combination of practicality and high performance that is hard to beat. One of the standout features of this vehicle is its exceptional 10-year/100,000-mile warranty, which covers both the electric powertrain and battery. This warranty is better than many of its competitors and provides owners with peace of mind for a long time. What's more, Kia has made safety a top priority in the updated design of the 2023 Niro EV, making it even safer than before. This is a great feature for those who prioritize safety when choosing a vehicle. The Niro EV is equipped with a variety of safety features, including a rearview camera, lane departure warning, and automatic emergency braking. These features help to ensure that you and your passengers are safe and secure when driving. Overall, the Kia Niro EV is an excellent choice for those looking for a reliable and satisfying ownership experience. Not only does it deliver outstanding performance and practicality, but it also comes with an unbeatable warranty and prioritizes safety. Whether you're commuting to work or taking a road trip, the 2023 Kia Niro EV is a great choice for those looking for an electric vehicle that offers both quality and peace of mind.
10
A Lot Of Aids To Make Driving Convenient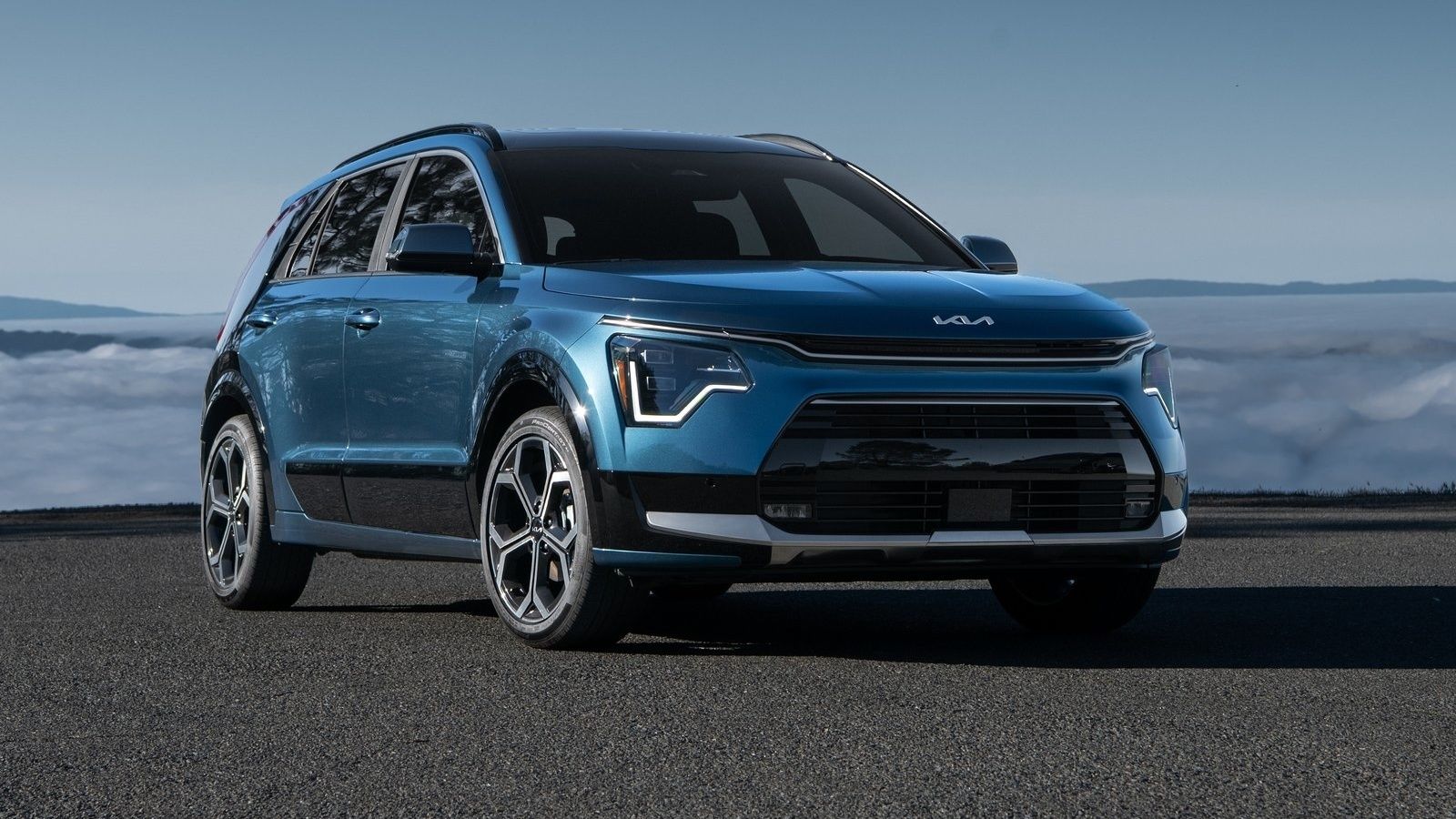 Front-shot of a parked 2023 Kia Niro PHEV
Want to know what it's like to drive the 2023 Kia Niro EV? Well, it's just as impressive as its specs suggest! The electric powertrain gives the car a stable and confident ride, thanks to its low center of gravity. Plus, Kia's engineering expertise means that the handling is smooth and engaging. One of the most useful features of the Niro EV is its regenerative braking system, which recharges the battery while braking. You can even customize this system to your driving style using the paddle shifters located behind the steering wheel. This allows for a unique one-pedal driving experience that is both efficient and exciting. All in all, the 2023 Niro EV offers an electrifying driving experience that surpasses its predecessor.
Google Ads