Back in 1972, the Can-Am company was created as a subsidiary of the Bombardier Corporation. They started in a barn just south of Valcourt, Quebec, with half of the building being the offices, and the other half the assembly plant. They built off-road motorcycles until 1987 based on the Bultaco design, which means a one-size-fits-all frame that could take various sizes of engines.
Google Ads
In 1987, Can-Am stopped making motorcycles, and BRP (Parent company Bombardier) closed the brand down to focus on snowmobiles, ATVs, and other products for almost 20 years. It entered the on-road market in 2007, but not with a standard motorcycle. Can-Am made an on-road three-wheeler that looks like a snowmobile for the road, only with two front wheels and one rear drive wheel.
Updated July 2023: Can-Am makes excellent three-wheeled bikes that deserve more recognition. So, instead of letting this article get buried in the multitudes of other dead articles online, we have decided to refresh and update it with more information to keep you coming back for more. Enjoy!
Related: Here's Your First Look At The Can-Am Pulse And Origin Electric Motorcycles
15
Can-Am Motorcycles Come With Three Wheels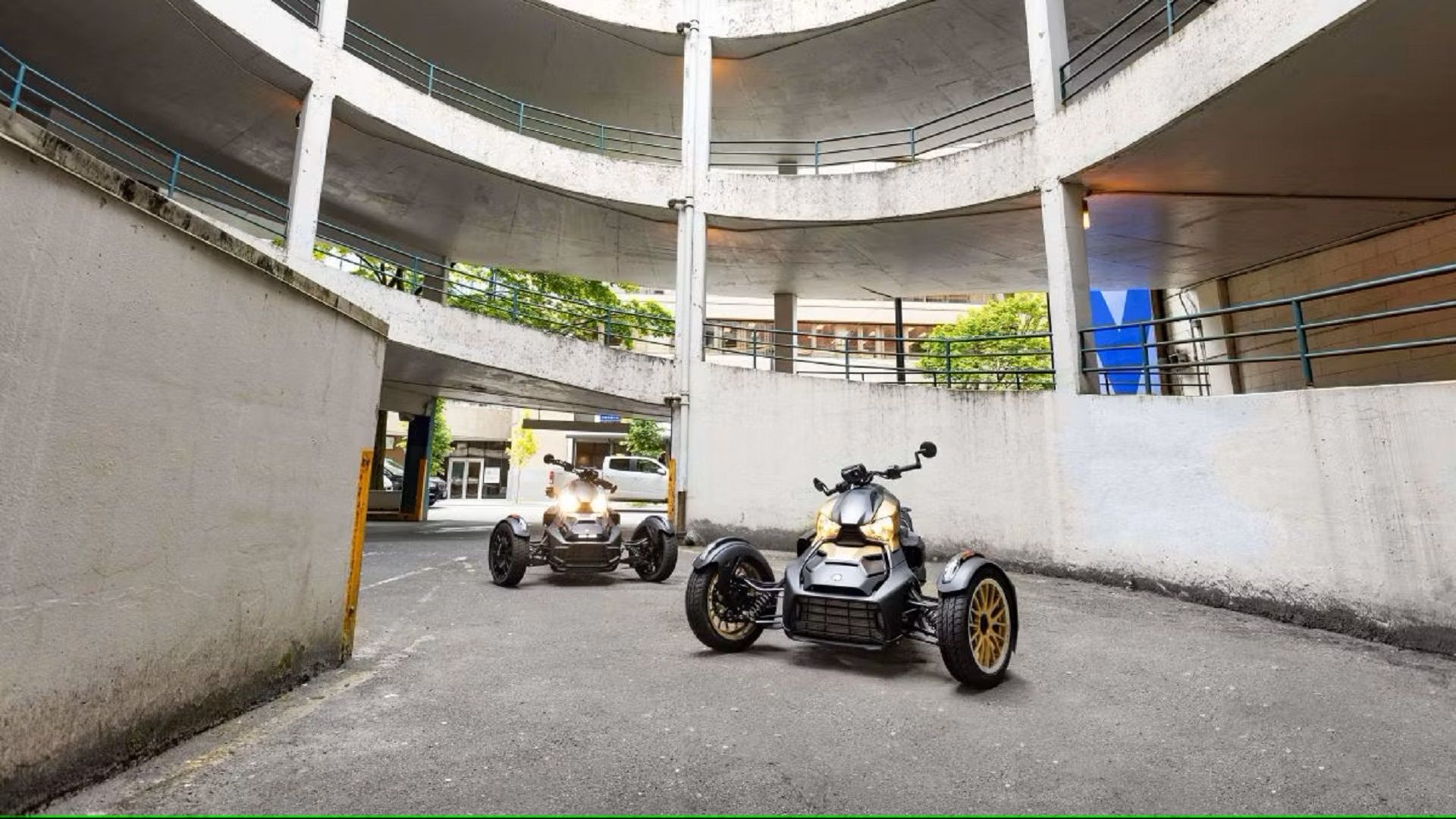 Front view of a pair of 2023 Can-Am Rykers
With experienced two-wheel riders on a Spyder, they first notice the lack of a lean angle. The rider can lean some, but no knee dragging into turns here. With the two front wheels doing the steering, the inexperienced rider has more confidence going into a turn. In fact, new riders seem to purchase the Spyder over other two-wheeled offerings. The one rear drive wheel gives plenty of grip on dry or wet roads. The same goes for the two front wheels. You feel more in control on those rainy days.
Related: Top 10 Best Trike Motorcycles You Can Buy
Google Ads
14
There Is The Can-Am Spyder
Green Can am spyder parked in lot with lake mountains in background and two people sitting on it.
The Can-Am Spyder models are the higher level three-wheeled street motorcycles that the company builds, all of them featuring the bigger inline-three cylinder engines that can push the vehicle to top speeds of over 100 MPH if you ever feel the need to go that fast. The lowest trim level for the Spyder is the Can-Am Spyder F3, which has a starting price of around $18,499, and the top trim level will run you about $30,999, which is the Can-Am Spyder RT Sky-to-Sea trim level. The RT models are the high luxury motorcycle levels, which is why they cost more, but they offer you more for the money.
13
There's Also The Can-Am Ryker
A Ryker is not necessarily a beginner model, more like a single-only rider that is a blast to ride. The base model with the 600cc engine retails for $8,999. The next two models have the 900cc engine, with the Ryker Sport selling for $11,899. Can-Am took the Ryker concept motorcycle and made a dual sport version, you could say, and created the Ryker Rally. This model's MSRP is $13,899. The Ryker family has customizable side panels that Can-Am offers in 17 colors and combinations. Still, the base plastic color is a flat black which is the only choice in those areas.
Related: 10 Reasons The Honda Gold Wing Needs To Be In Your Garage
12
Can-Am Bikes Make Up To 115 Horsepower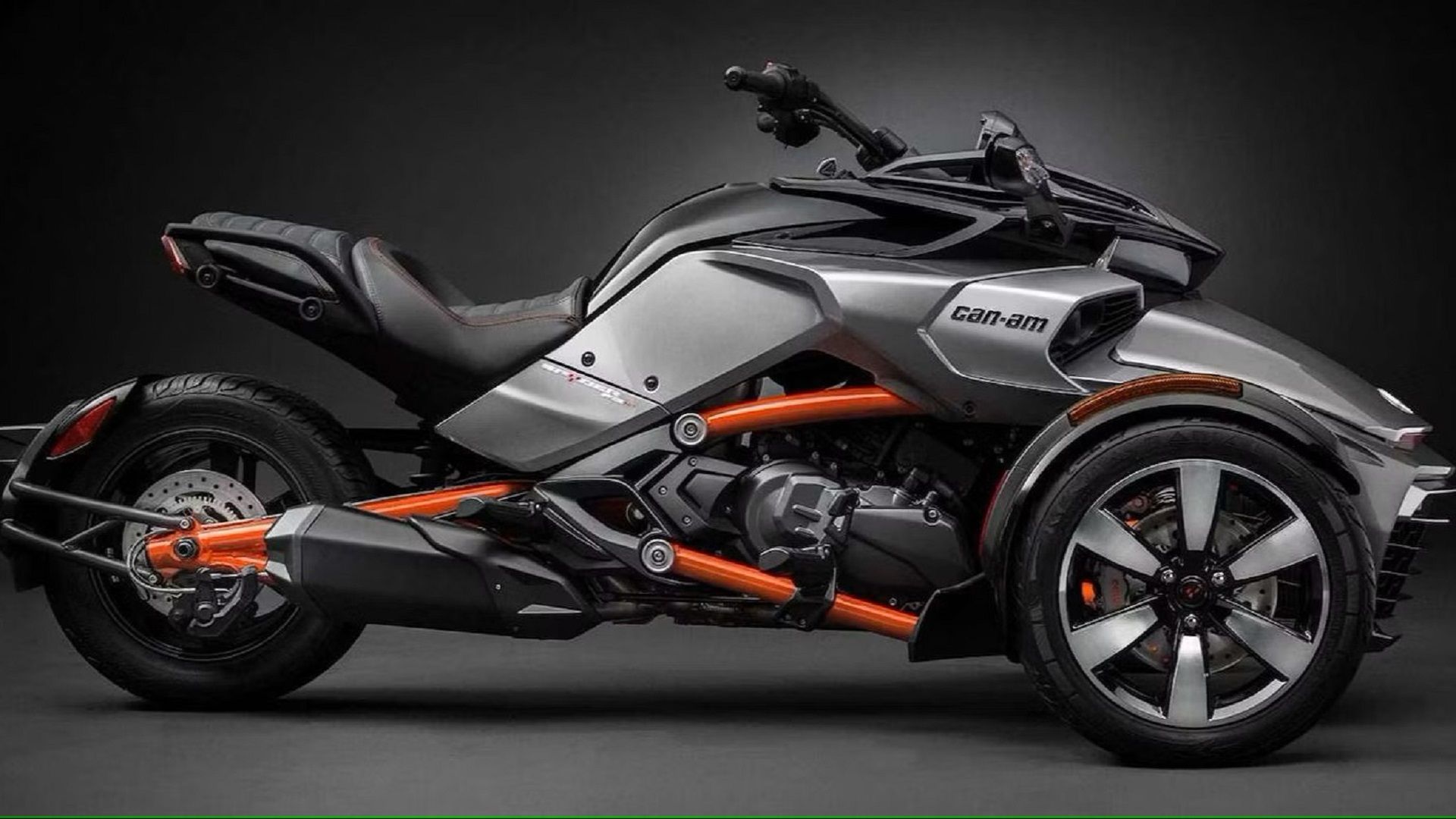 Side view of a Can-Am Ryker
Can-Am specifically made a liquid-cooled 900cc Rotax twin-cylinder V-Twin engine for the first-year Spyder. Back then, the GS was all you got, but the three-wheeled motorcycle has come a long way for today's models. Now with the F3 and RT models, the power comes from an inline three-cylinder 1330cc engine that can produce over 100 horsepower at 7250 RPM.
Can-Am Motorcycle Models For 2023
| | | |
| --- | --- | --- |
| Model | Horsepower | Torque |
| Can-Am Spyder F3 Limited Series Special | 115 horsepower @ 7,250 RPM | 96 pound-feet @ 5,000 RPM |
| Can-Am Spyder F3 Limited | 115 horsepower @ 7,250 RPM | 96 pound-feet @ 5,000 RPM |
| Can-Am Spyder F3-T | 115 horsepower @ 7,250 RPM | 96 pound-feet @ 5,000 RPM |
| Can-Am Spyder F3-S Special Series | 115 horsepower @ 7,250 RPM | 96 pound-feet @ 5,000 RPM |
| Can-Am Spyder F3 | 115 horsepower @ 7,250 RPM | 96 pound-feet @ 5,000 RPM |
| Can-Am Spyder RT Sea-To-Sky | 115 horsepower @ 7,250 RPM | 96 pound-feet @ 5,000 RPM |
| Can-Am Spyder RT Limited | 115 horsepower @ 7,250 RPM | 96 pound-feet @ 5,000 RPM |
| Can-Am Spyder RT | 115 horsepower @ 7,250 RPM | 96 pound-feet @ 5,000 RPM |
| Can-Am Ryker Rally | 82 horsepower @ 8,000 RPM | 58.3 pound-feet @ 6,500 RPM |
| Can-Am Ryker Sport | 82 horsepower @ 8,000 RPM | 58.3 pound-feet @ 6,500 RPM |
| Can-Am Ryker 900 Ace | 82 horsepower @ 8,000 RPM | 58.3 pound-feet @ 6,500 RPM |
| Can-Am Ryker 600 Ace | 50 horsepower @ 7,300 RPM | 36.7 pound-feet @ 6,000 RPM |
The fun little Ryker models have inline-twin 600cc and inline triple 900cc engines that pump out less than 100 horsepower. All three models take that power through a fully automatic CVT transmission. Smooth, constant acceleration is felt on any model.
11
The Can-Am Ryker Features A Unique Setup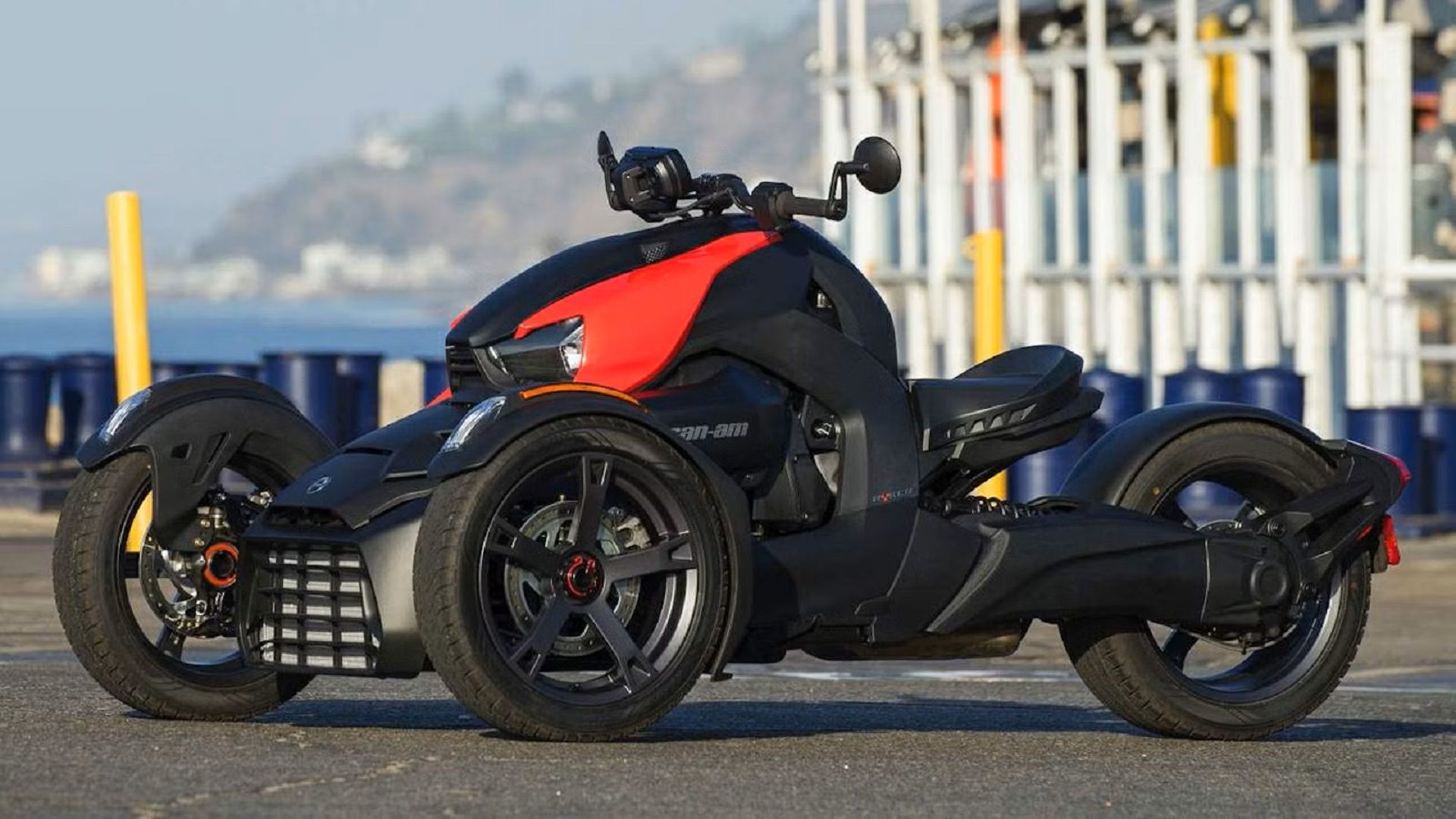 Front and side view of a Can-Am Ryker
All three Rykers have the same large radiator up front, close to the road, and between the front wheels. Unlike motorcycle radiators blocked by the front wheel, forks, and fenders, the manufacturers must design a way to funnel air into the cooling system. And they do it well, but the Rykers cooling system is right out front, and there is no need for additional plastics or odd designs to get air into it. The only issue is keeping the engine warm on days below 55 degrees.
10
The Can-Am Lineup Comes With A CVT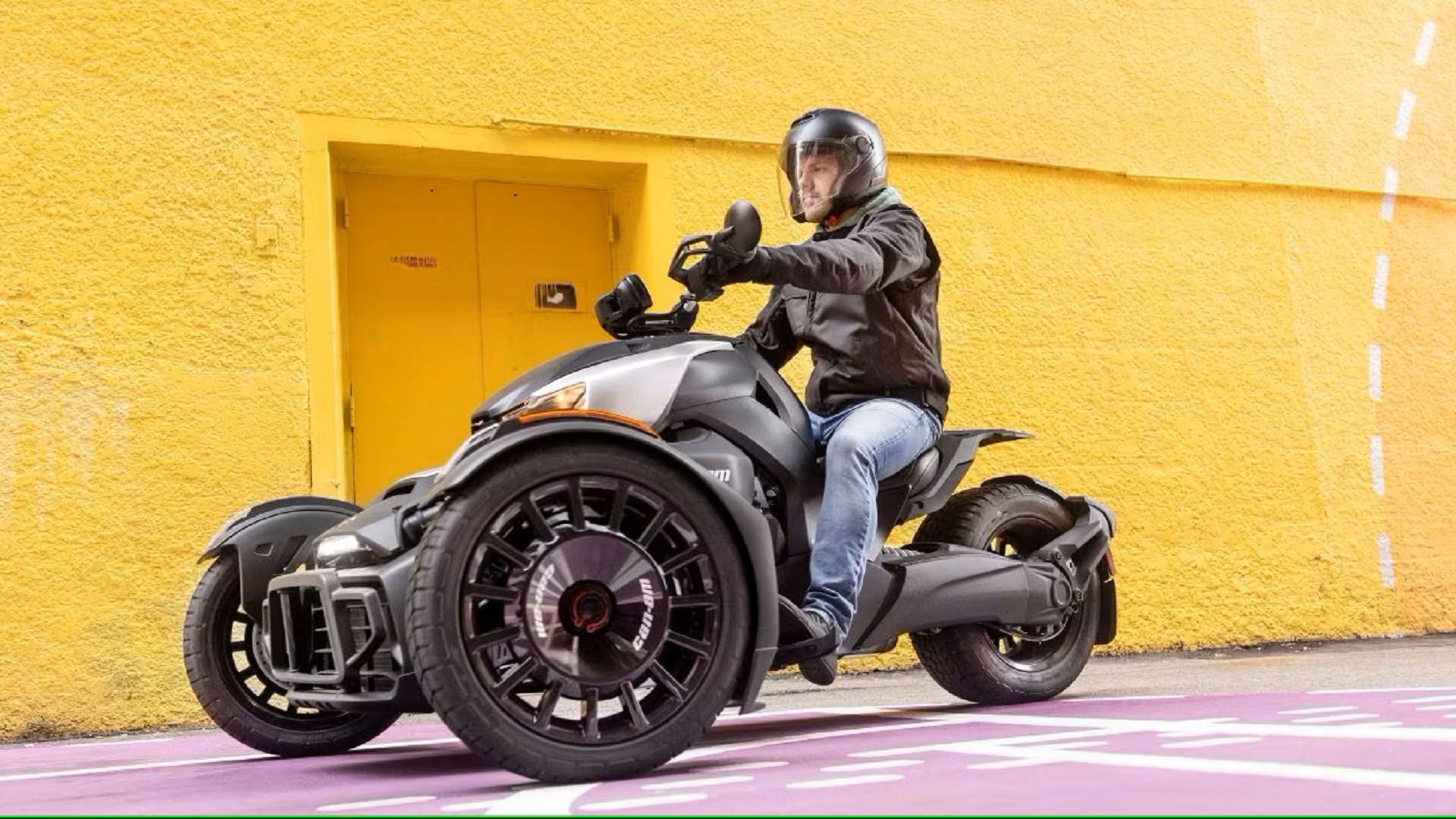 Front and side view of a 2023 Can-Am Ryker Sport
The shaft drive transfers the horsepower with minimal loss to the rear wheel. Can Ams automatic transmission is a CVT belt drive from the engine to the driveshaft. Just move the small lever on the left side toward you, and you're in gear. That's it. There is no neutral unless idling. Move the lever forward, and now it is in reverse. Backing up is the same principle as a car. Just don't put your feet down. Twist the throttle, and the rear tire hooks up and quickly pulls you to the back of the seat.
Related: Top 10 Automatic Motorcycles Currently On Sale
9
The Can-Am Ryker Rally Is Technically A Dual Sport
Can-Am decided to make a dual sport version for riding on dirt roads and pavement. Stronger rims, mud flaps, on-off-road tires, push bar, skid plate, intake with pre-filter, and an Akrapovic exhaust come already tuned and mounted. It has three ride modes to help control the Rally.
Eco Mode
Rally Mode
Cruise Control.
The suspension is set up better to handle the bumps of dirt roads with KYB shocks. They have a remote reservoir with a 4-position compression adjustable damping and preload adjustment to suit riders' needs and conditions. The Ryker Rally is a fun bike to drift on in the dirt, and controlling it is easy if you are an experienced ATV or snowmobile rider.
8
Countersteering Is Not A Thing With The Can-Am Motorcycle
Green Can am spyder parked in lot with lake mountains in background and two people sitting on it.
The Can-Am Motorcycle can easily handle 40 to 70 miles per hour and tops out at around 125, give or take a mile an hour or so. Going into a sharp turn requires a significant slowdown, or two-wheeling could happen, unlike a motorcycle, where you can lean a little more and or slow down. With most motorcycles on the market, you must countersteer to be an effective, safe rider. But that is not the case when you are riding on a Can-Am Ryker or Can-Am Spyder because the front two wheels simply do not allow that type of riding.
7
The Can-Am Roadster Does Not Accelerate Like A Motorcycle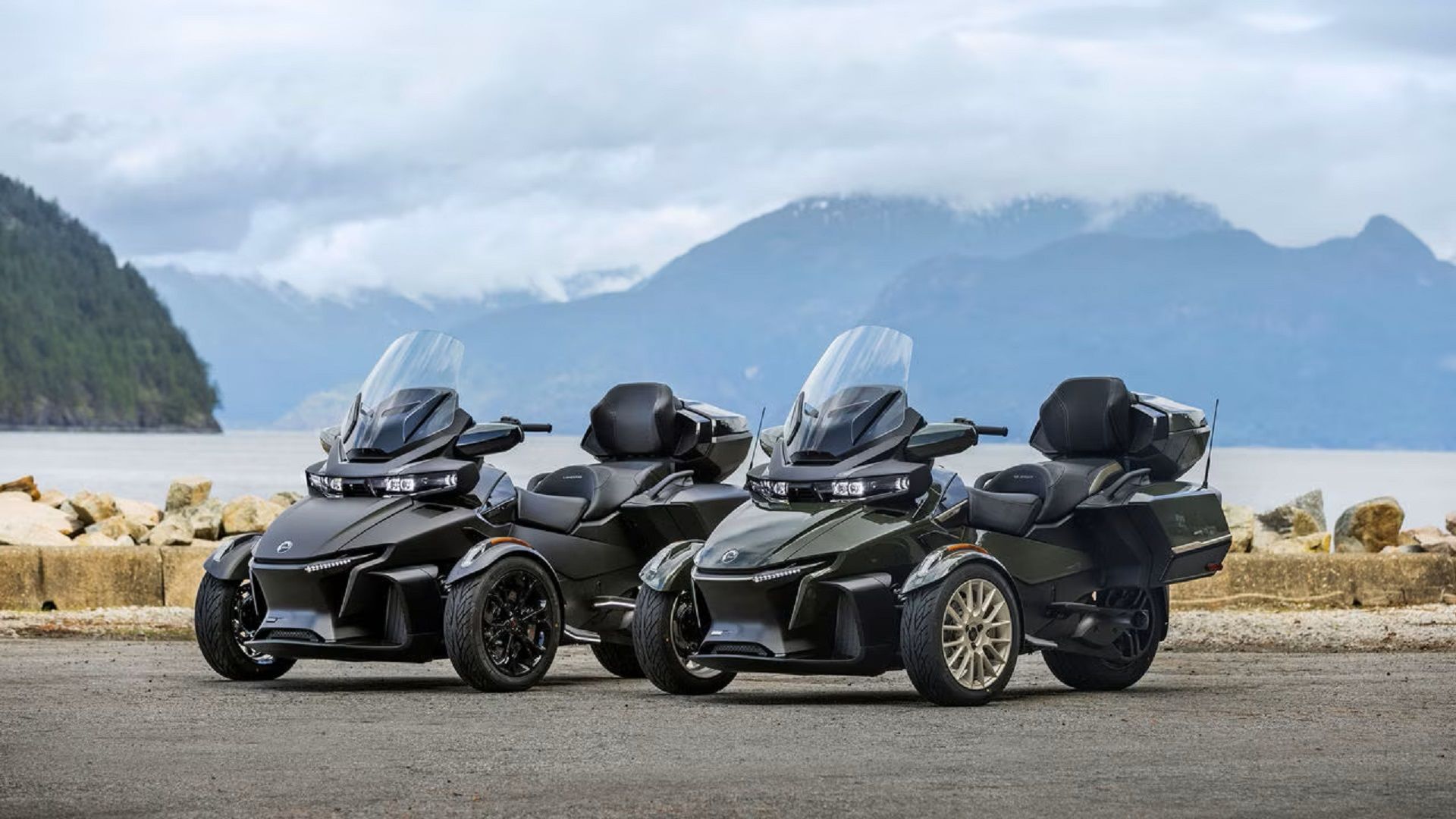 Front and side view of a 2023 Can-Am Spyder RT 
Acceleration off the line for a motorcycle, such as the Suzuki GSX-R 1000 that shoots 0 to 60 MPH in 2.35 seconds, is part of the excitement of riding a bike. It is expected that when you add an extra tire in the front, the excess weight will slow the blast from a standstill down, and it does. The Can-Am Spyder F3, built in 2015, can only manage to reach 60 from 0 in 4.8 seconds, over double the times set by some of the fastest bikes on the market today. But that is still fast enough to take on some high-performance cars being built, such as the 2022 Mustang GT, that averages 0 to 60 MPH in 4.4 seconds.
6
Limited In-Gear Acceleration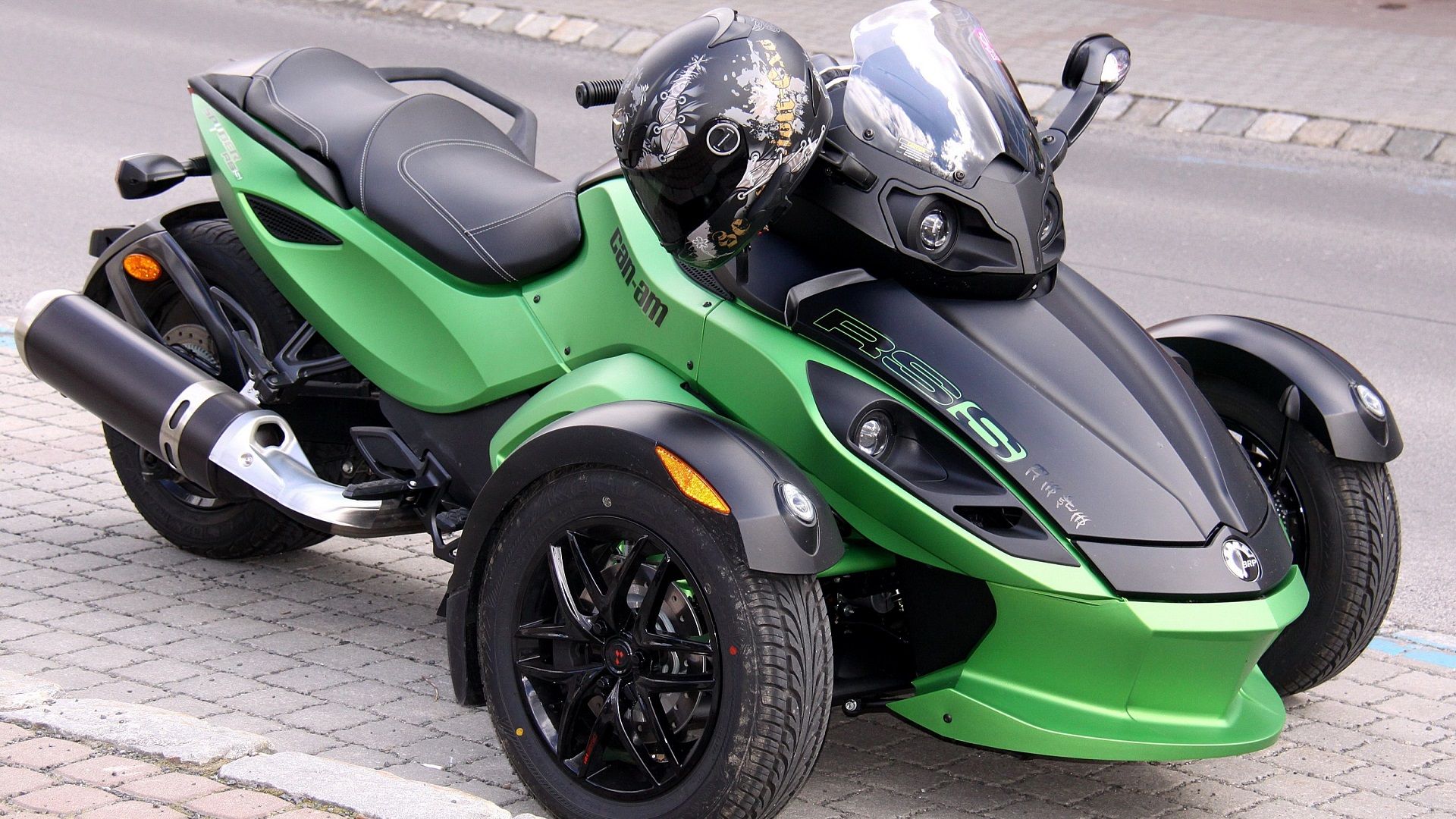 Front and side view of a Can-Am Spyder RSS
With other motorcycles, you can drop a gear to raise the RPM enough to get a ton of excess power to pass a vehicle on the open road. This works great when you are already at speed, and it still works when riding a Can-Am motorcycle, just not as well. The acceleration you get when already at speed is not as much as you may expect the first couple of times, so make sure you have room to pass before you pull out into oncoming lanes of traffic.
5
The Can-Am Motorcycle Is A Bike With A 400 Pound Towing Capacity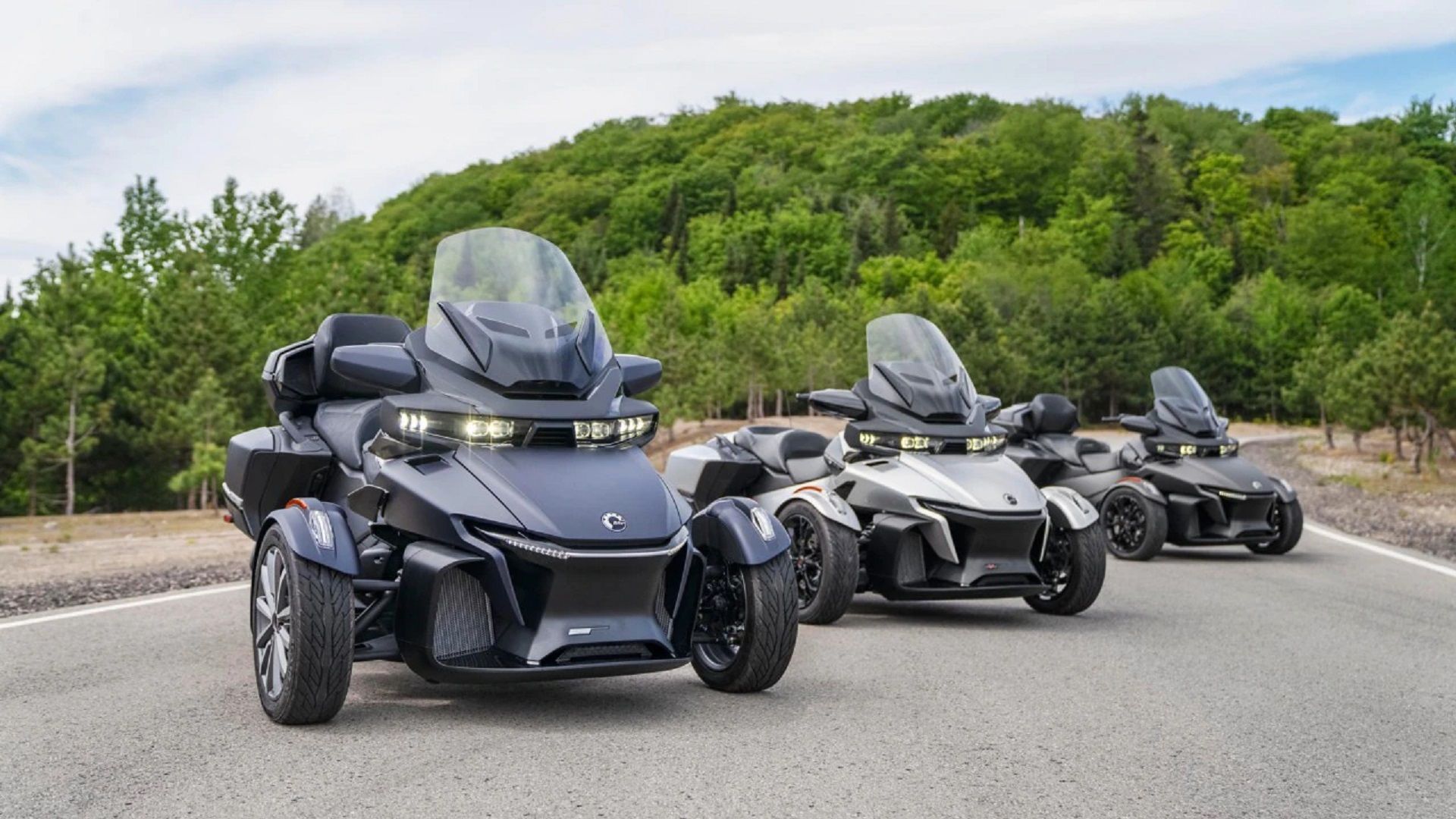 Front and partial side view of three 2022 Can-Am Spyder RT
A bike such as the Can-Am is comfortable on the open road, which means there is no better option if you want to go on a cross-country trek. The Can-Am has plenty of storage area, but if you need more, the Can-Am models have been designed to pull specially designed trailers. Of course, any trailer that hooks into the hitch will work. Just make sure to keep the total weight under 400 pounds because that is the maximum towing weight of the Can-Am Roadsters.
4
The Can-Am Spyder Can Touch Speeds Of Up To 125 MPH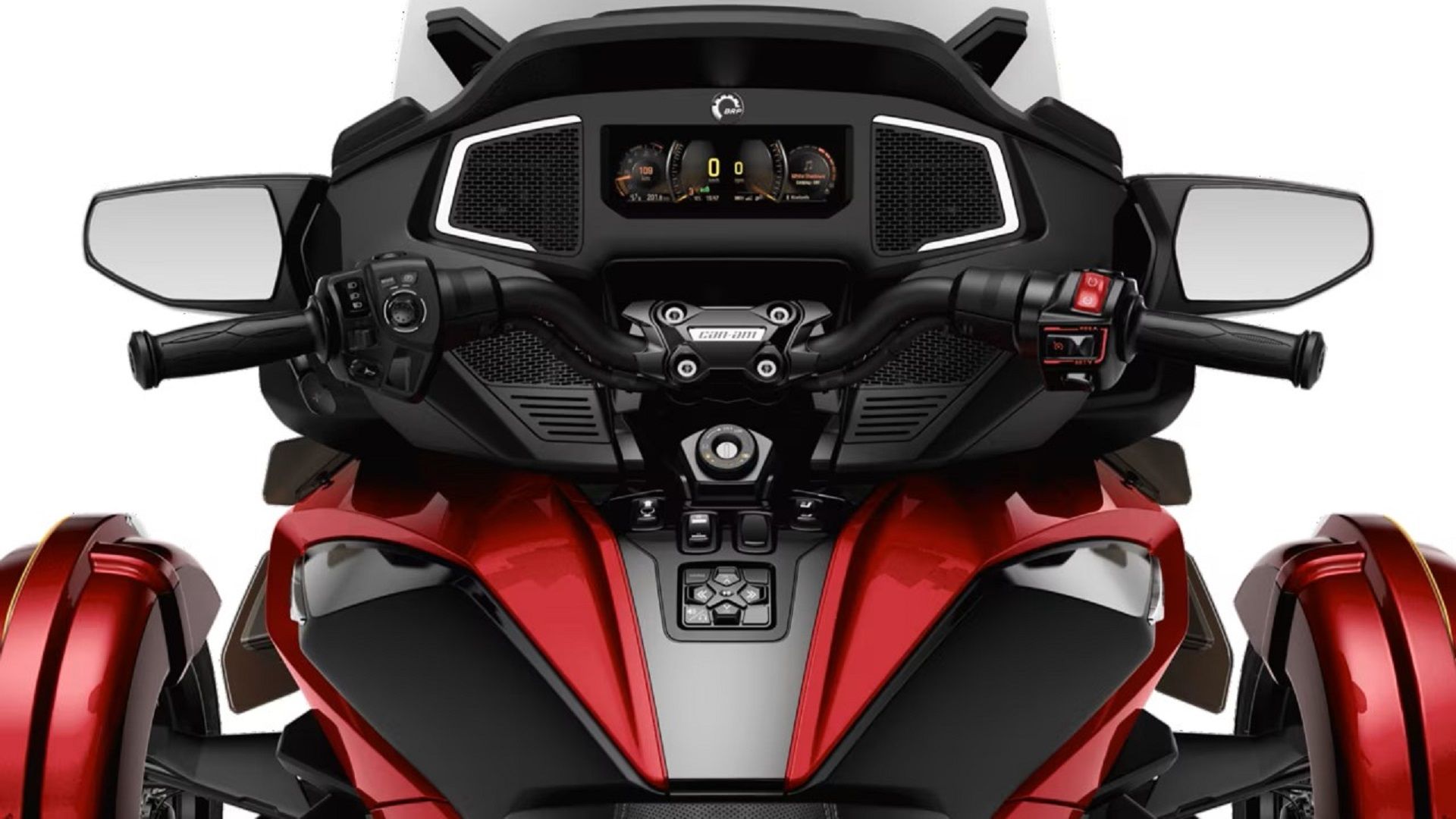 Drivers view of a 2023 Can-Am Spyder RT
With the Spyder design, Can-Am opened another market to motorcycling that no other manufacturer currently has. It allows new and experienced riders to enjoy something different on the roads. Some riders that can no longer hold up heavy touring bikes or have knee issues love the Spyder because of the three wheels supporting it. Over the years, the three-wheel design has undergone engine and transmission changes to the now stable CVT transmission and inline triple 1330cc engine. This can now reach a top speed of about 125 miles per hour. The belt that drives the rear wheel is a well-thought-out design to handle the tension and friction.
Related: 10 Cruisers That Will Destroy Your Bank Account (Or Reputation)
3
If You're A Solo Rider The Can-Am F3 Is For You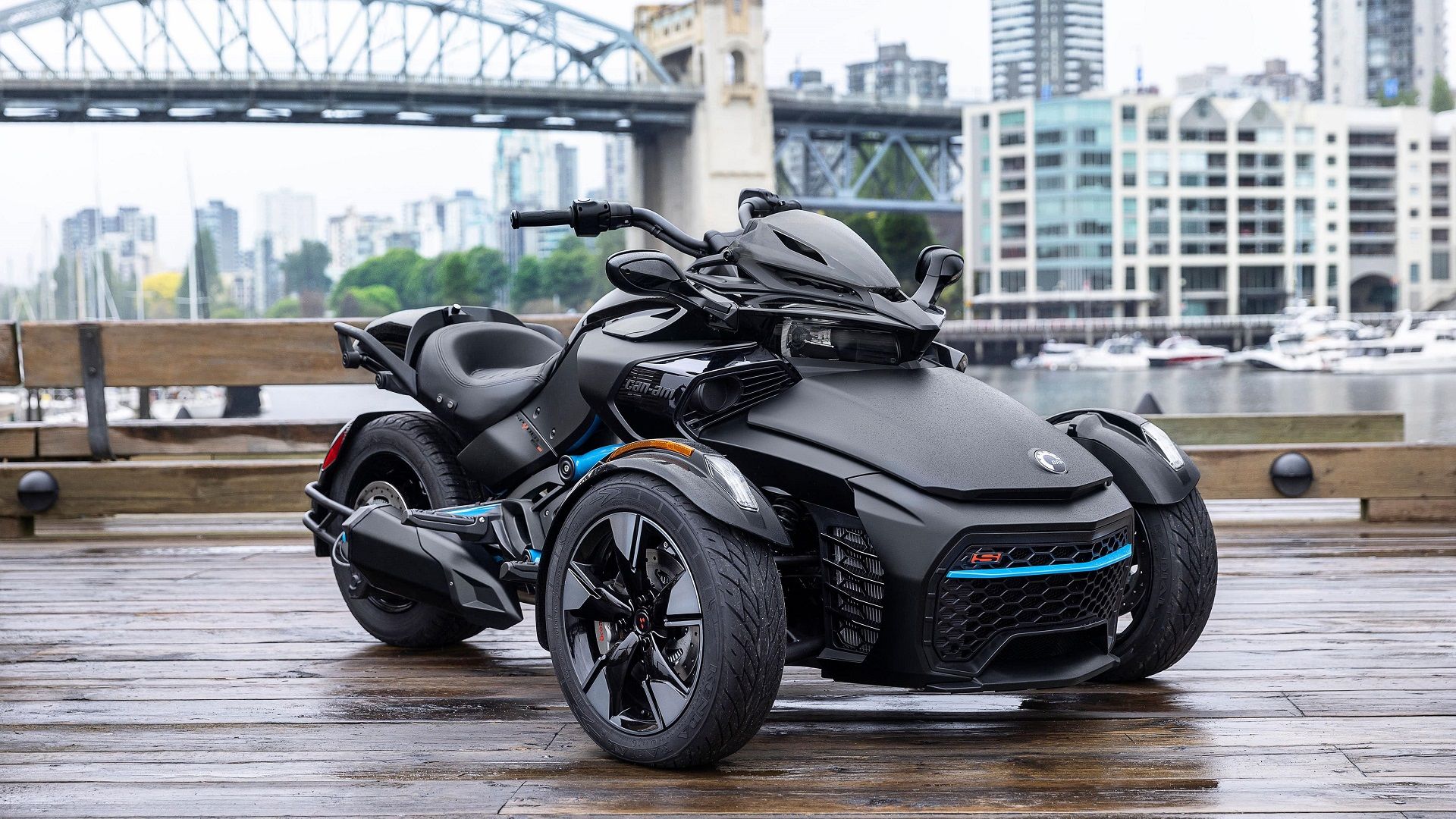 Front and side view of a 2023 Can-Am Spyder F3
The F3 is a sporty single-seat Spyder. This machine's base model retails for $18,499 and up to $28,499 for the top model. There are five variations of the F3, and with each model progression, the owner gets to choose a different color, audio package, and even the addition of a rear seat and hard cases for the F3T and limited series.
Stopping the F3 are 270mm disc brakes on each wheel and controlled by a one-foot pedal like all the Ryker and Spyder models. The 165/55R15 55H front tires and the massive 225/50R15 76H rear tire are more like the ones you would see on a car rather than a motorcycle.
2
The Can-Am Spyder RT Takes Things To The Next Level
With three models, the RT at $24,699, the RT Limited at $28,499, and the new Sea-to-Sky retailing at $30,999, the customer has the problem of which luxury model to choose. They all have the rear side cases, while the Limited and Sea-to-Sky already have the rear center luggage case installed. Front and rear hand and seat warmers are offered not only for the rider but the passenger too, making cool rides comfortable. The sizable front trunk houses the battery and any other gear or luggage you need.
Six speaker audio and a self-adjusting windshield are all at the touch of a button. Just like shifting, use your left thumb to go up or down. It will even auto-shift down when the vehicle is slowing. Whichever three-wheel version you choose, Can-Am offers a riding experience like no other in today's motorcycling world.
1
The Can-Am Spyder Is Classified As A Motorcycle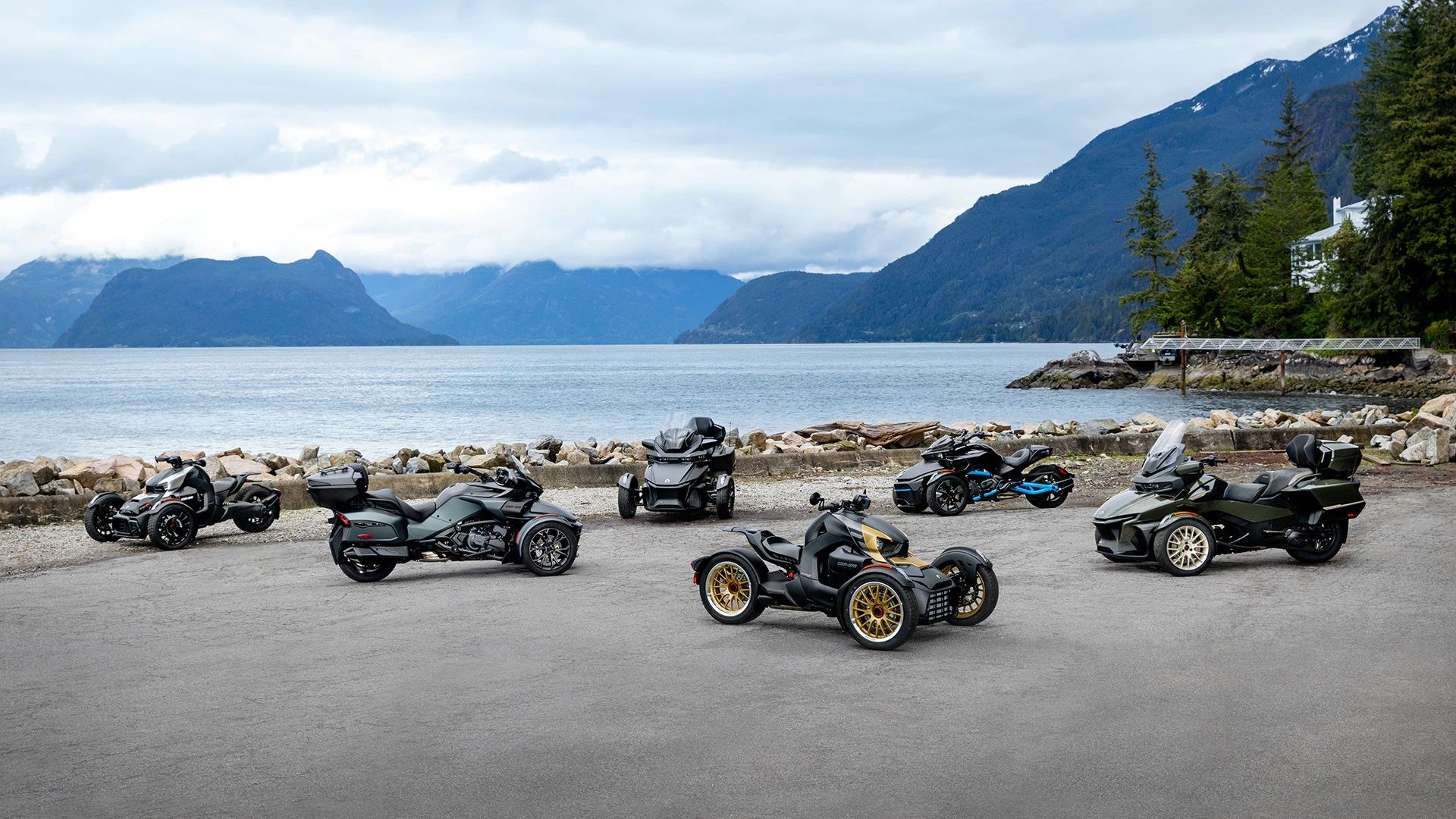 Front and side view of 2023 Can-Am Spyder & Ryker
The Spyder operates more like a motorcycle than a car. The earlier models of the Spyder required shifting using an electric shift on the GS 990 model, similar to many ATVs. With a twist throttle like motorcycles, a left-mounted rear brake pedal, and the rider sitting on, not in, the Spyder acts more like a motorcycle than a car. This setup leads many states' DOT to require a motorcycle license for the operator.
Google Ads