$12,950 USD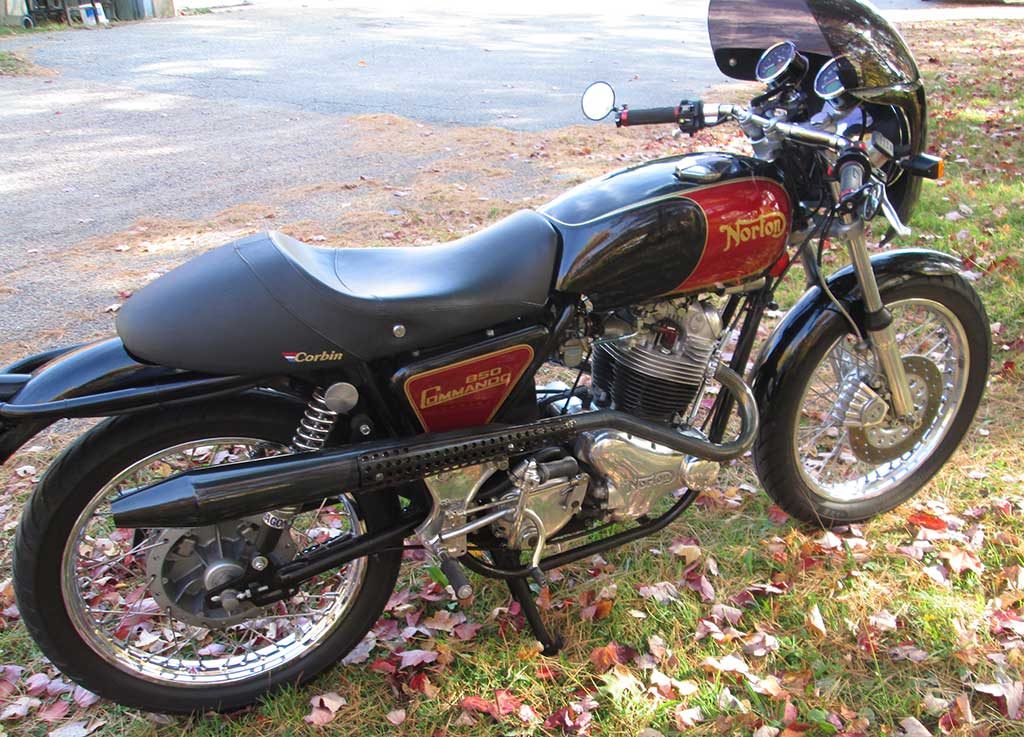 Google Ads
Once every couple of years we build a Norton at CBE for ourselves, to enjoy for a bit, and then sell it to move on to the next project. This is one of those bikes. It was built over the course of 18 months, road tested and then enjoyed at New Hampshire Motor Speedway at a number of Track Days with Fishtail Riding School. Not the fastest at the track and certainly ridden well within its limits, but no one had more fun with 50HP and no one had a cooler looking bike 🙂
The machine currently has just 1,000 miles on it, probably 2/3 at track days with no failures other than the occasional loose bolt and a broken aftermarket exhaust header that was replaced with hi end units (see below). Most Norton guys will tell you this is as nice a Norton (well sorted, handling, starting, power band, etc.) to ride as they have ever been on. The Fishtail instructors gave it very high marks for being very tight and just plain fun.
If you promise not to laugh at a rookie rider, here is a video of our second track day on the bike at New Hampshire Motor Speedway:
Notably, this bike is fitted with an Alton electric start conversion that works every time. Kick start it in front of the Harley guys and good looking gals, but push the button the rest of the time.
Our view is that the whole is greater than the sum of the parts. The vision for the machine was to be a stock plus performer, but with visual cues from cafe/track bikes and custom two-tone paint. We don't cut, weld, bob or otherwise abuse these machines. Everything is bolt on and bolt off – if you want to take the bike back to stock or in another direction.
As for parts, here is the partial rundown:
Matching numbers 74 850 that started life as a Roadster, but came to us more or less as a barn find.
Motor is 0.020″ over with a WebCam 312 camshaft, reground tappets and 0.010″ under big ends.
New pistons, rings, shells, superblend mains, valves, guilds, etc.
Updated venting at crankcase and rocker cover
Gearbox completely rebuilt with new bearings; primary has new clutch plates.
Mikuni carb; new fuel lines, filters, petcocks
Wassell electronic ignition; 6V dual coils with 5K plug caps
Viking Exhaust (New Zealand) black chrome SS pipes
Clubman Racing rearsets
Corbin gunfighter seat
Normal Hyde M bars
Clubman Racing steering dampener
Hagon rear shocks
Swing arm spindle collars to stiffen things up
Dave Taylor style head steady
Rebuild clocks from Nisongers; cafe style binnacles
Migura master cylinder; stainless steel brake line; rebuilt caliper with stainless pistons; drilled front disc
Chrome steel 19″ rims, stainless spokes, Avon Roadrunners
Old Britts taillight and directionals; sealed beam halogen headlight
Honda switch gear
CRC mirrors
Front fender from Glass From the Past
Quarter fairing
Powder coated frame; paint by the Vintage Vendor; ceramic ball tumbled castings from RP Abrasives
4 Circuit fuse box and custom wiring harness
This bike is registered and ridden by one of the CBE owners. It is, of course, matching numbers and comes with a current Vermont title.
Why are we selling it? Why not! We are building another one.
We are, in all modesty, one of the premiere Norton shops in the country and have been featured in many trade rags as well as on Cafe Racer TV on the Discovery Channel (now Velocity) building cafe and stock Nortons. We know what we are doing and you will be thrilled with this bike… even if you have never ridden a Commando.
If you are local to our shop, I can offer you several months of "Guild" time wherein you can work on the machine here, learn to maintain it, or just hang out with us.
Google Ads