The "w126 body" S-class (or "126") body style sold from 1980-1991 is considered one of the most influential designs in Mercedes-Benz's history.  It's hard to argue that 126's exude power, sophistication and continue to inspire imitation today.  Among the sleekest designs on the road when introduced, 126s were among the first modern luxury cars equipped with anti-lock brakes, airbags, traction control, and many other technological advances.
(Photo slideshow for all S-Class variations is at end of article)
Many cinematic films selected this generation of S-class to be driven by sinisterly powerful characters  – bad guys that command fear and respect.  One might say the w126 is a major motion picture star for its classic styling and clean lines that have not diminished even by today's standards.
Whether you've always wanted one to collect or to use every day, prices have never been more affordable than they are now.  As an owner of a 1984 500SEL, I've created this reference guide to help understand variations that existed during the w126 production run.
BOTH 1970s FUEL CRISISES AFFECT 126-BODY DEVELOPMENT AND INTRODUCTION
When designers and engineers began designing the 126-body S-class, the 1973 fuel crisis was fresh in their minds.  Engineers decided the next large Mercedes-Benz to be introduced would be lighter and more efficient than the 116 body S-class it replaced.
With typical Mercedes thoroughness, engineers cut no corners.  Lightweight aluminum V8 engines of several sizes were designed and perfected with this luxury class model in mind.  The new body was given better aerodynamics.  Ways to cut weight and at the same time improve body strength were analyzed with great detail.  Fuel economy requirements that would go into effect for the 1980 model year in the United States were important development factors as well.
Front stabilizer bars were moved from the firewall to frame legs for better crash performance.  Rubber mounts in the rear suspension were made larger for better isolation. Brake pads were made thicker and of improved lining materials.  Power steering sensitivity gave better road feel.  Doors were designed to overlap to allow opening after a crash.  Steering wheels were slightly larger, and power seats were available for the first time.
1980: NEW 126 MODELS DEBUT IN EUROPE ONE MODEL YEAR EARLIER THAN IN THE UNITED STATES.
The w126 generation of the "S" ("Super") class Mercedes was unveiled at the 1979 Frankfurt Auto Show.  As with prior S-classes, both a standard wheelbase design and an "L" (Long wheelbase design stretched four inches at rear door openings) were created.  Standard-wheelbase 280S, 280SE, 380SE, and 500SE models went into production first in December, 1979 as 1980 models for the European market only.  The following spring, 1980 long-wheelbase SEL models debuted in Europe.  For clarification, "E" stands for fuel-injection, which the 280S did not have.  It's interesting to note that 1980 versions of the previous w116-body S-class were still being sold both in Germany and in the United States.
Google Ads
1981: U.S. INTRODUCTION OF 300SD TURBODIESEL AND 380SEL V8 MODELS.
Since 126s were hundreds of pounds lighter than their predecessor, smaller engines and 4-speed automatics (in place of 3-speed units) could achieve greater economy.  Iron block 2.8-liter six cylinder engines, and 3.0-liter five cylinder turbodiesel engines were carried over unchanged from the previous S-class.
Making bigger news were two new aluminum V8 engines: A 3.8-liter that produced equivalent power as the previous model's larger 4.5-liter engine, and a 5.0-liter that approached the older 6.9-liter big block V8's performance when matched to the lighter 126 body.  Long-wheelbase models were introduced during 1980 as late '80 models in Europe, and as 1981 models in the United States.
During that time, fuel shortages and high prices meant buyers were more concerned about economy than power.  The four-engine lineup that had existed on the previous w116-body S-classes in the U.S. was cut down to two through the 1983 model year: the 300SD and 380SEL.  The gas guzzling 6.9-liter V8 of the 1970s was banished to the history books.
300SDs, priced at $34,000, flew off the showroom floor the moment they were introduced in autumn of 1980.  The 3.0-liter, 5-cylinder turbodiesel was a proven, robust engine that offered 120 horsepower and superb economy, allowing the 3,750 pound car to attain 33 miles per gallon highway.  With gasoline prices at all-time highs in the early 1980s, these were the right cars for the times.  During the two-model period of 1981-83, 300SD sales accounted for more than 80% of 126s sold in the United States – many of which are still on the roads today.
The 300SD continued unchanged through 1985, after which two other turbodiesel engines with 6 cylinders were sold.  Unlike the 5-cylinder diesel, both of those 6-cylinder engines had mechanical issues.
380SELs were sold in the U.S. during 1981-83 model years.  Initially priced at $44,000 and making a tame 155 horsepower, 380SEL sales were not overwhelming – making them harder to find today.  Before 1986, trade laws were more flexible regarding private imporation of cars purchased overseas, so it was easy to purchase a European model from Germany and have it shipped over to one of the U.S. Conversion houses that opened to fit emissions equipment required to pass U.S. inspection.
When currency exchange rates were factored in, buyers more interested in V8 power and prestige could buy a 240-horsepower 500SEL overseas for only a small amount more money than a U.S. 380SEL, which hurt sales of 380s.  A w126 with completely flush headlights, smaller plastic bumpers, lower-cost cloth interiors, and plastic wheel covers is a giveaway, since none of these items were ever available on U.S. models.
1982: RETURN OF THE S-CLASS COUPE
The 1982 model year saw the introduction of the first S-class coupe since the earlier 1965-73 generation.  Built on a wheelbase three inches shorter than the standard SE sedan, the coupe was created to offer a more intimate driving experience.  Luxury and prestige were at the highest level.  Seats were leather; everything was power; and only the highest and best fittings would do.  126 coupes had their own model badge designation, "SEC", rather than sharing sedan badge names.  The one and only engine choice in coupes was consistently the largest V8 offered in sedans.  W126 coupes sold in the U.S. were 1982-83 380SECs, 1984-85 500SECs, and 1986-91 560SECs.
The SEC model designation was unique to the 126s and to the first year of the next-generation W140 S-class coupe (a 1993 model).  Technically, SECs were only produced for those ten model years.  In keeping with tradition, S-class sedan and coupe advertising was geared towards intelligent, upscale professionals since they were the most likely buyers.
Many fans feel diesels (especially those of early-1980s vintage) can be as collectible as any Mercedes-Benz.  They were popular in their day, possess strong originality and purity, embody what many people first perceived a Mercedes-Benz to be, have many cult fans, and make intriguing period pieces.  They will likely survive the test of time and enter a nostalgic relm as they age.  These factors have always been present in any car design our culture tends to appreciate as a classic. So, if you're a fan of classic cars (past, present, or future), a 1981-85 300SD Turbodiesel is a sure bet.
1983: A MINOR CHANGE FOR DETAIL WATCHERS
One small difference for detail watchers: four-speed automatic transmission gear selector gates are marked "D/S/L" on 1981-82 models; changing to a more accurate "D/3/2" for 1983-on.  Manual transmissions were available but only on European six-cylinder models.
Resale value and graceful aging are points that Mercedes-Benz consistently makes through advertising.  As one 1983 advertisement says, "There have never been enough Mercedes-Benzes to satisfy America's demand.  Perhaps it is because their value has never been cheapened by annual model changes, or face-lifts, or marketing artifice of any kind."
Traditional luxury car fans usually agree that keeping a car free of unnecessary year-to-year changes only enhances that car's appeal in the long run.  Aside from headlights and redesigned plastic trim, all 1981 panels are interchangeable with 1991 126-body models.  Certainly a definition of classic appeal.
1984: TWO NEW GASOLINE-POWERED V8 MODELS INTRODUCED IN THE U.S.: 380SE AND 500SEL
The 1984 model year was an important one for 126s in the U.S., second only to 1986 mid-life styling and engine upgrades.  Anti-theft alarm systems were introduced standard on all '84s.  But more significant were falling gasoline prices and a rejuvenated U.S. economy.  The 1980s everyone chooses to remember filled with materialism and desire to show off one's wealth (or appearance of wealth) started to gather steam at this point.  It seemed the party was on, and dancing days were here again.
Because more and more buyers were willing and able to part with the money for V8-powered models than ever, the 126 line was expanded for 1984 in an attempt to reduce "gray market" importation of Euro versions.  Though the 300SD remained unchanged, the 380SEL was dropped – replaced by a standard-wheelbase 380SE to fill out the widening 126 price gap.
And there was a new long-wheelbase king of luxury sedans – the 500SEL.  Finally, the U.S. received a version of this top Euro model, powered by the magnificent 5.0-liter V8 introduced years earlier in Europe.  The sole SEC coupe offered was upgraded to the larger V8 engine and title of 500SEC.
Note that 1981-83 3.8-liter engines were built with timing chains more prone to stretching, and even breaking.  Mercedes corrected this by equipping all 1984-85s with "dual row" timing chains.  As pre-'84 models came in for timing chain replacement service, they were fitted with the dual-row ones.  If a 380SEL has low mileage it may still have the original one, so ask a seller if they have addressed this issue.
All across the model line, gasoline-powered Mercedes-Benzes were making a comeback. Prior ads for the previous five years had featured diesels; and by 1984 the company was beginning to be perceived as all-diesel.  Power began to be emphasized over fuel economy once again by the majority of automakers.  Looking back, this marketing change was right for the times, and likely kept many M-B buyers from defecting to BMWs.
1984 – SUPPLEMENTAL RESTRAINT SYSTEMS (AIRBAGS) 
After development and perfection during the 1970s, Mercedes introduced driver-side airbags in European 126s for the 1981 model year, and in U.S. 126s a few years later.  According to an advertisement that ran during the spring of 1984 midway through the model year , driver-side airbags were "now available on select 1984 models".   In other words, optional equipment.  They aren't commonly found on 1984 U.S. models, but I happen to own a 1984 500SEL equipped with a driver-side airbag that was built in late March of 1984.
For 1985, driver-side airbags were made standard on 500 coupes/sedans and optional on 300SDs and 380SEs before becoming standard across the board for 1986.  Astute observers will notice that early 1981-85 airbag units fitted in in the center of the steering wheels were bulkier with squared-off corners.  1986 and later airbags were redesigned to flow with the natural shape of the existing steering wheel rim.
Passenger-side airbags did not come until the middle of the 1989 model year; standard on V8 models, optional on lower ones through 1991.
1985 – ANTI-LOCK BRAKING SYSTEMS (ABS) INTRODUCED TO THE U.S. 
Mercedes anti-lock brake systems were first introduced on 1978 European models, but were never available on U.S. models until they were made standard on all 126s for the 1985 model year.
As with Supplemental Restraint Systems, these have posed no safety problems over the years such as activation at the wrong time.  A very worthwhile feature to have, it should be noted that weight and complexity are added with these systems.
Brake components do require more frequent brake fluid changes, and replacement parts tend to be costly.  For those who seek the safest models, 1985-91s are the best bet.  For those preferring low complexity, 1981-84 126s may be the best choice.  Retrofitting ABS on a w126 is not practical because doing so requires paying for a myriad of new parts and computer controls, plus a good deal of labor to replace the old ones.
1986 – A MAJOR YEAR OF REVISIONS FOR 126-BODIES
The 1986 model year is the point which many Mercedes-Benz fans use to distinguish early "Generation 1" years of the 126 from later "Generation 2" years.  Why?  Because it was the only year that outwardly visible styling changes were made.  And because virtually all of the model names (and engines) had now also changed.
Aerodynamic styling was catching on in automotive design during the mid-1980s.  All manufacturers redesigned exterior parts to create less wind resistance, resulting in flush surfaces with smoother, creamier overall shapes. Even Mercedes-Benz, the company that abhorred change for change's sake, finally decided a little freshening was worthwhile.  While the only real changes were to wheels, headlights, bumpers, and plastic side cladding, the cars seemed visually transformed and modernized by the changes.  All other body panels remained identical, so fenders and grilles from an 1980 model are interchangeable with a '91.
Perhaps the most noticeable to the eye are the alloy wheel upgrades.  The 14-inch wheel design (unchanged since 1969) was replaced by 15-inch flat wheels known as the "Gullideckel" style.  Many prefer the look they give the car.  However, one should not rule out 1981-85s for this reason – all that's needed to fit an older 126 with newer style rims is a longer set of lug bolts, available from dealers.  Sets of the 15-inch wheels are often seen for sale on ebay and other sources for $100-$300 depending on the level of refinishing needed.
NEW HEADLAMP STYLING FOR 1986
The second most visible change for '86 was headlamps.  US 126s from 1981-85 featured recessed headlights and foglights to comply with government headlight regulations.  When these laws were amended in the early 1980s, carmakers were free to use flush-style composite headlights already used in Europe for decades.
Mercedes felt a semi-flush design maintained a look more continuity with earlier U.S. 126s, so square headlights actually remained a separate glass piece.
Because they now had a larger surface area and were almost completely flush with the surrounding assembly, headlight wipers were fitted to all 1986-91s.  Newer style headlight assemblies can be perfectly retrofitted to early 126s easily, so don't rule out a good '81 model just because of this.
Above: A close-up look at the European w126 headlight assembly, with dedicated wiper arms that worked from a different from  and wiper setup, which .
NEW LOWER SIDE PLASTIC BODY CLADDING FOR 1986
Another styling revision was the redesign of lower side plastic body cladding.  Pre-1986 models have ribbed plastic side trim that runs along the bottom of side doors and sides only, most often painted gray.  For 1986 stylists added a thicker plastic strip beneath the door openings, and flattened out the ribbing on the door pieces.  Bumpers were revised almost unnoticeably.
A matter of personal preference, many 126 fans are divided into two camps on bodyside cladding.  Those who prefer pre-'86 styling say the smaller, ribbed panels were the cleaner design.  And that if a 1981 380SEL is parked next to a 1986 SEL, the '81 will appear longer and sleeker because the body does not appear as massive and tall.  Fans of later 126s prefer the more aerodynamically smooth plastic panels.
SHORT-WHEELBASE SEDANS ARE DROPPED IN THE U.S. FOR 1986.  ENGINE DISPLACEMENT INCREASES ON ALL THREE ENGINES OFFERED
With the introduction of Benz's more modern-looking 1986 E-class (initially sold as the 300E in the U.S.), the S-class was pushed further upmarket.  Only long-wheelbase models were available in the states, and engine displacement grew larger and more powerful across the board.  For example, the 3.8-liter V8 (380SE) was enlarged to 4.2 liters and now powered the 420SEL while the 5.0-liter V8 was bumped up to 5.6 liters to power the 560SEL and 560SEC coupe.  Both of these V8s produced were noticeably more muscular than ones  they replaced, making "later" 126s the most desired models today.  In European markets where catalytic converters were not required on exhaust systems, the 5.6-liter V8 was rated for 300 horsepower.
The tried-and-true 3.0-liter, 5-cylinder turbodiesel was discontinued in favor of a new 3.0-liter, 6-cylinder turbodiesel of a quieter running design.  The short wheelbase chassis used in earlier 300SDs was dropped, and the '86 diesel offering became the 300SDL.
Widespread problems with this engine arose from trap oxidizers built into exhaust systems which were designed to catch and hold soot until it heated up enough to burn away.  Parts of these ceramic devices tend to break off and fly into the turbocharger itself, causing early demise of the whole unit.  These engine have good durability records otherwise, so if you're considering a 300SDL, make sure you ask the seller about this issue because replacement exhaust components are available without trap oxidizers.  Because these problems showed up early, the 300SDL was dropped after the '87 model year – and diesel 126s took a hiatus until 1990-91.
A SHIFT IN ADVERTISING THEME
By 1986, the United States economy was doing well, and consumers were spending money freely on big-ticket items, resulting in a record sales year for luxury carmakers of all nationalities – especially Mercedes.  Honda's Acura division was started up with great success, and Lincoln and Cadillac found more new buyers than ever.  With competitors embracing the new trend of power and modern styling, economical themes became passé.  1986 S-class advertising took aim at competitors, albeit very discreetly.  It's interesting to note how advertisements in the late 1980s took on a more genteel upscale feel to match the good times.  Luxury cars were a much easier sell now, so far less data and text was deemed necessary in print ads.
Traditional large American luxury cars were targeted to start with.  The subtle advertising theme was to establish an S-class as a better choice than "overbearing" luxury cars saddled with "bulk and ostentation".  Copywriters may have had Honda's upstart Acura luxury division in mind when creating advertising text for 1987.  Although Acuras had only been on the market for one year, their success could not be ignored.  Readers were reminded of Mercedes-Benz's 100-year heritage, tradition and pedigree which Acura (or any other Japanese manufacturer) could not possibly match.  Tiny 1-liter-engine cars and motorcycles were Honda's heritage – not very fitting for a luxury brand to trumpet.  Mercedes ads began to feature more close-up pictures of their classic hood ornaments and grilles than ever.
"You drive the automobile that pioneered ABS and SRS, but has never pioneered an onboard electronic gizmo", proclaims a 1988 advertisement.  Buyers were still reassured, in classic tradition, that they were buying a car of the highest engineering values.
History was also touched on by, "S-class. For people who have learned from experience to buy all the integrity they can get."  And, "…but the greatest comfort of the S-class may ultimately be a purely emotional one; the absolute reassurance of absolute integrity." Cleverly written, these may have been effective in swaying buyers away from Japanese and other luxury brands.  Because when push comes to shove in making a large purchase such as a luxury car, the desire to follow the path of lesser doubt can be a strong one.
1988: SHORT WHEELBASE MODELS RETURN, NEW 6-CYLINDER GAS ENGINE REPLACES DIESEL IN BASE MODEL.
After the demise of the 1986-87 300SDL, there was a gap at the bottom of the U.S. 126 lineup that needed to be filled.  Since diesel sales had slowed, the refined 3.0-liter 6-cylinder gasoline engine from the 300E midsize line was used, and the 300SE and 300SEL were introduced for 1988.  With 177 horsepower, this engine managed to hold its own in the S-class.  Economy was slightly better, but the lower horsepower and torque of the 6-cylinder necessitated gearing which forced the engine to rev much higher at speed.  300SE/SEL models continued unchanged through 1991.
1989: PASSENGER-SIDE AIRBAGS ARE INTRODUCED, LOWER PLASTIC BODYCLADDING COLOR NOW MATCHED TO BODY, SEATS & DOOR PANELS HAVE NEW LOOK.
As mentioned earlier, late-1989 production models saw the introduction of passenger-side airbags, a feature well worth having in a car seeing use as a daily driver.  These were standard on 420 and 560 models, optional on lower ones.  Because the passenger side dash-mounted airbag unit took up space where glove boxes were normally located, 126s so equipped feature a locking storage console between the front seats.
From 1980 through 1988, virtually all colors of 126 models (except beige, brown, and gold) featured gray lower plastic side cladding.  For 1989-1991, plastic cladding was more closely matched to the car's body color, except white, black, and smoke silver colors which kept the same gray as before).
All 1989 126-body sedans adopted the seat cover look present on SEC coupes since 1982.  While front and rear seatbacks and seat cushions no longer had a ribbed pattern, door panel interiors now did.
1990: DIESEL MODELS RISE AGAIN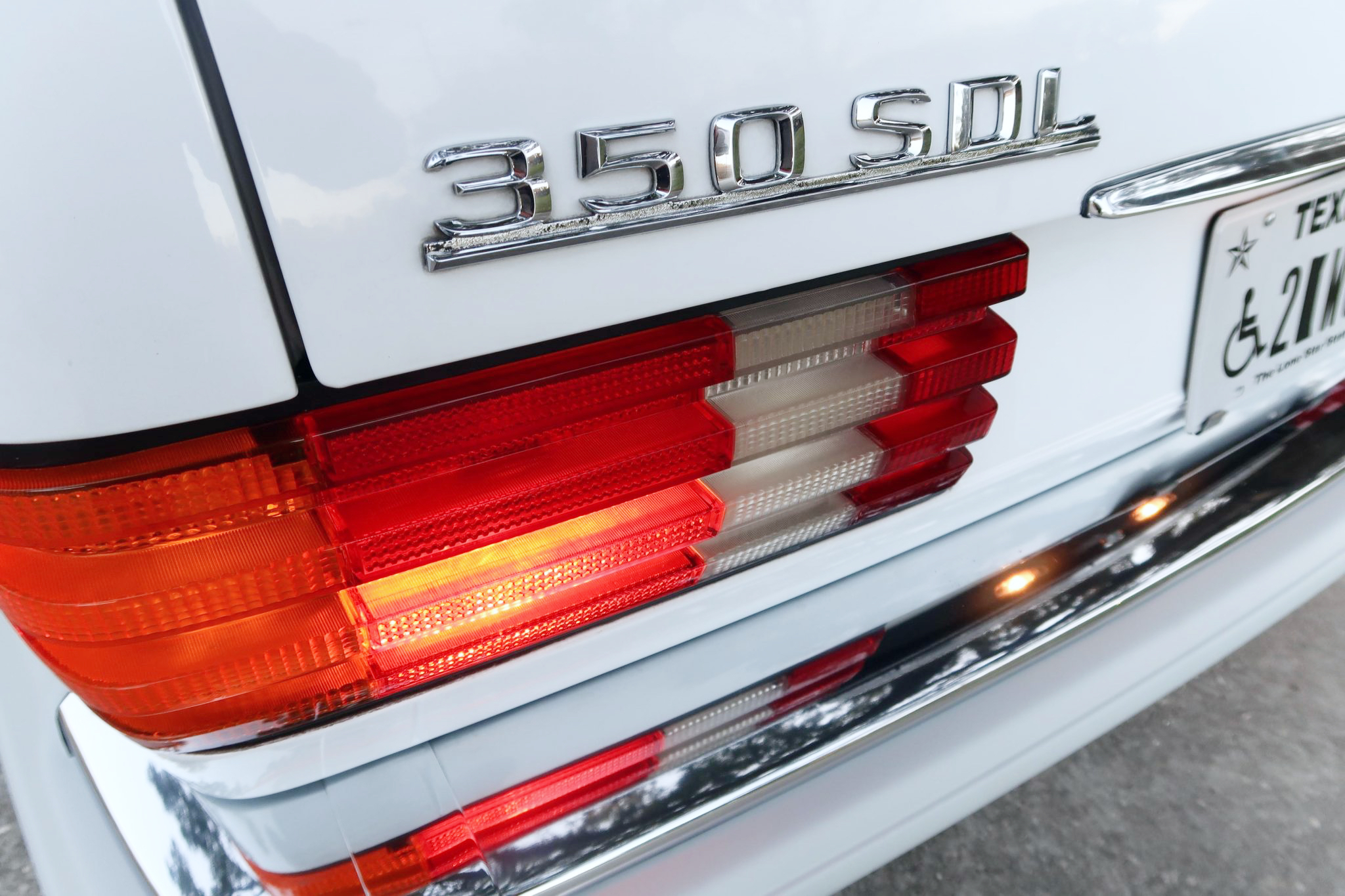 With a recession taking hold in early calendar year 1990, the time was right to re-introduce a diesel model in the 126 lineup.  The 3.0-liter 6-cylinder turbodiesel of 1986-87 was redesigned and enlarged to 3.5 liters, creating  1990 350SD and long-wheelbase 350SDL models which were the most powerful and refined diesel 126s in existence.  However their sales did not approach the 300SD's glory of ten years earlier, making them scarcer and harder to find today as a result.
One can tell, looking closely at period advertisements from 1990 and 1991, that luxury cars were suddenly a harder sell than they had been in the latter half of the 1980s.  Selling points of a sober nature were again stressed over images of heritage – selling points such as durability, dependability, crashworthiness, and resale value.  Engineers also noticed the shift in buying values and acted.
Although troublesome trap oxidizers were not installed on this engine, the new 3.5 turbodiesel had its share of widespread maladies.  Weak connecting rods (they connect pistons to the engine's crankshaft) tended to start bending at about 75k miles and up, causing eventual engine seizing.  Many owners experienced this problem, and Mercedes-Benz replaced a good number of 3.5 engines under warranty.  In short, 350s are well worth having for the diesel fan, but proceed with caution.
You'll often see "new engine" or "rebuilt engine" on a seller's list of strong points. Look for this, as replacement parts cured the problem.  Again, few 350 diesels were sold to begin with, so be prepared to pay for a decent, corrected one.  This engine was used through 1995 on the next generation of S-class and was discontinued when these problems became widespread.
Those seeking to avoid mechanically complexity suspension systems may wish to avoid 1986-91 560SELs.  These top line models were all equipped with complex, expensive-to-fix self-leveling rear hydraulic suspension systems in place of standard coil springs.  This system was also optional on 1984-85 500SELs.
1991: "ASR" TRACTION CONTROL IS INTRODUCED AS AN OPTION ON ALL 126 MODELS.
Newly optional on all 126s for 1991 was "ASR" Automatic Slip Control.  ASR measures variations in rotational speed between rear drive wheels and front wheels.  When one or both rear drive wheels start slipping and spinning faster, the ASR system applies braking power to the specific wheel or wheels to reduce spin.  If brake application doesn't restore traction, a computer automatically reduces engine power by means of electronic throttle control.
Models with ASR all feature a button on the center console with a snow tire design on it. This button serves not to turn ASR off completely, but to allow for extra wheel slippage if tire chains are equipped in severe climate areas.
1992 W126 MODELS MADE IN THE SOUTH AFRICAN MARKET
It's a true, but little-known, fact that Mercedes-Benz kept their 126 plant in East London, South Africa running well into the 1992 model year in order to use up an abundance of extra parts on hand.  It's estimated 30,000 to 40,000 sedans were produced with popular 6- and 8-cylinder gasoline engines.  As production was nearing completion, 100 "Limited Edition" models were built – each one with numbered commemorative plaques mounted on the center console and underneath trunk model badging, which adopted the individual trunk badge lettering of the following 1992 W140 body S-class.
Million-mile longevity
In the late '80s, Mercedes-Benz became aware that several of their cars had attained over 1 million miles each in private hands.  This was a truly impressive feat for any vehicle, even more so considering the vintage of these two diesels (both are shown in the 1991 model advertisement at the beginning of this article).  During 1990, the company decided to make this an advertising and public relations campaign.  Automotive magazines were encouraged to test drive the two vintage cars and give Mercedes-Benz any coverage they chose.
It was perhaps one of their most effective campaigns.  Many fans remember it and say it made believers out of them.  After all, how can one not like a car possessing "stubborn determination to repay its owner with many miles and many years of driving satisfaction"?
The longevity of the 126 design is really quite remarkable, spanning 11 to 13 model years depending on where you count.  This is a record besting all other S-class designs before or since, and one that won't be toppled soon.  The 126 saw global economic conditions change from poor to boom times, then back to poor for the last several years of its life.
The advertisements included in the picture below sum up the 126 well.  Virtues that Stuttgart engineers held dear were certainly borrowed and touted by other carmakers also.  But when all was said and done no one else had the well-rounded, scholar-athelete type of record that Mercedes-Benz did.  Deeds, indeed.
-CLICK ON ANY OF THE PHOTOS BELOW TO ENTER SLIDESHOW.  HIT ARROW BUTTONS UNDER EACH PICTURE TO SCROLL TO BACKWARDS OR FORWARDS

Google Ads