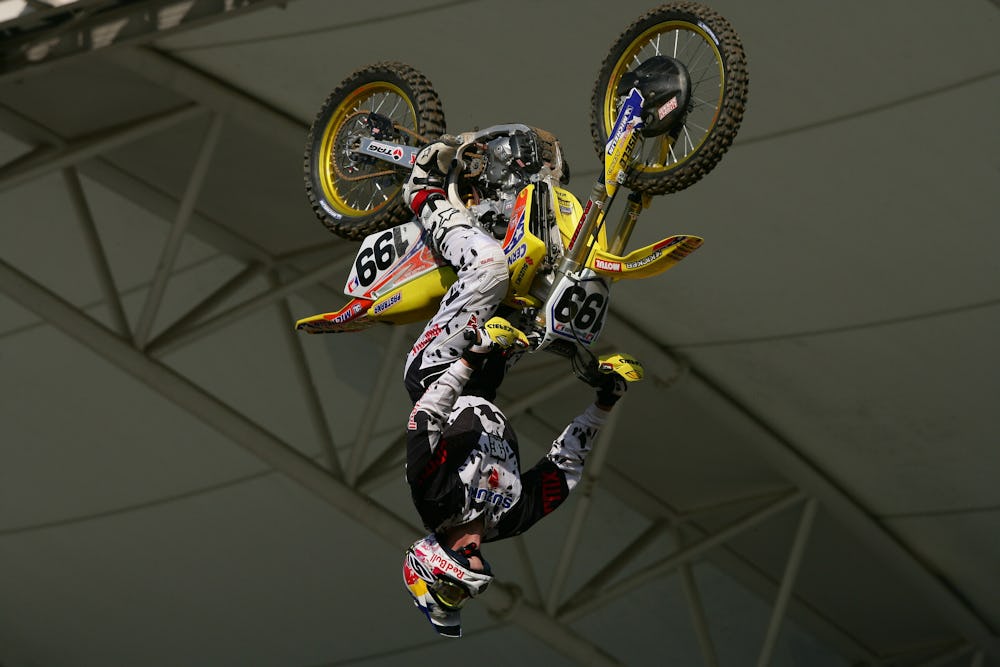 "The Class of 2023 includes individuals who have excelled in many different areas of motorcycling," said AMA President and CEO Rob Dingman. "Some are champions in many of our premier racing disciplines — motocross, AMA Supercross, and Grand National Cross Country — while others have been significant ambassadors for the sport, creating prestigious events and series that have introduced motorcycling to thousands. We are honored to recognize these motorcycling greats this Sept. 15 at the AMA Motorcycle Hall of Fame."
Google Ads
The induction ceremony will headline the AMA's Hall of Fame Days, which takes place Sept. 14-17. The ceremony will take place at the nearby Violet Township Event Center on Friday evening, followed by a cocktail reception at the AMA Motorcycle Hall of Fame.
For sponsorship opportunities, please contact AMA Business Development Manager Michael Kula at (949) 466-7833 or mkula@ama-cycle.org.
Hall of Fame inductees are selected from eight areas of influence: Ambassadors/Industry, Design/Engineering, Dirt Track, Leadership/Motorcycle Rights, Motocross/Supercross, Off-Road, Road Racing and Specialty Competition.
Along with Paul Schlegel and her husband, AMA Motorcycle Hall of Famer Dave Coombs, Rita Coombs — one of the owners of MX Sports — was responsible for the creation of the AMA Amateur National Motocross Championship at Loretta Lynn's in 1982. The event at Loretta's has grown into the most prestigious and impactful amateur motocross event in the world over the last four decades. Coombs was also instrumental in creating the AMA Grand National Cross Country series as well as the AMA National Hare Scrambles championship.
From 2007 to 2017, Ryan Dungey forged great success in AMA Supercross and Pro Motocross, tallying four 450SX and three 450MX titles. Dungey is one of only seven riders to have more than 30 450SX wins. His dominant run stateside was paired with three Motocross of Nations titles in 2009, 2010 and 2011. Dungey also won back-to-back ESPY Awards for Best Athlete in Men's Action Sports (2015, 2016).
With 98 national championship event wins, Barry Hawk cemented himself as one of the most successful off-road riders ever. Showing his versatility, he stands alone as the only rider to ever win AMA GNCC national titles on both an ATV and a motorcycle. Retiring from racing in 2010 with eight AMA GNCC national championships, Hawk transitioned to manager of the Coastal Racing GasGas Factory Racing team, where he has helped propel riders to numerous wins and championships.
Grant Langston is the only rider to win a World Motocross Championship, an AMA Motocross Championship and both AMA Supercross Regional Championships — East and West — in the 125/250cc classification. Langston added both an AMA Supermoto title and an AMA 450cc Motocross title to his resume before retiring, at which point he launched two successful careers as a multi-line dealership owner and a race commentator for NBC Sports.
A racer turned daredevil, Travis Pastrana used motorcycling to build himself into a mainstream star. At the competition level, Pastrana won the 2000 AMA 125cc National Motocross Championship, becoming the youngest rider (16 years, 10 months, 26 days) to win an AMA Pro Motocross title. He also added a 125cc East AMA Supercross Championship and 17 total medals at the X Games to his resume. The lead personality behind the Nitro Circus brand, which spans a reality TV show, movie, live performance and competitions, Pastrana has built a tremendous amount of notoriety and served as an inspiration to many across the world.
For more information, visit AmericanMotorcyclist.com.
Google Ads