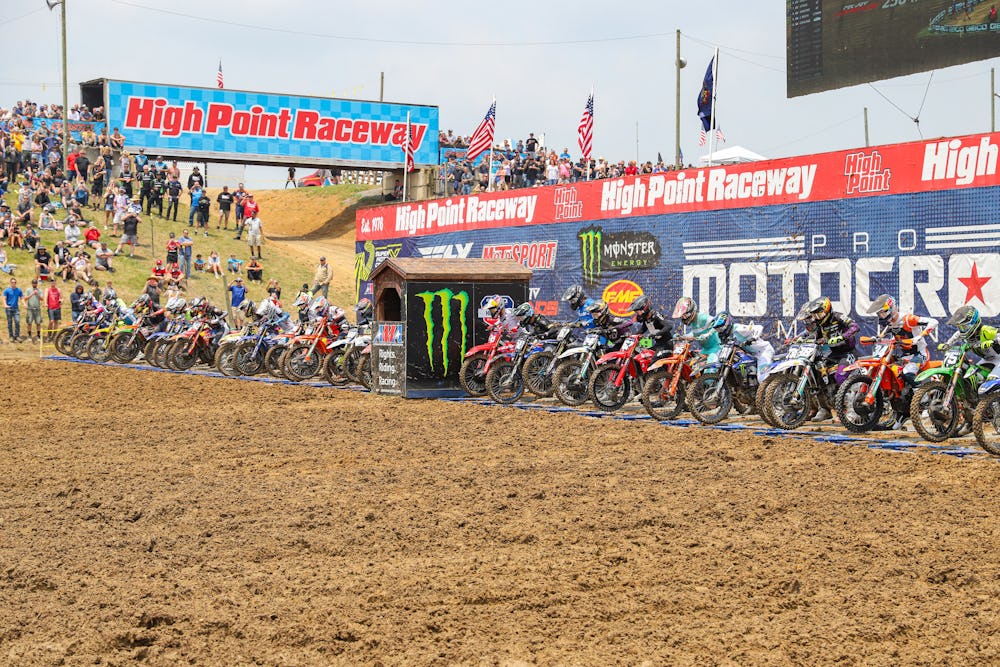 «I'm happy with the day overall," said DiFrancesco. "It's a challenging track and the rain made it even more demanding each moto. I think we learned a lot here and I'm really excited to go back to RedBud where I made my pro debut last year."
Google Ads
"It was pretty rough,» Kitchen said. «I qualified 32nd overall, which is pretty bad, and I need to work on that. In the first moto, I fell a few times in a pileup and then worked my way to 12th. In the second moto, I turned it around and got the holeshot. I didn't really have a great pace to run with the leaders, and then Jo (Shimoda) got me in the last turn, so I fell back to fourth. For the way the day was going, it was a good turnaround. So I'm happy with that and looking forward to the weekend off and then on to RedBud, which is one of my favorites."
Swoll posted on Instagram:
"P4 lost podium with two laps to go 🥲 in moto 1 and moto 2 got cleaned out early and came from last to 11th riding has progressed each round so let's keep going 🤙 p8 overall"
Vohland (6-12 for tenth overall) was not happy with his results.
"It was pretty mediocre, to be honest, Vohland told me in the post-race media scrum. "First moto the track tacked up a lot and I had my steering dampener quite tight for the mud and when it tacked up, it made it really hard to stay in my ruts and to get the thing to turn. So, first moto, I got a pretty good start, didn't feel very comfortable but was able to get a sixth not riding very well, for my standards at least. Then second moto, we changed a lot on the bike, and I felt way more comfortable. I felt really good on the sight lap and kinda raced the sight lap a little bit to feel the bike out. I got a pretty good start. I ended up not running a paddle [tire], which I think kinda hurt off the start because everyone had a paddle. But I had a good start, and I was managing and I think I would have been fine, but Haiden went down in front of me and I kinda got stuck on his bike and was off the track and went through the banners. Then I was already set back, then I was trying to charge through the field the first lap and had a huge crash down the super steep hill… That really hindered me. The bike was really twisted and banged up. I fought hard and made my way back to 12th. I think I got tenth overall."
"First moto was all right, didn't ride good, got a good finish. Second moto, rode better, didn't get a good finish," Vohland continued. "So it was kinda opposites. But I'm not happy with how today went, I'm pretty frustrated actually. I'm determined to get on the podium. I'm glad we got the week off because I am looking forward to working my ass off this week. I'll get there eventually and I'm not gonna stop until I get there."
Caden Braswell (9-13 for 11th overall) raced what was planned to be his final race with the Troy Lee Designs/Red Bull/GasGas team, during the post-race media scrum he was unsure of what the rest of the season holds for him.
"I had some ups and downs today, it was a little bit like a roller coaster," Braswell said. "I had a lot of fun. Super grateful with the Troy Designs/Red Bull/GasGas racing team. We enjoyed it. Improved from last weekend in Denver. And looking forward to whatever comes next. This is the end of my four-round races, so whatever comes next, I am praying I get to keep racing. We'll see what happens."
In the second qualifying session, Braswell saw Ryder D stuck with his bike on his right leg, so Braswell stopped, dropped his bike, and lifted the Kawasaki off of his competitor's leg. If you know Braswell, this act of kindness is nothing new, as the Christian rider is extremely polite. Hopefully the 2022 Nicky Hayden AMA Motocross Horizon Award recipient is able to race the remainder of the summer. 
Shout-out to Matti Jorgensen, who made his pro debut on a #245 KTM 250 SX-F. The rookie was the fastest in the first session of the day (250 Group B when the track was fresh) and used the untouched track to qualify second overall on the day. Unfortunately, a bike issue (burst radiator hose) would end his rookie debut early. But we expect to see Jorgensen once or twice more before the Monster Energy AMA Amateur National Motocross Championship at Loretta Lynn's Ranch.
Google Ads