The transition from SUV to crossover as the kind of de rigueur family vehicle has worked out pretty well for automakers, but it did leave marketers in something of a bind. For the most part, crossovers aren't especially good at any one thing, certainly not at anything the average car buyer would be excited to tell you about at a party. Nobody's bragging about how easy their car is to get into and out of. Crossovers sell like crazy, but their actual value proposition beyond "it is a car" has been for most automakers, hard to name.
Google Ads
Honda, for its part has decided to kind of toughen up its lineup of trucks and crossovers, lending them a Subaru-like adventure credibility. Initially, this was mostly confined to the marketing department and whoever was responsible for making the Trailsport badges and trim. But this, the 2023 Pilot Trailsport, has a little bit more ground clearance than the standard Pilot, more off-road oriented tires (five of them), a softer front anti-roll bar, two skid plates and two recovery points.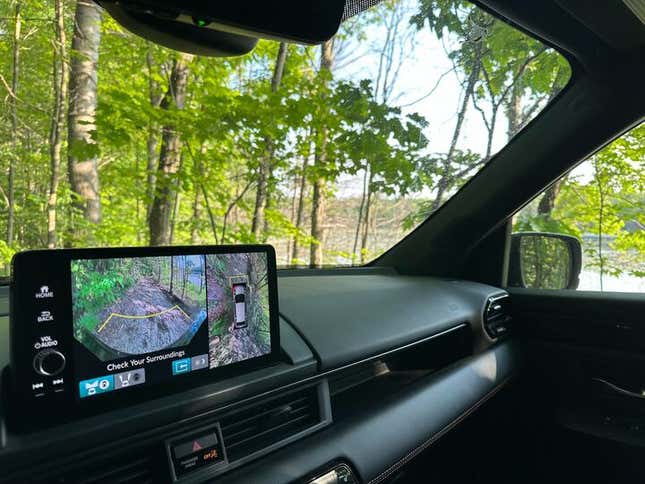 As it turns out, this is probably more than you need for the kind of off-roading regular adventurers are likely to do. By "regular adventurers" I mean people who use their car to commute most days, but also want it to play a part in outdoor activities like camping, kayaking, fishing, etc. If a Pilot owner goes off-road with the intention of getting to their campsite or canoe launch or whatever, and actively stays away from say, very deep mud or enormous rocks, they'll probably get there and back. That's not to say the Pilot won't make it through mud or rocks, I'm sure like all cars, it'll go through much more than you might expect.
If that owner finds themselves in a position where rocks or deep mud are unavoidable, the fuel tank and oil pan are protected by skid plates. The front skid plate integrates a rated recovery point that, it should be said, could be very hard to reach when the car is stuck enough to necessitate it. The trailer hitch provides another rated recovery point. If you end up really stuck, you won't have to worry (too much) about losing a bumper while getting recovered.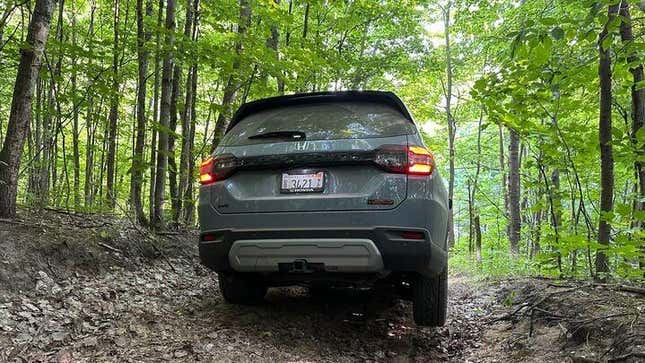 But, again, this is not a Unimog. Above is a photo the likes of which makes it into many off-roady car review stories written by journalists who don't do a lot of off-roading. It shows the Pilot descending a little hill, and lifting one tire. In the reviews, this is meant to show the car being put through its paces or something. What it's actually showing is that, like most regular cars, the subject car doesn't flex the way you'd want a dedicated off-roader to flex. Because it's meant to operate on roads for the most part, it's stiff. That reduces its utility off road — you actually want as many of your wheels on the ground as possible, driving you forward.
For the "regular adventurer", this compromise is well-worth it. Unlike say a Jeep Wrangler Rubicon, the Pilot is an excellent road car. It's quick, handles well and returns decent fuel mileage. It's mega comfortable on a road trip and has three usable rows of seating — which requires a long wheelbase that, given the ride-height, creates another liability off-road. Again, for most people, giving up a great breakover angle for three-rows of seating is the right trade.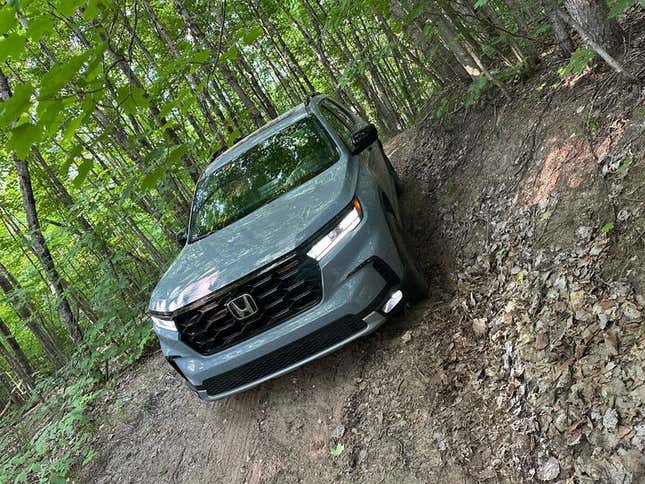 It's not all off-road compromise though. The Trailsport is incredibly composed over washboard dirt roads and rutted trails in a way that a solid axle off roader typically isn't and the torque-vectoring rear diff even lets you move the rear end around when you want to.
With off-road oriented 'soft-roaders' like Honda Trailsports, owners can enjoy the comforts of a car with off-road capability that allows them to take on their actual outdoor hobby with a high degree of confidence that they'll come home with their entire car. If, for whatever reason, you can't have a dedicated road car and a dedicated off-roader, cars like this offer enough of both to make good sense.
Google Ads