The compact sedan segment was once the go-to class for those seeking an economically focused set of wheels, but with the rise in popularity of crossovers and compact SUVs, the number of available options has dwindled. As such, it's even rare to find a compact sedan that can also be had a hatchback, and that's just one of the ways in which the Mazda3 separates itself from the crowd.
Google Ads
The Mazda 3 also brings an upscale feel and level of refinement that is often lacking, or practically non-existent, in the compact class, where buyers can choose from a range of models from those that are fairly basic to rich with amenities and features. The 3 also delivers the "zoom zoom" driving verve Mazda is now synonymous with, giving it a leg up in overall driver engagement. The Mazda3 may be a player in a dwindling segment, but it's certainly one of the most appealing options in the class.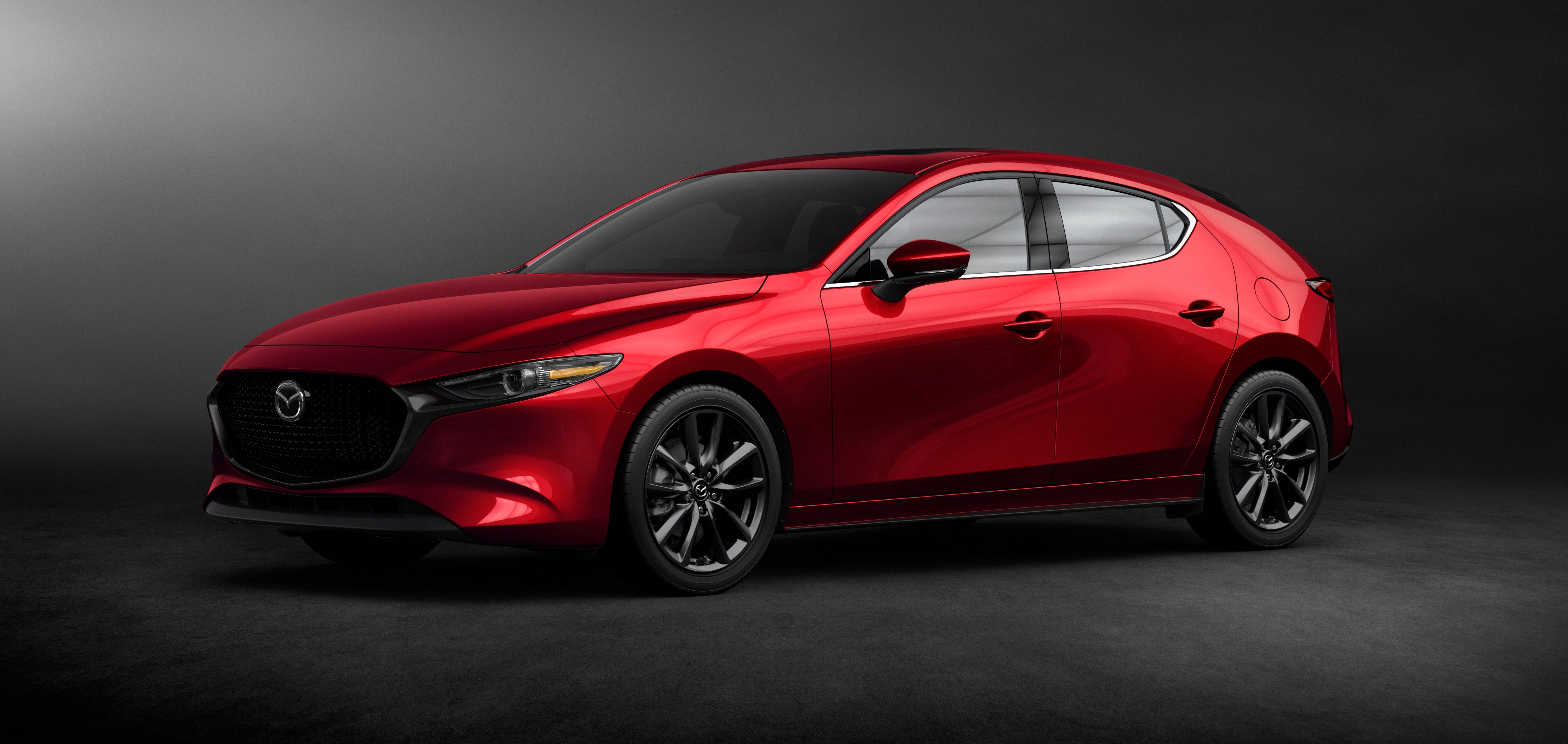 A front 3/4 shot of a 2021 Mazda 3
2023 Mazda 3
Model

3 Hatchback / Sedan

Engine:

2.5L 4-Cylinder/Turbo

Power Output

191-250 HP

Torque

186-320 LB-FT

Transmission

6-Speed Automatic/6-Speed Manual

Google Ads

Driveline

FWD/AWD

MSRP

$22,550 – $34,000
Pros
Upscale Interior
Refined And Agile Handling
Handsome Styling
Cons
Small Cabin
Hatchback Has Poor Rear Visibility
Upper Trims Are Pricey
RELATED: The Best Cars Under $35,000
2023 Mazda3 Performance And Capability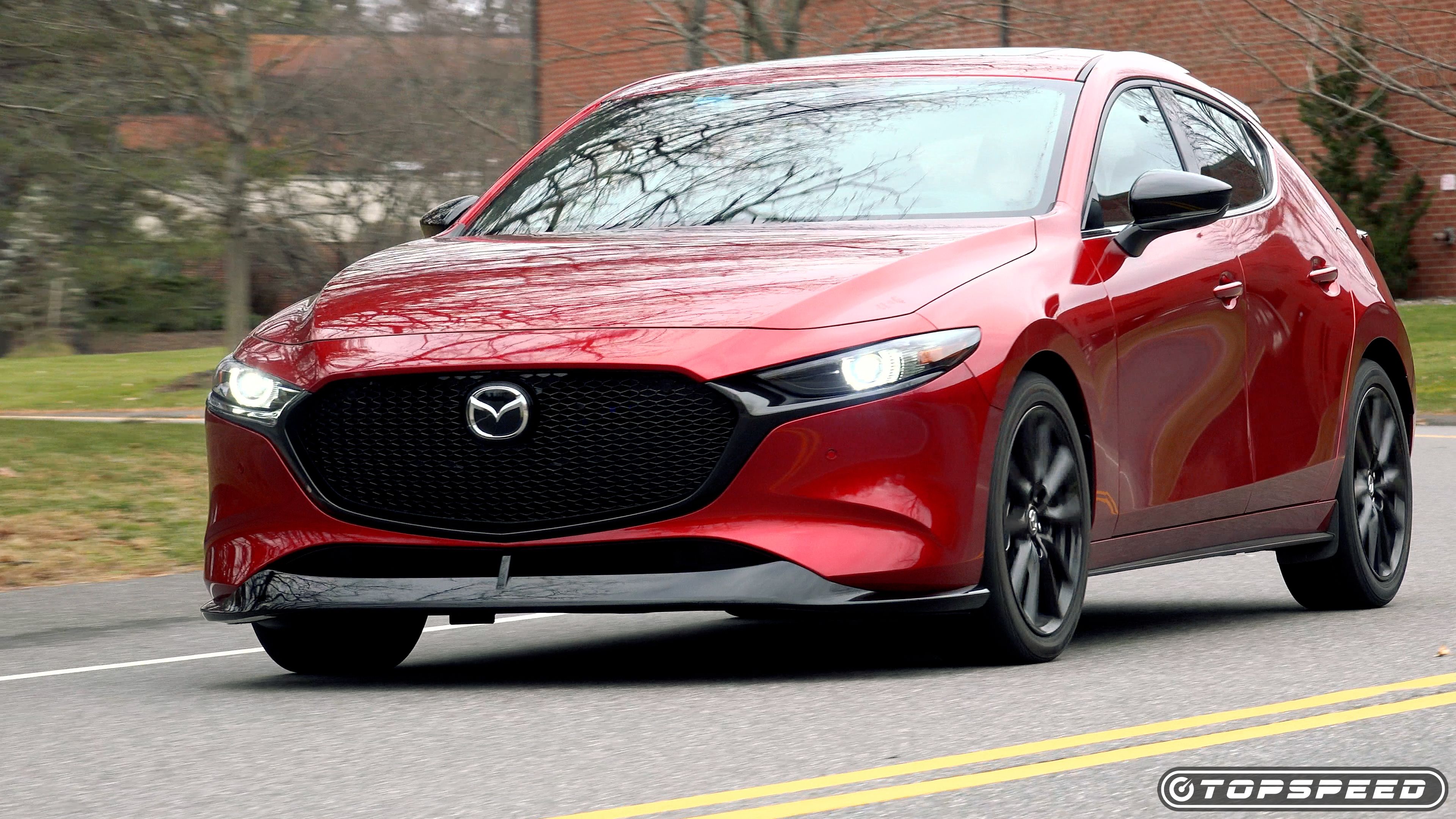 The Mazda3 Hatchback in Soul Red coming to a stop.  
The 2023 Mazda3 is again available as either a hatchback or four-door sedan. It's offered in seven total trims, with all but one available for either body style. The 2023 Mazda3 is powered by a new standard engine, a 2.5-liter four-cylinder pumping out 191 horsepower and 186 pound-feet of torque with cylinder deactivation. This engine replaces the outgoing and previously standard 2.0-liter four-cylinder that offered five less horsepower. The 2.5-liter pairs with a six-speed automatic transmission with Sport and manual-shifting modes.
Those craving more power can also opt for a more powerful turbocharged engine. The 2.5-liter turbo four-cylinder, which is only available in the two top trims, pumps out 225 horsepower with 87 octane gasoline and 250 horsepower on 93 octane with either 310 or 320 pound-feet of torque. The turbocharged engine will zip the Mazda3 hatch from 0-60 mph in 5.6 seconds.
Some drivetrain variations occur throughout the lineup. For instance, the bottom three trims can only be fitted with front-wheel drive, while the Carbon Edition, Turbo and Turbo Premium Plus Package come standard with all-wheel drive. The 2.5 Turbo, only available for the hatchback, can be had with a six-speed manual transmission, though the stick shift requires front-wheel drive — AWD is standard for automatic transmission 2.5 Turbo models.
Like its Mazda stablemates, the 3 delivers athletic handling and agile corner-carving capabilities in either the sedan or hatch. The steering has ample heft and provides respectable feedback, the brakes have predictable performance, and its small footprint aids in throwing it over the undulating tarmac.
Economy cars are far from known for their driving pleasure, making the Mazda3 a top choice in its class for enthusiasts. Ride quality on the daily commute or highway is still comfortable despite its sportiness, though. It may not be quite as comfortable over uneven pavement as some rivals, but it still delivers a composed and relaxed ride.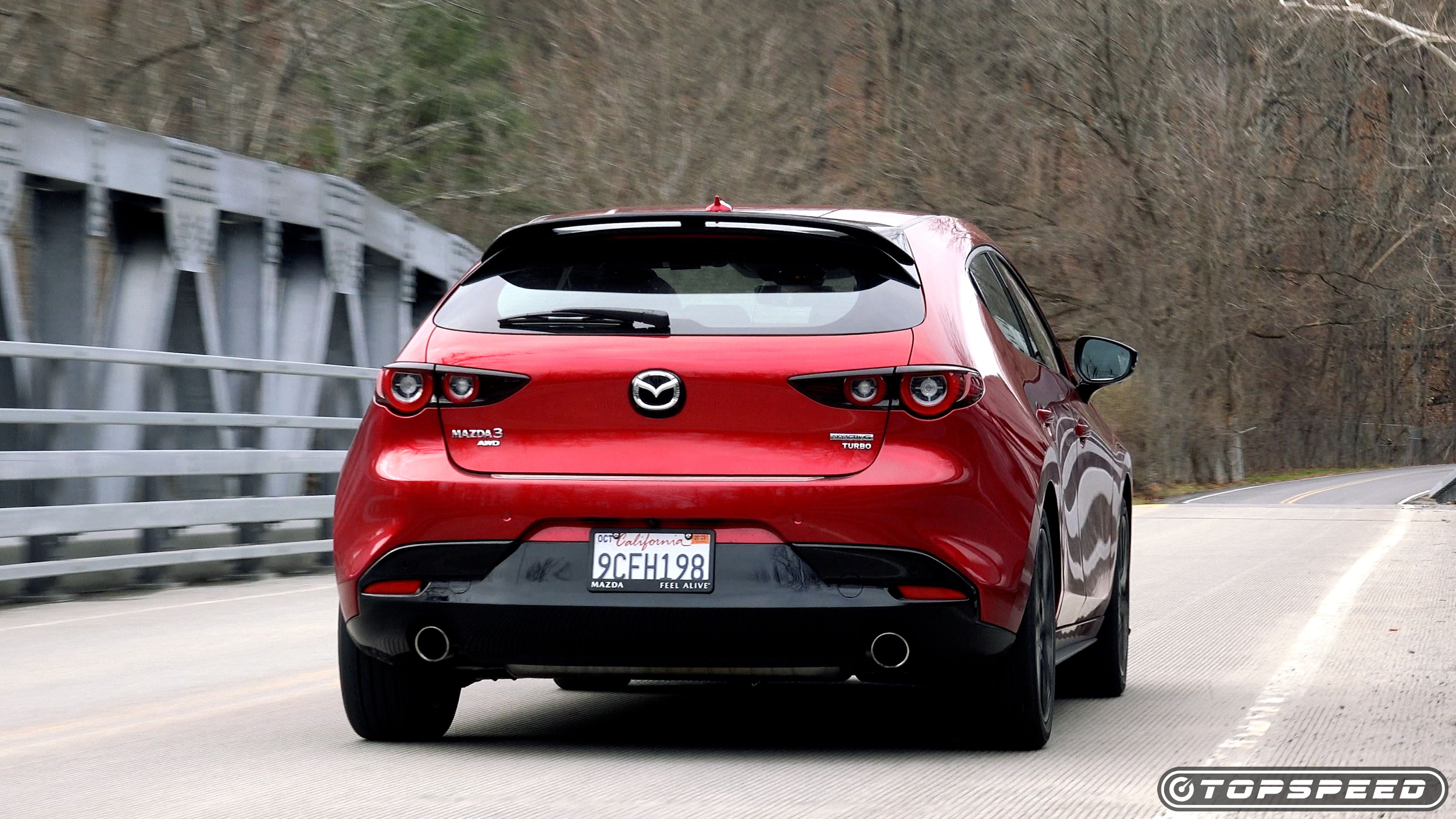 The Mazda3 Hatchback in Soul Red driving over a bridge.  
Fuel economy varies by drivetrain, as expected. The 2.5 Turbo hatchback is the least economical of the bunch, returning 26 combined (23 city/31 highway), though the manual transmission ups those figures to 30 combined (27 city/35 highway). The standard, front-wheel drive Mazda3 is the most efficient of the range, returning an EPA estimated 31 combined mpg (28 city/37 highway). According to EPA estimates, now-standard cylinder deactivation has increased the Mazda3's top fuel efficiency for the 2.5-liter engine by one combined mpg.
RELATED: Why The Mazda 3 Is Leagues Ahead Of The VW Golf GTi
Exterior Styling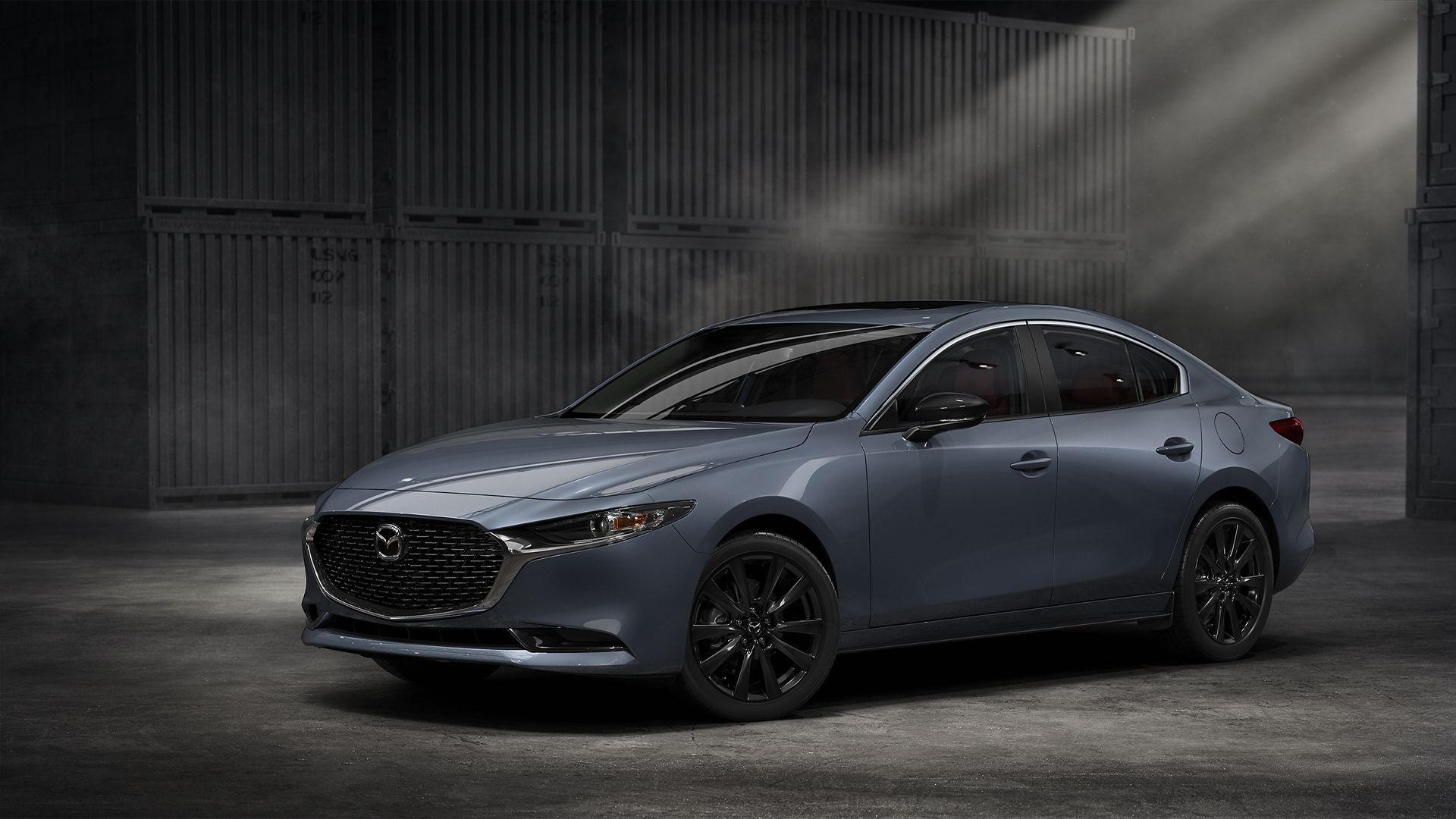 2023 Mazda 3 side view
The Mazda3 is among the more handsome entries in the compact sedan segment with its minimalistic but attractive styling. Mazda's signature grille resides low on the front fascia just above a narrow inlet and is flanked by sharply styled headlights. Its swooping hood, low greenhouse and sharply raked front and rear glass give the sedan a forward-facing appearance even when stopped. The gently curved rear fascia and trunk area round out the streamlined shape.
The hatchback shares the same styling cues as the B-pillar, but beyond that, it sports smaller rear passenger windows and a massive C-pillar housing its ascending rear glass that tucks into a short rear overhang. The standard Mazda3 wears 16-inch aluminum alloy wheels, but all other models wear 18-inchers. Some trim variations exist across the lineup and are mostly minimal, though the top model includes a black rear roof spoiler and a front air dam on the hatchback model.
Exterior Dimensions
| | |
| --- | --- |
| Length | 183.5 in. |
| Width | 70.7 in. |
| Height | 56.9 in. |
| Wheelbase | 107.3 in. |
| Ground Clearance | 5.5 in. |
| Curb Weight | 3,126 lbs. |
Available Exterior Colors
| Exterior Colors | Price |
| --- | --- |
| Deep Crystal Blue | $0 |
| Jet Black | $0 |
| Platinum Quartz | $0 |
| Polymetal Gray | $395 |
| Snowflake White | $395 |
| Soul Red | $595 |
| Machine Gray | $595 |
RELATED: Battle Of Budget Family Sedans: Nissan Altima vs Mazda 3
Interior Quality And Technology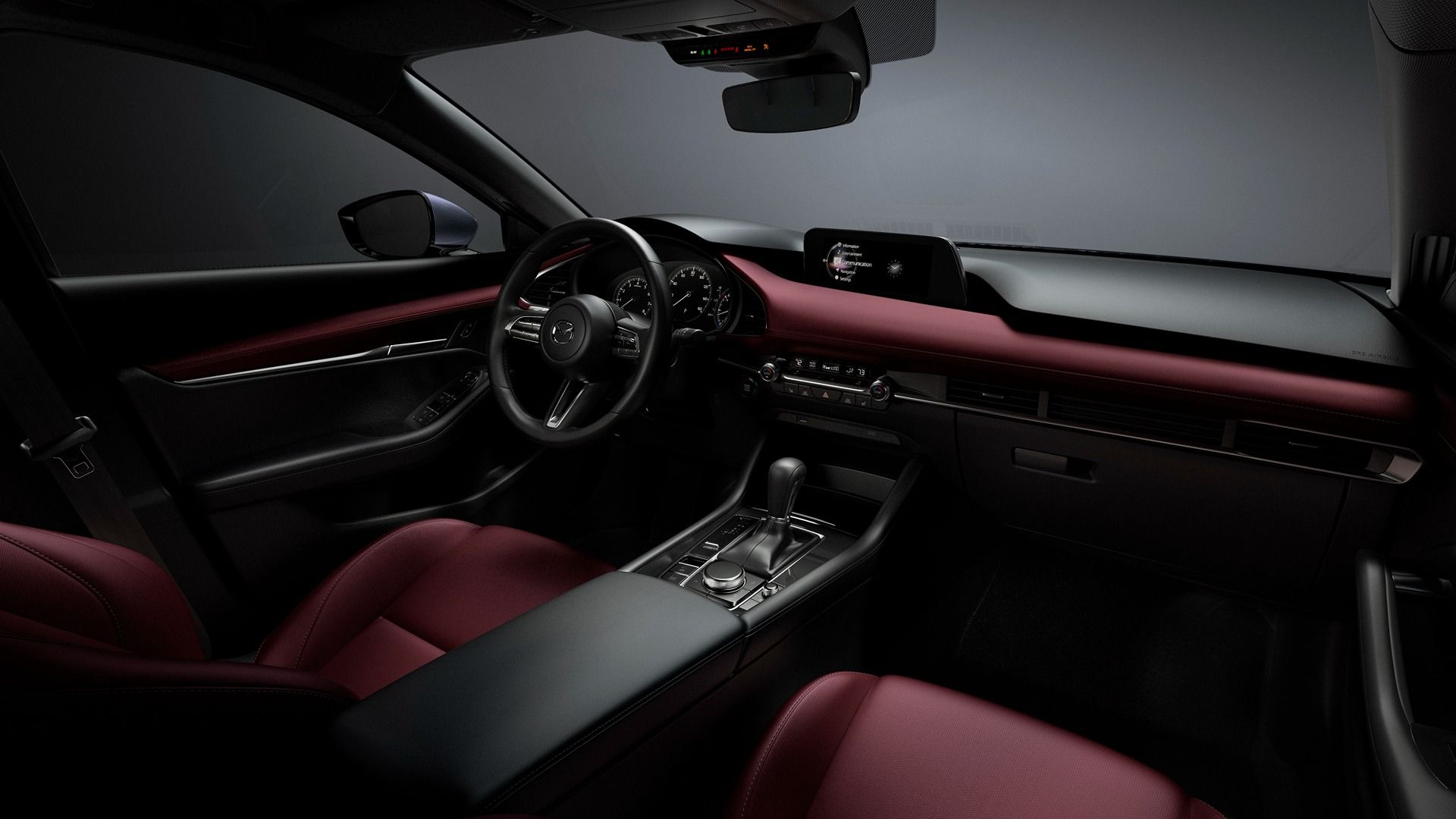 A shot of the dashboard of a 2023 Mazda 3 Turbo
The Mazda 3 lacks some passenger and cargo space against some rivals, but its interior refinement is above just about everything else in the class. No matter the trim, the cabin features upscale materials with a quality feel. The design, like the exterior, is minimalistic but modern and handsome. Opting for a mid- or upper-trim model and the 3 feels rather decadent for its price.
Standard equipment includes black cloth seats, cruise control, push-button start, and a cargo cover on hatchback models. Select Package include dual-zone automatic climate control, synthetic leather trimmed seats, keyless entry, rear air condition vents with a rear armrest/cupholders, and a leather steering wheel and shift knob.
The Preferred Package adds an eight-way adjustable power driver's seat with lumbar support and driver seat memory and heated front seats. A choice of black or white leather is available in upper-trim sedan models. Hatchback models are fitted with either red or black leather upholstery.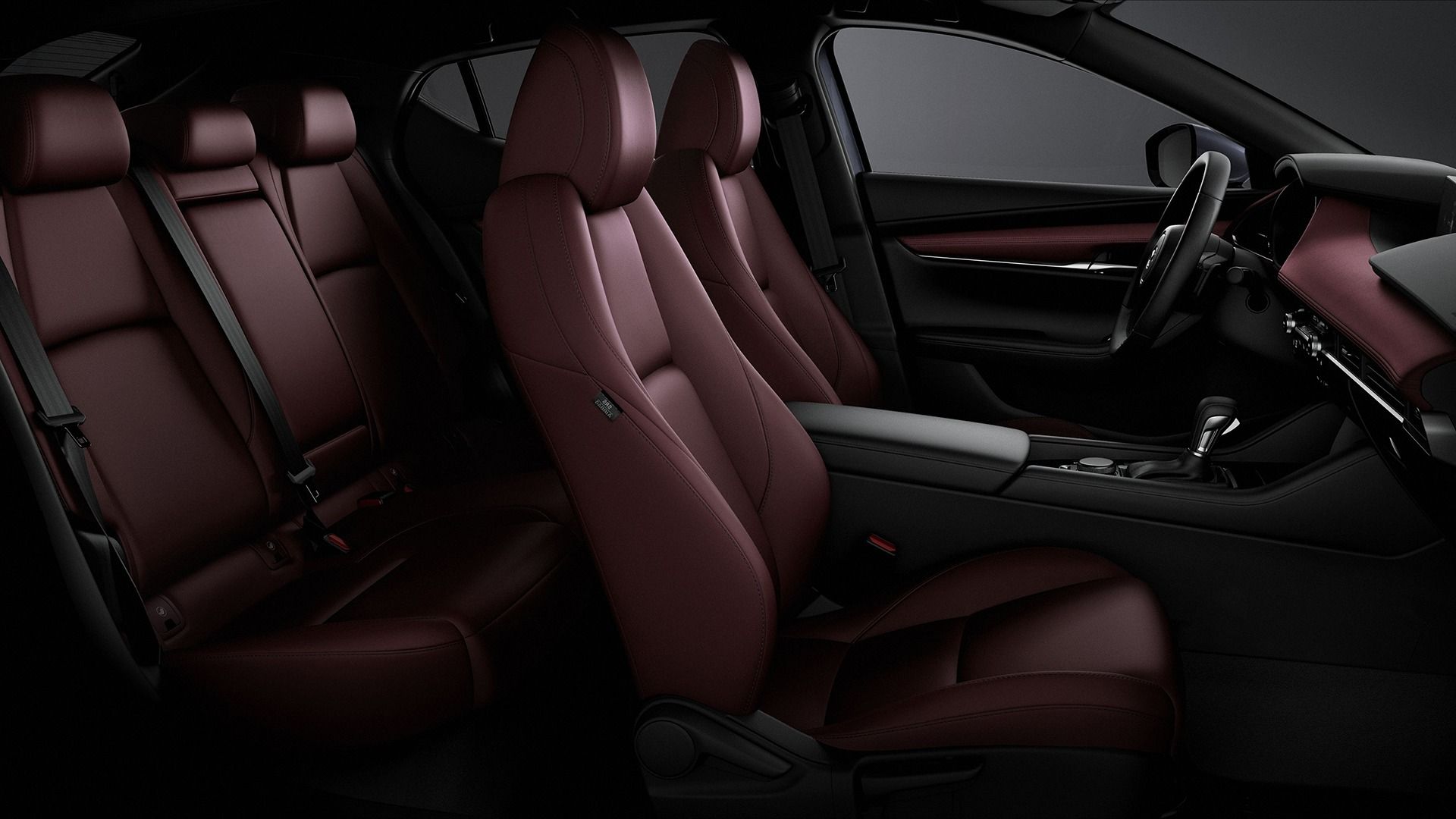 An interior shot of a 2023 Mazda 3 Turbo with Burgundy leather seats
As standard, the Mazda3's tech highlights include an 8.8-inch center display operated via a rotary dial with Apple CarPlay and Android Auto connectivity. A seven-inch driver's display, eight speaker audio system and dual USB ports are also standard. The Premium Package models and up feature a 12-speaker Bose audio system, SiriusXM connectivity and navigation.
Passenger dimensions are similar in either the sedan or hatchback. As with all compact sedans, accommodations are fairly tight for larger adults, but the back seats are still spacious enough for average-sized passengers. The sedan offers 13.2 cubic feet of storage space in its trunk, well down on the hatchback's 20.1 cubic feet of cargo area.
However, the sedan is often the better choice in real-world cargo tests. With the rear seats folded down, cargo capacity is similar between the two body styles. It should be noted, the hatchback's massive C-pillar and its small rear glass makes for poor outward rear visibility. Therefore, the real-world practical choice nod also goes to the sedan.
Interior Dimensions
| | |
| --- | --- |
| Seating Capacity | 5 |
| Headroom (front) | 38 in. |
| Headroom (second row) | 37.2 in. |
| Legroom (front) | 42.3 in. |
| Legroom (second row) | 35.1 in. |
| Shoulder room (front) | 55.7 in. |
| Shoulder room (second row) | 53.5 in. |
| Cargo Room | 13.1/20 cu.-ft. |
RELATED: 2023 Mazda3 Hatchback Review: An Entertaining Drive With Plenty Of Chutzpah
2023 Mazda3 Pricing And Availability
The 2023 Mazda3 is available now with prices starting at $22,550 MSRP for the sedan and $23,550 for the hatchback and cresting at $35,300 for the all-wheel drive, Turbo Premium Plus hatchback.
2023 Mazda 3 Price
| Trim | Price |
| --- | --- |
| S | $22,550 |
| Select | $23,950 |
| Preferred | $25,550 |
| Carbon Edition | $27,200 |
| Premium Package | $29,150 |
| Turbo | $32,450 |
| Turbo Premium Plus | $34,000 |
Safety
Standard driver's aids on the 2023 Mazda3 include a driver attention alert, smart cruise control, automatic forward emergency braking, lane-keep assist, and lane departure warning. Select models feature blind-spot warning, Premium Package models add adaptive headlights and a head-up display, and the top model has a lane-keeping system with steer assist, a surround-view camera, and rear automatic braking. The 2023 Mazda 3 sedan earned a Top Safety Pick award from the IIHS.
RELATED: The 2022 Honda Civic Performs Pretty Well Against The Toyota Corolla and The Mazda 3 On the Drag Strip
Main Competition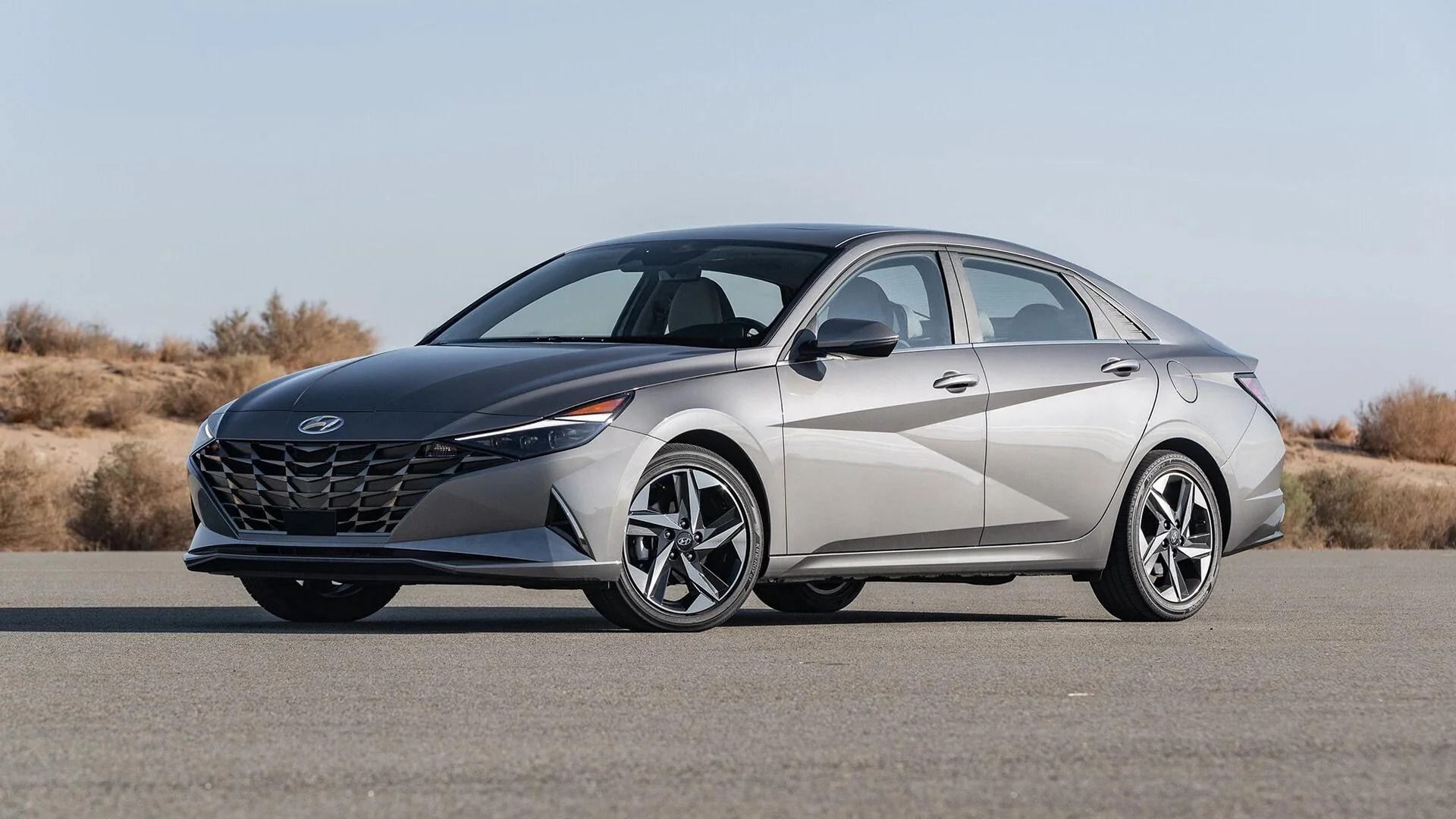 Front three quarter shot of Hyundai Elantra
The Mazda3 competes with the sales champions of the compact sedan class, the Honda Civic and Toyota Corolla, along with the Hyundai Elantra, Kia Forte, Subaru Impreza and Nissan Sentra. All models align closely in size, price and performance, but the Mazda3 is best suited for those who place a premium on driving engagement and an upscale experience.
The Civic is more spacious, returns better fuel economy, and comes with some additional standard features, but it's not quite as upmarket as the Mazda, but the Civic can't match the sprightliness of the 3's turbo engine, and it's only available with front-wheel drive.
The Elantra and Forte provide plenty of bang for the buck, but again, the Mazda3 holds the edge in general refinement. Overall, the Mazda3 is a strong choice for an economy sedan or hatchback that doesn't feel it from behind the wheel or from one of its passenger seats.
FAQ
Q: Will the Mazda3 be redesigned for 2023?
The 2023 Mazda3 is not redesigned, but the lineup has been tweaked with a new standard engine and standard Apple CarPlay and Android Auto connectivity.
Q: Is there going to be a Mazda3 soon?
The 2023 Mazda3 is available now.
Q: What are the packages for 2023 Mazda3?
The 2023 Mazda3 is available as either a sedan or hatchback with seven total trims.
Q: Is the 2023 Mazda3 reliable?
The 2023 Mazda3 has an above-average predicted reliability rating from J.D. Power.
Q: Is Mazda3 fuel efficient?
The 2023 Mazda3 is rated for up to 31 combined mpg, which is less efficient versus some rivals like the Hyundai Elantra, Toyota Corolla, Honda Civic, or Nissan Sentra.
Google Ads