Sitting firmly in the affordable midsize car segment, the Nissan Altima blends exterior style with practicality, safety, and efficiency. A competitor to the Honda Accord and Toyota Camry, the Altima is a family car and daily driver at its core, so there's little room for big adventure or big thrills. Well, outside of family road trips, that is. Since the Altima is a no-nonsense family sedan, there are only two fairly efficient engine options to choose from, with the base engine delivering just 182 horsepower and the VC-Turbo pushing a respectable 248 horsepower.
Google Ads
Neither engine provides performance that will make you jump for joy, but with up to 39 mpg on the highway, available all-wheel-drive, and an impressive array of safety features, the Altima can be quite easy to live with. Whether or not it's the perfect family car for you, however, is a different story. The Altima is a great car, with great technology, but there's a strong answer from its competition for everything it gets right.
Related: 2023 Nissan Altima SR VC-Turbo Review: The Sexiest Altima Of All Time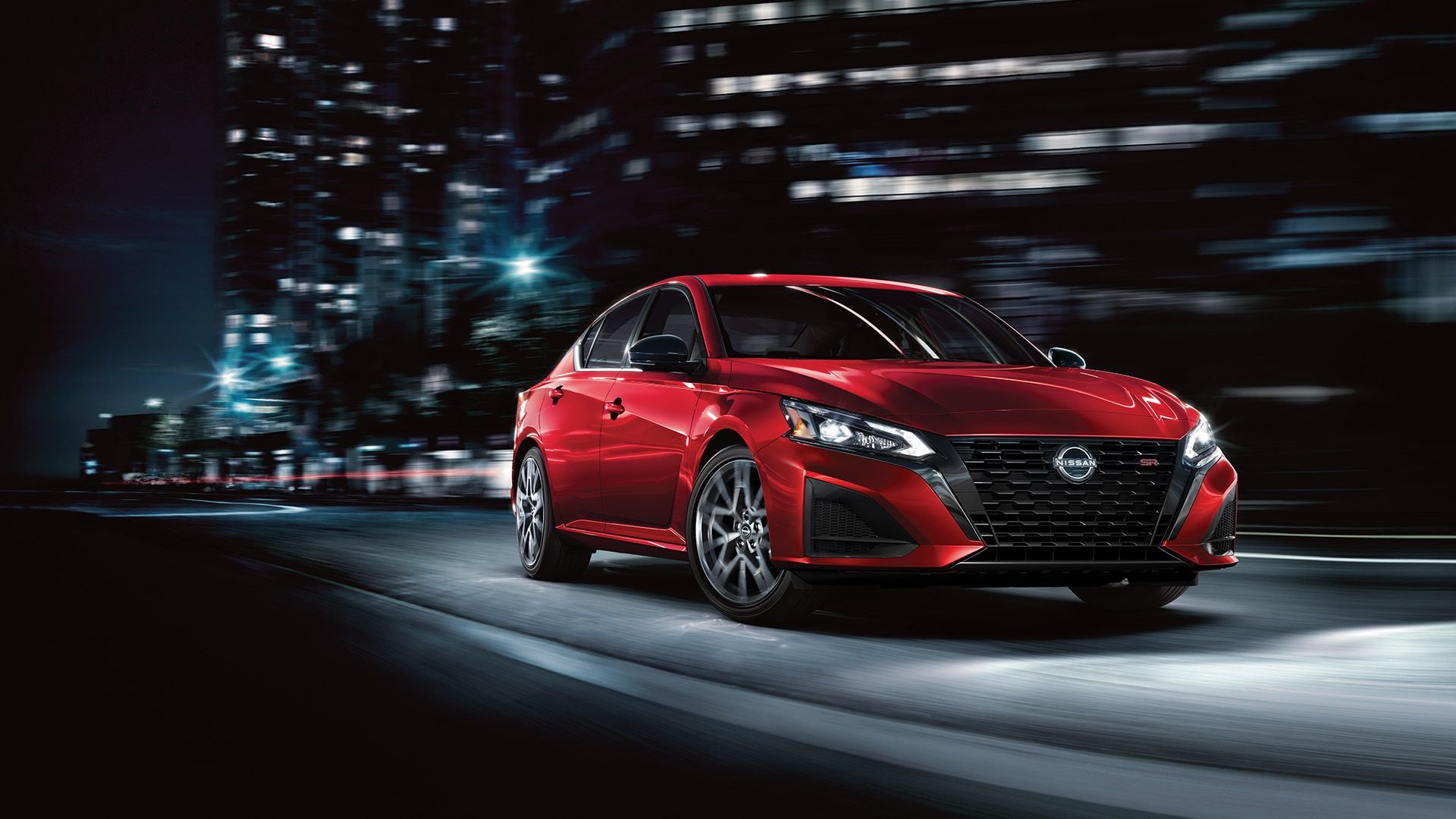 2023 Nissan Altima front shot
2023 Nissan Altima
Expert Opinion: The Nissan Altima doesn't provide the most exhilarating driving experience in the world, but it excels as a family car on every front. Its impressive fuel economy, standard safety features, and easy-to-use technology makes it a prime choice in the affordable family sedan segment.
Engine:

2.5-liter | 2.0-liter VC-Turbo

Power Output

182 – 248 HP

Google Ads

Torque

178 – 273 Pound Feet

Range

405 Miles

Transmission

CVT

Driveline

FWD or AWD

MSRP

$25,490 – $35,190

MSRP (As Tested)

$36,400
Pros
Great standard features
Impressive fuel economy
Attractive exterior design
Available AWD system
Impressive driver assistance and safety features
Cons
Outward visibility could be better
Lackluster interior on lower trim levels
Turbocharged engine available on one trim
The CVT transmission is far from impressive
AWD not available with turbo model
What's New For 2023
After four years on the market, Nissan updated the Altima for the 2023 model year. The updates weren't as extensive as some facelifts, but it does feature an updated and sportier front end with new LED headlights. A critical eye will notice the updated Nissan logo to go with four new wheel designs (17-inch and 19-inch) and two new exterior colors: Gray Sky Pearl and Garnett Pearl Metallic.
The Altima's interior saw fewer changes with the 2023 model update, tbut here is an available 12.3-inch infotainment system, new instrument panel trims, new upholstery for the SR models, and some new safety features.
2023 Highlights
Revised styling with standard LED headlights
Available 12.3-inch infotainment system
Improved safety features
New wheel designs
Minor Interior updates
Engine Specifications And Performance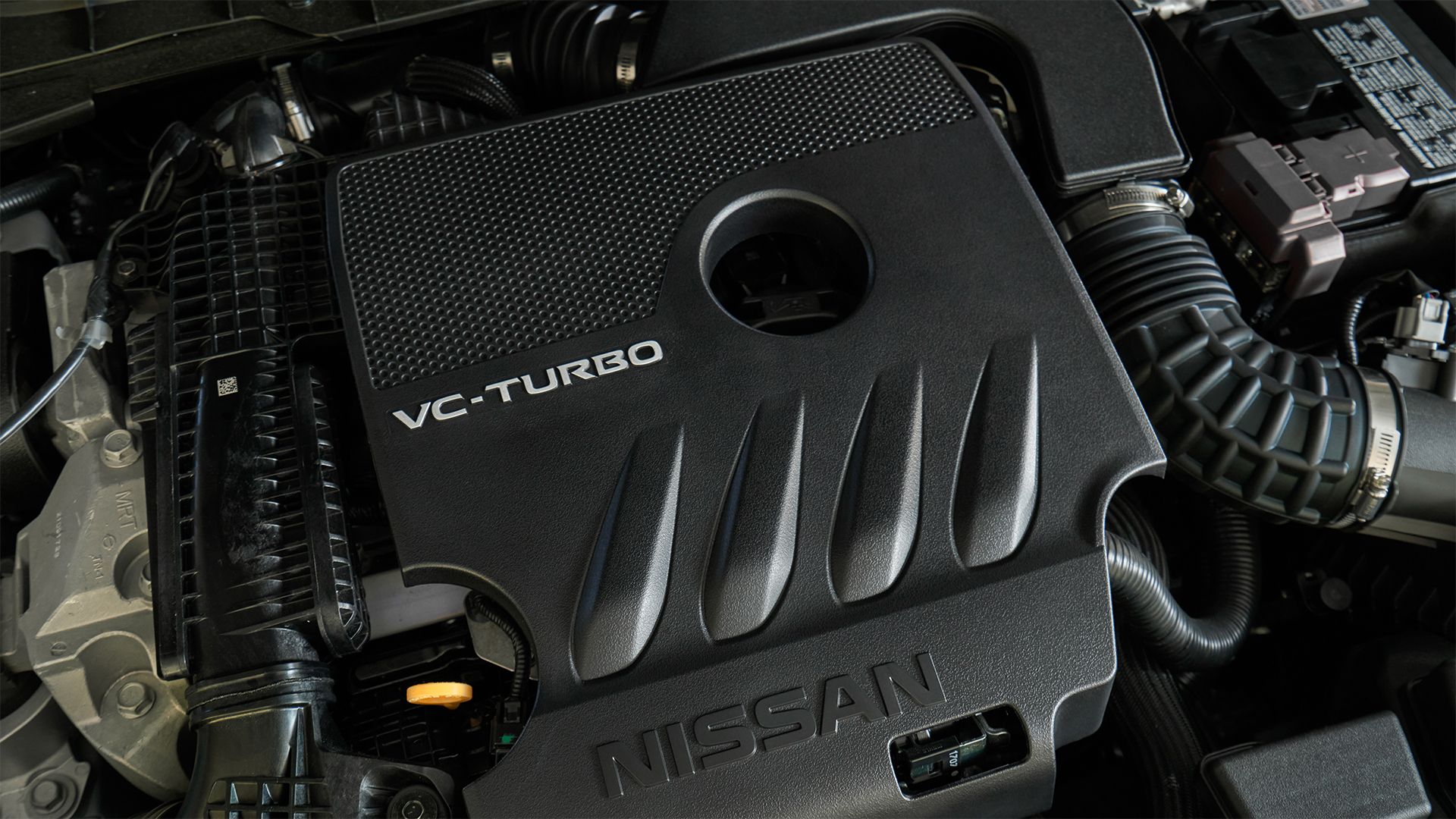 All trim levels of the 2023 Altima, with the exception of the SR VC-Turbo, are powered by a 2.5-liter inline-four that delivers 188 horsepower and 180 pound-feet of torque when equipped with FWD or 182 horsepower and 178 pound-feet of torque when equipped with all-wheel drive (limited to the SV, SR, and SL trim levels). This naturally aspirated engine delivers calm and predictable acceleration.
You won't necessarily feel the need for more power during overtaking maneuvers or jumping on the highway, but you also won't feel any rush of adrenaline or a burst of excitement should you put the hammer down. This engine is designed with fuel economy in mind and is perfect for typical commuting and family outings.
If you're interested in a family car that has a little more pep in its step, that's where the SR VC-Turbo comes in. It comes at quite the premium compared to the base model, but when running on premium fuel, it's capable of putting down 248 horsepower and 267 pound-feet of torque. This little turbocharged 2.0-liter four-cylinder features Nissan's variable compression technology and delivers an impressive jump in performance compared to the larger but naturally aspirated 2.5-liter engine.
Performance Specifications
| | 2.5-Liter Inline-Four FWD | 2.5-Liter Inline-Four AWD | 2.0-Liter VC-Turbo Inline-Four |
| --- | --- | --- | --- |
| Horsepower | 188 HP | 182 HP | 236-248 HP |
| Torque | 180 LB-FT | 178 LB-FT | 273-267 LB-FT |
| Transmission | CVTCS | CVTCS | CVTCS |
| Driveline | FWD | AWD | FWD |
| Fuel Economy (CMB) | 39 MPG | 36 MPG | 34 MPG |
| 0-60 MPH | TBA | TBA | 5.8 Seconds |
| Top Speed | 130 MPH | 130 MPH | 142 MPH |
Official performance times haven't been released for the non-turbo version of the Optima, but they are said to make the sprint to 60 mph in around 7.5-8.0 seconds while the VC-Turbo is a bit quicker at just 5.8 seconds. You still won't confuse the VC-Turbo for a true sports sedan, but it's peppy enough to make your morning commute or weekend getaway a little more fun.
Lower trim levels are offered with basic, 17-inch wheels, while the SR and SR VC-Turbo models come with 19-inch wheels and a sport-tuned suspension. This combination makes the Altima more fun to drive, especially on curvier sections of road, winding mountains, or anywhere that quick maneuvers come your way, though it should be noted that this entertainment comes at the sacrifice of overall ride quality and comfort, especially on bumpier or less-maintained roads.
Interior Technology And Comfort
Best Interior Features Of The 2023 Nissan Altima
12.3-Inch Display in SL and SR VC-Turbo Models
Smart Phone Access Via NissanConnect
Nissan Pro-Pilot Assist
Standard9-Speaker Bose System On SL and SR VC-Turbo
The interior of the 2023 Altima is vaguely reminiscent of other Nissan models. Higher trims, like the SL and SR VC-Turbo feature nicer, premium materials and come with the 12.3-inch infotainment display. These models include wireless Apple CarPlay and Android Auto, a seven-inch digital display inside the instrument cluster, and other niceties like a conventional shifter, digital climate controls, and even a flat-bottom steering wheel. Lower trim levels come off as a lot less premium with lower-quality materials, more plastic, and a smaller 7.0-inch infotainment system.
All trim levels of the Altima are comfortable, however, with a fairly spacious cabin and seating for up to five people. Impressively enough, you can fit three adults in the back – it's a bit crowded, but it's certainly doable. When you're not toting around the whole family, the fold-down armrest in the rear bench provides a pair of cup holders for anyone in the rear without sacrificing comfort for anyone riding in the outboard seats. It should be noted, however, that while the NIssan Altima is spacious — especially in the front — rear seat passengers don't get as much room as they would in the Honda Accord or Toyota Camry.
Interior Dimensions
| | Front | Rear |
| --- | --- | --- |
| Headroom | 39.1 Inches | 36.7 Inches |
| Shoulder Room | 58.2 Inches | 57.1 Inches |
| Legroom | 43.8 Inches | 35.2 Inches |
Safety And Reliability
The sixth-generation Nissan Altima is generally considered a safe vehicle. In 2022, the 2023 model was awarded a Top Safety Pick + award from the IIHS with generally good ratings all the way around. Likewise, the NHTSA gives the 2023 Nissan Altima an overall rating of five out of five stars. In NHTSA crash testing, The Altima scored almost perfect, with a five out of five rating for side crash and rollover categories, though, it was docked one star in frontal crash testing, specifically on the passenger side.
The IIHS would tell the same story, however, the IIHS has a new side-impact crash test, and in 2022, the Nissan Altima failed this test. It received a good rating in all other categories, including front overlap and roof strength, but the updated side-impact test resulted in a rating drop from good to poor. Front passengers are more at risk, receiving moderate and poor protection ratings across the board, while rear passengers were adequately protected during the same tests.
Driver Assistance Features
Regardless of the trim level, every Altima sedan comes with a suite of driver assistance features that include the following:
Automated emergency braking
Blind-spot monitoring
High-beam assist
Rear cross-traffic alert
Lane-departure warning with lane-keep assist
Rear automated emergency braking
On top of this, you can opt for Nissan's ProPilot Assist, which is basically a hands-on driver-assist system. ProPilot basically blends together Intelligent cruise control with steering assist and the stop-and-go function. When paired with Navi-link, the system can adjust your speed depending on the route to slow down for curves or highway ramps, and maintain speed at the posted limit. You can think of this something similar to Tesla's autopilot.
IIHS Crash Testing
NHTSA 5-Star Safety Ratings
| | |
| --- | --- |
| Overall Rating | 5 out of 5 |
| Overall Front Crash Rating | 4 out of 5 |
| Overall Side Crash Rating | 5 out of 5 |
| Rollover Rating | 5 out of 5 |
Related: 10 High-Performance Sedans Perfect For Enthusiasts That Need 4 Doors
Warranties
The 2023 Nissan Altima comes with a full, bumper-to-bumper warranty that lasts for a period of 36 months or 36,000 miles, whichever comes first, and that also includes roadside assistance. The powertrain warranty, which is good for 60 months or 60,000 miles, covers any defects to the engine, transmission, drivetrain, and restraint system (airbags and control systems).
Nissan's warranty coverage, like that of most automakers, is lengthy and subject to a lot of stipulations, so for more detailed information, it would be best to consult Nissan's 2023 Warranty Booklet for details. The basics, however, can be seen in our table below.
| Type | Length |
| --- | --- |
| Full Warranty | 36 Months/36,000 Miles |
| Powertrain Warranty | 60 Months/60,000 Miles |
| Maintenance Warranty | None |
| Roadside Warranty | 36 Months/36,000 Miles |
| Corrosion Warranty | 60 Months/Unlimited Miles |
| Federal Emissions Performance | 24 Months/24,000 Miles |
| Federal Emissions Defect | 36 Months/36,000 Miles |
| Seat Belt | 120 Months/Unlimited Miles |
Our Expert Review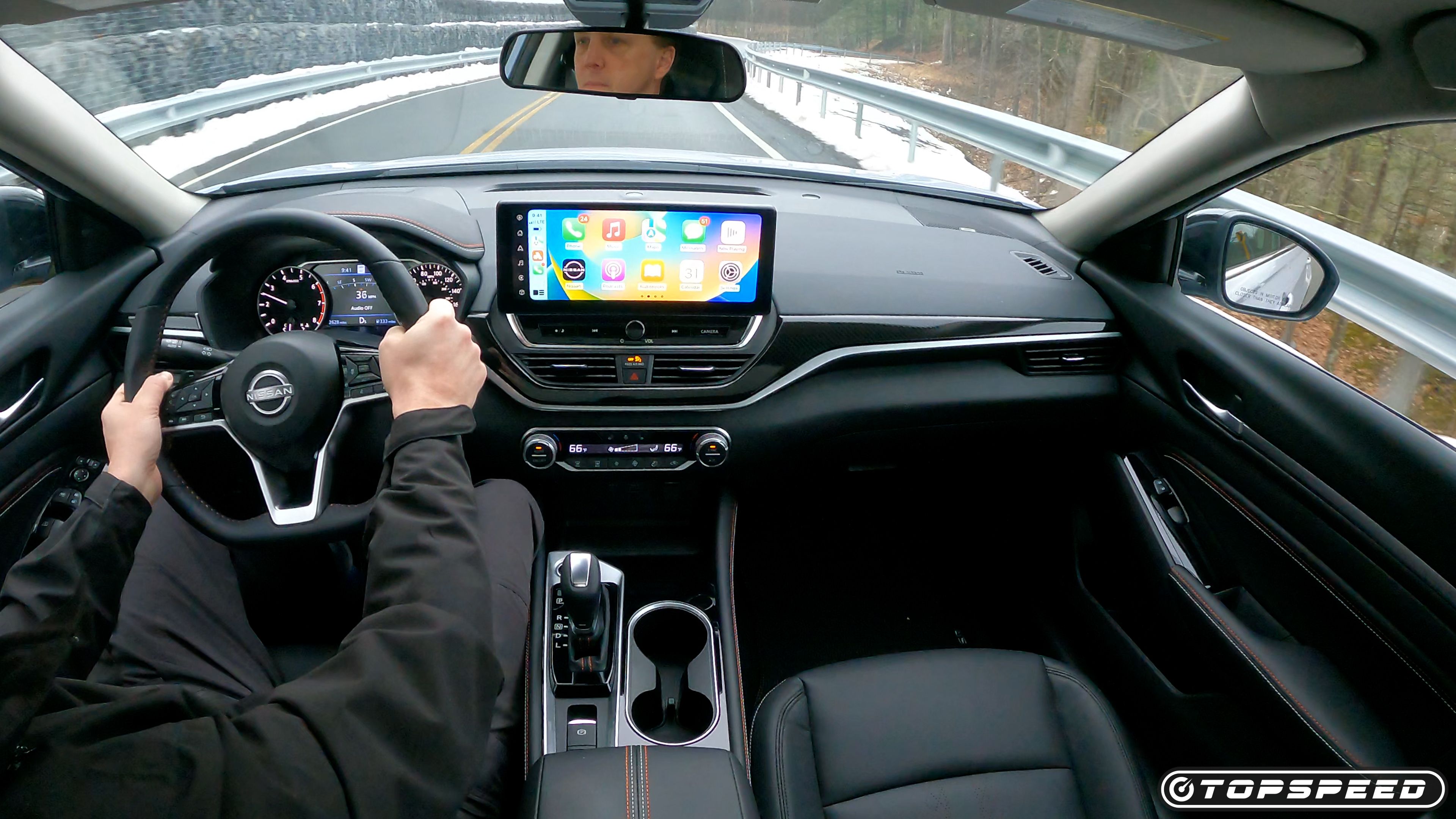 Steve Hammes driving the 2023 Altima SR VC-Turbo on snowy roads.  
In early January, TopSpeed spent some considerable time with the range-topping Nissan Altima SR VC-Turbo, and we walked away from it with a new respect for variable compression technology and Nissan's CVT transmission. We'd be lying if we said it drives quite as sporty as it looks, but for a midsize family sedan, it's more enjoyable to drive than you'd think.
Nissan Altima Ride Quality
We know that the SR and SR VC-Turbo don't have quite as great a ride as the models below them due to the sport-tuned suspension, which includes SACHS rear shock absorbers. Be that as it may, the SR VC-Turbo remained composed and eager during more advanced maneuvers.
You can still feel body roll in sharper curves at speed, but the sport-tuned suspension does a great job at minimizing it most of the time. Vibration and jars from rougher roads will bleed through into the cabin a bit, but not enough to annoy you in the way some cars with 19-inch wheels and stiffer suspension would.
On-Road Performance
Acceleration in the VC-Turbo is linear, which really does help contribute to the 5.8-second sprint to 60 mph. Unfortunately, that's where the good news ends. You'll hear a little moan and groan when you put the hammer down, but it's very clear that you're transmitting power to the ground through a CVT. Initially, the CVT comes off as a deal-breaker, but once you get behind the wheel, you realize it's not so bad.
Triggering the sport mode makes all the difference in the world. Clever computer tuning allows the car to provide more engine braking, and the CVT does a pretty decent job at mimicking eight gears when using the paddle shifters.The VC-Turbo does evoke a sense of confidence when driving, however, and while we can't really label it as a fun car, it's not exactly disappointing, either.
2023 Nissan Altima Versus Its Competitors
The Nissan Altima sits firmly in the affordable midsize sedan segment, so it competes with models like the Honda Accord and Toyota Camry, among many others. It is a strong competitor, and a recent facelift helps to keep the Altima relevant, though its primary competitors do seem to excel in places where it lacks. This, paired with very competitive pricing, means it's not exactly easy to choose the Altima among a lot of other very strong competitors.
How The Nissan Altima Compares To The Toyota Camry
Nissan

2023 Nissan Altima front shot

2023 Nissan Altima

Engine:

2.5-liter | 2.0-liter VC-Turbo

Power Output

182 – 248 HP

Torque

178 – 273 Pound Feet

Range

405 Miles

Transmission

CVT

Driveline

FWD or AWD

MSRP

$25,490 – $35,190

Toyota

Front action shot of a silver 2023 Toyota Camry Hybrid XSE

2023 Toyota Camry

Engine:

2.5-Liter Inline-Four | 3.5-Liter V-6

Power Output

203-301 Horsepower

Torque

184-267 Pound-Feet

Range

347-505 Miles

Transmission

8-Speed Automatic

Driveline

FWD or AWD

MSRP

$26,260 – $36.645
Between the Nissan Altima and the Toyota Camry, the Camry is arguably the sportier of the two. Unlike the Altima and most other affordable midsize sedans, the Camry is available with a 3.5-liter V-6 engine. With a starting price that's a mere $600 more as of the time of this writing, the entry-level Camry will get you more horsepower (203 vs. 182), more torque (184 vs. 178), and a true eight-speed automatic that, honestly, feels more satisfying to drive than anything with a CVT.
The Camry's 2.5-liter engine will net you anywhere between 28 and 32 mph combined, but if you opt for the 2.5-liter hybrid, you'll see figures that cross as high as 52 mpg combined. The V-6, which is good for an impressive 301 horsepower and 267 pound-feet of torque can do as good as 26 mpg combined (22 in the city and 33 on the highway), but this engine is unnecessary unless you're really interested in having something with a little extra get-up-and-go. Overall, the base 2.5-liter or hybrid is sufficient for most, and like the Altima, if you choose the right trim, you can also have AWD.
In short, you really can't go wrong with either model, but the Camry does offer a little more bang for you buck, and it's really hard to beat the fuel economy of the hybrid.
Related: 2022 Toyota Camry Hybrid – Performance, Price and Photos
How The Nissan Altima Compares To The Honda Accord
Nissan

2023 Nissan Altima front shot

2023 Nissan Altima

Model

Nissan Altima

Engine:

2.5-liter | 2.0-liter VC-Turbo

Power Output

182 – 248 HP

Torque

178 – 273 Pound Feet

Range

405 Miles

Transmission

CVT

Driveline

FWD or AWD

MSRP

$25,490 – $35,190

Honda

A front 3/4 view of a 2023 Honda Accord Hybrid

2023 Honda Accord

Model

Accord

Engine:

1.5-Liter Turbo | 2.0-Liter Hybrid

Power Output

192 – 204 HP

Torque

192 – 247 Pound Feet

Range

429+ Miles

Transmission

CVT

Driveline

FWD

MSRP

$27,295 – $37,890
In terms of midsize family sedans, it's hard to go wrong with either the Honda Accord or the NIssan Altima. The base engine on both trims is good enough to get you from point A to point B, with the Accord coming in with a little bit more power at 192 horsepower and 192 pound-feet of torque. Both models come with a CVT automatic, and both base trims are FWD only. Outside of subjective looks and personal preference, the Altima is slightly more affordable with a starting price of $25,490, and moving up the trim line gives you the option of AWD, which is something you simply cannot have in the Honda Accord.
On the flip side, most trim levels of the Honda Accord are either available with or come standard with the hybrid 2.0-liter engine. This means that, in the Accord, you can get as much as 48 mpg combined (44 mpg combined in the Accord Sport/Touring) vs the Altima's best combined rating of 39 mpg. If efficiency is at the top of your priority list, it is genuinely hard to beat the Accord Hybrid as long as you're willing to give up the potential for AWD. If you drive enough, the fuel savings over a year or two could very easily make up for the slight premium you pay for the Accord over the Altima.
Related: Here's Why It's Really Worth Waiting For The 2023 Honda Accord
How Much Does The 2023 Nissan Altima Cost?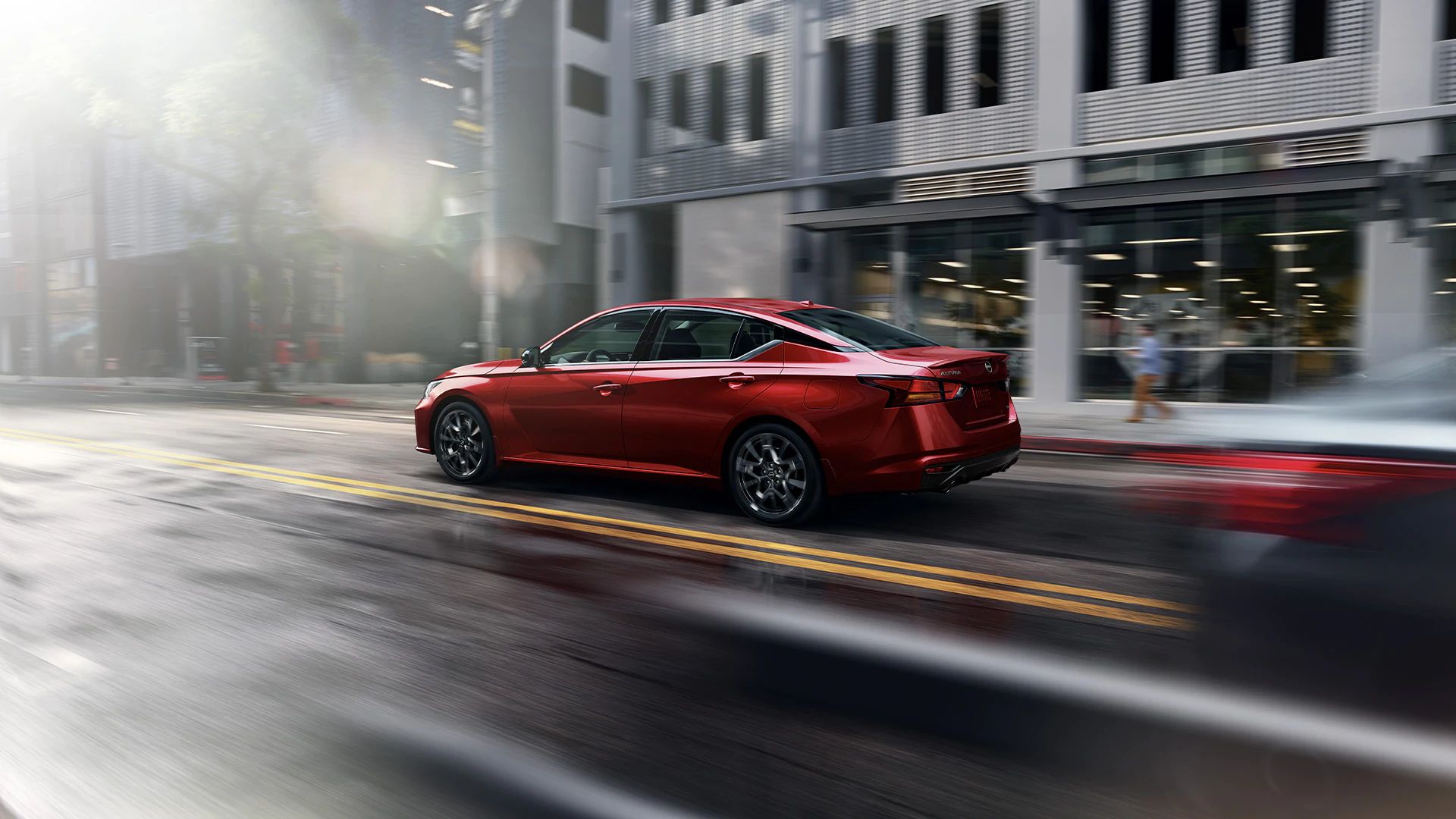 2023 Nissan Altima rear 3/4 action shot
The 2023 Nissan Altima is available in five different trim levels. The basic entry-level model starts out at $25,490 while the range-topping, 248-horsepower SR VC-Turbo comes in at $35,190. The Altima is available with Nissan's Intelligent AWD system, though it's only available as an option on the SV, SR, and SL trims, and it comes at a $1,500 premium.
As of the time of this writing, Nissan is offering the 2023 Altima SV under a 36-month lease contract that runs $319 per month for 36 months with an initial payment of $3,619. Financing deals include 2.99% APR financing for 36 months (well-qualified customers only), and up to $500 cashback. Nissan's deals are subject to change at any time, so you can always check out its dedicated deals and incentives portal for current offers.
| Trim Level | FWD | AWD |
| --- | --- | --- |
| Altima S | $25,490 | N/A |
| Altima SV | $26,290 | $27,790 |
| Altima SR | $27,690 | $29,190 |
| Altima SL | $32,190 | $33,690 |
| Altima SR VC-Turbo | $35,190 | N/A |
Fuel Economy
The Nissan Altima is impressively efficient for a non-hybrid midsize sedan. For the 2023 model year, the United States EPA has rated the best-performing model, the SR VC-Turbo, at a respectable 34 mpg on the highway or 29 mpg combined. Opting for the non-turbo models can make quite the difference, as the base model can deliver up to 39 mpg when cruising on the highway or 32 mpg combined. For the sake of comparison, the non-hybrid Honda Accord delivers 32 mpg combined. Non-hybrid models of the Toyota Camry also deliver as much as 39 mpg on the highway.
| | City | Highway | Combined | Annual Fuel Cost (est) |
| --- | --- | --- | --- | --- |
| Nissan Altima Base 2.5L | 27 MPG | 39 MPG | 32 MPG | $1,650 |
| Nissan Altima SL.SR 2.5L | 27 MPG | 37 MPG | 31 MPG | $1,700 |
| Nissan Altima AWD 2.5L | 26 MPG | 36 MPG | 30 MPG | $1,750 |
| Nissan Altima SR VC-Turbo 2.0L | 25 MPG | 34 MPG | 29 MPG | $1,850 |
Google Ads