The year 2024 marks a significant year model for Honda's as it comes off a rebuild that's significant enough to warrant a new name, even if it's just a reflection of the larger engine. The now-named ADV160 replaces the popular but outgoing ADV150. The new engine picks up another 7.6 cc in displacement over the old mill. The poppets went from two to four for efficient aspiration and exhaust scavenging resulting in cleaner fuel-air charges.
Google Ads
Honda boosts the electronics with its own version of traction control and a choice between ABS brakes and its Combined Braking System. The seat, lowered for comfort, amazingly covers larger under-seat storage. A taller windshield protects the pilot with a new LCD gauge and brushed-up bodywork to complete the package.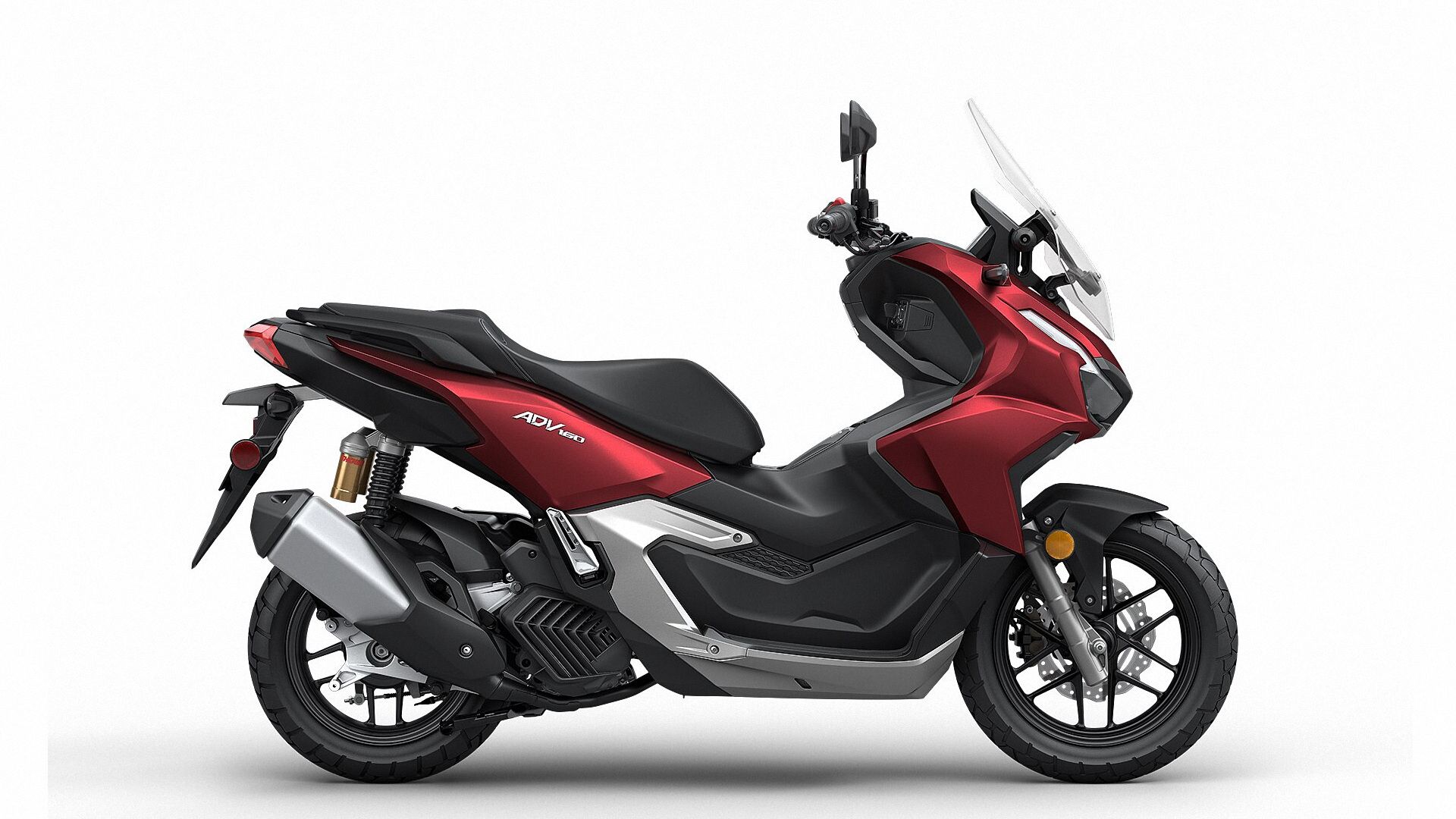 Red Metallic 2024 Honda ADV160 static profile shot
2024 Honda ADV160
Model

ADV160

Engine:

156.9 cc

Power Output

16 HP

Torque

9.8 LB-FT

Google Ads

Transmission

V-Matic

Driveline

Belt

MSRP

$4,499
Pros
Nice Looking, Modern And Mature
Coming Off A Thorough Update
Has A Budget-Friendly Sticker
Cons
Limited Colorways
Could Stand To Be 5-To-10 MPH Faster
Stock Handguards Would Be Nice.
RELATED: The 10 Best Scooters On The Market
2024 Honda ADV160 Performance And Capability
Riders sitting on a pair of Red Metallic 2024 Honda ADV160 scooters
Honda installed a new engine in the ADV, the four-valve eSP+ engine boosts displacement from 149.3 cc up to 156.9 cc to make it interstate-legal in most states. Claimed top speed is 73 MPH, though individual results may vary, mainly downward to be honest, so it barely has the chops for interstate work, but highway speeds will be a breeze.
The liquid-cooled thumper rocks a 60 mm bore and 55.5 mm stroke for a speecy-spicy 12-to-1 compression ratio that'll have an affinity for the higher octane fuels. A single over-head cam times this new quartet of valves to keep the top end light and uncomplicated. Induction management falls to the PGM-controlled, 28 mm throttle body. The Honda Selectable Torque Control, a feature usually reserved for higher-dollar, larger-displacement machines, comes stock to bring an uncommon level of safety and security to the table.
Naturally, the transmission turns out the twist-and-go operation you'd expect of a scooter. The 2024 Honda ADV 160 produces 16 horsepower and 9.8 pound-feet of torque.
RELATED: Four "Fun" Honda Electric Motorcycles & Scooters Coming To The USA
Design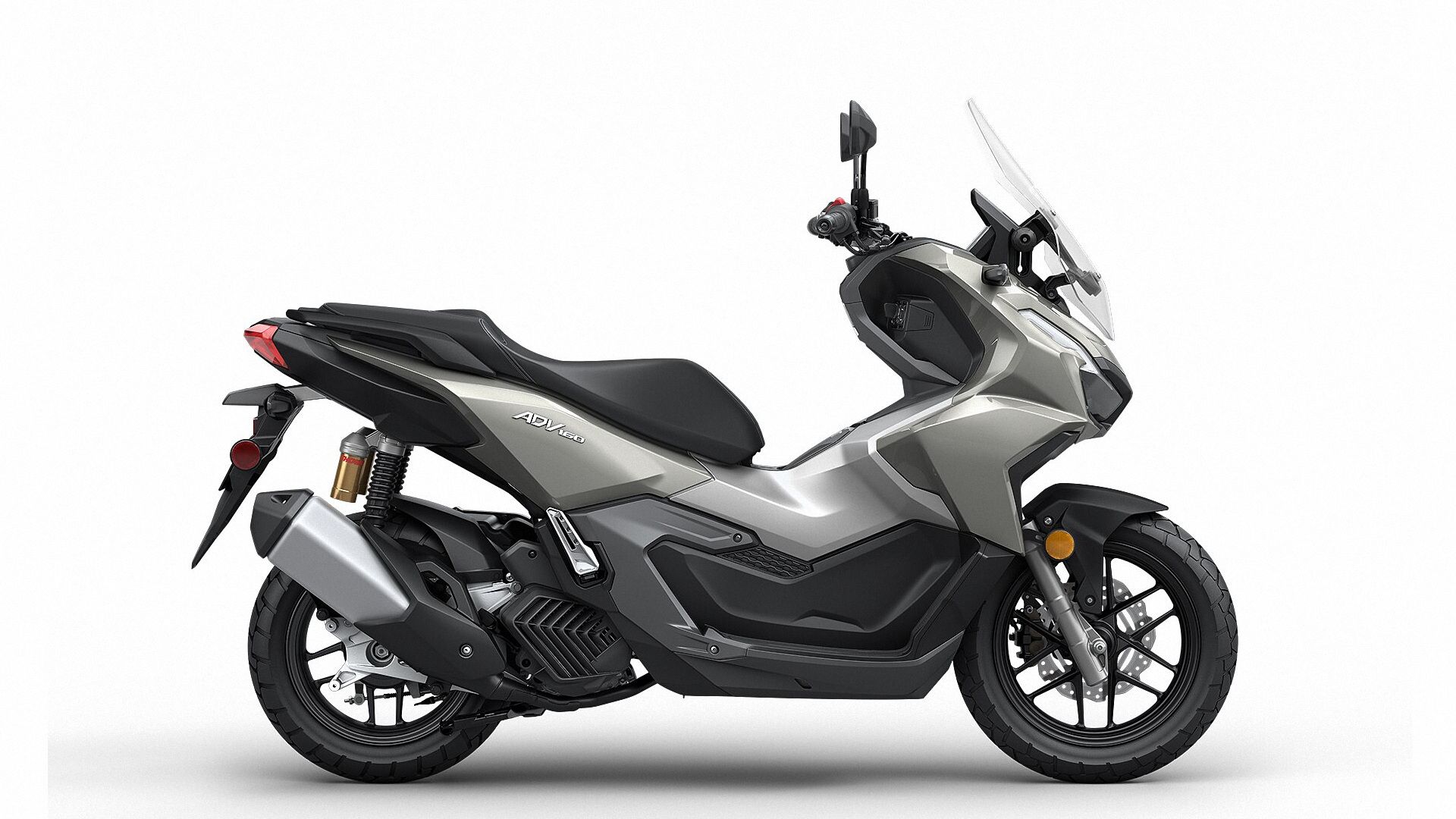 Pearl Smoky Gray 2024 Honda ADV160 static profile shot
Honda designed the ADV 160 to have a rugged appearance and urban-maxi elegance meant to appeal to more mature riders, university students, and young urban professionals. In fact, the blocky angles and spiky features are fairly standard in urban-mobility circles with similar design elements found on Yamaha's XMAX and Beemer's C 400 GT.
The lighting is all-LED, front to back, for maximum two-way visibility and the safety that comes of it. An adjustable windscreen plows a considerable groove in the wind for the pilot's comfort, and since it comes vented, it mitigates to a large degree the wearisome head-buffet effect that forms at the top of the pocket. The all-new LCD screen handles all the primary metrics with a secondary meter for the rest, with the interface for the HSTC system in the former.
There's not much of a step-through, there never is with this sort of design, but the resculpted seat, shaped for comfort, helps you comfortably get your lamborfeeties to the ground. The under-seat storage saw a boost up to 30 liters for increased utility as a commuter and grocery-getter/errand-runner.
A set of flip-out footpegs join with the pillion pad and J.C. rails to make your passenger feel secure on their perch. More LED yummygoodness rides in the rear for the safety it provides with a mudguard-type license-plate holder.
Specs & Dimensions
| | |
| --- | --- |
| Length | 76.8 in |
| Width | 30.0 in |
| Height | 50.0 in. (47.1 in. w/ windscreen in low position) |
| Seat Height | 30.1 in |
| Wheelbase | 52.1 in |
| Ground Clearance | 6.5 in |
| Fuel Capacity | 2.1 gals |
| Curb Weight | 294 lbs |
RELATED: Here Are Two Marvel-Themed Honda ADV 160 Scooters You Have To See
Chassis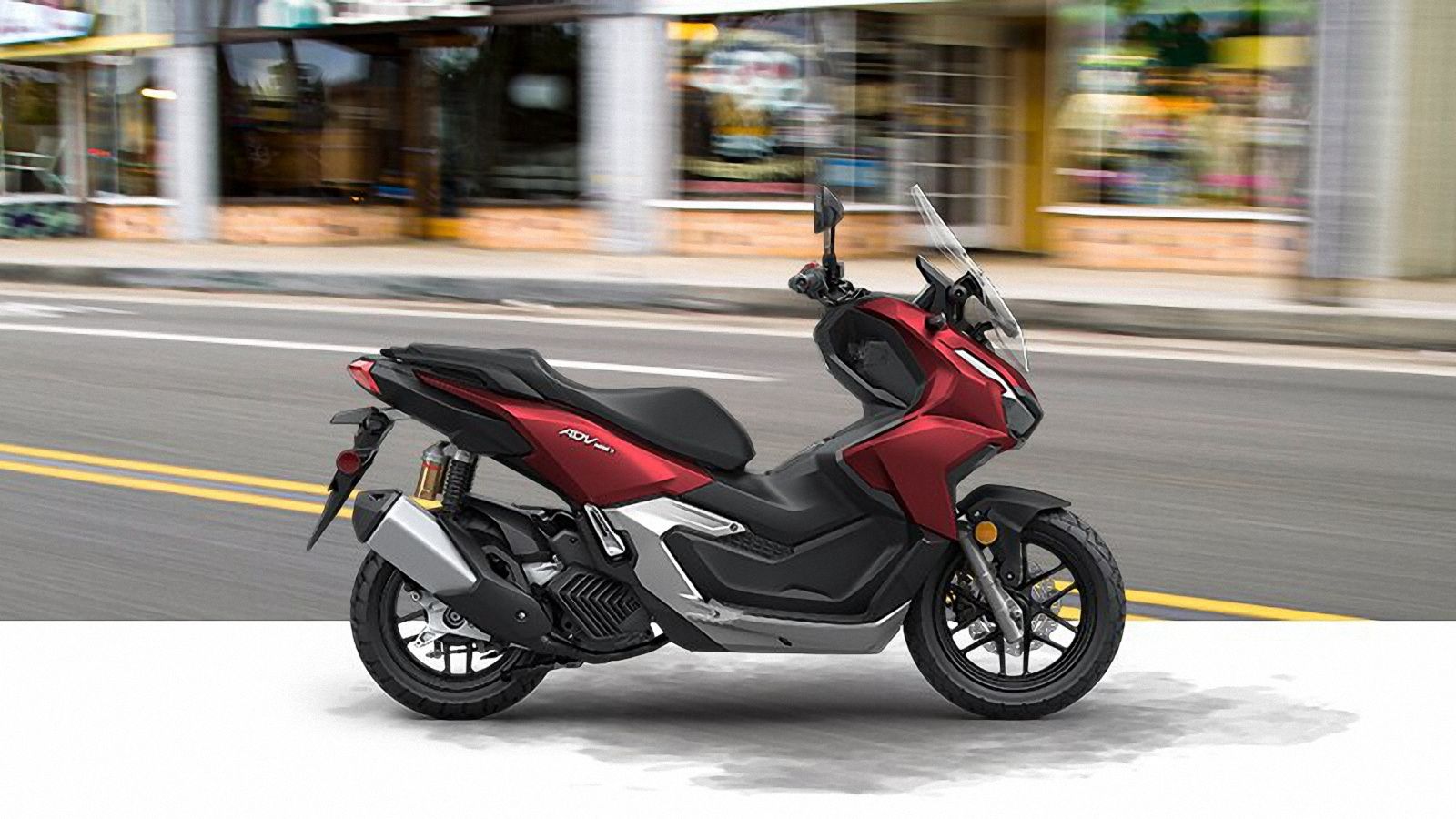 Red Metallic 2024 Honda ADV160 static profile shot
The frame on the ADV160 underwent a major rebuild to be both strong and compact to handle the rough country roads. Maybe even rougher than that, this is billed as an adventure scooter after all.
Showa suspension makes an appearance at both ends with a 31 mm front fork and twin, coil-over shocks out back. Travel is pretty plush for a scooter at 5.1 inches ahead of 4 inches of travel, and is sure to tolerate some light terrain. Rake and trail measure at 26.5 degrees and 3.4 inches respectively to put the ADV160 at the nimble end of the handling spectrum.
Cast wheels round out the rolling chassis with a 110/80-14 and 130/70-13 on the front and rear, respectively. The brakes are a mixed bag with a 240 mm disc up front to limit the unsprung weight at the axle with a stock ABS feature, but out back things get medieval real quick with a 131 mm drum brake and no ABS.
Chassis & Suspension
| | |
| --- | --- |
| Front Suspension/ Travel | 31 mm Showa Telescopic Fork/ 5.1 in |
| Rear Suspension/ Travel | Twin Showa Shocks/ 4.1 in |
| Rake | 26.5° |
| Trail | 3.4 in |
| Front Tire | 110/80-14 |
| Rear Tire | 130/70-13 |
| Front Brake | 240 mm Disc, Hydraulic Caliper |
| Rear Brake | 131 mm Mechanical Drum |
RELATED: 2022 Honda ADV350: Performance, Price, and Photos
2024 Honda ADV160 Price And Availability
MSRP on the 2024 Honda ADV160 starts at $4,499. Slated to hit dealer showrooms in July, you can get it in Red Metallic or Pearl Smokey Gray.
Pricing & Features
| | |
| --- | --- |
| Features | Honda Smart Key |
| Warranty | One-Year Transferable, Unlimited-Mileage Limited Warranty |
| Colors | Red Metallic, Pearl Smoky Gray |
| Price | $4,499 |
Competitors
The urban-scoot sector is hopping, so I needn't look far for the Suzuki Burgman 200. This is another modern machine, and one with a solid pedigree to boot.
Suzuki Burgman 200
Suzuki follows the general design, but knocks the edges off for a more graceful look with softer lines and an equally mature look. Metallic Matte Stellar Blue is the only colorway, but it's very classy yet understated to add to the Suzuki's curb appeal.
Metallic Matte Stellar Blue 2023 Suzuki Burgman 200 parked in a warehouse
Tall windshields abound for pilot protection and a breakeven situation. Suzuki shoehorns in a bit more cubeage with its 200 cc thumper that churns out 18.1 horsepower and 12.5 pound-feet of torque against Honda's 16/9.8 for a slim but noticeable advantage. You'll pay for that extra power though, to the tune of $4,999, and I leave it to you to decide if it's worth it or not.
He Said
"It looks like an urban scoot, and it is, but it leads a double life as an off-road capable machine to make it, effectively, a "go anywhere" kind of machine. I'd be hesitant to hit the superslab. It's fast enough, but you'll have zero power reserve for passes or getting out of a jam."
She Said
My wife and fellow motorcycle writer, Allyn Hinton, says,
"I'm not sure if it's an "adventure" scooter, not like the Yamaha BW'S, which looks more an adventure ride than a maxi scooter. Honda calls the ADV160 'the capable-but-rugged City Adventure concept.' I can see that urban adventure spirit."
"Note that the 2024 update on the ADV includes a lower seat height, over half an inch, to 30.1 inches. The new saddle shape makes it easier to get your feet on the ground and the lowered handlebar makes for a more comfortable rider position. The new engine is the same one as in the PCX. Honda released the ADV160, newly named from the ADV150 for the engine, in the Asian market for 2023 and brings it to the U.S. for 2024."
FAQ
Q: ​​​​​​​When did Honda ADV160 come out?
Honda updated the ADV150 with the 157 cc engine from the PCX and released it in the Asian market as the ADV160 for 2023. For 2024, Honda brings the ADV160 to the U.S. market.
Q: What engine does the 2024 Honda ADV160 have?
Honda powers the ADV160 with the 157 cc single-cylinder engine that also powers the PCX.
Q: ​​​​​​​How much does the ADV160 cost?
MSRP for the 2024 ADV160 starts at $4,499 in the U.S. market. It hits dealer showrooms in July and comes available in Red Metallic or Pearl Smoky Gray.
Q: How much power does the ADV160 have?
With the 157 cc single-cylinder engine, the ADV160 produces 16 horsepower at 8,500 RPM and 9.8 pound-feet of torque at 6,500 RPM.
Google Ads