Some people buy an affordable midsize car as a practical everyday family vehicle and never want it to fill any other role. Others, though, want a daily driver with some sports car spirit.
Google Ads
For them, the Kia K5 and Nissan Maxima are good options. The base-model K5 is comparable to typical affordable midsize cars. But the high-performance K5 GT is a borderline sport sedan. Nissan offers the Altima to buyers looking for something less spicy, but the Maxima is its "4-door sports car."
Let's see how these two weekend athletes that can do daily duty compare. Note that this article compares the 2024 K5 to the 2023 Maxima because those are the models dealers have in stock this month.
2024 Kia K5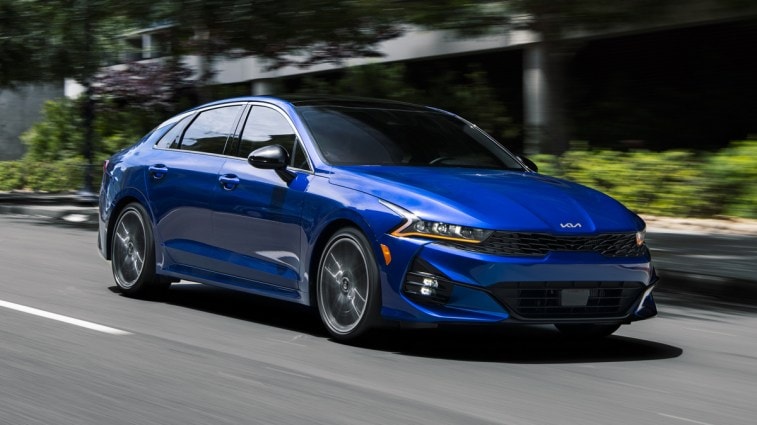 Kia offers its 2024 K5 sedan in five trim levels, with a choice of two turbocharged engines and front- or all-wheel drive (FWD or AWD). Prices start at $25,390 for the LXS base model. But if you're looking for a family car with some spice, you'll want the GT model, which starts at $31,790. Its 290-horsepower engine and dual-clutch automatic transmission with paddle shifters make it the enthusiast's choice.
Kia K5 Highlights
Dual-clutch automatic transmission with paddle shifters: Most K5 models come with an 8-speed automatic transmission. The GT model also gets eight speeds from a different, more performance-oriented transmission. A dual-clutch model, it lets you control the shifts yourself with steering-wheel-mounted paddle shifters. The Maxima comes only with the bane of car enthusiasts, a far less engaging continuously variable transmission. Other upgrades include tighter steering ratios and a sport-tuned suspension.
Drastically lower price: The K5 starts at just $25,390. The high-performance GT model starts at $31,790 and comes with many of the trimmings of a luxury car. The cheapest Maxima is much more expensive, starting at $38,340, and well-equipped versions carry price tags in the mid-$40,000 range.
10-year warranty: Kia's 5-year/60,000-mile basic warranty and 10-year/100,000-mile powertrain warranty easily exceeds Nissan's protection plan.
Check this week's Fair Purchase Price or see the K5 models for sale near you.
2023 Nissan Maxima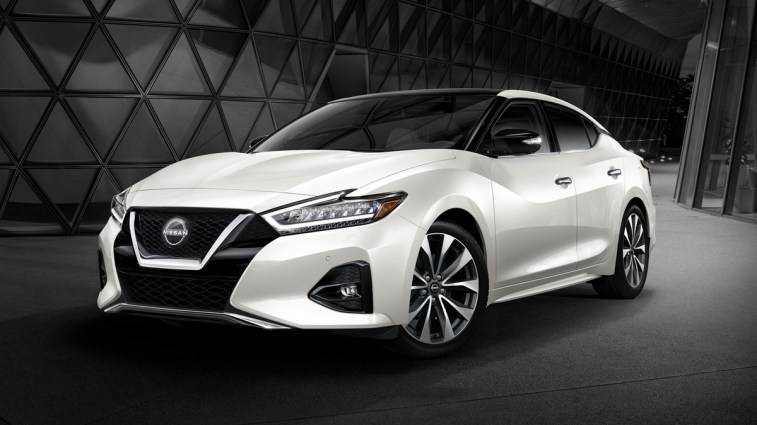 Nissan is unusual among mainstream automakers in that it makes two midsize cars. The Altima is the one for those who want a comfortable commuter. The 2023 Nissan Maxima is Nissan's performance-oriented 4-door. It carries a standard V6 for more power than most family sedans and a more luxurious cabin. Prices start at $38,340. We should also note that this is officially the last year of Maxima production – although Nissan product planners told us that with a wink, so we expect an updated (probably electric) version someday.
Nissan Maxima Highlights
V6 power: Most manufacturers have gone to turbocharged 4-cylinder engines for their most powerful midsize cars. We like the change, but some purists prefer a mechanically simpler V6. The Maxima still has one of those. It produces 300 horsepower – 10 more than the K5 GT. The K5, however, is lighter, erasing some of that power advantage.
Zero Gravity seats: Nissan builds the most comfortable seats outside of the luxury classes. Our editors consistently praise the road-trip comfort of the brand's Zero Gravity seats, built to support the body at 14 pressure points and keep it in as neutral a position as possible.
Heated rear seats: They're found only on the top-of-the-line Platinum trim. But these are a luxury feature the K5 can't match.
Google Ads
Check this week's Fair Purchase Price or see the Maxima models for sale near you.
Similarities
These are both sporty by midsize sedan standards, and each are good-looking. That's about it, as far as similarities go.
Conclusion
The 2024 Kia K5 and 2023 Nissan Maxima both lean into their sporty sides but function well as daily drivers for those needing midsize space. They have similar power, and both make you feel like you bought something a little more athletic than the average car.
There, though, the similarities end. The K5 GT is less expensive, slightly less powerful, but lighter, so that matters little, and offers a sportier transmission and a much longer warranty. The Maxima is near the end of its run and still fun, but pricier without many advantages to justify the extra cost.
| | | |
| --- | --- | --- |
| | 2024 Kia K5 | 2023 Nissan Maxima |
| Starting Price | $25,390 | $38,340 |
| Popular Powertrains | | |
| Engine | 1.6-liter turbocharged 4-cylinder | 3.5-liter V6 |
| Horsepower | 180 hp @ 5,500 rpm | 300 hp @ 6,400 rpm |
| Torque | 195 lb-ft @ 1,500 rpm to 4,500 rpm | 261 lb-ft @ 4,400 rpm |
| Transmission | 8-speed automatic | CVT |
| Fuel Economy | 27 city/37 highway/31 combined mpg (FWD) | 20 city/30 highway/24 combined mpg |
| Also Available | 2.5-liter turbocharged 4-cylinder; 7-speed dual-clutch automatic; AWD | N/A |
| Specs | | |
| Basic Warranty | 5 years/60,000 miles | 3 years/36,000 miles |
| Powertrain Warranty | 10 years/100,000 miles | 5 years/60,000 miles |
| NHTSA Overall Safety | 5 stars | 5 stars |
| Max Seating Capacity | 5 | 5 |
| Wheelbase | 112.2 inches | 109.3 inches |
| Overall Length | 193.1 inches | 192.8 inches |
| Width | 73.2 inches | 73.2 inches |
| Height | 56.9 inches | 56.5 inches |
| Turning Diameter | 36.0 feet | 38.1 feet |
| Headroom, Front | 40.2 inches | 39.4 inches |
| Headroom, Rear | 37.8 inches | 36.7 inches |
| Legroom, Front | 46.1 inches | 45.0 inches |
| Legroom, Rear | 35.2 inches | 34.2 inches |
| Shoulder Room, Front | 58.0 inches | 56.7 inches |
| Shoulder Room, Rear | 56.1 inches | 55.7 inches |
| Cargo Volume | 16 cubic feet | 14.3 cubic feet |
Google Ads