The Ford Explorer is the classic midsize SUV. On the market since the first Bush administration (the father), it has a long-established reputation as a well-balanced family hauler. You're familiar with it.
Google Ads
The Mazda CX-90, though, is probably new to you. Designed for 2024 (and in showrooms now), it's Mazda's newest flagship SUV. It brings the same three rows of seating but a different attitude and aesthetic to the midsize SUV class.
Let's see how these two compare. Note that this comparison uses the 2024 model year CX-90 and 2023 model year Explorer because those are the models currently on dealer lots.
2024 Mazda CX-90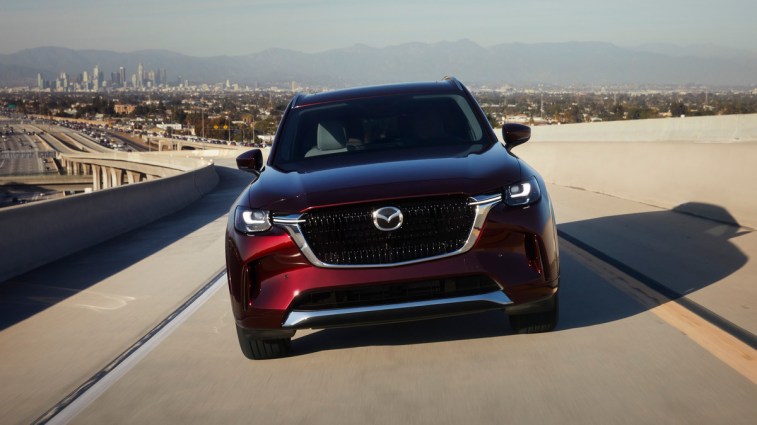 Mazda has introduced an all-new flagship SUV for 2024. The 2024 CX-90 borrows a few tricks from the luxury classes, like a smooth-running inline 6-cylinder engine and a rear-biased all-wheel drive (AWD) system, to emphasize the driving experience while still offering space for up to eight. Mazda also offers a plug-in hybrid version. Prices start at $39,595.
Mazda CX-90 Highlights
Standard rear-biased AWD: Ford builds the Explorer in rear-wheel drive (RWD) or AWD, with the latter adding $2,000 to the price of some trim levels. Many drivers find that RWD feels better on a dry road. All-wheel drive is safer when it's wet or icy. Mazda doesn't make you choose — the CX-90 drives the rear wheels more than the front for an athletic feel under normal circumstances but sends power to all four for safety when needed. There's no added fee for any of it.
Tailored suit look: The Explorer has the classic brawny SUV look. It's appealing to some, but the valet isn't going to park it with the expensive stuff. The CX-90, however, looks far more upscale. Its long hood, reared-back greenhouse, and subtle curves make it one of the most sophisticated-looking midsize SUVs.
Upscale cabin: That refined feel is even sharper inside. The CX-90's interior is lovely, with soft-touch materials in the first two rows (third-row passengers get some hard plastics to keep the price down) and real panache in the design. A unique decorative stitch used in traditional Japanese bookbinding lends the dashboard design flair you don't usually find in this class.
Check this week's Fair Purchase Price or see the CX-90 models for sale near you.
2023 Ford Explorer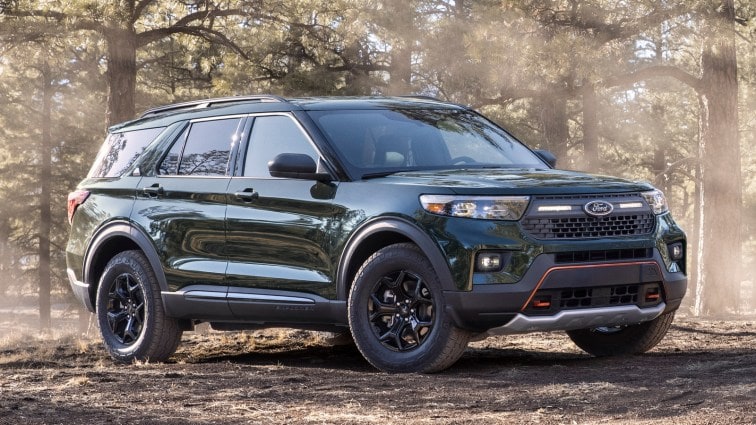 The CX-90 is the new kid on the block. The Ford Explorer built much of the block. In its sixth generation, today's Explorer is known for a wide range of variants, making it suitable for many different types of buyers. It's not out to impress anyone with its sophistication (though you can get it with near-luxury features). Instead, it stands on a long reputation for a balance of toughness and family-friendly nature. Prices start at $36,760.
Ford Explorer Highlights
More cargo space: The CX-90's svelte look robs it of some cargo space. The Explorer has more in every measurement, from all seats up to two rows folded.
Flexible lineup: The CX-90 comes in 8 trim levels, but the differences between them are mostly a matter of increasingly long feature lists. The Explorer also comes in 8 trim levels, but they're more like siblings with wildly different jobs. The ST is a pavement performer. The Timberline is meant for the trail. The King Ranch does a convincing luxury car imitation.
Lots of useful power: The CX-90's standard engine makes 280 horsepower. The Explorer's makes 300. CX-90 buyers can upgrade to a 340 horsepower model. Explorer buyers can step up to 400. Because of the power, the Explorer can tow 5,600 pounds properly-equipped. The CX-90 tops out at 5,000.
Google Ads
Check this week's Fair Purchase Price or see the Explorer models for sale near you.
Similarities
Identical warranties, similar fuel economy
Conclusion
The Ford Explorer is the classic midsize SUV, with an emphasis on a broad range of performance capabilities and towing power. It's unapologetically boxy, hanging out with F-150s at the lot and offering an off-road model. If you're looking for a family-friendly midsize SUV with unpretentious looks and rugged capability, this might be the choice.
But the all-new Mazda CX-90 has a different kind of appeal. Sophisticated looks inside and out and the kind of inline 6-cylinder engine more common to BMW builds make it seem like something from a higher class. Standard AWD gives it plenty of foul-weather grip. It's the right choice for those looking for something more refined for a similar price tag.
Specifications
| | | |
| --- | --- | --- |
| | 2024 Mazda CX-90 | 2023 Ford Explorer |
| Starting Price | $39,595 | $36,760 |
| Popular Powertrains | | |
| Engine | 3.3-liter inline-6 | 2.3-liter turbo 4-cylinder |
| Horsepower | 280 hp @ 5,000 rpm | 300 hp @ 5,500 rpm |
| Torque | 332 lb-ft @ 2,000 rpm | 310 lb-ft @ 3,500 rpm |
| Transmission | 8-speed automatic | 10-speed automatic |
| Fuel Economy | 24 city/28 highway/25 combined mpg | 21 city/28 highway/24 combined mpg |
| Also Available | Higher output turbo model; plug-in hybrid | AWD; 3.0-liter turbo V6; 3.3-liter hybrid V6 |
| Specs | | |
| Basic Warranty | 3 years/36,000 miles | 3 years/36,000 miles |
| Powertrain Warranty | 5 years/60,000 miles | 5 years/60,000 miles |
| NHTSA Overall Safety | TBD | Not rated |
| Max Seating Capacity | 8 | 7 |
| Wheelbase | 122.8 inches | 119.1 inches |
| Overall Length | 201.6 inches | 198.8 inches |
| Width | 84.9 inches | 78.9 inches |
| Height | 68.2 inches | 69.9 inches |
| Turning Diameter | 38.1 feet | 39.2 feet |
| Headroom, Front | 39.7 inches | 40.7 inches |
| Headroom, 2nd Row | 39.3 inches | 40.5 inches |
| Headroom, 3rd Row | 36.9 inches | 38.9 inches |
| Legroom, Front | 41.7 inches | 43.0 inches |
| Legroom, 2nd Row | 39.4 inches | 39.0 inches |
| Legroom, 3rd Row | 30.4 inches | 32.2 inches |
| Shoulder Room, Front | 57.2 inches | 61.8 inches |
| Shoulder Room, 2nd Row | 58.1 inches | 61.9 inches |
| Shoulder Room, 3rd Row | 53.3 inches | 54.6 inches |
| EPA Cargo Volume | 14.9/40.0/74.2 cubic feet | 18.2/47.9/87.8 cubic feet |
Google Ads