Same, same, but different? While the sleek new Lexus TX is technically a new model for the brand, we can't help but notice its Toyota roots. Underneath the new TX is essentially a re-skinned Toyota Grand Highlander. Re-badging is by no means a new idea or practice. Toyota and Lexus have been doing it with some models over the years and the new Lexus TX is, yet another example, though it's not as simple as just slapping on a new badge. You do end up with a different experience between these two models.
Google Ads
Lexus has provided the TX with some exclusive bits that might just make you spring for the upgrade. In the end, it is the more luxurious and stylish option fit for an urban environment, with some respectable power to match its handsome looks. The Toyota is more of the Japanese brand's bread and butter, a slightly more rugged vehicle ready to tackle the everyday tasks of family life while remaining focused on economical transport.
Depending on what you want to get out of your three-row, mid-size SUV, both Toyota and Lexus offer enticing options with the Grand Highlander and TX models. It seems Toyota wants to have another slice of the crossover pie by introducing another model under the Lexus brand, but the TX proves to be more than a quick re-badge. There is extra engineering, exterior and interior design, performance differences, and material upgrades to name a few. Here are the key ways that the two differentiate from each other within the same market.
RELATED: 2024 Toyota Grand Highlander: Better The Than Standard Highlander And Sequoia?
A Handsome Pair From The Toyota Product Portfolio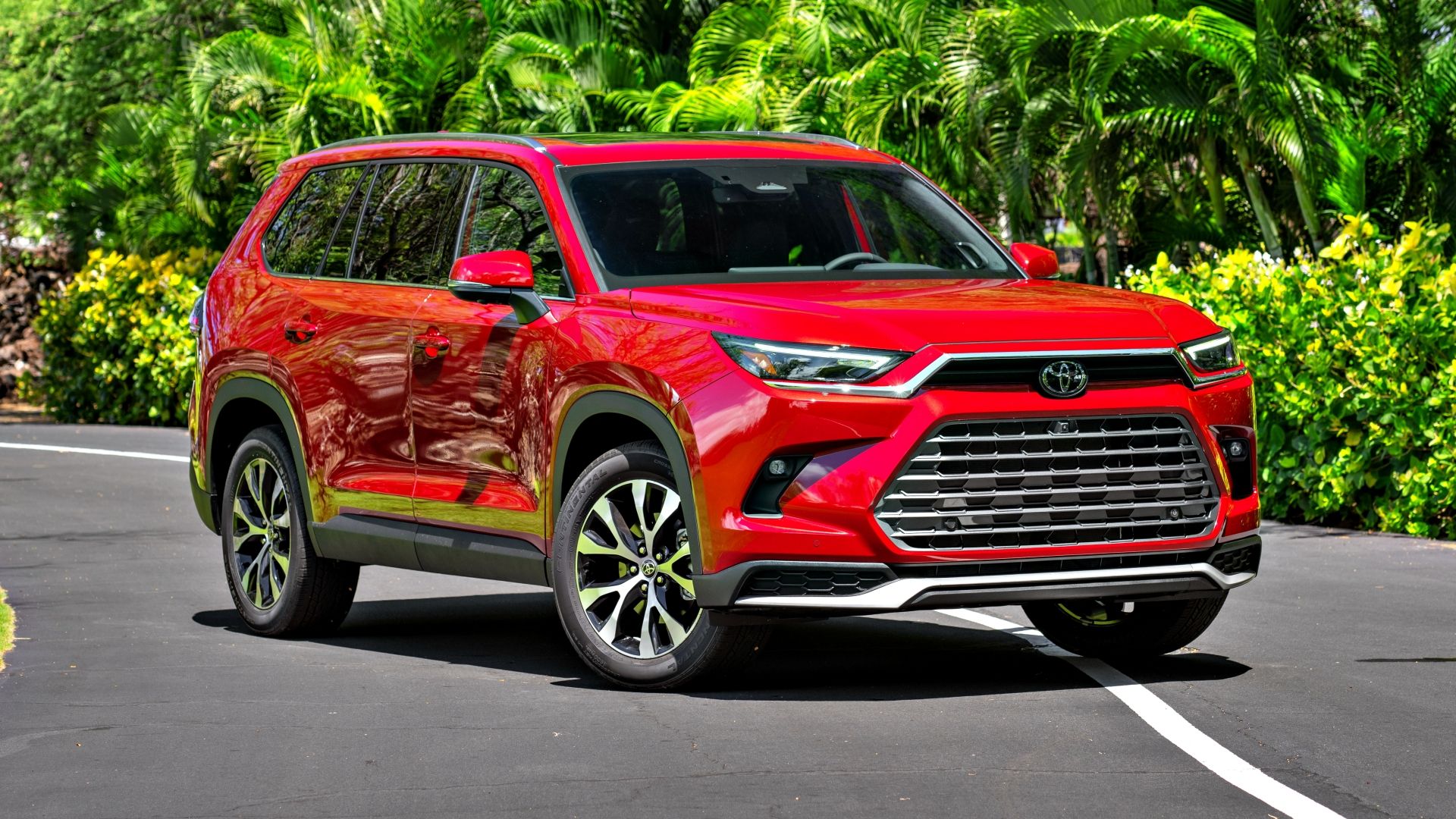 A front 3/4 shot of a 2024 Toyota Grand Highlander
Google Ads
While the Grand Highlander is no ugly duckling, it is the Lexus TX that will be winning the beauty pageant here. Toyota took styling cues from its own larger trucks and SUVs scaling them down to the Highlander platform, keeping the rugged look that Toyota drivers are looking for. Toyotas sharp, but functional design is deeply in play here. Obviously, being the model higher up on the automotive food chain, the TX had to have a different exterior to be in line with Lexus' current corporate design language.
The front has a modern take on the admittedly aging spindle grille that seemed to dictate a design that all Lexus products would possess. With a more minimal design overall, it successfully classes up the looks of the Grand Highlander, while still remaining quintessentially "Lexus". The Wheels, rear 3/4 panel kick-up, and rear full light bar taillight are Lexus additions that push the TX into more of a Luxury segment.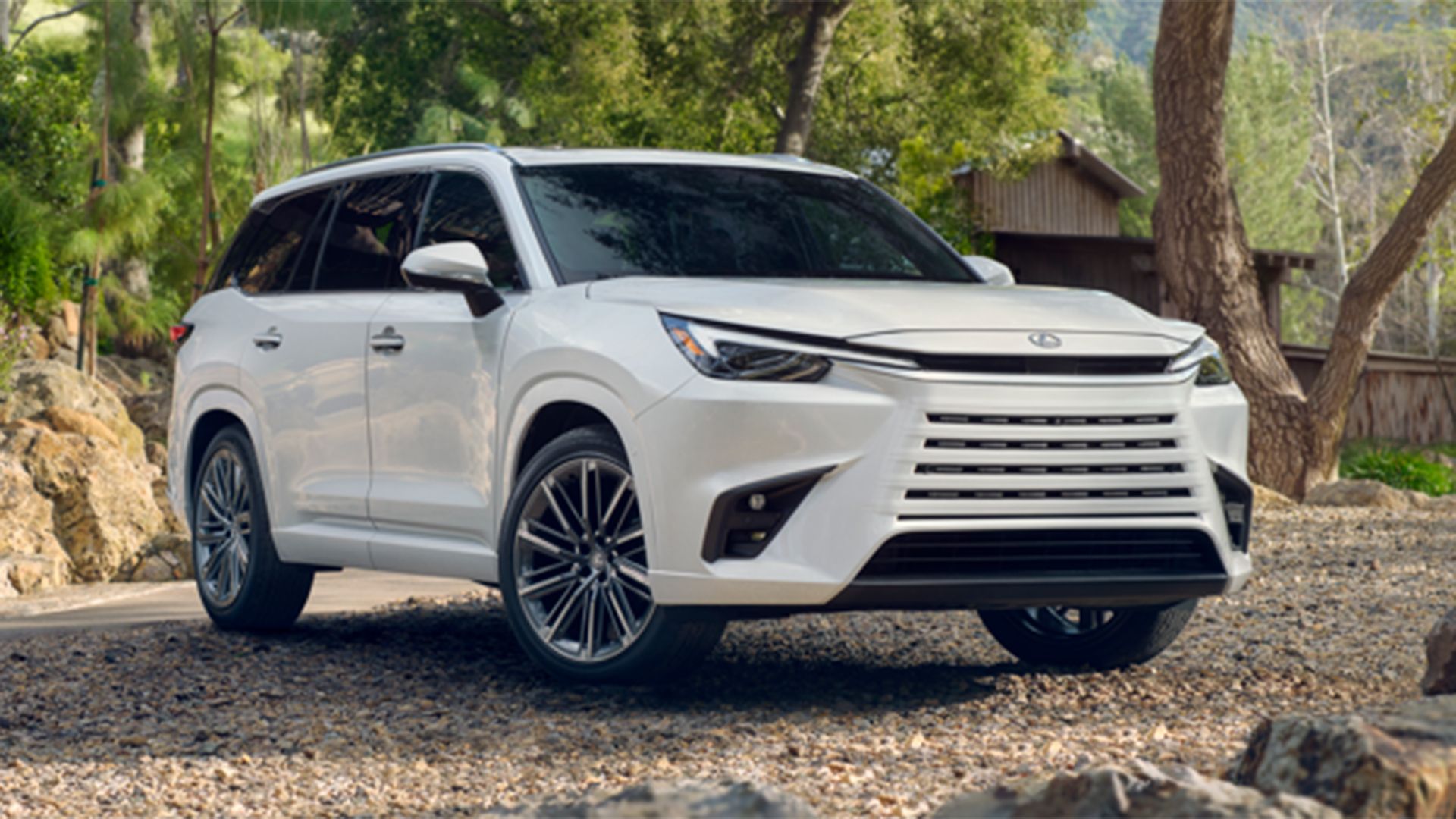 A front 3/4 shot of the 2024 Lexus TX
The TX appears to take a step in a different direction design-wise for Lexus. With more electrification, the need for large grille openings is dwindling and the TX exhibits that perfectly. Complex surfacing is becoming frowned upon and Lexus has also responded here too by keeping the overall shape of the vehicle simple, yet elegant. This may prove to be a home-run vehicle and may give us some insight as to what we can expect from future Lexus models in terms of exterior design.
RELATED: Top 15 Features Of The 2024 Toyota Grand Highlander
Power Isn't Always The Answer. Or Is It?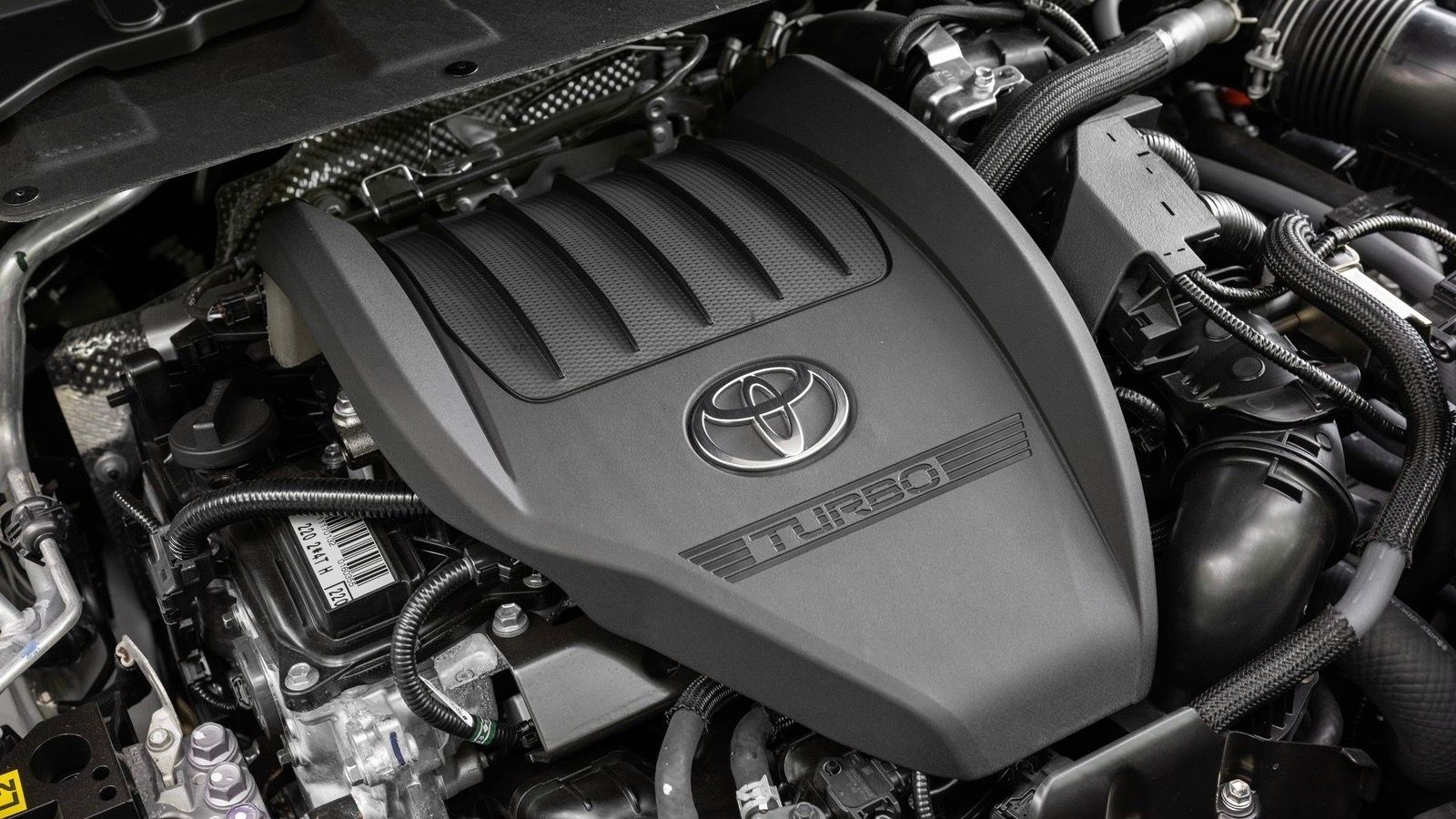 View of Toyota Grand Highlander engine bay. 
Both the Toyota Grand Highlander and Lexus TX350 share the same turbocharged 2.4 liter inline-four producing 275 horsepower mated to a 10-speed auto in the Lexus and 265 horsepower mated to an 8-speed auto in the Toyota. A hybrid option is available in both Lexus and Toyota flavors. The Lexus TX500h springs for a 362 horsepower all-wheel-drive electrified version of the same turbocharged 2.4 liter inline-four, while Toyota provides a non-turbocharged 2.5-liter inline-four electrified powertrain good for 245 horsepower.
The Lexus also integrates rear-wheel steer (a feature not often seen in the three-row crossover segment), adaptive dampers and a six-speed auto as this is considered the F Sport Performance trim, while the Toyota uses a CVT transmission. Exclusively, Lexus gets a V-6 plug-in hybrid upgrade available, whereas Toyota only gets four-cylinder options. The top of the line TX550h+ model features a hybrid powertrain combining a 3.5 liter V-6 engine with an electric motor system.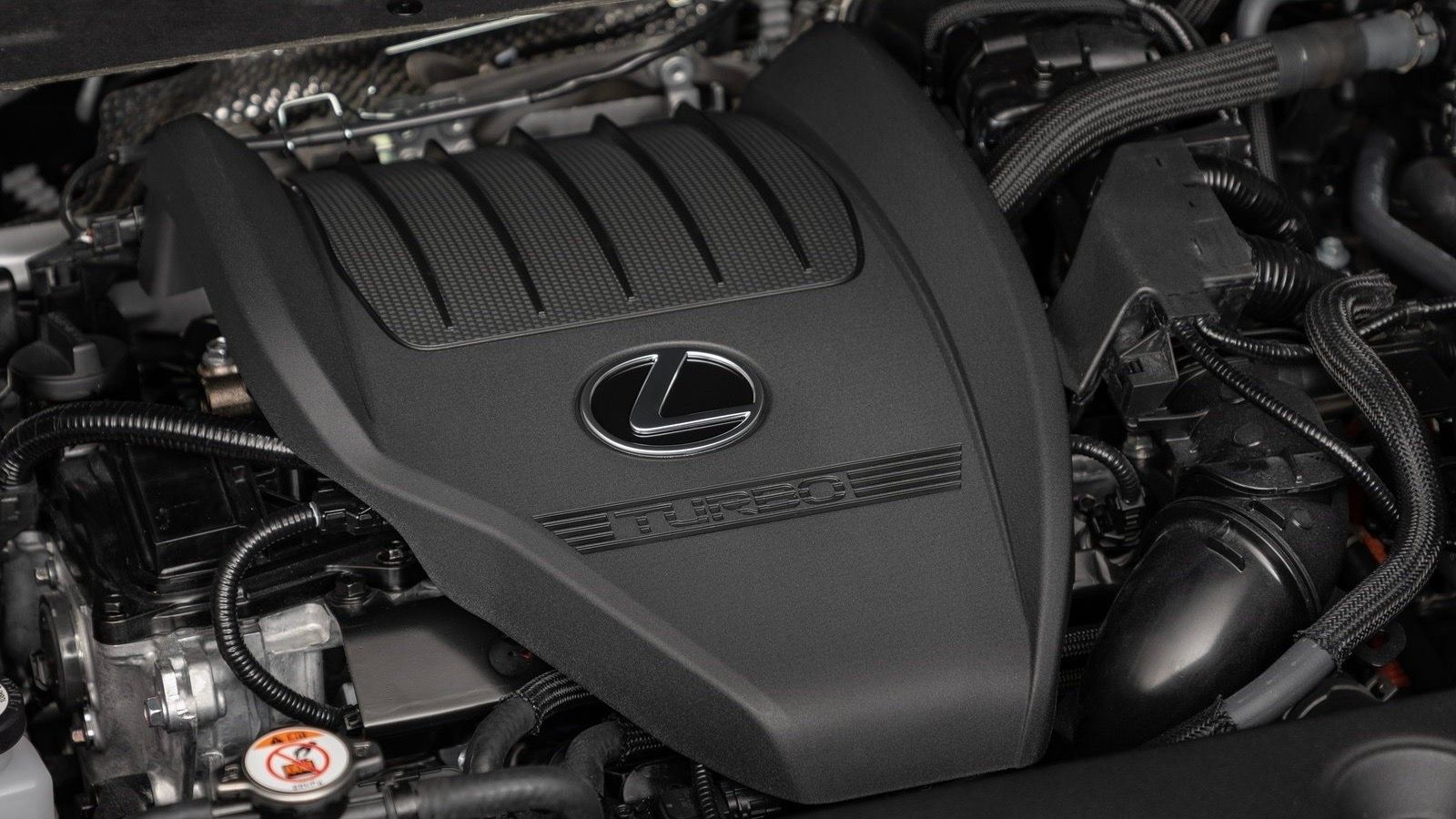 View of 2024 Lexus TX engine bay. 
Total output rises to a very healthy 406 horsepower. Toyota and Lexus have been hard at work providing various options of all kinds, seemingly for any driver. While the Toyota aims to cater to a fuel efficient crowd, it appears the Lexus may be aimed at the luxury-minded, who have efficiency on their mind, but don't want to hassle with having to charge a dedicated EV. That being said the TX550h+ will be a plug-in hybrid model capable of offering about 33 miles of EV only range if so desired.
Estimated Gas Mileage
| MPG | 2.5L | 2.4L Turbo | 2.4L Turbo Hybrid | 3.5L Hybrid |
| --- | --- | --- | --- | --- |
| Lexus TX | NA | 21 MPG | 24 MPG | 30 MPG |
| Toyota Grand Highlander | 36 MPG | 24 MPG | NA | NA |
RELATED: 10 Solid Alternatives To The 2024 Toyota Grand Highlander
What's On The Inside Of These Three-Row Mid-Size SUVs Counts, Too
Overall design is quite similar between the two crossovers, with substantial differences showing up in material choices. The Lexus IS immediately recognizable with its thicker, perforated leather wrapped steering wheel, a Lexus signature touch. The two-tone interior theme gives the cabin a sleek/sporty feel that visually separates it from the Highlander. As does the redesigned center console, ever so slightly sharper seats, brushed aluminum pedals, and redesigned door panels.
The infotainment screen of the Lexus, while using similar equipment as the Toyota, has been integrated somewhat into the instrument cluster, a design cue synonymous with high-end luxury vehicles as of late. Opt for the Limited version of the Grand Highlander, and you'll be treated to near Lexus levels of luxury such as aesthetically pleasing leather that integrate stitching not unlike what Lexus does on some of the surfaces of the TX. All models offer a large panoramic sunroof, and three row seating.
Both the Lexus TX and Grand Highlander Limited are equipped with second-row heated seats, with the Lexus offering ventilated second-row seating in addition, a welcome feature not often found in the second row in the segment. Seating is available for up to eight passengers as an option or seven passengers as standard for the Toyota Grand Highlander as well as a combination of up to 13 cup/bottle holders. The Lexus TX offers similar seating options with a center console available when choosing the second row captains chairs.
RELATED: 2024 Mazda CX-90 Vs 2024 Toyota Grand Highlander, Which Is The Better Three-Row Mid-Size SUV?
The Lexus Will Carry A Premium Over The Toyota
While both SUVs are well-equipped vehicles, the options and trim levels will quickly dictate how much of a hit your wallet will take. The Lexus TX starts at about where the Grand Highlander tops out at. Expected to start around the $50,000 mark, that puts the TX at about $2,000 more than the top-trim Grand Highlander Limited, which starts at $47,860. You can expect a top-trim TX550h+ to creep up near the $70,000 range.
For the XLE entry-level Grand Highlander model, you'll be paying at least $43,070. This is, however, a competitive entry point into the segment especially considering the space and features available, such as a power slide and shaded panoramic sunroof coming as optional equipment on all trims. Based on the styling and equipment differences between the Grand Highlander and TX, we recon the Lexus might just be worth your extra dollar if you're looking to drive something with a fresh face and the utility of the Toyota.
Google Ads