So you're in the market for a touring motorcycle? Fantastic! Touring bikes are great for those long trips on the highway, casual cruises around town, and especially for those about to embark on a cross-country road trip! They are big, stylish, and best of all… comfortable!
Google Ads
While motorcycles, much like any kind of modern technology, has gone through a roller-coaster-like evolution in order to become the desirable bikes that they are today. Meaning that while the newer models are nearly perfect in every sense of the world, some previous models have had some bugs and issues that manufacturers needed to deal with before sending out the new models for the following year. Plus, since you have your eyes on some pre-owned touring bikes, it might help to have a little inside information before you pull the trigger on the first bike you see with a nice price tag. Sure, the purchase was easy on your wallet, but the suspension is trash, the seat is uncomfortable, the odometer as too many miles, and so on. As the saying goes, «you get what you pay for.» Because if there's one thing that every motorcyclist hates, it's being stuck with the wrong bike. So let's take a closer look at some pre-owned touring bikes to avoid, and which ones you should really be considering.
Related: Best Touring Bikes Under $15,000
1
Avoid: 2004 Kawasaki Vulcan 2000
At first glance, the 2004 Kawasaki Vulcan 2000 looks like a sharp-looking touring bike. It's a decent blend of classic retro styling with a modern touch, especially for those that want a Harley-Davidson-lookalike. With a 5.5 gallon fuel tank, saddlebags, windshield, floorboards, forward controls, and an overall weight of 820 pounds, this cruiser was a shoo-in to be regarded as a legitimate touring bike. However, there were a few elements working against it. Its 27-inch-high saddle was kind of a buzzkill for some shorter riders. Not to mention how thin the seat was, quickly making the rider uncomfortable after an hour of non-stop riding. Plus, its handlebars would feel less than elbow-height, upsetting many taller riders that don't want to feel hunched over mid-ride. Additionally, Kawasaki isn't that well-known for having lots of parts for personalization. So for the most part, you were stuck with these handlebars.
Specifications
Engine Type

2053cc V-Twin

Horsepower

Google Ads

103.33 horsepower

Torque

130.55 pound-feet

Curb Weight

817.9 pounds

Seat Height

27 inches
2
Buy: 2016+ Yamaha FJR 1300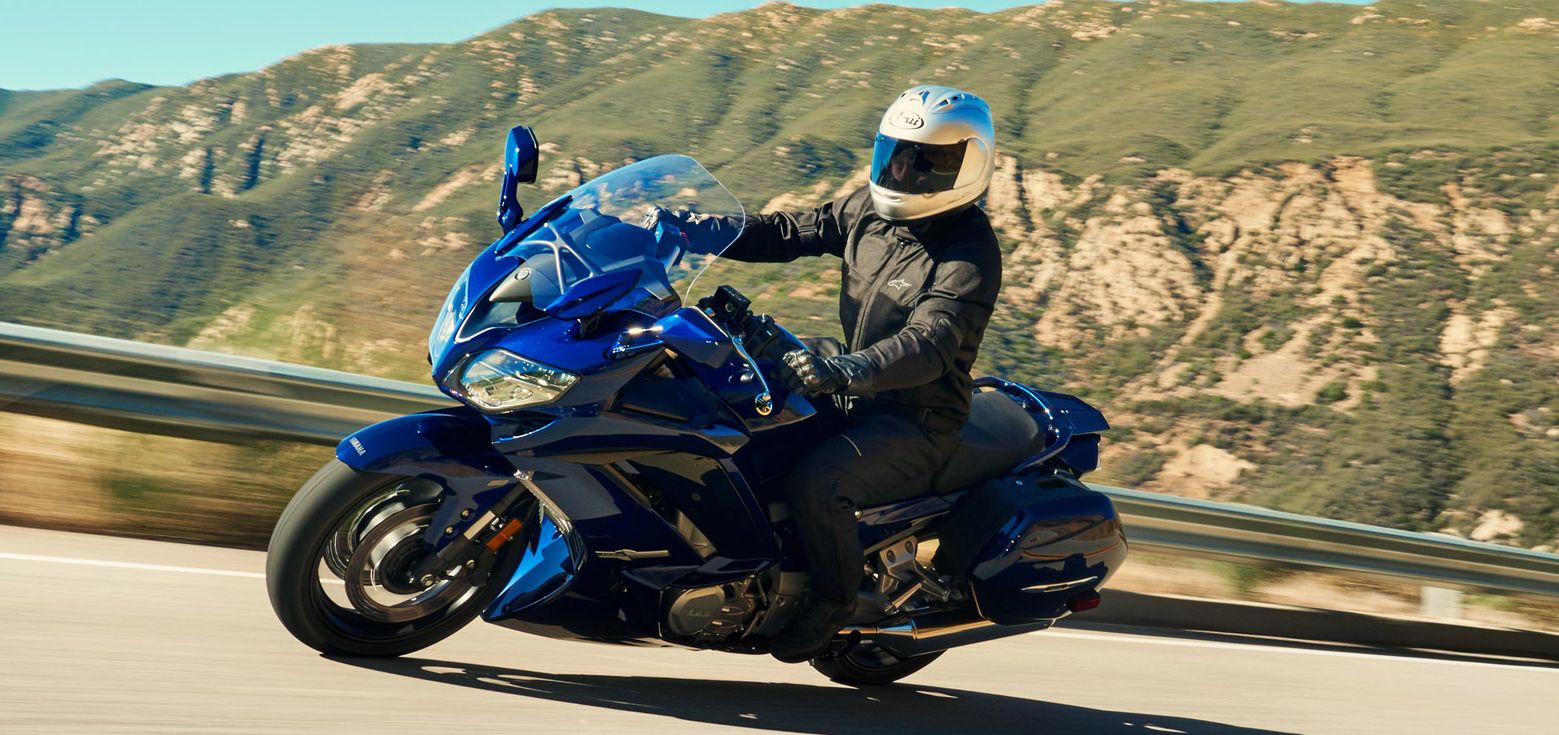 Side view of a rider touring on the 2023 Yamaha FJR1300ES.
As the genre of sport touring motorcycles continues to grow more and more each day, the Yamaha FJR 1300 is another strong choice for those looking to get their hands on a long-distance bike for a decent price. What is particularly nice about this bike is, much like Harley-Davidson is with the Road King, Road Glide, and Street Glide, the Yamaha FJR 1300 is also very effective when riding through different environments. While it can definitely thrive on the highway, it is also a very capable bike in busy, urban areas as well. With 2023 expected to be the final year for new FJR 1300's to be leaving the factory, demand for new commodities is expected to increase. But with other Yamaha motorcycles hogging up the spotlight these days, you shouldn't have to face too much competition when searching for this specific motorcycle.
Specifications
| | |
| --- | --- |
| Engine Type | 1,298cc 16-valve inline-4 engine |
| Horsepower | 142 horsepower |
| Torque | 102 pound-feet |
| Curb Weight | 642 pounds |
| Seat Height | 31.7 inches |
3
Avoid: 2006 BMW R1200 CL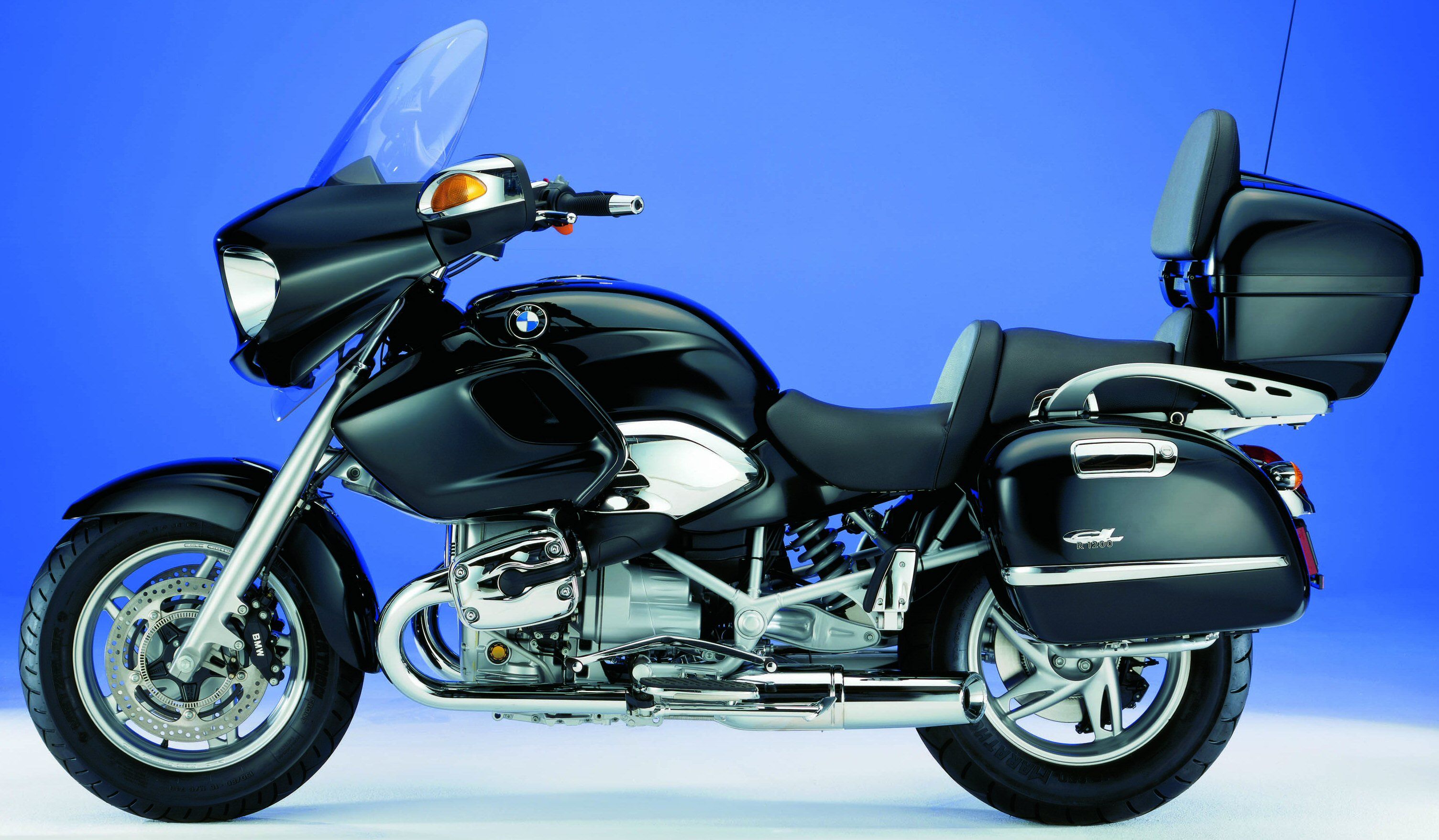 While the BMW R1200 CL isn't necessarily a bad touring bike, it certainly isn't a very good one either. While this motorcycle looks like it can pack a punch, if anything it is underwhelming at best. There were many complains over this bike's mono lever, how underweight it felt, its over-use of chrome, and how it was, for lack of a better word «fugly.» For those looking for a non-American touring bike, the Honda Gold Wing would be the better choice because its R&D department had enough sense to recognize their mistakes and correct them in future models. For the BMW R1200 CL, it was more like a motorcycle that was headed by market researchers and sales department leads, rather than actual designers in the attempt to turn a profit. Its handling was less than ideal, it didn't have a very long range, and its lack of power left many riders unsatisfied. As expected, this bike did not last very long in BMW's lineup and the market reflected its lack of interest.
Specifications
| | |
| --- | --- |
| Engine Type | 1170cc Boxer |
| Horsepower | 60.5 horsepower |
| Torque | 72.28 pound-feet |
| Curb Weight | 679 pounds |
| Seat Height | 29.3 inches |
Related: 2023 Sport Tourer Showdown: Concours 1400 vs FJR1300 vs K1600 vs GSX-S1000GT
4
Buy: 2020+ BMW K 1600 GTL
Press photo of the 2022 BMW K 1600 GTL
For riders looking to double-up and take on the highway together, or solo riders that are in the market for a reliable touring bike with ample amounts of storage space, BMW's K 1600 GTL with model years 2020 and up are another solid choice. Much like other touring bikes, the K 1600 GTL has its own laundry list of special features a rider would desire for going the distance like heated seats, Xenon headlights, Dynamic ESA suspension, and more. In addition to being made for long-distance trips, it also features a liquid-cooled 1,649cc six-cylinder engine that can keep the good times rolling for hours on end. Comfortable both for the rider and the passenger, this bike checks off all the boxes for any long-distance trip, and purchasing one that is barely used for a good price is smart shopping!
Specifications
| | |
| --- | --- |
| Engine Type | 1,649cc six-cylinder liquid-cooled engine |
| Horsepower | 160 horsepower |
| Torque | 129 pound-feet |
| Curb Weight | 772 pounds |
| Seat Height | 31.9 inches |
5
Avoid: 2003-2009 Harley-Davidson Road King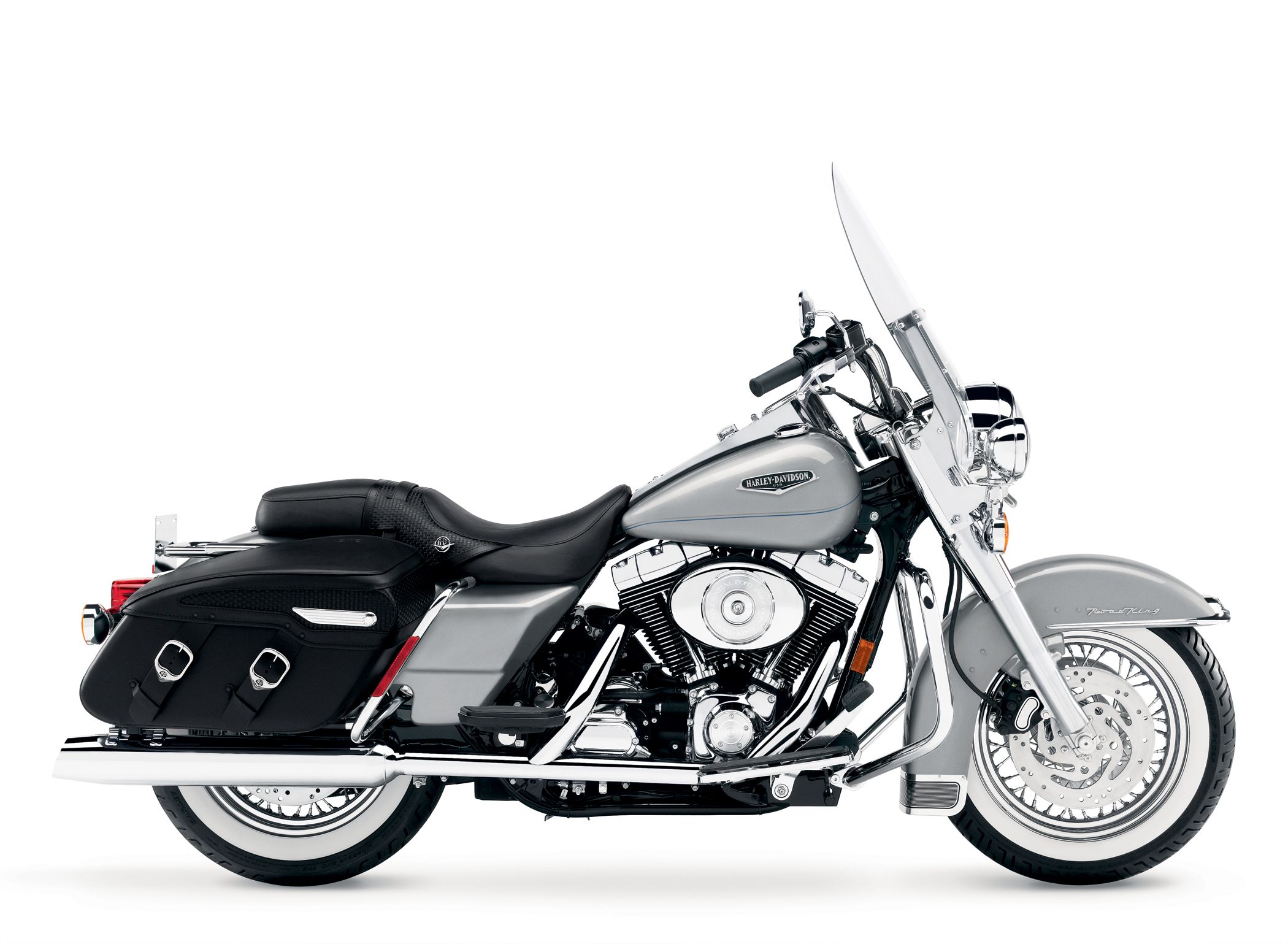 While Harley-Davidson is the reigning champion when it comes to major motorcycle manufacturers, that shouldn't suggest that it isn't infallible. Every company makes mistakes, and the bar and shield are no exception. For touring bikes, the 2003–2009 models were a rough bunch, with 2006 being considered the worst. While the company at least tried to improve the Road King's style and performance during this time, it was inevitable for that recall notice to arrive in the mail. From unsecured bolts, to having parts that were difficult to repair or maintain, this was a dark period for Road King fans. Unless you're really handy with your wrench set, and you are in the market for a real project motorcycle to work on, it is probably best that you keep on looking through the pre-owned section.
Specifications
| | |
| --- | --- |
| Engine Type | 88 Twin Cam |
| Horsepower | 67.44 horsepower |
| Torque | 86 pound-feet |
| Curb Weight | 754 pounds |
| Seat Height | 27.3 inches |
6
Buy: 2019+ Harley-Davidson Road King/Street Glide/Road Glide Special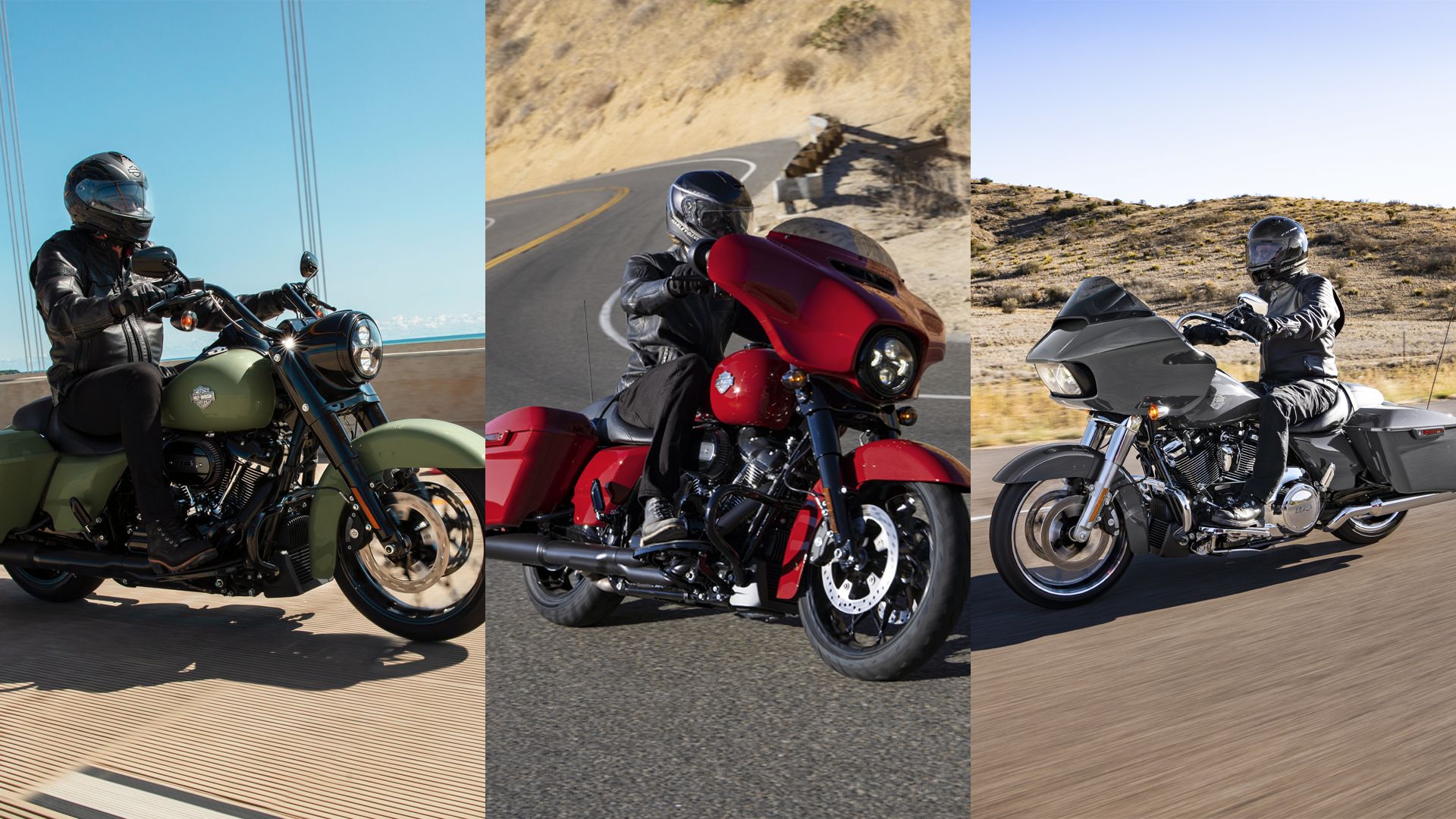 Collage shot of a Harley-Davidson Road King Special, Street Glide Special, and Road Glide Special
If there was ever a time when Harley-Davidson's touring class would be on top of its game, it would be the more recent special models that are equipped with the mighty Milwaukee-Eight 114 engine. Harley-Davidson's touring class has always been popular, but the 114 cubic inches of power have proven to be very satisfactory to riders of all types. Large enough to crank the throttle can kick it into sixth gear on the highway for those satisfying high-speed moments. But also not overwhelming enough to the point where riders feel so overwhelmed that they think the bike is going to leave without them. Overall, all three of these bikes are very comfortable, fun to ride, and are prime candidates for personalization. If you're lucky, there could be one at your local dealership with all the bells and whistles already installed, ripe for the taking!
Specifications
| | |
| --- | --- |
| Engine Type | Milwaukee-Eight 114 |
| Horsepower | 112 horsepower |
| Torque | 118 pound-feet |
| Curb Weight | 807 pounds (Road King Special), 827 pounds (Street Glide Special), 853 pounds (Road Glide Special) |
| Seat Height | 26.4 inches |
7
Avoid: 1978 Honda Gold Wing
These days, the Honda Gold Wing is considered one of the go-to touring motorcycles. But you would be surprised by what kind of evolution it had to go through in order to be the touring bike that it is today. Because the 1978 Honda Gold Wing was part of the tail-end of the first generation of GL1000s. According to many riders, these bikes could be best described as «duds.» But why exactly were these bikes held with such little esteem? It could be how Honda changed out the seat for the 1978 model year. It could be the uncomfortable riding position my riders were put into. It could also have something to do with the new tank shape, the new instruments, carburetors, exhaust, camshafts, wheels, and cutting out the kick-start option. While the Gold Wings of today have gone through dramatic changes in design, performance, and technical operation, the 1978/1979 Gold Wings are seen more as collector's items and conversation pieces than actual everyday riding.
Specifications
| | |
| --- | --- |
| Engine Type | 999cc boxer |
| Horsepower | 78 horsepower |
| Torque | 61.2 pound-feet |
| Curb Weight | 602 pounds |
| Seat Height | 31.9 inches |
8
Buy: 2020+ Honda Gold Wing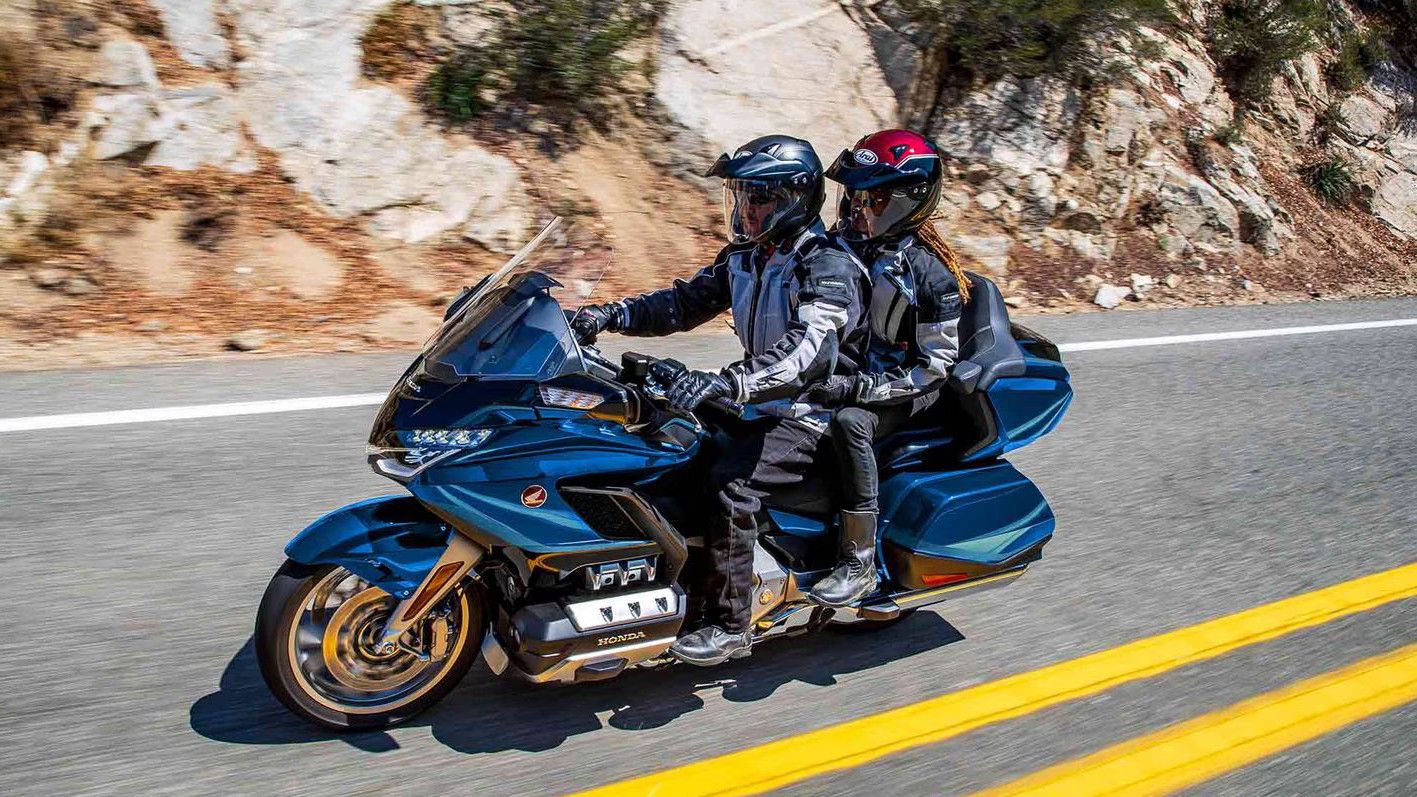 Rider with passenger crusing on motorcycle on highway.
As mentioned earlier, the Honda Gold Wing hasn't always been one of the top choices for a solid touring bike. But if you take a look at them now, and compare them to their predecessors of the 1970s, it has certainly been quite the improvement. Very much like any slightly-used motorcycling, Gold Wings with model years 2020 and up are probably some of the best examples of getting the most bang for your buck. Especially on a touring bike that you can expect to hang onto for a while. With modernized features like Apple CarPlay/Android Auto compatibility, a choice between six-speed manual and an automatic seven-speed DCT transmission, and plenty of storage space, the more recent Gold Wings are highway-bound for adventure.
Specifications
| | |
| --- | --- |
| Engine Type | 1833cc liquid-cooled six-cylinder four stroke engine |
| Horsepower | 90 horsepower |
| Torque | 102.51 pound-feet |
| Curb Weight | 787 pounds |
| Seat Height | 29.3 inches |
Related: 2023 Honda Gold Wing: Performance, Price, And Photos
9
Avoid: 2019 Indian Chieftain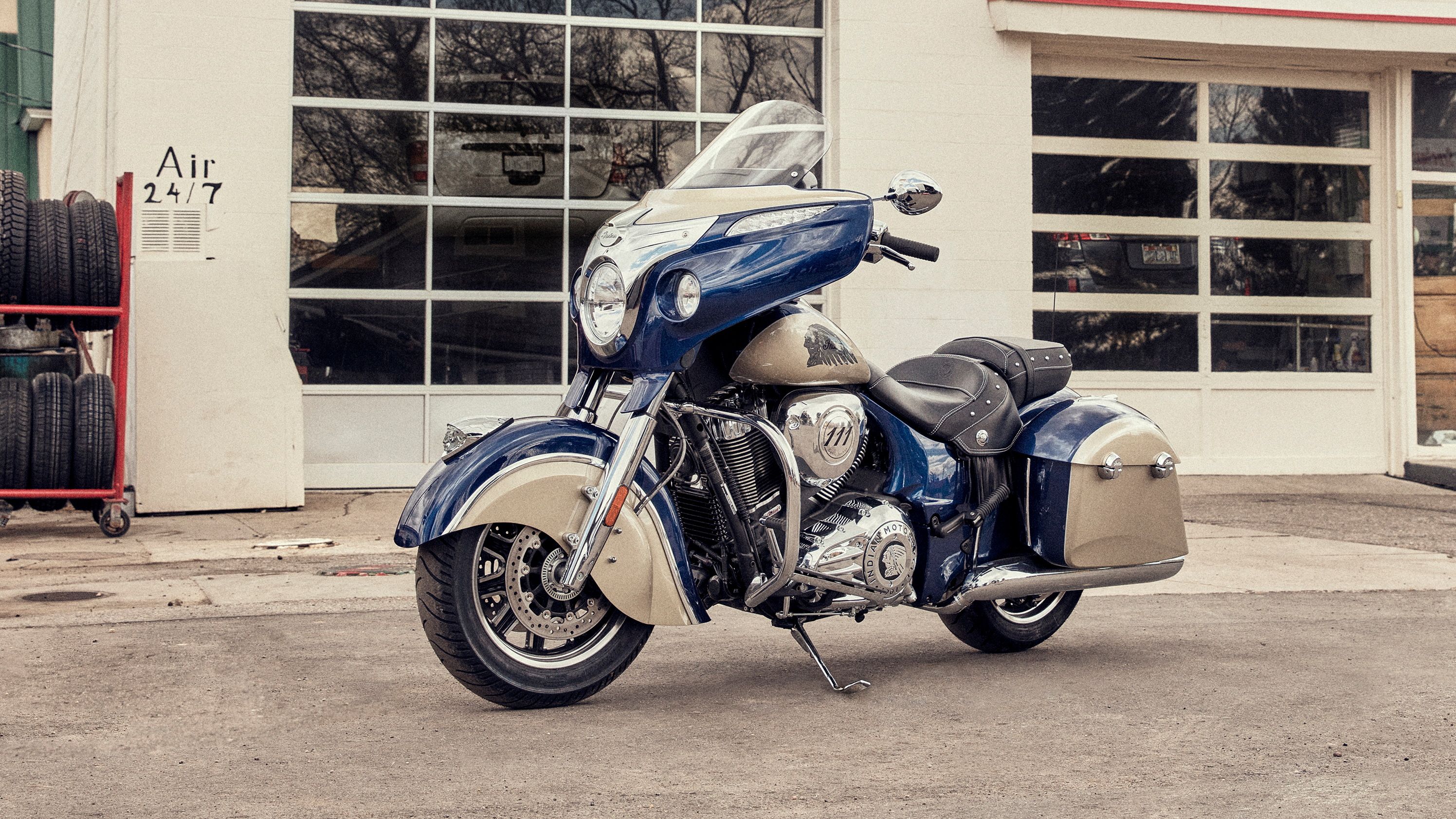 The Indian Chieftain is certainly a big contender for popular touring bikes in the U.S. It has a Bluetooth-infotainment system with turn-by-turn navigation, and electronically adjustable windshield, remote-lock saddlebags, and is available with either a 111 or 114 cubic-inch Thunderstroke engine. So what is it doing under the worst category? In 2019, Indian Motorcycles had to issue recalls on the Chieftains due to a number of reasons. One was due to many Chieftain riders finding themselves stranded after their clutch cable snaps within the first 12,000 miles. Another had to do with how its exhaust pipes would reach extremely high temperatures. But probably the most bizarre reasons why Indian had to recall the Chieftain would be due to how the bike would just start up entirely on its own. According to Indian, this was due to rare cases of corrosion causing the bike to start up on its own. Of course, it would be more entertaining to assume that these motorcycles were demonically possessed.
Specifications
| | |
| --- | --- |
| Engine Type | 111 Thunderstroke |
| Horsepower | 100 horsepower |
| Torque | 119.2 pound-feet |
| Curb Weight | 822 pounds |
| Seat Height | 25.6 inches |
10
Buy: 2020+ Indian Roadmaster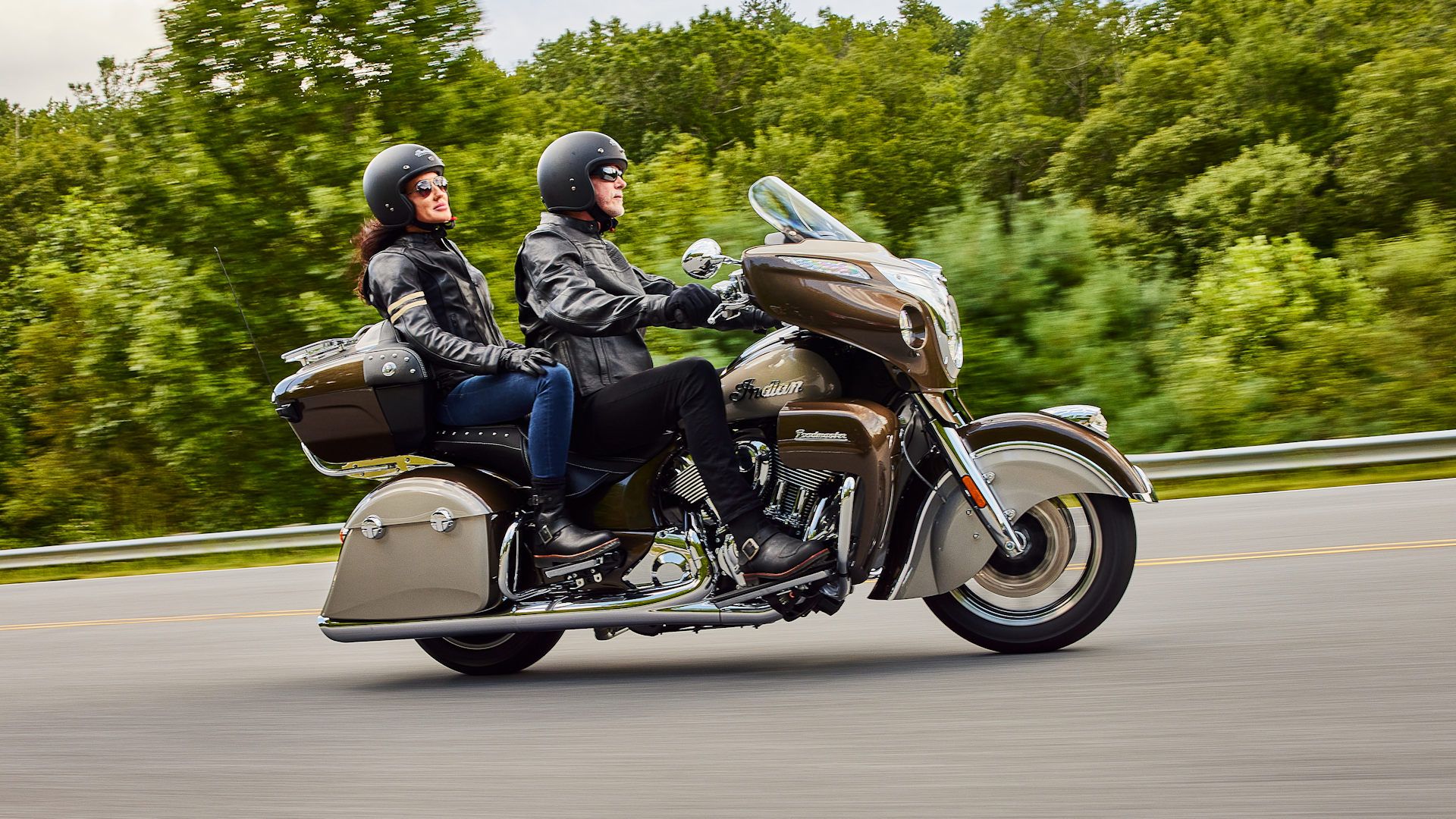 The 2023 Indian Roadmaster ddebuted in a rich Bronze Pearl Metallic.
The best part of purchasing a touring motorcycle that is only a few years old is that you are essentially buying a somewhat-new motorcycle, but at a reduced price. Indian Roadmasters that are 2020 and up are perfect examples of this outlook. While their Chieftain siblings were plagued with technical errors during the previous year, more recent Roadmasters have all the comfort, performance, handling, and special tech features that the newer models don't have to deal with. Not to mention that many of Indian is an all-American brand known for producing some of the most solid touring bikes to ever hit the road. So if you don't mind paying a little extra for a slightly-ridden touring bike that is still as good as new, go give the Roadmaster test ride.
Specifications
| | |
| --- | --- |
| Engine Type | 116 Thunderstroke |
| Horsepower | 79 horsepower |
| Torque | 126 pound-feet |
| Curb Weight | 926 pounds |
| Seat Height | 26.5 inches |
Google Ads