Let's be honest. Who doesn't like a bit of off-roading? You get yourself a decent dirt bike, go to a track, or outdoors, go fast through mud, do a couple of jumps, maybe break a bone or two… But, the 'decent dirt bike' is where you are stuck. So many different motorcycles to choose from. You got your KTMs, Husqvarnas, Yamahas, Kawasakis… And no, scramblers don't count. You want something that nobody else has. Look no further. Here is the 'Type 17' from a bike builder called Auto Fabrica. This is what happens when you mix weird-looking design ideas with a 10-year-old 'swing and a miss' from BMW.
Google Ads
Related: Triumph Thruxton 1200 R Becomes A Jaw-Dropping Spanish 'Missile'
An Unusual Design For A Custom-Made Off-Road Bike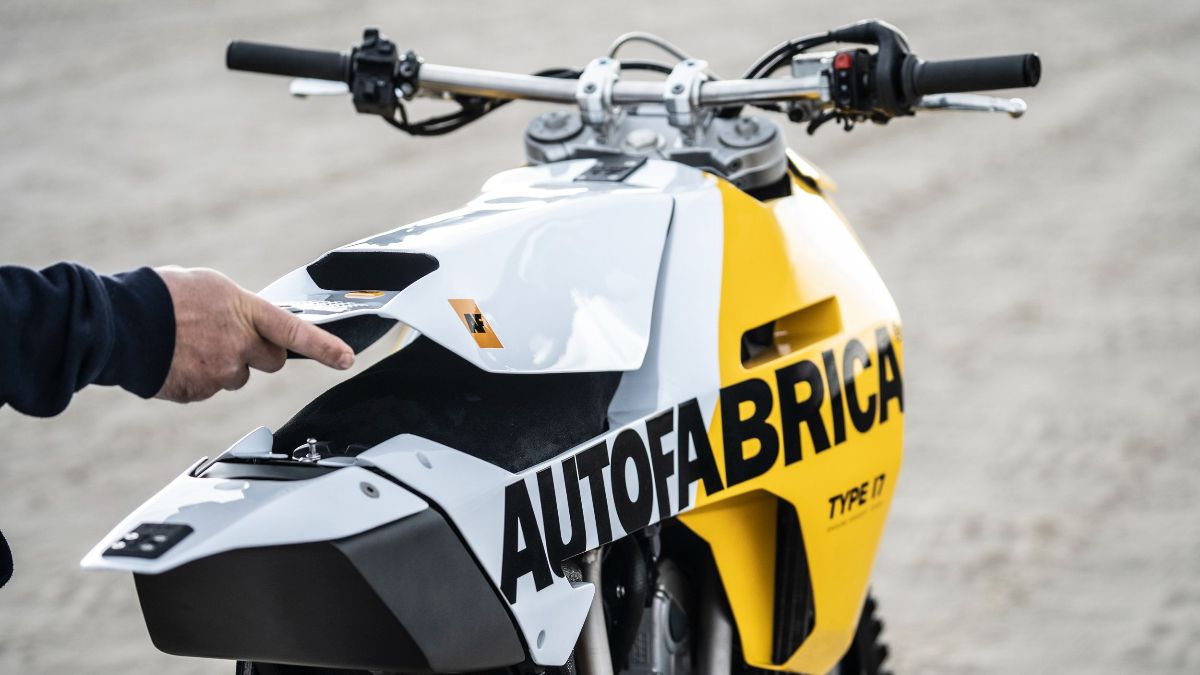 Photo of a Type 17's seat cover
When it comes to the design part of the bike, more than one thing captures your attention. The side panels are rather large. At the front, they push the air into the radiator and then recede towards the rear section. You might be wondering if the bike is street-legal since it doesn't seem to have any headlights. Well, it is! The LED light and indicators are concealed inside the fairing. The seat might look a bit strange and uncomfortable. That is because the 'Type 17' actually has a seat cover. You use the small clasp to remove it, and voilà! A comfortable seat perfect for some off-roading adventures. The color scheme, a combination of yellow and white, is obviously a hint at the famous Paris-Dakar Rally.
The list of parts they kept from the original bike is pretty sizable. Stuff like spoked wheels, braking system, and front suspension, are all from the G450X. The bodywork is now handmade from aluminum by Auto Fabrica. They also made the new stainless steel handlebar. Performance-wise, the bike got a new in-house-made exhaust system that perfectly fits into the rear fender. Another new addition is the Öhlins rear suspension.
Google Ads
Related: Most Powerful 250cc Dirt Bikes
BMW G450X – The Bike That Should Have Conquered The Dirt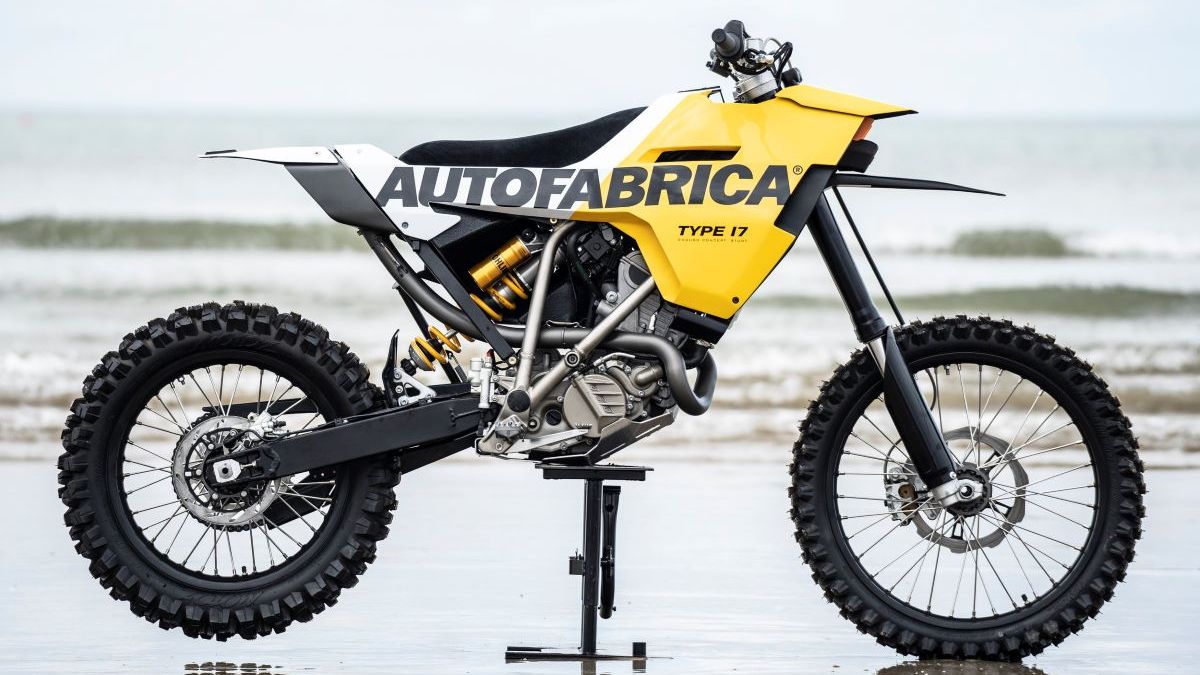 Photo of a Type 17 by Auto Fabrica- right side
This London-based motorcycle garage was founded back in 2013, by brothers Bujar and Gazmend Muharremi. In those ten years, the brothers have built over 30 unique motorcycles. Always finding new ways to impress and push the boundaries of motorcycle design, this time they decided to breathe a bit of life into the long-forgotten BMW G450X.
The G450X, built between 2007 and 2010, had a 449 cc four-stroke single-cylinder engine capable of producing 40 horsepower at 7,000 rpm and 31 foot-pounds of torque at 6500 rpm. The engine was actually made by Taiwanese company Kymco. Those 40 horses were sufficient, and the power output was linear and provided plenty of grunt from low revs. The G450X was BMW's shot at gaining some new riders by making an actual off-road bike. But it wasn't that much better than the rest of the competition. The thing that actually set it apart was the design. You either love it or hate it, there's no middle ground.
Taking The 'Type 17' For A Quick Run In The Mud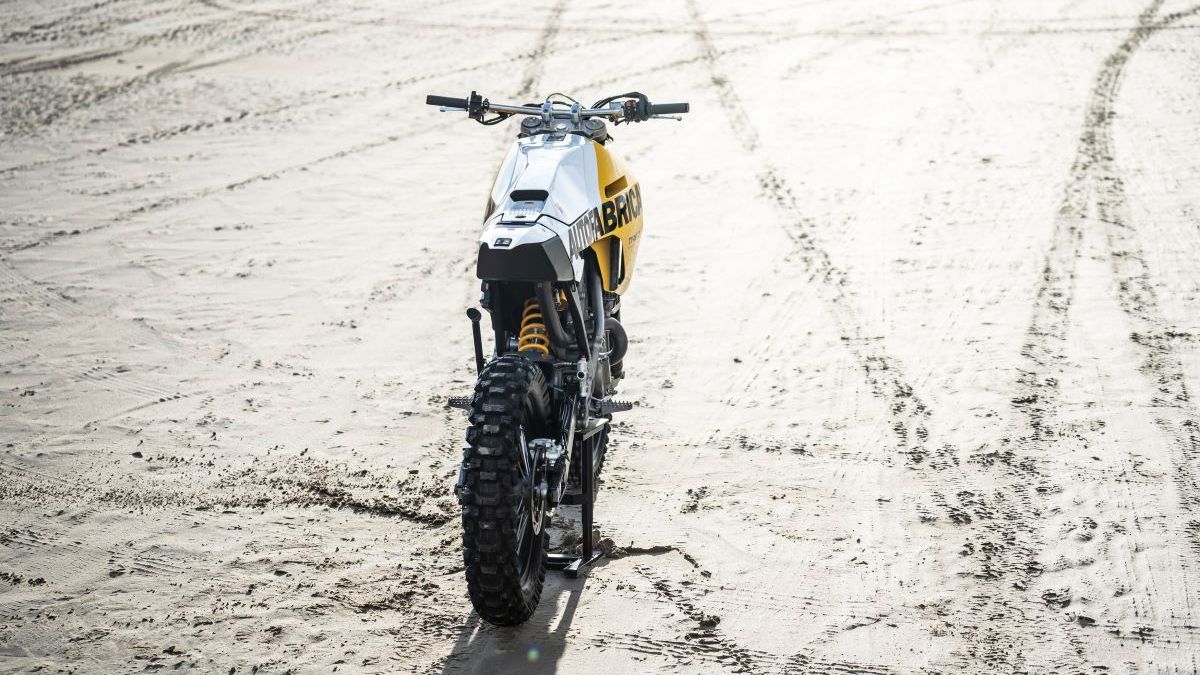 Photo of the rear end- Type 17 by Auto Fabrica
The 'Type 17' is more of a design project than it is an actual working dirt bike (kind of like all the scramblers out there). Yes, you could take it off-road if you wanted to, but let's be honest, there are better bikes for that task than a quirky-looking ten-year-old BMW. The good news is that Auto Fabrica might be planning on doing more of these, only based on modern KTMs, there is even talk about an electric bike.
Google Ads