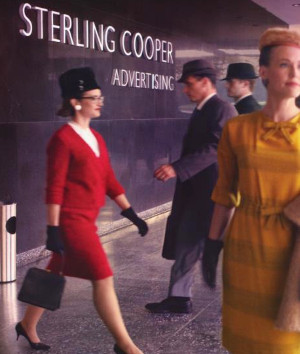 Mad Men (which ran 7 seasons during 2007-15) is a fictional TV series set in and around New York City spanning the years 1960 to 1970.  It was named for a slang expression people in the advertising business used to refer to themselves, based on the Manhattan street Madison Avenue known for its home to a number of prominent ad agencies.
Google Ads
The show was centered around characters who worked at the fictional ad agency Sterling Cooper located near the Time-Life Building.  Philandering creative director Don Draper (played by Jon Hamm) is the central character as plots track people orbiting around his personal life and professional career.  As the series progresses, it reflects the changing moods and social mores of the United States throughout the 1960s.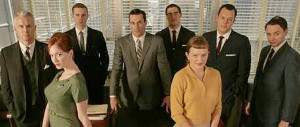 After finishing a month-long binge watch of Mad Men recently, I came away immensely impressed with how the producers of the show sweated the details when it came to old cars used periodically as props.  Recalling a Road & Track magazine article about Mad Men from a few years back surmising Don is a "lifelong car guy whose enthusiasm lays dormant in an urban, corporate life", I found myself in agreement.  So as I watched, I was compelled to track and chronicle cars used by main characters.   Below is my commentary.
For reference, the Mad Men seasons were set in the following years:
Season 1 – March to November 1960
Season 2 – February to October 1962
Season 3 – March to December 1963
Season 4 – November 1964 to October 1965
Season 5 – May 1966 to March 1967
Season 6 – December 1967 to November 1968
Season 7a – January to July 1969
Season 7b – April to November 1970

DON DRAPER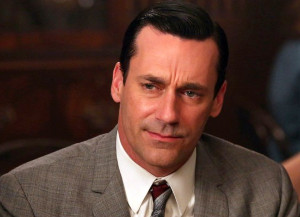 During season 1 (1960), Don's salary is upped from $30,000 to $45,000 annually as a retainment measure  – a sum that's equivalent to $388,667 today adjusting for inflation.  Even though top income brackets were taxed more heavily then, it's still obvious to see he's raking it in during the entire 1960s and can afford any car he wants.  Yet from time to time, Don shows himself to be frugal – declining to install air conditioning in his own home during sweltering heat because it was "too expensive".
Along the way, we learn of Don's past and see a picture of a younger him next to a 1939 Nash Ambassador. Because we're left guessing about pertinent details regarding this car, we'll keep it limited to an honorable mention.
Early on, Don ran through a succession of new cars.  Did he prefer short-term leases that could be written off?  We suspect the actual reasons revolve more around studio logistics and plot writing conveniences.
1959 Oldsmobile 88 sedan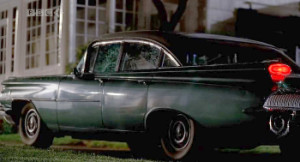 In the pilot episode of Season 1 (March-Nov 1960), we get a single brief look at what Don is driving – a 1959 Oldsmobile 88 sedan.  We say it's a solid choice for an successful advertising executive living in an upper middle-class suburb such as Ossining, New York.
We suspect this car only appears once because it was used during quick on-location filming of the pilot episode.
Google Ads
More specifically, we see the '59 Olds pull into the driveway of a charming 3-story colonial house that's actually located near Ossining, New York.  Once the show was picked up as a series, filming was done in Los Angeles and a completely different Pasadena, CA home was used for convenience reasons.  Since the Oldsmobile was probably borrowed from someone in New York while filming authentic Manhattan area scenes, it simply wasn't accessible to producers in California afterward.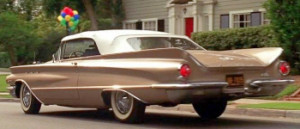 1960 Buick Electra convertible
Starting in Episode 3 of Season 1 (1960), we see Don and wife Betty rolling in a 1960 Buick Electra convertible.  A high-end ragtop such as this one would be a more likely choice for a couple such as the Drapers who possess healthy amounts of both style and vanity.  This serves as Don's car through the end of season 1, after which it is unceremoniously replaced by a rather plain full-size 1961 Dodge Polara sedan.
Were the payments were too high for the Draper family budget?  Not likely.  (As a side note, this writer's own father once owned a 1960 Buick Electra convertible also).
1961 Dodge Polara sedan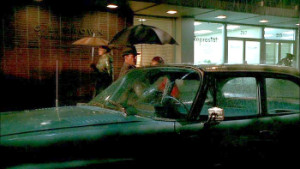 At the beginning of Season 2 (1962), the Buick convertible has vanished.  Don is now behind the wheel of an unexciting 1961 Dodge Polara base sedan until he wrecks it in episode 5 thanks to distractions from a mistress and whiskey bottle that came along for the ride.
We suspect once Mad Men was renewed for a second season, producers decided that Don becoming a first-time Cadillac owner made a good story line.  Buying a Cadillac was truly a much bigger deal in this era than it is today, especially when it involved a larger step up from a lesser vehicle.
For that reason and because a top-tier Buick convertible wasn't much cheaper than the lowest-priced Cadillac, Don was downgraded to a '61 Dodge sedan that was so basic it didn't even have the "hardtop" option of pillarless side door glass.
1962 Cadillac Coupe de Ville
After wrecking his almost-new 1961 Dodge Polara early on in season 2 (1962), Don conveniently needs a new ride.  Roger Sterling, senior partner at Sterling-Cooper, convinces Don he deserves a real luxury car and recommends his own Cadillac salesman.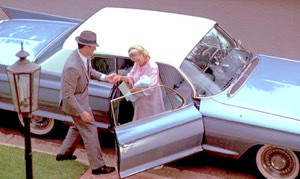 Don visits the showroom and takes a liking to a blue Coupe de Ville on the showroom floor.  After Don mentions his Dodge, the salesman gestures towards the Caddy saying, "A Dodge is a great car for getting where you need to go.  This car says you've already arrived".  Don walks away from the dealership with what seems like disinterest, only to return a week later and buy the blue '62 on the spot.  Perhaps he found being on the receiving end of an obvious sales pitch repulsive at first.
Of note, many GM hardtop coupes of this period were styled with roofline creases created to simulate the look of a convertible top.  Covered with vinyl or simply painted white, these coupe models were convincing faux ragtops.  Given Don's penchant for watching costs (sometimes), we feel a Cadillac coupe so equipped would have given him a lot of bang for the buck.  We appreciated how Don pointed out the Twilight Sentinel auto-dimming headlight feature to Betty when taking her for a first ride in it.  And we also noticed how, on a family picnic outing shortly thereafter, Don and Betty made sure all blankets and clothes were brushed clean before getting back in the Caddy.  At the same time, they left quite a bit of their trash behind on the grass without a second thought.  Were we getting a glance at their real selves?
1965 Cadillac Coupe de Ville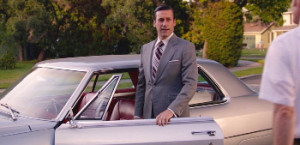 It seems only natural that when Cadillac transitioned from their 1961-64 body style to a longer and wider look for 1965-70, Don would have traded up accordingly.   In season 4 (November 1964 – October 1965), we see Don has ditched his 1962 Coupe de Ville for a brand new silver '65 coupe that's noticeably devoid of any vinyl roof covering.
It's interesting to note that while vinyl roofs were gaining popularity during the 1960s, especially on luxury coupes (see our related article on vinyl roofs), they wouldn't actually become a standard Cadillac feature on deVille and Eldorado models until both were redesigned for 1971.  It's never clarified if Don picked a "slick top" model on purpose, or for another reason such as lower price because a dealer wanted to move this undesirable plain Jane off their lot.
Considering Don's appreciation for modern 1960s decor and furnishings in his post-divorce Manhattan condo, we'll give Don credit for preferring the clean lines of the 1965 Caddy unadulterated by any form of vinyl roof covering.  Going back to reality, we suspect producers may have picked this particular car simply because it happened to be the nicest '65 Coupe de Ville available in the L.A. area at the time they needed one.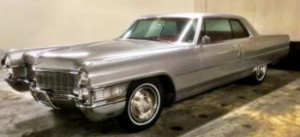 Don keeps the '65 Cadillac through the end of the show's final season (1970) when he abruptly loses faith in what he's doing and goes on a cross-country road trip to find himself.  After coming across a young hustler in need of some guidance in Oklahoma, Don knowingly gifts him the Caddy – perhaps because the kid reminds him of himself.  Thanks to Don's ad agency being merged and later bought out, he had reached multi-millionaire status at this point.  Giving away a 5-year-old Cadillac would have been like dropping a penny for him.  Elvis did it all the time during this same era.
On an interesting note, the actual '65 used in the show sold at a Mad Men memorabilia auction recently for $48,980.  When you consider that the $5,528 base price of a new 1965 Coupe de Ville comes to approximately $45,000 in today's dollars, that auction price really doesn't seem out of line.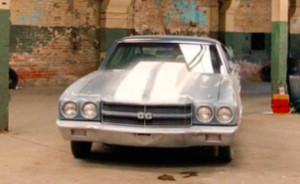 1970 Chevrolet Chevelle SS
Without prior lead-up or introduction, the final episode of Mad Men opens with a shot of Don streaking across Bonneville Salt Flats in Utah behind the wheel of some kind of race car.  After he finishes and pulls into a barn, we're allowed a closer view of the car which turns out to be a relatively stock-looking 1970 Chevrolet Chevelle SS with a lightweight custom hood.
Apparently, he came across two race car drivers on his cross-country trip  and financially sponsored their quest to build a car capable of achieving new land speed records in an upcoming El Mirage desert competition.   Although it's not stated outright, we'll assume Don's backing led directly to the purchase of the Chevelle – so we'll consider it one of his cars worthy of inclusion on this list.
It makes sense Don would pick this make and model.  After all, he was instrumental in his ad agency landing Chevrolet division as a client two years earlier – gaining insider knowledge of all production models.  The racers respected Don's knowledge, guessing incorrectly that he was a General Motors executive from Detroit.  But we know Don wouldn't have bothered if he wasn't a car guy deep down.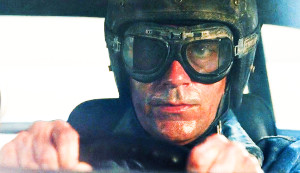 Built at the very zenith of the muscle-car years, 1970 Chevelle SS models were available with three factory engines: a 396 cubic-inch V8 (350 hp) from prior years, a 402 cubic inch V8 (375 hp), and a new 454 cubic-inch V8 (XX hp). Since there's no "454" number under the SS fender badging, it's safe to assume Don's Chevelle is equipped with one of the smaller big-block V8s.  Considering this car is built for maximum sustained speed, odds are it has the 402 cubic-inch engine (375hp) which, by the way, was still marketed as a "396".
BETTY DRAPER (DON'S FIRST WIFE)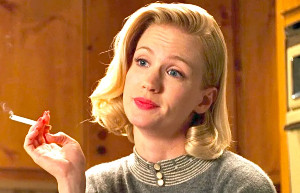 1957 Ford Country Station Wagon

Betty's car early on in the show, a 1957 Ford station wagon, makes a first appearance in Episode 2 of Season 1 when she runs over a curb and smashes a bird bath after being distracted behind the wheel.  Frustrated with herself for putting the couple's two children at risk, she later comments to Don that she was extremely concerned with the possibility her daughter could have ended up with a beauty-marring scar.  As was typical for the period, no thinking was devoted to the car's lack of seatbelts or child safety seats.
1962 Mercury Colony Park Station Wagon

In Season 2 (1962),  Betty also received an automotive upgrade in the form of a 1962 Mercury Colony Park station wagon.  Thanks to Don's big bump in pay, the Drapers could now also afford to arrive in the station wagon world with bona fide artificial wood.  Since Betty was an equestrienne, her interest in horses ran more towards ones she could ride than figurative ones under the hood of a car.  The 1962 wagon makes a few appearances through the end of Season 4, so we know Betty kept it at least until 1965.
1961 Lincoln Continental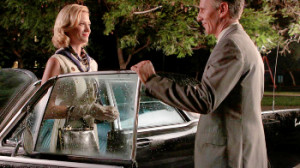 The 1961 Lincoln Continental sedan first makes an appearance in Season 3 as the car owned by Betty's boisterous father Gene, who lets his young granddaughter take a turn  driving it when Don and Betty weren't around.  Gene suddenly passes away during a stayover at the Drapers' house, and Betty takes over the car for sentimental reasons.  Using it primarily to get around in for the rest of the season, she leaves her station wagon back home in the driveway.

None of us here at Classic Cars Today Online blame Betty for that.  We'd pick the Lincoln for cruising in a heartbeat ourselves.  During her travels in the Lincoln, Betty flirts with and later begins an affair with the man who becomes her second husband, Henry Francis.  None of us here can blame her for stepping out on Don either.  He certainly had it coming.
1968 Ford LTD Country Squire wagon

Since we as the audience aren't treated to many of Betty's decisions when it comes to cars, we can't say how long her 1962 station wagon and 1961 Lincoln hung around for.  In Episode 9 of Season 6, we get one look at the outside of Betty's new Ford LTD Country Squire wagon while she has a chance meeting  at a gas station with Don.  The two exes share a hotel room hookup that night for old times' sake, then proceed onward back to their lives and second spouses.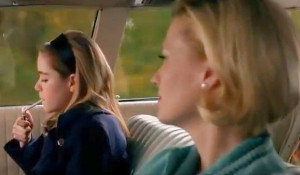 Later on that season, we get a view of the LTD's interior as Betty drives their daughter Sally (now well into her teens) back to boarding school.  While cruising along, Betty asks Sally if she'd like a cigarette for the first time, unaware that her daughter has already become familiar with smoking at school.  It's noteworthy that while the Country Squire nameplate had been in use since 1950, the "LTD" part was added for 1968.
OTHER VEHICLES WORTHY OF MENTION
1967 Austin-Healey 3000 (Megan Draper)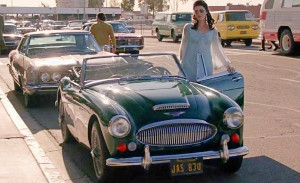 In the first episode of  Season 7 (1969), Don is picked up at the Los Angeles Airport by his second wife Megan, who moved to an apartment on the west coast in Season 6 once her growing acting career landed her a Hollywood role.  We see her with her own car for the first time, a 1967 Austin-Healey in proper British racing green paint.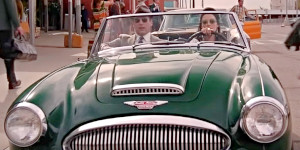 We first get to know Megan in an earlier season as Don's secretary after his first wife Betty divorces him.  Don hires Megan to travel along with him and his children for a week away, whence they fall in love.  As originally predicted by his financial broker, Don was married again (to Megan) within a year of his divorce.  No doubt the writers of Mad Men sought a car for Megan that matched her overall persona: beautiful, classy, youthful, and fun – yet quite a handful at times.  We feel they selected well.
1968 Lincoln Continental (Roger Sterling)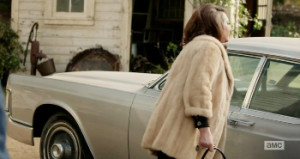 Seen in only one episode of Season 7 (Episode 4, 1969), this is literally the only view we get of Roger Sterling's car with which his ex-wife drives off in – leaving him stranded at a commune where  their daughter had run away to.  Unlike his ex-wife, Roger decided to make the best of his visit and gets with the free spirit hippy program – camping out overnight in a dilapidated barn with a view of the stars in order to be a more supportive dad.
1966 Buick Wildcat sedan (Pete Campbell)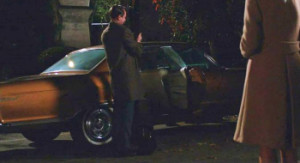 In season 5, episode 8, we see the first car ad agency client manager / spoiled snotrag Pete Campbell buys himself after moving to the suburbs and getting a driver's license.  Rather late in life, but that's probably because Pete never needed one growing up in New York City.
THE JAGUAR CAMPAIGN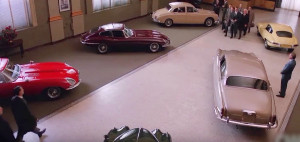 In Season 5 (May 1966 – March 1967), the agency landed their first automotive client, Jaguar Cars of North America.  During brainstorming to create ad copy, the creative crew first leaned towards a Jaguar-as-a-mistress theme by joking, "Jaguar: The mistress who will do things your wife won't".
When Sterling-Cooper delivered their actual tagline idea to Jaguar reps, it was Don delivering a different pitch in trademark form.  He starts by describing how we're taught to value function, but there's always this longing for something else.  He describes driving the red XKE coupe loaner to the meeting and passing a 10-year-old boy in another car who watched the Jag mesmerized.  "That boy just saw something he would want for the rest of his life.  He had just seen that unattainable object speed by just out of reach.  Because they do that, beautiful things… Then I thought of a man of some means flipping through the pages of Playboy or Esquire – passing by the flesh to the shiny painted curves of this car.  There's no effort to stop his eye.  The difference is, he can have the Jaguar.  This thing, what price would we pay?  What behavior would we forgive – if they weren't pretty, if they weren't temperamental?  If they weren't out of our reach and out of our control, would we love them like we do?"
At this point, Don introduces the tag line, "Jaguar: At last, something beautiful you can truly own".  No doubt all of us, at the age of 10, understand the reference of being mezmirized by some car or another we'll always want.  One of his best deliveries.

Layne Price, who became chief financial officer after Sterling-Cooper was purchased by a British ad firm in season 3, worked with Don to split off  and form their own agency Sterling-Cooper-Draper-Price.  When Layne is pushed out for embezzling from that new agency, he's despondent – attempting to commit suicide by fumes in a new XKE coupe his wife bought for him to celebrate their new account.  In a dig against period British ignition systems, that attempt is thwarted when his engine cranks but refuses to start.
CLICK ON ANY OF THE PICTURES BELOW TO EXPAND TO FULL SIZE.  USE ARROWS UNDERNEATH PICTURES TO SCROLL BACKWARD OR FORWARD.
Google Ads