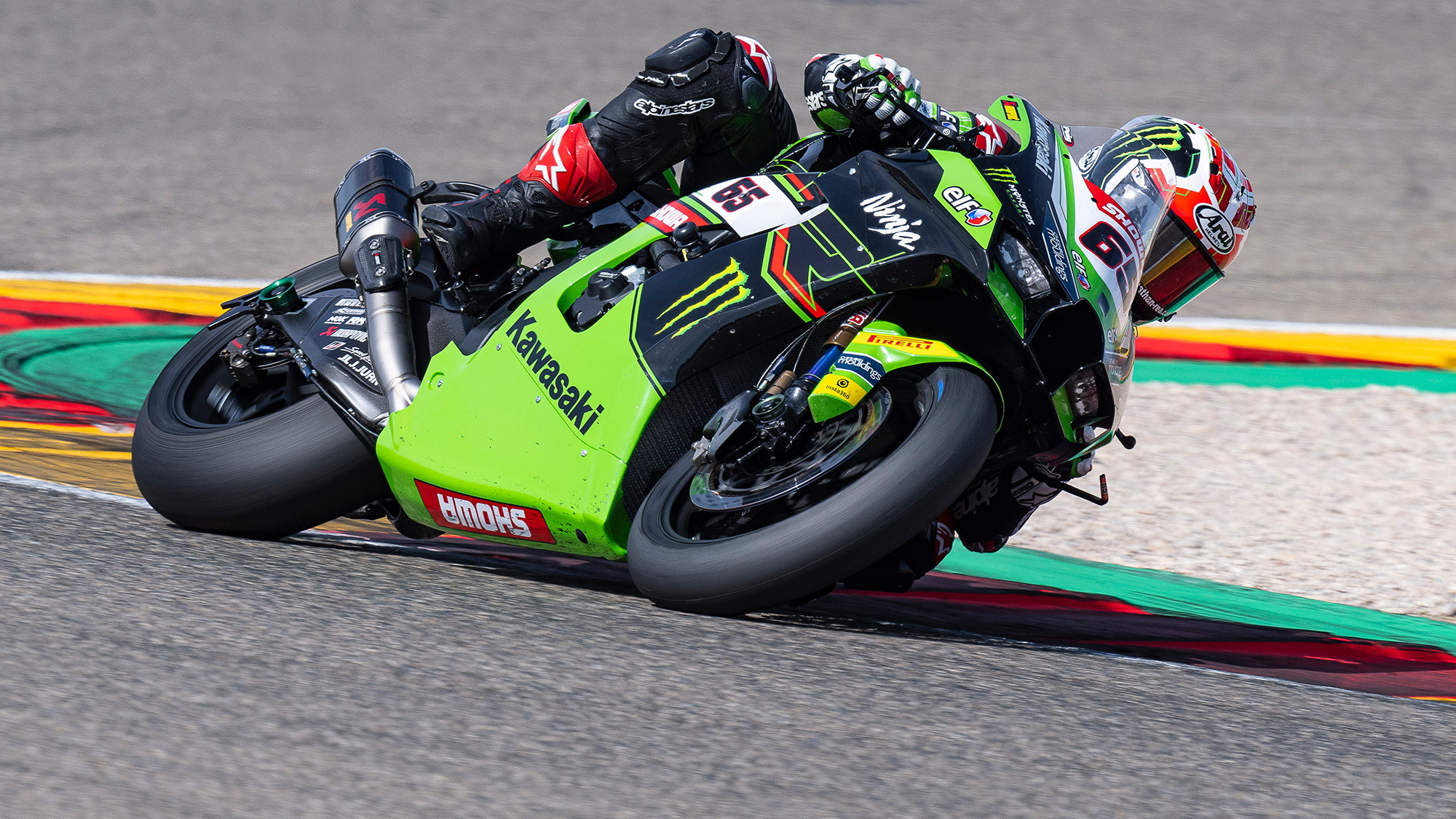 Ahead of the sixth round of the 2023 MOTUL FIM Superbike World Championship at Donington Park, a trip to MotorLand Aragon called for the Kawasaki Racing Team WorldSBK, as they hit the track to carry out all-important testing duties. Riders Jonathan Rea and Alex Lowes were focusing on getting their bike working better in the hot temperatures that a European summer will bring, whilst ahead of the test, team boss Guim Roda stated it would also provide a perfect opportunity to test potential items for 2024, stating that the target was openly Yamaha, Honda and BMW. 
During the test itself, track temperatures were exactly as wished for, well over the 50 degree Celsius mark, with the arid Aragon landscape getting much hotter than other venues in Spain for this time of year. Working with the technical staff, duties were split with 2023 items and also future items, with 2024 already in mind. Improvements were found and valuable data has already been shared with Kawasaki's engineers in Japan, as a crucial day of testing concluded. Kawasaki likewise confirmed that they'll have another test in August before the final four rounds of the season.
Speaking at the end of the test, Jonathan Rea was happy with the on-track findings, with engine, chassis and electronics all being improved: "We had great conditions in MotorLand and we were able to try some real test items both for the upcoming races and the future. That was really important to give some feedback to my team and also the engineers in Japan, about directions to improve. I want to thank everyone in the team because it was hot, and with the calendar now getting quite busy they made a huge effort. I was able to do a lot of laps, especially in the morning."
Continuing, Rea led the plaudits for the amount of work Kawasaki have put in to find solutions to their pressing problems, and said he was leaving with a smile on his face: "After a late lunch we were able to get some work done back-to-backing some items. The test items were all over the bike – engine side, chassis side and electronics. It is clear the work Kawasaki are putting in, trying to improve. I am happy with my riding, I enjoyed the bike and the lap times were competitive. So, I am leaving with a smile and good rhythm, ready for my home race at Donington next week."
It was a busy day for Rea's teammate Alex Lowes too, who echoed his colleagues sentiments: "We found the right track temperature for what we wanted to test. We were happy that the track conditions were slippery and greasy as we worked on some new things on the bike and trying to keep our performance when the grip is low. We have three races coming up in July where the track temperatures could be high. I think we did 85 laps which is enough on a very hot day. It was nice get out on the bike and now we can focus on my home race at Donington. 
"Some of the things we tested were for the future, to give Kawasaki information. This was a good positive test and I really enjoyed being back on the bike. Sometimes a one-day test is a lot of effort for one day on track, but we had a positive test and we found a few small things that may make a big difference in the next few races. A big thanks to all the team for all their hard work"
Rea's crew chief Pere Riba also provided a statement, with the items certainly bringing hope: The test was divided in two sectors. The first one was trying some items and giving the feedback to the engineers in Japan, because we are thinking to improve the package for the future. This was one part of the day and Jonny did a great job giving information to the engineers. The second part of the test was to understand a couple of items from the last race in Misano because, unfortunately, the results were not the ones we expected. For this reason, it was very important to try them again in hot conditions and get some feedback to decide the direction to go in. That was very positive and it now seems to be in line. 
"I believe we have a good starting point for Donington, even if we do not expect over 50°C of track temperature. But the items and things we tested will help the performance, not just the durability of the tyres. Jonny was in good shape, he did a lot of very good laps and was very consistent. Now we go to Donington trying to achieve a result that Jonny deserves. We leave MotorLand happy and confident going to the UK." 
Marcel Duinker also gave his thoughts from Alex Lowes' side of the garage, too: "We targeted a hot day of testing, to test items for the next race and next year. We gathered very valuable information and because it's June, we have enough time to prepare the next step for our August test. Alex did 85 laps in these hot conditions at MotorLand, with the correct speed and consistency. Now our focus is on Donington. A track with character, nice fans and good memories!"
Watch the rest of the 2023 season unfold in style with the WorldSBK VideoPass!
Source: WorldSBK.com