The seller of today's Nice Price or No Dice Tri-Hawk claims that it is "Probably more fun than is legal in most states." and warns "People will either stare or wave while you're driving." Let's see if all this illicit fun comes at a fair price.
Google Ads
What's Better Than an E-Bike? An E-Trike
The mystery mileage on last Friday's 1988 Volkswagen Cabriolet—which was owed to an odometer that stopped working at 103K—proved to be the fly in the car's ointment for many of you. That unknown made the $13,200 asking price less than tenable as a result, earning the Vee-Dub a 72 percent no Dice loss. The car apparently sold while we were ruminating its fate, and it would be a nice close to the story to see what it actually sold for.
It's been averred that 'birds of a feather flock together,' however when it comes to driving today's 1984 Tri-Hawk 304, there's very little chance of seeing another one on the road, much less any sort of flock.
First off, though, let's answer the question pretty much all of you who are at least one cup of coffee into the morning are asking: "Just what the hell is a Tri-Hawk?" Let's do a little history.
This is one of about 100 FWD trikes built by the now defunct Design Lab Inc. company out of Illinois, founded by an entrepreneurial engineer named Lou Richards. Richards wanted to create a lightweight sports car akin to the original Lotus 7 but was stymied by the enormous volumes of regulations required to get even so simple a car on the road. Richards then discovered that three-wheelers were exempt from most regulations as they were considered motorcycles (or close enough) under the Federal and State guidelines and so his two-seat tribute to the 7 was designed around a tricycle layout.
The resulting Tri-Hawk 304 (3 wheels, 4 cylinders) received plenty of good press upon its debut, including a Top 10 award from Car and Driver for its skidpad performance. That didn't help much with sales, however, as the market for cars so basic they lack a fourth wheel is pretty tiny. Within a year of launch, Design Lab, Inc. was renamed Hawk Vehicles, Inc. and operations were moved to Dana Point, California.
The company's poor finances coupled with Richards' own health issues forced the sale of the enterprise in 1985, with Harley Davidson taking ownership. The motorcycle maker's own financial struggles prevented it from doing anything with the Tri-Hawk and it shuttered production shortly thereafter.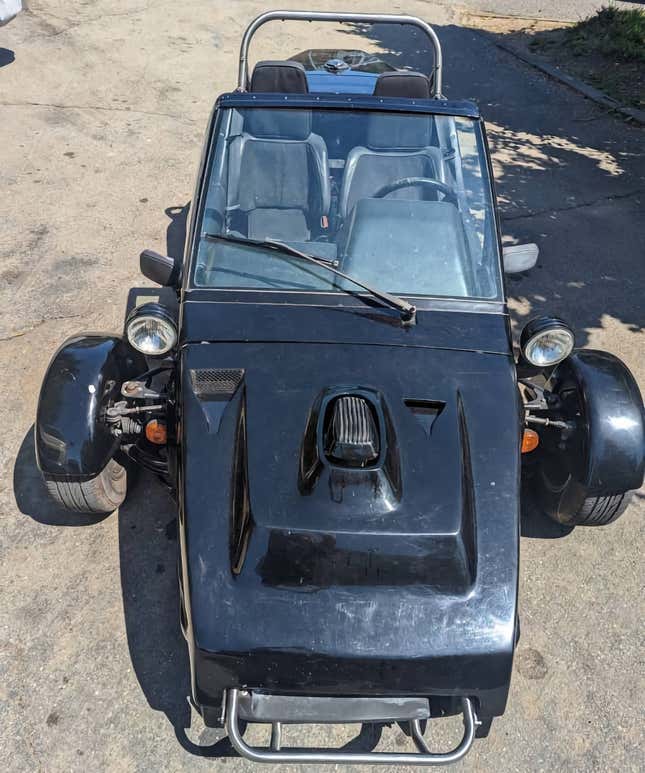 Now, you might think that the Harley connection would mean there's a V-twin thumper under this Tri-Hawk's hood, but that's not the case. Not needing to meet automotive emission standards opened the door for any number of fitting powertrain options and the one that Richards settled on was an air-cooled 1.3-liter flat-four from the Citroën GSA. That produces 67 horsepower and drives the front wheels through a four-speed manual. Various Citroën and Renault parts make up the steering, brakes, and suspension surrounding that. With its light weight and wide stance, this setup give the Tri-Hawk excellent handling.
That's not to say that taking this trike to its limits wouldn't be a terrifying experience. After all, one of the primary reasons the Tri-Hawk only has three wheels was to sidestep most automotive safety requirements. In a nod to some of the basics, though, the trike does have a reasonably tall roll-over bar. Three-point belts are attached to that.
This one comes with a clean title, a reported 37,000 miles on the clock, and the seller's intimation that it's a vehicle that requires attention to drive, warning against acknowledging the gawkers and thumbs-uppers it will invariably encounter.
This weird bit of automotive history comes at an asking price of $10,000. You now need to decide whether that's a fair deal or a sham. What do you say, could this extremely rare and capable sports trike be worth five figures? Or, does that price clip this Tri-Hawk's wings?
You decide!
Google Ads
San Francisco Bay Area, California, Craigslist, or go here if the ad disappears.
Help me out with NPOND. Hit me up at remslie@kinja.com and send me a fixed-price tip. Remember to include your Kinja handle.
Google Ads