When the sun burns out in a few billion years, the likely only witnesses will be stalwart old Volvos like today's Nice Price or No Dice 240 Turbo. Let's decide what it might be worth to be the next steward on this car's epic journey.
Google Ads
A Small and Overpriced (for Volvo's Target Audience) EV is Coming
If you received an invitation to Lipps Inc's Funkytown, how would you make your arrival? Yesterday's 1986 Zimmer Quicksilver proved quirky enough to be a solid option, but where does that leave the rest of us when our invitations were obviously lost in the mail? Well, for those of us less open to ostentation, and not quite so comfortable with quirk, the car proved particularly polarizing. So too did the $16,900 asking price. Combined, that earned the Quicksilver an overwhelming 83 percent No Dice loss for the start of our week.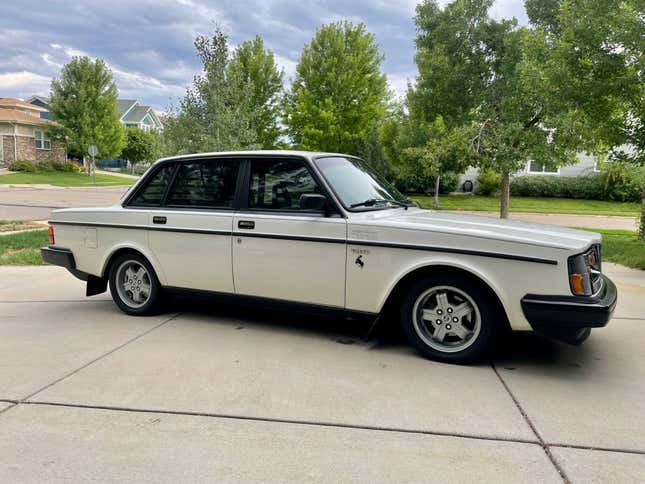 From the pictures alone, it's pretty obvious that today's 1984 Volvo 240 Turbo is a totally different sort of beast than yesterday's Zimmer. Solid and stoic, the 240 line as a whole offers a textbook example of pure, uncut functionalism. Add the turbocharged and intercooled B21FT SOHC four found under this car's hood, and you can expand that description to include practical performance.
That 2.1-liter engine makes a solid 168 horsepower with the intercooler. The air-to-air intercooler wasn't original equipment for this model year, but Volvo offered a retrofit kit so this one should be wholly legit.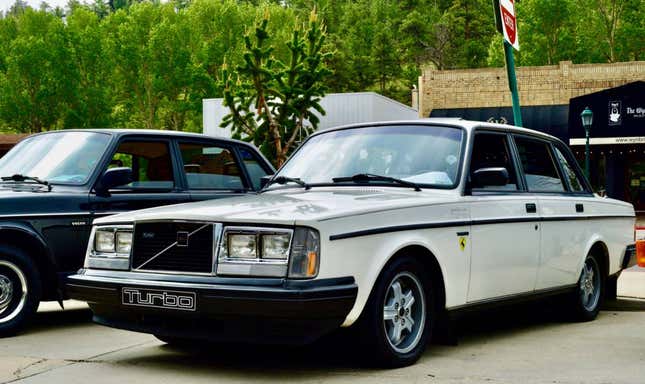 Now, with that all in mind, I should point out that there are two aspects of this refrigerator white with black trim '84 that may lessen its appeal among some of you. Those are the sedan body—as many prefer the even more utilitarian wagon—and the four-speed automatic—as a lot of us like to row our own.
If you can get by those minor issues, this low-mileage and seemingly super-clean sedan has a lot to offer to a new owner. According to the seller, the car was only lightly used by its original owner and was bought by its second title-holder from the first owner's estate. At that time it was updated with R134 for the A/C and had its fuel system overhauled to address failures from lack of use. All of the car's service records have been kept from both that second owner's time and of the seller's.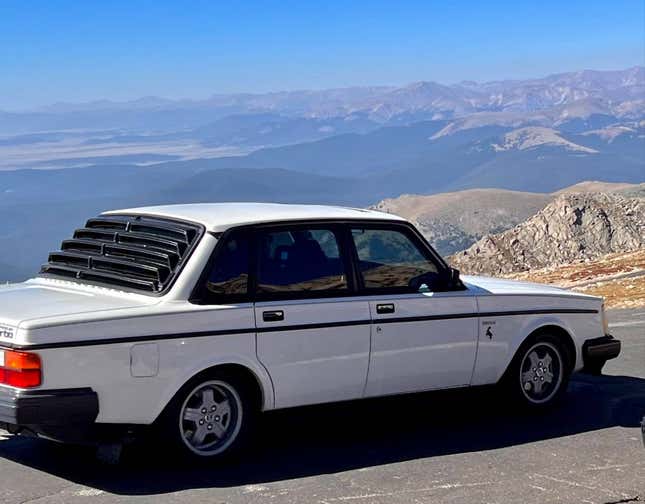 Work done includes the addition of an IPD lowering kit and GT strut braces in the engine bay. As the pictures show, the body has a nice, not-too-low, stance and sits well on the factory Virgo alloys. Those are wrapped in fairly new tires which are accompanied by a new spare in the boot.
All of the maintenance under the current owner has been done by a single Volvo specialist and everything save for the odometer is claimed to work as it should. That odometer reads something south of what the car really has done, which the seller says is 65,000 miles. A replacement odometer gearbox is included in the sale and the reason for not having it already installed is the seller's trepidation in taking on such a task with their limited expertise.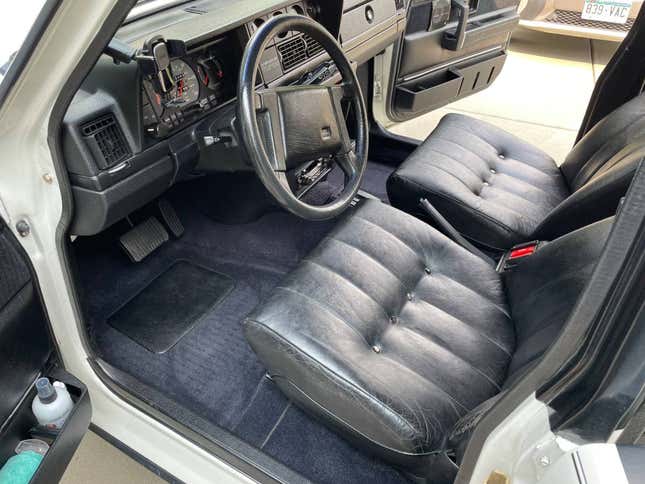 Aesthetically…, well, it's a Volvo 240 sedan. You either love these all to heck or you are indifferent to them. For those lovers out there, this seems to be a great example and is faithfully original. The awesome '70s louvers on the rear window are said to be a replica as originals aren't available anymore but still look period correct and all kinds of cool.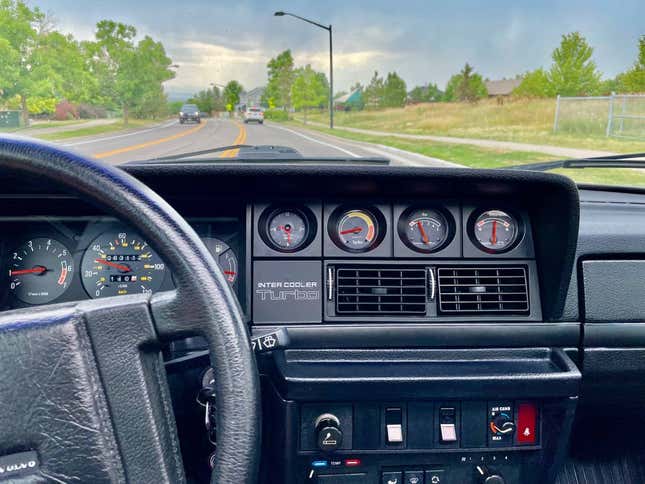 The interior looks to have held up very well, showing only some minor wear on the driver's bolster to belie the car's age. A modern-era stereo sits in the dash, but everything else looks like Reagan is still in office. A clean Colorado title and promise of zero rust fill out the Volvo's bona fides. What might someone pay for such a boxy beauty?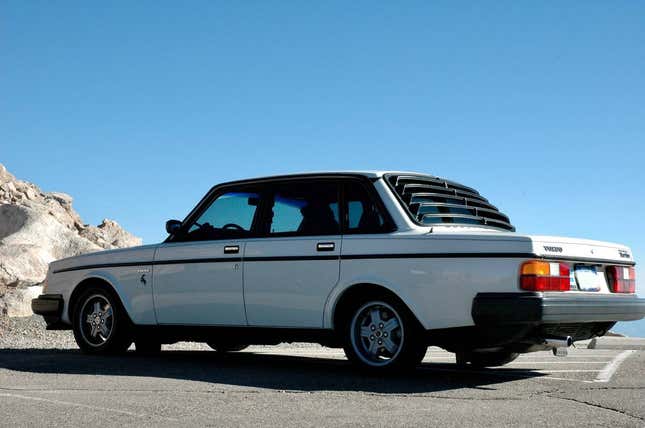 The seller is asking $16,500 for the car. That's around the top of the market for these, and remember that a manual wagon would definitely command more. What about this one, though? Do the condition, maintenance history, and hot motor add up to such an asking? Or, is that too much to ask for the box it came in?
You decide!
Google Ads
Boulder, Colorado, Craigslist, or go here if the ad disappears.
H/T to Glemon for the hookup!
Help me out with NPOND. Hit me up at remslie@kinja.com and send me a fixed-price tip. Remember to include your Kinja handle.
Google Ads