Balance. It's important in so many aspects of life, no matter the context. 
Google Ads
It's something which Tom Lingard's 1993 Nissan Silvia certainly brings to the table, especially when compared to the back catalogue of S-chassis builds over the years. That may be a divisive statement, but bear with me as I delve into one of the most remarkable all-round builds I've had the pleasure of featuring over the past few years.
Tom is no stranger to the Speedhunters; I featured his previous build, a 1981 Datsun Sunny Truck, the day before he sold it back in 2021. This was a Honda K20/24 Frankenstein monster-powered exercise in 'why not?'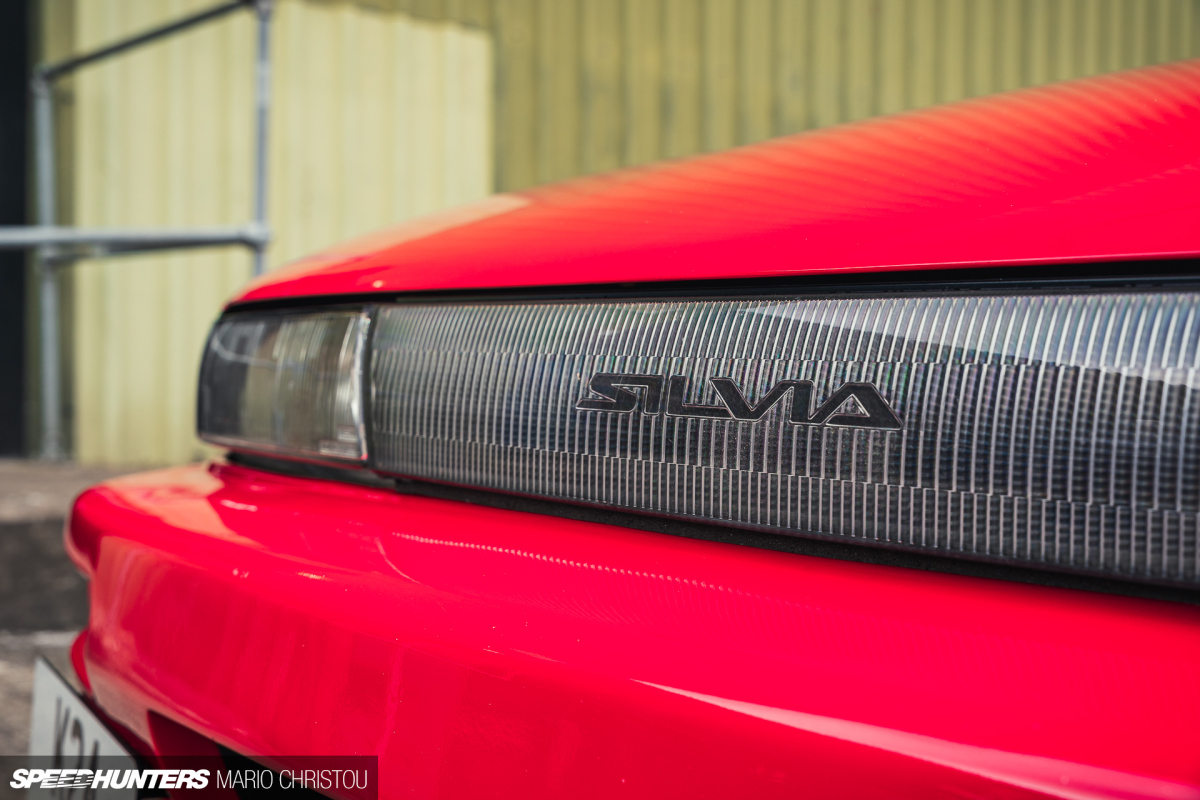 "The Datsun build that preceded the PS was a tiring two and a half years of hard graft, which paid off for the most part, but left a couple of boxes un-ticked," says Tom. "A PS13 had been high on the 'achievable' bucket list for a long time, and I felt it was finally time to do it after the Datsun."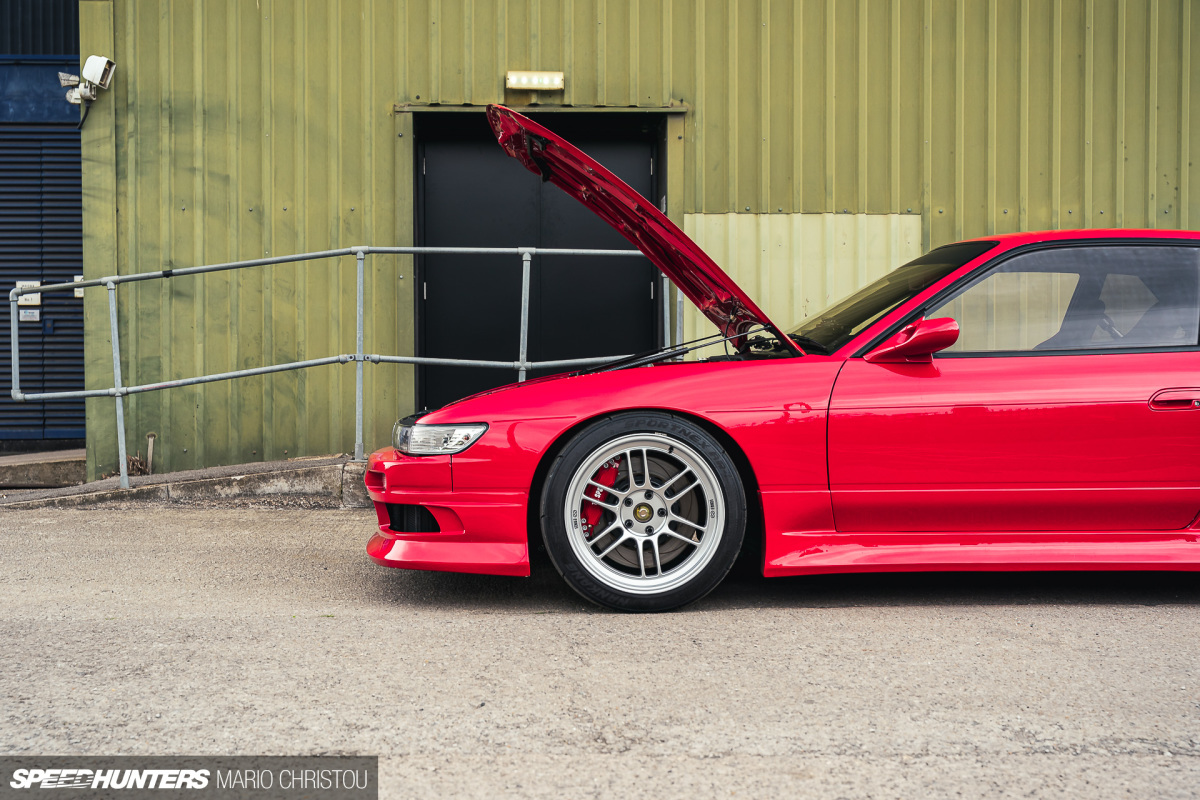 Now just between us, I like to save the best for last when writing an article. The USP, the big climax, the main reason for the feature itself is one of the very last things I'll go into detail about. I'm going to make an exception for this car. It's already been revealed in the title (and on the Silvia's licence plate), so enjoy dessert first today.
"The car was bought with a clear vision set out: K24 turbo (I really missed having a turbo) and the all-important DCT conversion," says Tom.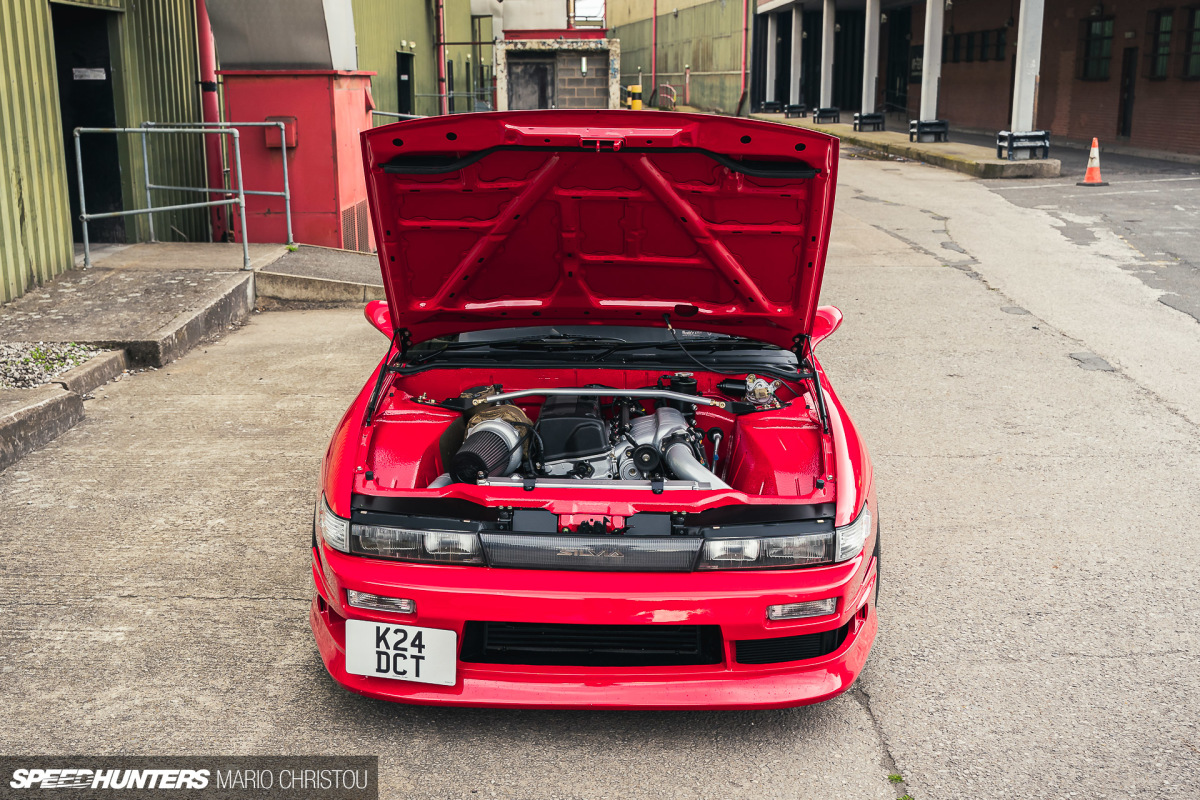 Yes, if it wasn't already clear, Tom's Nissan Silvia is powered by a turbocharged Honda K24, channeling power to the rear wheels via a BMW M dual-clutch transmission. The ideal candidate to start with? A rather rare and rather pretty Aztec Red example of Nissan's now iconic sports coupé.
"I collected the fresh import in October 2021 a week before I was away for the rest of the year," say Tom. "In those months, I ordered almost everything I needed for the build and sent off what I needed to get the car a UK registration."
Not one to waste time, Tom made sure he was ready to crack on upon his return from overseas. And when I mean crack on, I mean with everything. Himself.
"In the time I would have been in the garage working, I completed the High Performance Academy tuning course since this [engine tuning] was one of the last things I was still relying on others for."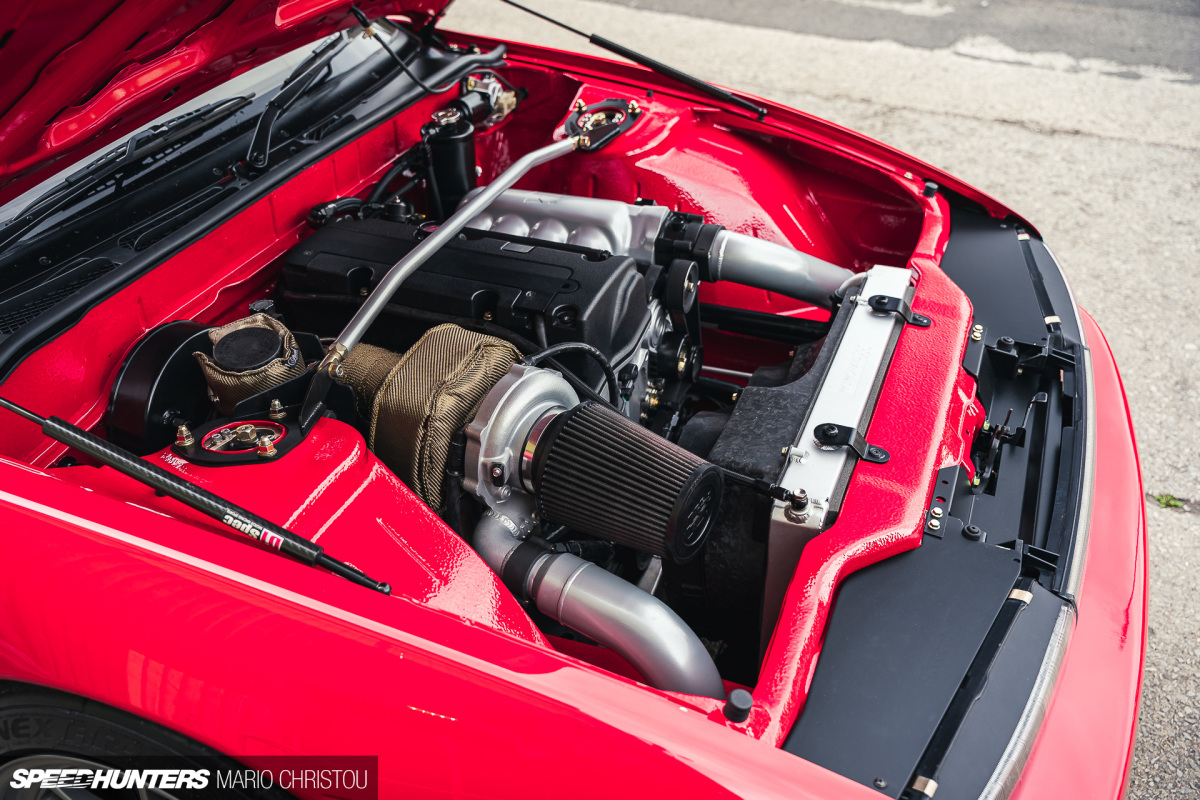 What lies in the arch-tubbed engine bay is built on a Darton-sleeved K24 bottom end, with a K20Z4 cylinder head secured by ARP head studs and a Cometic head gasket. Pull the block apart and you'll find Boostline forged connecting rods with ACL bearings, plus Wiseco forged pistons to achieve a 10.2:1 compression ratio. A ported K20 oil pump ensures sufficient lubrication, while a TF Works oil pan sits at the bottom of the engine.
The head has received an equally comprehensive overhaul, now home to CPL Racing valve guides, and Clockwise Motion beehive valve springs and retainers. To cope with the boost pressure, Tom fitted hardened Supertech nitrided intake valves and Inconel exhaust valves. Inconel is, as we all know, a superalloy. The word 'superalloy' makes me feel things.
Just how much boost pressure? Well, at the moment the tune is still set up to run a Garrett G30-770 turbo, even though a Garrett G30-900 is bolted to the engine through a custom exhaust manifold. As such, 22psi of boost is the current figure, producing 615hp on Tom's own tuning map. A little dyno time and Tom will tweak his tune to make the most of the 62mm G30-900, where he's aiming for a conservative and reliable 750hp.
The Garrett is complemented by a Turbosmart 40psi oil pressure regulator, TiAL 60mm wastegate with screamer pipe, custom 3-inch down-pipe and high-clearance oval exhaust tubing making its way to a single back box. Management is via a Haltech Elite 1500 ECU and CAN wideband.
Google Ads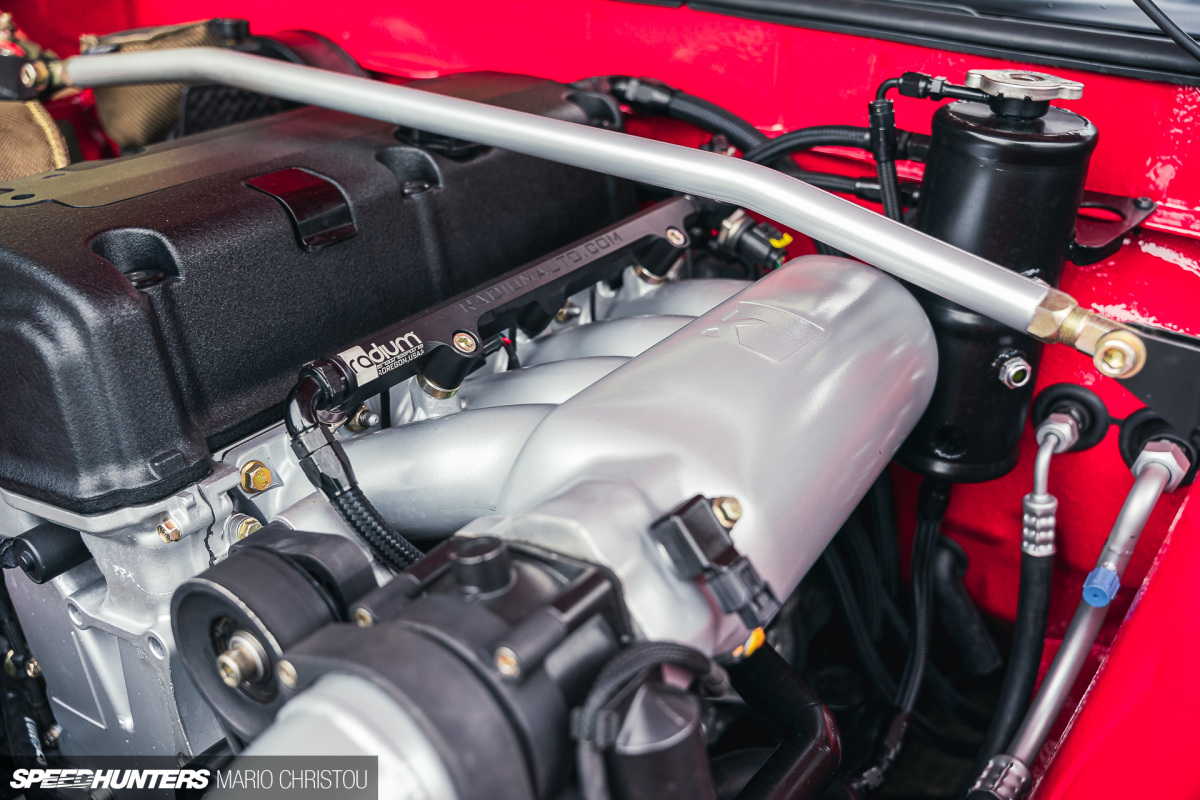 Air flow and fuelling is taken care of by a K-Powered intake manifold, 74mm Bosch drive-by-wire throttle body, Radium fuel rail/fuel pressure regulator and ID1700X Injector Dynamics injectors.
I don't possess the patience to mention the numerous sensors Tom has integrated into his work, monitoring almost every safety aspect possible. I will mention the custom oil catch with AN10 fittings and the custom forged carbon radiator shroud, because they're pretty.
The cooling system in Tom's Silvia is really trick, and a part of the build he's rather proud of. "I spent lots of time here this winter after having cooling issues the first summer driving the car. I re-packaged all the radiators stacked on top of each other so they could be fully sealed, and downsized the thickness of the intercooler to promote flow. I found a better sized OEM air-conditioning condenser to optimise air flow and allow for good ducting," he says.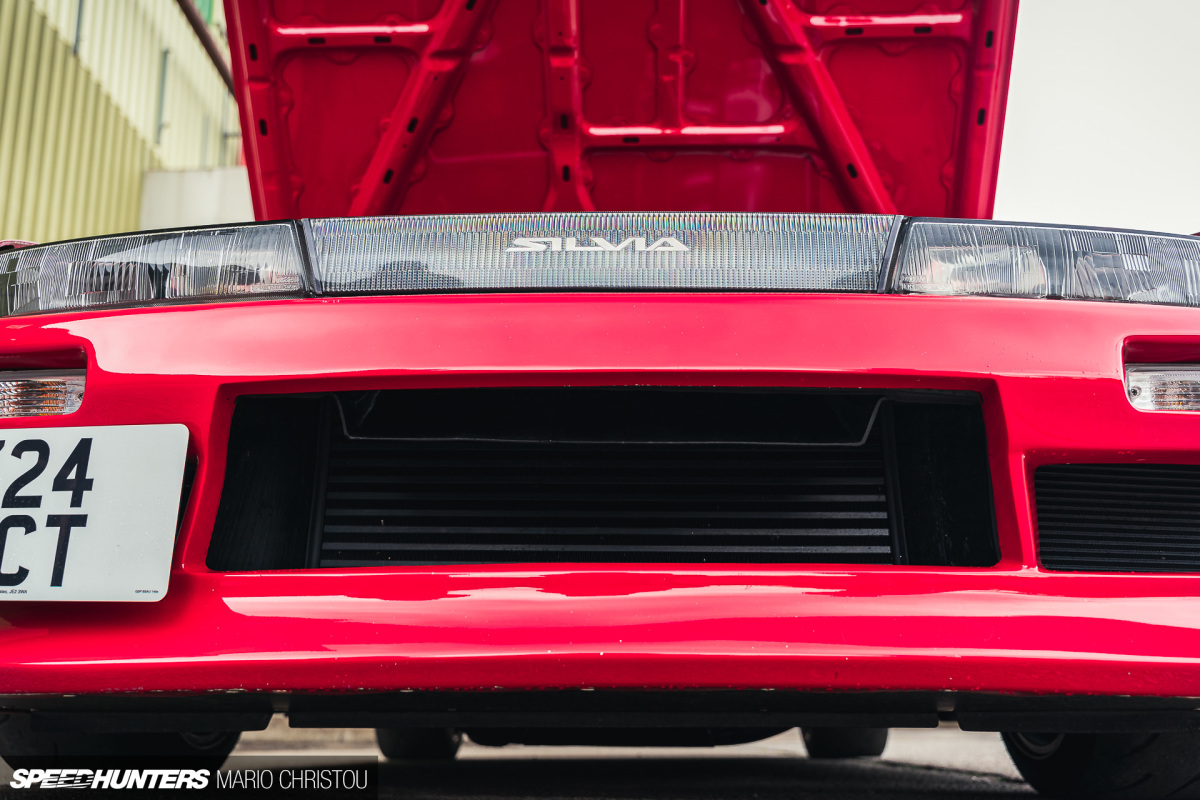 "Once that was done, I had the front end of the car 3D-scanned and got to work designing ducting from the bumper inlets into the coolers, and a fan shroud for the radiator. These were then 3D-printed and used to make moulds for the final parts to be made in carbon fibre. After testing, I've seen a big improvement."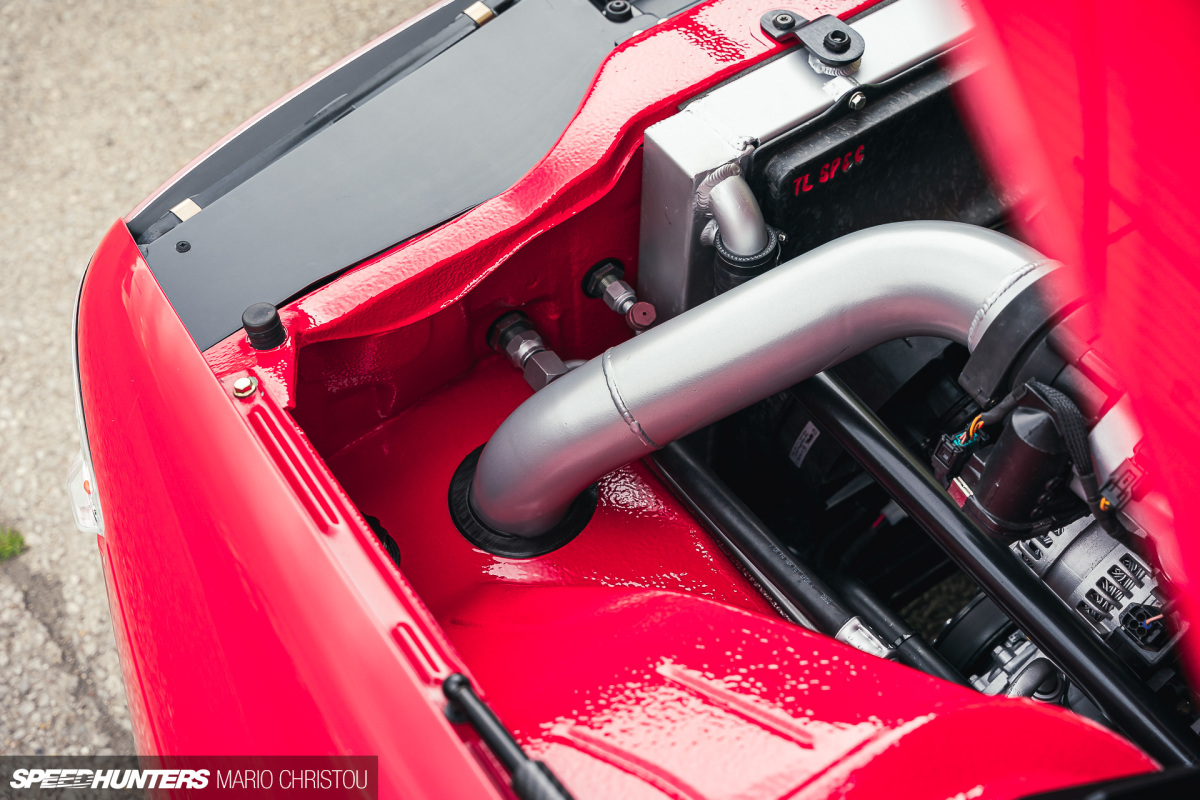 The final result consists of custom 3-inch aluminium intercooler piping with quick-release couplers to a 300x600mm intercooler, fed through 3D-printed bulkhead seals. A Koyorad dual-pass radiator with custom hard lines is run via bleed points to the expansion tank, solving the fairly common issue of K-series engines being hard to bleed.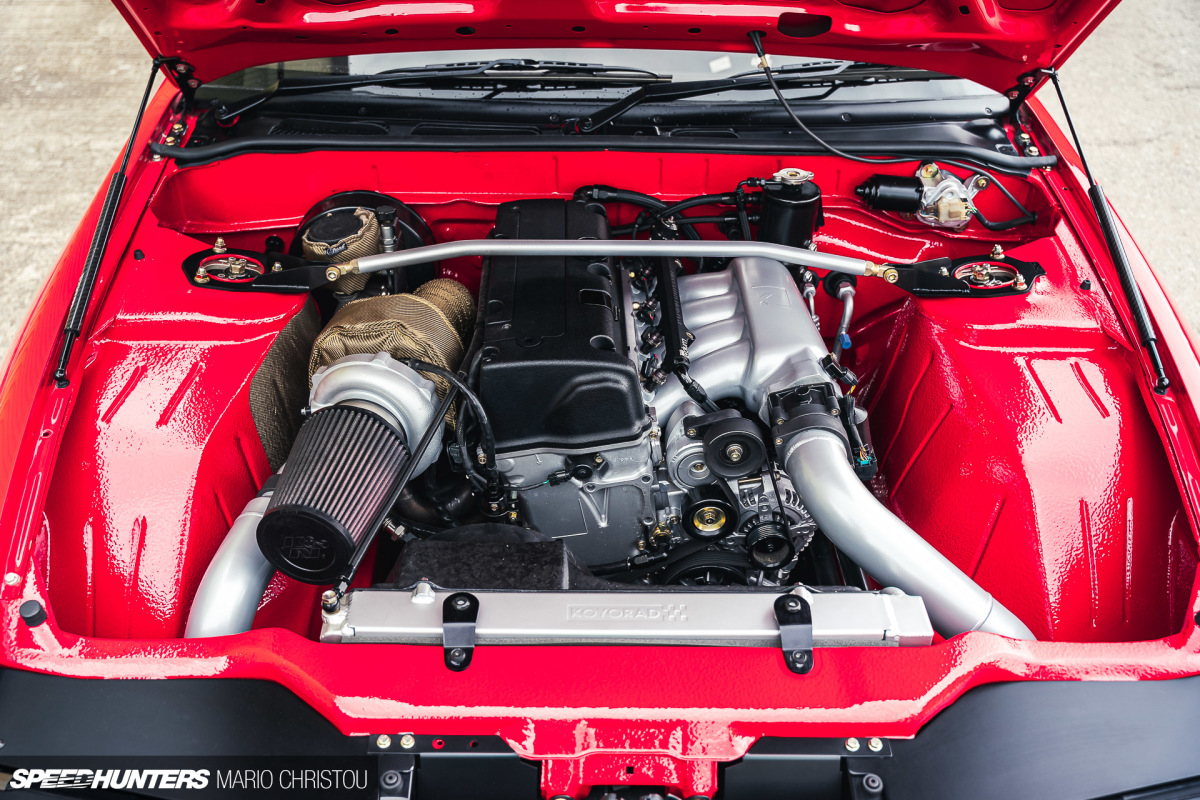 Power to the rear wheels runs though the aforementioned BMW M DCT gearbox, which runs a custom oil cooler and billet sump. The driveline also features an AdamMT dual-mass flywheel, custom prop shaft, and a 4.1 ratio Tomei 2-way limited-slip differential in a Nissan 350Z rear end.
Tom was adamant that his Nissan had to retain air conditioning for summer drives, and he managed exactly that with a neat little setup. A Fiat 1.9 TDi condenser is joined to the OEM Nissan evaporator via custom hard lines, with Tom even managing to wire the OEM Nissan digital climate control to communicate with the Haltech ECU.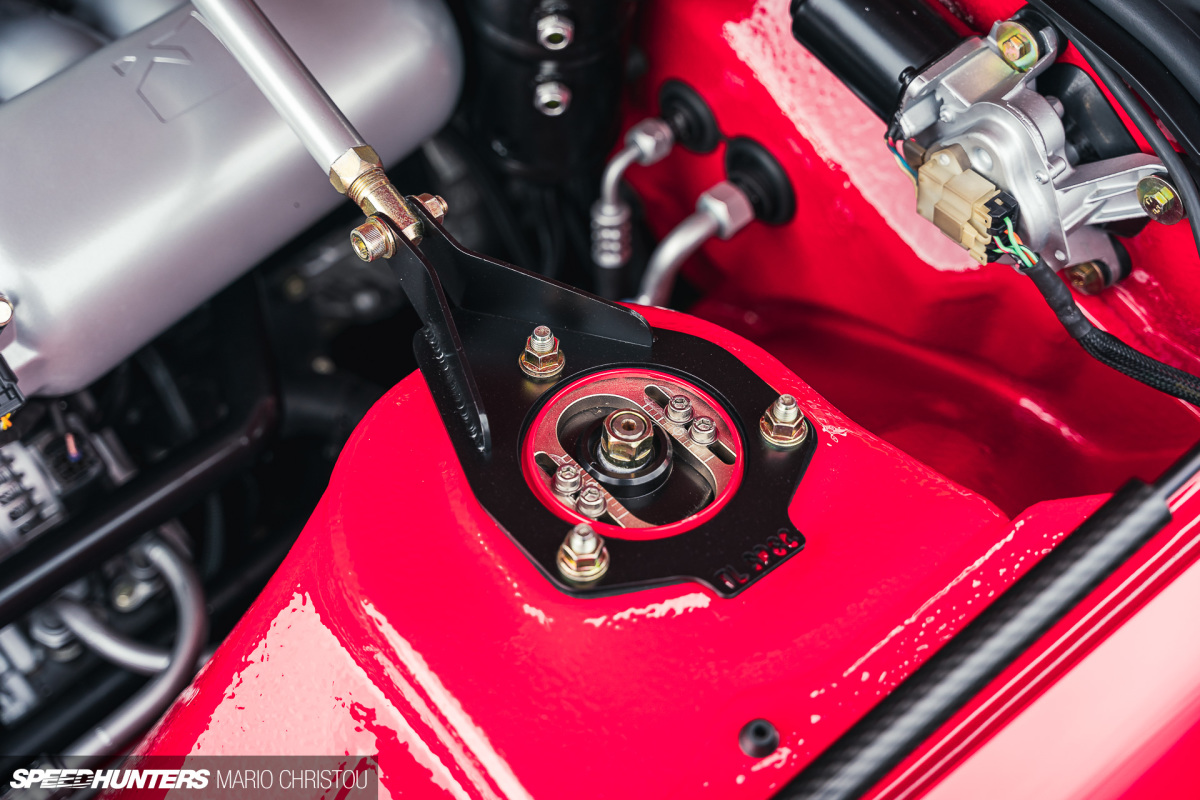 "The engine bay is stone chip coated with a body colour base and clear-coat over the top. If you ignore the folks doubting DCT or K-swaps, this is the 'Marmite' part of the build," says Tom. "Most people seem to get it, but some don't. The reason for this decision is it's much easier to prep for, hides some sins, seals seams and it's much easier to repair scratches vs. normal flat paint. Since this engine bay is going to see spannering often and the accidental scratches that come with it, this was important to me."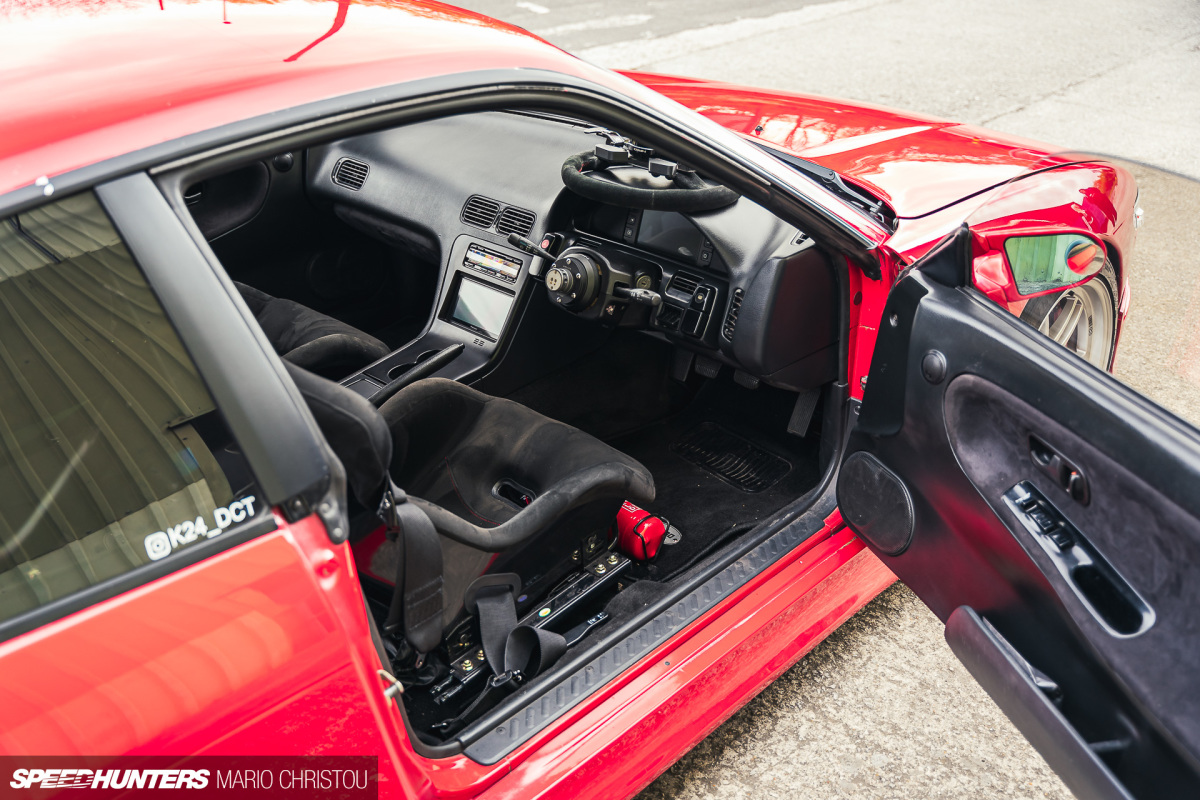 Air-conditioning aside, the interior of the Silvia is a pleasant place to be. Take the wireless double-DIN head unit with Android Auto, or the 3D-printed cupholders in place of the manual shifter. In his quest for drivability, Tom has retained a full interior. NVH is the enemy, after all.
A pair of suede Buddyclub P1 Redline Edition seats elevate the cabin, as does the black-dyed carpet, headlining, rear bench and fabric trims. The suede-trimmed door cards and glovebox match the seats, as well as the suede Personal 330mm steering wheel. Tom even went to the extent of sourcing a crack-free dashboard, rare for an S13.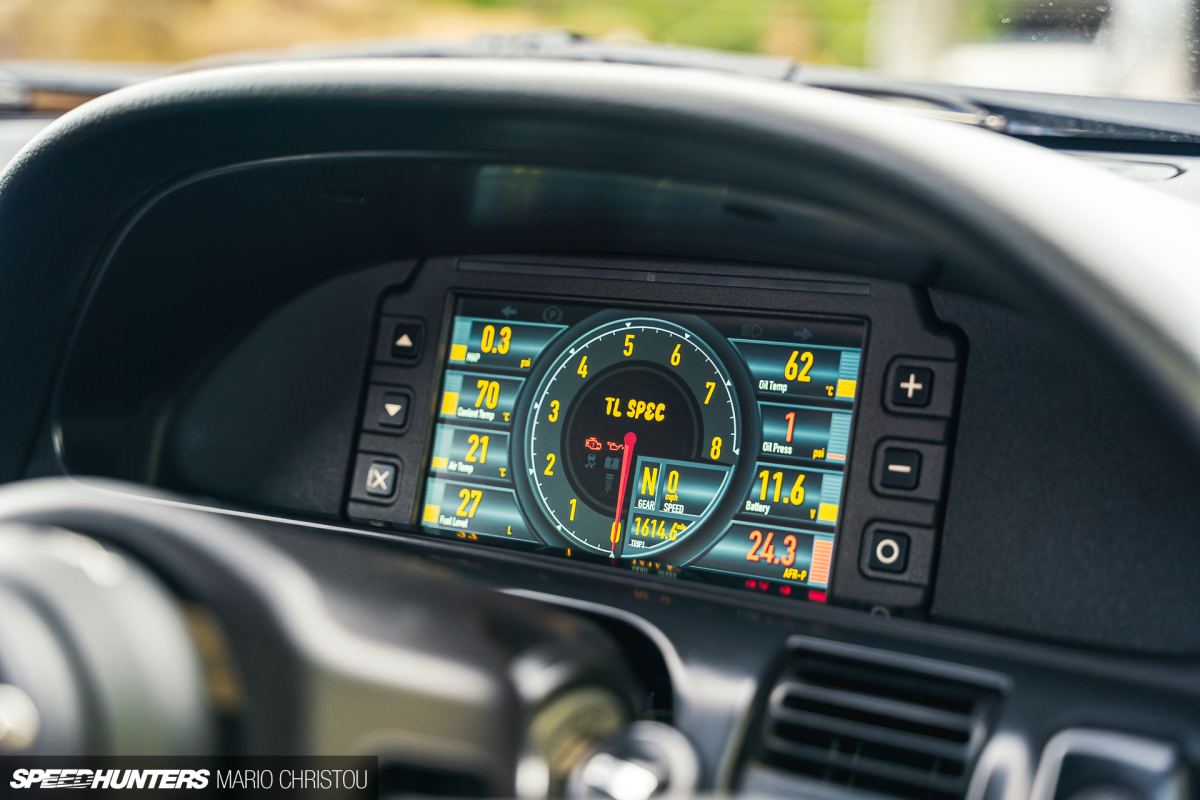 A Haltech IC-7 digital dash sits behind the wheel, with Tom's own graphics tweak. Note the little TL (Tom Lingard) Spec logo in the rev counter.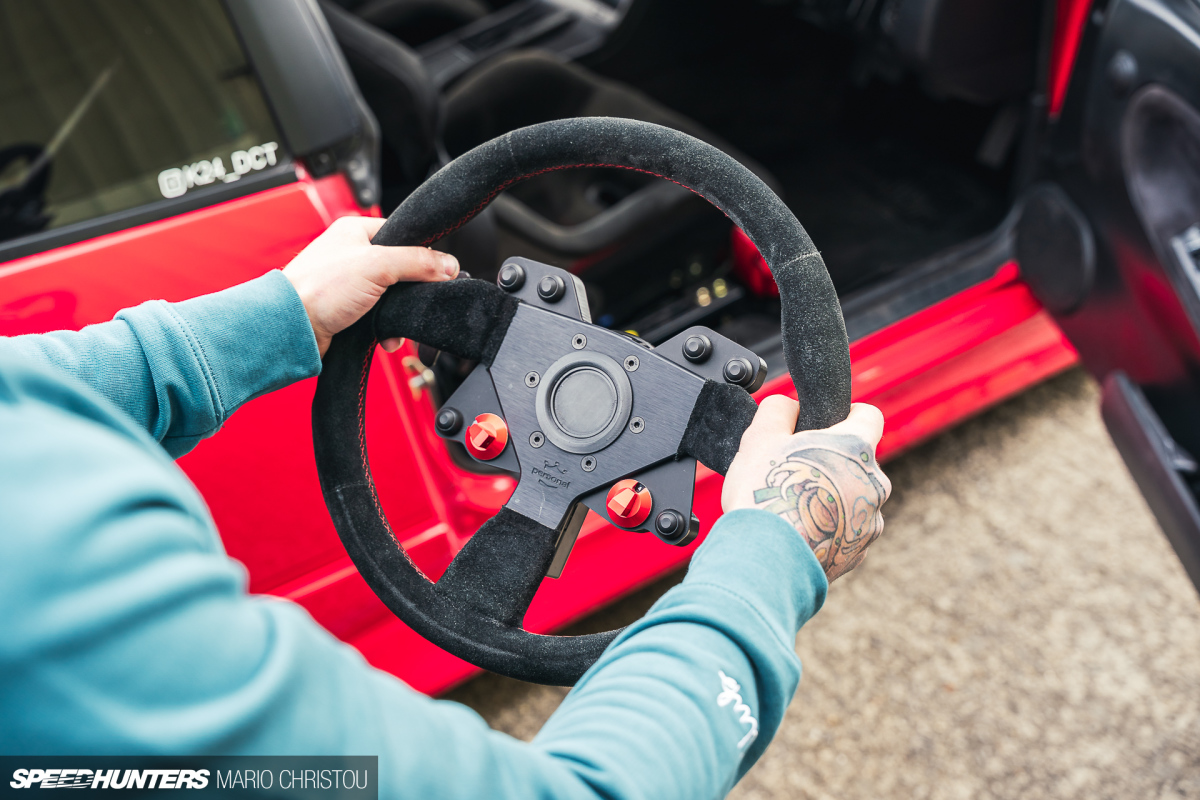 The steering wheel-mounted control panel is my favourite detail of the build. Buttons for cruise control, launch control, rolling anti-lag and a horn sit alongside 12-step rotary switches for traction control and boost settings. Remote paddle shifters for the DCT are controlled by a wireless transmitter on the back of the middle spoke.
Rather amusingly, with the car running Tom can even operate the horn with the wheel in his hands.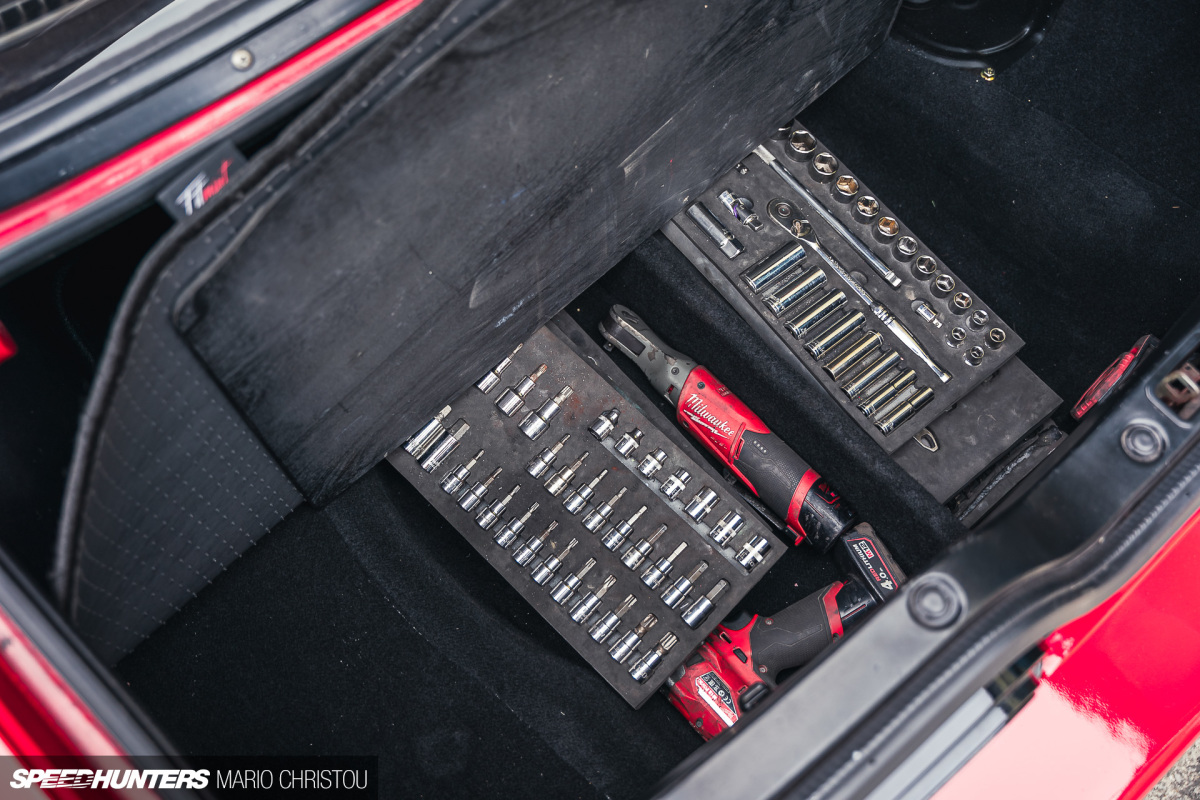 Even the boot didn't escape the TL Spec touch, now housing the battery, surge tank and a custom false floor divider, allowing for under-boot tool and car cleaning storage.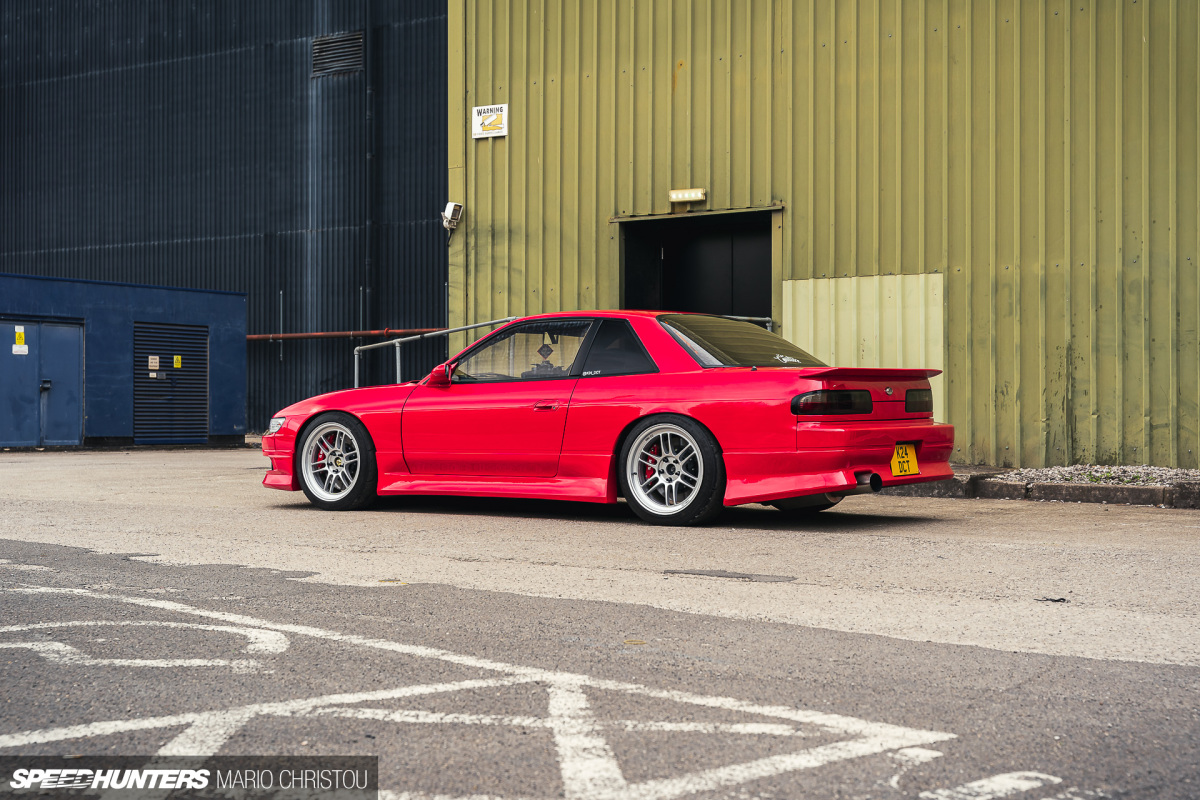 The Silvia's exterior is a shining example of simple-is-best. An Origin Labo Stream Line body kit adds depth and aggression to the dainty Silvia, with a matching boot lip spoiler too.
Being a '90s car, details such as the crystal clear headlights, indicators and 'grille' with no yellowing are appreciated. So too are the little mirrors, which always have a place in my heart.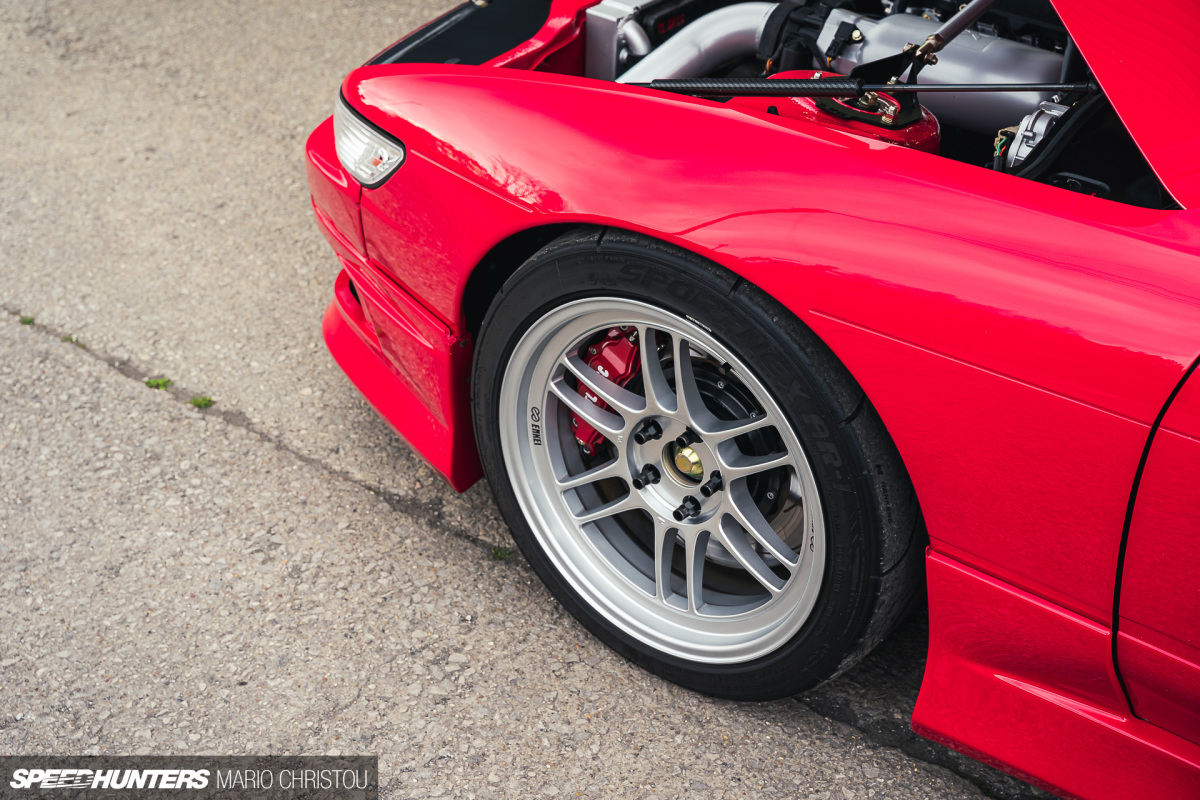 18×9-inch and 18×9.5-inch staggered Enkei RPF1s fill the arches, with 235/40 and 245/40 Nankang AR-1 tyres front and rear, respectively. The fitment is bang on, a blend of low ride height and functional tyre sizes. BC coilovers paired with Driftworks front and rear arms provide maximum adjustability.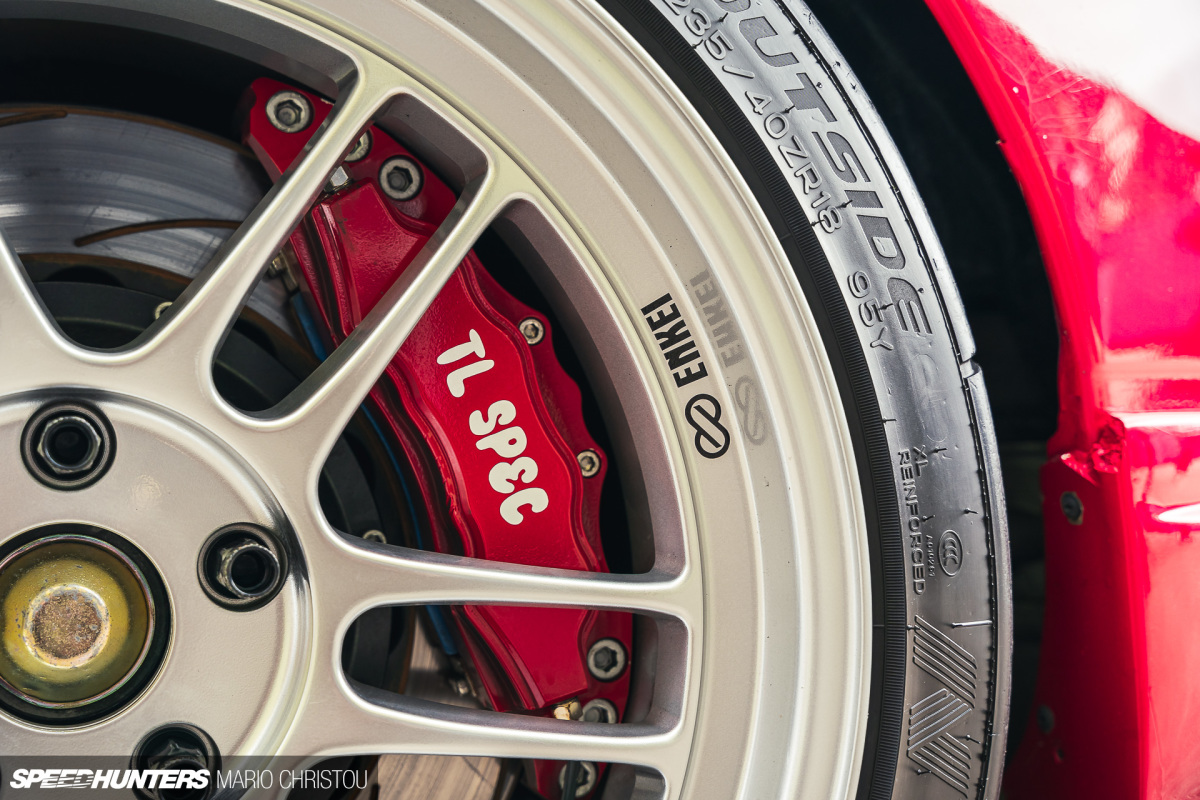 Contained behind the RPF1s are PB Brakes 8-piston front callipers and 6-piston rears with 356mm floating discs all round and the hand brake integrated into the rear drums.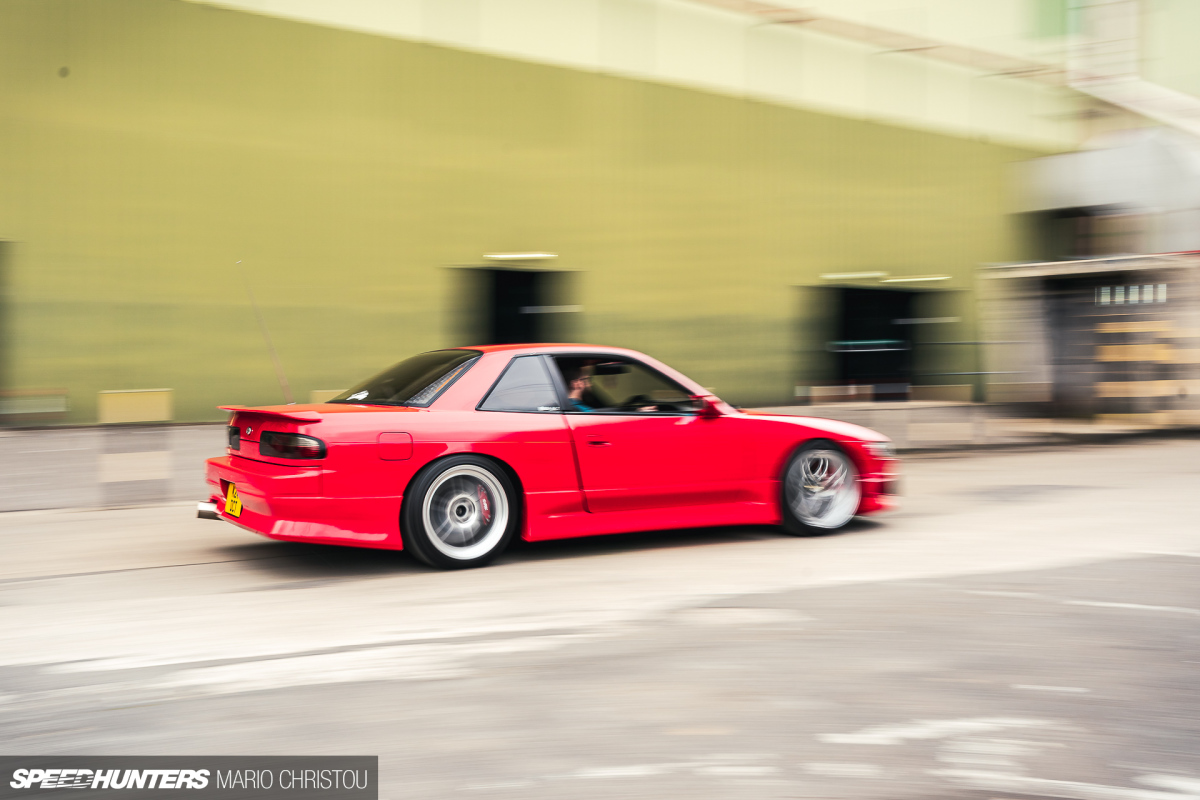 The underside of the Silvia has had a full restoration. Fabricated parts have been powder-coated; cast and aluminium components have been anodised in black; fittings are plated in yellow zinc. Alongside subframe reinforcements and a set of custom jacking points for easy lifting, the floor has been stripped, stone chip coated and finished in black chassis enamel.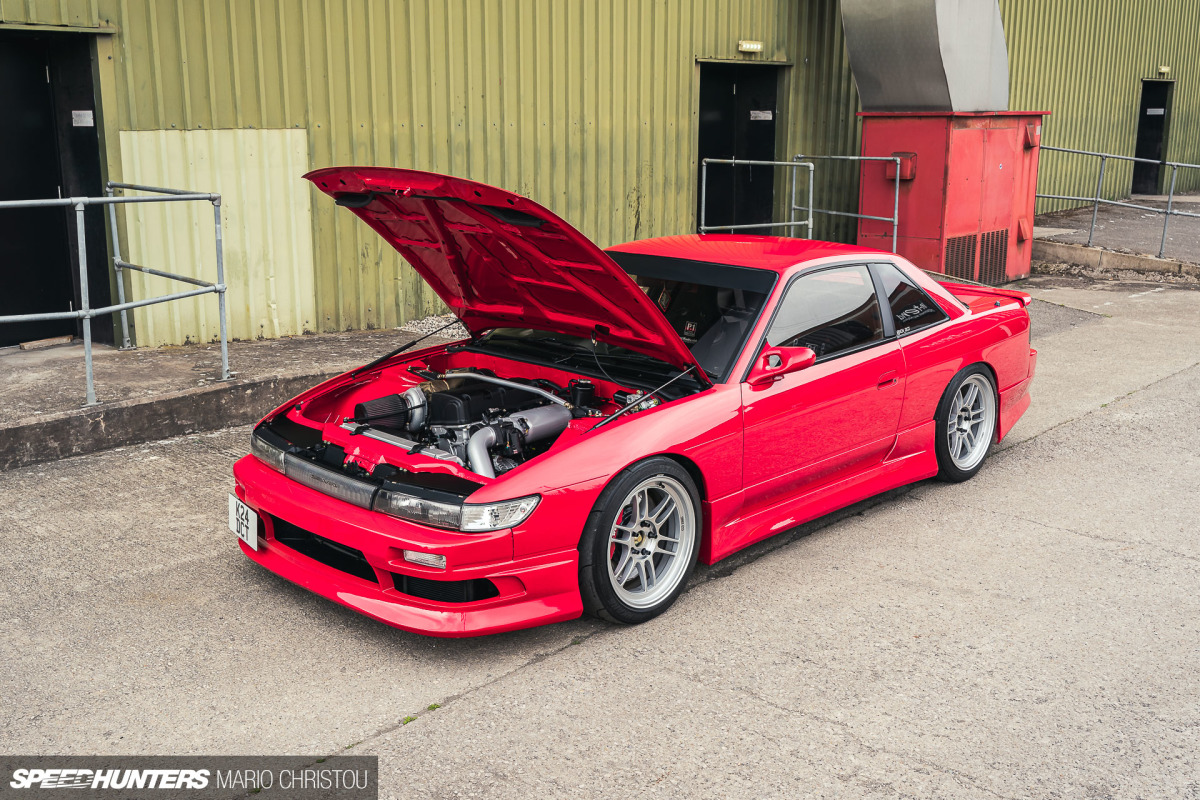 When it comes to cars, balance is far too often overlooked these days. Owners the world over strive to build the wildest and rowdiest cars they can, solely to stand out from the crowd. The lowest, the fastest, the most powerful… the list goes on and on.
Builds like Tom's Silvia don't shout the loudest or claim any titles, yet often end up being some of the best. I think this one may be just that, 'the best', don't you?
Mario Christou
Instagram: mcwpn
Google Ads