How she sits as of 2/26/2022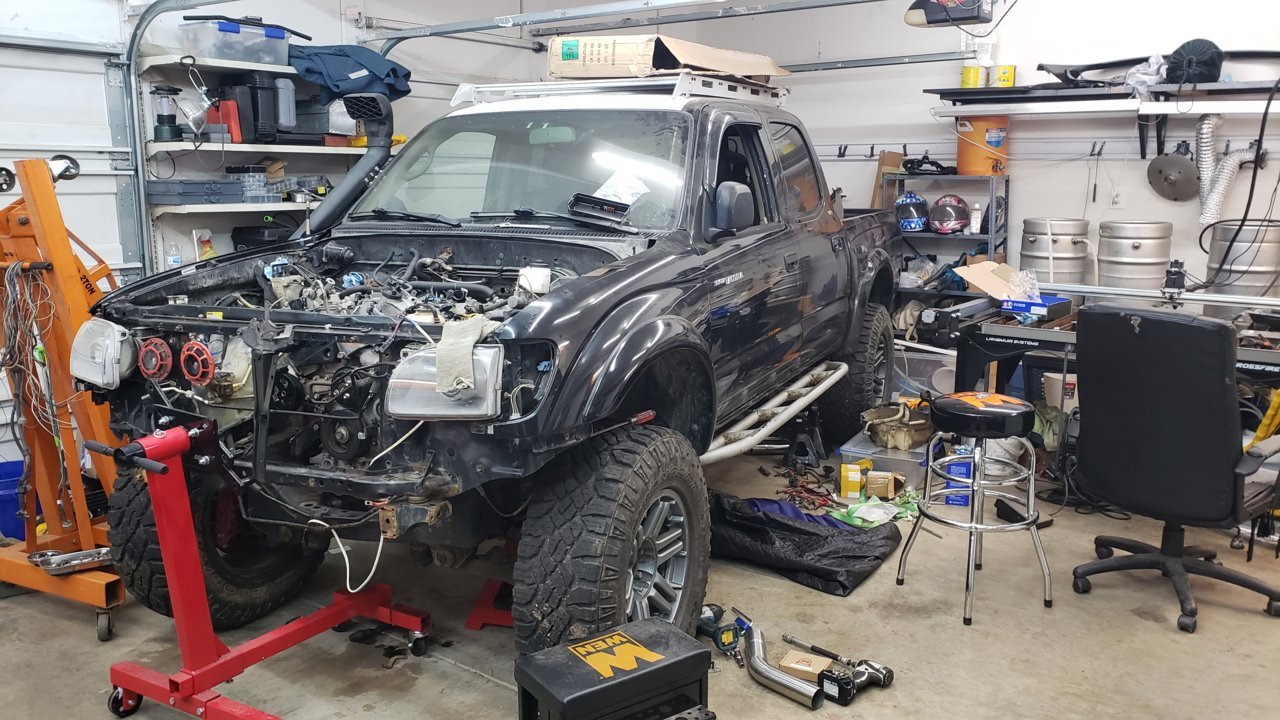 Google Ads
How she sits as of 9/27/2019: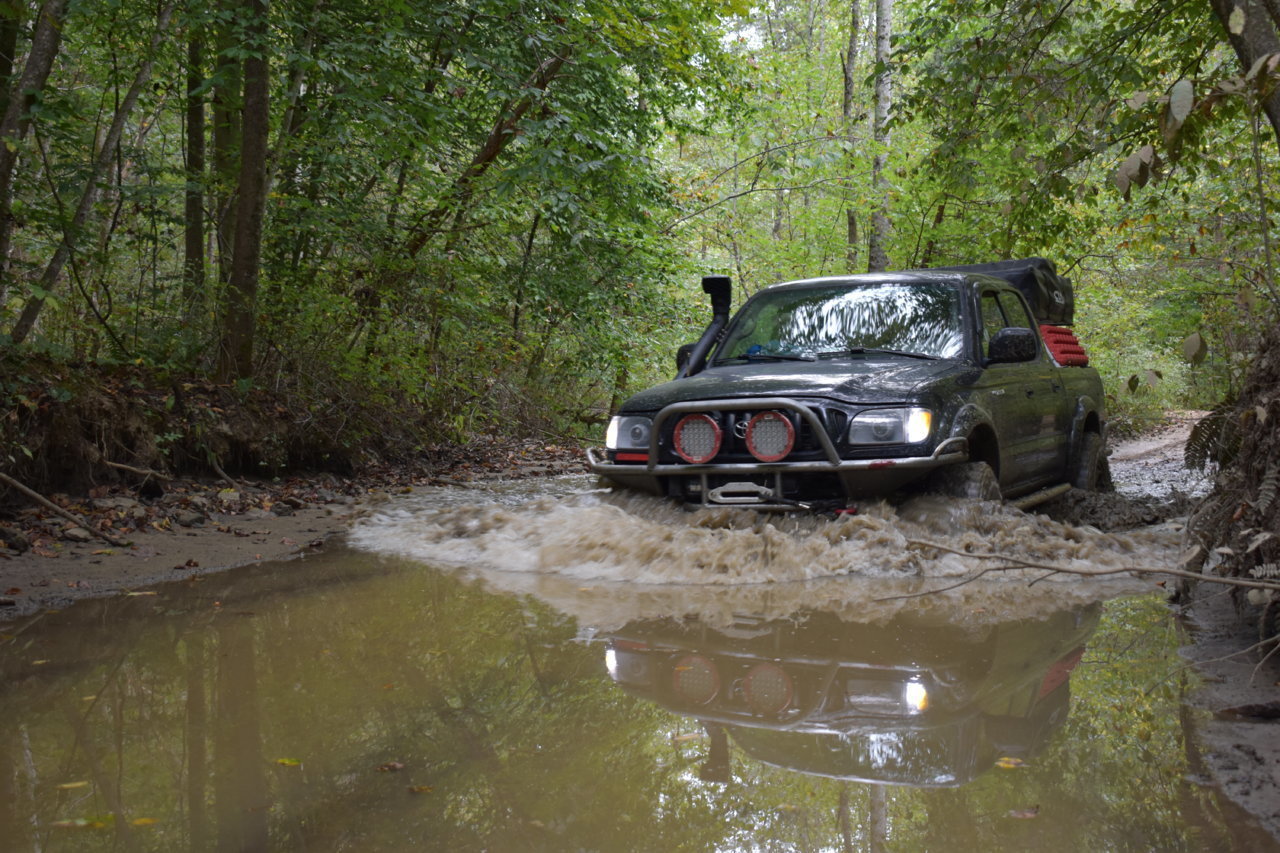 How she sits as of 4/19/2019:

How she sits as of 12/17/2018:


How she sits as of 10/7/2017:

Suspension:
Front: Icon 2.5 Coilovers, Icon UCA, Energy Suspension Bushings, flipped LCA's, GX470 rotors, 14WA calipers
Rear: King 2.0 x 10″ reservoir shocks, custom rear shock mounting, Wheeler's HD Leaf spring,

Wheels/Tires:
17″ Granite Alloy GA640, 285/70 Wrangler Duratrecs

Armor:
All Pro Baja front bumper, All Pro Front & mid Baja skids, Trail Gear rear bumper, Trail Gear sliders, Bud Built Gas tank skid.

Recovery:
Hi-Lift, X20c Winch, LiteWay Tracks
Interior:
Pioneer MH380 head unit, Pioneer Low profile sub woofer (under passenger seat), 2012 Avalon power seats, Paranoid Fab .75 DIN Switch mount

Exterior:
Morimoto mini 2.5″ HID set, switchback LED blinkers, Ebay Snorkel, Custom Bed Rack, LED pencil beam spot lights, yellowed fog lights, rock lights, reverse lights.

On Deck:
5MT swap, 2GR-fe swap

Future Plan:
Swingout spare tire mount-> on bed rack?, roof rack(steal from frontier?), bed rack drawers, Bimmer stability bar adaption?, Rear axle truss?, rear air springs, on-board air, aux fuel tank, grey water tank, T-case clock, custom Front susp build.
After owning my 01 5speed ext cab for several years, I decided to «upgrade» to an 03 Dcab… mostly for fewer miles, no rust holes in the body, and the added doors was a nice perk imo. As the thread title says, I am terrible at remembering to take pictures… so bear with me.
How she looked shortly after getting brought home(I painted the wheels before taking a picture):

On my list of things to do were suspension and tires as both the front shocks were blown, and with the ~2″ spacer lift on the front end from the PO, all the ball joints/bushings were in my scope.
I went with Icon 2.5″ coilovers up front with the Icon UCA, install was easy except for the steel press-in insert into the spindle… that was a huge pain, I should have measured and sanded the shit out of the bore in the spindle. Of course I forgot to take any pictures of that whole job, the only one I took was test fitting my friend's FJ wheels with 33″ Duratracs.

The truck looks good like this imo, but it rubs the inside of the tire on the frame rail on both sides at the current ride height. These wheels are 17×8 with 4.5″ backspace, so I'm planning on getting something similar. After some time browsing TireRack, I found a deal on some wheels and tires, like $1600 plus shipping for 5x LT285/70R-17 mounted and balance on a wheel from a manufacturer that I had never heard about, and at the price they were selling the wheels for, I was really nervous about their quality. The wheels are Granite Alloy GA460's a nice looking split six spoke design, and 17×8.5 with 4.25″ backspace, so hopefully they wont rub so bad at full lock.

Took a nice wheeling trip out to west Virginia for a friends wedding, feeling satisfied with the wheels/tires. For the first 2 months ~6k miles there was no rubbing at full lock unless flexing, it still rubs on the frame, I did have to beat the pinch weld on the cab in the front wheel well or they would have rubbed there as well. I think the Icon front springs have settled a bit, the truck now has a decent inch or two of rake, I'll probably just crank the coils down a few turns.

I spent all of October (2016) planning what armor to buy, and then all of November/December waiting for deals, but I did end up purchasing everything I wanted except for rear shocks. Now I just need to find time to install, but first I'm moving to somewhere with a bit more space. Pic of all the stuff in the new garage:

I had some time to paint & install the skids and the front and rear bumper, went down to Tennessee after the fires in pigeon forge area, did some wheeling and camping… the E-locker failed this trip though, I had to manually disengage it to drive home. It had failed once before just after installing the Icon's but after some disassembly and some lube was working fine, Now I can see a crack in the housing, so I doubt I'll be so lucky.

The way the truck drives with all the armor and the tires feels so much different than the '01 ext cab 5 speed that I loved, I think one of the primary reasons is the auto trans, at highway speeds it does a bit better than the MT due to the lower cruising RPM… but I think I'm about ready to start addressing the power problem, so the first step is brakes! I don't know what pads/rotors the PO had on there but they felt fine and stopped the truck well, until with the bigger tires I had to stop from ~65 twice in about a minute while towing the honda. The first stop was fine, the second was not. After browsing the forums, I decided to get a GX460 caliper and rotor to increase stopping power, this was supposed to be a bolt on mod, but I found I had to take about .100″ of the mating surface of the caliper to install the brakes correctly. After bedding the Bendix pads in, I was unable to get any brake fade even when towing my girlfriends CRV with the trailer brake off. I'm not a big fan of the pedal feel, but it didn't change much from before the new calipers, so SS lines are on order. I managed to take 2 pictures this time! (can you guys believe that these are all the pictures I have of my truck?)
Before:


After:

Update:
So as can be seen in a few of the earlier pics in my thread, the headlight lenses that I had were very foggy, I had polished them up once, but that only lasted for 2 months or so… but beyond the lack of lens clarity, even with nice sylvania bulbs, its extremely annoying to see your own shadow on the road ahead of you when someone in a late model vehicle is behind you. So I purchased some CAPA certified headlight housings, a 35w HID projector kit with 5000k temperature bulbs, and the appropriate wiring components off Amazon for about $170 all told. I painted the chrome parts of the reflector housing matte cement gray, and decided against putting a backing plate on the shroud, so some light still escapes into the former halogen reflector bowl. I also ran a wire from the parking lights to the 3rd pin on the blinker bulb, the effect looks nice, but I think I'm gonna get a switchback LED to have more light output during «fog light» operation. The headlights are WAAAAY brighter in lowbeam than the sylvania bulbs, and have less glare when driving by my truck in my girlfriends car, the highbeams are brighter, but the difference isn't as substantial as it is with the lowbeams.
Finished product with the stock 4157 amber bulb (below low beam cutoff):

Google Ads
A picture of the housing with the flash, maybe I'll remember to take a picture when the sun is out, or a picture of the light output!

Light «leakage» around the shroud that was included with the HID kit:

Google Ads