You've been riding your beginner bike for quite some time now; you've learned the ropes and have a good feel for riding bikes. You can even call yourself a competent rider by this point: someone who can ride confidently and efficiently. Maybe, you've even outgrown your beginner bike and want something that still keeps you excited and happy. If that's the case, it's time to ditch your beginner bike and upgrade to something better and bigger.
Google Ads
But don't book the Kawasaki H2 or a turbo-Busa just yet. While you can ride a beginner bike to its full potential, big bikes are a different story altogether, and you need to take a step that's manageable for your skills and experience. This is where these ten bikes come into play; they offer an excellent experience without pushing you beyond your comfort zone. These bikes are terrific second bikes that you can consider. We assure you, you won't get bored with these any time soon.
Looking at data from the manufacturers, we have put together a list of the 10 best second bikes you can upgrade to after riding beginner-class motorcycles.
Related: 2023 Kawasaki Z H2 Review: You Better Hang On Tight
10
Yamaha YZF-R7: A Versatile Supersport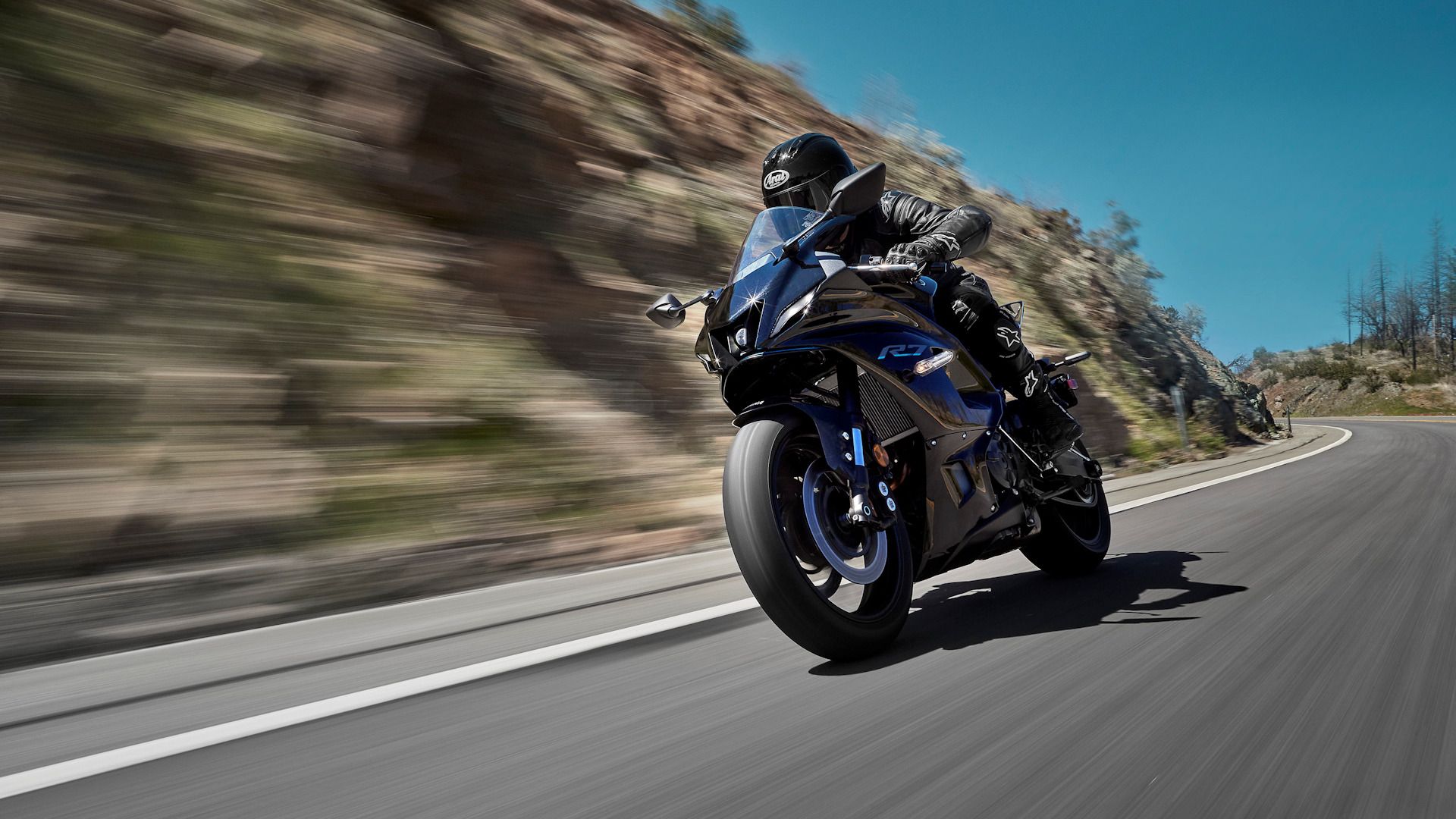 Black 2023 Yamaha YZF-R7 cruising on the road
The Yamaha YZF-R7 may not be a «true supersport,» considering it comes with a parallel twin engine and not an inline-four, but it is everything an experienced beginner can ask for. This unique homologation special from Yamaha has become highly successful for being a peppy, agile, lively motorcycle you can live with. This supersport is easy to live with, comfortable to ride, and something you can take on the track without being run over by other supersports. And since it's inspired by its bigger sibling, the YZF-R1, the R7 looks incredible and fast!
Google Ads
Pros
It's terrific value for money
Since it is agile and lightweight, it is easy to ride for intermediate riders
Its CP2 parallel-twin engine offers a punchy midrange, making it ideal for everyday situations
Cons
Lacks the top-end rush that its inline-four competitors offer
Some riders may still find the ergonomics a little aggressive for urban use
The brakes could be better, but they can be fixed with minor upgrades to the system
9
Kawasaki Ninja ZX-6R: A Supersport Dream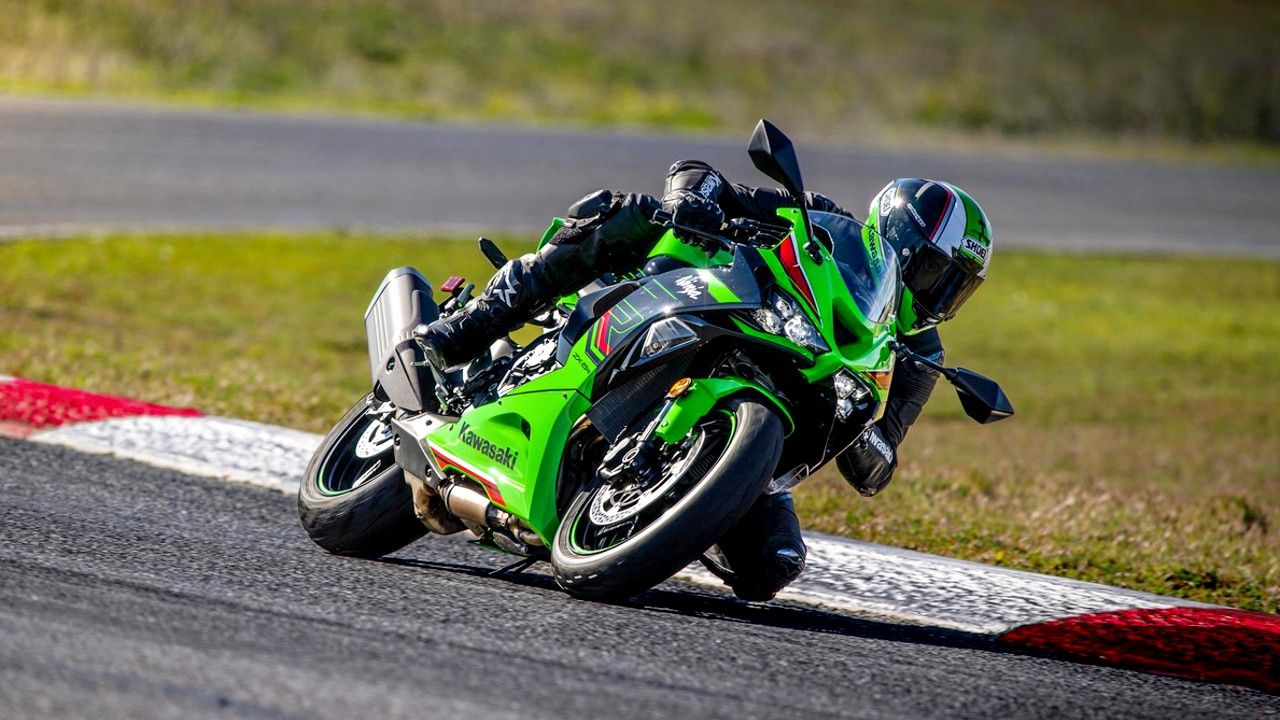 A 2024 Kawasaki ZX-6R cornering on the track
Your mind may gravitate towards the YZF-R7, but the heart wants what it wants, and sometimes, it's an inline-four supersport. If that's the case with you, go for the Kawasaki ZX-6R, the ultimate 600cc supersport untouched by any of its competitors. The 636cc inline-four engine revs up quickly and doesn't let off steam until you're well into the redline. The handling is sharp, and the motorcycle feels every bit like a race bike as it is a road bike. No other motorcycle would satisfy your thirst for an inline-four supersport.
Pros:
It's the gold standard of supersports
The inline-four engine and the sharp chassis offer an intense riding experience
It's the closest thing to a 600cc inline-four race bike for the streets
Cons:
It is by no means comfortable, especially for taller riders
The high-revving inline-four engine lacks in low to mid-range power
It always wants you to go fast, so expect to break many traffic laws on your way to work
Related: The New Kawasaki Ninja ZX-6R Is The Best Supersport Screamer You Can Buy
8
Triumph Street Triple RS: A Track Weapon Without Fairings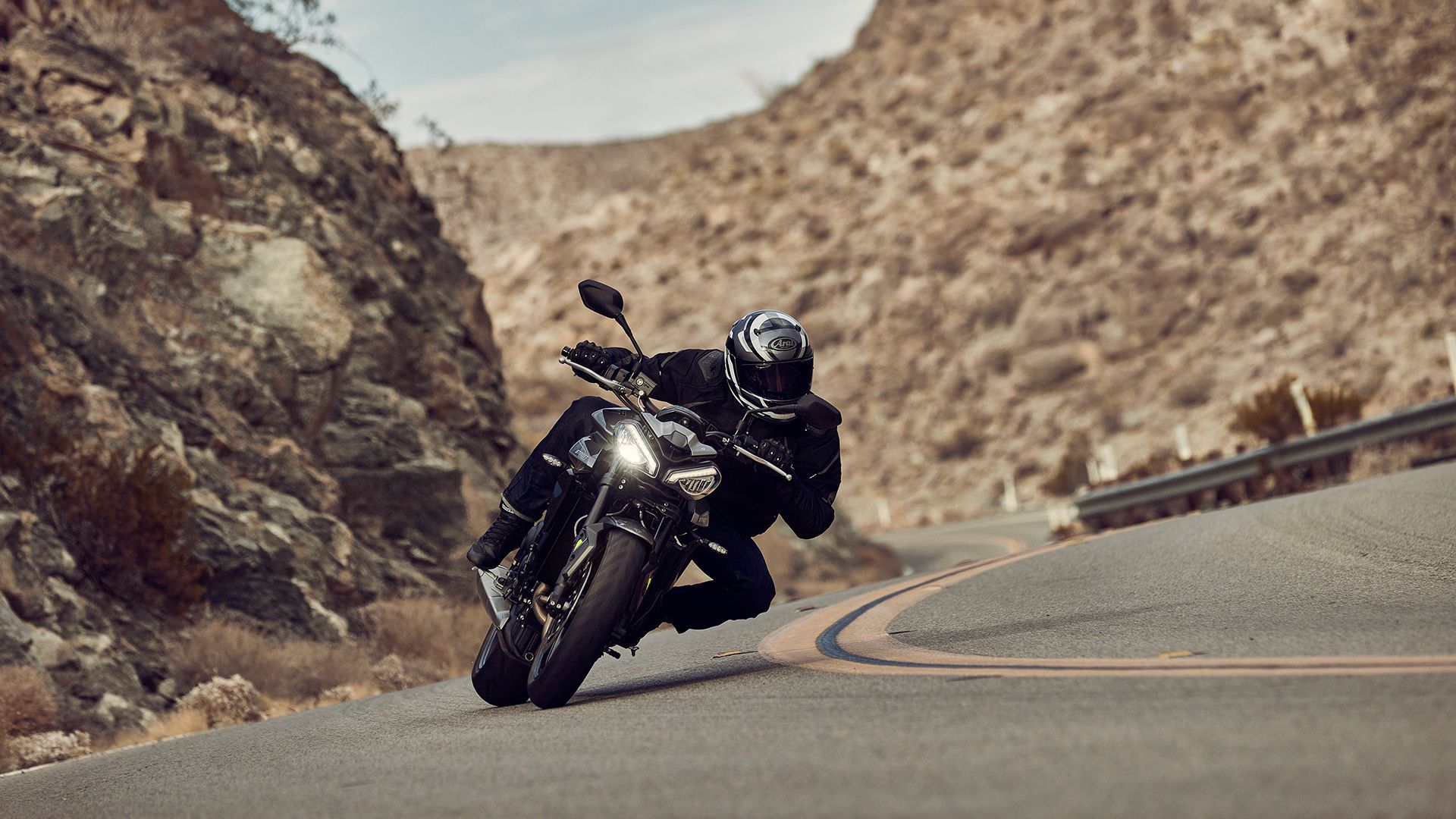 The new Street Triple R offers a great blend of comfort and sportiness
If you think with the heart and mind, go for the Triumph Street Triple RS. Based on the legendary 756 Daytona, this naked bike from Triumph can be a comfortable tourer, an agile track weapon, and a sorta crazy commuter. The inline-triple engine is powerful, with a strong midrange and a punchy top end. Its sophisticated Ohlins shock absorber, Showa forks, and incredible chassis make this bike a joy to throw around in the corners. And yet, it is so comfortable it can almost be classified as a sports tourer. Give this British naked a chance. It will surprise you with its performance, handling, and whistling sound!
Pros:
This naked track weapon is versatile and capable of everyday use
The ergonomics are comfortable for riders of all sizes
It is laden with features like sophisticated suspension, incredible brakes, and an array of rider aids
Cons:
While we think it looks menacing, some riders may find its look divisive
It lacks wind protection, so it's not the best bike to take on the highways for an extended time
Maintenance can be a bit on the expensive side compared to its Japanese competitors
7
Honda CRF1100L Africa Twin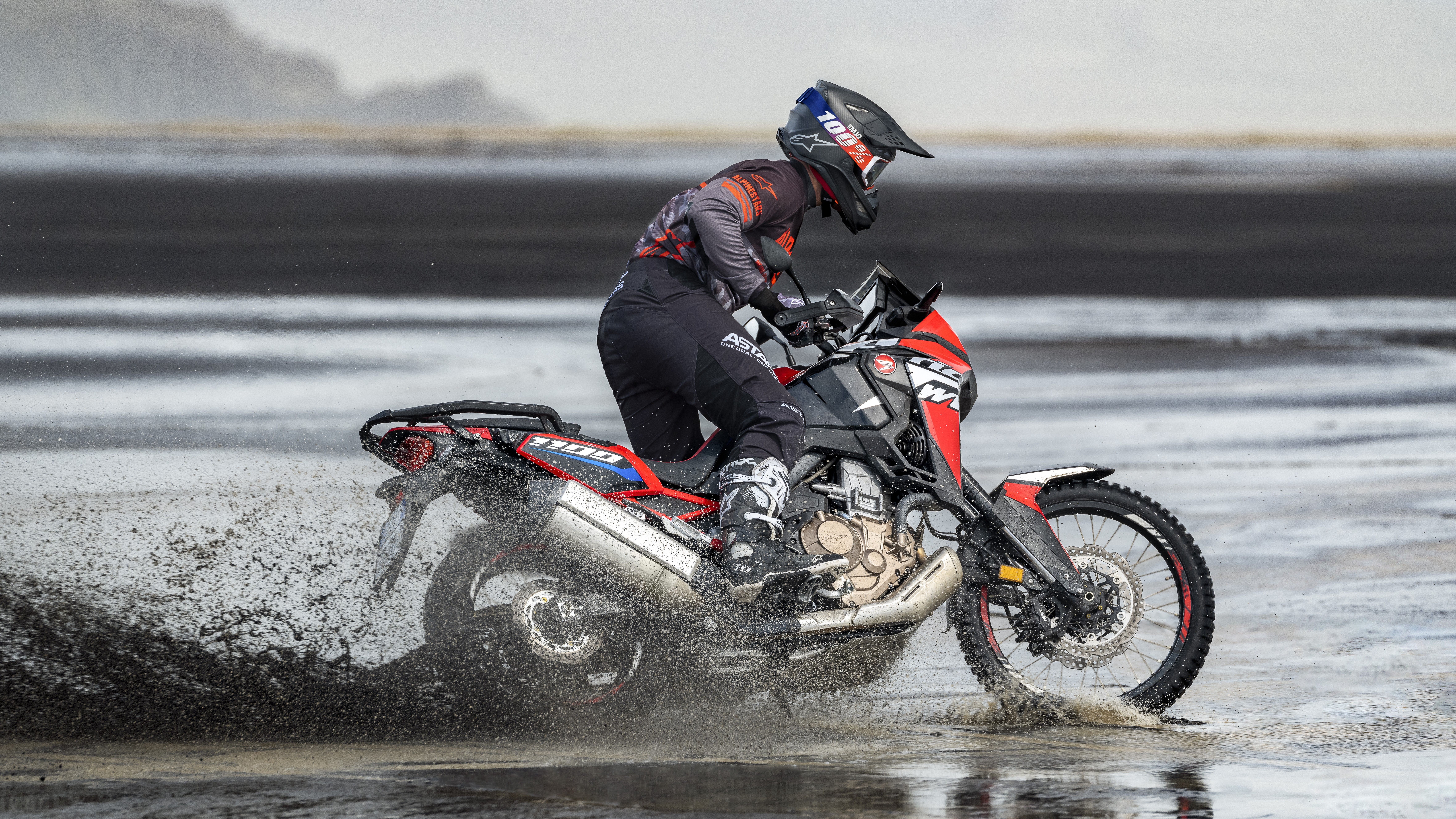 A rider maneuvers the Honda CRF1100L Africa Twin over some tricky terrain
If you seek adventure, forget middleweight adventure bikes — they are already good beginner bikes — and jump straight to the Honda Africa Twin, the most approachable big adventure bike. What makes the Africa Twin so special is its ability to do everything: technical trails, long stints on the freeways, city commutes, and even an occasional set of twisties. This bike is thin and light, and while it may look big, it feels like a middleweight naked in terms of its handling dynamics. And let's not forget, Honda reliability always has your back!
Pros:
It's the only big adventure bike that even riders with a few months of experience can ride
It's a Honda, so reliability is its second nature, and maintenance is dirt cheap
It's a capable bike that feels way smaller than it is, even in rough terrains
Cons:
The seat height of 850mm to 875mm may put off some shorter riders — nothing the right technique can't fix, though
Being a Honda bike, it is composed but can be boring for some riders as it lacks the rush of a liter-class bike
It's expensive for what it offers; yes, it has the performance, capability, and technology, but Honda bikes tend to be a bit costly and underwhelming compared to their competitors
6
Triumph Scrambler 1200: An Incredible Retro Special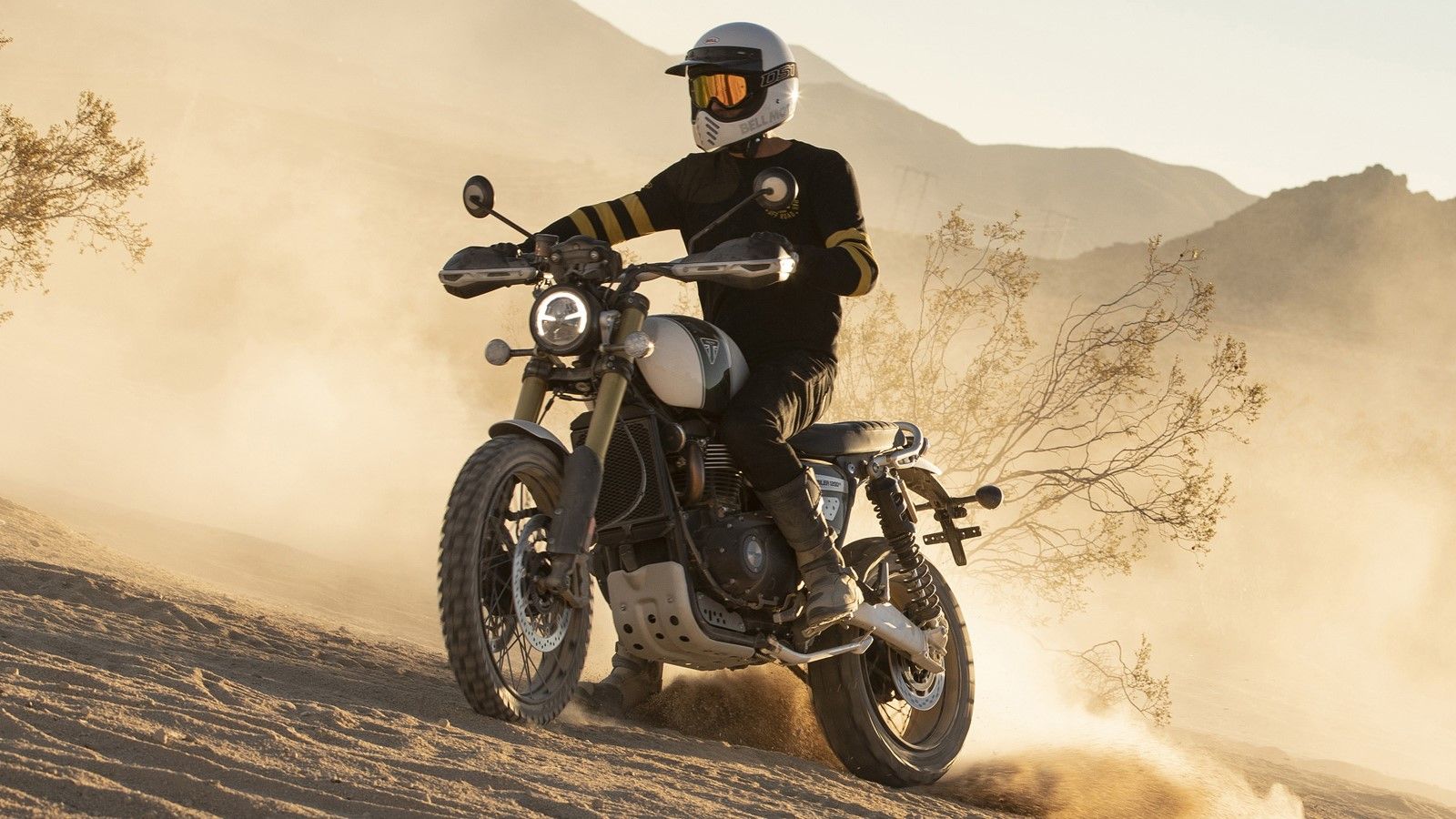 2019 Triumph Scrambler 1200 XE sliding around in the dirt
Let's switch things up with the Triumph Scrambler 1200, an incredible example of the brand's philosophy. First, this bike looks stunning, especially with the side-swept exhaust and a tall stance. And this is one of the few retro bikes that are capable — the Scrambler, thanks to its sophisticated long-travel suspension, higher ground clearance, potent engine, and chunky tires, can tackle off-road trails better than some off-road specials! And yet, the bike feels composed and mannered on the road. It's surprising how a retro bike could look so good, feel so polished, and handle so gracefully, but again, this is a Triumph we're talking about, so we aren't surprised.
Pros:
It's drool-worthy — no wonder Hollywood movies tend to pick this bike
Everything from the plastic panel to the top-spec Öhlins and Showa suspension feels solid and premium
Not even the most experienced riders can doubt its capabilities both on and off-road
Cons:
Expect your thighs to cook medium rare if you hit traffic on the road
While it is capable, you'd be scared to take this off-road
The parallel-twin engine is not the liveliest engine out there
5
Ducati SuperSport 950: An Exotic Sports Tourer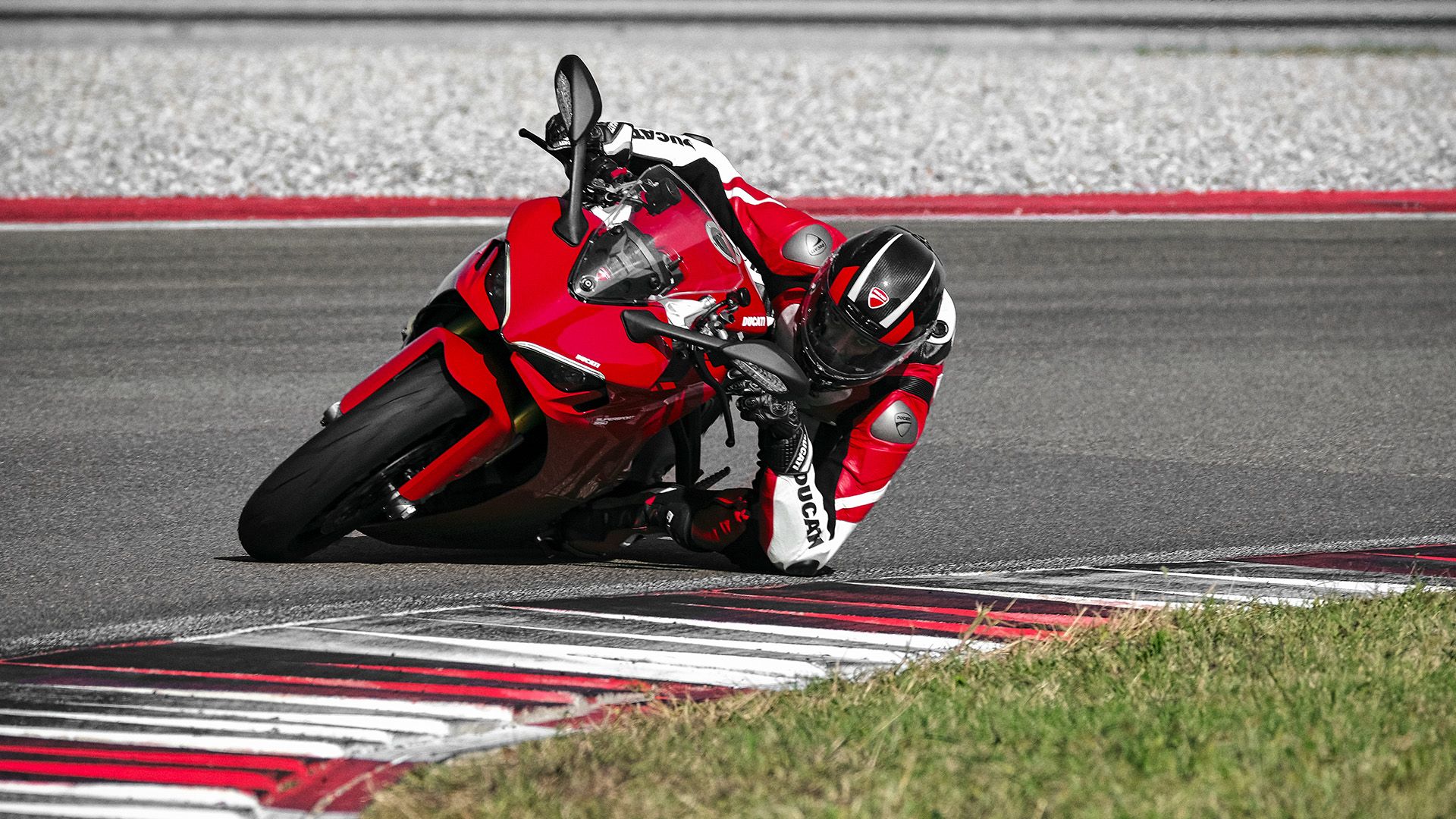 A red Ducati SuperSport 950 cornering on a race track
Are we really recommending a Ducati to intermediate riders? Yes, but hear us out. The Ducati SuperSport 950 is a unique offering from the Italian manufacturer. This bike looks gorgeous even when standing still, but it is much more than its looks. The 937cc Testastretta engine is powerful and sounds incredible, the trellis frame is light and agile, and every component on this bike is high-quality. So what's so special about this Ducati sport bike? It's comfortable; the SuperSport 950 is only a supersport by name, not by its character.
Pros:
A surprisingly comfortable sport bike from Ducati
It doesn't compromise its performance and agility for comfort; it is still a capable track bike
It oozes Italian design philosophy in each of its lines and angles
Cons:
It lacks some touring features like cruise control, and other ones like heated grips or panniers cost extra
It can feel a bit out of place in the current Ducati lineup
It is expensive to maintain and repair, just like any other Ducati
4
Harley-Davidson Fat Bob: A Class-Defining Cruiser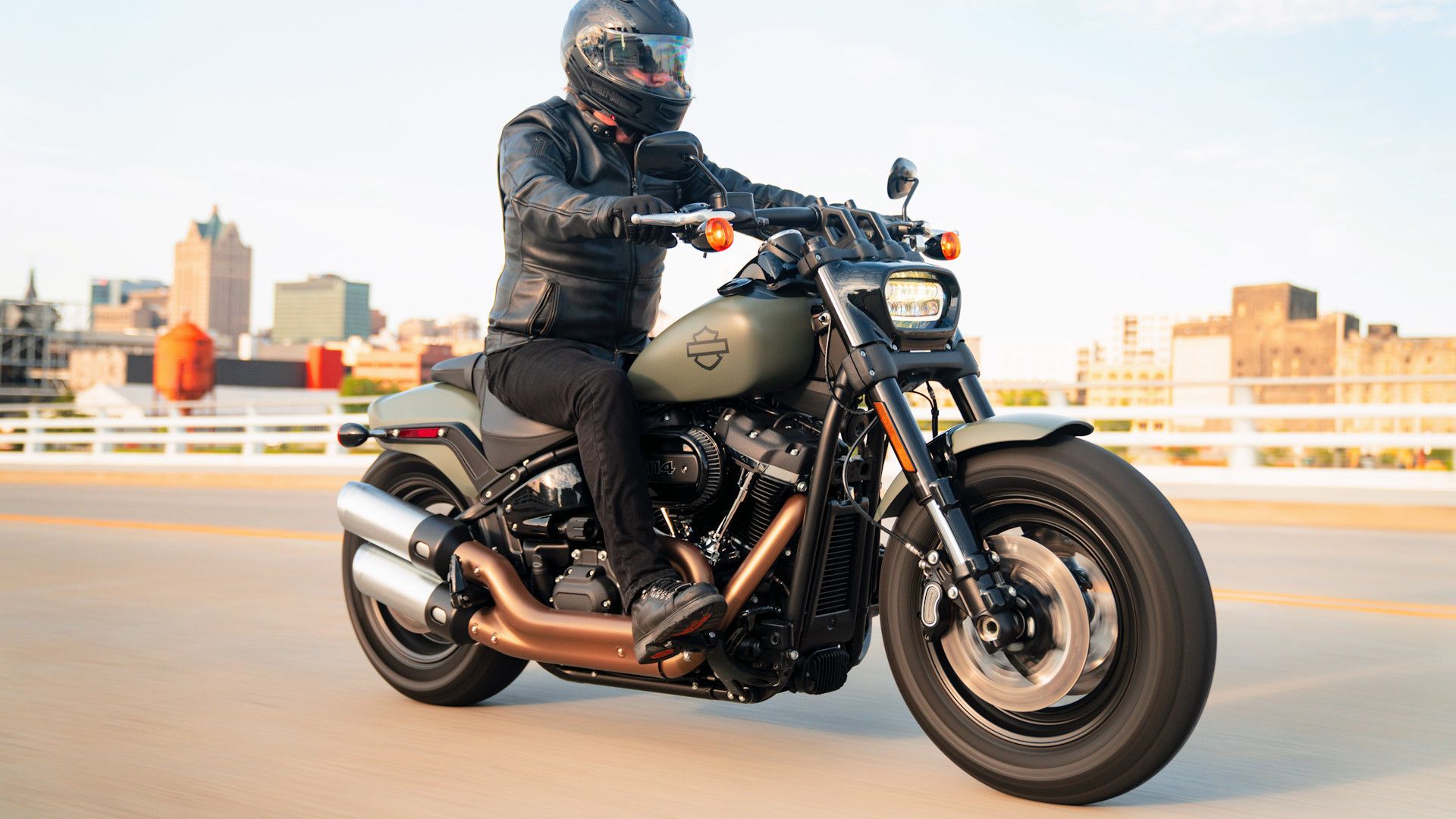 Deadwood Green Denim 2021 Harley-Davidson Fat Bob 114 cruising on the highway
If you think cruisers are boring, think again — the Harley Davidson Fat Bob is here to prove you wrong. This high-performance cruiser from the American brand features the Milwaukee-Eight engine, forward controls, a high seat, top-spec suspension, and chunky tires. While it weighs more than sport bikes, it does offer high-speed performance and agile handling, and lest we forget, it's comfortable to ride. Lastly, it looks bold and brash, something that many modern cruisers have compromised on in recent years.
Pros:
Despite being a Harley, the Fat Bob is a fast and decent-handling motorcycle
It offers features that are seldom seen in the cruiser segment, like USD forks, powerful brakes, and decent road manners
It's one of the most striking cruisers motorcycles currently on sale in the States
Cons:
It's a Harley, so the performance comes at a cost
At 700 pounds, the bike is heavy, and the weight does offset its performance by a significant margin
The riding position may feel a little weird if you are not used to it
Related: A Closer Look At The Harley-Davidson Fat Bob
3
Husqvarna 701 Enduro: The Ultimate Enduro Motorcycle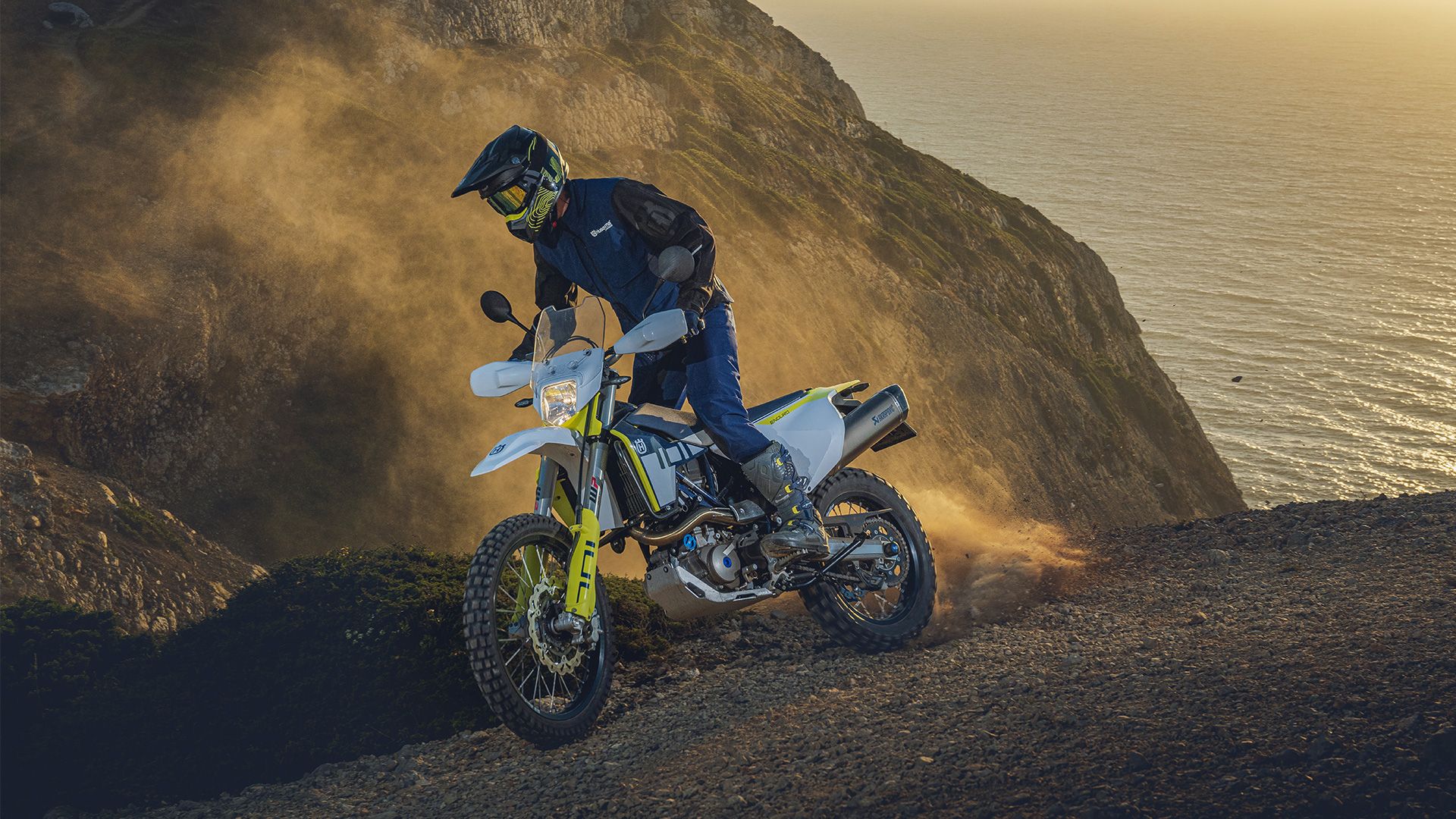 An action shot of the Husqvarna 701 Enduro on an off-road trail
If you are an intermediate enduro rider who wants to upgrade from a small dual-sport motorcycle to something serious, consider the Husqvarna 701 Enduro. For many enduro riders, the 701 Enduro is the spiritual successor to the KLR650 thanks to its single-cylinder motorcycle, distinguished character, and top-shelf suspension and brakes. The 701 Enduro is the type of bike that you will pick up as an intermediate rider but sell as an experienced trail rider.
Pros:
The single-cylinder engine is smooth, relatively vibe-free, and offers torque that can throw you back in the seat
Every component on this bike, including the suspension and brakes, is top-spec
The 701 Enduro is a dedicated enduro bike that does not cut any corners
Cons:
The single-cylinder engine isn't the most versatile and can throw a tantrum if you ride it like a multi-cylinder bike
It's not an everyday bike, so you can't ride it every day
There is still some learning curve to this bike, so don't expect to light the trail on fire in the first week
2
Ducati Hypermotard 950: The Italian Hooligan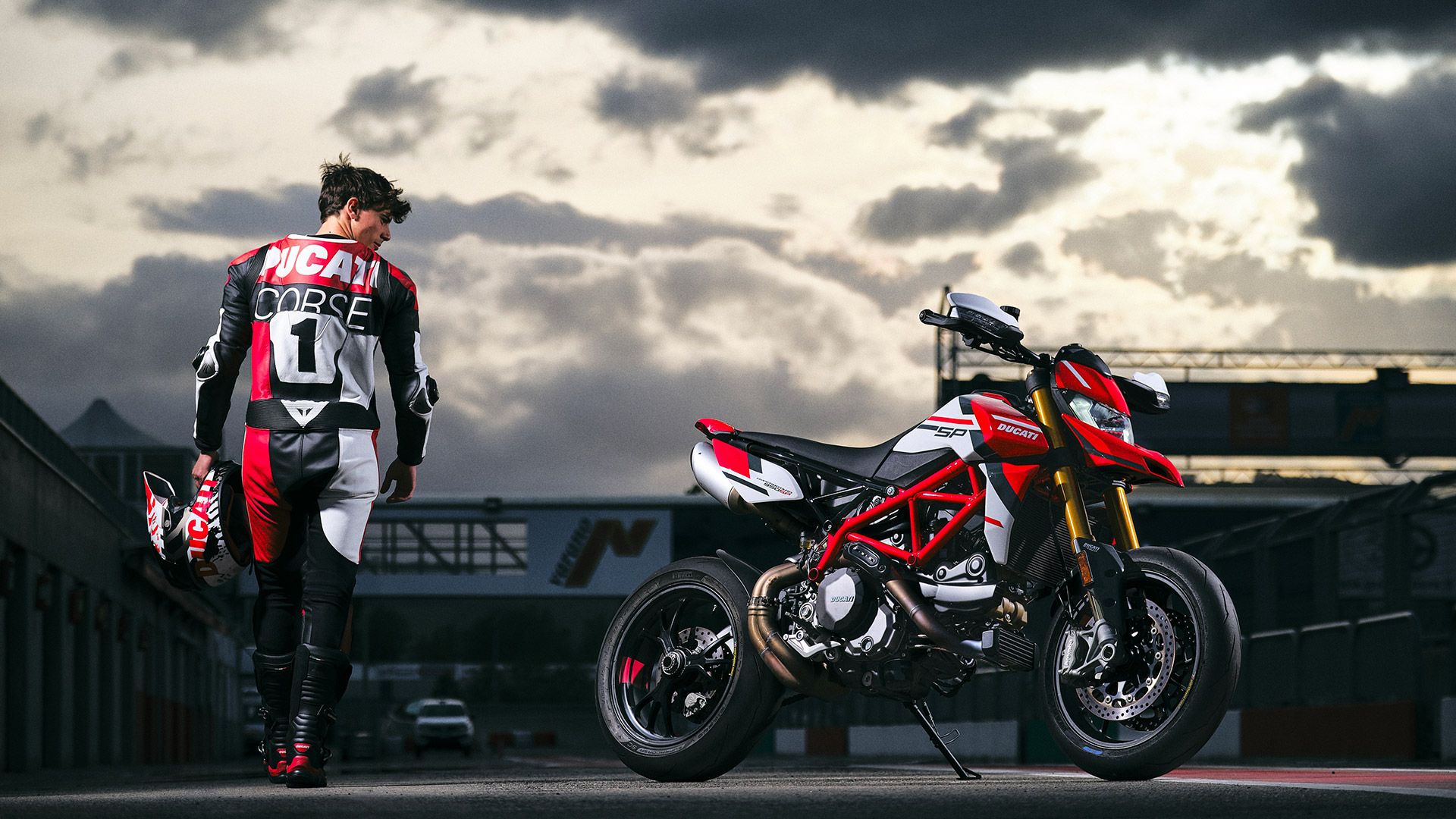 Rider facing away standing beside the 2021 Ducati Hypermotard 950.
Don't confuse the Ducati Hypermotard 950 for a bike that's friendly, comfortable, or sane — it is not. The Hypermotard 950 is a hooligan, and it will encourage you to break every traffic law even before the engine warms up. The bike features an excellent trellis frame, minimal bodywork, Marzocchi forks, and an engine tuned to make you hold the handlebars, so you don't fly off the seat. And who knew a road-worthy interpretation of off-road aesthetics could look this menacing and gorgeous?
Pros:
This supermoto is sporty, fast, and razor-sharp
The rider aids come in handy all the time, given this bike's manic nature
It looks unique and aggressive, especially with its under-seat exhaust
Cons:
The seat height of 870mm to 890mm is tall and takes some time to get used to
The seat is uncomfortable, so forget spending hours on the saddle
It's not the most versatile bike thanks to its stripped-down nature, radical engine, and uncomfortable ergonomics
1
Honda CBR1000RR: An Approachable Liter-Class Superbike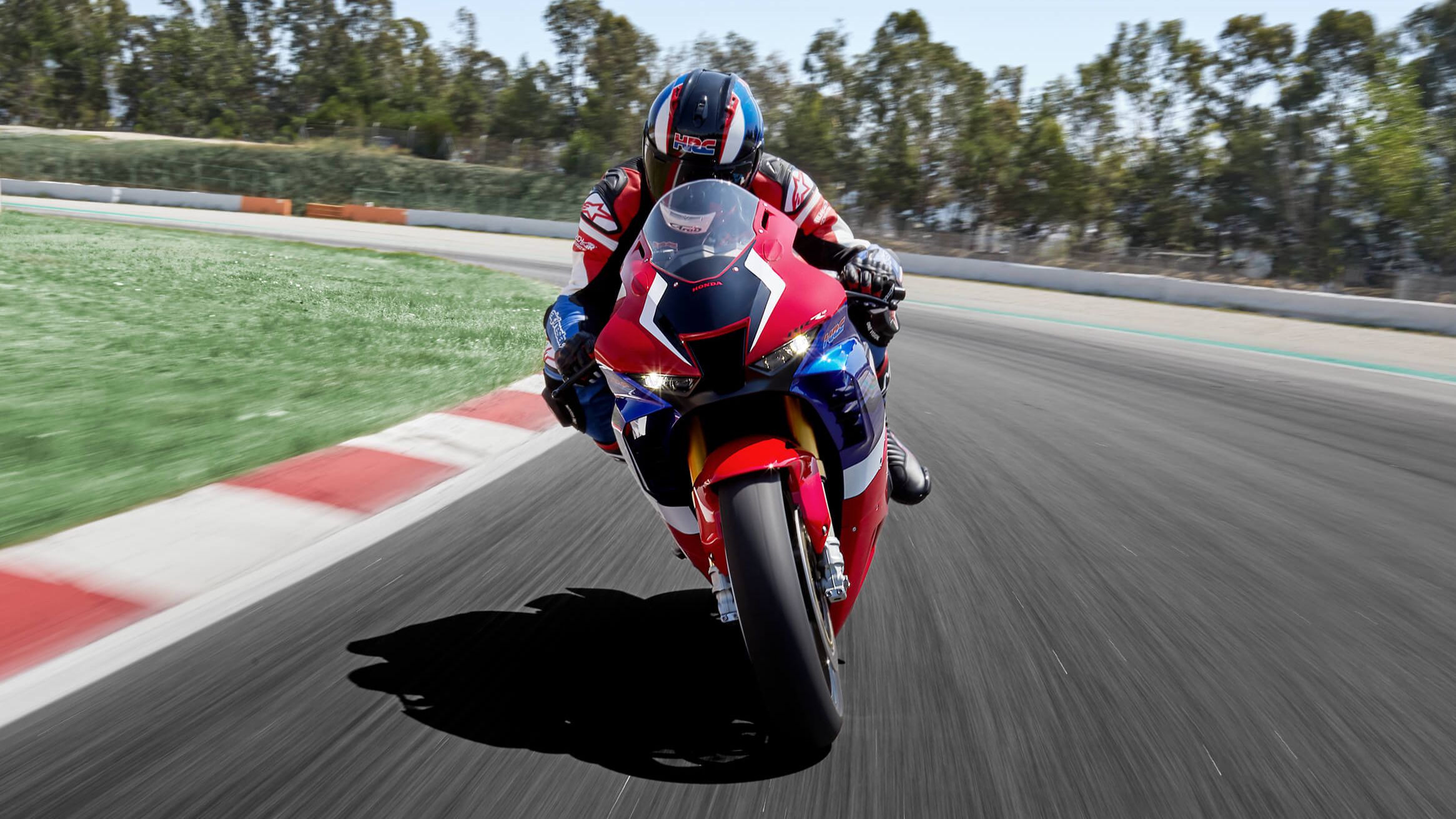 Front view of Honda CBR1000RR-R Fireblade on a track.
The creme-de-la-creme of this list is the Honda CBR1000RR, a liter-class superbike that even intermediate riders can ride. Don't get us wrong, the CBR1000RR is the ultimate Fireblade, and it can get you in a lot of trouble, legally and medically, if you are not careful. But treat it with respect, and it can show you a world you've only dreamt about. The CBR1000RR is a mindblowing bike — it's fast, composed, and approachable. It's no surprise since the current-gen Fireblade builds on 30 years of legacy of innovation, performance, and road manners.
Pros:
It's the most approachable liter-class superbike
For a 1000cc superbike, the Honda CBR1000RR is compact and comfortable to be on
Every bolt, panel, and metal on this bike feels premium and high-quality, and we assure you it costs a lot less than it should
Cons:
It is still exceptionally powerful, with almost 200 horsepower, so you must respect it every time you ride it
It's comfortable, but taller riders may find the ergonomics uncomfortable or awkward
It's not the easiest bike to maneuver at low speeds
Google Ads