"Tough times never last, but tough people do."
If the old saying is true, owner-operator and small-fleet businesses that make it through to the other side of the current freight environment, declining for the better part of a year, will be as tough as they come.
Google Ads
According to the latest DAT Trendlines report, spot load posts were down 61.2% in May 2023 from May 2022, while the number of trucks posted on the load board was up 10.2%. Those dynamics led to tough times for small fleets and owner-operators for whom spot freight is their bread and butter.
There's been a bit of a silver lining through the spring, though. According to DAT, there were 29.4% more loads posted in May than in April. Yet 8.6% more trucks were posted in May as well.
Any experienced owner knows that when the number of trucks posted outweighs the number of loads by a large margin, rates are going to suffer. Van spot rates were down markedly (23.7%) in May from a year prior, DAT noted, as were flatbed (22.5%) and reefer rates (20.3%.) The FTR Transportation Intelligence/Truckstop weekly report showed more of the same:
Yet there's another silver lining, too: In the view of FTR's freight forecasters, the spot market has finally delivered on what various prognosticators have been predicting since as early as late last year — a bottoming-out for spot rates. As the market has continued to return to a semblance of a pre-pandemic «normal,» the long decline in rates may finally be near its end. In its «State of Freight» webinar series just this morning, FTR Vice President of Trucking Avery Vise told attendees that «we've bottomed, according to our forecast,» noting the picture in reefer was quite similar, while flatbed had generally shown more spot strength.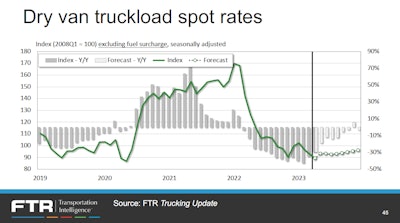 If you're making it now running spot freight, you're in a strong position to really make hay on the other side. If you're not, seasoned carriers point to the value of close partners in a time like the present. As with all things spot market-related, though it's never quite as touchy-feely as it sounds, maintenance of relationships with brokers and/or direct shippers is now more important than ever. Part 2 of this look at spot freight strategies, nonetheless, reveals some dynamics at play with automation and turmoil amid some brokerages that could present difficult long-term headwinds for owner-operators who would bet their business on freight relationships with middlemen.   
Back to spot biz basics
A two-time semi-finalist in Overdrive's Small Fleet Championship, Suprise Trucking owner Bryon Stoll had 12 owner-operators leased on at the height of the pandemic freight boom in late 2020 and into 2021. He's since shed every single one of them but for a former owner who now works for Stoll as a company driver.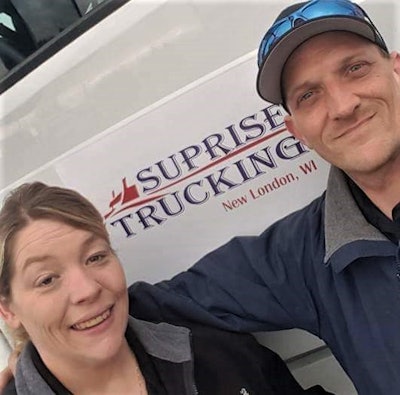 Stoll said it wasn't a lack of freight that led to them leaving, rather money management issues, despite his best efforts to coach them on how to be successful owners.
"We kept them rolling, kept them really busy, and they were making good money," Stoll said. Then: "Rates dropped, the amount of freight dropped, and everybody's struggling to keep their trucks running. We didn't have that problem," particularly, due to some strong relationships with brokers and a couple shippers.
There was a problem, however, with owners' willingness and/or ability to improve efficiency to reduce fuel costs — not cutting back on speed to increase mileage when prices skyrocketed. Another issue was that some of the owners didn't want to make lifestyle changes to account for inflation across the board. "People aren't going to give up their lifestyle to make ends meet," Stoll said. "That is probably the biggest human-factor problem. We're creatures of habit, and people just aren't willing to change their habits."
Despite losing the majority of those leased owners, Stoll's keeping his single operator rolling and doing some part-time work himself for the first time since his heart attack last year.
[Related: Serious as a heart attack: Small fleet owner's brush with death a cautionary tale]
Google Ads
Stoll said he hasn't had trouble finding freight for a few reasons. One, he's willing to book a load that may not be as profitable to get his truck where he wants it to be, and two, he's spent time building relationships with brokers who are now willing to give him a load over a carrier they haven't worked with as much.
"You have to know where the loads are," he said. "This time of year, it's Florida," normally a place few owners want to be. Headquartered in Wisconsin, if Stoll wants to get his truck to Florida, he'll look to the load board and see what the rates look like for direct loads there. But when freight out of Florida is paying well, getting there often as not won't, he said.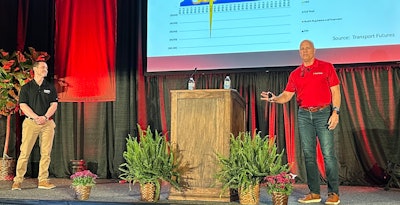 He might break up the route into a triangle or otherwise, to split up the trip down. As a hypothetical, say a load from Wisconsin to Florida pays $1,000. But he could find a load from Wisconsin to Chicago for $800, then Chicago to Tennessee for $1,000, then go into Florida from there for another $800. Instead of being at $1,000 in revenue for the direct load, he's grossed $2,600. "It might take an extra day to do that, but did you maximize your money in the process? Yeah, you did," he said.
Brokers look for owners who understand market dynamics, like Stoll. The best business relationships extend from simple availability and clarity of communication  "None of this is personal," said broker Pete Emahiser, owner of Ohio-based Tadmore Transportation. "Nobody is trying to get a Christmas card. We're here for the money. You cannot make this personal."
Credibility as an owner extends from providing as much information as you can about your truck, available hours, location relative to the pickup, what you're capable of — and be as specific as you can. "Know where you're at; know what you're good at," Emahiser added.
Tyler Johnston, director of operations for Mercer Transportation, said during a presentation at the 2023 Mid-America Trucking Show that the more familiarity he has with a carrier, the more trust he has, and the more he'd be willing to give a better rate.
"Consistency and familiarity breeds more profitability," he said. That's business. 
[Related: How to speak your freight broker's language with confidence]
Chad Boblett, a one-truck owner-operator and founder of the Rate Per Mile Masters Facebook group, has been working the spot market for the vast majority of his freight for 12 years. He occasionally works directly with shippers, but probably 95% of his freight comes from load boards and working with brokers.
"There's no human relationship there. Computer contact is all you have. If we don't deal with companies direct, it's just not going to work very well." —Daniel Snow, formerly independent, in Part 2 of this feature, speaking to the breakdown in relationships he's experienced in recent years with brokers
In a market like that of the last year or so, he's trying to consistently move freight for the same broker to solidify that freight source, as chasing rates is a game of diminishing returns with the amount of competition out there. "The very next load I want to do is a load with the broker I just completed a load with," he said. "I don't think like that when there's 10 loads for every truck.» In high-demand times like that, «I'm thinking about finding the highest-paying load I can find, depending on where it's going."
If he can't get a load with the most recent broker he worked with, he'll look back at the last two or three brokers — "that's who you need to do your next load with. It only takes three loads with the same broker" to build a solid relationship, he said. "Do this consecutively as much as you can." By the second load, you and the broker "already kind of know each other. You know how the broker is going to call for a check call. You start building a rhythm with them."
By the third, he said, "you've already shared cell phone numbers and other details. You know about each other's kids. A conversation has started by the third load."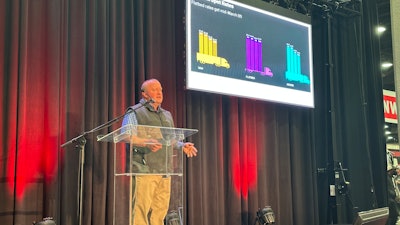 Stoll said when he calls a broker to book a load, he makes sure to be professional and pleasant on the phone. Judging by tone of voice, you can tell if someone's in a hurry or not. If they sound like they're not, make some small talk, he said. "If you hear a dog in the background, ask about it. Get them to talk about themselves and what they're proud of. Then your job is to do a damn good job for them — keep them updated as far as tracking stuff goes."
Once a load is complete, he said, ask if the broker will put some notes into their internal system about the job you did. Oftentimes they will, he said, and when you book the next load, you can reference those notes and maybe get a little extra money. Or at least get the load over another carrier.
[Related: The work-life balancing act as an owner: Lean on family, customer relationships to tip the scale]
"The more of that you get with any broker, the more willing they are to work with you and give you a little better rate," Stoll said.
Stoll noted that he has some regrets not going after more contract freight when the spot market was hot at the height of the COVID pandemic, but ultimately, "the spot market is where it's at," he said. "The spot market" may not be good right now, "but it's coming back."
Read next: Spot-market evolution: Same old story or 'totally different world'?   
Google Ads