Everything about this car confuses me. It a kei car, sold by Chrysler under the Dodge name, and it's called, the Michigan. I just love the idea that Michigan was maybe considered an exotic name to folks in the Japanese branch of the automaker. Also, the Michigan was only available in Japan, despite Michiganders being so obsessed with their weird state that they would have bought boatloads of these.
Google Ads
The Mundane Cars You Can't Help But Love
I can find very little about this weird vehicle, besides that it was sold in Japan in 1986 at the very start of Japan's Bubble Era — when the economy seemed to grow exponentially along with the number of nameplates available to consumers. Ford and GM dominated the auto market in pre-war Japan until 1939 when they were ousted. From there and following World War II, the country would remain very protective of its domestic market and kept foreign automakers at arms length. American automakers really only began to make significant in-roads into Japan in the '80s and '90s, after decades of gas-friendly Japanese cars flooded the market.
American cars would never flood the market in Japan in a similar fashion. Ford only sold about 5,000 cars a year in Japan when it bowed out for good in 2016, according to MotorTrend. However, some automakers were just starting to trickle back into the country in time for the Bubble Era, when spending power across the country spurred more innovation and more specialization in every aspect of the economy. It took a lot to stand out in Bubble Era Japan, and many vehicles were low-quantity sellers. Here's how Raphael Orlove described the vehicles from this era:
Ever wondered why Japanese cars seemed to hit a kind of peak in quality in the 1990s? Why the Toyota Supra, Honda's NSX, the Mazda RX-7 and the Nissan Skyline GT-R were all rapidly developing until a few years into the decade, when they all started cycling into re-heated refreshes and then were altogether canceled? Why it's not hard to find a 1992 Camry still on the road, why Toyota 2JZ engines are still the go-to choice for big power tuners? These are all products developed in the heyday of the Bubble Era.

Just the same, if you've spent the past 20 or 25 years wondering why doesn't Mazda or Toyota or Nissan or Honda make cars like this anymore, staring at a gleaming NSX Type R or Honda Beat or whatever, it's the same thing. All of these madcap projects were cut loose after the bubble burst. Only very recently have we started to see a comeback to even approach how things once were.
But dang, the Dodge Michigan must have been the lowest of the low in terms of sales volume. I thought maybe no one bought them, until I saw the car was featured in an anime from the era called City Hunter which, according to IMDB, is summed up as "The adventures of Ryo Saeba, a gun-for-hire living in the Tokyo metropolis, who will take on any dangerous job as long as it involves beautiful women."
Cool. Maybe the artist just particularly liked this car (the show is full of really interesting autos) but maybe they were actually driving around enough to be reference?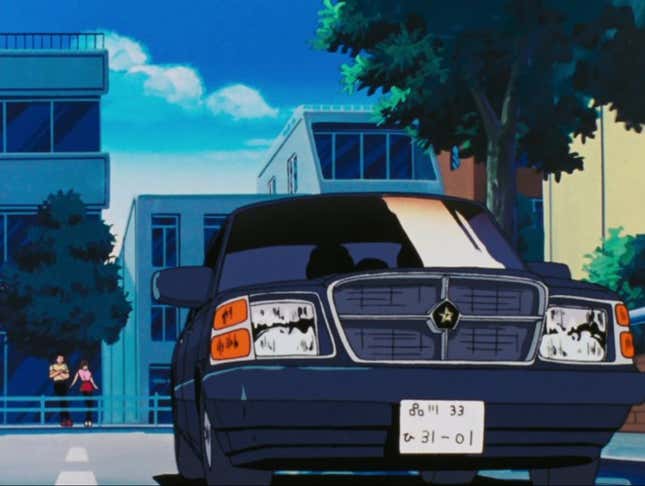 The excellent message board Curbside Classic posted images of a sales brochure for the Michigan. As they point out, the Michigan is a left-hand drive car; long a status symbol in status-conscious Japan. The interior is plush as well, despite the Michigan being a little kei car:
Here we see Lakes Michigan, Huron, and Superior in cameo appearances as oil leaks. Also: turn signal repeaters in the typical Japanese location near the front of the fender, large pivot-mounted sideview mirrors instead of the domestic-market small rigidly-mounted ones, a rear-discharge tailpipe, and very busy taillights that look as though grafted in off a similar-year Mitsubishi (though clearly they were actually built specifically for this car).

Inside, there's a hosey aftermarket-kit style install of what appears to be a DIN-sized radio set in place of the taller Chrysler-sized unit. Japanese FM radio stations are on even-decimal frequencies like 100.2 rather than the odd ones used in North America like 100.3. I don't spot much else unusual here, do you?

Those prices in the lower left corner of the first brochure page bear some attention. When these were first –sold– offered in Japan, the price equated to about $11k in 1985 Dollars, about 40% more than in the States. That's about $28k in 2020 Dollars. By the end of the offering, the Dollar/Yen exchange had nearly doubled the price to over $21k in 1987 dollars (about 2.6× the US price, and equal to about $49k today). For that reason amongst others, I have great difficulty imagining more than about three of these were bought in Japan, perhaps one for each of the 1985, '86, and '87 model years.
Other than that rundown, I can find vanishingly little about this car. If you know more or have a bead on where I can find details, hit me up.
Google Ads