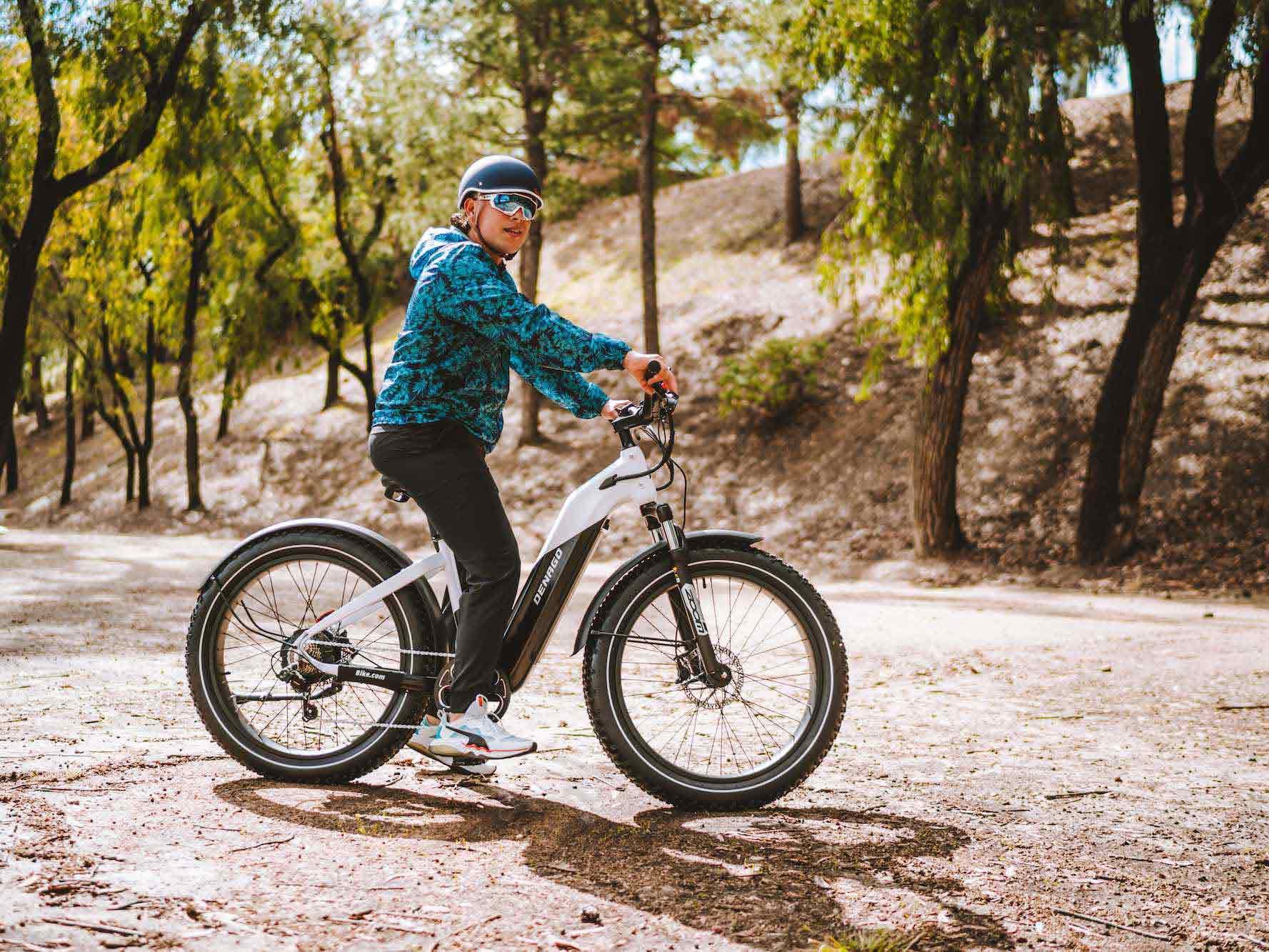 Those fat tires are just begging to go off pavement.… At least that's the way we see it. (BIke.com/Denago/)
This holiday season, as we gather with family, loved ones, and that uncle whose life was ruined by kooks on YouTube, it's important to look at our plates and ask, "What does this wonderful bounty teach about ebikes?"
Google Ads
And, maybe, "Is this delicious bounty what Guy Fieri has been trying to teach us for decades?"
The answer to both questions is the same: Fat is the fast track to fun and Flavortown. Both in the kitchen and on two wheels.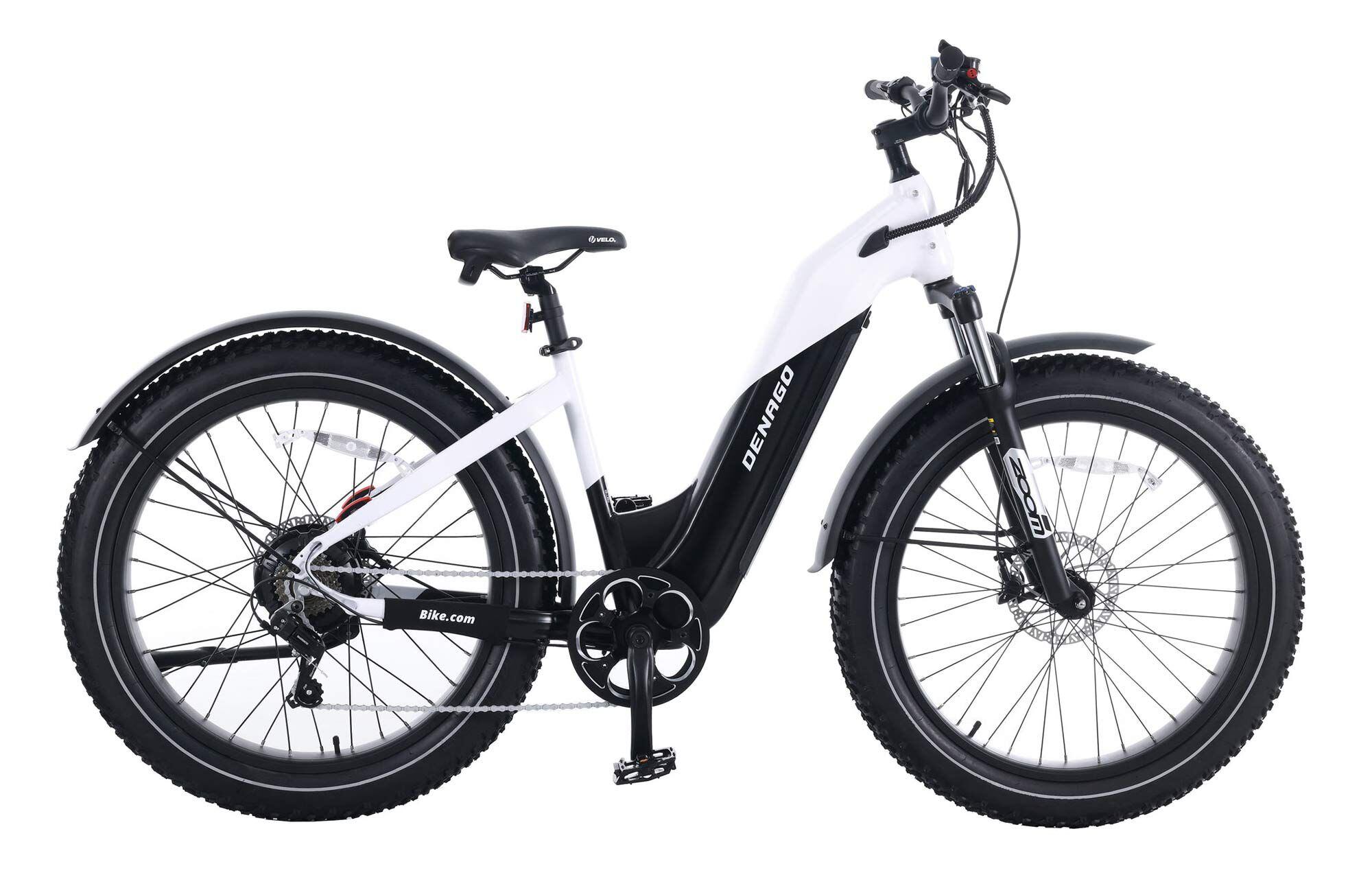 The Denago Fat Tire Step-Thru is priced at $1,999 and comes in two sizes to fit riders 5-foot-4 to 6-foot-5. (Bike.com/Denago/)
Before we get into the details of the Denago Fat Tire Step-Thru, it's essential to get into the history of fat bikes. This look into the past is relevant to this ebike. The Denago Fat Tire is unique, affordable, and way more fun than we should expect out of a $2K ebike.
First, your history lesson.
Although analog fat bikes have been around for decades, and maybe even a century, they started to become popular in the aughts. These bikes are great in the snow and sand, and they excel on flat terrain.
Bearded bike nerds in the mostly flat Midwest kickstarted this trend of bicycles with massive tires: about 4 inches wide, give or take. Minnesota-based Surly Bikes built the Pugsley fat bike in 2005, and the industry grew from there.
This was a monumental shift for pedalers. Just looking down and seeing 4 inches of rubber underneath you was fun. Cyclists felt like they were on a pedal-powered monster truck. But the thing that your conspiracy-loving uncle pays no mind to—science—got in the way.
Mainly physics. Most of your effort when you spin the pedals on a bike goes to moving your wheels. The farther the mass gets from the hub, the more work it takes to move. This is why most racers spend more time on a light wheelset than a featherweight frame: Thanks to quicker acceleration and less work to maintain high speeds, it's the smartest place to spend your money.
But, when you add weight to your rims or tires, your bike feels sluggish. It's tough to get all that mass moving. And that, dear reader, is why electric-assist fatties might just be the best realization of a fat bike.
Just be careful when saying that to a purist. That hole smack dab in the middle of their beard might start frothing!
That's a really, really long way of saying the Denago Fat Tire Step-Thru is a helluva good time. So much so that it might transcend ebike-ness.
Google Ads
Can we call it an e-fat? That would be delicious.
Unlike the Denago City Model 1 and the Denago Commute Model 1 we reviewed earlier this year, which utilize a 500W Shengyi rear hub motor and a 652.8Wh removable internal battery, the Denago Fat Tire offers more on both fronts. The removable internal battery is significantly larger: a massive 921.6Wh. The Bafang rear hub motor is a full 50 percent more powerful: 750W. And the Bafang uses a torque sensor to measure out pedal assist up to 28 mph. Like both of Denago's other models, a throttle will also get you to 20 mph without pedaling. Claimed range is 45 miles.
Denago steps up the power with a 750W Bafang rear hub motor putting out 80Nm of torque. (BIke.com/Denago/)
The downtube of the low-step aluminum alloy frame houses the removable battery, which can be charged on or off the bike. And the wheels are old-school: 26 inches! That's a good thing. They're a bit hardier than larger options, and you want all the beefiness you can get for this almost 80-pound rig.
The rubber? Four-inch-wide Kenda tires with puncture protection and reflective sidewalls.
Unlike the other two Denago models, this e-fat gets its gearing from Shimano: a Tourney seven-speed drivetrain. For bike folks of a certain age, seeing a bike equipped with seven-speed may bring flashbacks to a time when Kurt Cobain was alive and helmets were not yet mandatory in races like the Tour de France. But on the streets, the Tourney drivetrain performed really well. It's not sexy or buttery smooth, but is very functional.
Shimano groups, even the inexpensive ones, are impressively utilitarian.
Those fat ol' tires inspire confidence and exploration. Confidence because they look like they're ready to plow through just about anything. Although you never want to hit a pothole, if you do, it's tough to imagine a better tire to hit them with. Those knobbies mean choosing the dirt path less taken is always an option.
Thanks to that motor, acceleration is peppy. Not paying the weight tax for that rotating mass is great. Sure, it probably affects the overall range of the bike by a smidge, but this ebike isn't for the max-range set. Nice to have, for sure, but not necessary for most.
And all that prattle you just read about the big tires? There's a reason for it: High-volume fat tires deliver Cadillac-like ride quality and comfort in the saddle. With the crumbling infrastructure of a lot of American communities, the e-fat might just be the future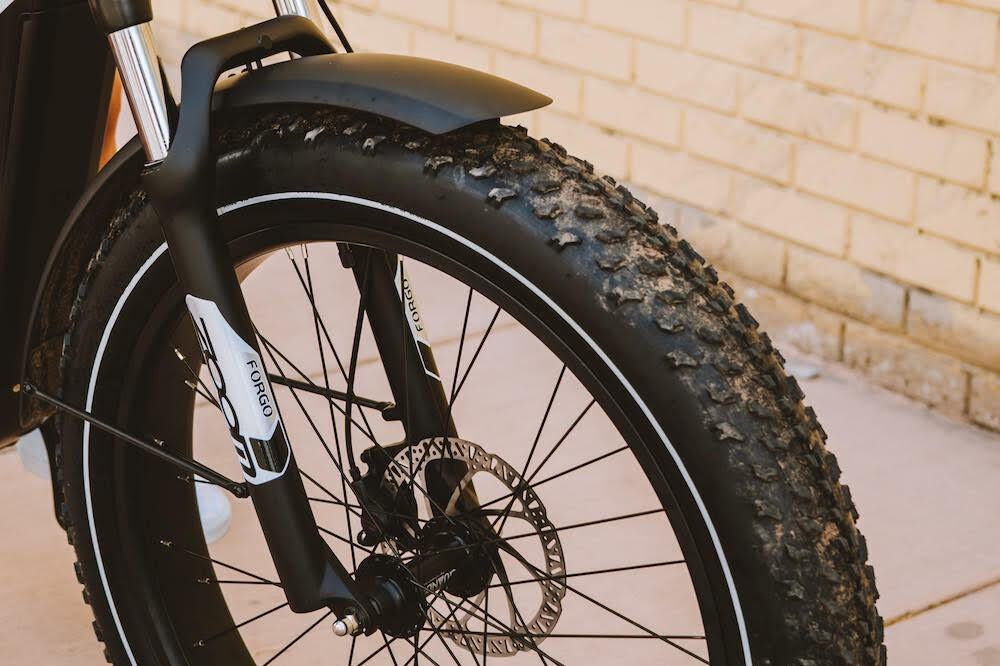 A set of 26 x 4-inch Kenda fat tires gives the new Denago a cushy ride. (Bike.com/Denago/)
Although I really loved riding the Commute Model 1 around Los Angeles, the e-fat is next level. Stay tuned for the full review to find out what it was like to ride this very upright e-fat both off road and around town—and whether it's really possible to have your proverbial cake and eat it too.
Google Ads