The Electric Vehicle (EV) market has been rapidly evolving, with an increasing number of startups pushing boundaries and introducing innovative products. One such promising entrant is TELO Trucks, a San Francisco Bay Area-based startup, which is attempting to disrupt the industry with its compact, electric pickup truck, the MT1. The vehicle is designed to deliver the functionality of a conventional pickup truck like the Toyota Tacoma with a vehicle the size of a Mini Cooper, a Tesla-like range and a bed length like the Hummer EV. Here's everything you need to know about the MT1.
Google Ads
Related: Chevrolet Silverado EV vs GMC Sierra EV: Which One Should You Buy?
The MT1 Does More With Less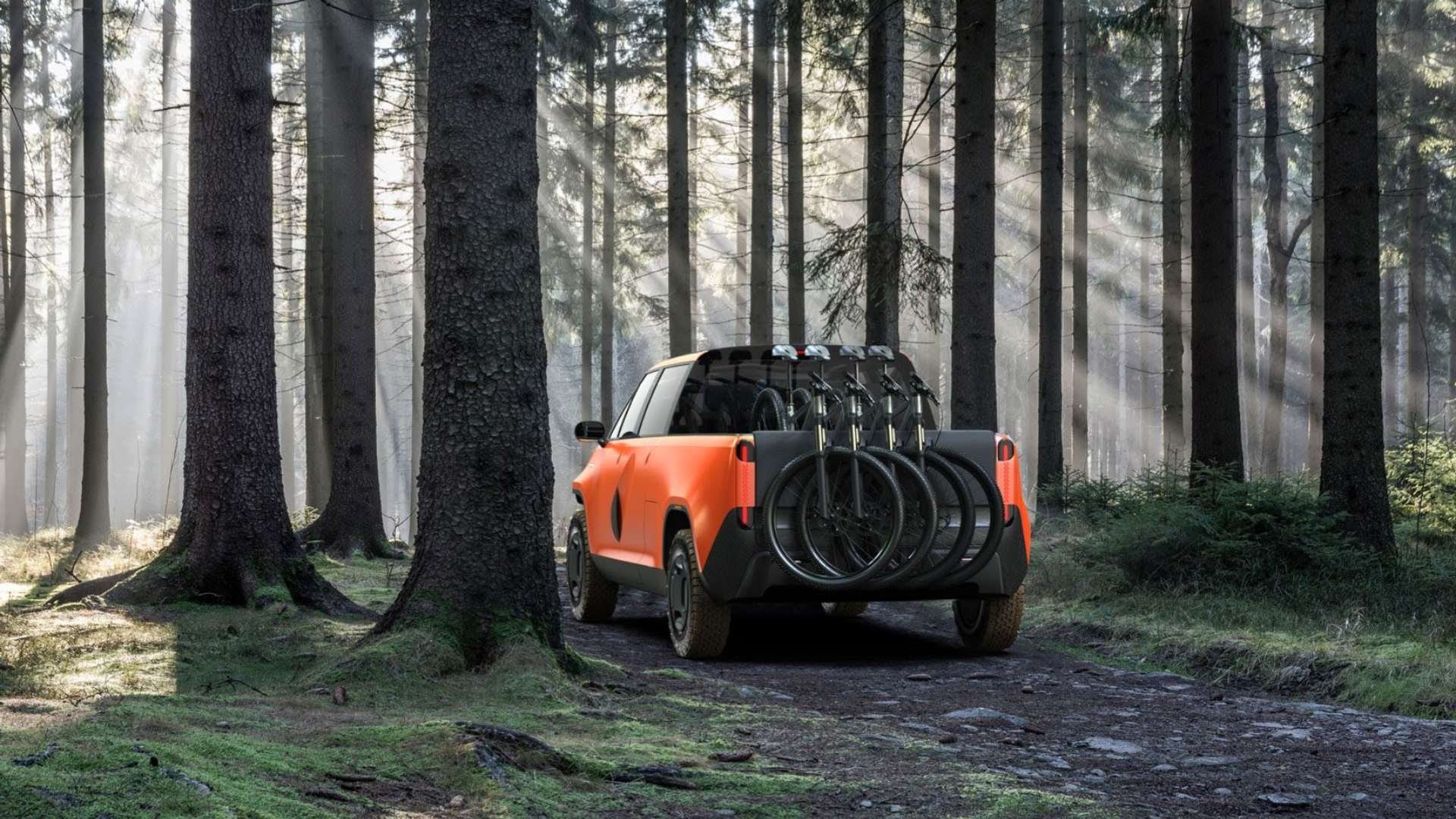 Backview of the Prototype design of the Telo MT1 2023 on a camping trip
Google Ads
From the concept design and information available, the TELO MT1 is to showcase an exterior design that sets it apart from conventional pickup trucks. The truck's compact cab-over design, measuring 152.0 inches (ca. 4 m) in length, is comparable to the Mini Cooper SE, allowing for exceptional maneuverability in urban environments. With a width of 73.0 inches (185 cm) and a height of 66.0 inches (168 cm), similar to the Audi Q4 E-Tron. The modern design of the MT1 is complemented by its flat front, skid plate, and raked windshield, highlighting the absence of a long hood typically associated with internal combustion engine vehicles. The use of carbon-fiber-reinforced plastic (CFRP) for the body and select chassis components ensures a lightweight and durable construction, while adding to the truck's overall visual appeal.
Despite its compact size, the TELO MT1 will not compromise on cargo capacity. According to information from TELO Trucks, it will come equipped with a five-foot bed larger than the Rivian R1T that offers ample space for hauling various items. But what will set the MT1 apart from the conventional pickup is its configurable mid-partition, which enhances the bed's versatility. The midgate will allow you to extend the bed into the backseat area, accommodating 4′ x 8′ plywood sheets with the tailgate up. This means you can transport larger items without the need for a full-size pickup truck. Besides, the extended bed space can also be used to carry an eight-foot surfboard or other long recreational equipment. The innovative midgate, which allows you to extend the bed into the backseat area, doubles as a footwell for a third row of seats. This will transform the MT1 into a mini SUV, capable of seating eight passengers.
Related: Why The Rivian R1T Is The Best Electric Pickup Truck Currently
TELO Offers The Range To Roam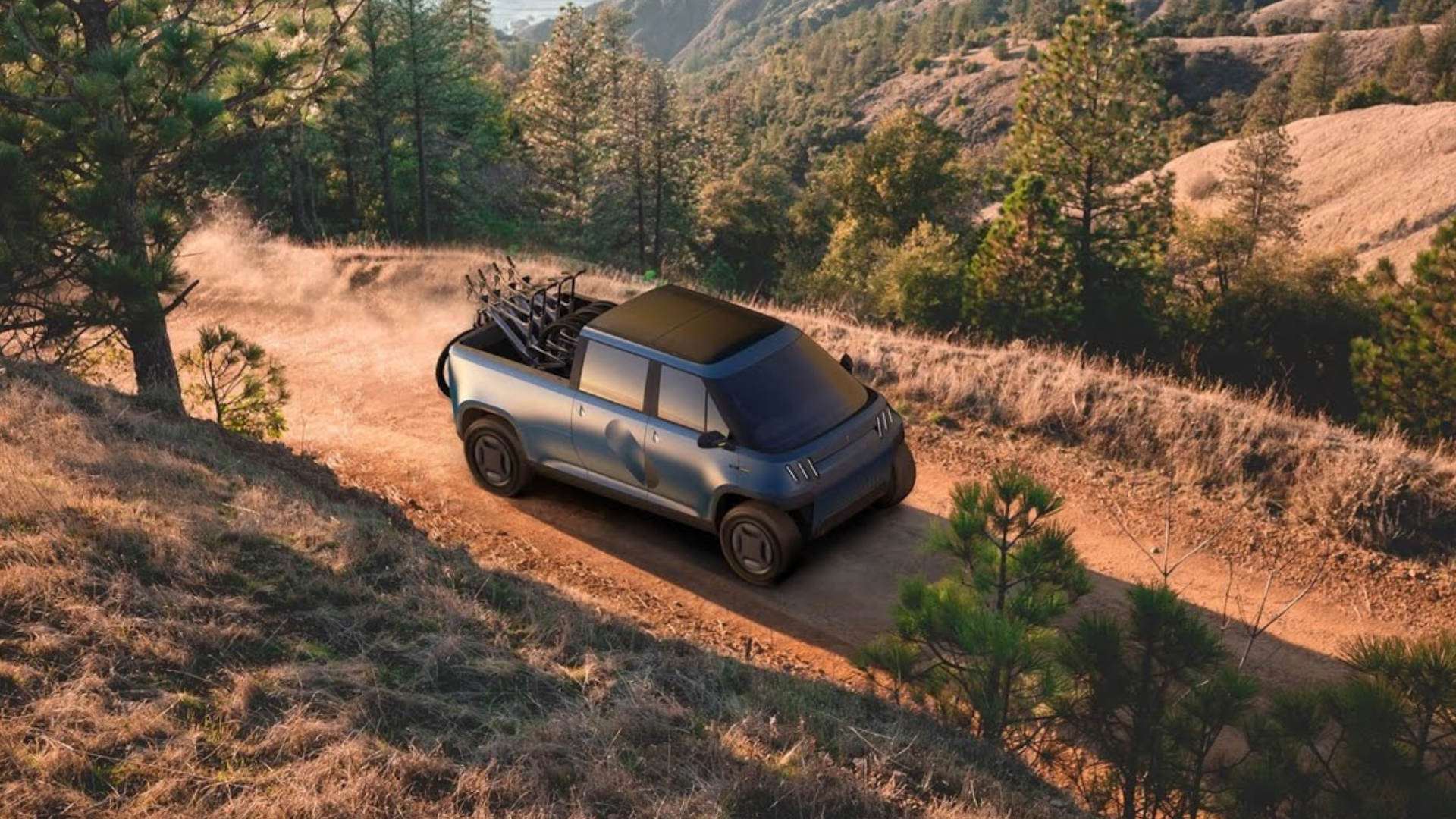 Sideview of the Prototype design of the Telo MT1 2023 on an «urban adventure» 
When it comes to electric vehicles, the range is a crucial factor that determines the practicality and usability of the vehicle. According to TELO, its MT1 will house a 106-kWh battery pack which is designed to be space-optimized, with a 350-mile range between charges. The extended range of the TELO MT1 ensures that you have the freedom to explore without the constant worry of running out of battery power. TELO also promises super-quick charging, with the ability to charge from 20- to 80-percent in about 20 minutes, making the MT1 a practical choice for long-distance travel. This means that during a short break or pit stop, you can significantly replenish your battery, extending your driving range and minimizing downtime. The TELO MT1 will also be equipped with native North American Charging Standard (NACS) support, ensuring compatibility with a wide range of charging infrastructure across North America. This compatibility allows you to easily access charging stations, whether it's at home, public charging stations, or along major highways.
The MT1 will come equipped with a range of advanced tech features, designed to enhance the driving experience. The vehicle is to feature an array of cameras and sensors on all sides, which will be able to detect potential impacts and activate driver-assist systems accordingly. TELO also plans to update drivers on the vehicle's surroundings using graphics on the infotainment screen or head-up display. The MT1 is powered by a dual-motor powertrain that provides all-wheel drive, expected to deliver an output of 500 horses with a top speed of 125mph (201.17 km/h). This setup allows the MT1 to go from 0-60 mph in just four seconds. Supported with 10 inches (ca. 25 cm) of ground clearance and 8 inches (20 cm) of wheel travel, hinting at solid off-road capability.
Powertrain Specs
| | |
| --- | --- |
| Horsepower | 500 horsepower |
| Drivetrain | All-wheel-drive |
| Range | 350 miles |
Related: The Future Of Electric Pickup Trucks
The MT1 Will Start At $50,000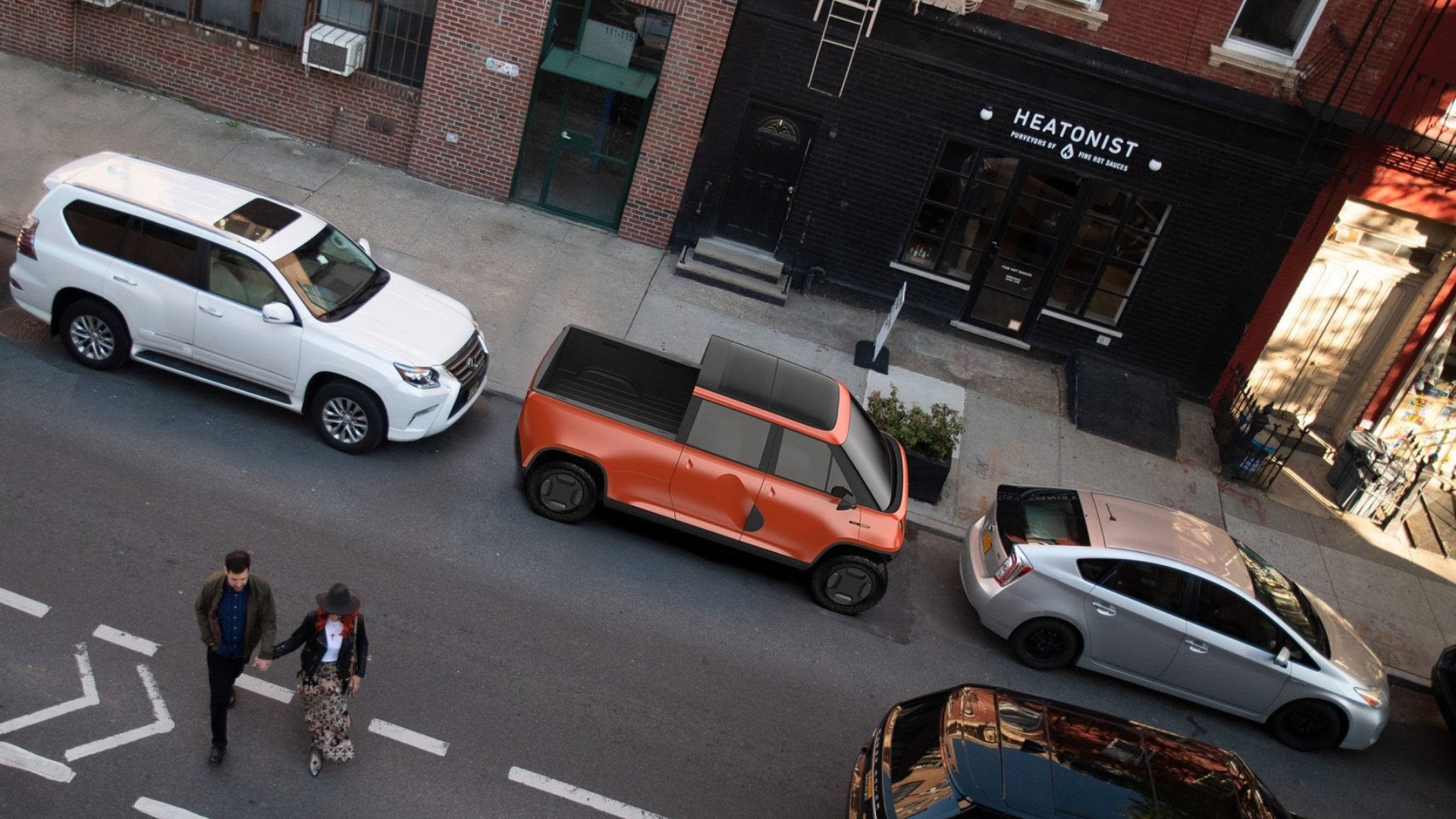 Sidview of the Prototype design of the Telo MT1 2023 in an urban street 
TELO Trucks plans to price the MT1 at $50,000 before tax incentives, making it a cost-effective option compared to other EVs. The company is currently accepting reservations on its website for $152. However, interested buyers may have to wait until 2026 to get their hands on this vehicle. The working prototype is expected to be ready by this summer, and will then undergo homologation (aero/crash analysis) over the next year. TELO hopes to have concluded all the preproduction stages by 2024, the first 500 hand-built MT1s by the end of 2025, and 10,000 contract-manufactured vehicles by 2026. But as is always the case with EV startups, they may be some adjustments to the timeline.
The MT1 Trumps The F-150 Lightning In Terms Of Range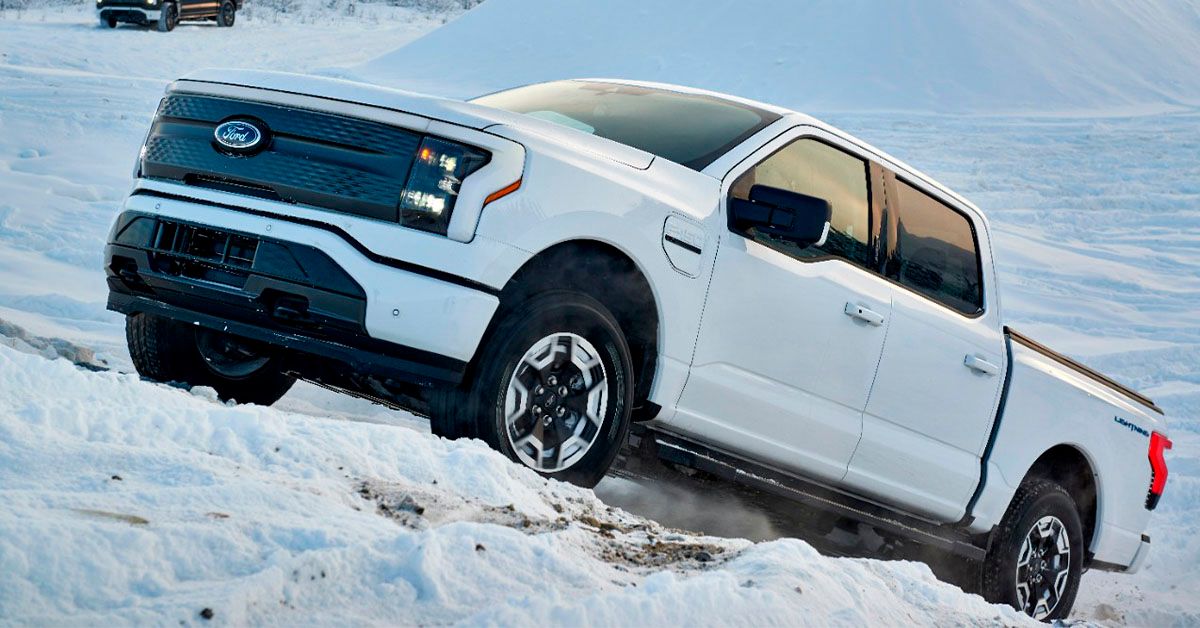 Ford F-150 Lightning Riding up through the snow
The TELO MT1 takes the saying "the slow and steady win the race" and puts it into practicality by outshining the Ford F-150 Lightning in terms of range, offering a more exhilarating driving experience. With a dual-motor all-wheel-drive system that produces 500 horsepower and 380 kW of power, the TELO MT1 can go from 0 to 60 mph (96.56 km/h) in just 5 seconds, while the Ford F-150 Lightning takes four seconds. However, the TELO MT1 also has a longer range, up to 350 miles (563.27 km), compared to the Ford F-150 Lightning's 230 miles (370.15 km). In other words, the TELO MT1 may not be as quick off the line as the Ford F-150 Lightning, but it can go further. This makes it a better choice for those who need an electric truck with a long range.
TELO MT1 and Ford F-150 Lightning Performance Comparison
| | | |
| --- | --- | --- |
| | TELO MT1 | Ford F-150 Lightning |
| Horsepower | 500 horsepower | 580 horsepower |
| 0-60 mph | 5 seconds | 4 seconds |
| Range | 350 miles | 230 miles |
| Drivetrain | All-wheel-drive | All-wheel-drive |
Related: Why The Ram Rampage Compact Pickup Truck Should NOT Be An EV
It Has Even Put The Rivian R1T On Notice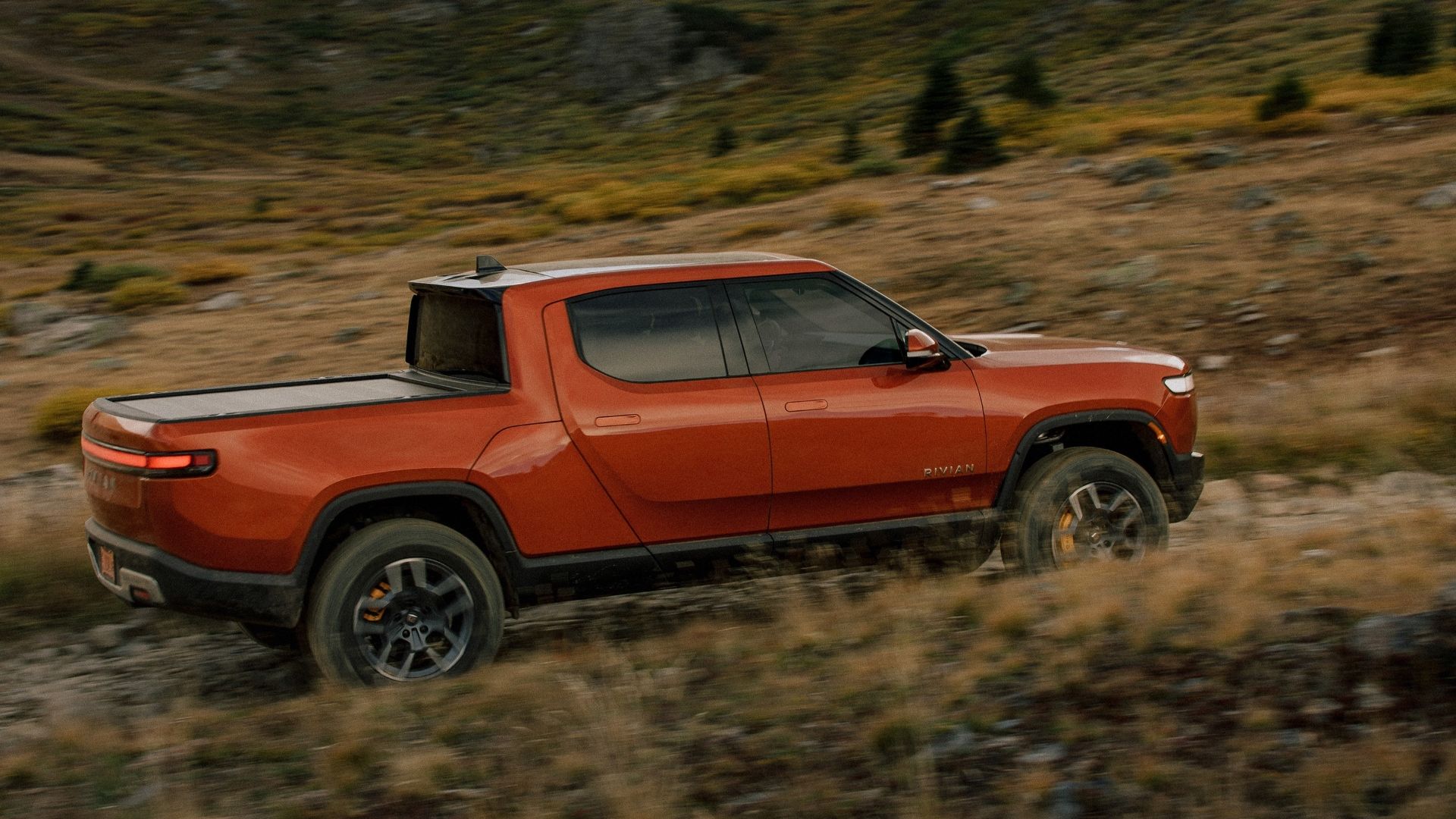 A red Rivian R1T on an off-road trail
The Rivian R1T has more horsepower than the TELO MT1, with up to 835 horsepower compared to the TELO MT1's 500 horses. However, the TELO MT1 has a longer range, up to 350 miles (563.27 km) compared to the R1T's 270 miles (434.52 km) (Rivian's Standard Pack). With a striking design and unique features, the TELO has an edge in terms of aesthetics and overall appeal.
TELO MT1 and Rivian R1T Performance Comparison
| | | |
| --- | --- | --- |
| | TELO MT1 | Rivian R1T |
| Horsepower | 500 horsepower | 830 horsepower |
| 0-60 mph | 5 seconds | 3.3 seconds |
| Range | 350 miles | 270 miles |
| Drivetrain | All-wheel-drive | All-wheel-drive |
Related: 5 Electric Trucks Worth Buying (And, 5 You Should Stay Away From)
EV Trucks And The Future
Electric pickup trucks are quickly becoming a hot commodity, with major automakers like Ford, General Motors, and Tesla all releasing or planning to release their own models in the near future. These trucks offer a number of advantages over their gasoline-powered counterparts, including lower emissions, longer range for less and quieter operations. Of course, there are also some disadvantages to electric pickup trucks. One of the biggest challenges is the high cost of batteries. This can make electric trucks more expensive than gasoline-powered models, although the cost of batteries is expected to come down in the future.
Another challenge is the lack of charging infrastructure. While there are a growing number of public charging stations, they are still not as widespread as gas stations. This can make it difficult for electric truck owners to find a place to charge their vehicles, especially if they are traveling long distances. Despite these challenges, electric pickup trucks are poised to become a major force in the automotive industry. As more and more automakers release their own models, and as battery technology continues to improve, the cost of electric trucks is expected to come down and the range will increase. This will make electric pickup trucks a more attractive option for consumers, and it could lead to a significant shift in the truck market.
The TELO MT1 is capable of redefining the pickup truck market with its size, and design. Its focus on functionality and city-friendly dimensions make it a great choice for urban drivers looking for a practical, electric vehicle that doesn't compromise on cargo space or performance. As the EV market continues to evolve, the MT1, could indeed be a game-changer. However, its success will ultimately depend on TELO's ability to deliver on its promises and navigate the challenges of the EV startup market.
Google Ads