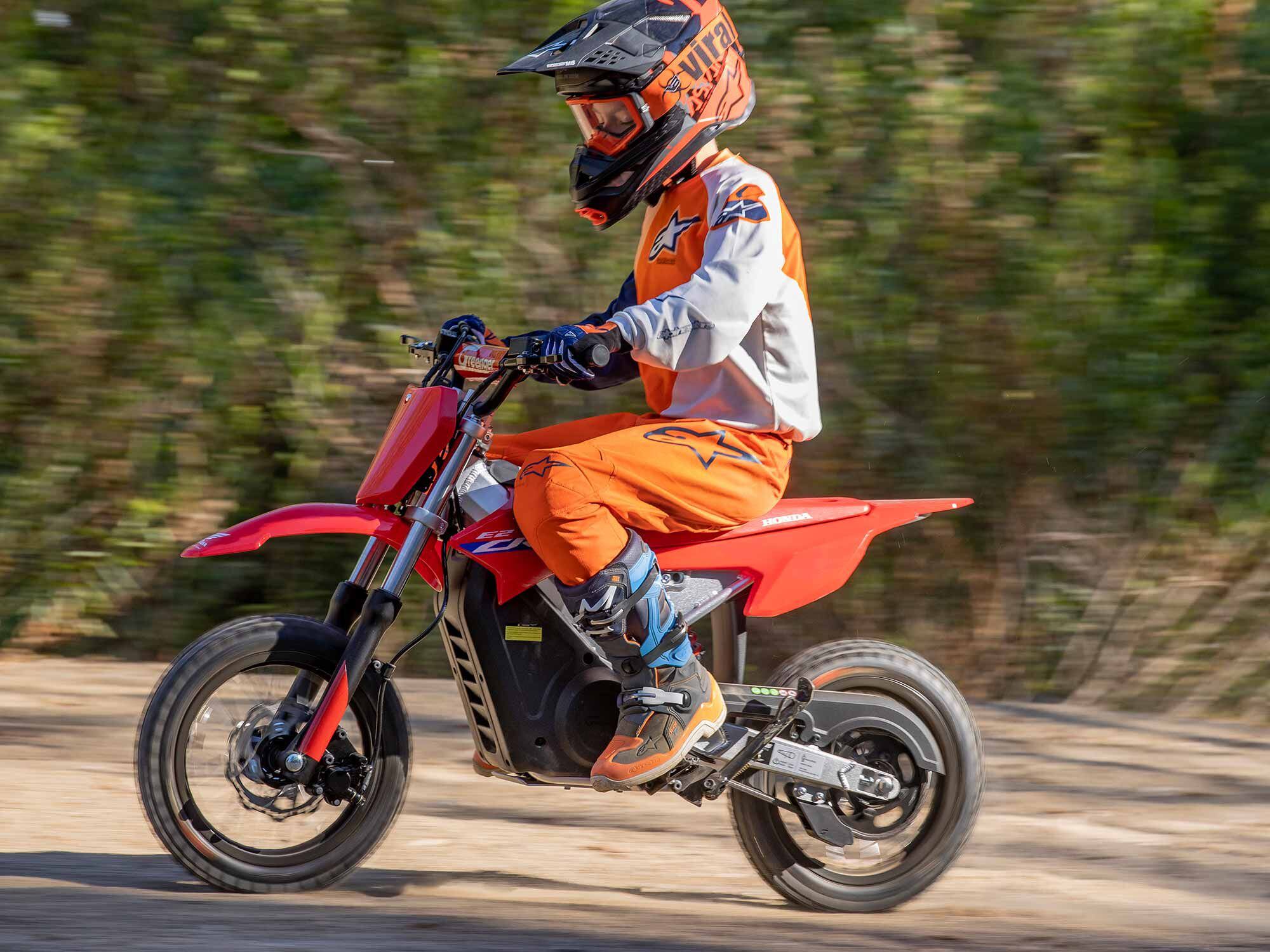 The $2,950 Greenger Honda CRF-E2 is an officially licensed electric dirt bike sold exclusively at US Honda dealers. (Jeff Allen/)
Editor's note: This review originally appeared on Cycle Volta sibling site CycleWorld.com.
Google Ads
Electric motorcycles are the perfect learning-tool playbikes for kids. E-motorcycles are super quiet, have very low maintenance requirements, and allow young riders to skip over some of the quirks in technique (yes, quirks) necessary to operate combustion engines (clutches and shifting gears are actually a huge part of the learning curve). Electrics aren't perfect for every application, and aren't meant to replace combustion; in many cases they simply can't. But battery-powered kids motorcycles have opened up a lot of riding opportunities and can make it much easier for little folks to take that first ride.
And if the exhaustive research conducted by my 9-year-old son, Ian, is any indication, kids who ride motorcycles are happier, more confident, smarter, and more active overall. OK, it ain't science, and as his dad I'm definitely biased. But Ian loves riding, and he loves being able to say he rides. The two-wheel time he's had since he threw his not-quite-4-year-old leg over a running Yamaha PW50 has shaped him in many positive ways.
Ian's years as an almost strictly play rider have been spent on a variety of bikes (PW50, Yamaha TT-R50E and TT-R110E, Honda CRF110F, and Torrot E10 and E12 electrics). That seat time has given him a pretty broad perspective for a single-digit-year-old kid, so he was a natural for testing the 2022 Honda CRF-E2 build. In addition to Ian, we wrangled a couple other kids who normally ride CRF110Fs.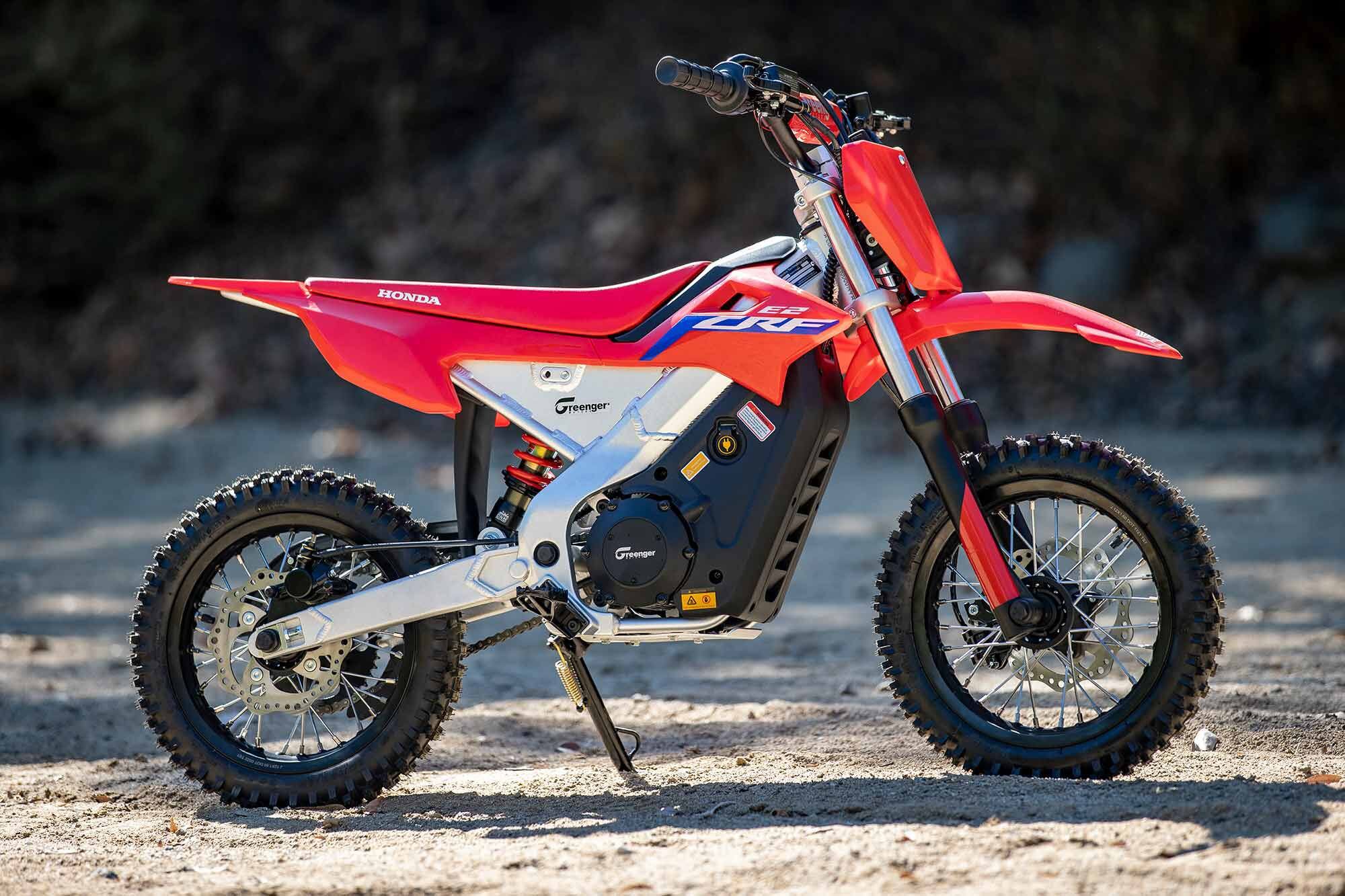 Familiar CRF stance, down to the twin-spar-aluminum frame. Greenger Powersports manufactures the CRF-E2 as an officially licensed Honda product, and the bike is sold only in Honda dealerships. (Jeff Allen/)
Note that while we've called the bike a Honda, and it is, it is also a Greenger. So what is a Greenger?
"The company has been manufacturing, designing, and engineering two-wheel electric mobility for more than 17 years," says Doug Chapman, Greenger's marketing supervisor in the US. "Greenger, the brand, was created in 2017 to enter the US market. Lithium-ion batteries finally had the capacity to make products to suit the North American market. The company has seven overseas factories and makes millions of electrics per year."
Related: Electric Minibikes and Balance Bikes for Kids
About two and a half years ago, American Honda bought a wide selection of electric two-wheelers in search of a partner to manufacture a kids motorcycle and approached Greenger after being impressed with its products.
"That's when we went into collaboration," Chapman says. "Over about 24 months, the CRF-E2 was developed. Honda had to sign off on the specs and performance. Honda was part of the entire engineering development. We did all the dev work, but they signed off and did their own internal testing in Ohio."
And so the Greenger became an officially licensed Honda product, currently available only in the American market. "Honda put its name on an actual dirt bike," Chapman says. "It has a VIN and you get an MSO (manufacturer statement of origin). It is sold exclusively in Honda dealers. None of these parts will be on another electric dirt bike."
While the CRF-E2 is pitched as a 50cc equivalent and is meant to slot between the CRF50F and CRF110F in terms of size, it serves as a pretty good alternative to either.
Adjustable Seat Height and More
A few key adjustments help the 12-inch-wheeled CRF-E2 fit different-sized riders.
Google Ads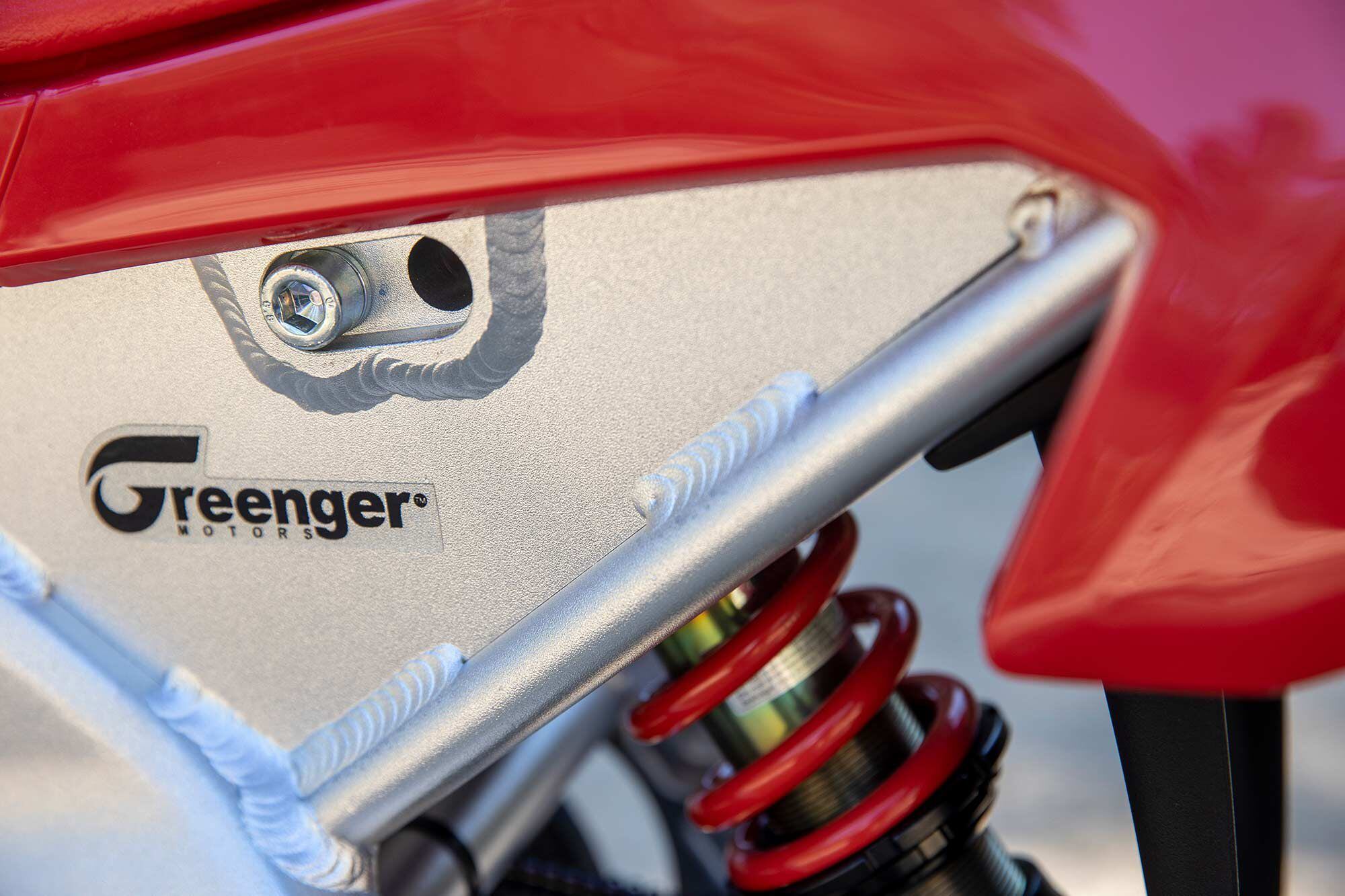 Upper shock mount is two-position adjustable to change seat height 0.7 inch. Remove the single Allen bolt, reposition shock, and reinsert bolt. (Jeff Allen/)
First is a two-position seat with heights of either 24.8 or 25.5 inches. The upper shock mount has two holes in the nicely made aluminum frame, echoing the racy CRFs. An Allen wrench is the only tool required, though it helps to have someone support the rear of the bike while you align the upper shock eye with the mounting hole and thread the long bolt through.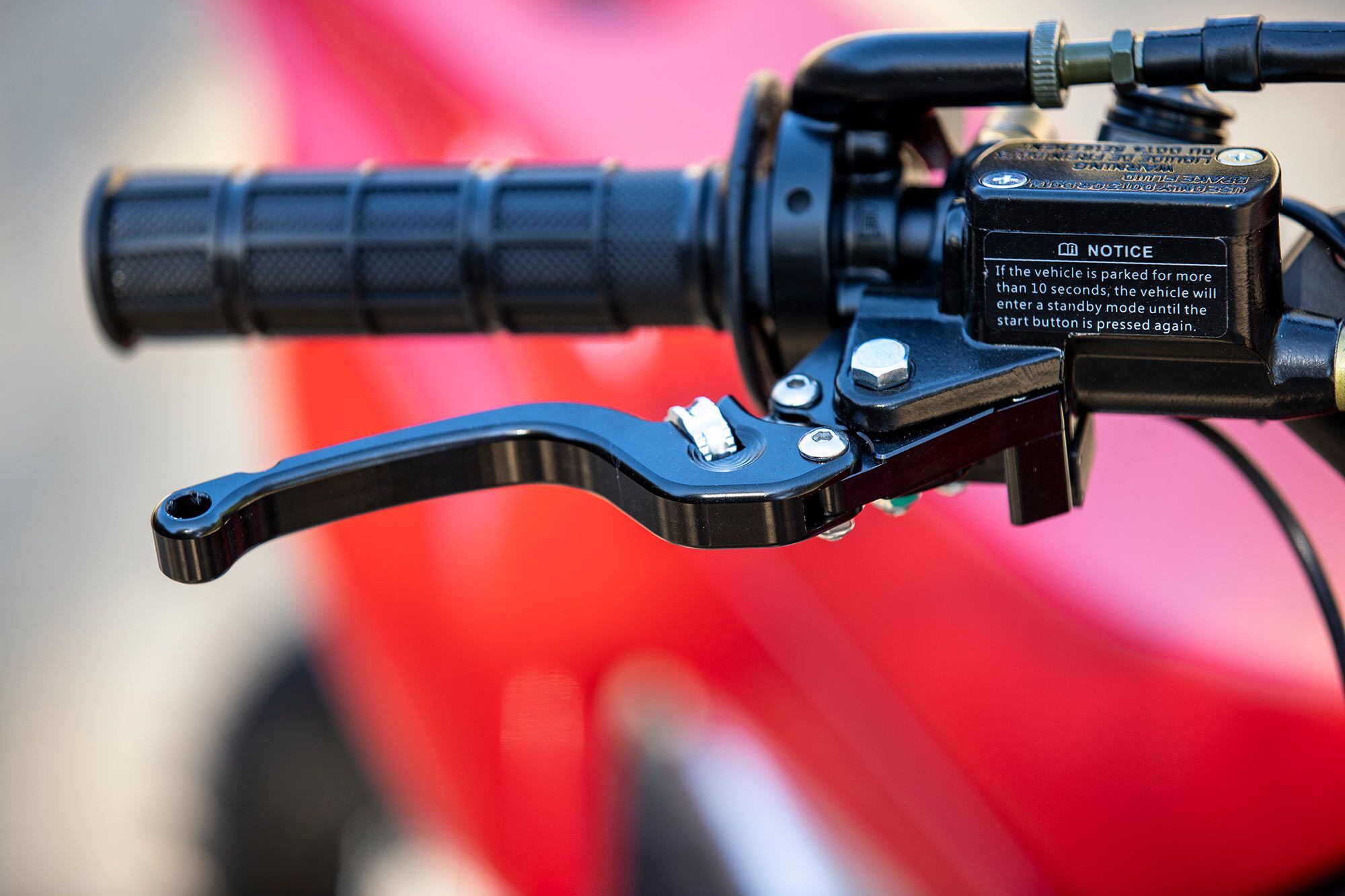 Front brake is on the right, rear brake is on the left. Levers feature "breakaway" notches at their ends and a very wide range of reach adjustment. (Jeff Allen/)
Second is that both handlebar brake levers are adjustable for reach through a useful range. When I say useful range, I mean 50 clicks (about 12-and-a-half turns) on a threaded adjuster, moving the lever through a range from very close to the grip at one end to far enough from the bars to be outside this adult's preferred reach.
Related: Cake Introduces Line for Kids
Add in the ability to rotate the levers on the bars, and also to move the tapered aluminum handlebar fore and aft, and most budding riders will fit (though note that maximum load is 99 pounds). The shock spring is also preload adjustable, and rebound damping can be tuned to suit. Although it wouldn't be optimal for performance, adjusting spring preload up or down for a lower or higher seat height further increases the available range.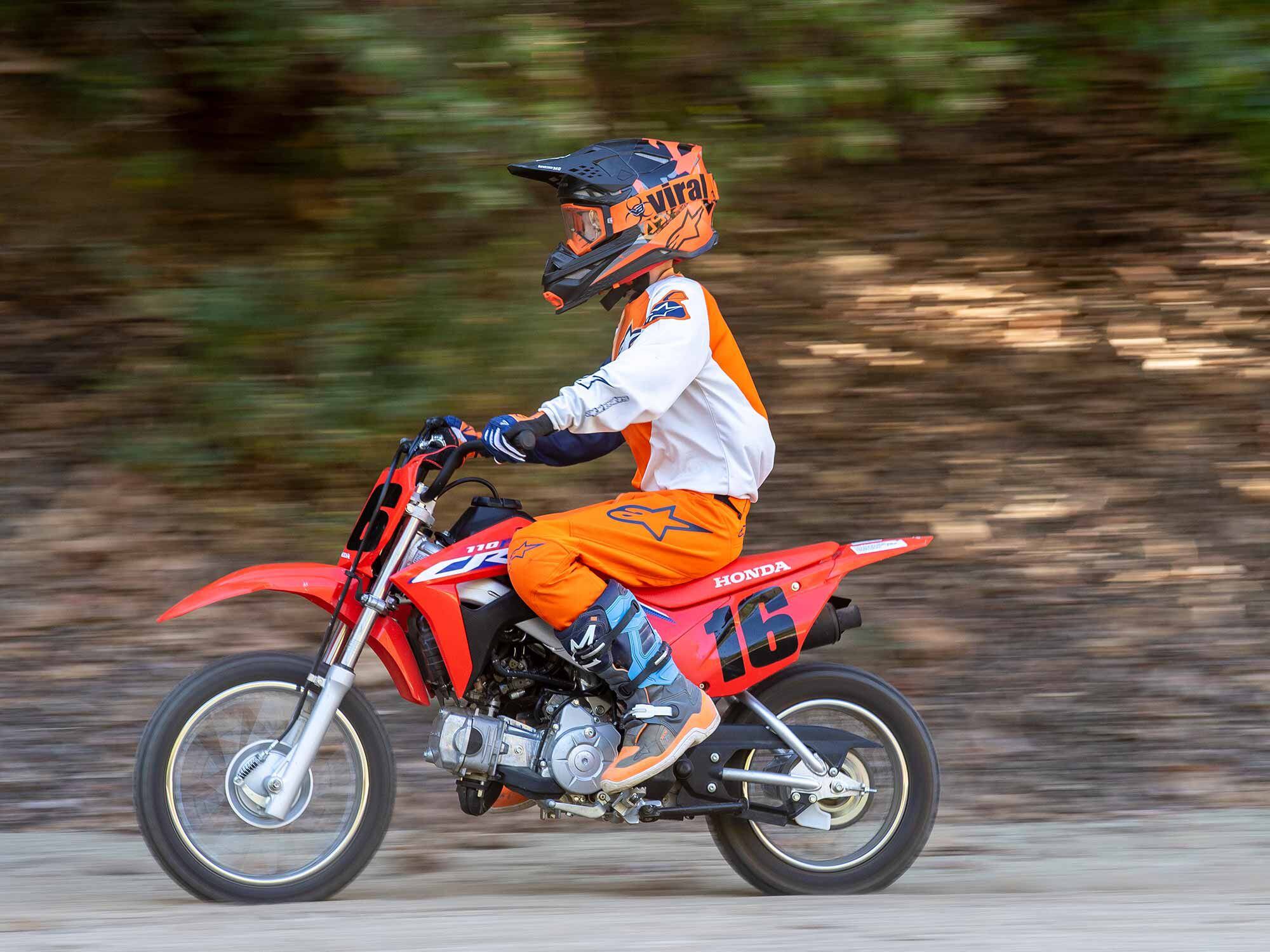 Four-foot-10 Ian Hoyer on a 2022 Honda CRF110F for size comparison. (Jeff Allen/)
For comparison, A CRF50F runs 10-inch wheels, has a 21.6-inch seat height, and weighs a claimed 111 pounds ready to ride. A CRF110F rolls on a 14-inch front and 12-inch rear, has a 25.9-inch seat height, and weighs a claimed 169 pounds ready to ride.
Our Kid Testers
The discussion of ergonomics is a good time to talk about the size of our testers. My 9-and-a-half-year-old son Ian is 4-foot-10 and 85 pounds. He's joined by Jackson Carpenter, age 8, 4-foot-3 and 63 pounds, and Logan Hamilton, also 8, 4-foot-4 and 60 pounds. Both are CRF110F riders. The three boys all have similar riding experience and enjoy trail riding and shredding their backyards since they have the space.
We also had Jackson's 5-year-old sister Avery throw a leg over; she's 3-foot-10 and 50 pounds, with lots of seat time on Stacyc electric balance bikes. Avery had a go, but couldn't flat-foot both feet even on the lower seat setting; combine that with power output that was too much for her, and she wasn't ready to be a tester. She looks forward to trying a CRF-E2 when she gets a bit bigger.
Honda CRF-E2 Motor Power and Modes
Motive power for the Greenger Honda CRF-E2 is a 48V brushless direct current (BLDC) motor with inner rotor. The motor is capable of producing a maximum of 2.5kW (about 3.4 hp) and spins to 4,000 rpm. Honda is targeting playbike riders and has dialed back max output in the faster Stage 2 to 1.2kW (1.6 hp) and 2,000 rpm for a speed-limited 20 mph top end. In gentler Stage 1, speed is limited to 10 mph and torque production is lower.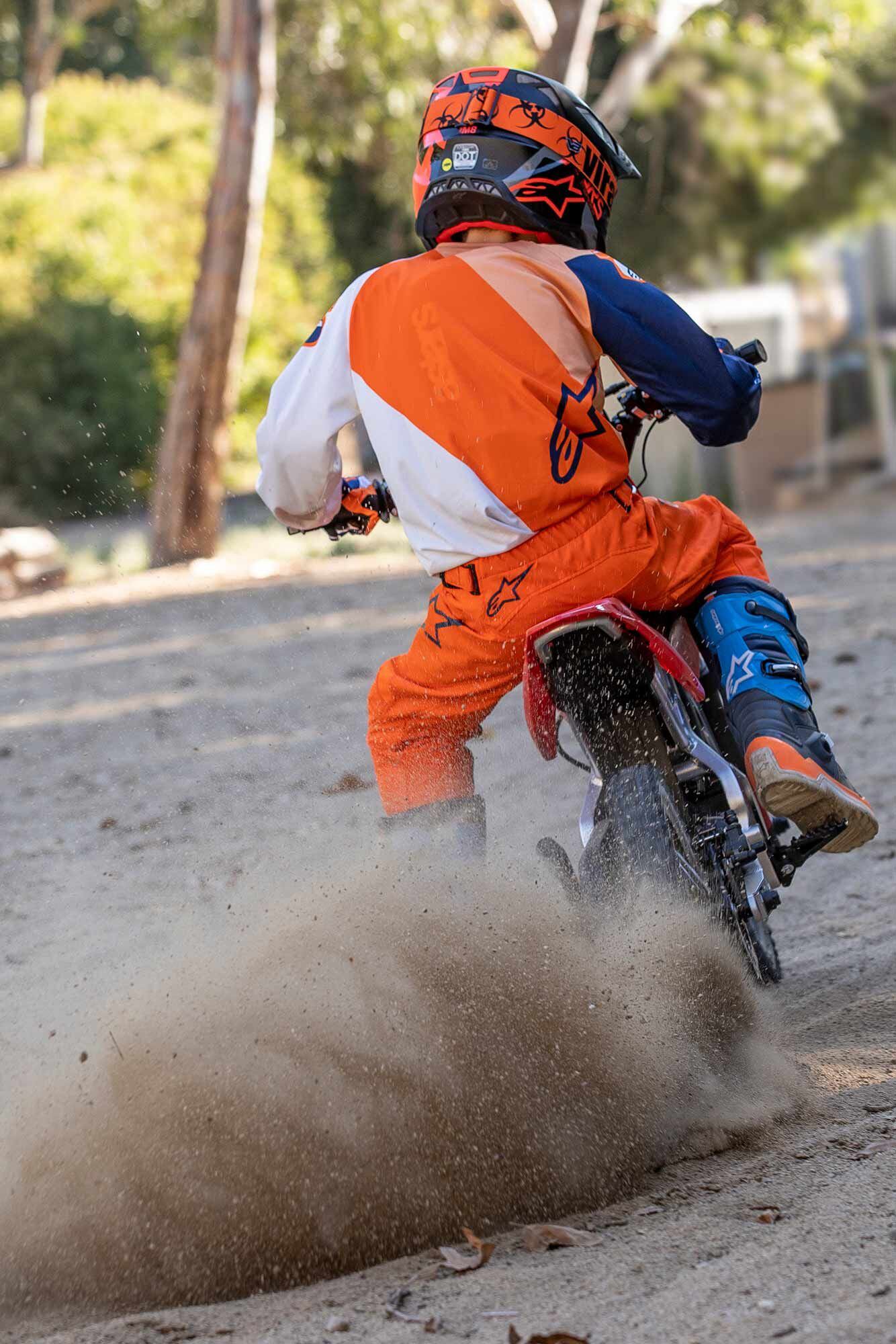 Instant torque from the 1,200-watt electric motor makes this mini a roosting machine. (Jeff Allen/)
That said, don't be deceived by the horsepower numbers, because as with all electric motors, all its stated 5Nm/3.7 lb.-ft.of torque is available instantaneously, from zero rpm. Like the max power, this is dialed back: The motor can produce as much as 25Nm or 18.4 lb.-ft. How long until we see tuners cracking the code of the CRF-E2 and unleashing the full potential or modifying output curves? We'd wager not long, and we'd like to see it for reasons we'll explain later.
Greenger Honda CRF-E2 Care, Maintenance, and Warranty
Many kids dirt bikes still run carburetors. Many parents are acutely aware of this, because they're the ones cleaning the clogged pilot jets when they don't drain the float bowl after that last ride. While many parts of the country still sell ethanol-free gas, all Californian 10-percent-ethanol fuel, even 91 octane, seems to go off quickly. Thankfully, EFI playbikes like the CRF110F do make life easier in terms of storage between rides.
The CRF-E2 eliminates this concern altogether, of course, and air-filter and oil changes along with it, simply by being electric. Basically, maintenance consists of lubricating/adjusting the chain and checking tire pressures. Also of note is that the CRF-E2 is OK to pressure wash, just like a dirt bike should be.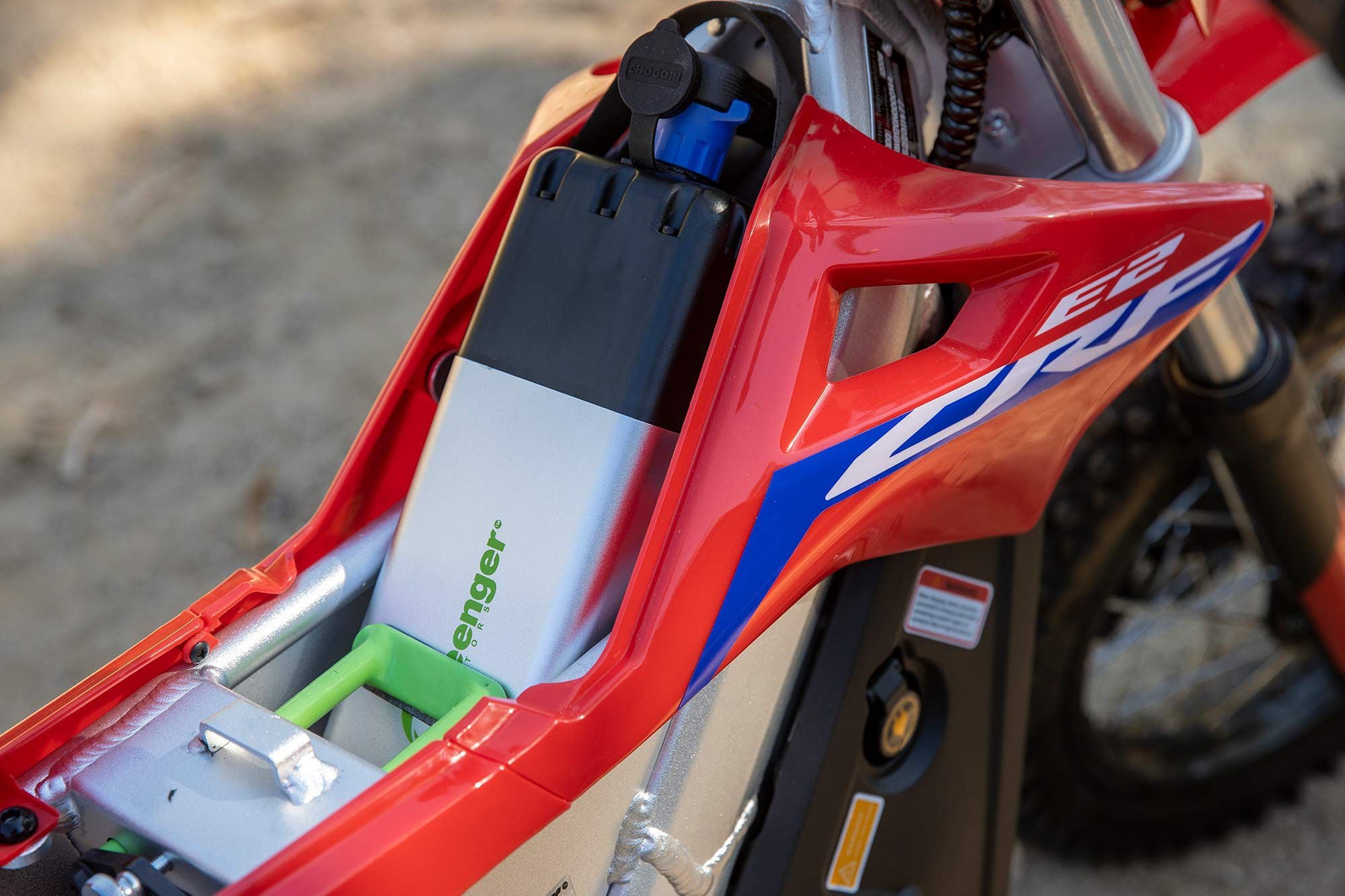 The 960Wh battery is easy to access under the seat, and can be removed without tools in well under a minute. If you opt for a second battery, swapping out is painless. (Jeff Allen/)
The 960Wh battery uses LG cells with Greenger programming in a Greenger housing. The battery has a two-year warranty that covers 3,000 miles or 1,000 charges. I wondered aloud if I'd filled Ian's PW50 1,000 times in the four years we owned it (no, I did not). The CRF-E2 has a one-year warranty on the drivetrain and frame. The battery is easily accessed and removed (it took me 30 seconds) with two toolless screws, and a spare battery is available at an MSRP of $1,000. It would be an easy field swap. Greenger says the battery provides a two-hour run time "under ideal conditions." We ran the bike 20 miles on a mostly flat riding area at one whack and found the battery showed a bit less than half a charge remaining.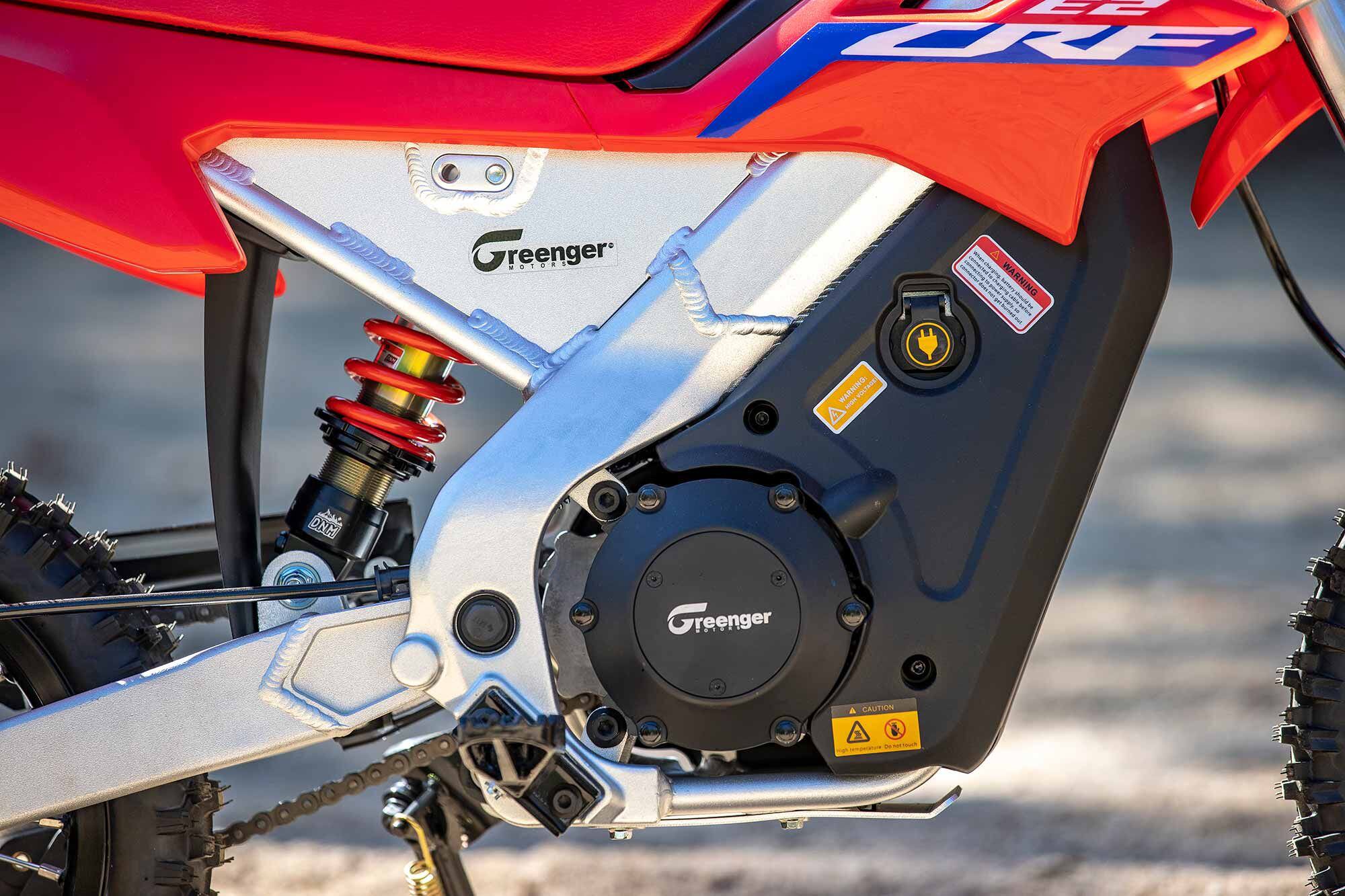 CRF-E2 battery uses a separate charger that plugs into a convenient port on the right side. The standard 5-amp charger tops a fully depleted battery in four hours. (Jeff Allen/)
A separate 5-amp charger is delivered with the CRF-E2; it can charge the battery from zero to full in four hours. An accessory $250 8-amp quick charger will do a full charge from dead in 2.5 hours, Greenger says. Either charger works on a household 120V outlet and also, therefore, a Honda EU2200i generator. Hey, the Hoyers go dirt bike camping.
Greenger says about 70 percent of the 1,000 Honda dealers in the US are selling the bike, and that 100 percent of the dealer network is equipped to handle parts and service.
Honda CRF-E2 Riding Impressions
Ian's had a lot of recent seat time on a CRF110F on our backyard flat track, so rolling the CRF-E2 in the same setting, plus taking some cool lines through the trees, was a perfect go. Right off Ian liked the info display that shows state of charge, max speed, current speed, odo, and tripmeter better than the one on his Torrot E12. He specifically cited that it showed mph, making this the first bike he's ridden that does. He liked knowing his speed.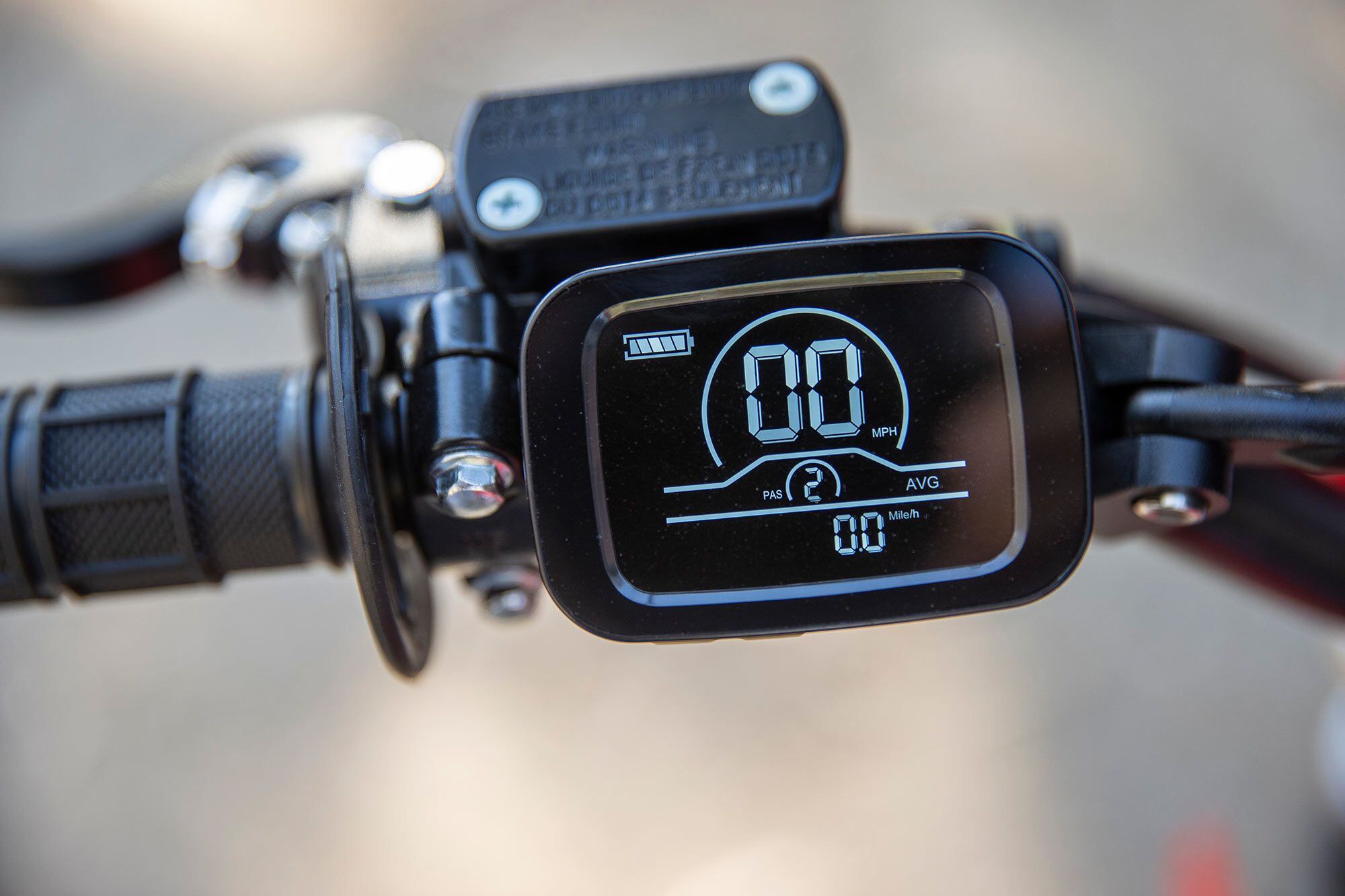 The Honda Greenger CRF-E2 display is clear and bright. Here the bike is shown ready to ride (00 mph displayed meaning throttle is active) and in Stage 2, the faster and more powerful of the two modes. (Jeff Allen/)
We started in Stage 1, which reduces torque, softens motor response, and limits speed to 10 mph. Not surprisingly, Ian was ready for Stage 2 pretty quickly. On our decomposed-granite flat track Ian got into the groove pretty quickly, though he found the throttle response a bit too abrupt for his liking, with a lot of wheelspin and roost (great for photos).
"I thought that the low power mode was OK, but it was a bit too slow," Ian says. "It would only go up to 10–12 mph. The high power would go up into the 20s but its torque was a bit too much. For me one was too little and the other was too much."
Jackson and Logan adapted fine to the throttle in Stage 2 on their harder-packed riding area. "It wants to lift the wheel and do little burnouts," Jackson's dad, Blake, says. "It's quick—it rips. It moves those little kids around!"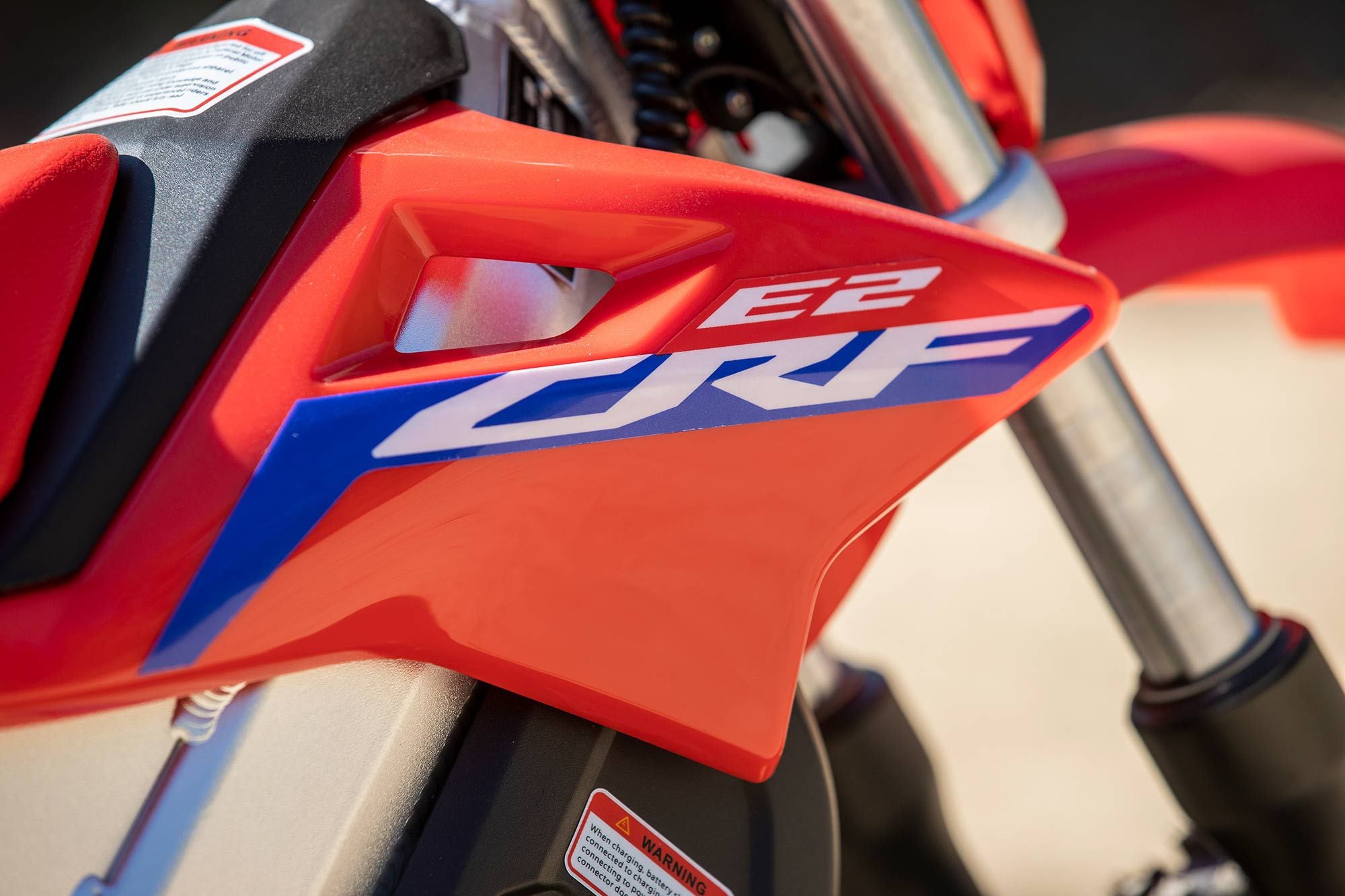 The electric CRF-E2 doesn't exactly "need" radiator shrouds, and yet how can it look moto without them?! (Jeff Allen/)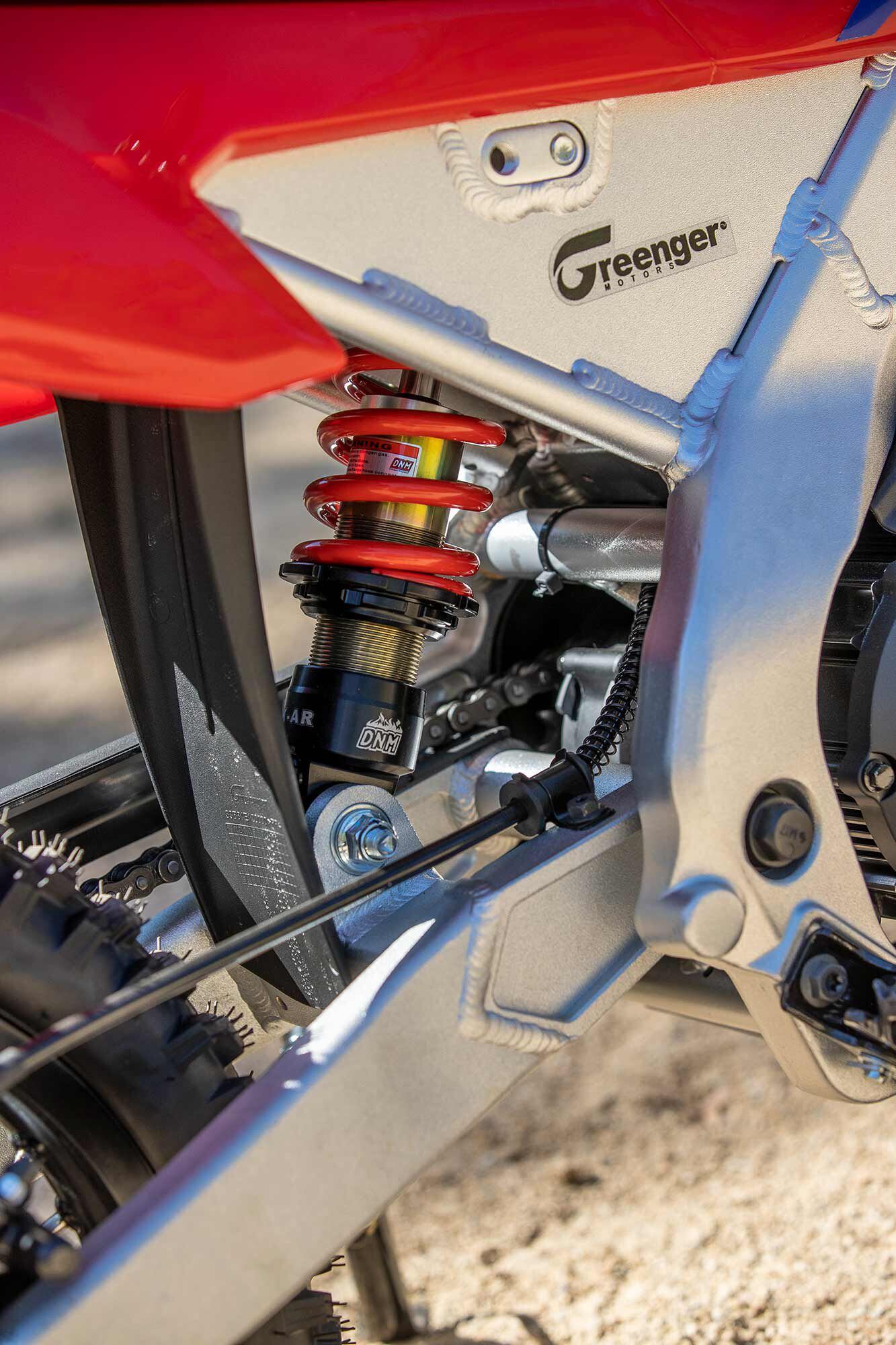 The shock has a threaded spring-preload adjustment as well as a 20-click rebound wheel that changes damping over a wide range. (Jeff Allen/)
There is real damping going on in the fork and shock, and the settings are on the "play" end of the spectrum where they belong on a bike like this. That said, the DNM shock rebound can be made really slow to really fast—there is a 20-click range of adjustment, and it really changes damping. Overall, Ian's 4-year-old Torrot E12 has firmer damping, befitting its racier nature, though the brakes are beefier and have better feel on the CRF-E2.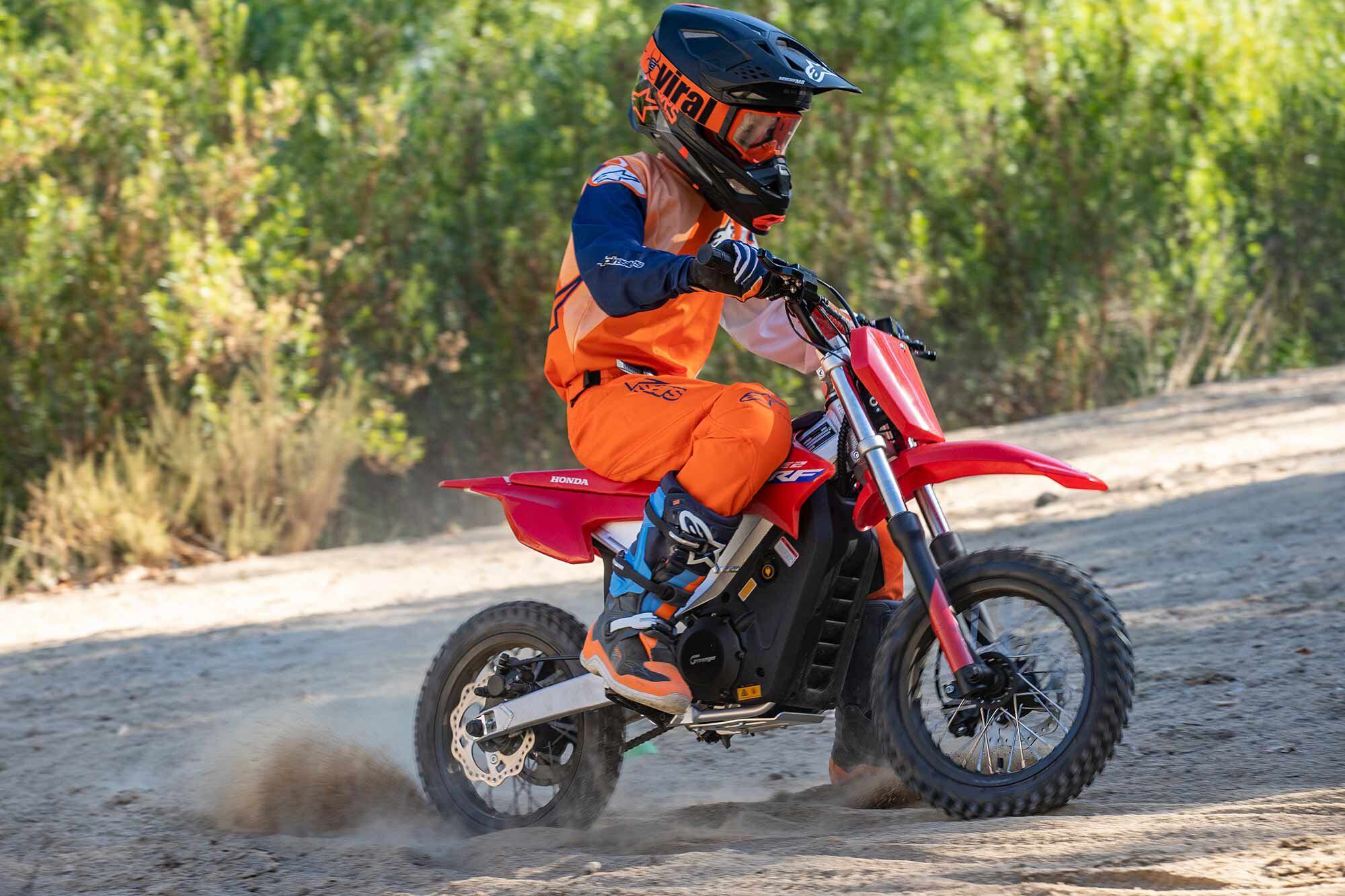 The CRF-E2's 12-inch rims help slot it in between the gas-powered CRF50F (10-inch wheels) and the CRF110F (14-inch front and 12-inch rear). (Jeff Allen/)
Small-wheel life on this bike, with its 12-inch rims front and rear, helps keep the bike low and manageable. A trade-off this brings is reduced grip and ability to roll over bumps compared with bikes with larger wheels. Our CRF110F riders, who were accustomed to that larger 14-inch front wheel on the bigger gas motorcycle, found they had to ride far forward on the CRF-E2′s seat to get the front end to stick. This appears to be a combination of the smaller front wheel, the E2′s lighter overall weight, and the instant torque at work when the kids rolled back on the throttle. Ian, for example, is only 25 pounds lighter than the CRF-E2, so moving his 85 pounds around on this 110-pound motorcycle makes a huge difference in steering behavior. The CRF-E2 is agile and easy to steer overall.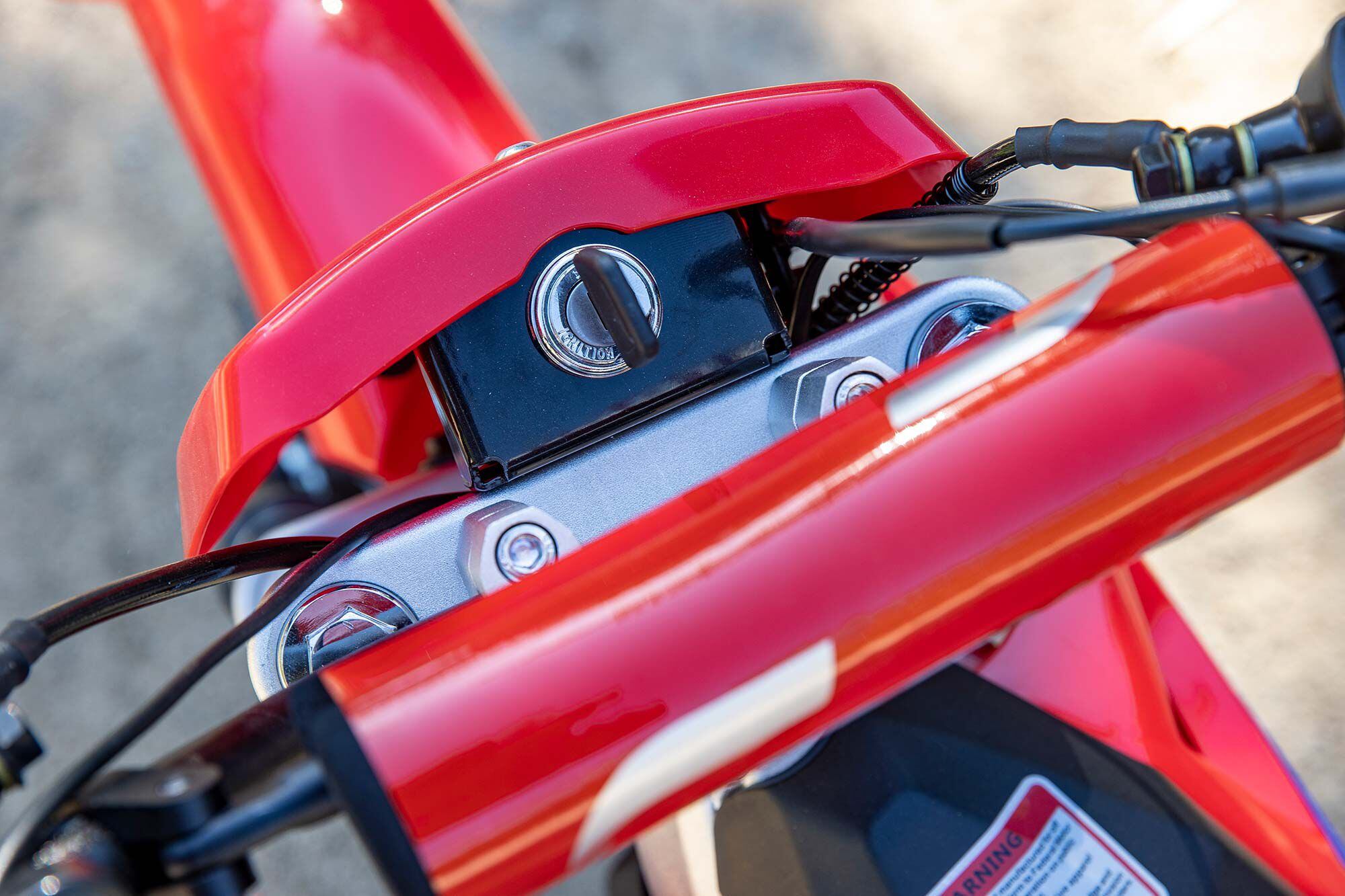 Keyed power switch allows parental control and security, should the need arise. (Jeff Allen/)
All the kids had a ton of fun riding the bike. Ian has no prejudice against electrics (he owns one, after all) but he said he does prefer gas power; he's been hugely influenced by all the piston-powered rolling stock we keep around. The other kids?
"My kids don't care," Carpenter says. "They grew up on the Stacyc. They'd probably prefer the electric because it's quiet and they can talk to each other easier. But even the 110 is perfect because of how quiet it is, and I could talk to him the whole ride when I was on it. They like that they don't have to start the CRF-E2. But Jackson was stoked he didn't have to kick the (electric start) 110, though."
I also have ridden our CRF110F with Ian on his electric. There is nothing cooler than hearing your kid laugh in his helmet as you pass each other.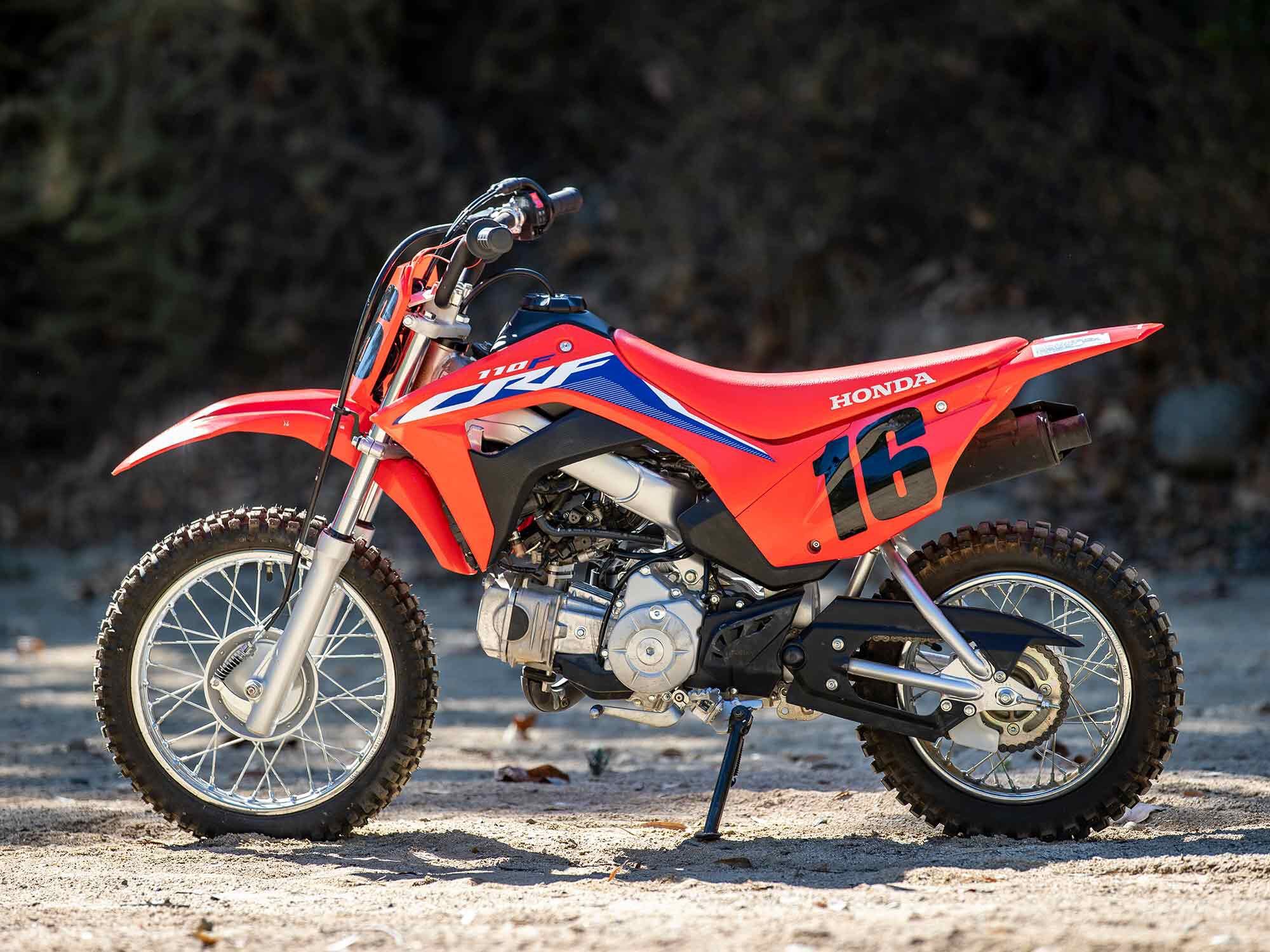 Honda CRF110F is the classic kids bike for moving up the food chain. It features EFI on its 110cc four-stroke single, a four-speed transmission with automatic clutch, drum brakes, and quiet muffler. It is slightly larger and about 60 pounds heavier ready to ride than the CRF-E2. (Jeff Allen/)
Honda is the first of the major Japanese motorcycle makers to provide an electric in this segment, albeit through its subsidiary American Honda. Other competitors include Spanish company Torrot's $3,399 Motocross One (10-inch wheels) and $3,499 Motocross Two (14-/12-inch wheels). KTM is in the space with the $4,999 SX-E 3 (10-inch wheels) and $5,499 SX-E 5 (12/10 wheels). All are racier than the play-oriented $2,950 CRF-E2.
Electrics allow us to wail all the laps we can stand in our semi-rural neighborhood yard with virtually no noise, and the run time afforded by the CRF-E2 matches Ian's "run time" pretty well in terms of how much he wants to ride at one whack. As a market-expanding option that reduces maintenance load on parents, the CRF-E2 is a success; it's definitely coming with us on our next desert camping trip. It's a fun motorcycle.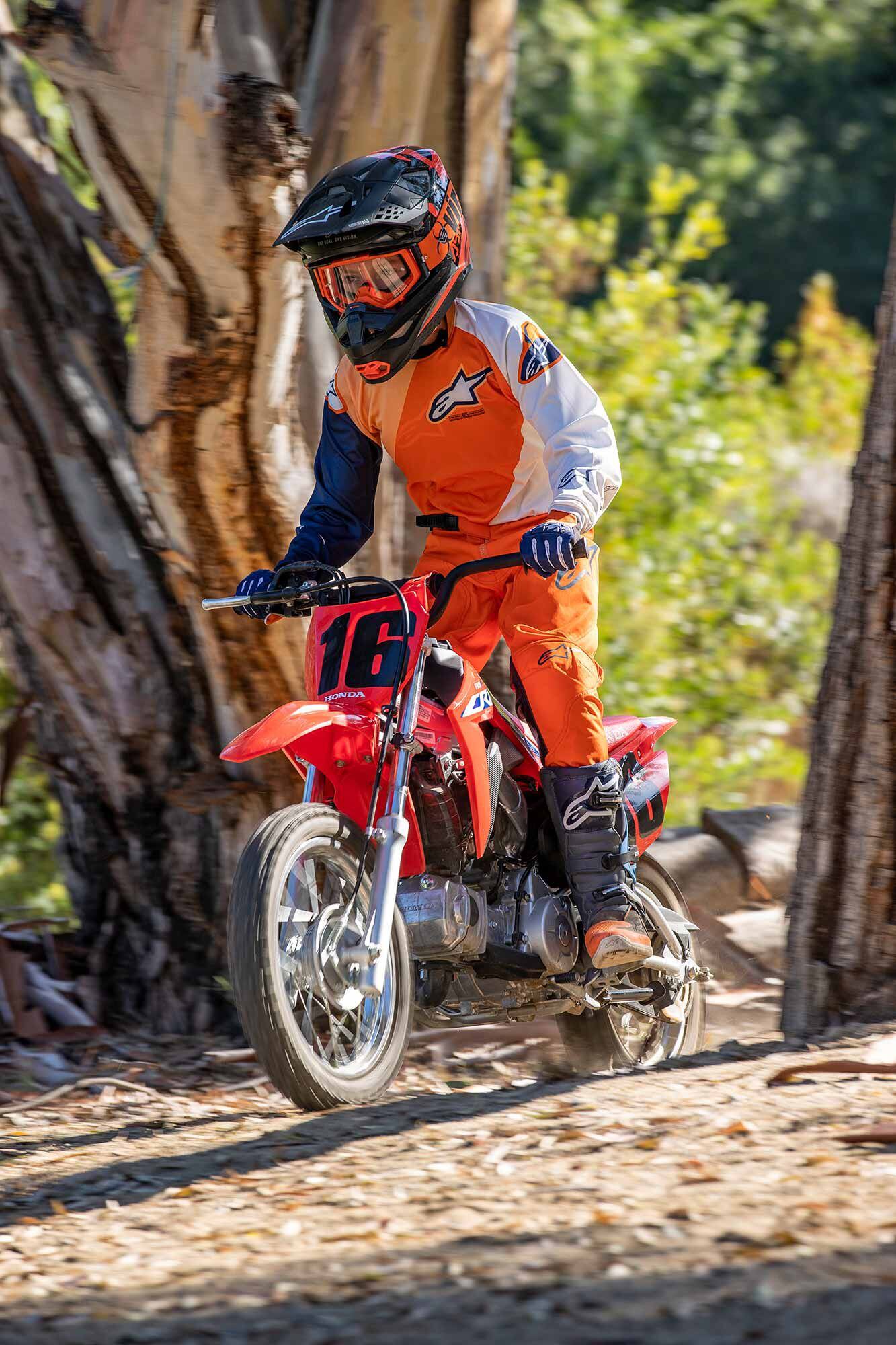 A Honda CRF110F in its natural habitat. We are thankful for the quiet exhaust and spark arrestor, but the near total silence of the electric CRF-E2 means more backyard laps without the neighbors even knowing we are out there. (Jeff Allen/)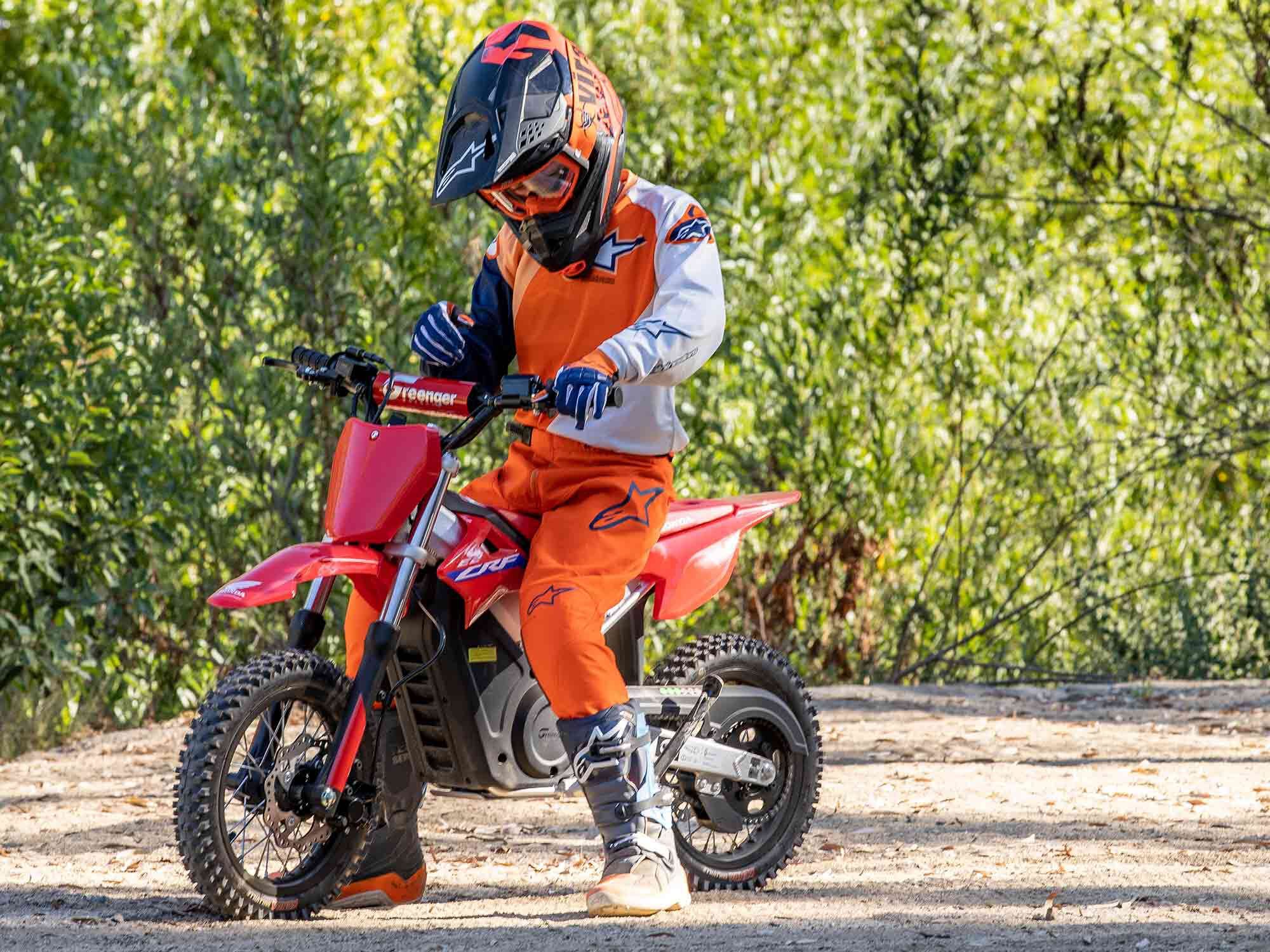 Adjusting output on the CRF-E2 takes only a few button pushes, and navigating the simple options is intuitive. The display includes a speedometer. (Jeff Allen/)
Google Ads