The legendary performance car engineers at Hennessey have taken the luxury sedan to new heights with the 'H1000' upgraded Cadillac CT5-V Blackwing. The tuning firm has boosted its already impressive horsepower from 668 to an eye-watering 1000 horsepower. while bumping the torque considerably from 659 pound-feet to 966 pound-feet. News of the dubbed "Hercules in a Tuxedo" came as a sweet surprise to performance enthusiasts and luxury car aficionados, as the Cadillac CT5-V Blackwing already boasted exceptional specs. Many wondered what more the Hennessey engineers could do to the already supercharged V-8 that Cadillac's engineers hadn't already explored, as the CT5-V Blackwing is their flagship luxury performance sedan. To no one's surprise, they blew the roof off when the H1000 was unveiled on the 27th of June 2023, via Hennessey Media.
Google Ads
Hennessey Upgrades The Blackwing's Already Impressive Engine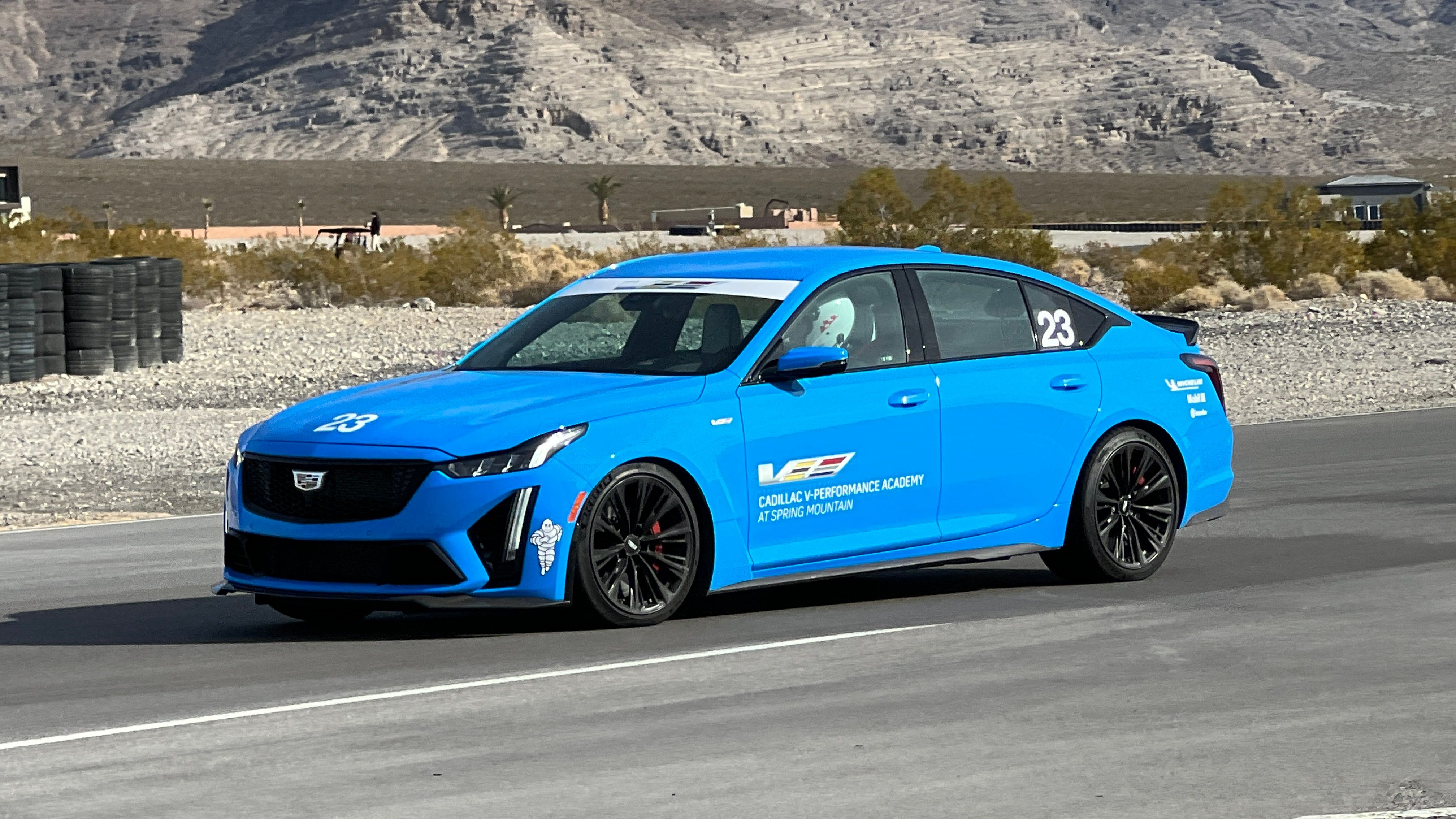 Front 3/4 view of blue Cadillac CT5-V Blackwing driving on racetrack. 
So, what exactly did the master engineers do to the CT5-V Blackwing at the Hennessey garage? They went nowhere short of above and beyond, as their mantra is, and has been since 1991, "Making fast cars go faster." First, the sleek luxury sedan received engine upgrades, with GM's supercharged LT4 V-8 getting rebuilt and fitted with a larger supercharger and upgraded calibration, as well as ported cylinder heads, enhanced intake exhaust valves, improved lifters and push-rods, oversized heat exchangers, and long-tube stainless steel headers. A high-flow supercharger replaces the factory unit as the 'H1000' upgrade progresses on the CT5-V Blackwing. Finally, there's the Hennessey Engine Management Calibration (HEMC), which is finely tuned ECU data that effectively supercharges the brain of the vehicle.
Notable Hennessey Upgrades:
Fitted with larger supercharger
Upgraded calibration
Ported cylinder heads
Enhanced intake valves
Oversized heat exchangers
Uploaded Hennessey Engine Management Calibration (HEMC)
Before one can appreciate what the Hennessey engineers have done, we must first acknowledge the base specs. The pre-'H1000' upgraded CT5-V Blackwing boasts impressive stats. Putting its 6.2-liter V-8 to work, the Blackwing makes a solid 668 horsepower and 659 pound-feet of torque and can reach 60 MPH in 3.5 seconds, comparable to the Corvette Stingray and BMW M5. With a choice of six-speed manual transmission or ten-speed automatic, the Blackwing boasts a top speed of over 205 MPH, a figure that undoubtedly makes it one of the fastest luxury sedans to date. The EPA reports 16 combined MPG, with the CT5-V Blackwing getting 13 city and 22 highway MPG – figures on par with its supercar competition.
Understanding the CT5-V Blackwing's base specs allows us to realize the true skill and talent of the Hennessey engineering team, as they took an impressive, and fast, luxury sedan, and true to their motto, made it faster. But how much faster? For starters, the recorded top speed of 205 MPH fell short of that of the 'H1000' upgraded Blackwing, which is proof enough of the insane bump in performance, but it doesn't stop there. Taking into account the upgrades that went into the Blackwing, as well as its impressive base features, the 'H1000' is an incredibly unique machine, visually and mechanically, as the 'H1000' reportedly crushes its competition, Audi and Porsche.
Google Ads
Hennessey Cadillac CT5-V Blackwing Performance Specifications
| | | |
| --- | --- | --- |
| Top Speed | 205 MPH | 205+ MPH (Not Specified) |
| Horsepower | 668 HP | 1,000 HP |
| Torque | 659 pound-feet | 966 pound-feet |
| 0-60 MPH | 3.5-seconds | 2.5-seconds |
| 1/4 Mile | 11.6-seconds | 10.1-seconds |
The handling also gets praise for being responsive and adaptive, thanks to the CT5-V Blackwing's standard Magnetorheological dampers that sense the road, as well as your driving style and intentions, and adapts accordingly, making for a consistent and "sticky" driving experience. The Blackwing's infotainment interface includes a standard lap timer for keeping track of your best times on race day. A Performance Data Recorder (PDR) is an optional feature that, if included, will track performance data across the vehicle's ECU to provide more detailed information about performance and output.
The 2024 CT5-V Blackwing Promises Luxury And Performance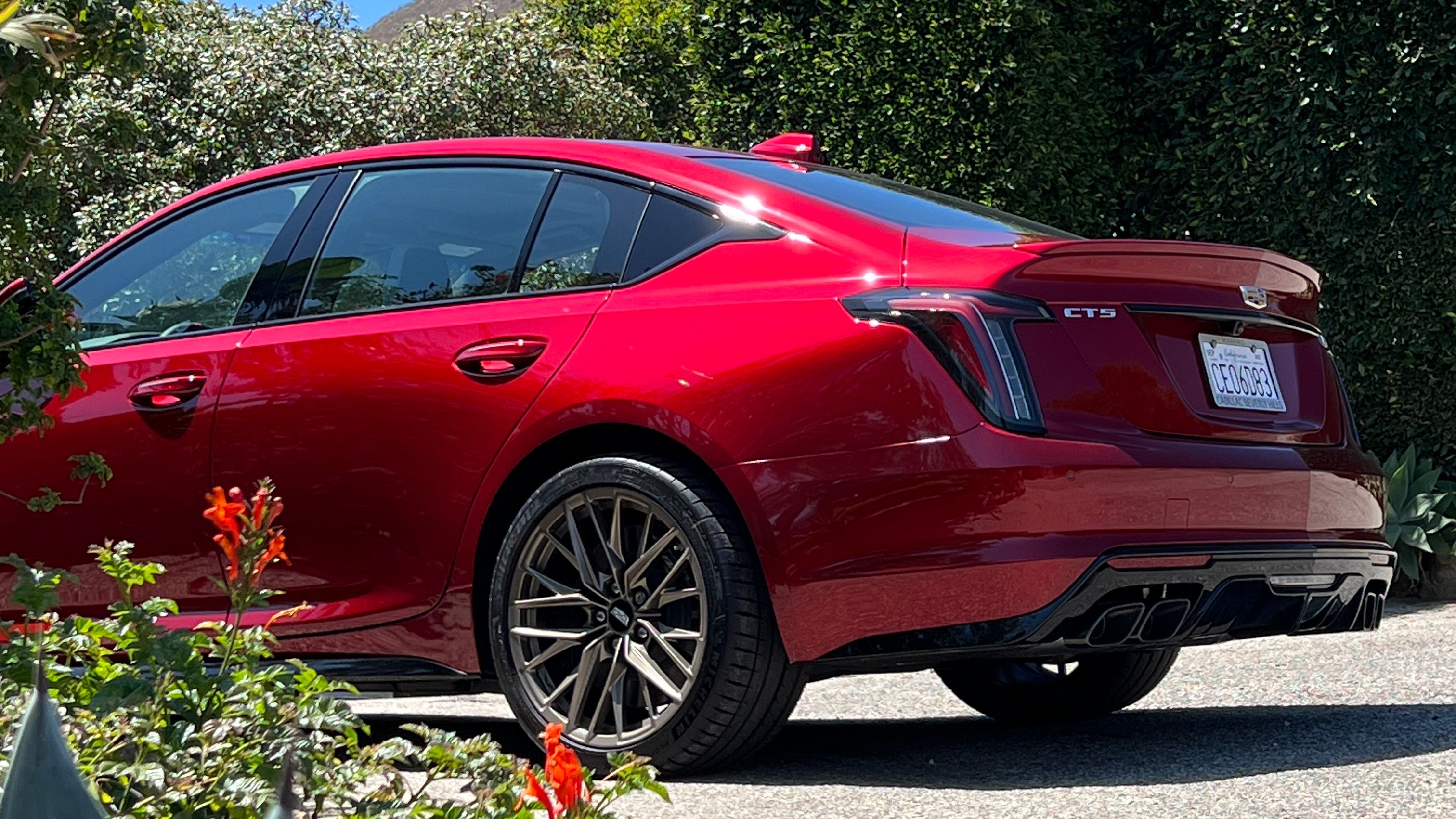 Rear 3/4 view of Cadillac CT5-V Blackwing parked 
These standard high-performance features may be why Hennessey chose the CT5-V Blackwing as its next supercar project, as the mechanical makeup of the base Blackwing is suited for such upgrades detailed in the 'H1000' package. Not only does the Blackwing handle the 'H1000' upgrade well, but it also defies what a performance sedan is capable of by hiding its true intentions of performance under a slew of premium luxuries.
The 2024 CT5-V Blackwing comes standard with Apple CarPlay, Android Auto, and 4G LTE capabilities. The standard leather upholstery features heated and ventilated front seats, with microfiber optional. Matching door panels tie the complete look of luxury together as the ambient lighting adds to the class of the American-manufactured sedan. A 10-inch touchscreen displays the CUE infotainment interface, with a 12-inch head-up digital gauge cluster display behind the steering wheel. High-performance sport seats adorn in your choice of leather or microfiber grab you as soon as you enter the Blackwing, reminding you that, though surrounded by premium features, the heart of this luxury sedan craves speed.
The 2024 Cadillac CT5-V Blackwing starts at $94,890, a relatively low price for the performance and output the Blackwing offers, especially when compared to the competition including BMW M5 and Mercedes-Benz AMG E63. The brute-in-a-suit moniker, dubbed by Cadillac, as they paid close attention to detail when they packed the CT5-Blackwing with luxury amenities and premium features. Being Cadillac's fastest production vehicle ever, the Blackwing had high standards to meet from the beginning, and exceeded expectations, earning a spot on Car And Driver's 10 Best Cars feature not once, but twice.
Hennessey's Legacy And Future
Located in Sealy, Texas, Hennessey, founded by John Hennessey in the early 90s, has made a name for itself by taking fast cars and making them faster. Employing the service of over 100 brilliant engineers, Hennessey has re-imagined over 12,000 vehicles for performance enthusiasts worldwide for over 32 years. Hennessey and their affiliates offer opportunities to talented and driven engineers and specialists from every corner of the world, ensuring that they remain a prominent name in performance. Known mostly for their supercar upgrades, including their hypercars projects, the Venom GT and Venom F5, Hennessey's automotive team also works on trucks and SUVs, and reports working on 40–50 vehicles at once. With no signs of slowing down, Hennessey is set to begin production on the 'H1000' Cadillac CT5-V Blackwing in August 2023.
Google Ads