As the world rapidly moves towards leaving internal-combustion-engines ICE once and for all, research and innovation have seen great speed, which is why the limitations that electric vehicles had in the past have been left behind. The biggest issue the early EVs had was that the batteries weren't engineered well enough to make them practical for daily use. The limiting factor that prevented EVs from being practical for daily use is now in the past, as EVs have evolved greatly. The Lucid Air, for example, has a staggering 516-mile range, demonstrating how far EVs have come. On April 5, 2023, Chevrolet introduced the production version of the 2024 Equinox EV, which is the cheapest 300-mile vehicle you can get your hands on. In the fall of 2024, Chevrolet will start delivering the base model (the 1LT Equinox EV) and it is expected to cost around $30,000.
Google Ads
Related: Comparison: Chevy Equinox EV vs Volvo EX30
There's Enough Oomph And Enough Stamina!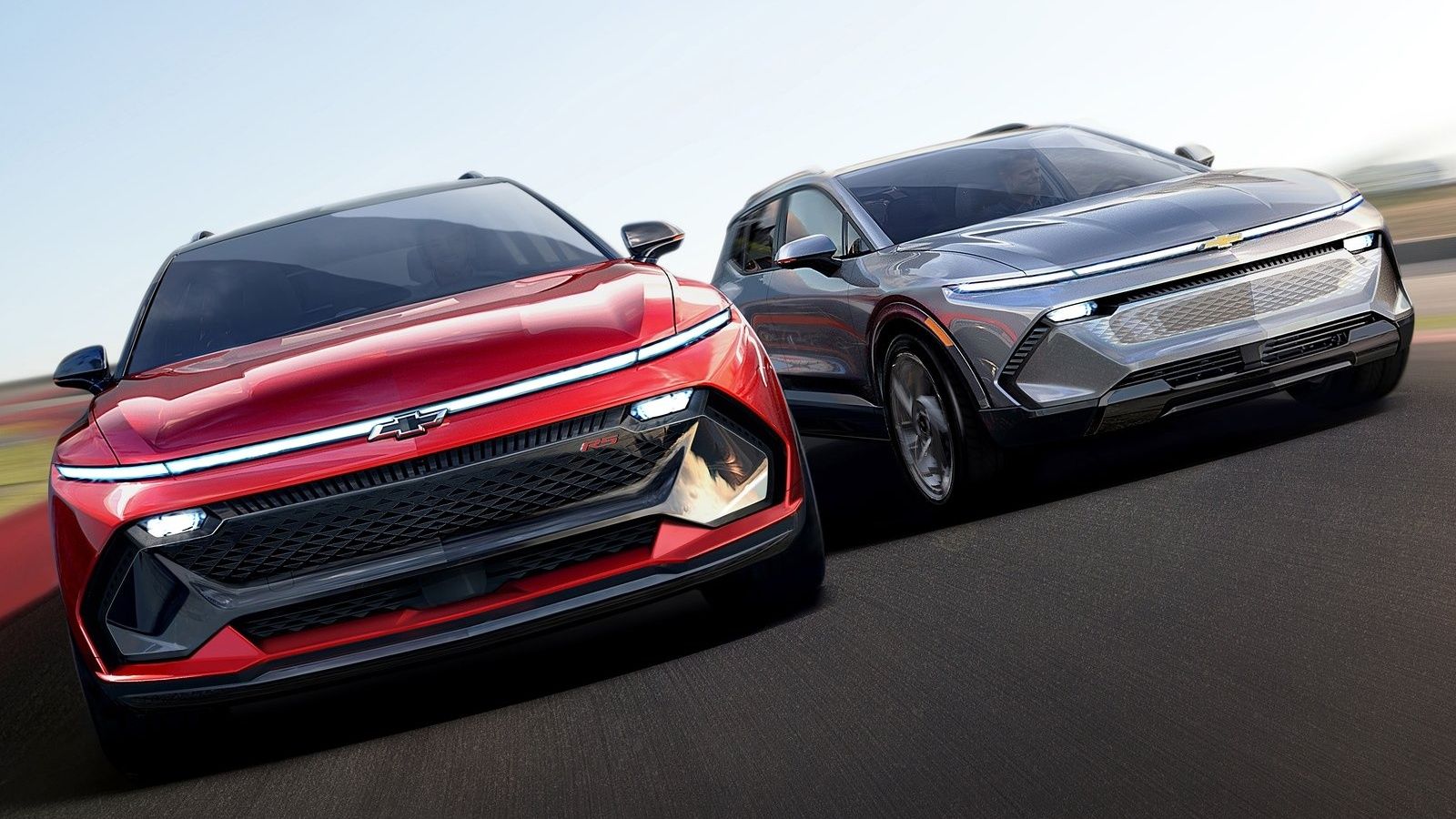 A front shot of two 2024 Chevrolet Equinox EVs on a racing track
While Chevrolet will offer you five different trims, the base-model 1LT's motor will deliver 210 horsepower to the front wheels and 242 pound-feet of torque, which is quite decent for an entry-level compact SUV. If you think this SUV needs more power, Chevrolet has you covered with an optional bigger battery and AWDe drivetrain. This increases the power output to 290 horses and 346 pound-feet of torque. All of this extra performance will enable your 1LT to accelerate from 0 to 60 MPH in six seconds. You have the option of getting a bigger battery pack for the 300-mile range, but it will cost slightly more than the $30,000 price tag. Nonetheless, 250 miles on the base trim is impressive nonetheless.
The Equinox EV's Comparison With Rival SUVs
Chevy Equinox EV

Nissan Ariya

Google Ads

Hyundai Ioniq 5

Tesla Model 3

Model

2LT

Venture+ FWD

SE RWD

Long Range

Range

300 miles

304 miles

303 miles

358 miles

Price

$34,000 (est.)

$47,190

$45,500

$47,240
Chevrolet has confirmed that all models of the Equinox EV will feature a DC fast charging system. So, rest assured, you will not be waiting long for your Equinox EV to juice up to 100 percent. In this budget, potential buyers are looking for a long-range vehicle that makes their daily commute easy, and the vehicle shouldn't be underpowered. 242 pound-feet of torque might be just enough. This SUV stands its ground against competitors such as the Nissan Ariya, Hyundai Ioniq 5, and the Tesla Model 3, all of which have a 300-mile range or more. This is very crucial because nowadays, potential customers look at the numbers before purchasing, and this compact electric SUV has similar performance numbers to its rivals.
Related: Why The Chevy Equinox EV Is A Masterstroke From GM
Good Looks And A Practical Interior – The Equinox EV Has It All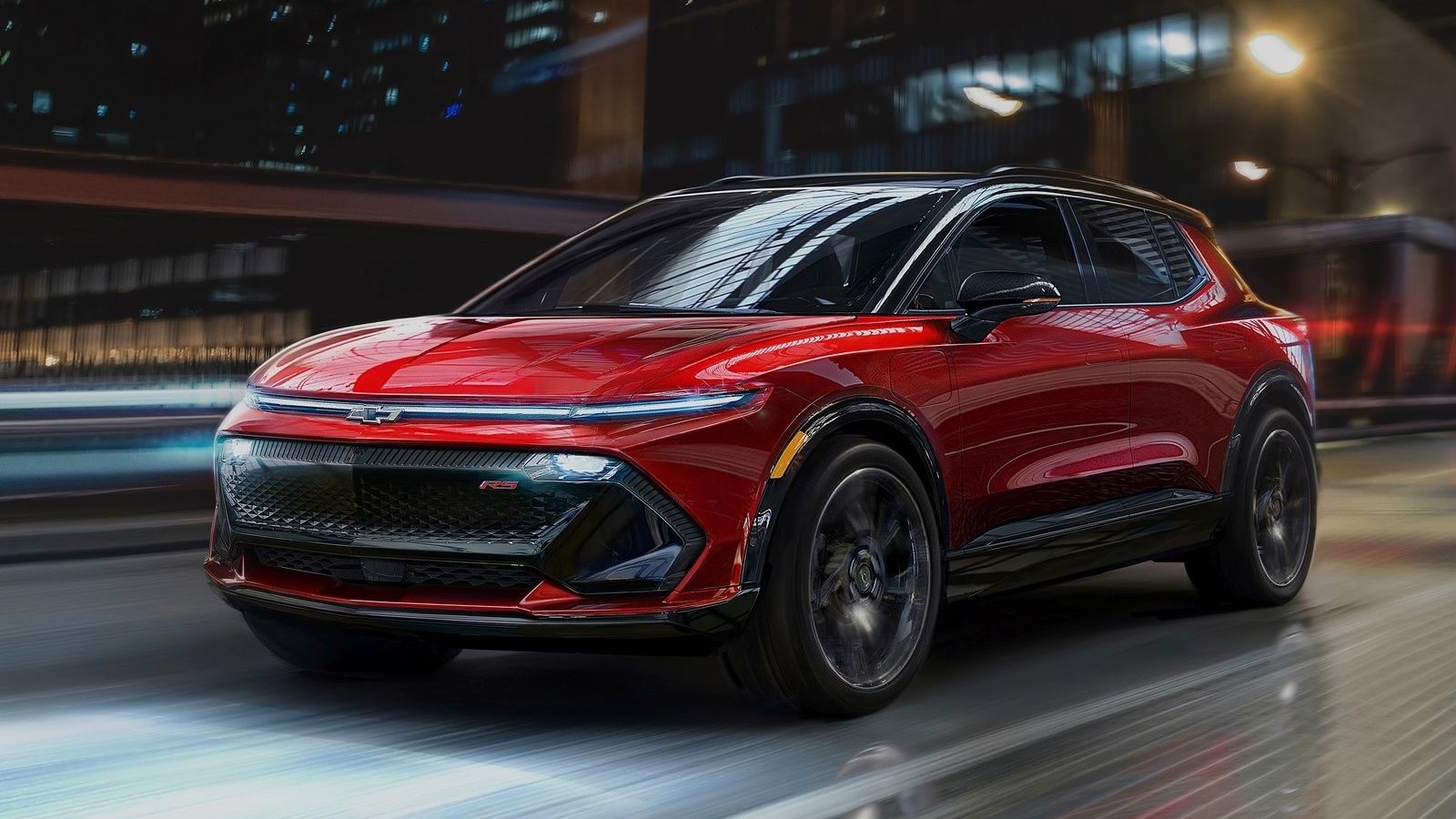 Side angle shot of the 2024 Chevrolet Equinox EV in radiant red
The Equinox EV boasts futuristic looks, including single headlights, which extend across the entire front of the SUV, giving it a muscular, sporty look. The wide grille, which is flanked by two slim LED strips, adds to the SUV's aggressive stance. The 1LT's side has flush door handles and standard 19-inch wheels. Furthermore, the wide flared arches give this SUV a necessary muscular look. At the rear, you see animated taillights that showcase its futuristic looks, a shark fin, and a diffuser to provide that necessary downforce. This SUV has many of the safety and driver assistance features you would expect in a 2024 electric SUV. The standard features include a lane-keeping system, blind spot assistance, and an automatic emergency braking system. Also, you will get reverse automatic braking and rear-park assist to make your daily reversing maneuvers much easier.
However, GM's Super Cruise is reportedly only available in the 2LT and higher models, so, we will not be getting the Level 2 Autonomous Driving System in the 1LT. In the 1LT, your grocery runs are going to be stress-free thanks to the presence-sensing tailgate, which will open automatically when it senses the key fob near the rear of the vehicle. Additionally, the spacious trunk offers a maximum cargo capacity of 57.2 cubic feet (with the rear row folded), ensuring all your groceries fit in with ease. Furthermore, this SUV has a maximum towing capacity of 1,500 pounds with the AWD model.
Related: Chevrolet Bolt EUV vs Chevrolet Equinox EV
No Dearth Of Tech Features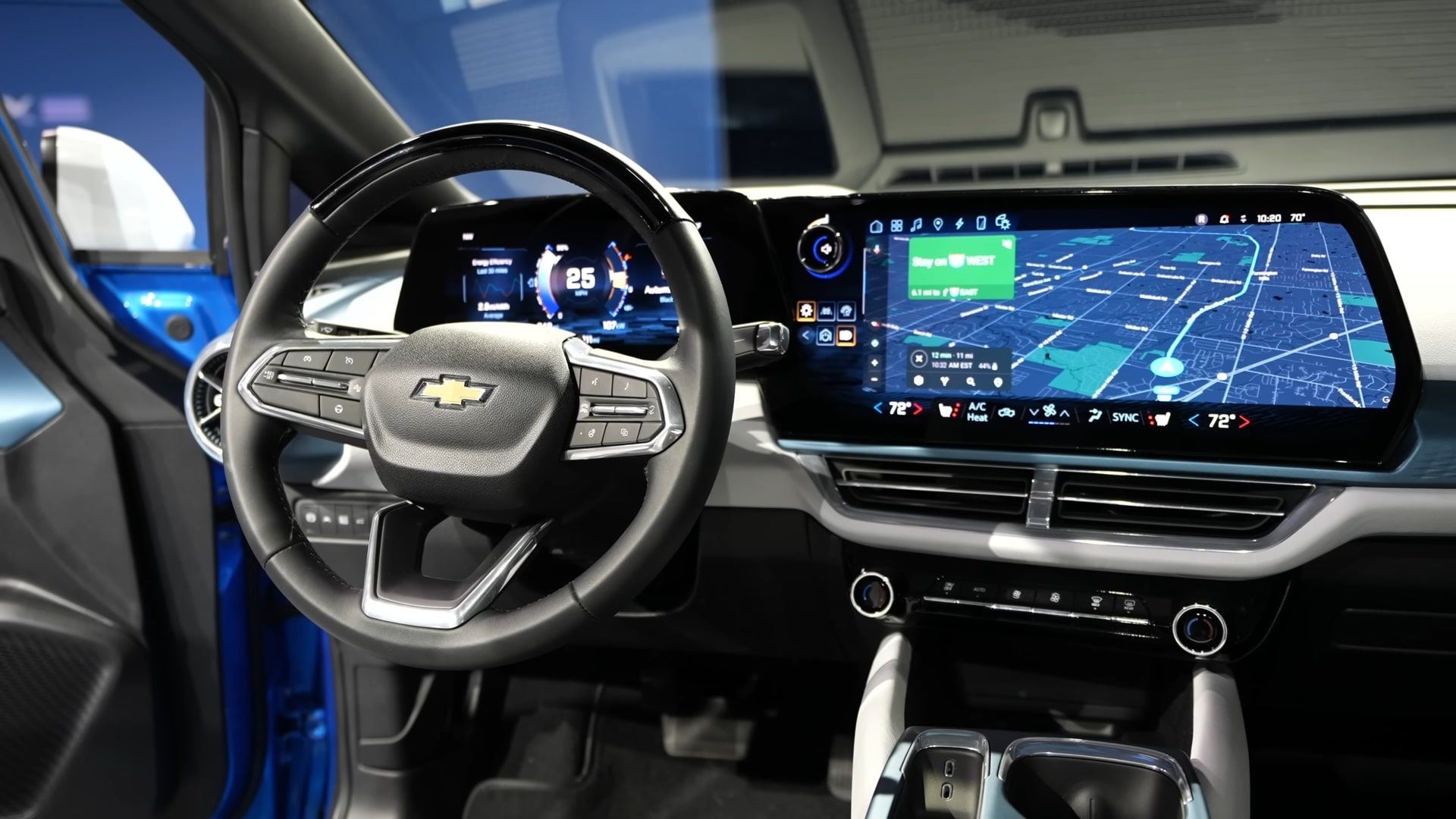 Interior of a 2024 Chevy Equinox EV
The electric Chevy Equinox crossover's interior is ultramodern, spacious, and filled with all the latest technology. On the base model, you get two 11-inch screens: one for the infotainment system and the other for the driver's display. The 1LT's interior will also have a moon roof, a two-tone interior, and ambient lighting to give you the feeling of being in your lounge. Chevrolet has gone with the traditional knobs for temperature control, and we welcome this change because having temperature control buttons on the touchscreen is distracting. In the infotainment section, Chevrolet is designing its very own infotainment system in collaboration with Google, and the first car to come equipped with that will be the Chevy Blazer 2024. This infotainment system is being developed in collaboration with Google and Chevy officials, who claim it will improve navigation and other driver assistance features like GM's Super Cruise. It is not official whether the 2024 models of the Equinox EV will come with this new in-house infotainment system; however, we expect the Equinox EV to come with Apple CarPlay and Android Auto.
Even The Top-spec Equinox EV Costs Less Than $45,000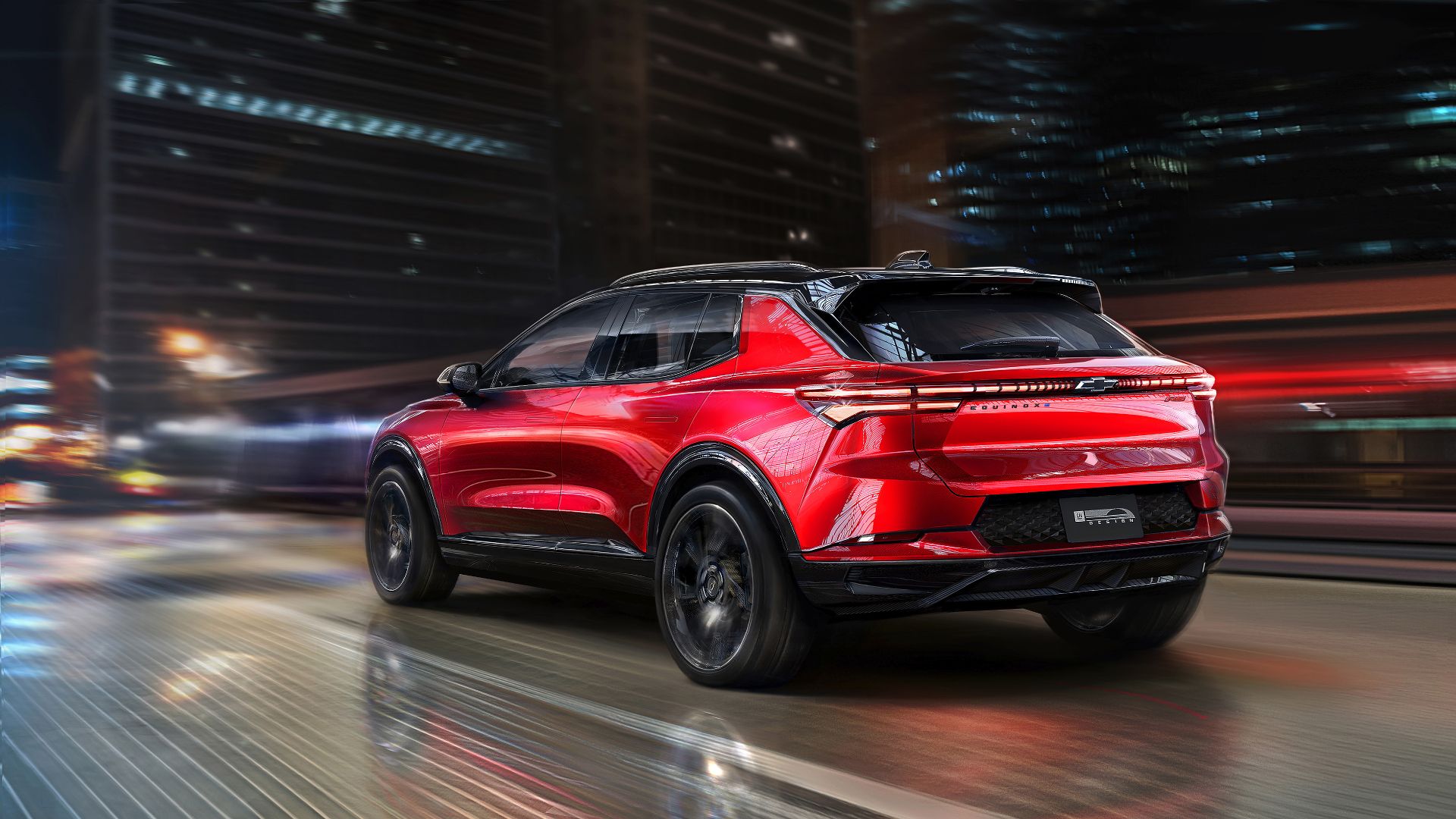 Rear three-quarters shot of a red 2024 Chevy Equinox EV on the street 
The 2024 Chevy Equinox EV's deliveries will commence in the fall of 2024, pricing starts at $30,000. If you don't quite have the $30,000 budget, we have a great piece of news for you: this EV qualifies for a $7,500 tax credit, which makes this SUV more lucrative and budget-friendly. If you're eligible for it, you can get your Equinox EV for less than $23,000! There are other EVs with a 300-mile plus range like the Hyundai Ioniq 5 SE RWD with a 304-mile range with the price of $45,500, the Tesla Model 3 Long Range has an impressive 333-mile range, and it sets you back $47,240, the Nissan Ariya venture+ has a price of $47,190, and it comes with a 304-mile range. However, none of them comes close to the price that Chevrolet is offering for the Equinox EV 1LT.
| | | |
| --- | --- | --- |
| Trim | GM Est. Range (FWD) | Est. Price |
| 1LT | 250 miles | $30,000 |
| 2LT | 300 miles | $34,000 |
| 3LT | 300 miles | $37,000 |
| 2RS | 300 miles | $40,000 |
| 3RS | 300 miles | $44,000 |
Google Ads