It's usually the E30 BMW M3 that gets all the love, followed by the high-strung E46 M3. What about the E36, though? In reality, it was the car that bridged those two legends, and for some good reasons. E36 brought M as a brand to the masses. Sure, there were previous M cars stemming from the 1970s with the legendary M1 supercar, and the E30 M3, a true homologation special, but the E36 arguably arrives in a time with less grandeur where racing homologation wasn't as important to manufacturers. This doesn't mean the M3 had an easy life moving forward. E36 held the weight of the world on its shoulders as it was aimed at a much broader audience. It didn't have to answer to the singular task of racing, it had to do that, and so much more. It had to be a good road car.
Google Ads
A good road car it was, a great one, in fact. The M3 had a chance to play in a class above its predecessor. Its competitive spirit on the track against some heavy hitters translated well to the road where its buttery smooth straight-six engine was (and still is) praised for its linear power. Ultimately, the E36 ensured the M3's success as a production road car, and for us enthusiasts, that's about as important as it gets. These are the main reasons the E36 is a truly legendary M car.
Related: Here's Why The BMW M3 G81 Touring Is The Best M-Car You Can Buy In 2023
The E36 M3 Solidified The Inline-six For BMW M Cars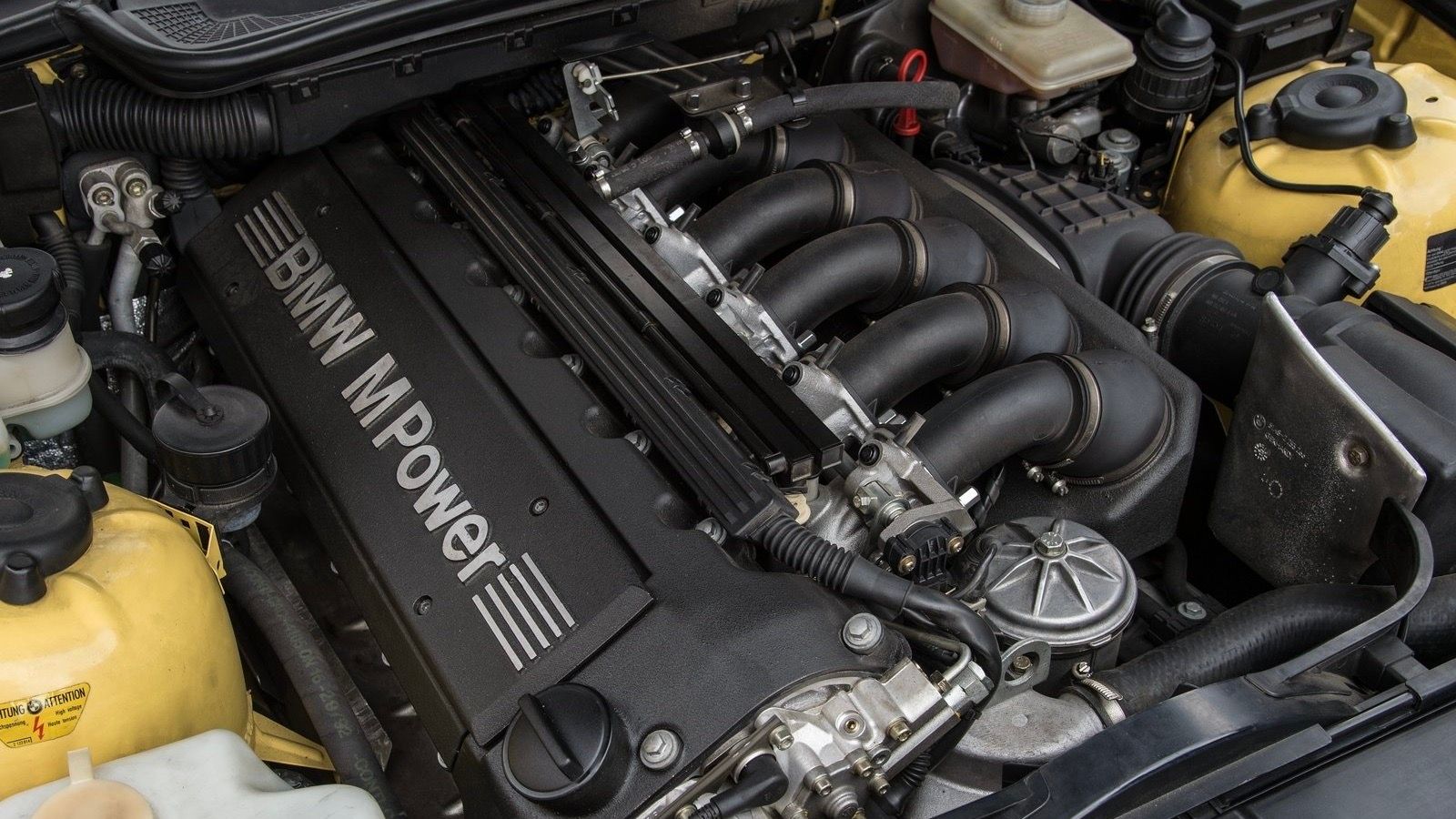 Close up of 1992 BMW M3 Coupe S50 engine. 
The E36 brought six-cylinder power to the M3 after years of buzzing inline-four engines in the E30 generation. Europe specifically, received an especially elevated version of BMW M's then-new S50 engine. An "S" designated engine meant it came straight from BMW's M division. The idea was that when BMW made an engine, in this case, the now legendary straight-six, the M division would get a hold of it and beef it up to make it more powerful, and suited for track work. This was the case with the E30 and again with the E36. The E36's engine was very different in character though. It wasn't directly derived from racing and a Frankenstein of parts like the E30's S14 engine. This, you could tell, was built for the road and for racing. The S50 and later S52 engines were in it for a good time, and a long time. They led BMW to stick with the straight-six engine layout, a staple for BMW, which remains today. After the M3's brief V-8 moment with the E90 generation, it was back to the bread and butter straight-six, this time with forced induction in the F80 and now G80.
E36 BMW M3 Specs
E36 BMW M3 (U.S.-spec)

Google Ads

E36 BMW M3 (Euro-spec)

Engine

3.0-liter inline-six/3.2-liter inline-six

3.0-liter inline-six/3.2-liter inline-six

Horsepower

240/240 horses

286/321 horses

Torque

225/236 pound-feet

258 pound-feet

Transmission

Five-speed manual/automatic

Five-speed manual/six-speed manual
Related: 10 Reasons Why People Love The E92 BMW M3
The E36 M3 Made BMW A Global Player In The Sports Car Realm
Throughout its life cycle, around 17,000 E30 M3s were built, of that about 5,300 were sent to America, with a mere 185 ever reaching Canada. The E36 changed the game. Fast-forward and we would see 46,525 coupes, 12,114 convertibles, and 12,603 sedan E36 M3s built. This represents more than four times the production over the E30, with nearly seven times as many E36s arriving in the U.S. as compared to the E30s spread across the coupe, sedan, and convertible versions. BMW successfully reached a market with the E36 typically occupied by sports car drivers who may not have even considered an E30 M3. For many, the M3 wasn't even on the radar. Its popularity grew with its ties to racing, practicality, and ultra-smooth inputs. It was a sporty car that was approachable, and more relatable to a broader group of drivers. Some criticized the E36 for becoming, "too soft" while others praised it for its suaveness.
Related: 10 Fun Facts About The E30 BMW M3
The E36 M3 Was The First M Car To Be Available In Different Trims
A part of bringing M to more enthusiasts means you'd need more than a single model. The E36 was delivered not only as a coupe, but sedan, and convertible models as well. This was a huge step forward for M3 as only a handful of E30 convertibles were made as compared to the coupe, the car that was intended for racing purposes. The addition of the sedan and convertible models brought more brand awareness and let drivers know that the M3 was more of an option for all kinds of driving. Although the coupe remained the popular model, the convertible, and sedans represented a step in the right direction for BMW. To this day sedan and convertible versions of the M3/M4 still remain wildly popular among M car enthusiasts. The fact that BMW was focused on producing more variants probably helped with the push towards homologation special models which helped BMW enter more racing series and thus brought about further brand awareness, and the vicious cycle continues.
Related: Everything You Need To Know About The All-New BMW M3 CS
The E36 BMW M3 Was Successful In Racing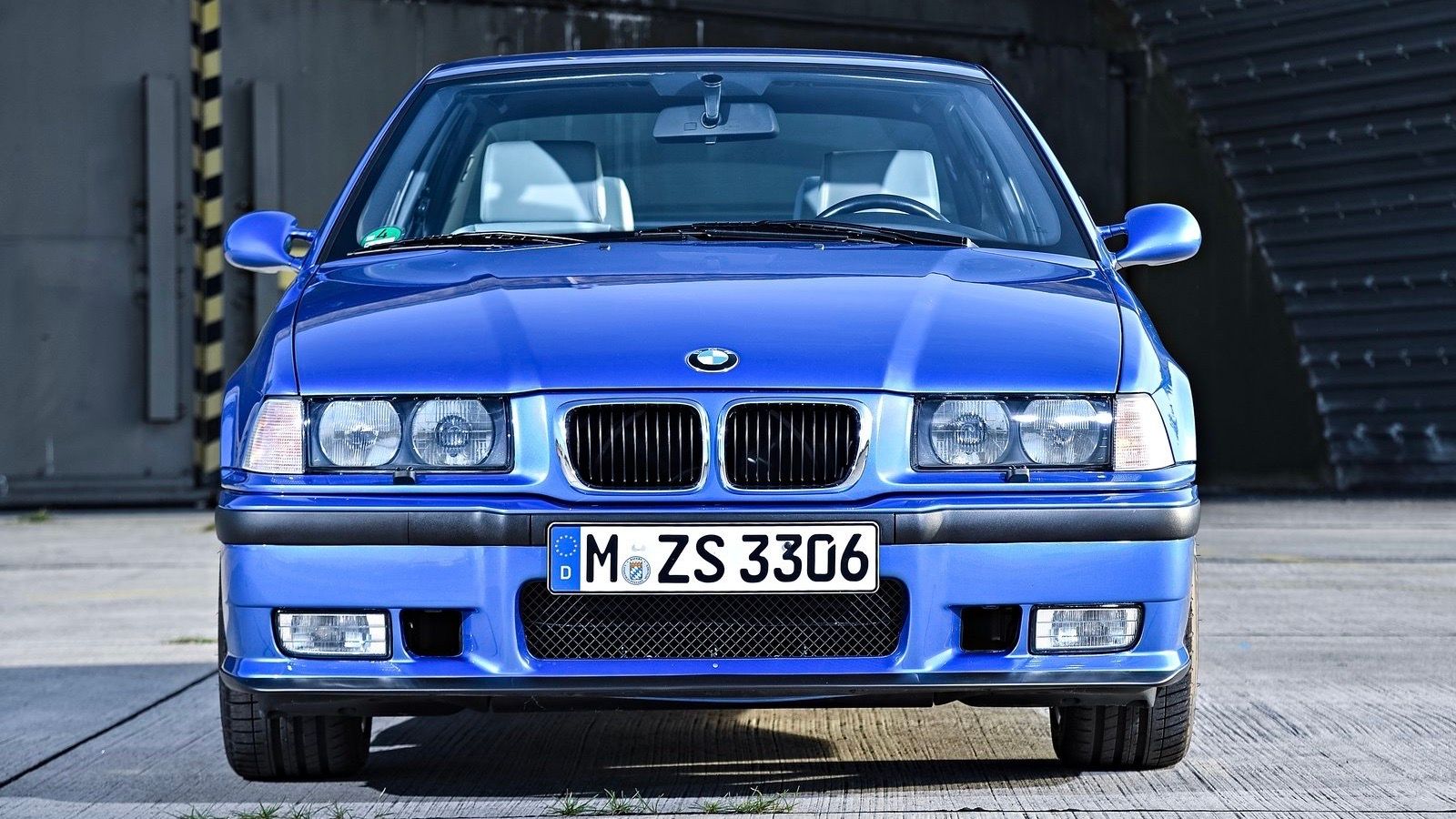 Front view of 1995 BMW M3 Sedan parked. 
The M3 started in racing, so it's no wonder the E36 would have to follow suit. It did. Not only was it entered in racing most popularly in 1995-1997, but went on to launch BMW M into more racing series than the E30 ever did. 1997 in particular was a successful year as BMW's GTS class M3s finished with three titles as a result of improvements and refinements over the first models launched in 1995 that saw multiple DNFs. BMW's success in IMSA and other racing series led by Erik Wensberg, who came from a marketing background in the beer industry, drove BMW to the realization that they needed to be more involved in racing as a whole. Wensberg and the team then took a page out of the E30's book and created a homologation car known as the M3 GT. It was built to have BMWs race in the FIA GT series, Division 2, and continuing in the IMSA GT series. A total of 356 examples were built, finished in a gorgeous British racing green.
Related: 10 Things Every Enthusiast Should Know About the E46 BMW M3
The E36 M3 Makes A Great Weekend Or Track Car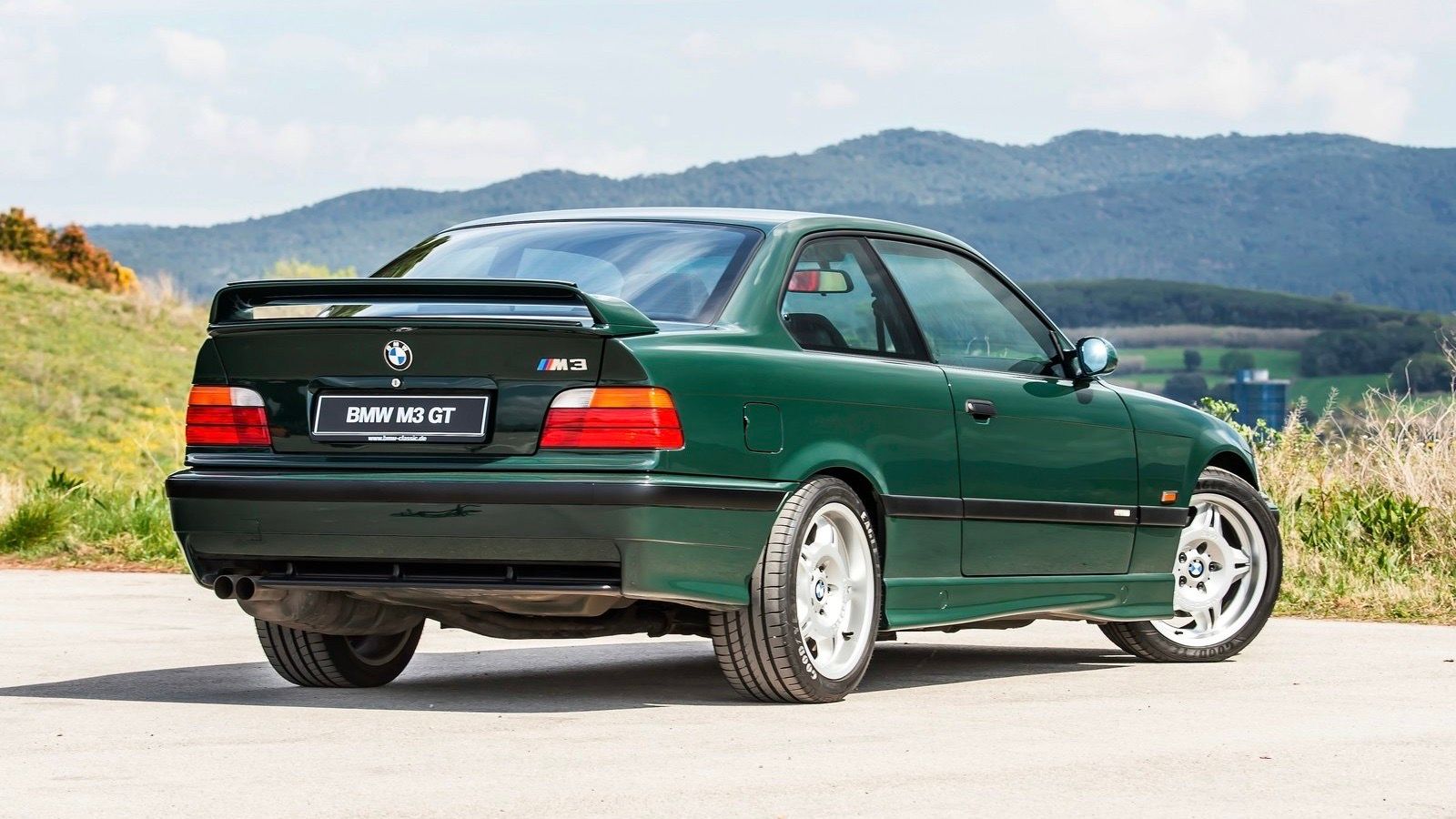 Rear 3/4 view of 1994 BMW M3 GT parked.
Not only did the E36 M3 fare well in competitive racing, but also on any given open track day, you'll find weekend warriors hooning their M3s around tracks all over the world. Another effect of the M3's involvement in racing was the decision to build limited models like the M3 Lightweight, a U.S. version of the GT, a car aimed at competition driving with upgrades straight from the factory. Erik Wensberg insisted BMW build its own version of a track-oriented car not unlike programs the competition was developing at the time, namely Ford with the Cobra R, Chevrolet's 1LE, and offerings from Porsche as well. Today M3 Lightweights are an extremely rare breed, and when sold, they often go for nearly $100,000, and in some rare cases much more. Only 126 examples were built. E36 has proved to be a stand-out platform on which individuals and teams love to build race cars with. E36 M3s can often be seen at vastly different events, everything from your standard track day to drift events, autocross, and so on. As it turns out, the E36 M3 is fairly easy to modify and enthusiasts have taken full advantage, building everything from weekend cruisers, to purpose built racers. Wensberg should be proud of the culture he helped build. BMW should be proud of the E36 generation and owes much of the brand's success to the M3.
Google Ads