When the Polaris Slingshot first hit the market, people were not quite sure what to make of it. First, the purists claimed it would never be a motorcycle because it had three wheels. Then others said it wasn't a trike because the two wheels were in front and not in the back. Even the local governments couldn't agree on whether it was a car or a motorcycle.
Google Ads
Thankfully, the Slingshot has settled in and found its place on the road. Those who buy one end up loving it and the lifestyle they bring. Here are 15 reasons why you should give the Polaris Slingshot a chance.
Updated July 2023: The Polaris Slingshot is an excellent three-wheel bike that deserves as much recognition as possible. So, instead of letting this article get buried in the multitudes of other dead articles online, we have decided to refresh and update it with more information to keep you coming back for more. Enjoy!
Related: Here's What Happens When U.S. Tuner Roush Partners With Polaris
15
The Polaris Slingshot Offers Great Performance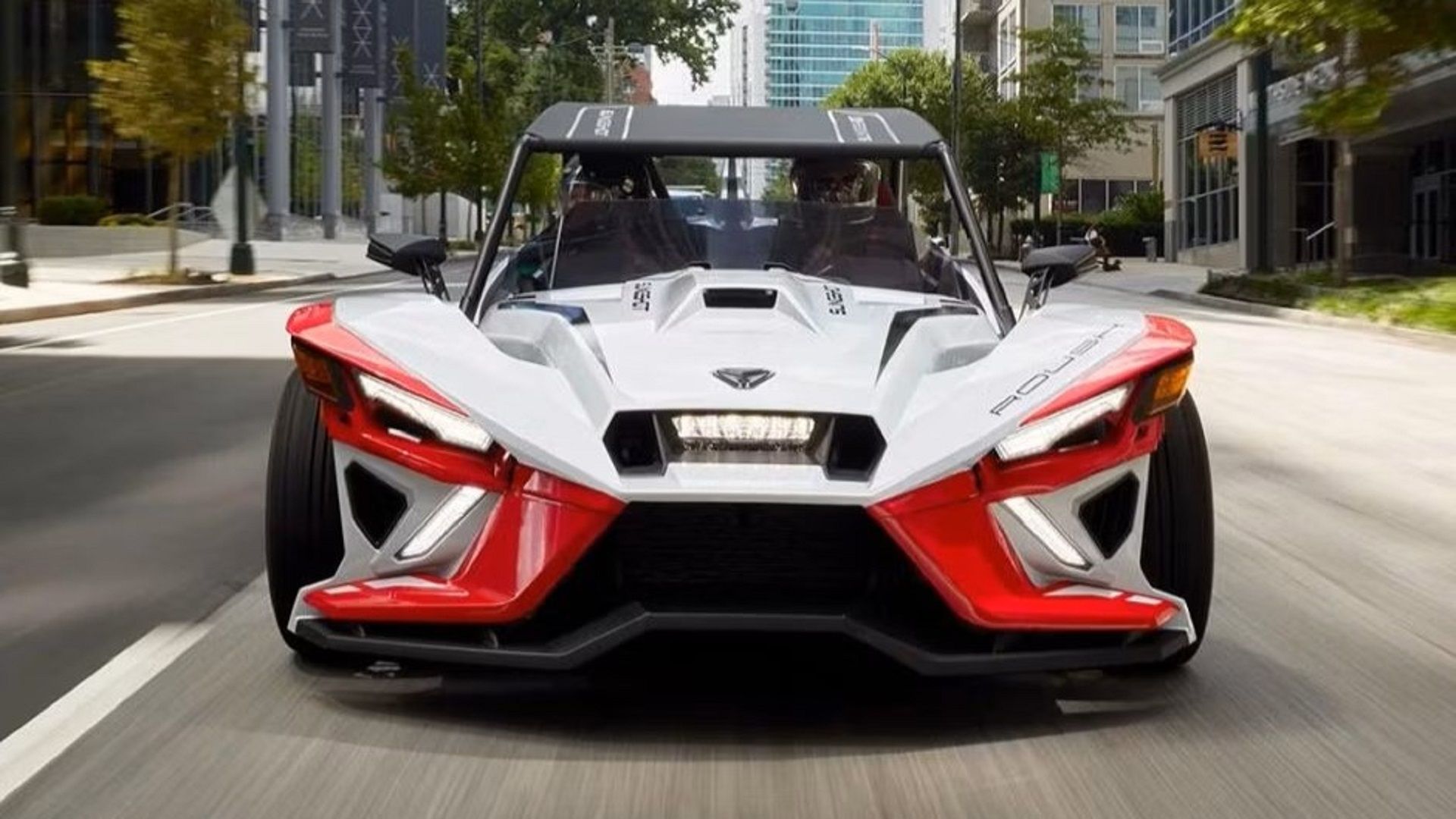 Front view of a Polaris Slingshot ROUSH Edition
A Polaris Prostar 2.0L 4-Cylinder engine with a carbon fiber reinforced belt powers the Slingshot, and *depending on which Polaris you purchase, it could have anywhere from 178 to 203 horsepower.
Polaris Slingshot Models And Specs
Model

Engine

Google Ads

Horsepower

Torque

Top Speed

Dry Weight

Slingshot S

1,997 cc

178 hp

120 ft-lbs

125 MPH

1,636 lbs

Slingshot SL

1,997 cc

178 hp

120 ft-lbs

125 MPH

1,652 lbs

Slingshot SLR

1,997 cc

203 hp

144 ft-lbs

125 MPH

1,656 lbs

Slingshot R

1,997 cc

203 hp

144 ft-lbs

125 MPH

1,651 lbs

Slingshot ROUSH Edition

1,997

203 hp

144 ft-lbs

125 MPH

1,680 lbs
There are manual and automatic options, allowing anyone to drive a Slingshot. The manual machines come with a five-speed transmission. The Slingshot can achieve 0-60 in 4.9 seconds from a stop and can reach a top speed of 125 miles per hour. The 1,997cc engine rev limits at 8,500 RPMs. The Slingshot has Brembo aluminum calipers and vented cast iron brake rotors for great stopping power.
14
The Slingshot Exudes Practicality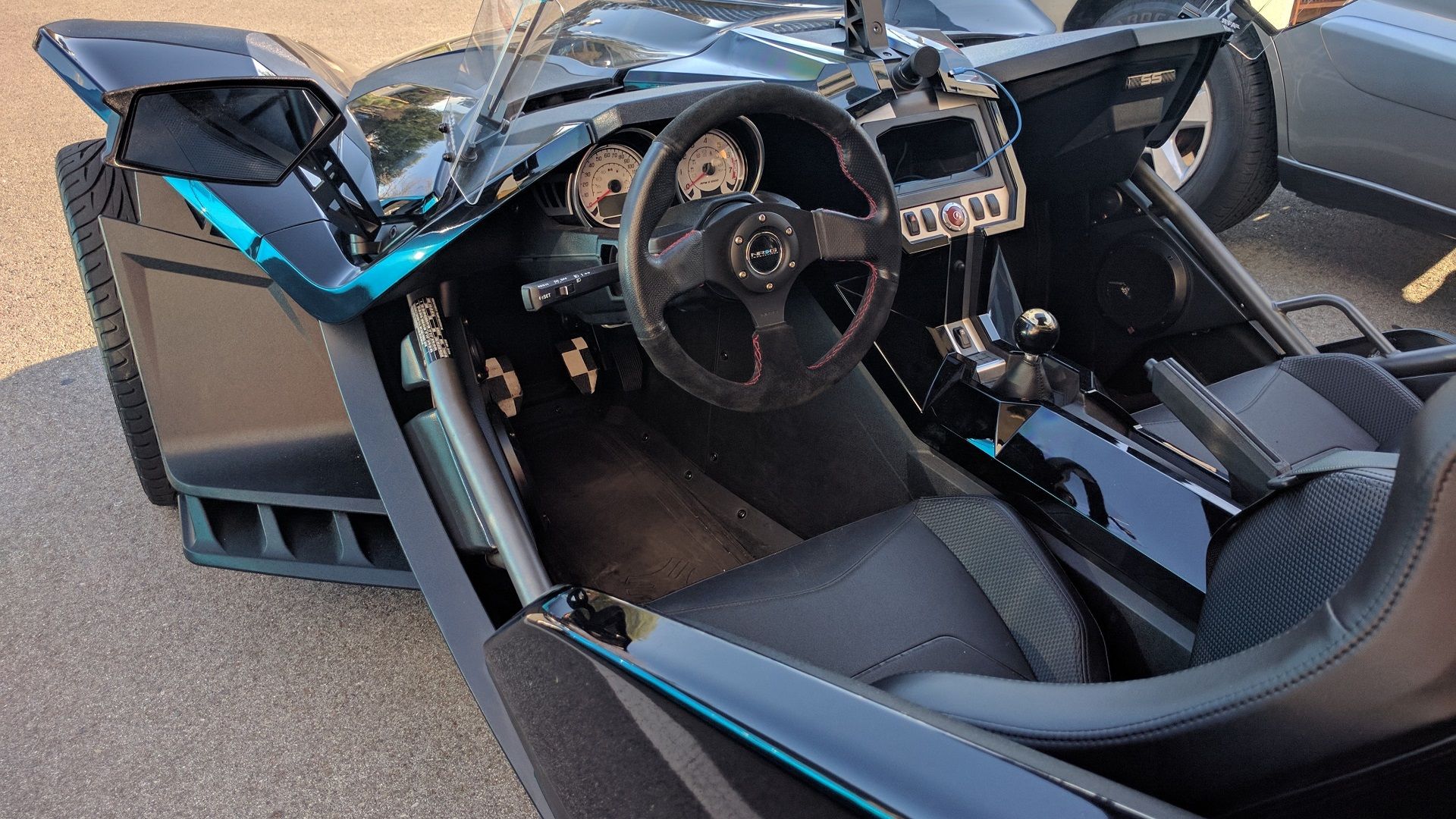 Drivers side aerial view of the interior of a Polaris Slingshot 
Riding a motorcycle is fun, but let's face it, they aren't always the most practical mode of transportation. There is a serious lack of storage capacity, which leaves you making the hard decisions about what you really need to bring with you. Of course, you could add saddlebags and luggage, but now you are adding bulk and weight. With a Slingshot, you don't have these problems. There are convenient small compartments throughout to keep essentials readily available. Then, larger compartments behind the seats can easily hold a weekend travel bag. This makes daily traveling or traveling with a Slingshot more practical.
Related: Top 10 Best Trike Motorcycles You Can Buy
13
The Slingshot Is Comfortable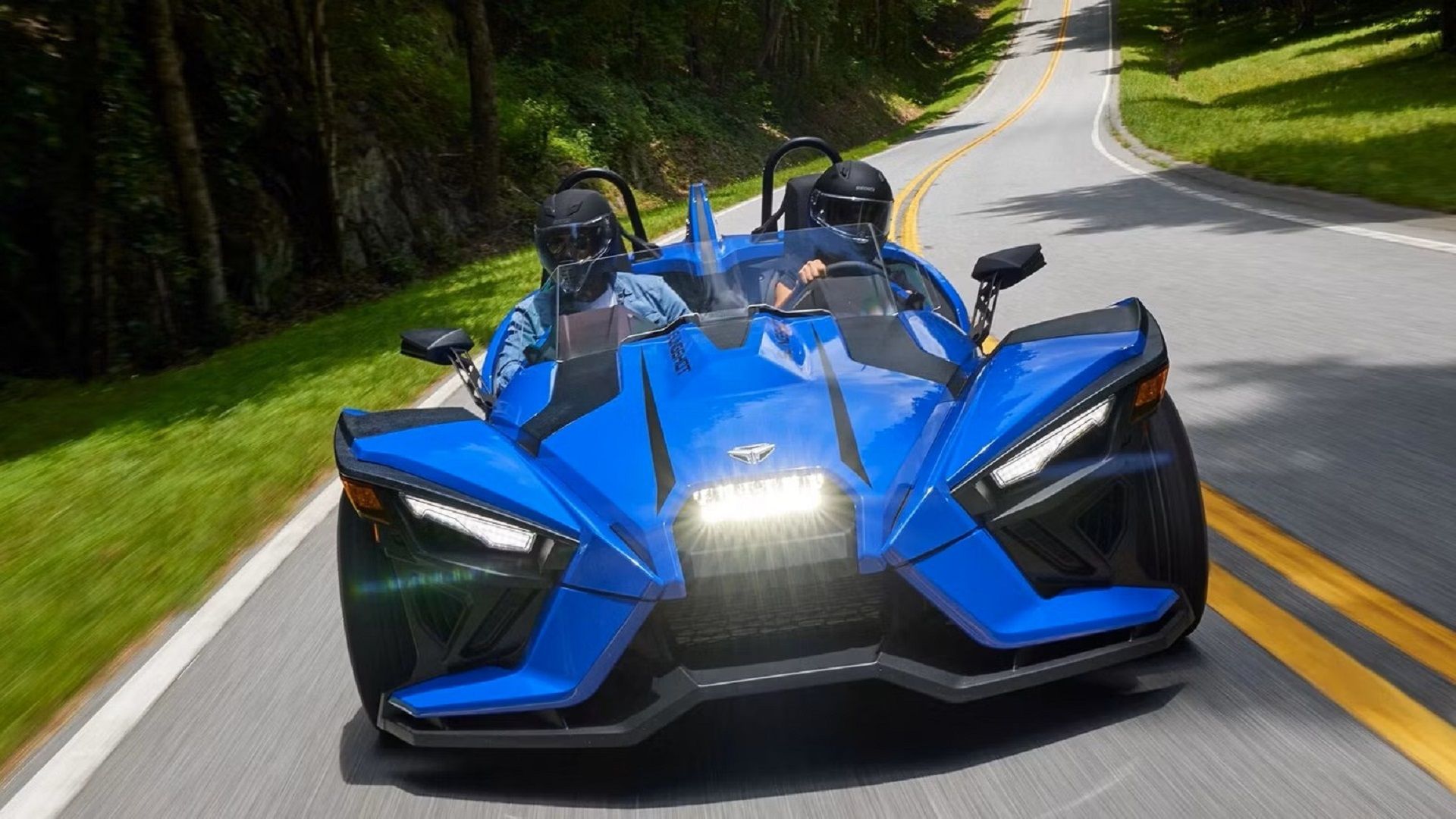 Front view of a 2023 Polaris Slingshot SL 2
Ride on any motorcycle for long enough, and your body will begin to ache. There is just no getting around it. This is because you are stuck in one position for the entire time. You have one leg on either side of the machine and must stay centered and balanced to stay upright. This isn't the case with the Polaris Slingshot. Instead, you sit in the machine in a traditional car set with plenty of legroom. This lets you move around and change positions. There is also plenty of support through the back and seat, so your body feels supported.
12
The Polaris Slingshot Offers Open Air Riding For All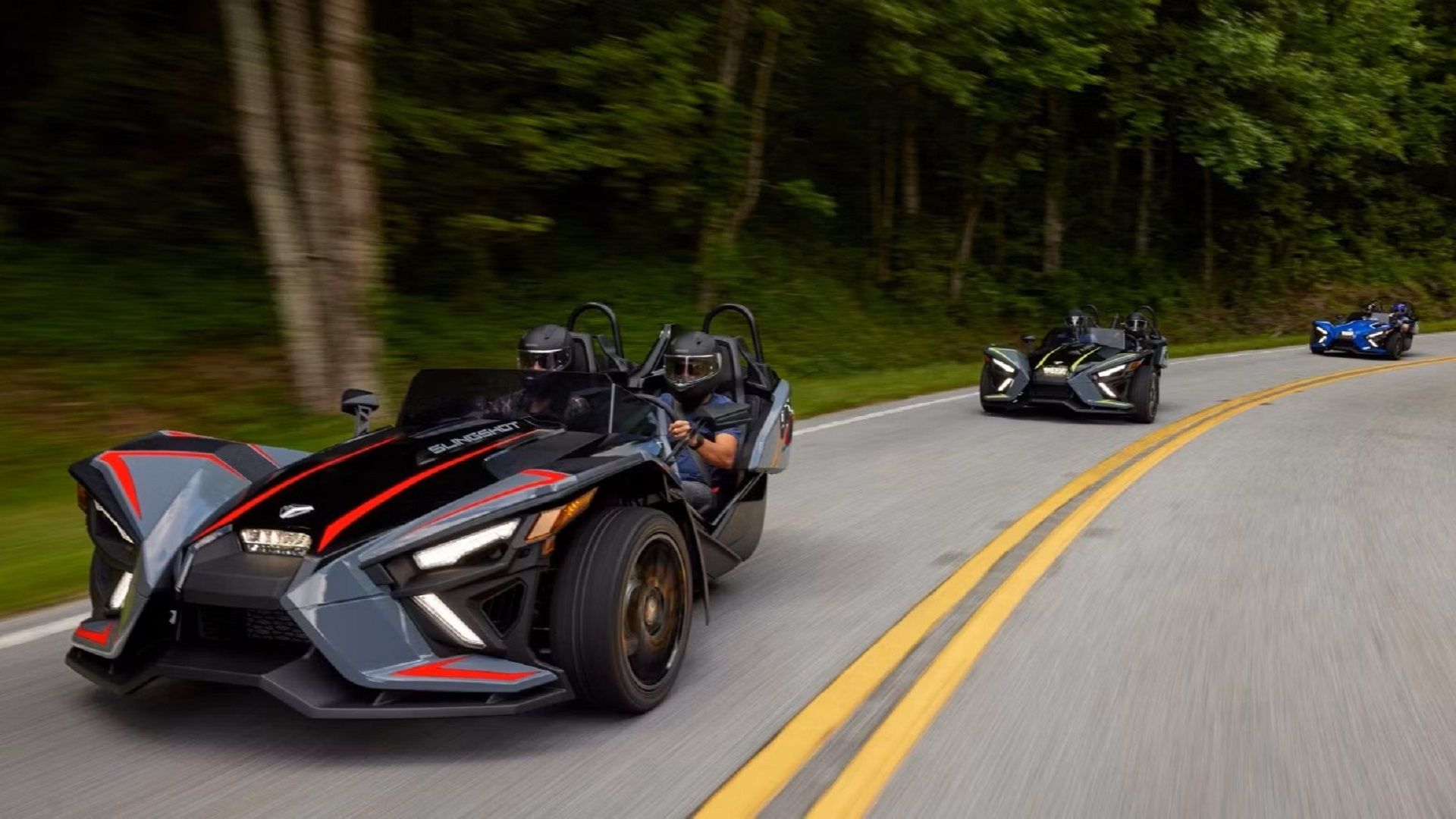 Front view of a group of 2023 Polaris Slingshot SLR 3
There are times in everybody's life when they can no longer do things they once enjoyed, such as riding motorcycles across the country. The Polaris slingshot can solve that dilemma for many because it is more stable than a two-wheeled vehicle, giving options to those that would generally have no way to drive in the open air other than buying a convertible like the Mustang or BMW that has some power. The three-wheeled Slingshot opens up a new world of options for the disabled or slightly impaired, who typically have to hang up their motorcycle riding gear for good.
11
Set Up For Two Like A Car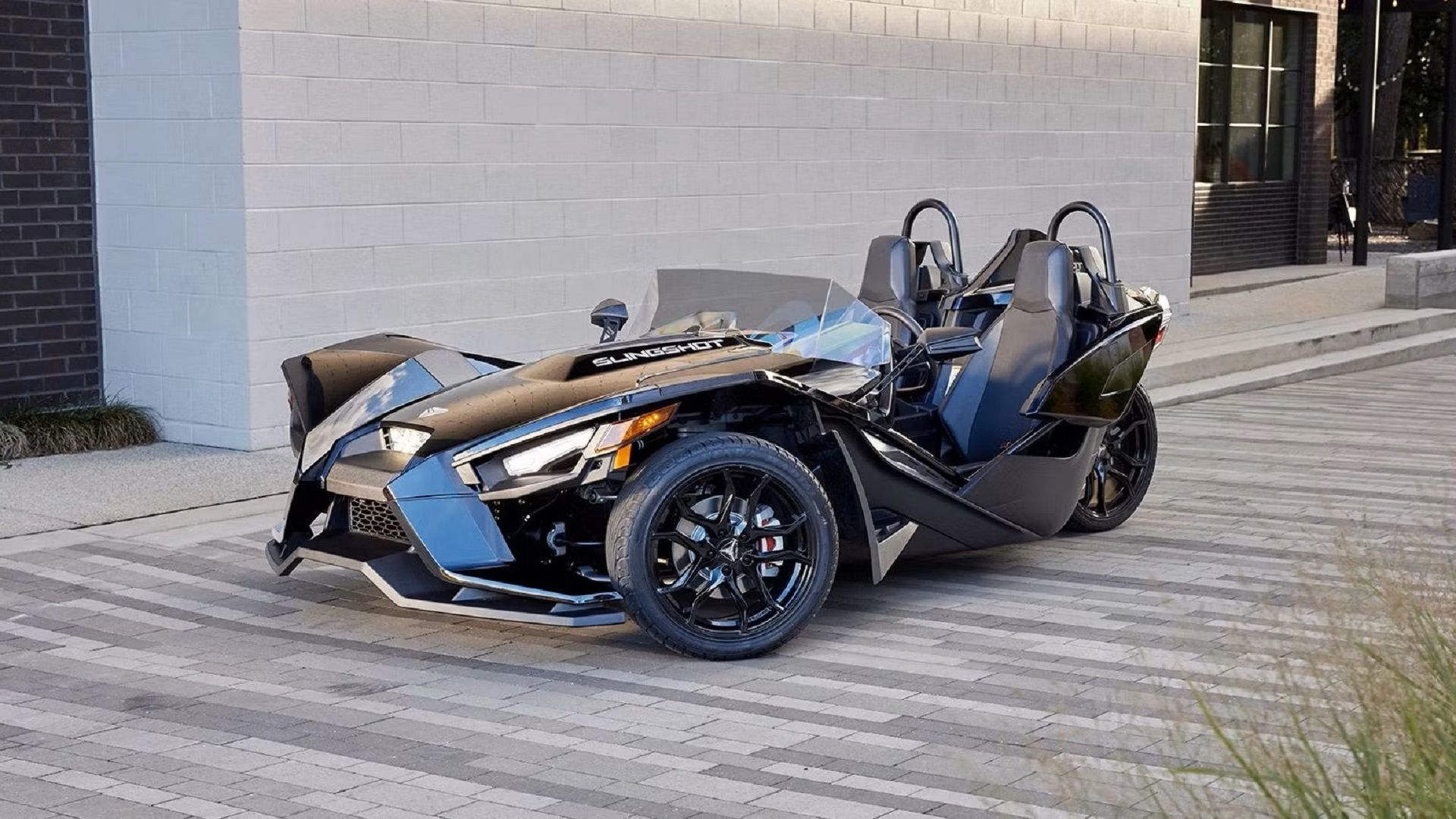 Front and side view of a 2023 Polaris Slingshot S
Almost every motorcycle on the road is set up to offer seating for two, with the driver in the front, and the passenger in the back, sitting directly behind each other. The Polaris Slingshot is not designed in this traditional style of motorcycle style, which sets it apart from its rivals. The Slingshot has two bucket seats set into the cockpit of the vehicle side by side, like a classic sports car. This allows for a more comfortable ride for both occupants and better awareness between the two when on the road.
10
Unique Styling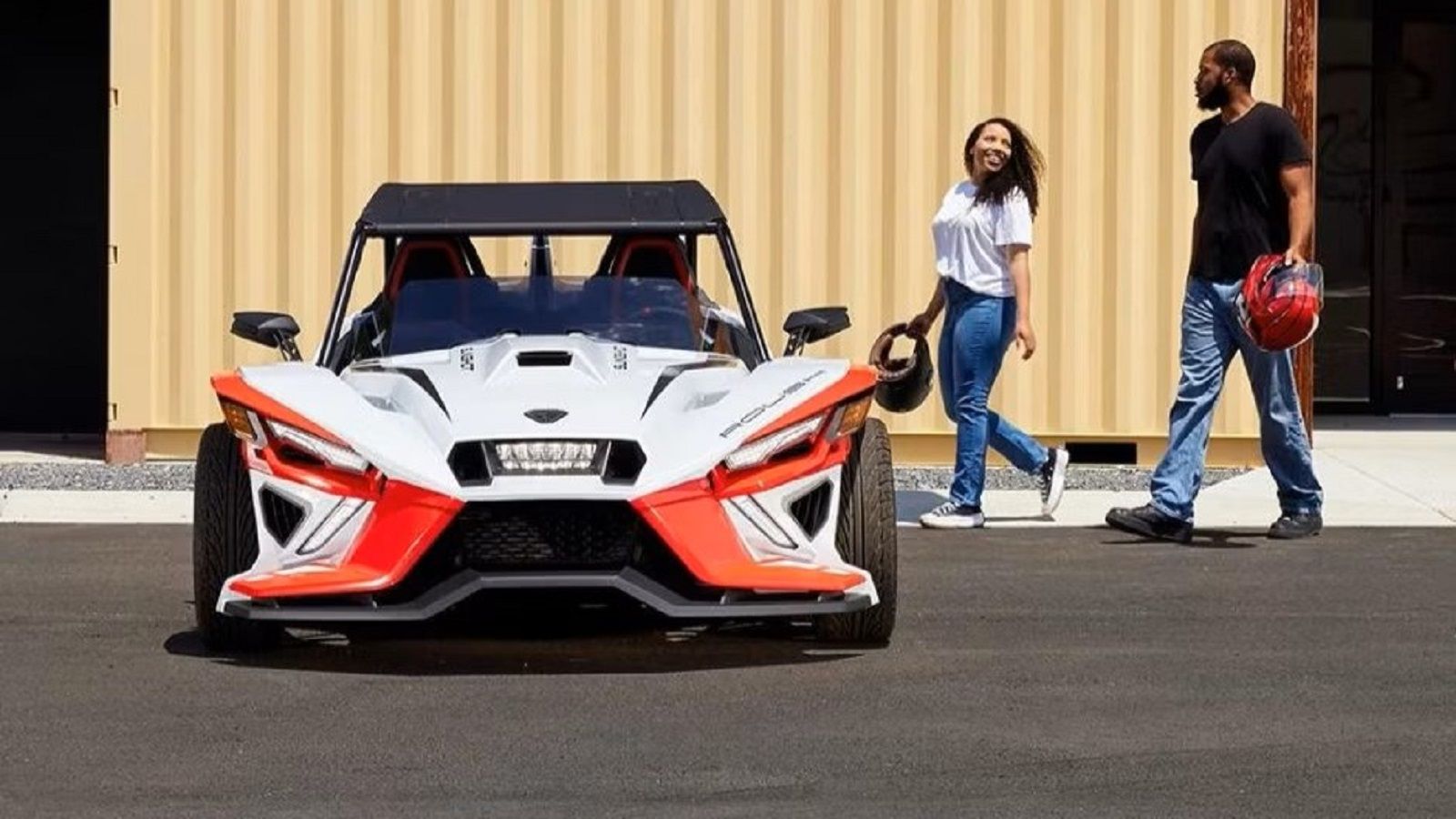 Front view of a Polaris Slingshot ROUSH Edition
There is nothing on the road that looks quite like a Polaris Slingshot. They aren't passenger vehicles, motorcycles, golf carts, or scooters. Despite having three wheels, they don't have the same setup as a trike. They are more substantial than a Cam Am, with another two in the front three-wheeled vehicle. The unique styling of the Polaris means you are going to turn heads. People will look at it even if you have a standard base model. Start customizing, and be prepared to have people stop, take pictures, and want to talk to you. Even if you see another Polaris on the road, the odds are slim that it will look like yours.
Related: 15 Things That Separate The Can-Am Range From Real Motorcycles
9
The Slingshot Is Stable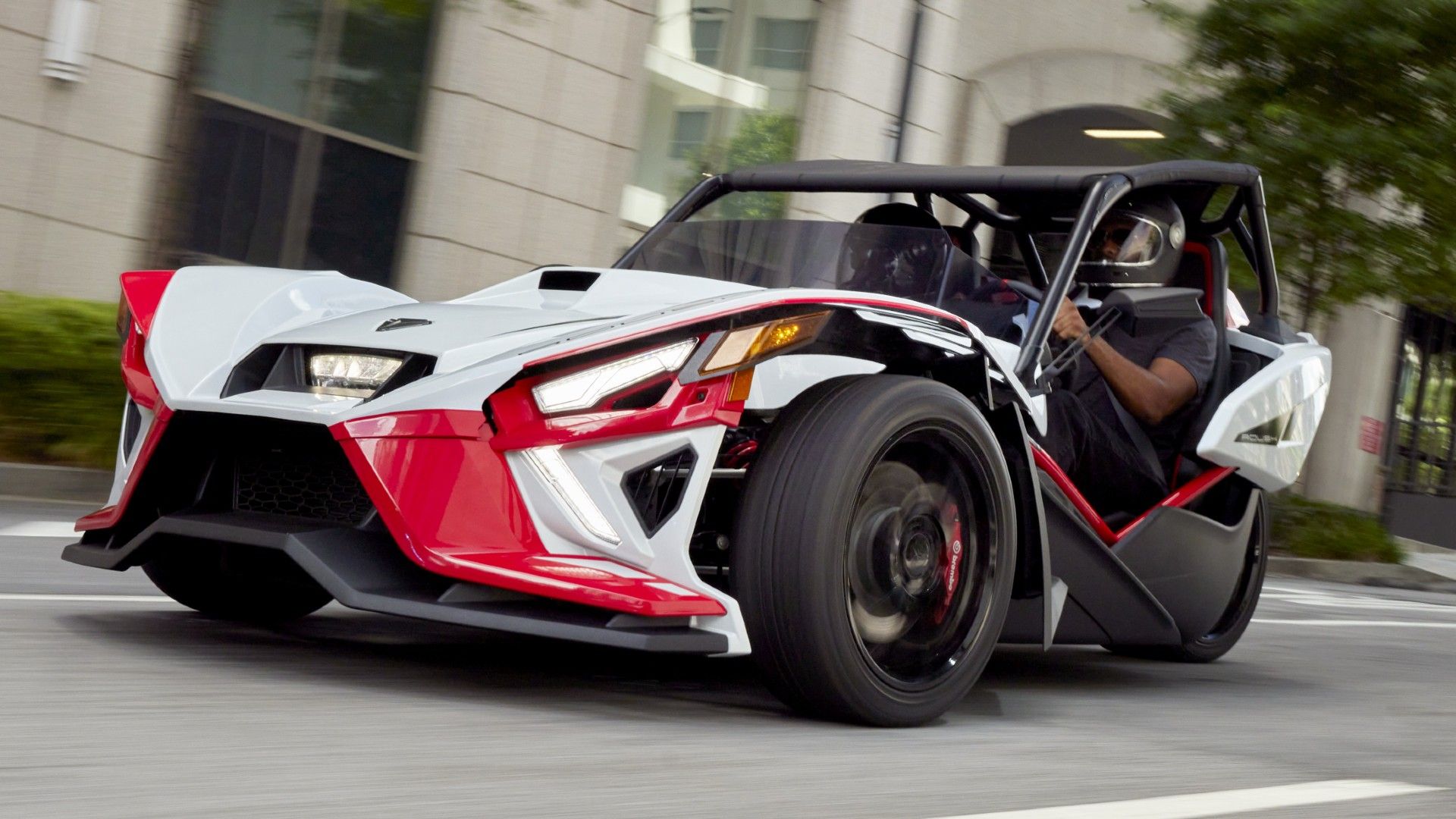 Polaris Slingshot Roush edition in action around the city
The Slingshot is incredibly stable because there are three wheels, and most of the weight is practically sitting on the ground. You would have to try hard to get it to flip over or roll. We are not recommending that you try to do this. However, that stability is beneficial when taking on ultra-curvy or mountain roads. You feel stable and secure as you punch the gas and turn the wheel. In addition, take a walk around the Slingshot and check out that back tire. It is huge! That wide back tire plants the back of the Slingshot and keeps it secure.
8
It Delivers Good Fuel Economy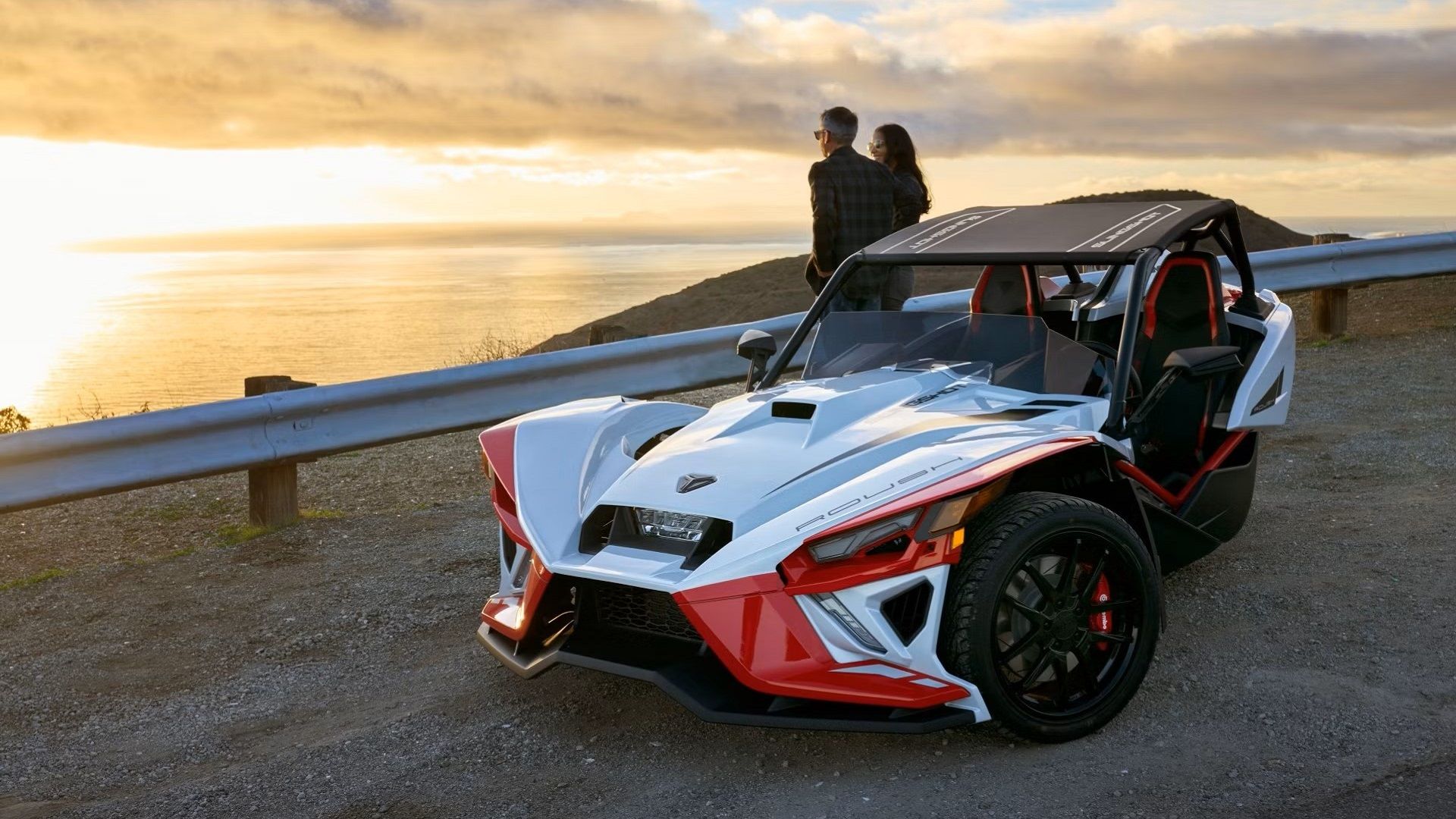 Front and side view of a 2023 Polaris Slingshot Roush Edition
Fuel economy is one of the primary reasons for the growing popularity of motorcycles. As fuel prices rise, more and more people are looking for ways to save money while commuting. The Polaris Slingshot gives you impressive fuel economy without committing to riding a motorcycle daily. Polaris claims that you can get between 23 and 33 miles per gallon. The average is about 28 miles per gallon. Of course, your driving habits and fuel quality will determine how good of fuel economy you can get with your Polaris. Polaris recommends that you use 91 octane or higher.
7
There Is Ample Technology On The Polaris Slingshot
Not to be left behind, the Slingshot comes with all the technology that you could ever want. Apple CarPlay comes standard on most and is an option you can add on others. There are multiple technology packages to choose from. A basic package includes a seven-inch touchscreen, Bluetooth, a backup camera, and a USB port. The more extensive technology package consists of the same display but also gives you the following:
navigation
vehicle health monitoring
vehicle location
Bluetooth
backup camera
USB phone connectivity
If you want to really upgrade your Polaris, check out the Rockford Fosgate package with an upgraded stereo system.
6
The Polaris Slingshot Is Highly Customizable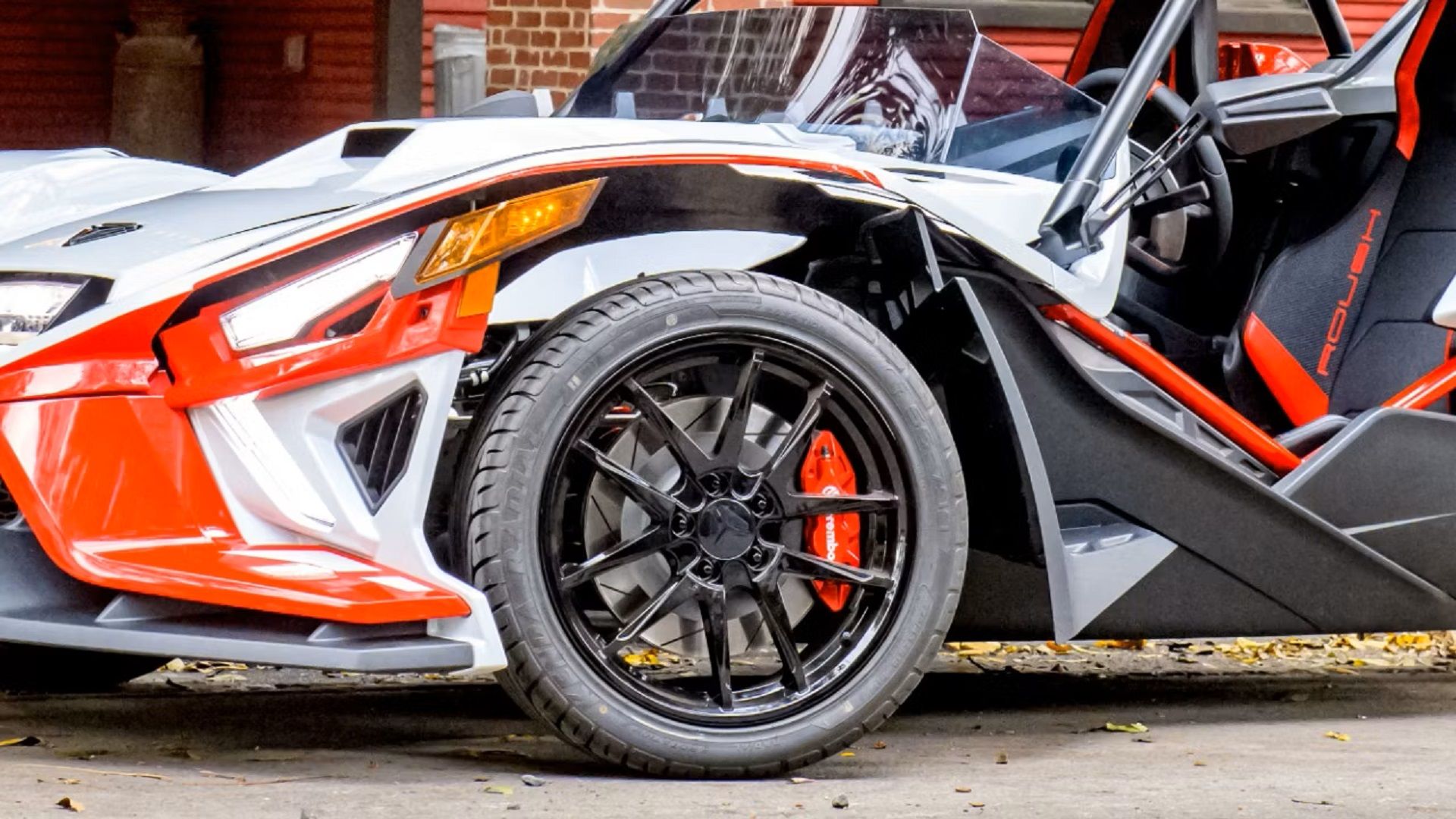 Front side view of a Polaris Slingshot Roush Edition
The amount of aftermarket customization options are virtually endless for the Slingshot. First, there are a ton of colors to choose from. Unlike motorcycles, where you are lucky if there are more than one or two colors, Slingshots come in everything from basic black to neon yellow. Then, once you choose your color, it's time to select the body design, seats, lights, sound system, and anything else you can think of. The customization process is also approachable, so you don't have to be a mechanic or have experience turning a wrench to express your personal style. *Check out a local club or meet to get inspired.
5
No Dearth Of Safety On The Polaris Slingshot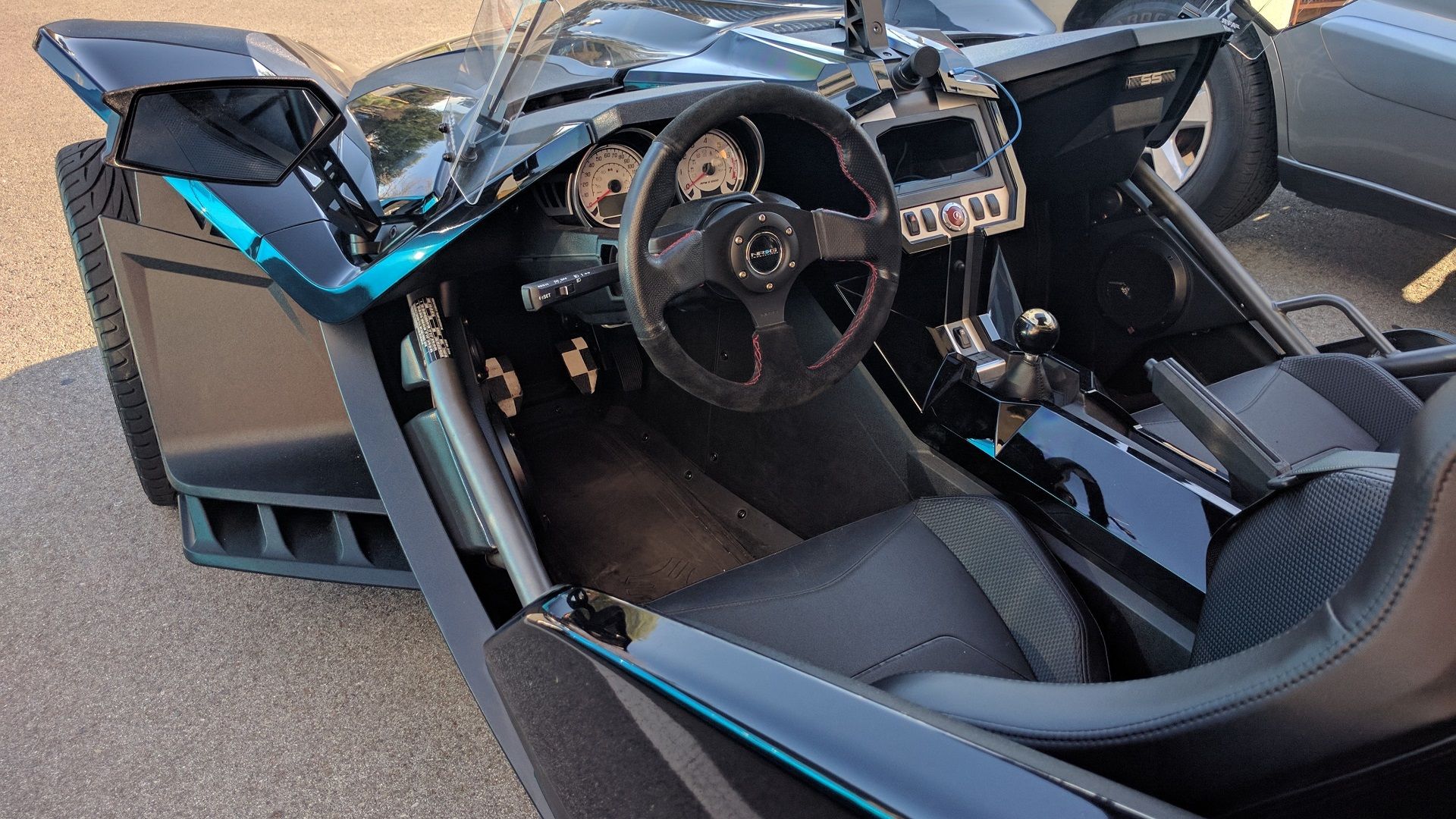 Drivers side aerial view of the interior of a Polaris Slingshot 
Motorcycles are dangerous. Your entire body remains exposed to the elements and traffic around you. This isn't the case with the Slingshot. Instead, you sit down and in it. A strong, durable metal cage surrounds you, providing significant crash protection. Then, if you opt for the roof, you have a solid cover above you, giving you even more coverage and protection. The Slingshot comes equipped with seatbelts. Years of testing have shown that seatbelts in moving vehicles save lives. Finally, in some states, the Polaris is a motorcycle. This means you must follow motorcycle laws, such as wearing a helmet. Now your face and head are protected in the event of an accident.
4
The Slingshot Turns Like A Car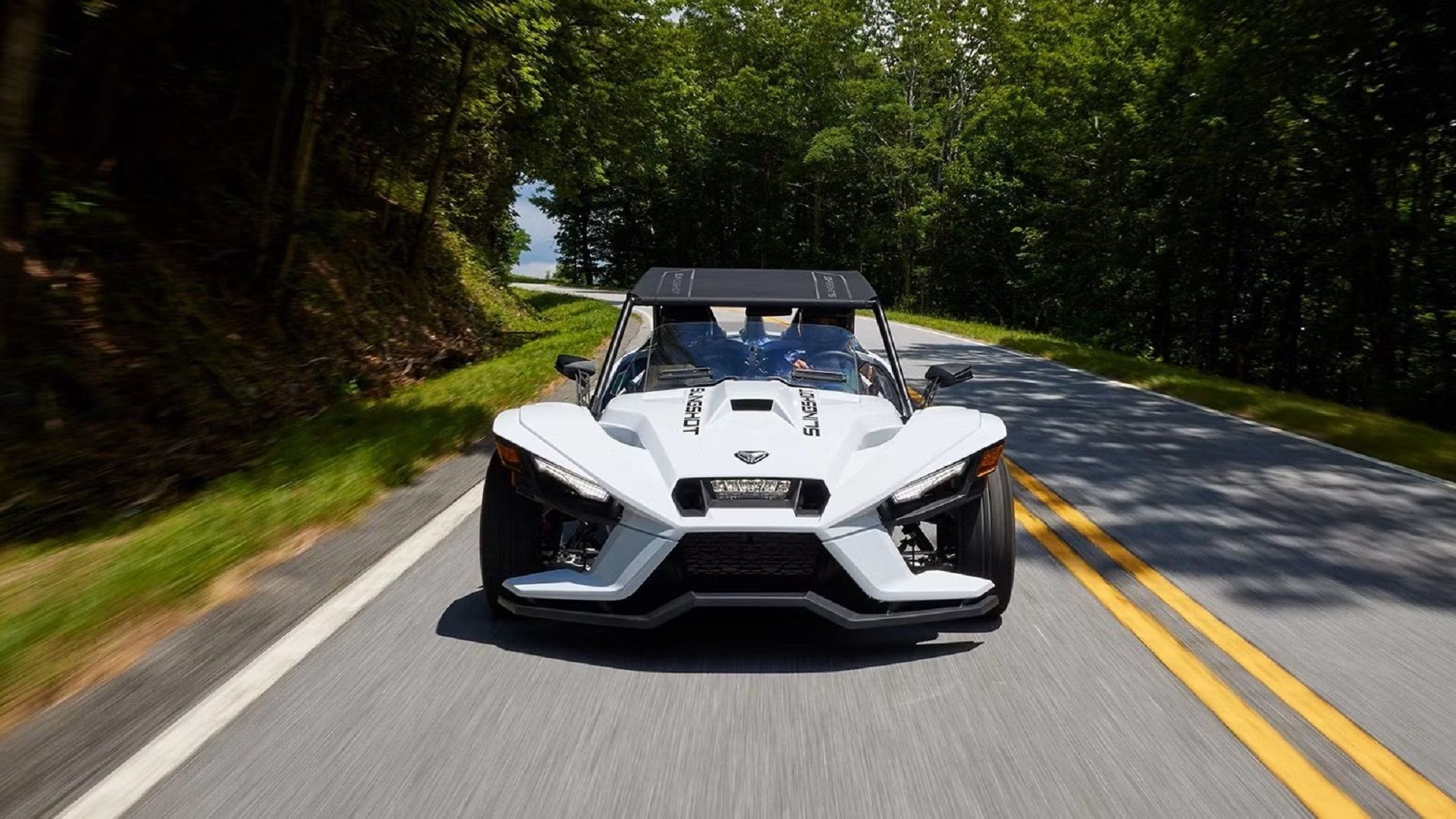 Front view of a 2023 Polaris Slingshot S2 
The two wheels in front are the most significant difference between the Polaris Slingshot and a standard motorcycle, such as the Honda Rebel or the Kawasaki Ninja. As you can guess, just by looking at the Slingshot, you can see that turning the three-wheeled bike will rely on something other than countersteering, which is how you turn a two-wheeled motorcycle, especially at high speeds. The Polaris Slingshot cannot work on that principle because of the two wheels in front, which is why it was designed with a steering wheel. It turns like a car, so it has a steering wheel like a car to make it easier to control throughout the entire corner.
3
The Slingshot Gets Attention Everywhere You Go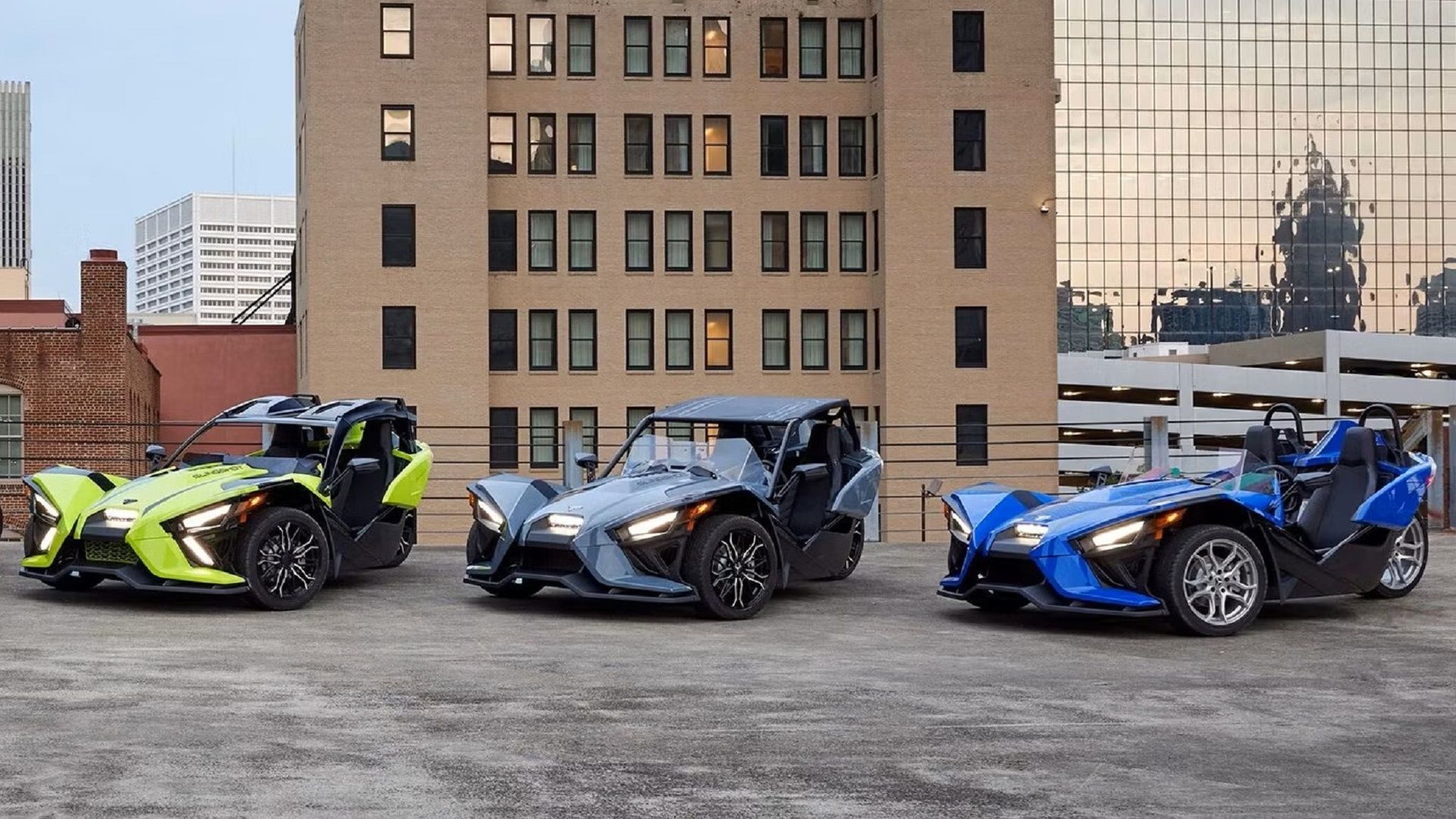 Front and side view of a group of 2023 Polaris Slingshot SL
One thing that stands out the most when you own a Polaris Slingshot is how much attention you get. When you pull off the road to gas up, it is almost guaranteed that you will be there for at least half an hour or more. Not because it takes that long to fill the gas tank on the bike but because random people will come up to you and ask questions about the Slingshot. Everything from what it is to how it drives, so when you stop, be prepared to become a salesperson because that is part of owning the Polaris Slingshot you simply cannot avoid.
2
Driving The Slingshot May Not Require An Endorsement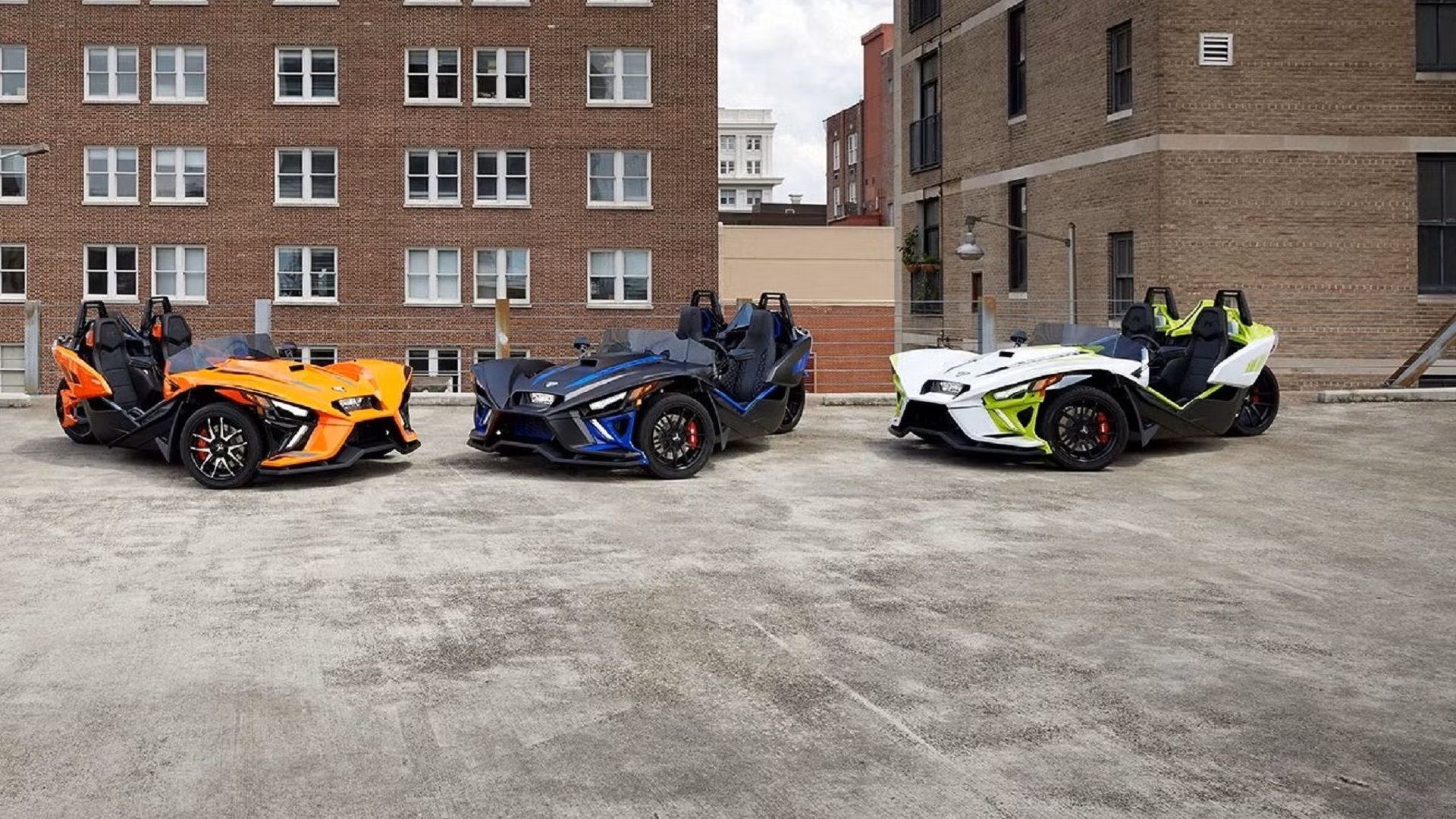 Front and side view of a group of 2023 Polaris Slingshot R
Driving a motorcycle in any state within the country requires that you pass a separate test, other than your basic driving test, to get an endorsement added on to allow you to legally drive a bike. This is not much of a problem if you are a seasoned rider, but when you are first starting out, it can be just as stressful as the first time you had to take the car written and driving test. The Polaris Slingshot falls in between categories in some states, so you may not need a motorcycle endorsement. Check it out before taking your Slingshot for a spin on the roads, though, unless you like playing the odds with the law.
1
The Polaris Slingshot Is Rather Affordable
Don't assume that the Slingshot has a higher price tag than a motorcycle because it is bigger. This simply is not the case. With a starting price of about $21,000, many motorcycles are more expensive. This makes the price reasonable and affordable when considering everything you get for your money. For that same base price, you could buy a Harley-Davidson Street Glide, Triumph Tiger 1200, or an MV Agusta Turismo Veloce 800 Lusso. These are all great bikes, but you get so much more for your money with the Slingshot. Especially if you plan to take trips or travel with your new machine.
Google Ads