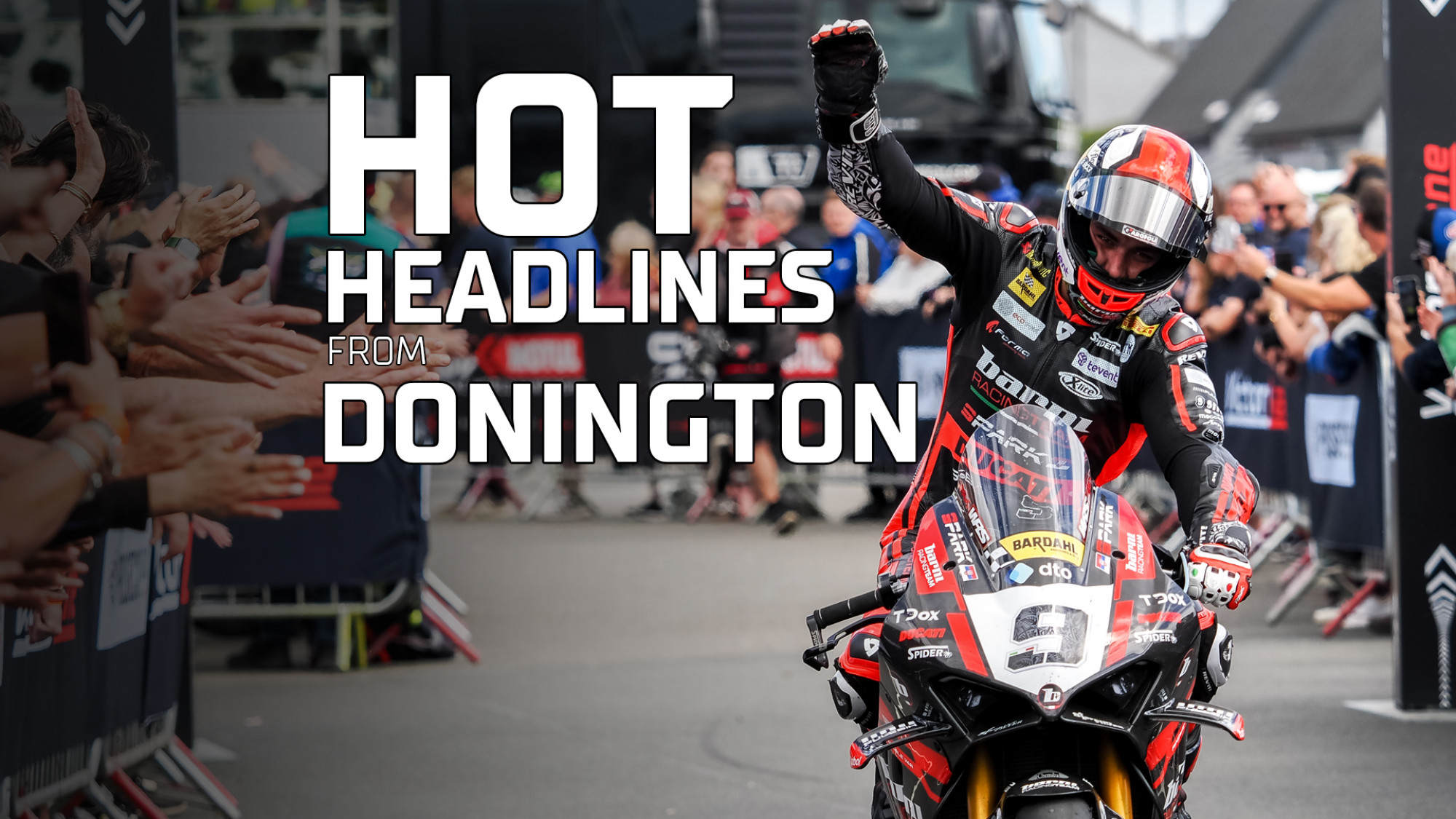 It's done and dusted; the 2023 Prosecco DOC UK Round is in the history books, but Donington Park didn't disappoint. Once again, the 2023 MOTUL FIM Superbike World Championship had loads of action on-track, but the off-track headlines have piled up as the halfway mark of 2023 is reached. The biggest talking points are in one place and this week, they're British vindaloo-level spicy.
Danilo Petrucci (Barni Spark Racing Team): "I'll drink a lot of beers by myself! I want to fulfil my dream to win a race here!"
A first podium in WorldSBK for Danilo Petrucci, who in true 'Petrux' fashion, was in good humour about his latest achievement: "Sincerely, I didn't expect to be so strong, especially at the end! When I passed Gerloff, it was strange because I was so fast but in other parts where you can pass, I was so slow. So, I was always up and down. I got the smell of the blood in front and when I saw seven laps to go with two riders in front, I needed to try! I am so happy, especially for my team! They struggled at times in the past but in 2011, when I rode for them in STK1000, the team was so good, especially Marco. He's so passionate about bikes and he deserves the best. This result is for him and the team! Marco just left… so nobody will pay the bill! I'll drink a lot of beers by myself!"
The #9 also spoke about the challenge of returning to a World Championship and compared himself to… an elephant, having stepped away from MotoGP™ at the end of 2021: "At the beginning of the year, after the first two rounds, I said, 'I don't know if it was a good choice to come back to a World Championship' because it's a challenge. I quit racing in 2021 and I did like what elephants do and went far away! I went to Dakar and then, I won there! So, maybe I am still good with bikes!"
Finally, the latest rider to achieve a podium in both WorldSBK and MotoGP™ spoke of the high level in the WorldSBK paddock: "Everybody thinks that MotoGP™ is the pinnacle of racing, but you need to be in WorldSBK to understand that Alvaro, Toprak and Jonny are like the top guys in MotoGP™. All the others are really young and eager to stay in front and they want to beat you because you're a MotoGP™ winner. They're very hungry, so it's tough! I'm not scared to say that I thought it was easier! I won in MotoGP™ and was on the podium sometimes, but in the end, it's quite tough here. I want to be one of the riders that won at least one race in WorldSBK and MotoGP™. I want to fulfil my dream to win a race here."
Toprak Razgatlioglu (Pata Yamaha Prometeon WorldSBK): "I'm very happy for Danilo, he's getting better!"
Toprak Razgatlioglu couldn't repeat his 2022 hat-trick in the UK but nonetheless spoke about his battle with Bautista in Race 2, whilst also praising Petrucci's first podium: "I think after ten laps, the pace was faster. When Bautista got ahead, he did a 1'26.2 whereas before, it was 26.6, 26.7. Sometimes, hard braking isn't enough; if my bike was fast on the straight, then I'm easily fighting with him. It's also the tyres, not just the engine. His pace doesn't drop because of the engine on the straight and the easy, gentle acceleration doesn't eat the tyre. I just keep a good corner speed to follow him. I'm very happy for Danilo! He's a strong rider! He did a good job at Misano but he crashed. Here, I am surprised! It was an unbelievable step. I think he likes the track and now, the Ducati works well here. I was surprised to see him in P3! Every race, he's getting better.
Jonathan Rea (Kawasaki Racing Team WorldSBK): "It's f*****g impossible! He's doing incredible!"
Speaking on Saturday afternoon about being able to battle Bautista, Rea stated how difficult it is but praised his rival on an exceptional performance in Race 1: "It's f*****g impossible because when I saw that he passed Toprak, I thought Toprak was lining him up again. When I saw the grip on the right-hand side and his f*****g acceleration… I thought 'Toprak's Toprak, he's going to pass him in the chicane'. When he got halfway down the straight, I thought 'he's miles away, he's never going to try!'. The funny thing is Alvaro's not consuming the tyre, he had so much rear traction. He's doing incredible."
Scott Redding (ROKiT BMW Motorrad WorldSBK Team): "I've been having shit races and then you lose confidence in yourself"
A first top four of the season for Scott Redding, who overcame a difficult run into the round to get back into contention at home: "The setup of the bike is the same as we had last year. The bike is basically the same. When you have so many bad races, it's hard to find the rhythm of how to ride correctly. It took me a bit of time in the races to build my momentum. The grip here is good so that helps with our issues. It's crazy; it just turned up and it works. I had a bit more confidence; I've been having shit races and then you lose confidence in yourself and Saturday's Race 1 gave me the confidence boost as I was coming strong at the end. I needed a good Superpole Race and got a bit lucky with the crash of Tom, but it gave me a good grid for Race 2, which is what I needed to get clear. I knew I had to stay calm, find my rhythm and come strong at the end."
Redding praised the home crowd too, for getting behind him: "The fans were loving it this weekend! It was cool to see! When I was racing, I was thinking, 'come on, f**k, a bit more, a bit more!' and you know, I enjoyed these races! Instead of thinking that I want the race to end, I wanted a few more laps! The mindset is completely different when you have a feeling compared to when you don't."
Alex Lowes (Kawasaki Racing Team WorldSBK): "Scott complains a lot about the BMW but when you see how much grip he had compared to us, you think 'it can't be that bad'"
With a major change on his ZX-10RR for Race 2, Alex Lowes spoke about the story of Sunday afternoon at home: "I changed quite a big dampening setting for the rear shock. It's something I wouldn't normally try but because we seemed to be struggling so much more than the others, it seemed quite positive. Gerloff was wild! He was making mistakes but then fast! I knew he was one of the fastest guys at the end of the race; he seems to lack pace at the start but at the end, he's always one of the fastest guys. He made a couple of mistakes, I got ahead and I felt quite strong coming back to Jonny. With seven or eight laps to go, I was in trouble, especially at Turn 2 when we're on the side of the tyre and just spinning, so I was finding it hard to just stay in there. Which is weird because Scott complains a lot about the BMW but when you see how much grid he had compared to us, you think 'it can't be that bad'."
Alvaro Bautista (Aruba.it Racing – Ducati): "I was on the limit…records are for when you retire"
Two more wins for World Championship leader Alvaro Bautista, but it wasn't without his own challenges: "I was on the limit. With this cold wind, I struggled on Sunday morning. In the afternoon, I struggled to warm the tyres up. I'm not thinking about the Championship. I'm thinking about every single race and try to do the maximum that I can. I'm not worried that, records are for when you retire. The important thing is to enjoy the bike and the present."
Watch the 2023 season unfold and stay tuned with all the gossip with the WorldSBK VideoPass!
Source: WorldSBK.com