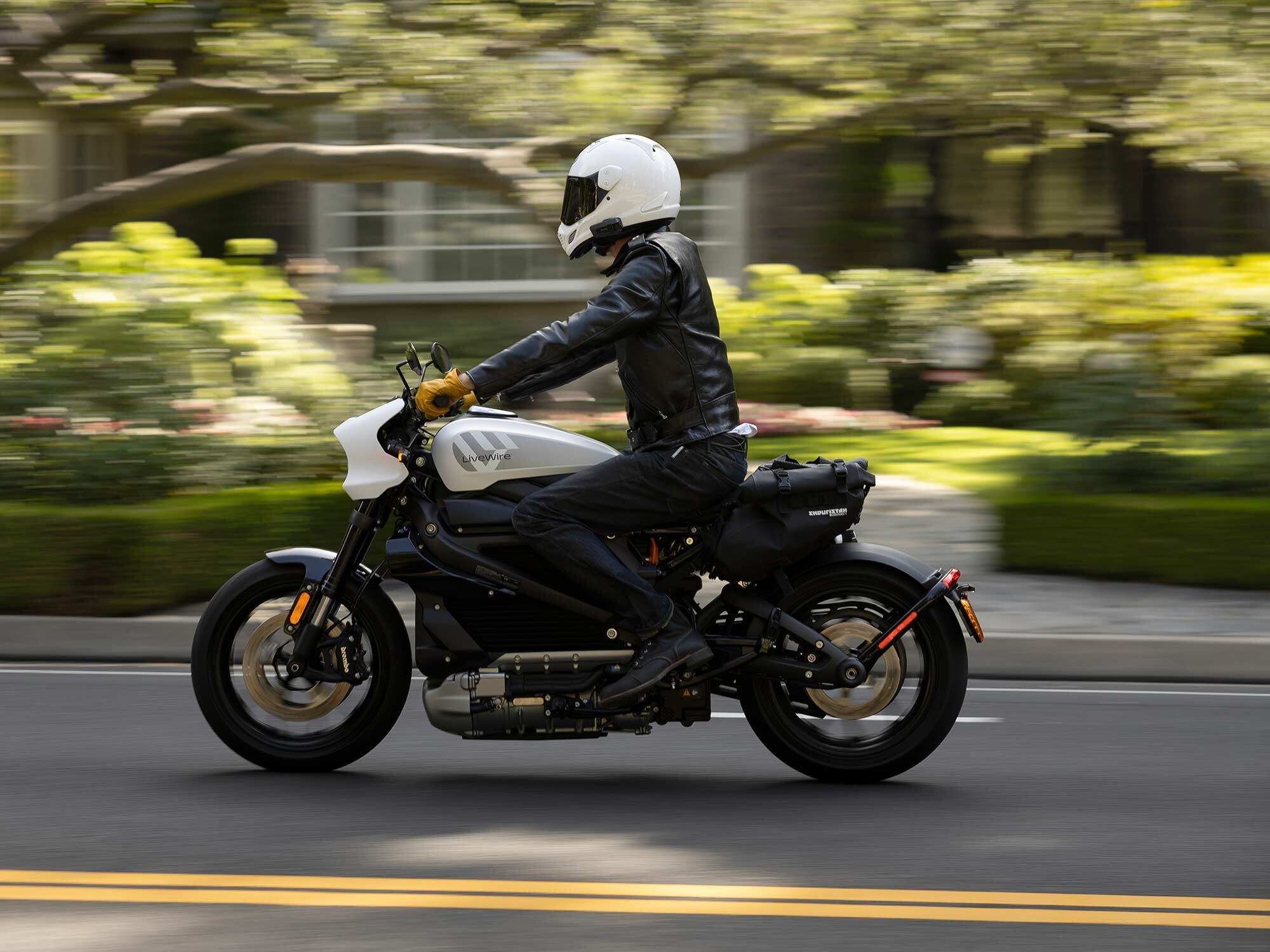 LiveWire claims the 15.4kWh battery can provide 146 miles of in-city riding power. (Adam Campbell/)
Editor's note: This story originally appeared on CycleVolta.com sibling website CycleWorld.com.
Google Ads
So here's the thing: LiveWire claims the LiveWire One gets 146 miles of in-city range and 95 miles in mixed highway/city riding, although those numbers are greatly affected by factors like temperature, wind, and elevation changes. The company also claims the bike can fully recharge in as little as 60 minutes. So the bike is a known, or at least knowable, quantity.
But just as important as understanding this electric motorcycle, and by extension this whole new segment of motorcycling, is an understanding of the infrastructure required to power it. After all, using a charging station is not like using a gas station. Therefore, to truly experience what it's like to own an EV in America, we had to live with the bike, travel, and experience it in new and different settings. In other words, we had to take it on a road trip.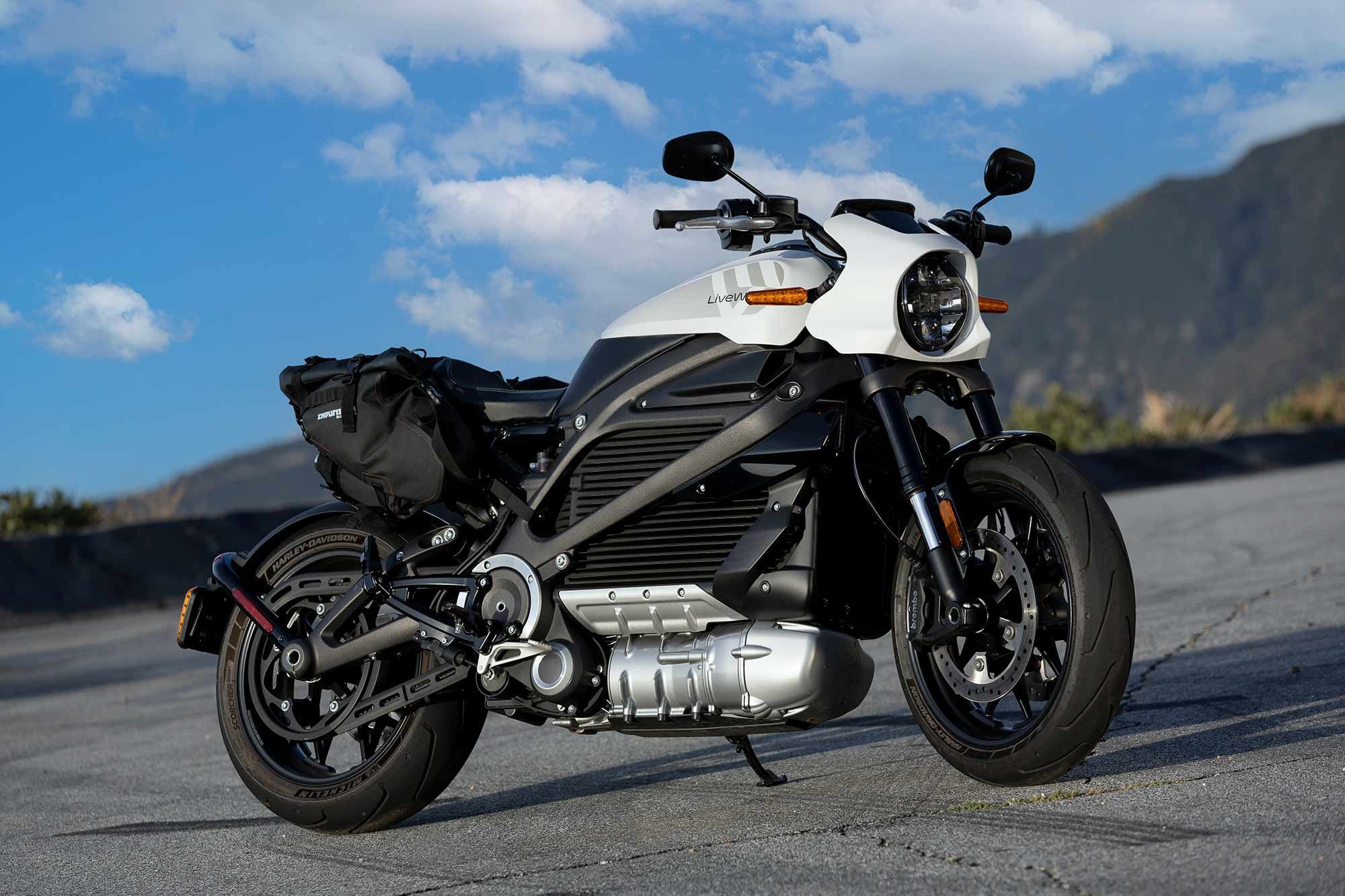 LiveWire One is currently available in Liquid Black, Nebula Red, or Horizon White (seen here). (Adam Campbell/)
This test began with a very specific goal: Not to repeat what Michael Gilbert had already done in his 2020 Road Test or what Don Canet had done in his comparison between this bike and Zero's SR/F Premium, but to try to experience LiveWire as an owner might. This meant spending a few weeks using the bike as my sole mode of transportation; getting to know the bike around home, commuting to the office, and slowly pushing the boundaries of exploration, culminating in a 500-mile round trip to California's Central Coast and back.
The LiveWire One, or LW1, is essentially a naked electric sportbike. Ergonomics are not terribly aggressive, but with rearsets and low bars, the rider leans slightly forward over the not-a-gas-tank. A small cowl surrounding the headlight is all but aesthetic and does little to shield the rider's body. A clearly laid out and highly customizable full-color 4.3-inch LCD screen serves as the bike's instrumentation. Ride modes are clearly displayed and easily switched. The manufacturer suggests a retail price of $22,799.
The LiveWire is incredibly easy to ride and can change personality with the push of a button. There is no clutch, as there are no gears, or only one, depending on how you look at it. Sport mode gives the bike rapid acceleration; the One clocked our 0–60 mph test in 3.1 seconds every time without variation. Rain mode slows down power delivery and maximizes traction control. Eco and Road modes feel similar on acceleration, with a little more engine-braking in Eco. In any mode, throttle response is perfectly consistent and launches are predictable.
Related: 7 Reasons Why Your First Motorcycle Should Be Electric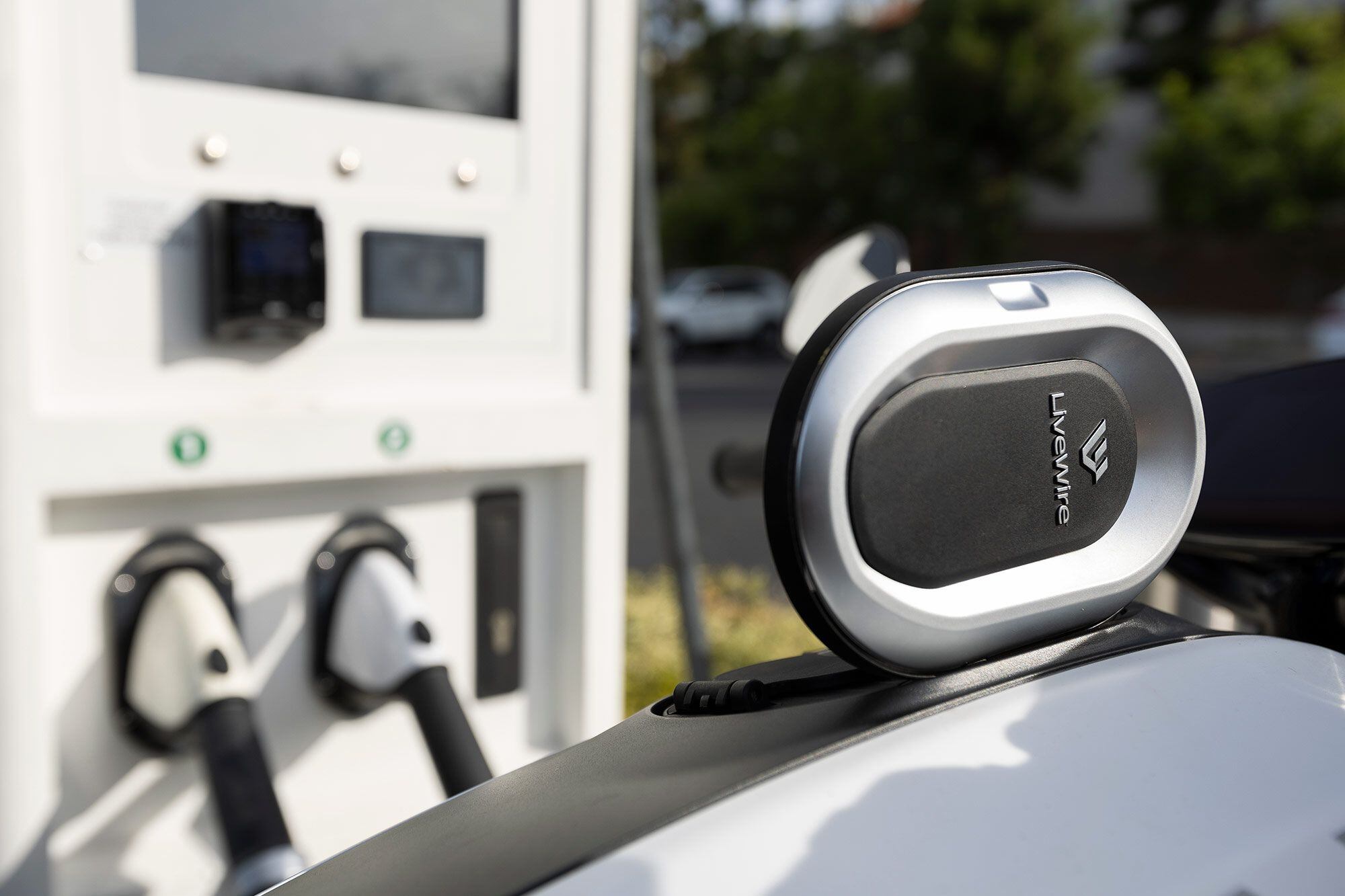 LiveWire claims the One can reach 80 percent charge in as little as 40 minutes, and a full charge in 60 minutes, which our testing confirmed. (Adam Campbell/)
The LW One weighs 544 pounds ready to ride. This weight is low and well centralized, definitely sensed as the bike is lifted up off of its centerstand, but much less so while moving.
As I first got to know the LW1, I focused more on the bike than the use of local charging infrastructure. Those first weeks of testing rarely required a public charging station, as daily errands and casual rides were usually a 30-mile round trip at most.
But I found this had a wonderful result on how I used the bike. Coming up the hill to my house, most often in Road or Eco mode, I would see 60–70 percent of the battery's charge remaining and decide to pass my street. I would switch the bike into Sport mode and head for the hills. Not for long, just a quick blast, say 20 or 30 minutes to get the blood pumping and use up some charge. Then I'd cruise back down the hill with my adrenaline itch scratched. I'd soon discover that this is how the LW1 is best enjoyed.
As I branched out and went for longer rides, I encountered the first harsh reality of EV ownership: Not all chargers are created equal. Many of them are very slow. Some don't work at all. There are several smartphone apps to locate chargers, some of which feature reviews that let you know if they're currently working or not, but you can ride to a location and use up whatever energy it takes to get there, only to arrive at a nonoperable charger.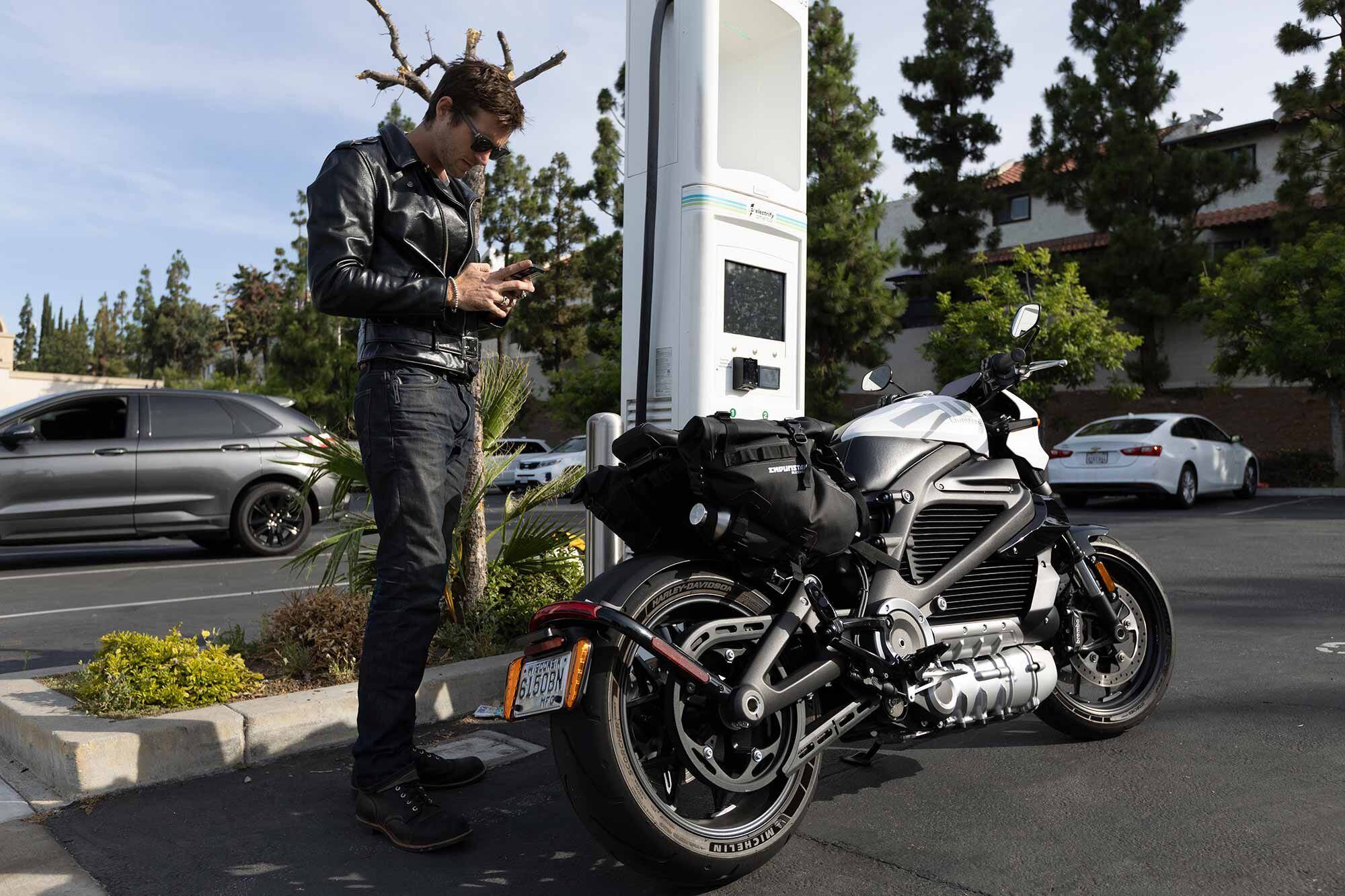 Google Ads
Electrify America charging stations are often found in the parking lots of shopping centers and outlet malls. (Adam Campbell/)
I used a few different apps to try and avoid this. I downloaded PlugShare, A Better Route Planner (ABRP), and Electrify America's app. ABRP is a navigation app that takes things like elevation changes and estimated range of your specific vehicle into account while planning your route. PlugShare is a user-based mapping system that shows where the chargers are and their current state of operation, but it's based on user reviews and therefore not always current; it's a bit of a gamble. Electrify America supplies many of the fast-charging stations along highways 1 and 101, and the company's app updates as the units are in use. This last app was the most consistent and therefore the most trusted, but that was largely because of where I was going. On another highway, fast chargers from another manufacturer may be more common, making this app much less effective.
For my first tour of any appreciable length, I planned to ride a familiar path from my home in Pasadena: West to the coast, then north along Highway 101 to my uncles' home in Atascadero. I recently completed this 212-mile ride on a BMW K 1600 Grand America; it took just over three hours.
On this LiveWire it would take much longer.
Related: Harley Confirms Next LiveWire Electric Motorcycle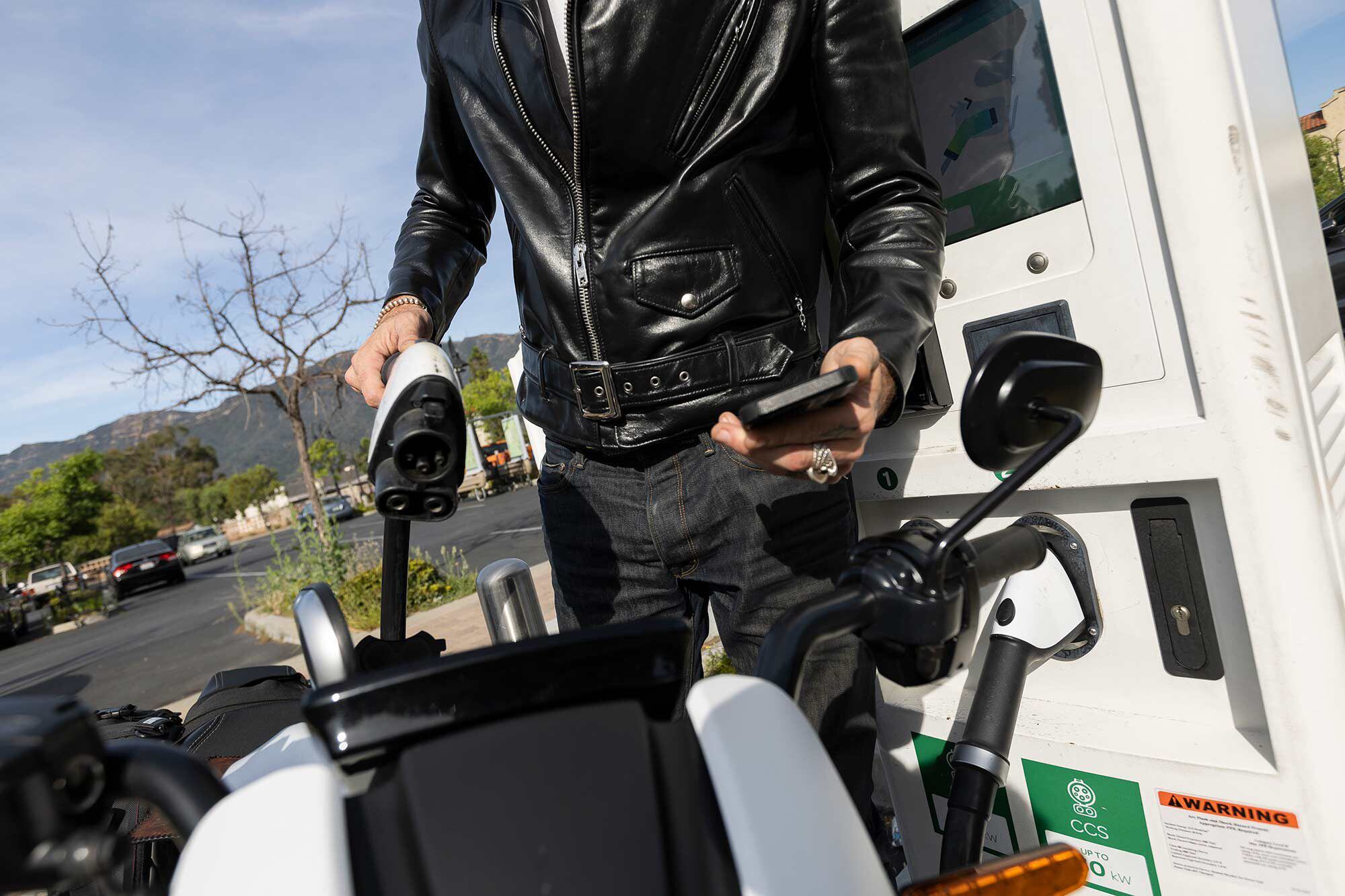 The charging process for the LiveWire One is rarely as simple as plug and charge. (Adam Campbell/)
The bike charged all night. I unplugged the 110-volt home charger and tucked it back into its spot underneath the seat, attached my Enduristan soft bags, and started off toward my first destination, an outlet mall just outside of Oxnard. With range in mind, I was soft on the throttle, accelerating casually to preserve the battery. Once on the highway, I locked cruise control at 65 mph, tucked in, and arrived at my first charger in 70 minutes with 25 percent battery remaining.
Most gas stations are built near major roads and highways for convenience. Fast-charging stations along highways 1 and 101 are almost exclusively positioned around shopping centers. Chargers also stand alone, commonly on parking lot islands, not in a building with refreshments and a restroom. If you need to use the bathroom, you need to go into a nearby shop. It feels intentional, premeditated, almost as if you're forced into the nearest Panera Bread or Gap Outlet just because you need human amenities. If you're charging an electric car, you have the option to sit inside it, run the air conditioning, maybe get some work done or play games on your phone. That isn't an option on a motorcycle.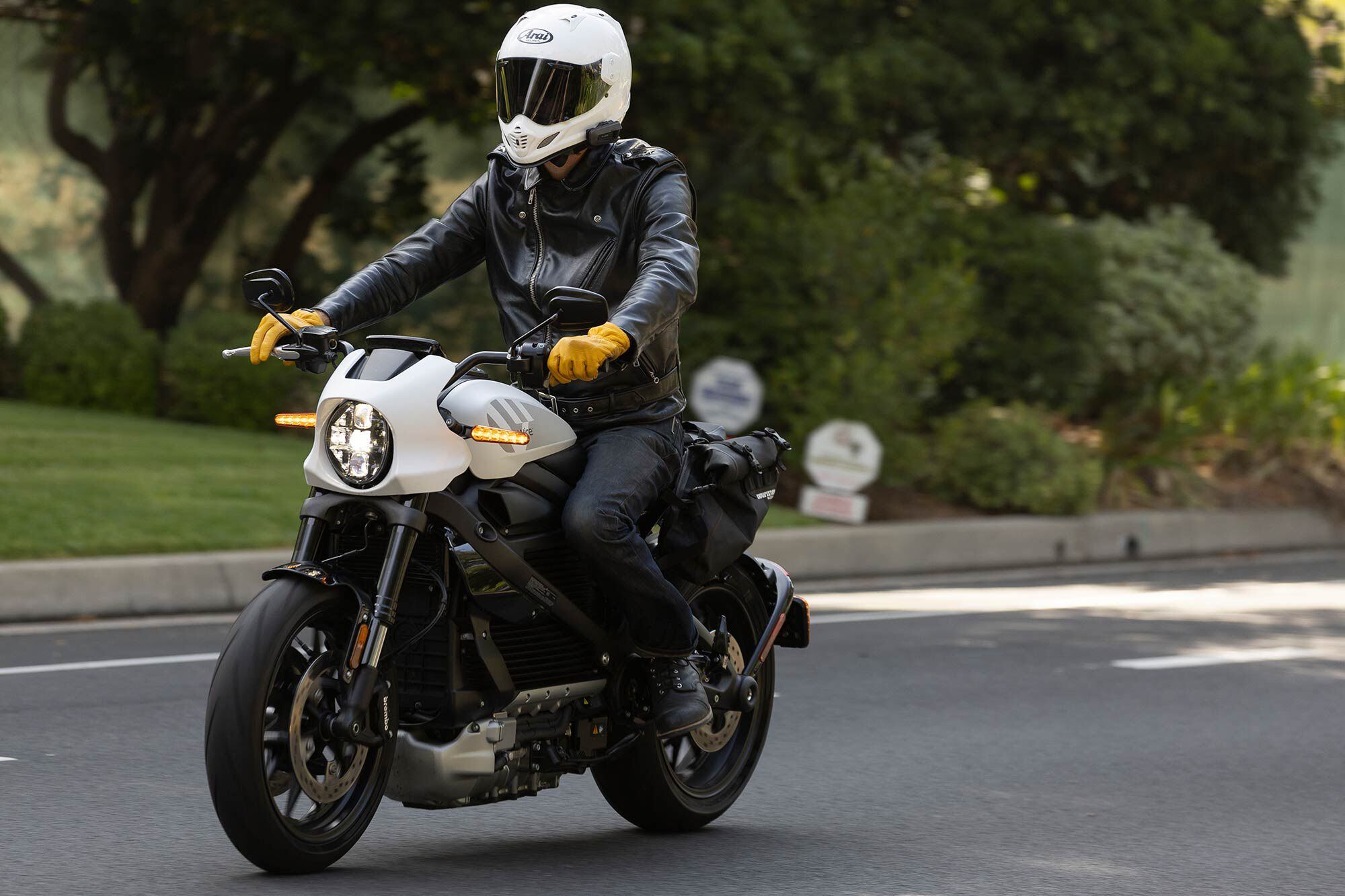 Ergonomics on the LiveWire are sporty but relaxed. (Adam Campbell/)
Charging is rarely, if ever, as simple as plugging in the bike and waiting. Charging errors were common until I developed a meticulous system that I had to repeat every time. I would pull into a charging station and first make sure that the charger and payment system were working as intended, no bashed screens or clogged ports. The most common failure among Electrify America chargers, I found, was broken card readers. Then I would turn the LW1 off completely and wait for the screen to go black. Once it was fully powered off, I would power it back on and wait for the screen to wake up, then plug in the fast charger and wait for communication with the charger to begin. Assuming this all worked, I could finally pay and charging would begin.
At this point I was using ABRP to plan my route, which suggested I leave Oxnard with a minimum of 64 percent state of charge and head to Santa Barbara 47 miles away. I cautiously charged the bike up to 95 percent before leaving. I was soon very glad I did, as I pulled into Santa Barbara with only 18 percent battery left. Cruise control was still locked at 65. Surprise, surprise: The Santa Barbara charger was in the parking lot of a bank across the street from a mall. I went to a familiar burger joint and got some onion rings and an iced tea to kill the time.
Related: LiveWire Unveils S2 Del Mar Electric Motorcycle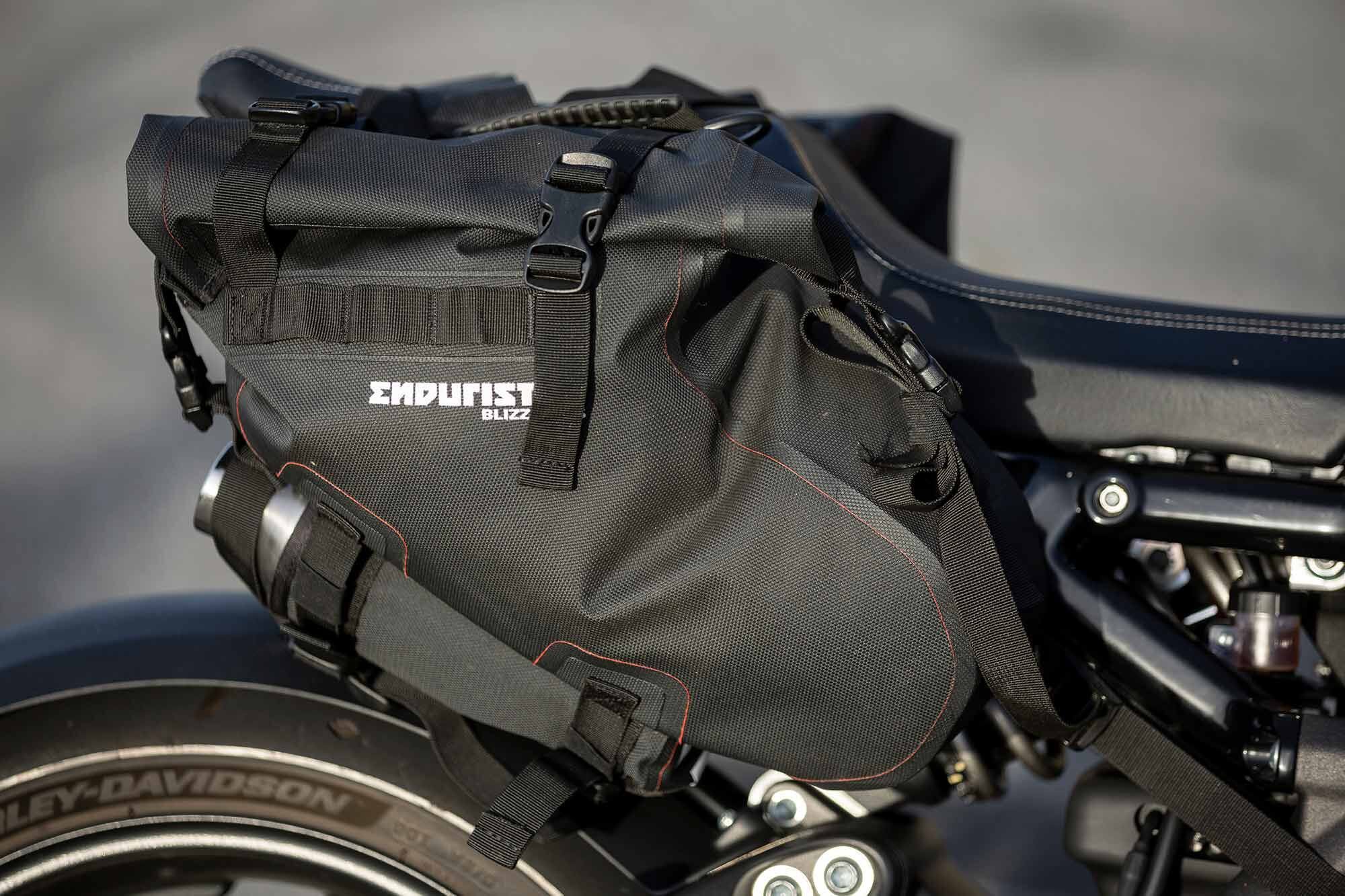 Blizzard saddlebags from Enduristan fit the LiveWire One like they were made for it and provided much-needed storage on our journey. (Adam Campbell/)
I left Santa Barbara near 2 p.m. with a 92 percent charge. I'd found that ride times and charge times were pretty well balanced; I could ride for about an hour, charge for about an hour, then get back on the road to repeat the process again. At the behest of my ABRP app, I headed toward more outlet stores near Pismo Beach. This was an 82-mile stretch, which was more than I had done in a single bound at that point. But the app assured me I could do it, and the total journey was still less than the bike's claimed max highway range. Shame on me for trusting the app over instinct.
I had traveled 69 miles and had 13 to go, but the bike was displaying only 10 percent battery life remaining. If I didn't make it to Pismo Beach, I'd be forced to find a wall outlet and spend hours waiting for the bike to even get enough charge to make it to a fast charger. I decided to turn around and head about 5 miles back into Santa Maria, where a slow charger is available outside of a Best Western.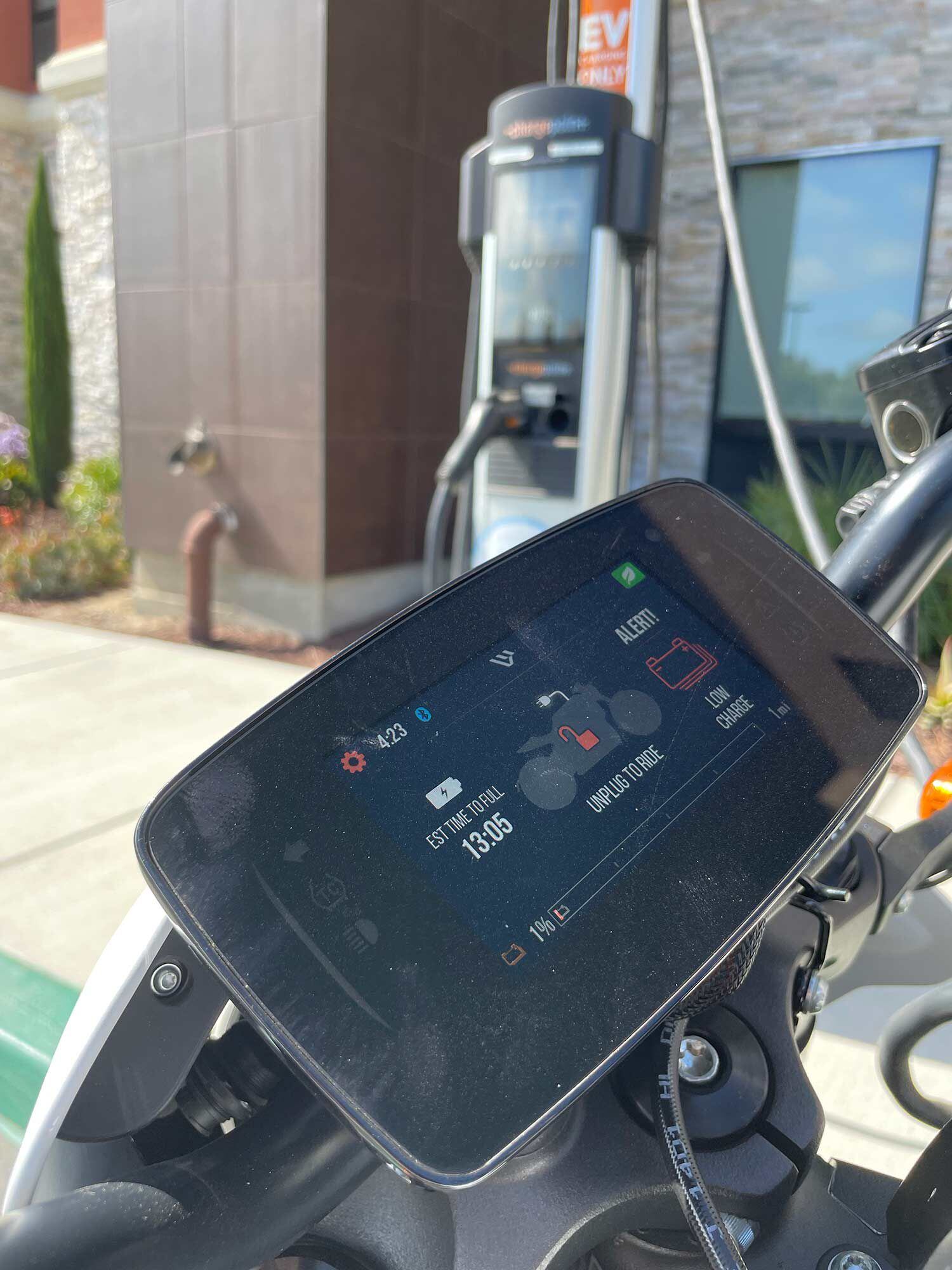 Stuck outside of a Best Western with a nearly dead battery. (Staff/)
It was now after 5 p.m. With only 1 percent battery, I pulled into the Best Western hotel and jumped through the hoops to start charging the bike. This was a very slow charger, estimating over 13 hours until a full charge. I waited 30 minutes until the bike had 9 percent and rode to a nearby fast charger I'd found in a Target parking lot. After another 59 minutes, the LW1 was at 93 percent. With 50 miles to my destination, I was confident it would be enough, so I loaded up and once again continued on my way.
I had been calling my uncles along the way, so they knew not to worry. They also knew I would be tired and frustrated, as anyone would after spending 10 hours on a three-hour journey. David opened up the garage and showed me to the wall charger, then handed me a beer. Bob had dinner in the oven. A fire was already burning in the fire pit out back. I showered, enjoyed the lovely company and the delicious meal, then slept like a damn baby. I should have double-checked the bike first.
When I woke up the next morning I immediately went to make sure the LiveWire had achieved a full charge. At some point in the night the garage circuit breaker had tripped and shut off current to the charger. I was at 30 percent, not enough to make it to the Pismo Outlets but enough to make it north to the fast chargers in Paso Robles. I was exhausted just thinking about another 10-hour day, but it seemed that's what I was in for.
Related: Demo a LiveWire at New Malibu Experience Center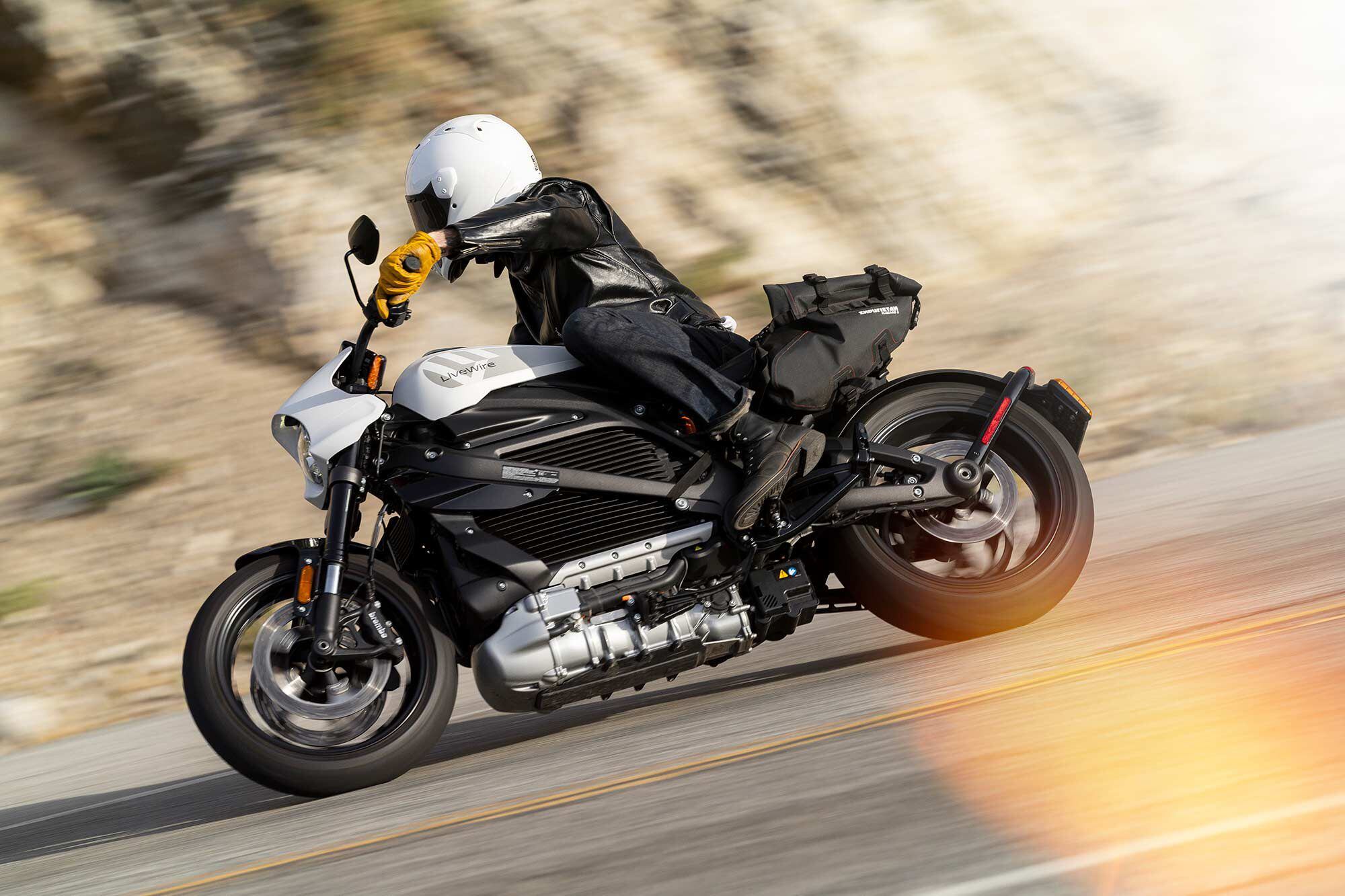 Done with your errands but still have some charge? Hit the hills and see what the LiveWire One can do in Sport mode. (Adam Campbell/)
Slowly but surely I made my way back to Los Angeles, tucking in and trying to draft behind trucks to increase my range. Even with my initial detour, I was able to make it home in about 10 hours, the same amount of time it took me to ride north. On my ride home, however, I had accepted this as the reality and come to terms with it. It was to be another day of Cinnabon, Wetzel's Pretzels, and outlet malls. But as we often say: "A bad day on two wheels is still a damn fine day."
After weeks of regular testing, it took one full day in the saddle to understand and predict the LiveWire's range more accurately than the apps I was using. A stiff wind or a steep hill can come along any moment and change your percentage in an instant. After my ride north, I only used my phone to locate chargers. I had learned the bike's range. I had learned how to charge it. I was still learning how to maximize range. But most importantly, I had learned that the LiveWire is a tool that does a specific job very well, and I had been using it incorrectly.
Motorcycles are freedom machines. They encourage exploration and often bring us to places that we would never go without them, destinations that we find ourselves at for no other reason than their proximity to twisty roads. At times, the LW1 took away this feeling, took away my desire to explore, especially if I was far from home. Destinations held special discounts, not scenic lookouts. But back home, running errands in a less-than-50-mile loop, the opposite was true.
To know the limits of a system, person, or machine, you must push expected boundaries. Like any tool, the LiveWire One was designed for a specific job, and it does that job very well. The One is not a Great American Freedom Machine, built to cross state lines and freely explore backroads. This is a tool for a modern age, for destinations that are much closer together.
It will help you achieve your daily tasks quickly and efficiently. It will help you explore your neighborhood and your city, and eagerly whir down your nearest riding road for a shot of lean-angle-induced adrenaline. If the task is pure, joyful riding, that task is easily achieved on the LiveWire. Just be mindful of the task this tool was built for.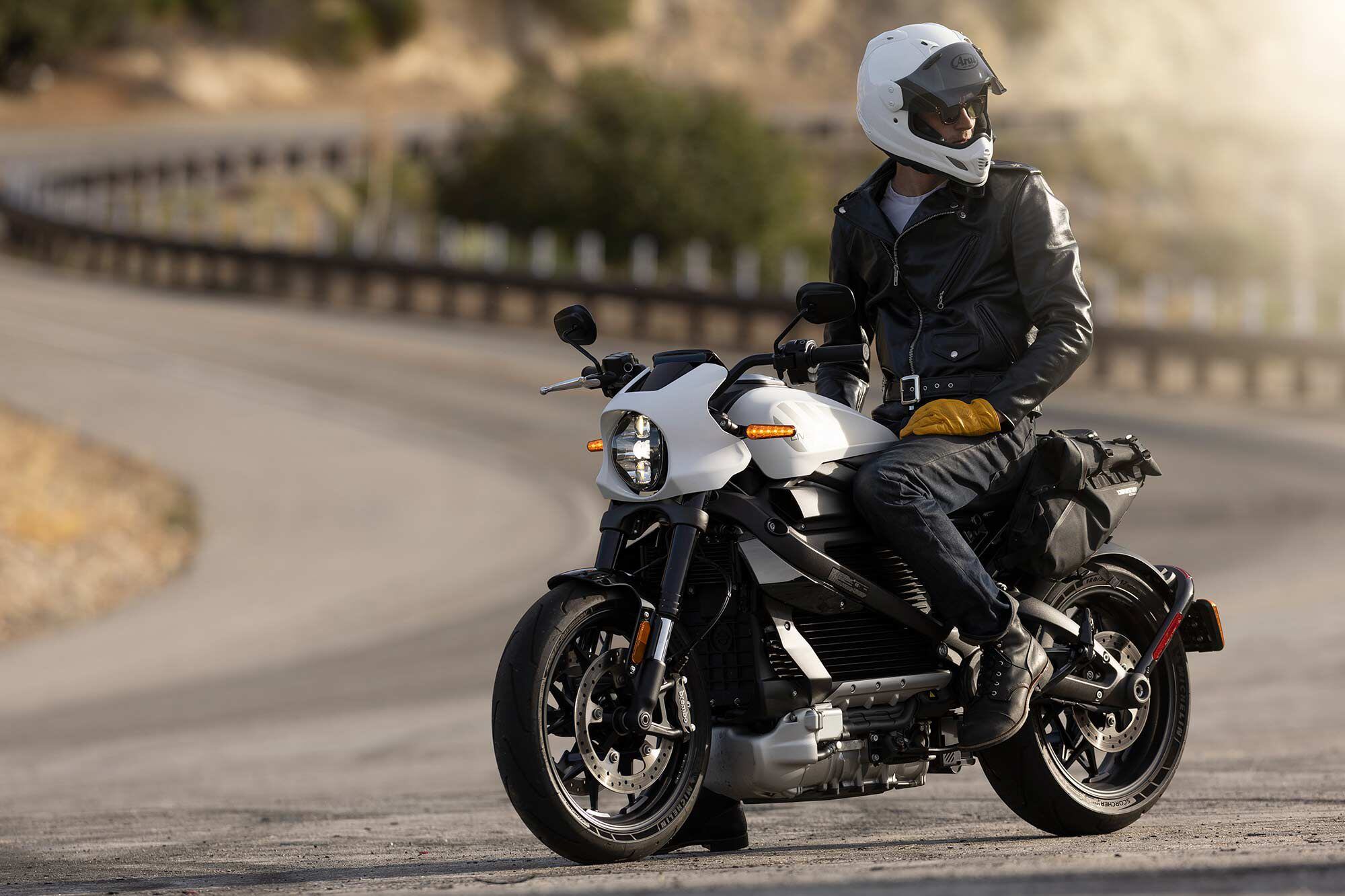 The 2022 LiveWire One has an MSRP of $22,799. (Adam Campbell/)
2022 LiveWire One Specs
| MSRP: | $22,799 |
| --- | --- |
| Motor: | Revelation internal permanent magnetic synchronous w/ water jacket cooling |
| Battery: | 15.4kWh Rechargeable Energy Storage System (RESS) |
| Transmission/Final Drive: | 1-speed/belt |
| Claimed Horsepower: | 100 hp |
| Claimed Torque: | 84 lb.-ft. |
| Frame: | Cast aluminum |
| Front Suspension: | Showa SFF-BP (Separate Function Front Fork-Big Piston); 4.5 in. travel |
| Rear Suspension: | Showa BFRC (Balanced Free Rear Cushion-Lite) monoshock; 4.5 in. travel |
| Front Brake: | Dual radial-mounted 4-piston Brembo Monoblock calipers, 300mm discs w/ ABS |
| Rear Brake: | 2-piston caliper, 260mm disc w/ABS |
| Wheels, Front/Rear: | 17 x 3.5 in. / 17 x 5.5 in. |
| Tires, Front/Rear: | Michelin Scorcher; 120/70-17 / 180/55-17 |
| Rake/Trail: | 24.5°/4.3 in. |
| Wheelbase: | 58.7 in. |
| Ground Clearance: | 5.1 in. |
| Seat Height: | 31.3 in. |
| Cycle World Measured Wet Weight: | 544 lb. |
| Contact: | livewire.com |
Google Ads