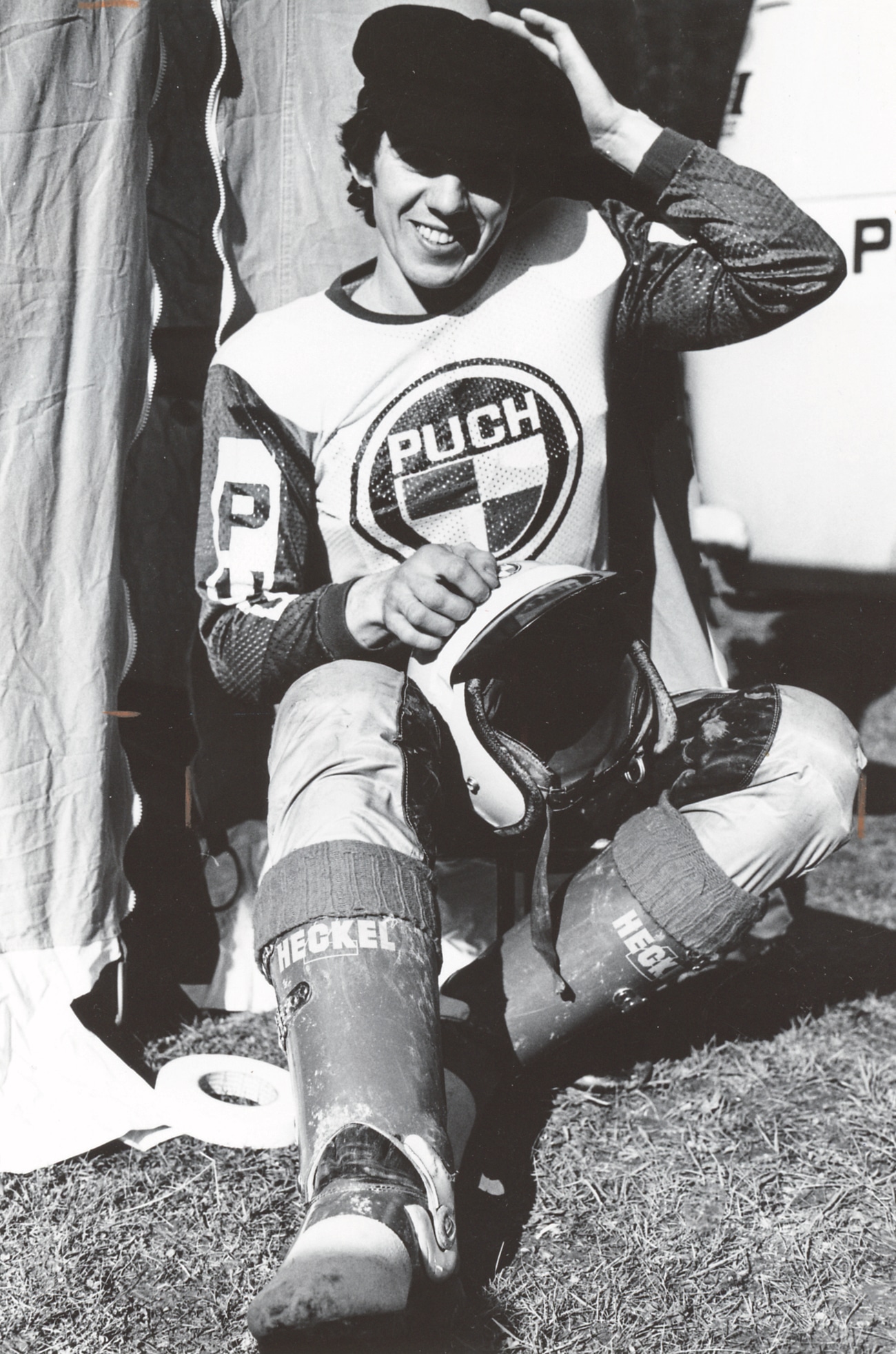 Google Ads
BY JIM KIMBALL
HARRY, WERE THERE MINICYCLES WHEN YOU FIRST BEGAN RIDING? No. We did not have small bikes like today's 50s, 65s or 85s back when I began in 1967. I was 12 years old when I first rode a bike. 
WHEN DID YOU REALIZE THAT YOU COULD HAVE A CAREER AS A MOTOCROSS RACER?   I came to the U.S.  in 1970 when Joel Robert built a Puch 125 with a businessman friend, and he sent me over to the U.S. for my first trip outside the country. I did eight races and won a handful of races in California. When I came back home, I got a small contract from Puch, and they gave me three bikes to race. These bikes were much better, and I raced them through 1972. I received an even better offer for the 1973 season to do the Belgian Motocross Championship. I was fighting for the first-place position. I made some money with my racing, but I could not live on that. I also had to work.
A young Harry signed a contract with Puch that said if he won a World Championship, they would quit racing a factory bike. He read the clause, but never thought he would win the World Championship. So, he signed it.
WHAT WAS YOUR BIG BREAK? In 1974, I finished third overall in the 250 World Championship. But, while the sport was growing quickly, not everyone racing was becoming rich. Nobody could live on the money that you were getting at the time. Even later in 1975 when I became 250 World Champion on the Puch 250, the money was not that great, but it was better.
WHEN YOU WERE ON PUCH, HOW BIG WAS THE TEAM? There were two riders and eight people working in the factory on motorcycles, because Puch made many other things besides motocross bikes. They made trucks, tractors, weapons, bicycles and small-displacement street motorcycles. The biggest motorcycles they made were 350 and 400 road bikes. Back then, building motocross bikes was only a hobby for them.  In fact, when I signed my 1973 contract, there was actual wording in the contract that said if I became a World Champion, Puch would stop racing motocross. It isn't that I didn't read the contract closely, it was just that I never thought I would become a World Champion.
"I WAS NOT THINKING OF BECOMING OF A WORLD CHAMPION AT THAT TIME. I WAS JUST HAPPY TO HAVE A BIKE TO RACE."
Harry raced the twin-carb, magnesium-engined Puch 250 to the 1975 250 World Motocross Championship. This Harry on one of the eight Puch 400 works bike that Puch made. He raced it in the 1974 Trans-AMA series.
BUT YOU DID, DIDN'T YOU? In 1974, I finished third. Then in 1975, I won the 250 World Championship against Hakan Andersson on the factory Yamaha and Willy Bauer on the factory Suzuki. Then, suddenly, it was finished. Puch stopped racing with a factory bike. But, as I said, I was not thinking of becoming of a World Champion at that time. I was just happy to have a bike to race. 
DID THEY FIRE YOU FOR 1976? No. In 1976, I was racing the Puch "Harry Everts Replica" production motorcycle. It was not the same as my 1975 factory bike. The 1975 factory Puch was the fastest bike in the 250 class. Puch decided to sell replicas of my 1975 race bikes, but made less than 100 replica bikes, and then they stopped. 

Harry's twin-carb 250 Puch had one carb  fueling the rotary valve (visible on the  clutch side of the engine) and a piston-port carb in the normal position.
WHY DID THEY STOP MAKING THE EVERTS REPLICA PUCH 250MC? It was just too expensive. Remember, the engine had one cylinder with two carburetors. One carburetor was piston-ported directly into the cylinder, while the other carburetor fed the rotary valve in the engine cases. It also had a lot of exotic metallurgy. It was so expensive to build that only rich people could buy it. That was why the production was so small. That motorcycle was double the price of a Japanese bike in Europe. They also made a Puch 400 motocross bike, but there were only eight of these made.
YOU WOULD THINK THAT WINNING THE WORLD CHAMPIONSHIP WOULD LEAD TO A BIGGER RACE EFFORT AND MORE PRODUCTION MOTORCYCLES. Let me say this about that: The Puch factory was very big, and I was only a young boy who won a motocross Championship. There were 18,000 people working there. They made several prototype cars for Audi, Mercedes and Range Rover. They made the automobile chassis, not the engines. Magna Steyr is now the company that began with Puch.
Google Ads
DIDN'T YOU WIN A TRANS-AMA IN AMERICA ON THE PUCH? Yes, in Puyallup, Washington, in 1974. It was Puch's only major win in American motocross.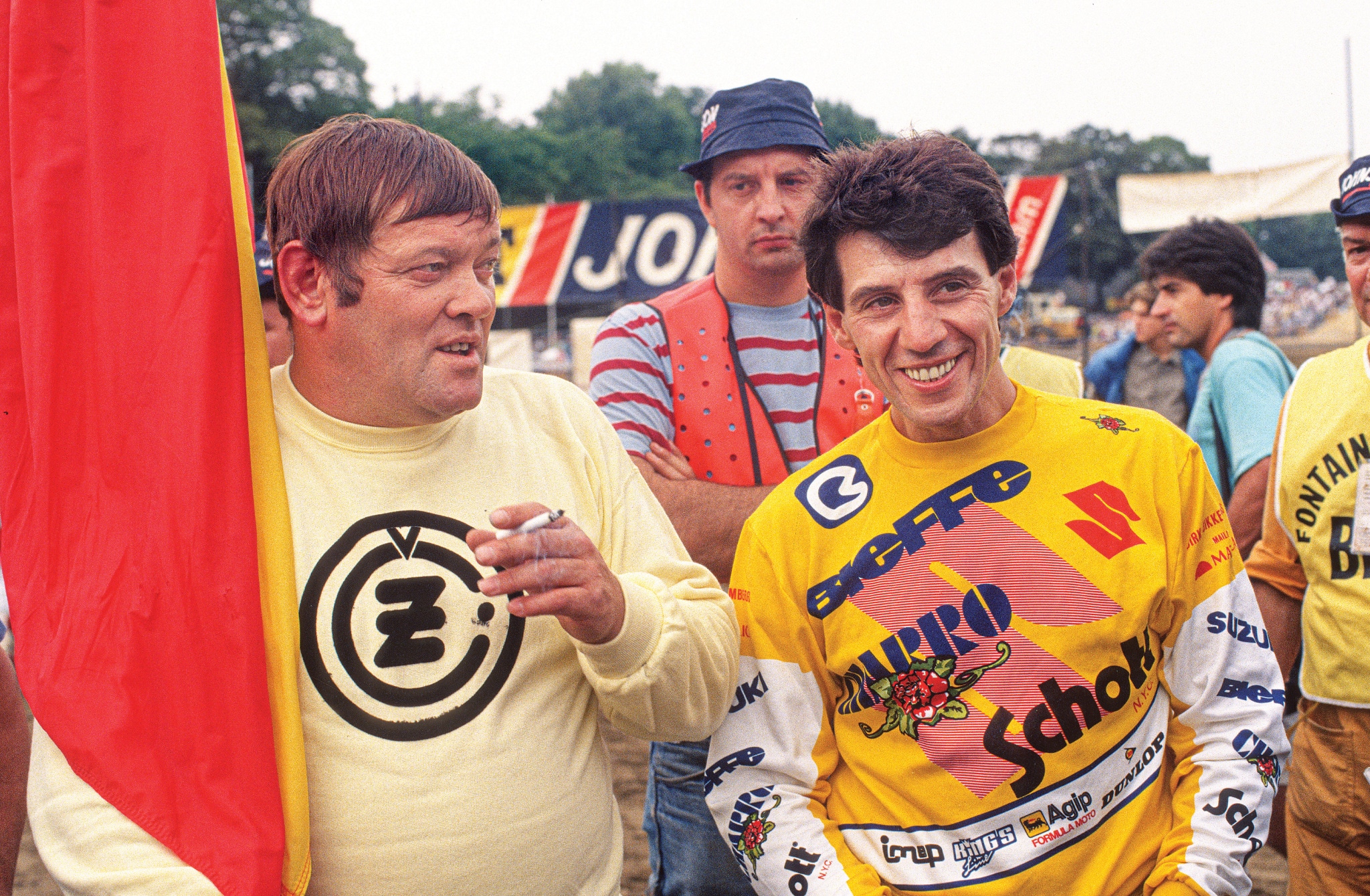 Joel Robert (left) and Harry Everts (right) were, along with Roger DeCoster, two parts of the most powerful team in motocross history.
YOU MUST HAVE GOTTEN LOTS OF OFFERS FROM OTHER TEAMS AFTER DOMINATING THE 1975 250 CHAMPIONSHIPS. No, only Bultaco. Everyone was already signed. My dream was to go to Suzuki, but it was not possible. I had to go to Bultaco because they were the only company that made me an offer. I needed money to live. I signed a two-year contract for 1977 and 1978 with Bultaco, and after my two years were up, I flew to Barcelona to re-sign with Bultaco again, but Mr. Bulto was not at the factory, and the director said, "Come back next week." So, I flew home to Belgium and, as luck would have it, I got a telegram from Suzuki team boss Mr. Tamati asking me to ride for Suzuki. If Francisco Bulto had been in Barcelona a week earlier, I would have signed with Bultaco. Instead, I signed with Suzuki and won three 125 World Championships. 

WHY DID YOU HAVE SO MUCH INTEREST IN SUZUKI? They had much better organization. All the others were just small factories compared to Suzuki where they had Roger DeCoster and Joel Robert. The Puch was the fastest bike, but Joel Robert could pass me just like that. As long as Joel was on the Suzuki, I could never win. Many other riders felt as I did, that Suzuki was the most determined to win.
WHAT WAS THE DIFFERENCE BETWEEN SUZUKI AND THE EUROPEAN BRANDS? The Suzuki factory bike was by far the lightest motocross bike. In 1972, the factory Suzuki bike was only 95 kilos. The FIM constantly changed the minimum weight to help the European brands, but Suzuki always had the lightest bike. Suzuki worked so hard to reduce the weight. They wanted to prove that they had the number-one bike.
SO, YOU FINISHED YOUR BULTACO DAYS WITH A SIXTH OVERALL IN THE 250 CLASS IN 1978, THEN JOINED SUZUKI FOR 1979 AND WON THE 125 TITLE IN THE FIRST SEASON ON THE BIKE. Yes, the Suzuki factory bike was amazing, and I was a good rider. I won the 125 title three times. That first year with them was the best. I won the first five motos back to back, and that got me the first three overall wins. I ended up winning nine out of the 12 races that year. Suzuki won all 12, though, with Akira Watanabe and Gaston Rahier each winning races. And, at the USGP, Mark Barnett won the 125 USGP, completing the Suzuki sweep. 
What most people don't remember is that I took the chance to race the 1979 Belgian 250 Grand Prix and won that overall. I think that by the end of 1979 I won maybe 32 out of 35 races. It was my best year ever.
"YES, THE SUZUKI FACTORY BIKE WAS AMAZING, AND I WAS A GOOD RIDER. I WON THE 125 TITLE THREE TIMES." 
HOW WAS 1980? The 1980 season started out very well, but after a few Grand Prix rounds I broke my wrist. So, I sat out a couple of GPs to let it heal, but I had a lot of problems trying to pull my clutch lever in. A friend took me to a hypnotist, and I immediately improved. I ended up winning the 125 World Championship again, but it went down to the final race, and I only had a small points lead.
THEN YOU CLAIMED YOUR THIRD 125 WORLD CHAMPIONSHIP IN 1981. Yes, it wasn't easy. That win was very difficult. I had many ups and downs that year. Also, the younger guys like Eric Geobors and Michele Rinaldi were coming up. I still won the World title, but it took a lot, and I was very hard on myself. 
OF THE THREE CONSECUTIVE WORLD CHAMPIONSHIPS, WHICH ONE WAS THE MOST IMPORTANT TO YOU? The most important was the first one in 1979. It was good in 1980, too, but by 1981 I did not want to stay in the 125 class anymore. I wanted to move up to the 250 or 500 class, but Suzuki said I had to stay in the 125 class. They were a bit concerned that Eric Geboers might not be able to win the 125 Championship. I was sure that Eric could do it, but Suzuki said, "No, no. You must stay. The young boys can make mistakes, and you are so clever."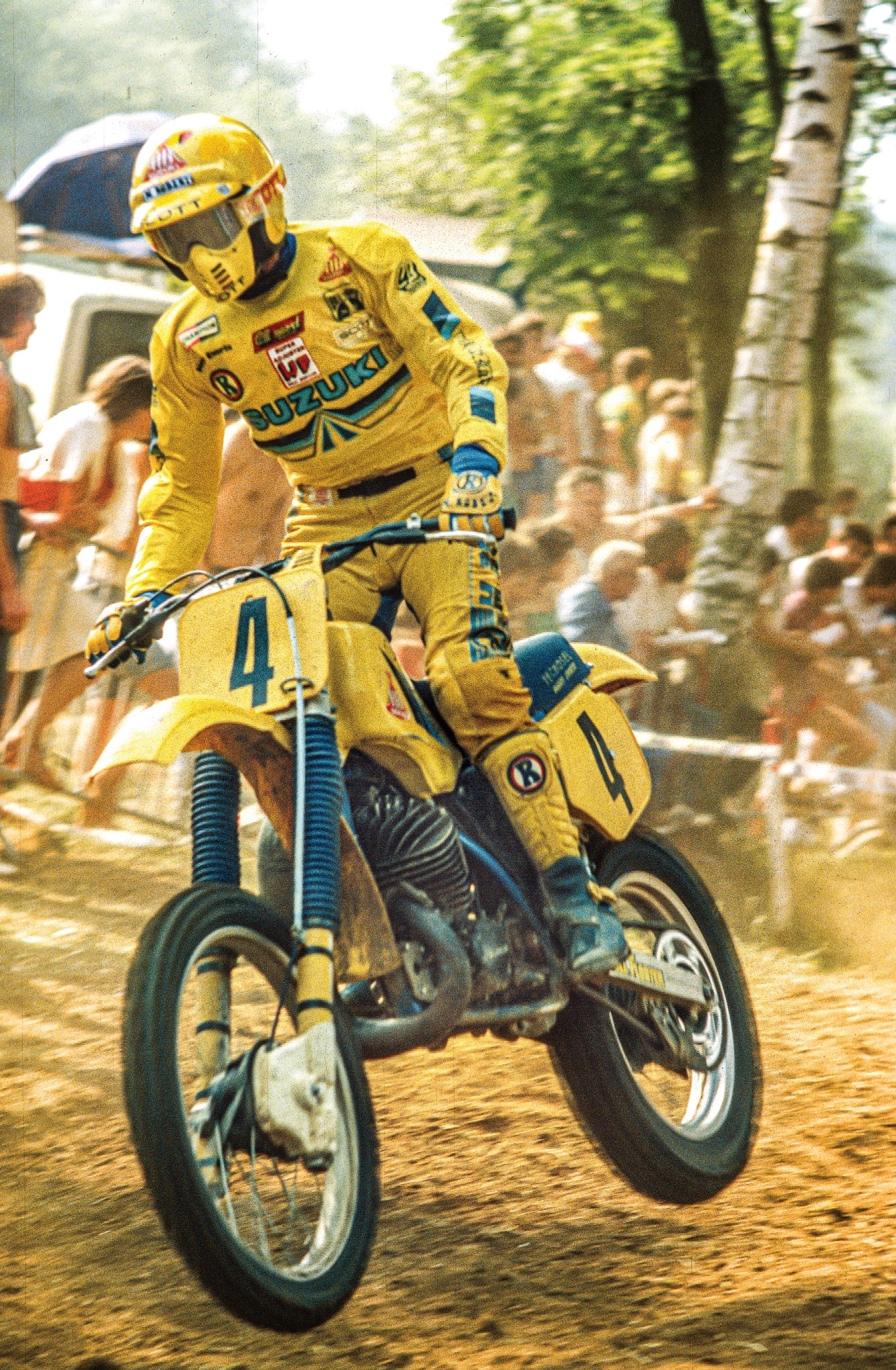 Harry didn't get a lot of opportunities to show his prowess on a Suzuki 500.
SUZUKI ONLY OFFERED YOU A 125 CONTRACT? Yes, and I said, "Okay, I will do it if you give me more money and an opportunity to move up in the next year." They agreed, and I signed for one more year in the 125 class, but I was already finished in that class. I did it for Suzuki so Eric could be the champion. Then, in 1983, I got to race the big 500 class. In the beginning, at the first few GPs, I had very bad results. I had to use Kayaba suspension. It was so bad at that time that I wanted to stop racing. I could not ride the bike. Then Suzuki gave me permission to use the WP suspension that I liked. At the next GP, I was immediately better and began taking podiums.
WERE YOU ALSO CONSIDERING LEAVING SUZUKI AT THIS TIME? Yes, I was. I began doing well on the Suzuki 500 and was attracting more attention. I was doing better and better and finishing consistently on the podium. It was too late to win the Championship, but Honda contacted me about riding for them in 1984. We had a verbal agreement that I would sign the contract after the last GP of the season, but then I crashed at the start of the last GP and broke both sides of my collarbone. I was supposed to sign my contract that night, but I had two collarbones that were broken and was in so much pain that I went home. When I realized that I forgot to sign my Honda contract, I phoned Honda in Brussels and they said, "Sorry, we thought you weren't coming. We gave the contract to Andre Malherbe." 
WERE YOU LEFT WITHOUT A RIDE FOR 1985? No. I planned to stay at Suzuki. When I talked to them, they said, "We are coming to your home to speak." I told to my wife, "Buy some cookies and coffee, because one of the bosses is coming from Japan." The team boss, Mr. Tamaki, came to my home, and in the first five minutes he said, "Thank you very much for your support; however, we are stopping motocross." 
Suzuki fired Harry in November of 1984, and the best ride he could get was a Husqvarna deal for 1985, but he broke his leg so badly on the Husky that he decided to retire.
WOW! YOU MUST HAVE BEEN SHOCKED. Yes, it was not good. It was November and very late for signing another contract, but I signed a contract with Husqvarna. Unfortunately, at the very first test I had a serious accident due to a mechanical problem, and that was basically the end of my career. 
They had changed something in the bike, and the swingarm broke. I broke my leg. I was out of Grand Prix motocross for eight months. Everything in my body was broken from that accident. I did do the Paris-to-Dakar races and some other international races. I bought some bikes for myself, but they were mainly for fun. And then my son Stefan started his racing career. Later, after Stefan joined KTM, they gave me some bikes, but I was just in too much pain to ride.
WHAT WAS YOUR RELATIONSHIP WITH ROGER DECOSTER LIKE? At many races Roger and I were together fighting. I won against Roger many times in Europe, but the U.S. fans do not know that. Nobody knows that. Roger was racing in the United States in the off-season, and it was making him famous. When you are a good rider, you win everything, and when you are good with the fans, you become famous—and Roger was a good person. 
Joel Robert was a six-time 250 World Champion, and nobody speaks much about Joel. When Roger stopped racing and moved to the U.S., he became a famous coach and trainer. I did that in Europe, but because I didn't live in the States, the fans did not realize all I was doing, at least not as much as with Roger. I trained some good riders, such as Jorge Prado. When I first saw Prado, he was 12 years old. I told KTM, "This is the 'Golden Boy.' Give him some time, and he will be winning Championships."
"THE MOTOCROSS DES NATIONS IS SPECIAL TO ME BECAUSE I WAS ON THE CHAMPIONSHIP-WINNING BELGIAN TEAM MANY TIMES."
THE MOTOCROSS OF NATIONS WAS VERY IMPORTANT TO YOU, WASN'T IT? The Motocross des Nations is special to me because I was on the Championship-winning Belgian team many times. I was on the winning 250cc Trophee des Nations team six times, beginning in 1974 in France. I was on the 500cc Motocross des Nations team when we won in 1976 and 1979. Roger Decoster was always next to me, or I was next to Roger. Roger was one of the winningest des Nation's riders, and I am the next one from Belgium. 
After Harry retired from racing, he focused on guiding his son, Stefan, to win World Championships.
LET'S TALK ABOUT YOUR SON, STEFAN. DO YOU THINK HIS RECORD OF 10 WORLD CHAMPIONSHIPS WILL EVER BE MATCHED? First off, you need to consider that he stopped as a 10-time World Champion. He could have done another year or two.  I asked him, "Why are you stopping?" He said, "Papa, I have no interest anymore." He could have won more Grand Prix races, and maybe one more Championship. When Stefan stopped racing, I cried.
Antonio Cairoli was trying to beat Stefan's record, but he couldn't. I don't want to talk bad about Antonio because he is such a good person. 
DO YOU FEEL YOUR GRANDSON, LIAM, CAN BECOME A WORLD CHAMPION? ARE YOU GIVING HIM ADVICE? What advice can I give him? He must learn on his own. He has ridden, raced and watched for a long time. There is not much I can add. The problem Liam will have is that he is the son of Stefan Everts. 
I'll never forget when Stefan was first racing in the GPs as a young boy. The spectators and all the media were focused on him. All the newspapers were saying, "Stefan Everts, the son of four-time World Champion Harry Everts, is racing." But, he was always crashing, and back in the van he was crying as he said to me, "Papa, next week I will win." One week later, he won. He was only 15 years old when he said, "Next week, I win." The best thing about Stefan was that he always believed in himself against all the pressure.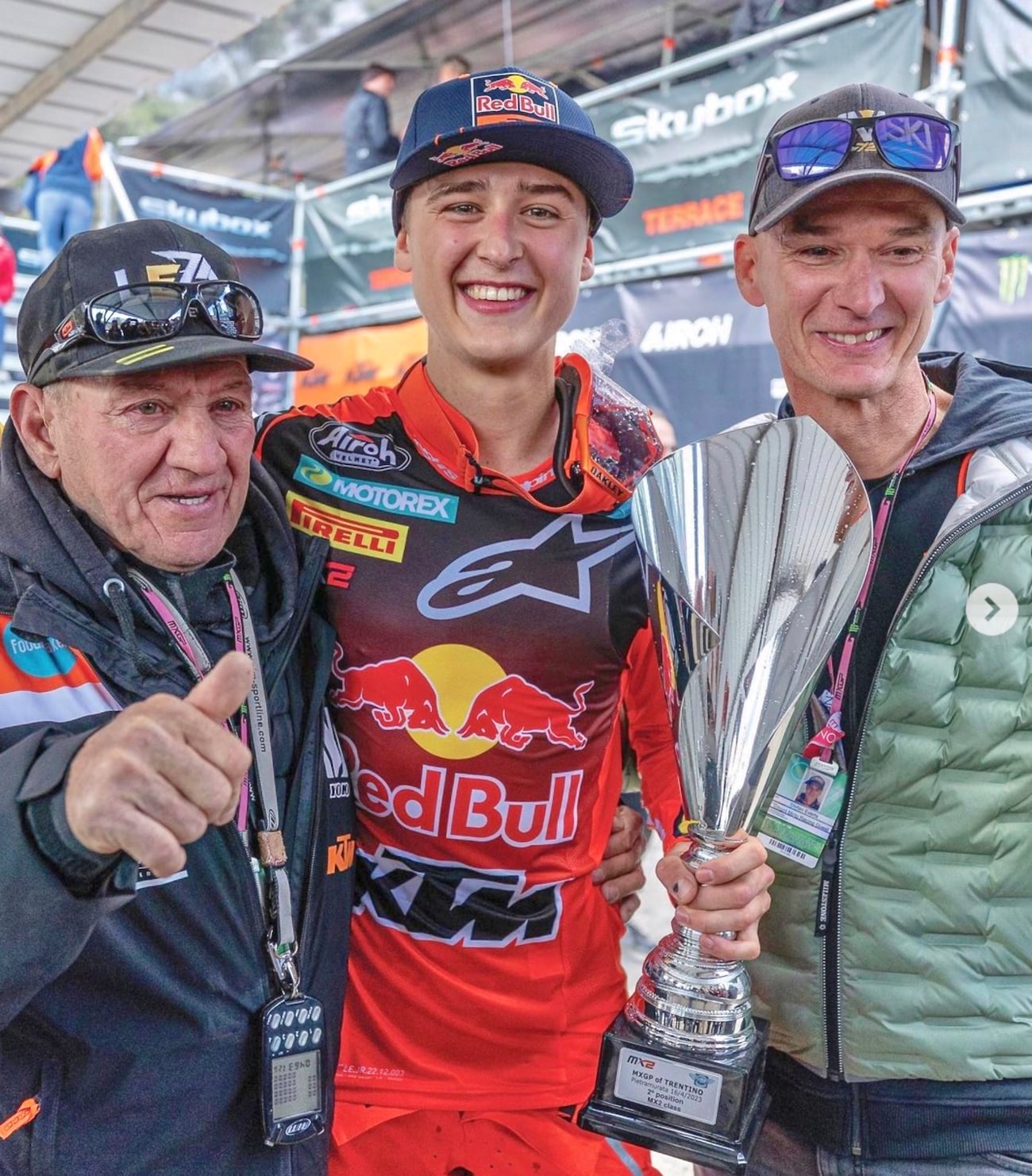 Three generation of Everts Grand Prix winners races—Harry, Liam and Stefan. Harry and Stefan share 14 world titles between  them.
YOU STILL LOVE MOTOCROSS. WILL YOU RETIRE? I will soon be 90 years old, and I'll still be going to motocross races. Motocross is my life. When you are racing as a rider, it is the best feeling, but helping and watching others with the same passion and determination is close. I'll continue riding some motocross, doing the occasional Vet race on my Puch Harry Everts replica and doing training schools. I still live in Neeroeteren, Belgium, but I spend much of my time in Spain with motocross schools. With Liam racing the 250 World Championships now, I will likely spend more time with him. I hope I can follow my grandson until he stops racing, but I think his racing will outlive me. What a motocross life so far—14 World Championships between Stefan and myself.
\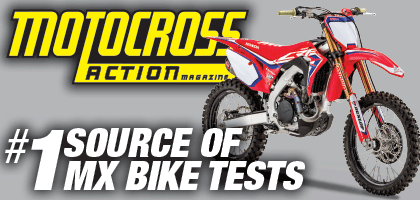 Google Ads