CONTINUED FROM PART 1…
Google Ads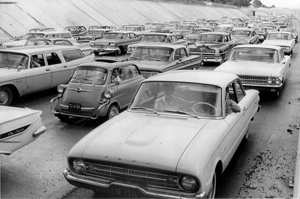 (Attempting to resolve a debate with my mother that cars from the late 1940s and '50s on any given street were more recognizable than now, I take a look at some of the more popular design trends during different decades.  This installment looks and car models sold during the 1960s in the United States. We traced pictures of various vehicles on paper because if a car's shape is recognizable that way, it's definitely recognizable on the street.)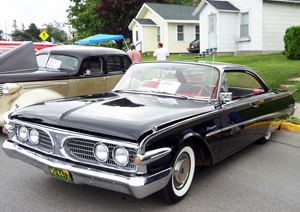 Early in the 1960s, American automotive styling turned away from the excesses of the 1950s and took a sharp turn toward more conservative shapes which featured crisper, cleaner styling.  Fins disappeared in lieu of tapered rear fenders and trunks. Flatter and wider tail lights integrated into the rear clip replaced bullet-shaped ones protruding from the rear of the vehicle like flame trails from a jet engine. Hood surfaces became almost perfectly flat across with minimal topographical features – somewhat boring to look at from the driver's seat.
(Note:  A slide show with full-size pictures of 1960s vehicles we found notable is at the end of this article.)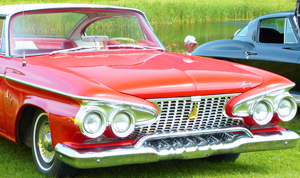 It is interesting to look at the slightly stranger styling Chrysler brands such as Dodge, DeSoto, and Plymouth created for 1961 with strangely angled headlights, grilles and roof line shapes because General Motors and Ford designs stayed step in step with each other during this time.

As well as being almost indistinguishable from each other (see the 1991 movie "My Cousin Vinny"), the '61 Buick Skylark and Pontiac Tempest were very similar in shape and size to the '61 Ford Falcon.  After tracing the shapes of a Falcon and a Buick Skylark, it was difficult to distinguish one from the other.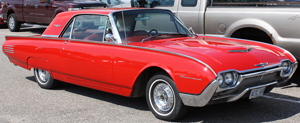 Only when looking at the shape of the Falcon wheel well openings does one begin to see a family resemblance to larger, more luxurious Lincolns, T-Birds and Galaxie models.  It was our feeling that this most basic, common model Ford barely distinguishes itself from competition and from other Fords.  However, we gave credit to Ford Motor Company as a whole for gaining recognizability during this decade because the 1961 Lincoln Continental and Thunderbird were such distinctive shapes in their own right.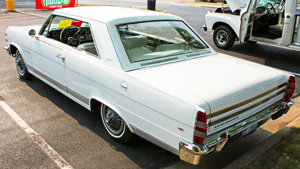 Another good example of styling similarities from this decade is noticeable after comparing a 1966 AMC Ambassador coupe to a 1965 Buick Special, Chevy Nova, Plymouth Belvedere, or Ford Fairlaine.  Crisp, clean styling, yes – but try to tell their shapes apart on tracing paper.

From what can be seen at quick glance, the midsize Buick Special is highly derivative of full-size 1964 Buicks and Oldsmobiles with similar overall contours and wheel openings.  Mid-1960s full size Chryslers also have some of the same proportions, but are very difficult to tell when using the tracing paper.  It isn't easy to tell a 1968 Chrysler 300 from a 1966 Buick Wildcat.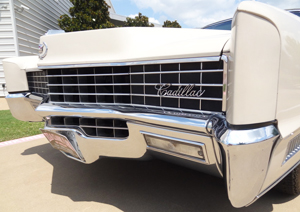 One of my favorite design trends was headlights concealed behind retracting covers camouflaged with grille designs.  I consider this late-'60s era the beginning of the "modern" classic car.  But because grille-concealed headlamps were used on at least one version (and often more) high-end or performance model from every single American make during 1967-68, we ruled it did nothing to create additional recognizability.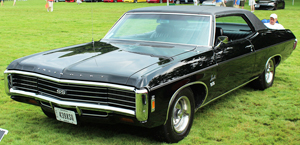 By 1970, most grill-concealed headlights disappeared but it wasn't long before designers sought similar gee-whiz effects with painted headlamp covers in the 1970s – and later pop up headlamps in the 1980s.  But to us, few vehicles from this decade are cooler-looking than the front of a 1967 or '68 Cadillac Eldorado.

Another interesting look of the "sign of the times" 1960s was the 1966-70 Olds Toronado and Buick Riviera – original designs which inspired the 1968-72 Chevrolet Chevelle, Oldsmobile Cutlass Supreme, and other GM A-bodies.  The unique arc of the roof, trunk and C-pillars along with an absence of belt lines served to all these vehicles look like they were going fast even while sitting still in an Apollo 13 fashion.
Also contributing flair and uniqueness to the decade were the 1965 Olds 88 and the derivatively smaller 1966-67 Olds Cutlass.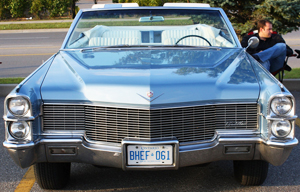 An important trend that emerged during the decade was a return of contours to the shape of hoods.  Perhaps inspired by Rolls Royce Silver Clouds of the period, Cadillac first borrowed the "boat-prow" look on its 1965 de Villes and 1967 Eldorado.  A slight "bulge-up" on the hood began at full width by the windshield, then tapered as it ran down the length of the hood until it reached a narrow point at the front.  Blade-like front fenders rose up on each side to frame the edges of the hood and return the luxury land-yacht feel of the 1940s.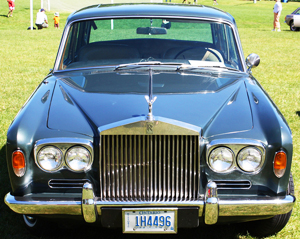 The 1965 Rolls-Royce Silver Shadow created a more modern interpretation of the look – inspiring the 1969 Lincoln Mark III and other Lincolns for two decades to come with a tall waterfall grille design.  The 1967-70 Eldorado served up unique styling of a different flavor that's still distinctive today.  None of us had trouble recognizing Cadillacs of this decade.
Google Ads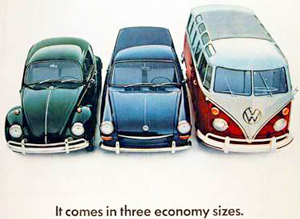 The continued growth of import brands in the 1960s such as Volkswagen, Mercedes, Porsche, Jaguar, MG, Fiat, and Ferrari among others made for even greater differentiation of cars to the naked eye.  While Japanese brands were still not a large factor until the following decade, the European offerings were very recognizable, had unique shapes, and were easy to spot in a crowd.

American models new to this decade such as the 1964 Mustang, the 1967 Camaro/Firebird and the 1969 Dodge Charger all had unique lines.  Finally, we all agreed this was the first entire decade that pickup trucks looked completely different from cars on all sides.
The decision now went to the 1960s as the winning decade.
CLICK ON ANY OF THE PICTURES BELOW TO EXPAND TO FULL SIZE.  USE BACK ARROW TO RETURN HERE, OR SCROLL THROUGH THE PICTURES USING SMALL ARROWS UNDERNEATH EACH PICTURE.
Google Ads