The pre-owned car market is still in a strange place, many analysts are predicting a big crash due to due a variety of factors like inventory oversupply which is leading to a small drop in wholesale pricing. However, the overall averages don't tell the whole story and while some segments offer good values, prices for the cars that most buyers want remain inflated.
Google Ads
The 2023 Ford F-150 Raptor R Is Here
Every day I shop for a variety of cars both new and used across the country, what I have been observing in the actual transactions is a bit different than what most market analysts are predicting.
Where Used Car The Deals Are
You can score some excellent values right now, but these deals are probably not in segments that most buyers find "affordable" or desirable. Luxury cars are experiencing the depreciation drop that was common prior to the inventory mess that happened in the past few years. This is especially true for mid-size to large executive sedans.
For example here is a BMW Certified 540 with only 18,000 miles for about $47,000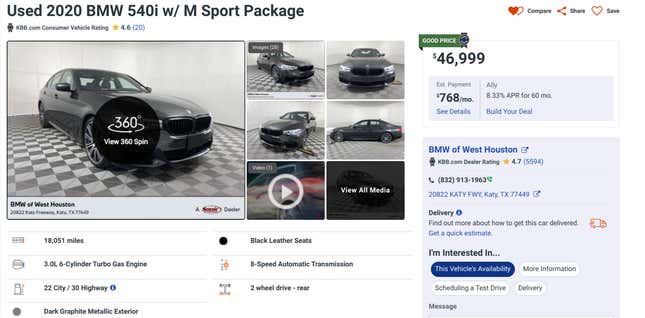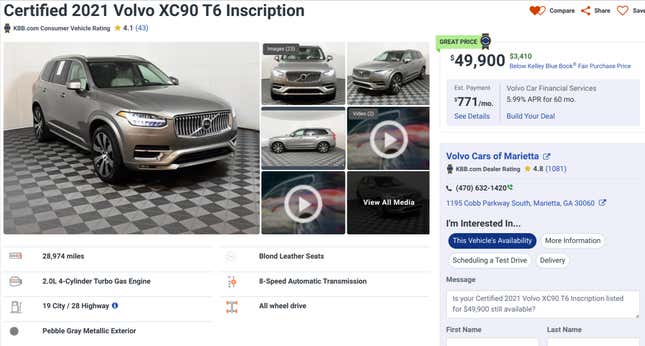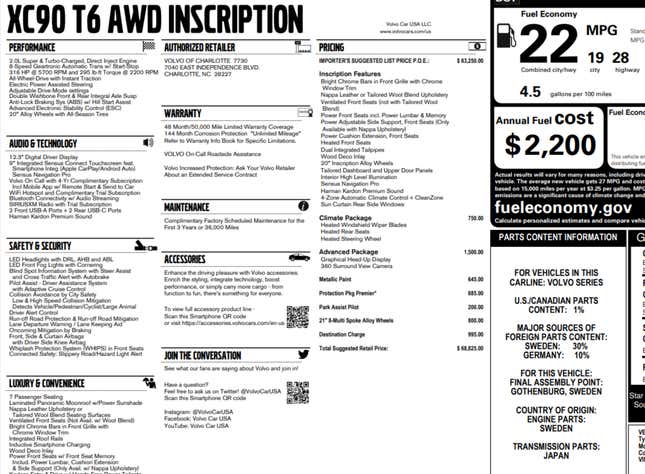 But what about wagons? After all, that's the best blend of sedan handling and SUV hauling. There are some deals to be found in that segment as well, as long as you aren't looking at super high-powered long roofs like the E63 AMG or RS6. However, you can score something like this Mercedes-certified 2019 E450 wagon. It has under 29,000 miles for just over $50,000 and an original retail price of $72,000.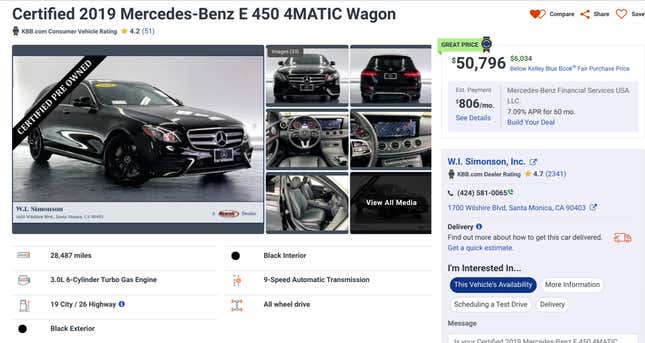 The overall theme if you want a "deal" in the used car market is to focus on 2-3 year old cars from luxury brands. But whether the prices represent a good value or not, they can feel a bit steep for the average buyer. Once you pivot to the non-luxury segments the market looks very different.
Where The Used Car Deals Are Not
The most requested segment right now is hybrid compact crossovers. Buyers are getting them new often involves long wait times and/or big markups. Consumers might think a pivot into the pre-owned market would result in some savings. What they will find on something like a 2-3-year-old RAV4 HYbrid with "reasonable" mileage are prices that are equal to and sometimes greater than the original MSRP.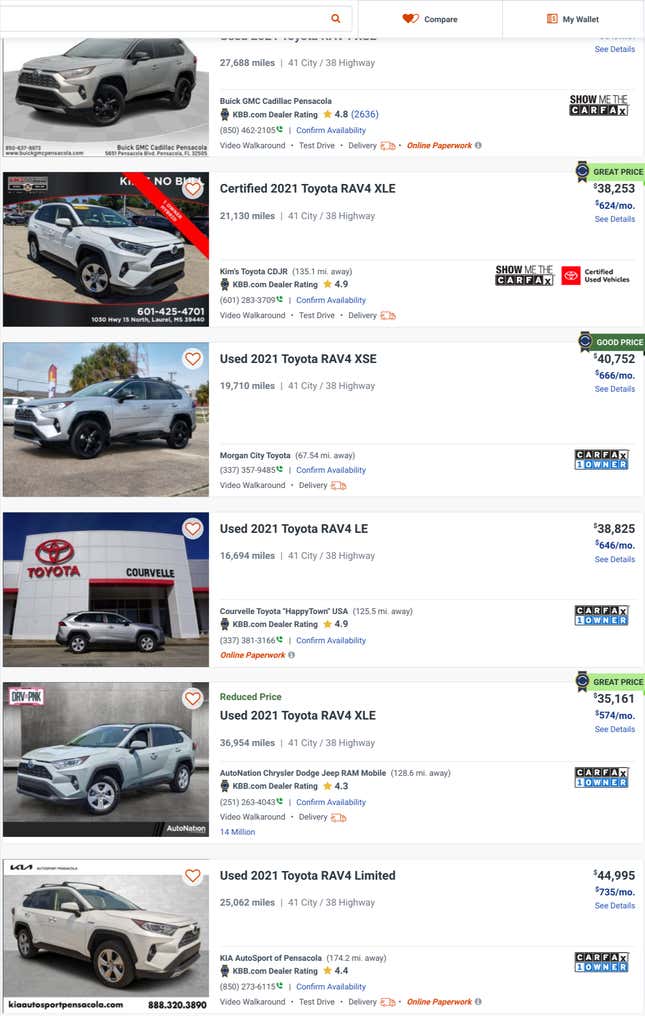 This pattern isn't exclusive to hybrid crossovers, plain gas-powered cars from most import brands are still commanding high prices and things don't really get any better in the mid-size three-row segment either.
Even pickup trucks haven't really gotten the memo that the market should be improving. You will find listings like this 2020 Chevy Silverado Custom for only $36,000, which doesn't seem all that bad, but when the window sticker reveals a spec of only $41,000 the value proposition drops.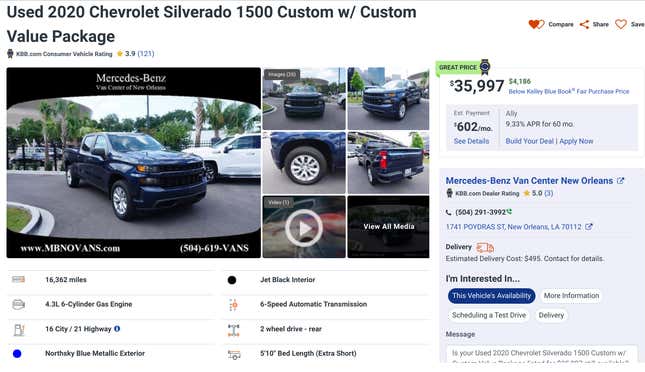 Truck prices like this seem especially odd since you can find the same truck advertised with upwards of $7,000 off the MSRP bringing those new prices very close to these used prices.
Minivans aren't offering much in the way of savings if you are trying to find a family hauler without a ton of miles on it. For example here is a certified 2021 Chrysler Pacifica Touring with under 30,000 miles for $31,600. However, when you dig further and find out that the original MSRP was $38,000 and there was an accident reported on the CarFax, this doesn't seem like a great buy.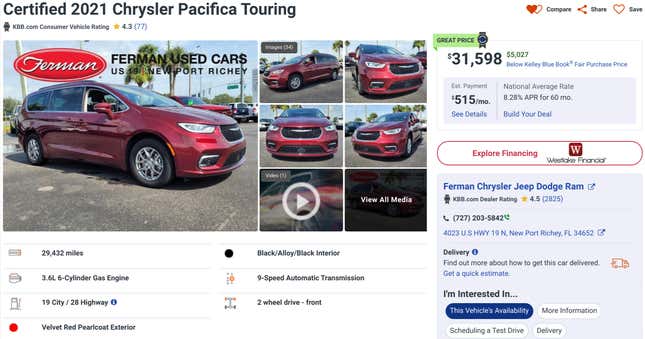 If pricing on used Pacificas seems depressing don't even bother having a look at lightly used Siennas as many of those vans retail for over the original list price.
I will also mention that the major exception to the luxury car savings described above is any Porsche sports car. Prices on 911s and even the largely unloved 718s have skyrocketed due to limited new car inventory.
Google Ads
Despite relatively high interest rates and other factors that may hint at a used car market drop, if you examine the segments where most buyers are shopping, prices remain high for pre-owned units. This will remain until new car inventory gets to the point where dealers are forced to give major discounts on brand-new units, which should create a downward trend for used cars. However, if popular new cars keep selling at MSRP or above which is a trend that doesn't seem to be cooling anytime soon, shoppers shouldn't expect any steals in the non-luxury used car market.
---
Tom McParland is a contributing writer for Jalopnik and runs AutomatchConsulting.com. He takes the hassle out of buying or leasing a car. Got a car buying question? Send it to Tom@AutomatchConsulting.com
Google Ads