Jack Harkavy owns a 1938 Packard Eight, a 1954 DeSoto, and, as a professional driver, is regularly behind the wheel of high-end cars old and new that are used as props in major movies and television shows.
Ask him what car he's driven that has the most luxurious ride – what is the most comfortable to be behind the wheel of, and he'll tell you it's a 1982 Chrysler Imperial he's owned for years.
What exactly is a Chrysler Imperial, you ask?   First, a brief history…
Before it was Chrysler's flagship luxury model during the 1981-83 model years, Imperial was formerly a separate luxury division of Chrysler from 1926 through 1975 – similar to how Cadillac and Lincoln are to General Motors and Ford, respectively.  Imperial Crowns and LeBarons were opulently equipped and priced to match – just to name a couple.  Many feel it was Chrysler's failure to differentiate the brand which caused slow sales that led to its demise, citing designs that looked too similar to Chryslers of the day.  Imperial's deletion as a brand left Chrysler's New Yorker Brougham model standing as the company's flagship for 1976.  At that time, designer editions of Lincoln Mark V and Cadillac Eldorado luxury coupes began selling in record numbers at very high sticker prices thanks to equity generated by distinctive styling and the snob appeal of having something that was considered a "limited edition" exclusive.
Seeing that trend emerging in the mid-to-late 1970s in the United States, Chrysler envied the profit ratio and cachet such vehicles generated.  Additionally, the marketplace success of the trim-sized 1976 Cadillac Seville (and later 1979 Eldorado) was a lesson to all that downsizing was the new black – especially when it came to "personal luxury" coupes.   While Chrysler product planners envisioned a premium luxury car, they knew budget constraints from slowing sales would also mean using an existing vehicle platform rather than developing a brand-new one.  The choices
available were the 118.5-inch wheelbase large car sedan platform being developed for the 1979 New Yorker sedan, or the smaller 112.7-inch wheelbase platform that was planned for the 1980 Cordoba coupe.  While both were smaller than the full-size cars Chrysler had been selling through 1978, the narrower and shorter Cordoba platform was selected, and development for Chrysler's new premium "personal luxury coupe" began during 1977.
Google Ads
Seeing electronic fuel injection, computer controls, and digital dashboards introduced on 1970s Cadillacs, product planners knew their model would also need to have these features to compete in a 1980s luxury market.  Chrysler's engineering department, formerly ignored by the accountants that ran the company (almost into the ground), was tapped and encouraged.  According to Iacocca, "Our electronics division down in Huntsville, Alabama, was a prime contractor on the Redstone missile and the Saturn Apollo program.  We're an industry leader in automotive electronics, going back to electronic-ignition.  There are several hundred electronics experts down there, and after we switched them from space work to commercial work, the Imperial is one of the things they went to work on."
Despite tough times during the Imperial's gestation period, Chrysler spent more time and energy making sure everything was measured twice to fit perfectly on the Imperial than they may ever have previously.
It's fair to say, from a styling perspective, designers combined the looks they admired about Lincoln Mark Vs and Cadillac Sevilles and created their own version of it in one car.  While front fenders and doors on 1981-83 Imperials were borrowed from 1980-83 Cordobas,  we've always felt the hood and front clip unique to the Imperial create an overall look that's strikingly handsome.  Interestingly, all Imperial body panels were crafted from thicker gauge steel for greater solidity, superior resistance to dings, and more rigid surfaces that aided in the painting process.  The panels really were thicker, because an Imperial weighed 3,870 pounds – 400 more than a comparable Cordoba with the same size V8 engine.  Electronics don't weight that much.
Imperials were built on the same assembly line as Cordobas in Canada, and to overcome the poor quality control image generated in the public eye by 1970s Dodge Aspens and Plymouth Volares, Chrysler devoted their highest and best efforts to achieving tight tolerances and zero defects at this plant.  Imperials received primer, their initial coat of paint, a full wet sanding, a second coat, then finally a clear coat layer.  After the painting process, body panels were intensely scrutinized for any imperfections before being fitted onto the vehicle by hand.  There was even a specially created 5.5 mile test track that every Imperial was driven over once it rolled off the line to ensure all mechanical and electronic functions were up to par.  While still hot from the road test, all mechanicals were re-checked for clearance and leaks.  Suspension and steering bolt torques were tested and adjusted if necessary.  In short, it was a much more intensive delivery prep than would have been done at any dealership.
Because it was based on and developed concurrently with the downsized 1980 Cordoba platform, the Imperial was originally slated to be introduced during the fall of 1979 as an '80 model – similar to the Cordoba.  However, budgetary constraints due to Chrysler Corporation's near bankruptcy during 1979-80 delayed development of the high-tech fuel injection system, on-board electronics, and digital instrument cluster (all firsts for Chrysler) that were integral to the Imperial model.  Ultimately, it was introduced to the press and public on July 18, 1980 as an early-'81 model.
Frank Sinatra, who was impressed with Lee Iacocca's efforts in obtaining government loans to save Chrysler and the fact that Iacocca only paid himself a salary of $1 during those lean years, contacted him and offered his services as an advertising pitchman for the like sum of $1.  Sinatra was present with Lee Iacocca at the Imperial's July 1980 press introduction, and the two engaged in a question-and-answer scenario about the merits of the car.  A transcript of their conversation was featured in print advertisements (see pictures at bottom of article), and Sinatra appeared in a number of television commercials (to view commercials, click here or here) introducing Chrysler's newest luxury flagship.
Whether or not Sinatra was simply looking to gain publicity by his generosity, Iacocca appreciated the help so much that a $1,000 "Frank Sinatra Edition" package was created.  These designer edition Imperials were sold during 1981 and 1982 model years only, and are marked on the outside with glacier blue paint color and gold "fs" badges on the fenders and trunk lid.
The Sinatra package also bought you a locking center storage console, a group of Frank Sinatra cassettes or 8-tracks (depending on the radio you selected), and a Mark Cross designer leather carrying case for the cassettes.
The Sinatra package was not renewed for the '83 model year due to slow sales overall.  An interesting note side note is that Lee Iacocca reportedly purchased one of the final 1983 Imperials made and kept it in his own collection for years.  He selected the same glacier blue paint color for his '83, and had a Sinatra Edition center console custom installed – minus the FS badges.  (A picture of the car and interior are in the pictures at the bottom of this article.)
1981-83 Imperials came well equipped for their time.  As advertisements pointed out, all features on the car were standard, with a single option being a power glass moon roof for $1,044.  Otherwise, for the same price buyers could choose their preference between leather or velour interiors, cast aluminum wheels or steel ones with wire wheel covers, and a selection of radios which included AM/FM, AM/FM with 8-track, or AM/FM with cassette tape.  If a buyer wanted their radio with a built-in CB, that was available also.  Jack's Imperial has the AM/FM radio with CB, and the tuner for it is digital (see interior pictures below).
After driving Jack's Imperial, we see exactly what he means about a comfortable ride.  Through the years and 58,000 miles, Jack's car has been well-preserved and well-maintained enough to retain the qualities that made Imperials likeable in the first place.  It has big car comfort without the elephantine bulk and wallowing on the road most full-size cars of its era have.  It's easy to handle and relatively nimble.  The steering was dead-on and predictable, centered and free from pulling to the side.  Rubber mounts and bushings that Chrysler engineered specifically for the Imperial's suspension are whole in Jack's car, so our ride over early-April potholes not yet repaired was well-damped and quiet without the squeaks, thunks, and rattles that can creep into vehicles 30+ years of age.
A big trouble area with all 1981-83s has always been the electronically-controlled fuel injection system.  Hard starts, stalling, and no-starts were common when these cars were new, and the problem has only intensified as wiring corrodes (developing shorts, breaks, or electrical resistance) and vacuum leaks spring up as components dry and age.  In the 1980s, Chrysler developed a factory conversion kit to replace the fuel injection system with a 2-barrel carburetor setup that was original equipment on the Cordoba.
If an Imperial you're considering has been converted to a carburetor, look for this factory-designed one.  Because they are in-depth and replace a number of components including the gas tank, wiring harness, intake manifold, and more, it yields the most reliable performance while maintaining all of the inputs to the Imperial's computer necessary to calculate and display fuel consumption on the digital instrument cluster.  Aftermarket kits will not provide that information, and the fuel economy gauge will instead read a constant 99.9 mpg.  Owners swear by the factory kit.  Jack's car features the full kit, and the smooth running of the engine made the car enjoyable to drive.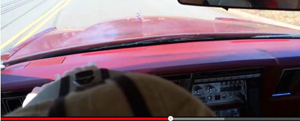 "Paint fade on horizontal surfaces such as the roof, hood, and trunk was common on these cars if they were out in the sun.  Mine has it, but it's not the worst you'll find.  A lot of carmakers were experimenting with new paint processes in those days, and hadn't gotten the formulas right yet".  To view a youtube video shot from the driver seat vantage point in Jack's 1982 Chrysler Imperial, click on the picture to the right.
TECHNICAL SPECIFICATIONS AND CHANGES FROM YEAR TO YEAR
1981:
7,225 Imperials were produced, 148 of them with the Frank Sinatra package.
Base sticker price: $18,311.
Curb weight: 3,870 pounds
Engine: 5.2-liter / 318-cubic-inch OHV V-8 making 140 horsepower at 4,000 rpms, 245 foot-pounds torque at 2,000 rpms
Brakes: Front disc, rear drum
Transmission: Chrysler 3-speed Torqueflite Automatic with 2.24:1 rear axle differential ratio
Suspension: Transverse torsion bar springs in front, semi-elliptic leaf springs in rear mounted to a solid beam axle
1982:
2,329 Imperials were produced, 279 of them with the Frank Sinatra package.
Base sticker price: $20,988
Changes: Chrome trim surrounding the headlight covers and the inside of the trunk lid was deleted.
1983:
1,427 Imperials were produced.
Base sticker price: dropped to $18,688
Changes: The Frank Sinatra package was dropped for '83, and six new colors were added.  Center caps on aluminum wheels were now clear instead of red.
CLICK ON ANY OF THE PICTURES IN THE SLIDE SHOW BELOW TO EXPAND TO FULL SIZE.

Google Ads