The Chevrolet Corvette is one of the most iconic sportscar models of all time. The Corvette combines the mechanics and performance of popular sportscar manufacturers like Porsche, and Ferrari with the attitude and heart of a true American muscle car. Footage of the C6 Z06 conquering the Nürburgring in just 7:33, shows firsthand just how dominant the modern-day Corvette is compared to its European counterparts, as well as its domestic competition.
Google Ads
Chevrolet's iconic two-seater remains a hot-ticket item among enthusiasts and car collectors alike, but what makes the Corvette and its various models so desirable, and how has Chevrolet cemented its place among past, present, and future supercars?
The legacy of the Corvette started with humble beginnings, and over decades of refining and perfecting that recipe, the Chevy sportscar has become a household name worldwide, being widely recognized and praised for its performance and ever-evolving sensibilities. Chevrolet has never been afraid to experiment with the Corvette. From Stingray to hybrid, from track to street, from front-engine to mid-engine, the Corvette has seen many iterations, each more inventive than the last.
RELATED: 10 Things That Make The Chevrolet Corvette America's Most Iconic Sports Car
Google Ads
The Origins Of The Corvette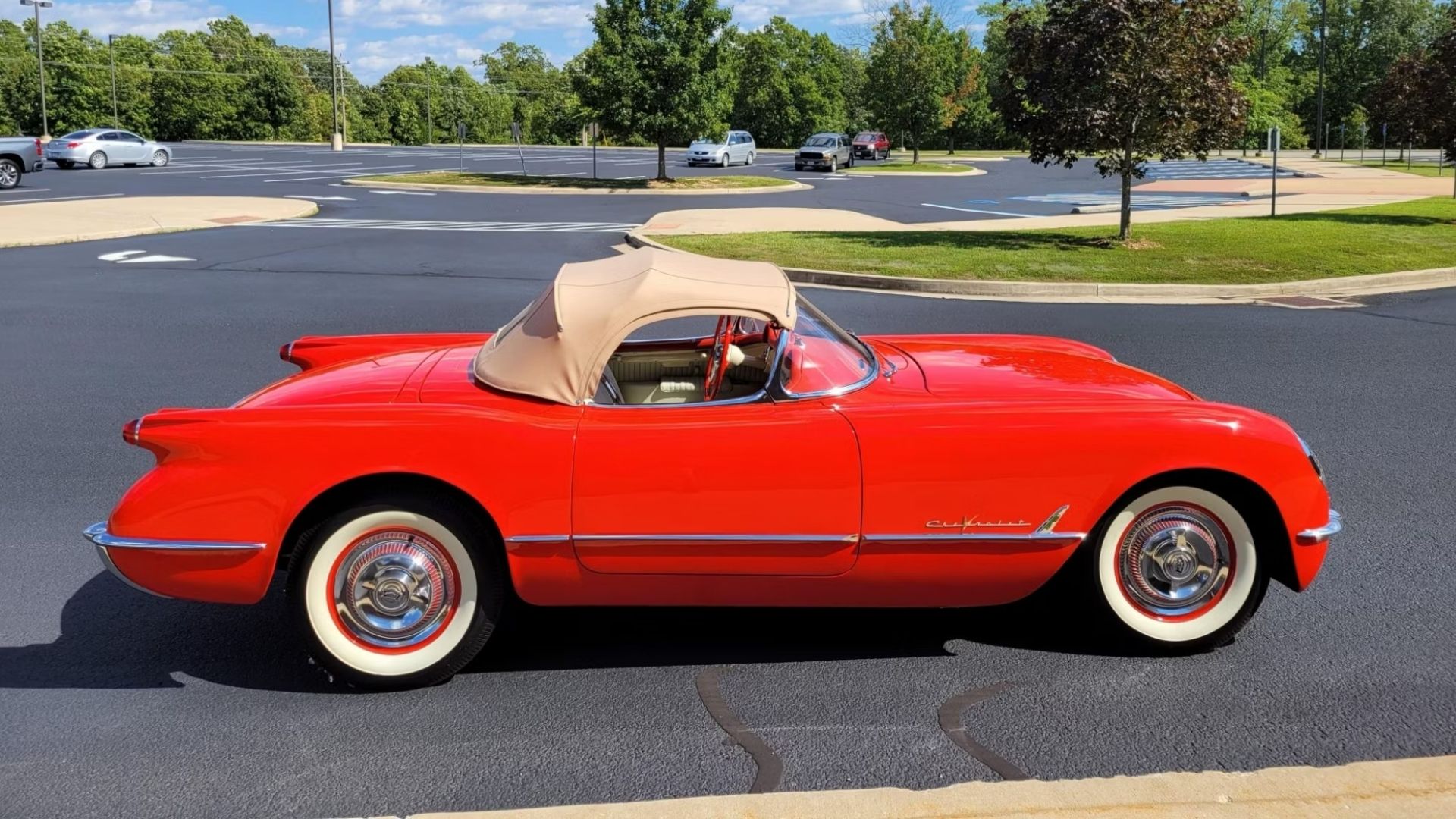 Side shot of a 1955 Chevrolet Corvette V-8 parked in a parking lot
Beginning with the birth of the original model in 1953, The Corvette debuted at GM's Motorama Show in New York to a less than impressive reception, a far cry from the legendary sportscar known and owned by millions today. The Original Corvette featured a 3.9-liter straight-six that powered a two-speed automatic transmission and made 150 horsepower. The Corvette was an all-American take on the popular British sportscars of the time, though it didn't exactly wow consumers in the beginning, as it wasn't built for touring, but also wasn't ready to compete with well-established sportscar models yet.
It wasn't until 1955 when Chevrolet dropped its first V-8 model into the line-up, and in 1957 they enlarged the V-8's displacement to 4.6 liters with available fuel injectors, putting out 283 horsepower. The Corvette as we know it began to take shape in 1963 when the first Stingray model hit the market. The 1963 Corvette Stingray featured split windows, and a sleek aerodynamic body design, with Chevy's 327 V-8 making 327 horsepower.
1963 also saw the first Z06 models produced by Chevrolet, dubbed the Regular Production Option (RPO) Z06, these performance models came race-ready to appeal to the racing community, which was starting to gain an interest in the new Corvette models. The Corvette Z06 model featured vacuum brake boosters, dual master cylinder, power-drum brakes with metallic brake linings, larger shock absorbers, and a larger front anti-roll bar. Over the years, Chevrolet refined and upgraded the Corvette, and was the fastest American car sold in 1976.
The High-Performance Z06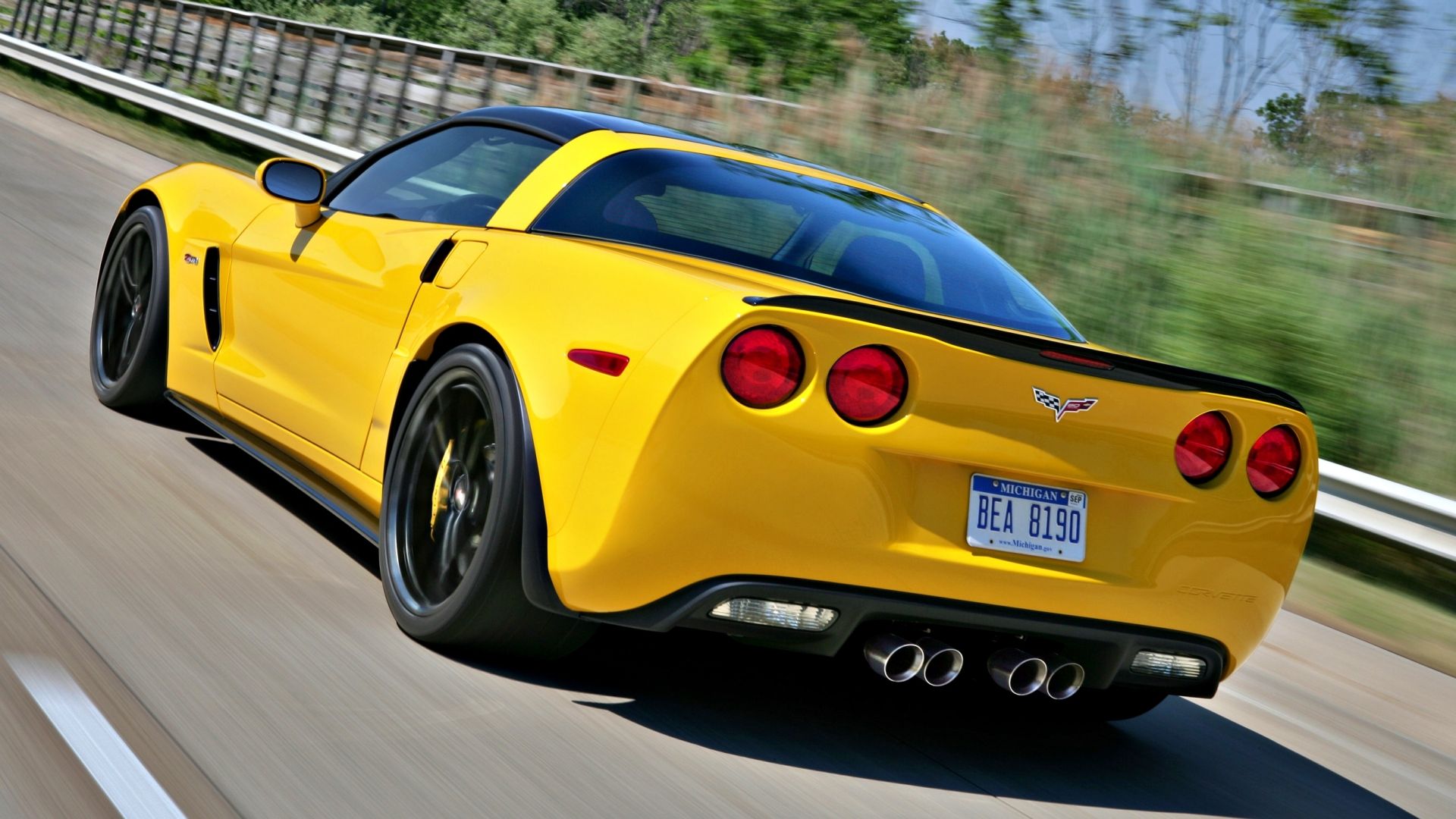 A rear 3/4 action shot of a Chevrolet Corvette Z06
After almost four decades, the Z06 returned in 2001 with a 385 horsepower V-8 engine and a lighter body than the previous 1999 C5 Corvette Coupe. Keeping with the Z06 tradition, the 2001 Corvette Z06 is a high-performance model that favors track and race tuning in its design and mechanics.
The Z06 that followwd with the C6 generation Corvette line-up in 2006, came with the standard fixed-roof body style, only this time it featured a lightweight aluminum frame and a host of other performance upgrades.
The list of modifications the C6 Z06 had over the standard car are:
Lightweight aluminum chassis, which reduced weight by 136 pounds over the stock steel frame.
A Wider front fender made of carbon fiber and the rear fender made of fiberglass.
Stiffer sway bars and suspension, with the rear suspension and sway bars, set up much higher than stock to take advantage of the wider body.
Lightweight forged aluminum front and rear wheels with 18-inch front wheels wrapped in wider 275/35ZR18 tires and 19-inch rear wheels wrapped with 325/30ZR19 tires.
Cold air intake scoops up front with a distinct front fascia, and functional front and rear air ducts for directing airflow to respective brakes.
Bigger brakes with 14-inch front rotors with 6-piston calipers and 13-inch rear rotors with 4-piston calipers.
A Front splitter and larger rear spoiler.
The 2006 Z06 model proved to be Chevrolet's most impressive Corvette up until that time, featuring Chevys latest LS-Series engine, the LS7, a 7.0-liter V-8 that made a whopping 505 horsepower. The 2006 C6 Z06 was able to achieve 60 MPH in 3.4 seconds and beat the Dodge Viper in Car And Driver's: Test where it took on a Dodge Viper SRT10.
LS7 Performance and Specifications
| | |
| --- | --- |
| Manufacturer | General Motors |
| Production Years | 2006-Present |
| Configuration | V8 |
| Displacement | 7.0 liters (427.8 cu in) |
| Power | 505 hp |
| Torque | 470 lb-ft |
| Fuel | Gasoline |
| 0-60 MPH | 3.6 seconds |
| Layout | Front mid-engine, RWD |
| Noteworthy Applications | Corvette C6 Z06, Z/28 Camaro |
RELATED: 3 Solid Corvette Alternatives To The Mighty Mid-Engine C8
The Corvette C6 Z06 Still Clocks In Impressive Track Times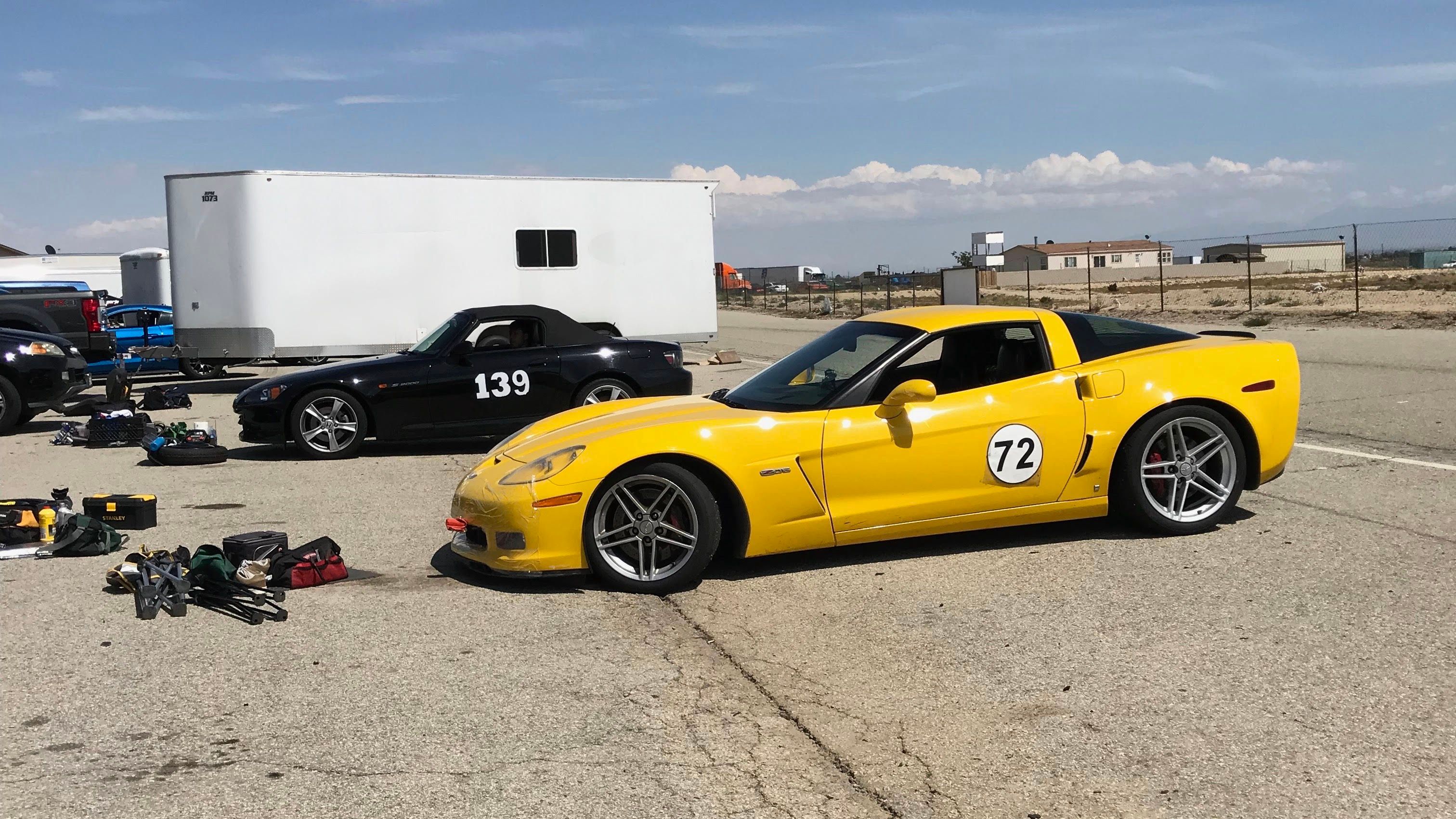 Yellow C6 Chevrolet Corvette Z06 and black Honda S2000 prepare for a session at the racetrack. 
At the Nürburgring, a famous motorsport complex located in Germany, the C6 Z06 conquered the track with an impressive time of 7:33, a very competitive time when compared to track legends including Porsche, BMW, Pagani, and Alfa Romeo. But if you think 7:33 is an impressive time today, the C6 Z06 was clocking in times as quick as 7:10 around the Nordshleife six years ago.
Similar Track Times Recorded At Nürburgring:
(Sourced from FastestLaps.Com)
Pagani Zonda – 7:33:00
Porsche 911 GT3 RS – 7:33:00
Mercedes-Benz AMG GTS – 7:33:04
Koenigsegg CCX – 7:33:55
Audi R8 GT (Mk I) – 7:34:00
The Z06 tackled the tight corners of Ring at speeds of 69 MPH while reaching speeds of 130 MPH on the straights. It's important to note that the C6 Z06 achieved these impressive times and speed in heavy traffic. There were upto 15 cars at the time of the recording. Regardless of the traffic, the Corvette C6 Z06 produces spectacular results and continues to raise the bar for not only what American manufacturers can achieve, but sportscar manufacturers worldwide.
The 2023 Chevrolet Corvette Z06 Makes History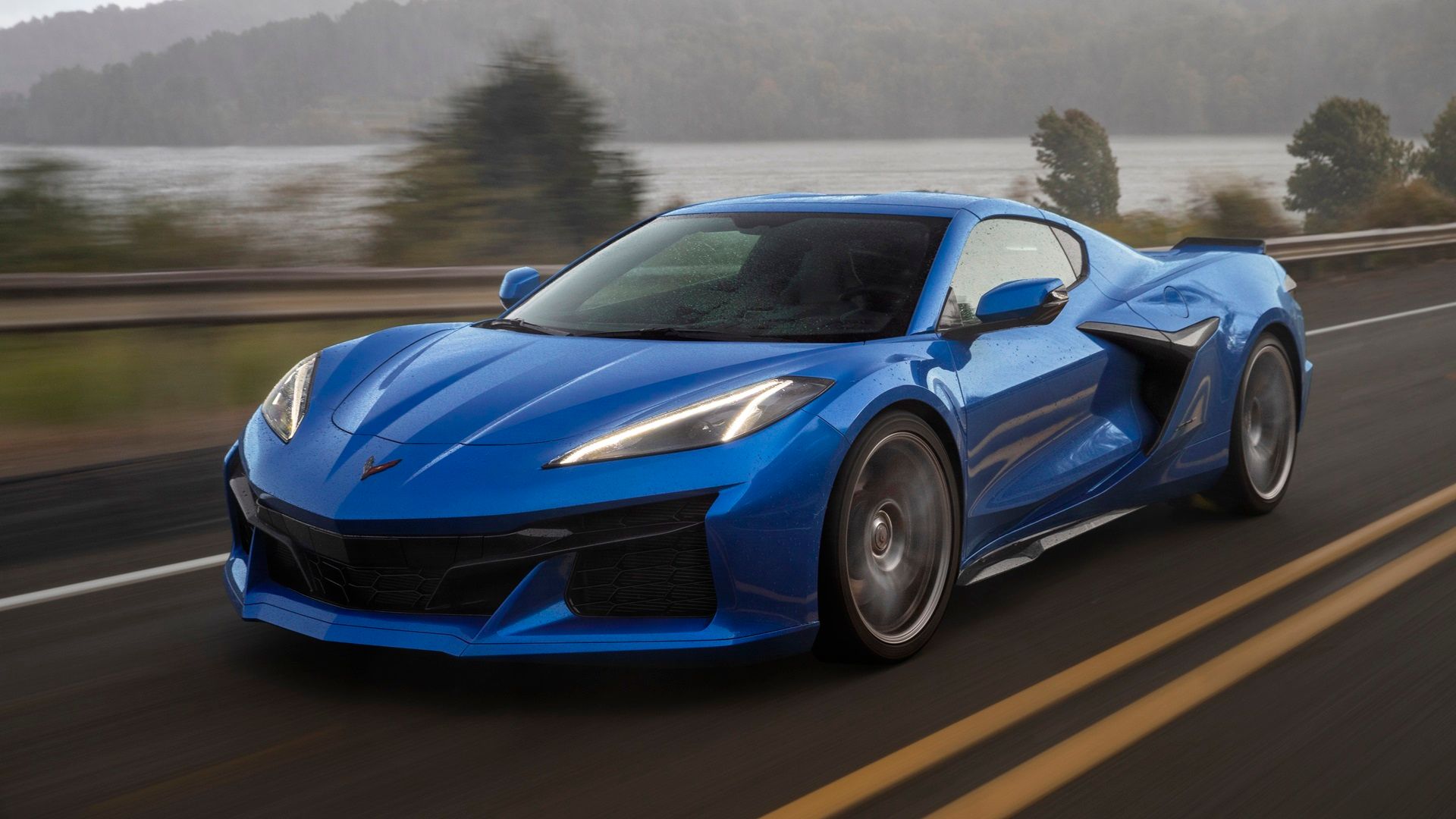 3/4 rolling shot of a C8 Corvette Z06
After the final front-engined Z06 in the form of the spectacular C7 Z06, the mid-engined 2023 C8 Z06 comes as the newest addition to the track-focused models of the Corvette, with race-ready tuning and specs. The Z06 appeals to race enthusiasts like the original Z06 did in 1963. The 2023 Z06 starts at $109,295.
The Z06 race-inspired version of the Stingray, with a wider body, bigger air intakes, and a unique rear wing, the Z06 boasts quicker reflexes and a more aggressive powertrain than the Stingray. The six-figure price tag may come as a shock to Corvette enthusiasts, but when compared to its European competition, the C8 Z06 is a fantastic deal for what you get performance-wise, according to Edmunds.
2023 Corvette C8 Z06 Performance Specs
| | |
| --- | --- |
| 0-60 | 2.5-seconds, 10.5-second quarter-mile |
| Top Speed | 186 MPH |
| Curb Weight | 3693-pounds (1675 kilograms) |
| Horsepower | 670 |
| Torque | 460 pound-feet |
| Layout | LT6, 5.5-Liter V-8, mid-engine, rear-wheel drive |
The eighth-generation Z06 features a naturally aspirated 5.5-liter V-8 engine that produces 620 horsepower and can launch the Z06 to 60 MPH in 2.6 seconds, and complete a quarter-mile in 10.5 seconds. The naturally aspirated engine produces a "Ferrari-like" roar. The EPA reports 14 combined MPG , which isn't much, but the upcoming E-Ray, the very first hybrid Corvette coming in the fall of 2023, is expected to blend performance with efficiency.
Also available is the Aero Package, which adds carbon-fiber exterior features including a front splitter and rear spoiler, as well as lightweight carbon-fiber wheels, making the Z06 an absolute force to behold on and off the track.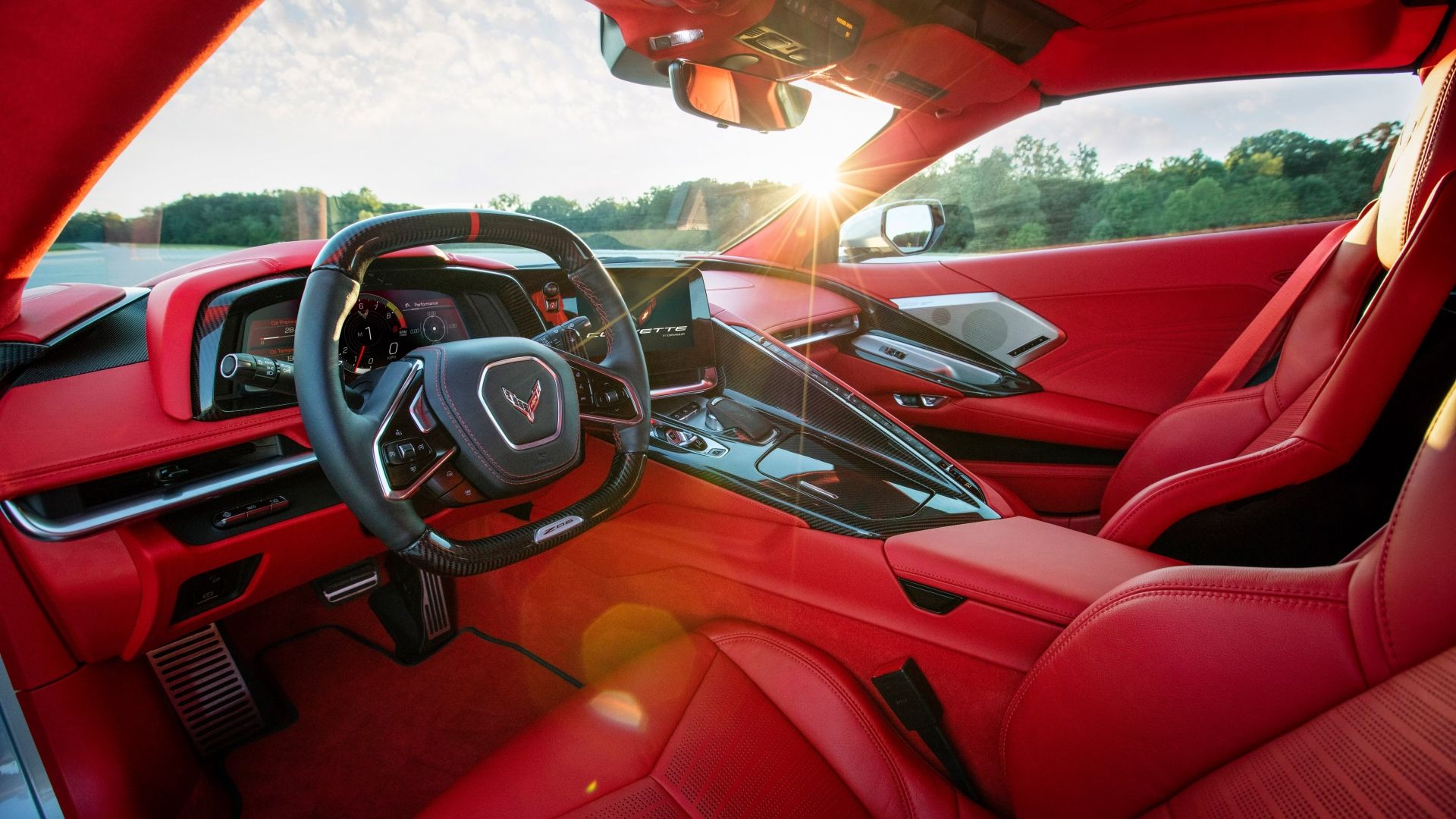 A shot of the C8 Corvette Z06's interior
The interior of the Z06 upholds the model's focus on track and performance, with the design set-up putting ultimate control in the hands of the driver. The 2023 C8 Z06 features Apple CarPlay and Android Auto, viewed on an 8.0-inch touchscreen with a head-up digital display and digital cluster.
The infotainment set-up also includes a Performance Data Recorder (PDR), which allows you to record track times, or track your commute. Heated and ventilated seats are standard on the C8 Z06, as well as 20-inch front and 21-inch rear forged aluminum wheels, with optional lightweight carbon-fiber wheels.
RELATED: 10 Things That Make the Chevy C6 Corvette ZR1 Better Than The C8 Corvette
70th-Anniversary Edition Features
2023 marks the 70th anniversary of the Corvette, and to celebrate the occasion, Chevrolet unvieled a special Corvette 70th Anniversary model. Starting at $83,840, buyers will have a choice of two unique colors, white pearl metallic, or carbon flash black, as well as optional satin black or satin gray racing stripes.
The 70th-anniversary edition also includes special wheels, competition sport racing seats in Chevy's unique Adrenaline Red color scheme with red stitching throughout, as well as red brake calipers and engine cover. The 70th-anniversary edition received its own special Corvette badge, which is displayed throughout the stunning vehicle. The latest Corvette Z06, as well as the Stingray, have earned a spot on Car And Driver's 10 Best Cars of 2023, and rightfully so, impressing all who find themselves behind the wheel of one of these formidable machines.
Google Ads