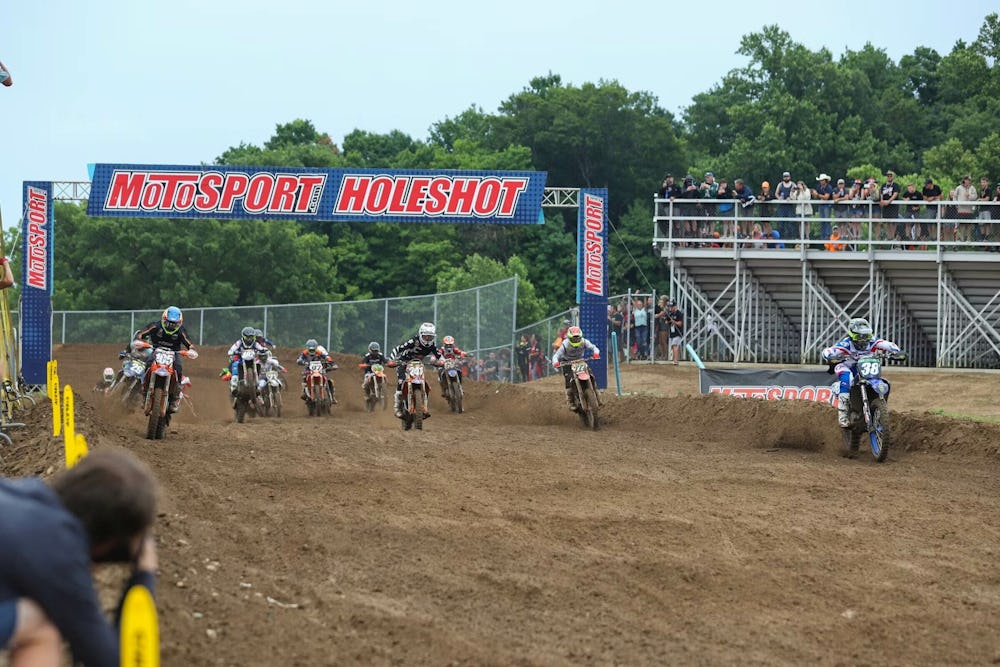 Several riders that have passed through the MX Sports Pro Racing Scouting Moto Combine are now full-time racers in the pro ranks: Ryder DiFrancesco, Haiden Deegan, Chance Hymas, Talon Hawkins, and Carden Braswell. Matti Jorgensen, who competed in the Scouting Moto Combine event last year, made his pro debut at the High Point National and is set to race his second pro race again in Michigan this weekend. DiFrancesco, Deegan, and Hymas have all won at least one moto combine moto and overall at the events in 2021 and 2022.
Google Ads
And this weekend's Scouting Moto Combine entry list will be a stacked field! There are a dozen or so names to watch on Friday: Enzo Temmerman, Trevin Nelson, Krystian Janik, Leum Oehlhof, Logan Best, Drew Adams, Preston Boespflug, Julien Beaumer, Noah Viney, Noah Smerdon, Ryder McNabb, Casey Cochran. Viney, who finished 1-1 for the overall win at last year's final Scouting Moto Combine event last summer (at Fox Raceway) is the only returning race winner to this weekend's event. Cochran raced the '22 RedBud combine event aboard a Husqvarna TC 125 two-stroke. The B level, 16-year-old rider claimed the 2023 AMA Supercross Futures Championship in May in his first year aboard a 250F machine. Temmerman, Janik, Oehlhof, Best, Smerdon, and Adams are fast youngsters for their ages. Beaumer, now a member of the KTM Orange Brigade team, has really taken a leap up compared to a year ago at this point. Best is working back from injury in his first year aboard a 250F. McNabb is a fast young Canadian rider, as he claimed the 2022 250cc Canadian Pro Motocross title.
Missing from this entry list are Daxton Bennick (who is making his pro debut in the 250 Class on Saturday), aforementioned 17-year-old Jorgensen (racing the 250 class as a pro), and Avery Long (recently suffered an ankle injury and focusing on Loretta Lynn's).
#12 Parker Ross / Elk Grove, California / Honda
#17 Cole Davies / Waitoki, New Zealand / Yamaha
#21 Enzo Temmerman / Visalia, California / Kawasaki
#22 Flynn Watts / Pukehina, New Zealand / Kawasaki
#25 Trevin Nelson / Eyota, Minnesota / Yamaha
#27 Krystian Janik / Oak Lawn, Illinois / Kawasaki
#28 Preston Boespflug / Battle Ground, Washington / KTM
#29 Julien Beaumer / Lake Havasu City, Arizona / KTM
#37 Landin Pepperd / Wasilla, Alaska / GASGAS
#41 Nate Freehill / El Dorado Hills, California / Honda
#43 Noah Viney / Morgan Hill, California / Honda
Google Ads
#44 Noah Smerdon / Glass House Mountains, Queensland, Australia / KTM
#64 Ryder McNabb / Minnedosa, Manitoba, Canada / KTM
#66 Casey Cochran / Arlington, Tennessee / Husqvarna
#73 Jace Allred / Riverton, Utah / KTM
#97 Tristan Dalton / Saint Joseph, Illinois / KTM
#105 Mark Fineis / Westfield, Indiana / GASGAS
#121 Lucas Geistler / Newark, Illinois / KTM
#132 Leum Oehlhof / Oak Hills, California / Yamaha
#206 Logan Best / Bourne, Massachusetts / Yamaha
#300 Drew Adams / Chattanooga, Tennessee / Kawasaki
#451 Ryder Thompson / Valparaiso, Indiana / Honda
#800 Preston Masciangelo / Brantford, Ontario, Canada / GASGAS
#826 Talan Zollers / Batavia, Illinois / Yamaha
How can you follow along? If you are at the facility, find a spot along the fence on Friday. Pro Motocross will have live timing up and running during the day and you can check out this American Motocross event page for the final results from the day.
The 2023 RedBud Scouting Moto Combine event will be recorded for a broadcast later this year via MAVTV. Stay tuned to the Pro Motocross social media accounts. And several members of our Racer X Online team will be on hand during the event, follow along with us on Twitter this weekend: @RacerXOnline, @KellenBrauer, and @Mitch_Kendra for some instant news from the track, and stay close to our YouTube Channel as well for some video edits, on top of photo and written recaps.
Google Ads