«It's easy to dissolve a relationship with a nameless person.» —John McGee, 2022 Overdrive Small Fleet Champ in the 11-30-truck division
When he said the words above, John McGee was talking about the reality he's built around himself, his family and his 20-plus-strong crew of employed truck drivers in North Central Louisiana. «When our customers pick up the phone» to send a job their way, he said, they're banking on the fleet's reputation, built over nearly two decades now, for dependable service. McGee's is history of safety and a commitment to longtime operators, hauling production water from oil wells sites all around the region.
Google Ads
«It's 100% relationship,» the small fleet owner said. From his years with just his own truck on up to today, he's always taken a direct approach to showing respect to people. «I don't want anyone to refer to any of our drivers as a truck number,» he said. About Edward Jackson, one of his top drivers, for instance, he added: «Every day, people call me and say, 'Can you send Edward?»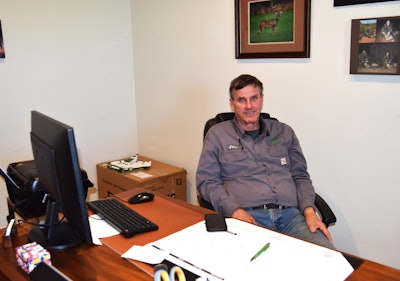 A personal touch with customers and operators has served McGee to ride what's been an exceedingly good period for oil and gas production all around the United States, as far as he can tell. His Louisiana area, as well as some wells serviced in the Haynesville Shale nearby at the Texas line, has been producing such that, since around the time of the 2016 election, «I've had to turn down work,» McGee said. «Knock on wood» that continues.
And that's even with doubling the fleet's size over the same period, part of what garnered McGee the 2022 Small Fleet Champ recognition. Take it a little farther back to 2013, and JMT was just McGee himself and two employed drivers, McGee running the rigs, doing the maintenance and conducting the operation straight out of his home.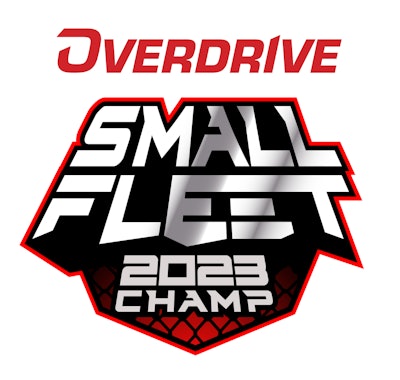 «I had a barn at the house,» he said, with a circle driveway that allowed enough space to bring in a tractor and «back in, a little shop inside the barn,» though he did most «work on the trucks in the gravel driveway, battling the fire ants and the red mud.»
Back then, his son Lucas, now in his 20s, «worked for me in the afternoon and during the summers,» McGee said. He remembers telling Lucas «before I die, I want to have a piece of concrete and a roof over my head to work on these trucks.» It's been a long road there, but Small Fleet Champ John McGee has most certainly arrived. 
Ice cream delivery to log hauling and beyond
McGee got his start hauling logs after marrying into a family of loggers. He'd been delivering ice cream for the Schwan's company «to residents and small stories,» he said, when the brother-in-law wanted him to «haul the wood he was cutting.» McGee bought his first truck, a 1980s-era R Model Mack, in 1991. He worked with his brother for four years, then stuck with logging through much of the 1990s.
«In the end we were cutting utility poles out of the woods,» McGee said, for some of the «best money I ever made with a truck myself for about two years.» At once, a lot of it was dependent on «ice storms and tornadoes for business» that felled trees suitable to cull.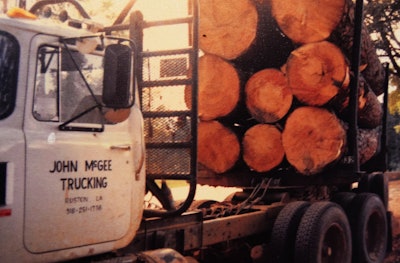 The company he was doing much of that work for kept them on a pretty tight quota, and McGee, casting about for new business in the early part of this century, decided to lease to a friend who was doing what JMT does today, «hauling water in the oilfield,» he said. 
The area around Ruston where McGee lives (amid rolling hills and homes and farms and everything else) is peppered with oil and gas wells. «I've lived my whole life in the middle of this gas field and never realized this was going on until we started doing it,» he said. Some of the wells his company still services today «were produced in the 1940s and '50s.» 
His move to oil-services hauling would prove prescient, as he inherited some of the business after the friend got out and McGee obtained authority in 2010. Activity, meanwhile, among well operators was increasing. In the last couple of decades, with well operators' growing ability to control higher injection pressures, «there's a lot more activity,» McGee said. And «when they started doing the horizontal drilling … a little further to the west of us in the Haynesville Shale area, back toward Shreveport … now they're running probably 400 trucks a day over there around the clock with all the different contractors.»
McGee has some trucks among them, including two late-model Mack Anthems outfitted with sleepers to allow the operators to effectively stage away from their home areas. The rest of his trucks are Mack Pinnacle daycabs, the most recently delivered of them featuring Mack's engine and automated manual transmission pairing like the rig featured in this Overdrive Radio edition on a run with McGee operator Edward Jackson.
Google Ads
All of McGee's operators live in his general area, and the two who work the Haynesville Shale are typically «all the way over on the Texas line» 100 miles or more from the Simsboro, Louisiana, shop. With the sleepers, «they can rest and come back and fuel up,» he said. 
That's right, after finally getting that concrete and the roof over his head to work on the trucks when he built the current JMT 7,000-square-foot headquarters in Simsboro, McGee's now buying bulk fuel from a jobber he rents the on-site tank from for a penny a gallon. It's among the benefits of all the growth since 2016. That year, he worked closely with Volvo/Mack dealer Tuckers Truck in El Dorado, Arkansas, to put in place a growth plan that could be sustained and keep the fleet under warranty in perpetuity, to find «the sweet spot on truck value» for resale, too. The strategy's increased uptime for what's become a 24/7 business.
With that and full-time shop leader and mechanic Lane Bryant, «we don't really have much downtime anymore,» even with occasional visits for warranty work a half-hour up the road to El Dorado. When Overdrive visited McGee's shop in late January this year, he was beginning to see some progress from Mack on getting out from under the pandemic-induced production backlogs that had certainly wrinkled his truck-replacement plan. And he's now taken delivery of all 2021-placed orders.
Now «we get to start working on the 2022» orders with several units on the yard reaching the end of their five-year warranty terms. Given all the site work McGee operators do, all the rigs are well under the 400,000 miles limitation of the warranty, but the plan had been to trade them back in at four years and around 300,000 miles. In January, he was staring down the need to replace 7 power units before the end of 2024. He's got his fingers crossed for production.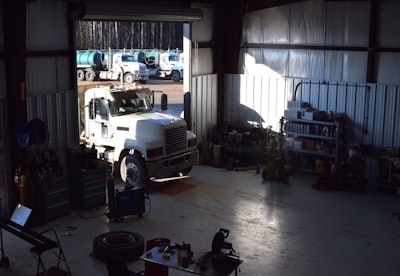 Reaping the benefits of persistence, honesty, growth
He's also looking forward to next year for another reason — the opportunity to capitalize on another benefit of growth.
In 2019 he joined a captive insurance program administered by the eMaxx company. Using telematics with hardware and software from Samsara, including road-facing cameras, eMaxx and McGee office staff utilize safety-scoring metrics for each McGee operator and deliver safety bonuses in part based on that scoring. With the new system fully in place, last year, McGee tripled the safety bonus. «It's based on five different things,» including pre- and post-trip inspections — McGee and staff hide items on the truck from time to time that operators should find if they're doing thorough inspections — something 2021 Small Fleet Champ Jason Cowan's Silver Creek Transportation also does. Other elements include well-site safety, «working with our customers,» he said, «just trying to reinforce the value of doing everything right.»
The telematics system helps deliver a driving score from eMaxx — members of McGee's back-office team, which includes his wife, Brenda, work to correctly assign the scores, given McGee's got operators sharing trucks on overnight and day shifts. At the end of every month, the safety bonus amounts to an extra $300.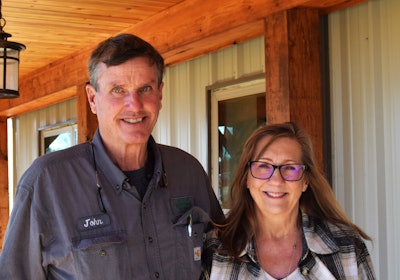 With these elements in place for a couple of years working with eMaxx as a part of a group of around 50 similarly situated fleets, eventually he hopes to reap the rewards in the cost of insurance. «Every year our insurance has gone up,» he said. «From 2020 to … when we renewed in 2022, it went up almost 35% with zero claims. It went up just a little bit last year, and this year it's supposed to stay the same,» marking the end of the third year as part of the captive program. For the fourth year, he said, «we'll start getting credit on our safety,» worth as much as 40%. «Starting next year we can start recouping» with the discount, he said. 
Savings will deliver better profits, further growth opportunities, and, perhaps most important for McGee, ability to continue to deliver for the company's employees, particularly its operators.
«For the full year of 2022, the least any driver made was $71,000-$72,000,» he said. Drivers are hired on a four days on, two off, or six on two off schedule, and as has been noted elsewhere all are paid hourly plus time and a half after 40 hours in any given week. «Most shoot for a 12-hour daily» work shift, building 16-20 hours of overtime weekly. «Some will push it to a 14-hour day.»
McGee's top driver hauled in more than $130K in 2022. His own son, Lucas, though he does work «in the shop a little and he'll dispatch when I'm off,» McGee said, ended the year himself just shy of $100K, joining four or five others who did the same last year.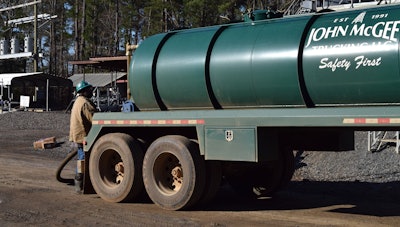 The 24/7 nature of the McGee operation has been working well for the customer base, with five designated night drivers and almost 20 staggered throughout the day. «We've got enough people now,» McGee said, to cover 60-some weeks of vacation taken by one or another throughout the year, as demand for the fleet's work continues to build.
«Right now, we've got a customer who wants 10 trucks a day,» McGee added. «We give them all of our excess — on the best day, we could give them four trucks. … That's work that we're not able to do» but is out there waiting and available. «I attribute it to the guys that work for us.» More than anyone else, they're responsible for «our reputation. There are bigger companies with a better benefits package, and our guys could go there, but they choose to stay here. We've got some of the top guys» in the area. «The company wants the water hauled, but the last thing they want is an accident or a spill. You can do it cheaper, or quicker, but can you do it safe, every day, every time? That goes back to the quality of the driver.»
And the management. JMT's relationship with that excess customer harks back to when he'd first moved to the Simsboro shop and was sitting at seven or eight trucks, but ever with an eye toward setting himself up for future success. «We were competing against companies with 40-50 trucks,» he said. While there was no way «we could keep up with the water» produced by the customer all by themselves, he took this approach: «Just give us the scraps — whenever somebody can't handle it, we'll come in here and finish it up. That's how we started with them.»  
Now, JMT's reaping the benefits of staying reliable, staying safe, staying honest — that's how the fleet's kept that customer. 
[Related: A new era for CAP Trucking, 2022 Small Fleet Champ]
Google Ads