Well just like the title says, this is my attempt at a build thread. (disclaimer- I am in no way a professional photographer nor journalist, don't want to be. I know the pics aren't all that great, but its what I've got so hope you enjoy) feel free to post a comment whether you like the thread or truck or just dont like anything, or maybe you have an idea/suggestion, cuz I would love to hear it all. Anyway, on with the thread…
Google Ads
How it sits today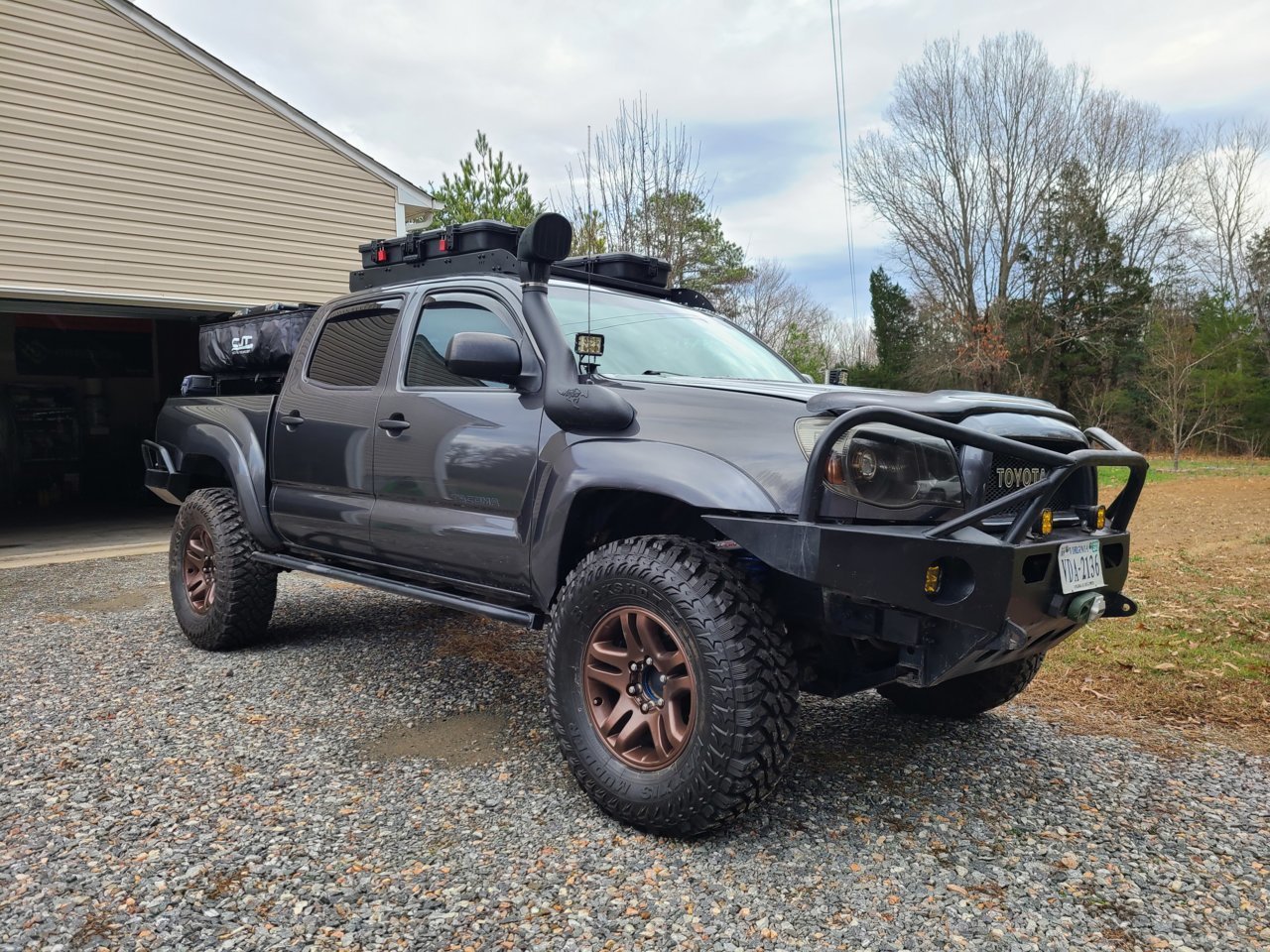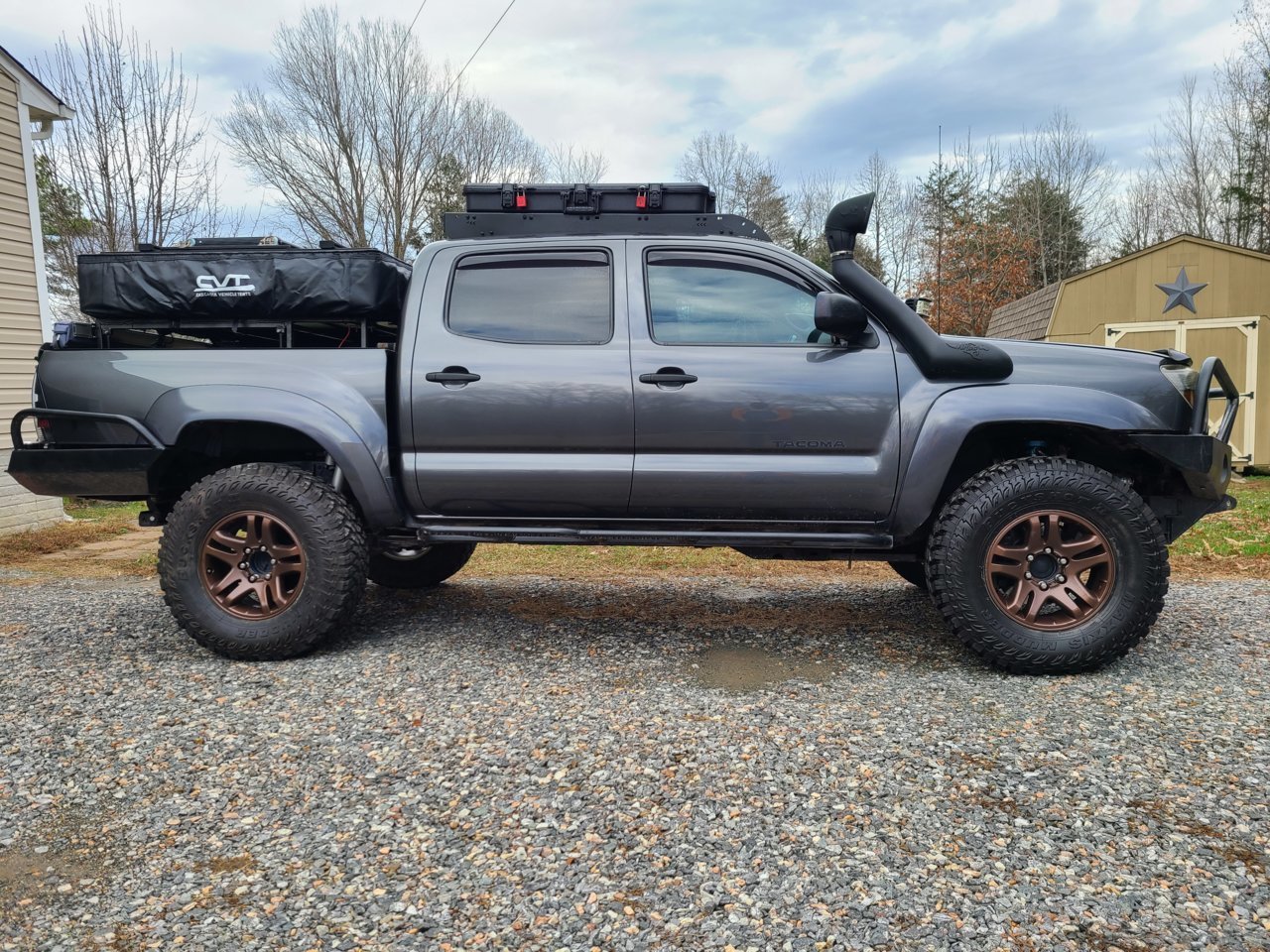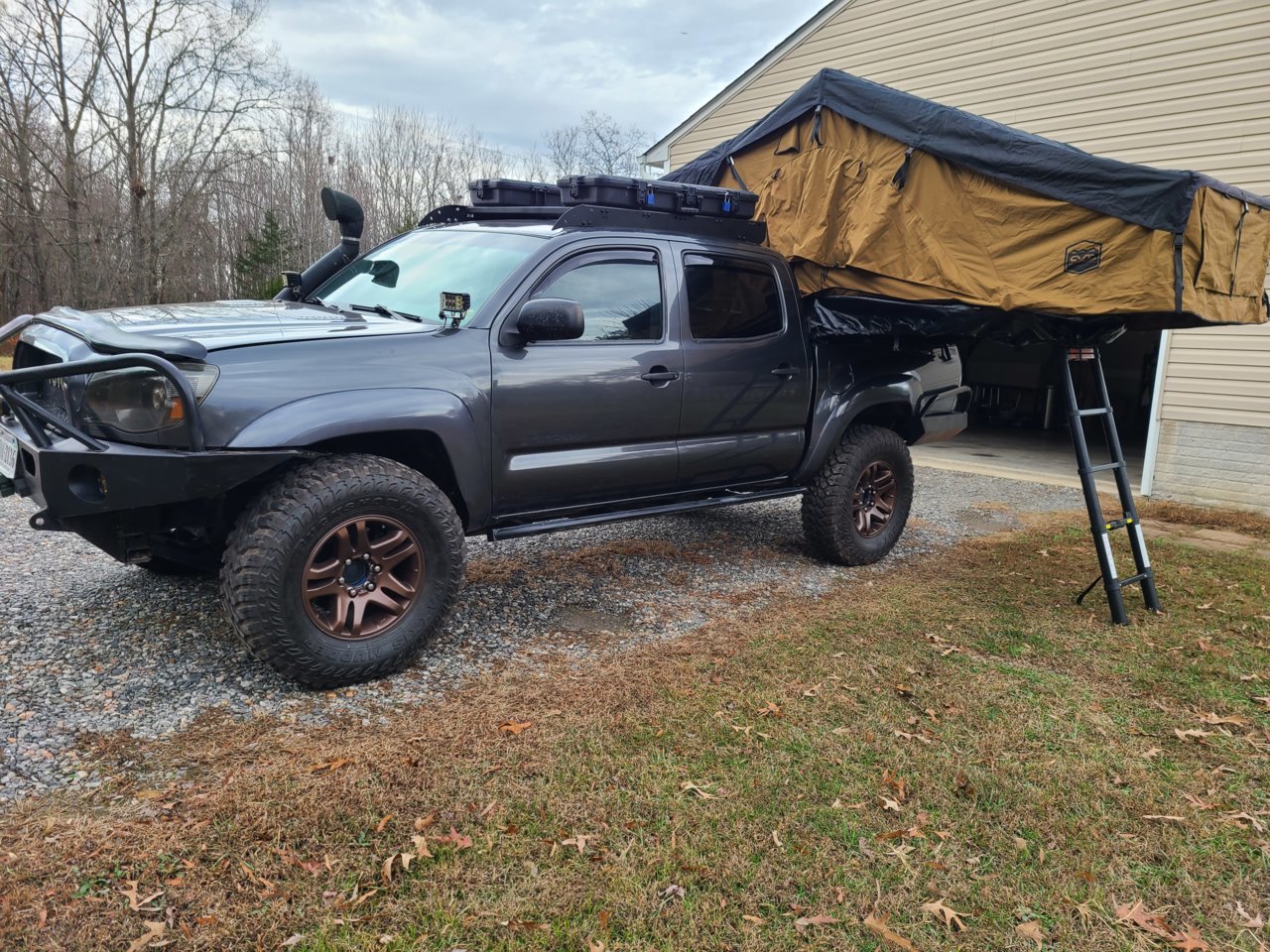 mods done so far
susp-
(front) King 2.5 extended travel remote reservoir coilovers, Allpro 1.25″ tubular uniball UCA's, invisible sway bar mod, Front Superbumps, gusseted spindles, rebuilt/rewelded and gusseted stock lca's with whiteline poly bushings and new Moog balljoints, TC cam tab gussets
(rear) Hammer Hangers ver. 3.0, Archive Garage 3.6 shackles, Archive Garage ubolt flip with speed bumps, Deaver U402 stage II leaf springs, Archive 2.0 shock relocation, Fox 2.0 performance series remote reservoir smoothies, Kartek limit straps
Bilstein 5110 dakar leaf pack w/ second overload leaf removed, All Pro u-bolt flip kit, ATO shackle flip, XJ shackles, Superbumps removed
engine/drivetrain-
Home made exhaust system with rerouted crossover, Vibrant 2.5″ ultra quiet resonator and Magnaflow 18″ muffler using 2.5″ mandrel bent stainless steel exhaust builder kit
rerouted crossover with Vibrant bottle style resonator, Magnaflow 14″ muffler homemade exhaust system made from a 2.5″ mandrel bent stainless steel builder kit removed

Airflow snorkel
4.56 Nitro gears
ARB air locker in rear
Ebc stage 5 front brake kit removed
4runner front brake conversion with stop tech slotted rotors and Hawk LTS pads
URD Spec-U LT headers
FJ Cruiser manual transfer case swapped in with factory j-shift
CSF radiator with Mishimoto 160 degree thermostat
wheels&tire-
17″ Toyota Sequoia wheels (custom color rattle can paint job) with 285/75r17 Nitto Trail Grapplers removed
285/75r17 Maxxis Buckshot Mudder 2's
lighting-
New HEADLIGHTS
Retrofitted (done by @Coot83 ) FXR's with 5000k lamps and morimoto ballast kit
OLD HEADLIGHTS
MGMHLM (done by @TacoAlaMode)
PIAA Xtreme white headlights
Nokya 2500k fog light bulbs with amber laminx film on stock fog housings removed
Diode Dynamics SS3 Pro fogs in selective yellow
Baja Designs amber Squadron Sport in driving/combo pattern
@tacodane led rock light strips
Fish eye style LED'S mounted in the front bumper wings and rear bumper for rock lights
Additional fisheye LED'S and cheap horizontal Amazon LED pods used in bed rack for toolbox/bed/tailgate illumination
other-
satoshi'd grill (courtesy of @TacoAlaMode) with 70's LC emblem
DeeZee 37″ black chest style toolbox
ImMrYo Rear-view mirror lift bracket
Ultraguage with transmission temperature program
Weathertech bug deflector
Weathertech digifits
Weathertech window visors
SS ext brake lines(front & rear)
Redline hood struts & tailgate ez-down
diff breather relocate
@rcbs204 4×4 illuminated switch (removed bc no more switch!)
fake leather seatcovers front and rear
Mag light mount
Cobra 29 lx cb with 3′ Firestik II antenna
OEM roof rack (removed for a homemade/copy of a knock off prinsu)
color matched engine cover
homemade hi-lift mounts utilizing bed track system
CV boot slide mod
KB Voodoo tailgate cap
@ruggedT side Tacoma badges and custom sized Toyota on the tailgate
KB Voodoo side rail caps
Cab mount chop to more than clear 34's
@Iggy. Switch panel with OTRATTW switches
@Mobtown Offroad tailgate skin
Custom/homemade bedrack with CVT hybrid series Shasta with extended fly and annex rtt and ARB 4ft awning mounted
Sound deadening installed in all 4 doors, floor and rear wall
Soundproofing foam now installed on all doors, floor and rear wall
Kicker CS speakers in rear doors removed
JL C2 speakers in rear doors
infinity reference components removed
JL C2 components in front doors
Alpine power pack amp
Kenwood excelon head unit
Blue Sea aux fuse block with 150 amp breaker and common connection point auxiliaries. Also 2 waterproof relays.
Run Cool aluminum hood louvers
body armor-
Relentless ifs skid
Relentless transmission skid
Relentless transfer case skid
Brute Force Fab plate bumper with factory fog cut outs and Now with multi hoops and winching reinforcement plates
Custom/homemade HC rear with swing out and 16 watt pods for reverse lights and relocated back up camera with the @Pelfreybilt bracket now with full length tube frame added to the swingout to support a homemade jerry can holder and fold down table/cutting board
Custom sized/self made sliders with kick outs.
Google Ads
recovery gear-
Engo SR12000 winch with @SoutheastOverland amsteel blue (in charcoal gray)synthetic line and factor55 flatlink E (solenoid box relocated to passenger side fender wall with upgraded 1/0 wire, wireless remote wired in solenoid box, on/off switch for remote receiver wired in cab to prevent accidental winch movements)
Smittybuilt snatch block
60″ Hi-lift
Trail Shovel
3 1/2 lbs single bit axe
8lbs short throw sledge hammer
(2) 3/4″ ARB shackles
(1) 7/8″ Crosby shackle
12 volt Harbor freight high volume air compressor
3″x 20′ Wheelers recovery strap
3″x 12′ Wheelers tree strap
7/8×20′ @SoutheastOverland Kinetic Recovery rope
@SoutheastOverland CV axle puller
Accu gauge EZ deflator
ARB CKMA12 compressor with the inflate kit installed in toolbox
Self sourced 10lbs CO2 tank setup
planned mods-
A few more do-dads I'm sure. Maybe even a thinga-ma-jig or two.
How it began –
well I got an '11 dcsb sr5 4×4 on Nov 19 and picked it up from the dealer on Nov 21.
this is pretty much how it looked straight off the lot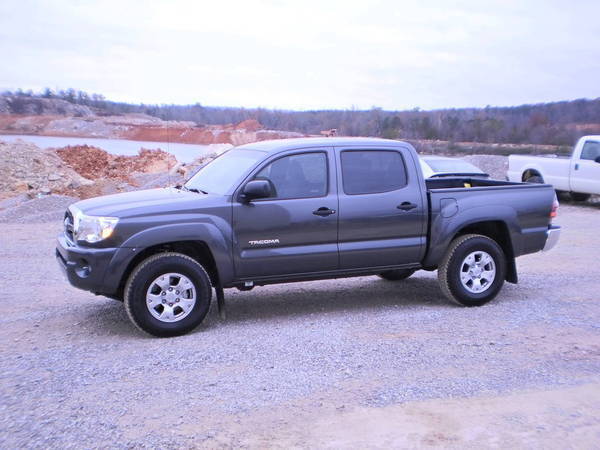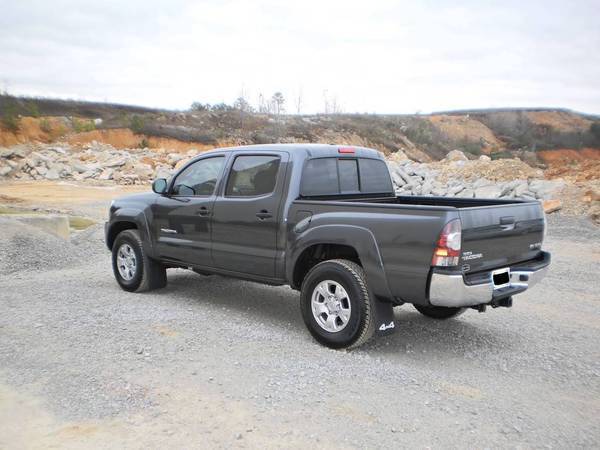 that weekend i installed my flowmaster cat back system on it.
then a few weeks later i was able to put my lift and new headlights on. I went back to the OME 885's with the nitro 90000 shocks and LR UCA's then 1.5″aal with the OME N182 rear shocks. the headlights are just factory «smoked» trd lights. While i was swapping lights i went and put in my nokya yellow fog light bulbs and a set of PIAA Intense white headlight bulbs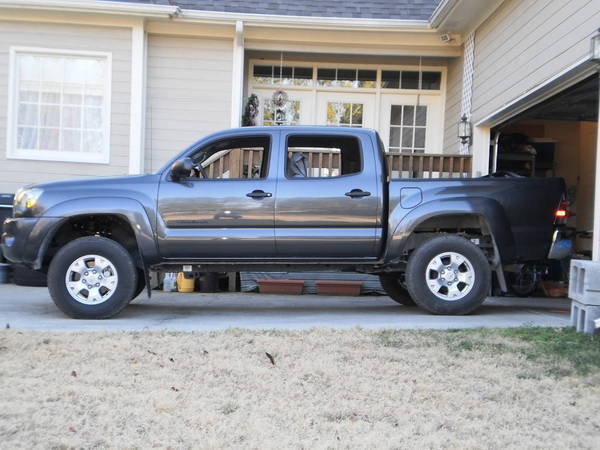 A HUGE AND SPECIAL THANKS TO TacoAlaMode and SuthrnTaco for the help with the lift install and light swap.
Then Christmas came and I got a few presents, one from my wife and one from myself,


(this is the one from myself Thanks Dustin from FN wheels)
I decided before i messed with the stuff in those boxes i needed to get what little body armor i already had installed so i went to a buddy's house and welded on my all pro sliders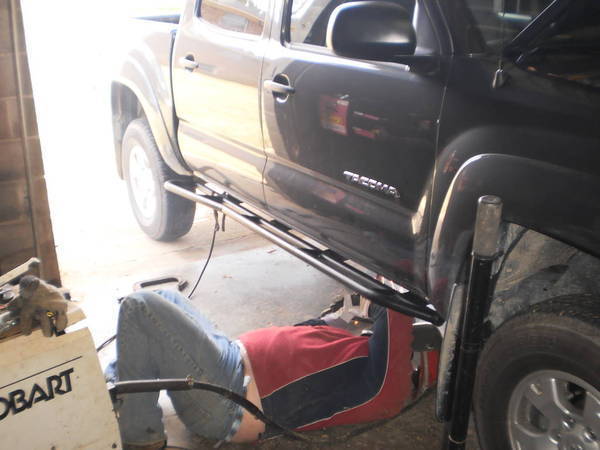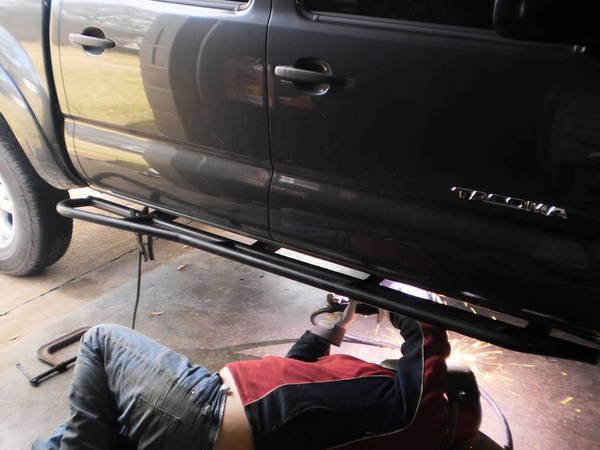 (pics are of my buddy welding not me)
After that i just got busy mounting everything, my bullbar and PIAA 520atp's, my weathertech bug deflector (my Christmas present from my wife and a must for AL highway driving), set of duratracs on my new wheels and the toolbox i got from Davtopgun
so this is how she sits for now and prob for a while, wife says ive spent enough money and time on the truck for a while…..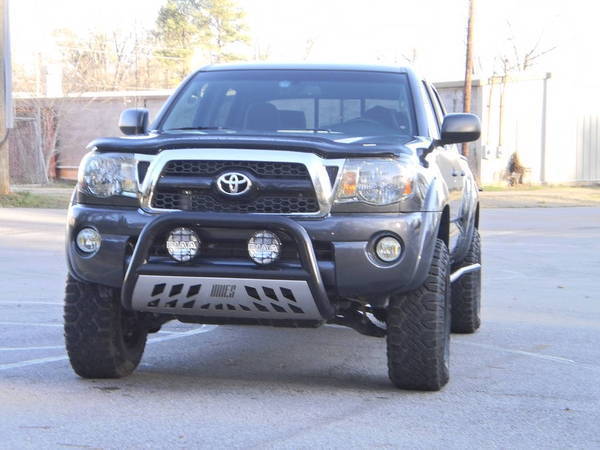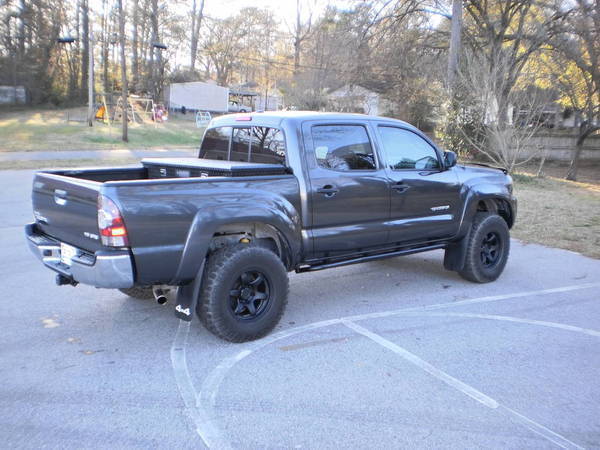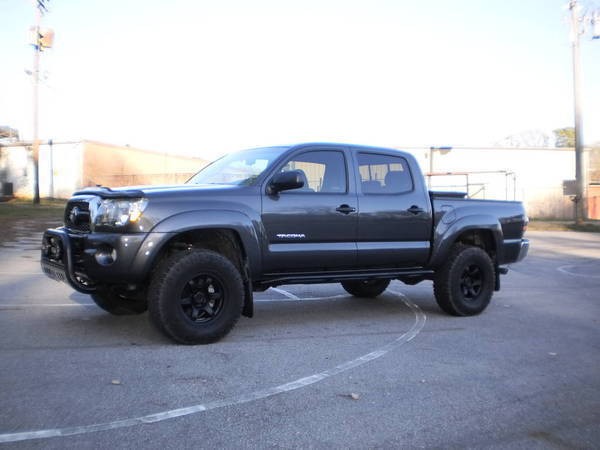 Maintenance notes
Rear diff and transfer case oil change ~ 25721 (3/27/14)
Front and rear diff plus transfer case oil change and antifreeze drain and fill 70,736 (10/29/17)
Rear diff oil changed 75,628 (4/17/21)
Google Ads