If you want to buy American, it's hard to argue with buying a Tesla. Once again, Tesla sits at the top of the annual American-Made Index from Cars.com. Tesla took the four top spots on this year's list, which features every single one of its EVs — making it the rare automaker whose entire lineup appears on the list of the most Made-in-America cars.
Google Ads
Tesla's Big Discounts Worked, Sort Of
The 2023 American-Made Index compiles data from Cars.com and the National Highway Traffic Safety Administration, among others, to rank vehicle models on five criteria: location(s) of final assembly, percentage of U.S. and Canadian parts, country of origin of the engine, country of origin of the transmission, and U.S. manufacturing workforce.
Based on that specific formula, Tesla swept the top four in 2023. This is the third year in a row that Tesla tops the index, according to Cars.com, which lists the top ten models in its American-Made Index as follows:
Tesla Model Y
Tesla Model 3
Tesla Model X
Tesla Model S
Honda Passport
Volkswagen ID.4
Honda Odyssey
Acura MDX
Honda Ridgeline
Acura RDX
The list ranks 100 models overall, but the top ten account for the crème de la "cream" — to put it into more American-like terms. Despite Tesla's entire lineup appearing on the list, however, General Motors, Toyota and Ford still have the most cars on the full 100-model list.
GM had 18 models across its brands, which include Buick, Cadillac, Chevrolet and GMC. Toyota had 13 models on the list, taking into account both Lexus and Toyota. Honda had 13, too, accounting for Acura models. And Ford came in with 13 models, including those from Lincoln. While Tesla took all four spots based on the ranking formula that Cars.com uses, it seems Tesla has a relatively low number of models represented in the list — the caveat being that it's the full Tesla lineup.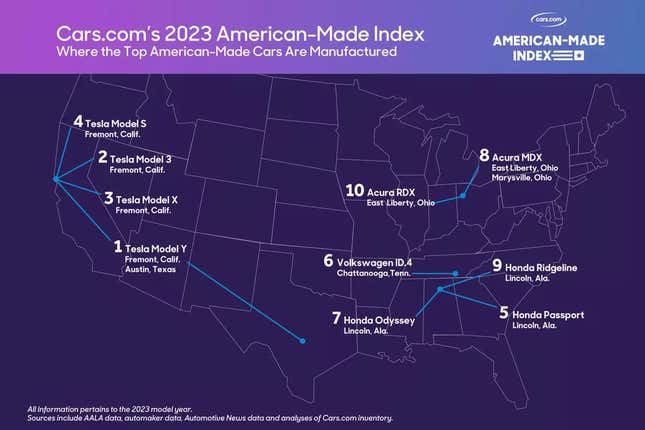 This also puts into perspective the concept of "Made In America," given the production issues Tesla is infamously known for. That "American-made" badge is usually associated with higher production quality, and, subsequently, higher costs. The two don't seem to go hand-in-hand in Tesla's case, but buyers are often willing to overlook higher prices in favor of domestic production, as Automotive News reports:
Despite a hostile economic environment, however, 70 percent of in-market shoppers said they would be willing to pay between 10 and 30 percent more for a vehicle that keeps jobs in the U.S., Cars.com's survey of in-market shoppers, fielded May 24-30, found. About 38 percent of in-market shoppers said they would only consider a vehicle from an American manufacturer.

"These shoppers do see the value in having cars built in their communities and understand the importance that these jobs have to their local economies, their regional economies and the broader U.S. economy," Newman told Automotive News.
Tesla's panel gaps and shoddy build quality notwithstanding, the American EV maker can boast of mostly domestic provenance despite EVs still relying on foreign countries for their critical components and their production. Electric cars are seemingly going to push up through the index rankings as Tesla and Volkswagen show.
That's ostensibly the point of the Inflation Reduction Act, which aims to bring auto sourcing and production back to the United States. Major carmakers are still holding on strong with ICE-equipped models making up the majority of the list, but EVs are slowly gaining ground. In 2023, a total of 22 hybrid and fully-electric cars made it onto the list, and more are expected to do so in the next couple of years.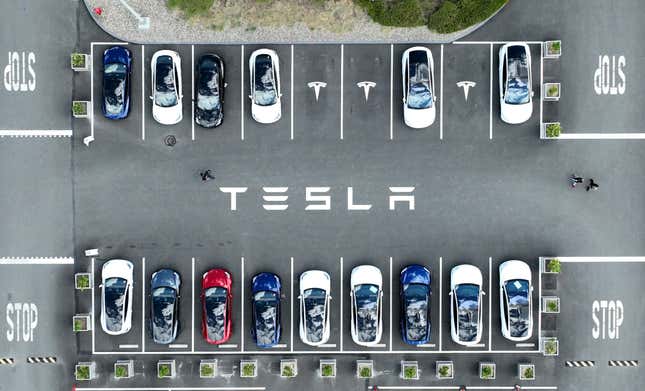 Google Ads