"In convertibles it's important to remember you're under a magnifying glass, because everyone notices what you're doing.  It's no place to pick your nose.  You want to look bored almost – give it some ennui" was the advice K.J. Barrett received from her mentor Arnold Gingrich (who founded Esquire Magazine) working as a copywriter after getting her first car, a new '57 Ford Thunderbird convertible.  "It was my dream car and I had taped a picture of one to my desk for motivation until I actually owned one."
Photo slideshow detailing all LeBaron Town & Country variations is at bottom of article
K.J. practiced Gingrich's advice in her T-Bird for decades, driving it sparingly in later years until 1986.  "With our youngest going to college, I sold it to a gentleman who was going to restore the car.  Watching it pull away on a trailer that summer was a sad day in my life. Haven't seen it since, but I know my T-Bird found a good home."
At that point during the summer of 1986, K.J. and her husband decided new Chrysler LeBaron Town & Country convertibles they'd noticed on the roads were nicely executed impressions of a classic concept.  "My parents once had a '46 Town & Country convertible and having another one meant a lot, even if the wood was fake", recalled Barrett.  Because the T&C ragtop would be discontinued in the following year's redesign, finding a dealer with '86s left in stock was challenging.  She finally did and took delivery of one of the last T&C ragtops in August of 1986.
"This car's been a real survivor.  First winter I had it, I was driving to work through heavy ice and snow.  I slid off the road through a wood fence into a cemetery. Somehow I thought there was a steep cliff on the other side of that fence (there was no actual drop at all), so as it was happening I closed my eyes and said to myself 'Well, this is it – you're going out of this world listening to Artie Shaw on the stereo.  Could be worse'."
After coming to rest between two rows of tombstones inches away on each side, K.J. climbed out through the window to see an entire stone slab floating on the car's hood atop a layer of snow.  When a mechanic with a towtruck pulled the LeBaron back onto the road, he and K.J. were amazed to see the car hadn't suffered one scratch, had no fluids leaking, and ran perfectly.  She continued on her way to work in the snowfall, and was surprised to still arrive before anyone else did.
She doesn't plan on selling the car, if for no other reason than it has always been surrounded by a strong force field of good luck.  During a visit to a local Chrysler dealer for a recall in 2005, a technician working on it sought her out to say he had worked at the dealership where K.J. had purchased the car in 1986 and remembered prepping her car new, after recognizing the unique alarm keypad he himself had installed on it then.
He also described how, before being sold, a lot attendant had parked the LeBaron on the dealership's front lawn with the transmission in neutral.  As it later rolled unattended onto the six-lane highway in front of the dealership, several cars steered around it without drama.  The miracle he witnessed, as the technician tells it, occurred when an oncoming 18-wheeler locked up its brakes attempting to swerve.  The trucker narrowly missed hitting the LeBaron with his cab although the trailer end jackknifed into two lampposts and a sign.  No injuries were sustained, and the car was recovered from the middle of the highway without a mark.
Over the years on the road, it's also emerged scratch-free after being sideswiped on the left-front corner in 1989, having a nine-inch-thick tree branch fall on it in 1992, and being involved in a combined rear-then-front impact between two other cars.
"You don't see '80s Chryslers anymore.  They haven't survived the test of time well, but this car's been great.  The biggest challenges keeping it up have been finding a bodyshop willing to deal with the plastic wood to fix minor rust underneath, and locating 1-inch whitewalls.  I had to custom-order this size tire, and they were expensive. My son used to be a mechanic himself, and he's been a big help in fixing things on the car," says K.J.
After 44,000 miles, the engine starts up and purrs smoothly, giving brisk acceleration with minimal turbo lag.  Stiffer front struts equipped on this turbo model create a stiff, almost jarring ride – one K.J. says has always been characteristic of her car.  A tight turning radius allows enjoyable driving around town, especially with the leather-wrapped steering wheel in hand.  On the interstate, the high final-drive gearing that produces peppy acceleration from a stop results in high revving at speed.  Droning noise from the powertrain combines with high wind noise to remind you that you're piloting a 24-year-old car with engineering roots from 1979.
Sometimes that's what "personality" in cars is all about.
Google Ads
CHARTING THE YEAR-TO-YEAR CHANGES OF LEBARON TOWN & COUNTRY CONVERTIBLES:
1982
Encouraged by chairman Lee Iacocca, Chrysler created this generation of LeBaron and Dodge 400 convertibles in April 1982 based on the compact, front-wheel-drive "K" car platform introduced for 1981.  Converted by Cars & Concepts of Michigan, '82s lacked rear side windows or a "wood" trim option.  A Town & Country simulated wood package was offered for '82 station wagons only, but a heavily-contented "Mark Cross" convertible package focused on designer leather interiors.
The '82 base engine was an overhead-camshaft 2.2-liter carbureted 4-cylinder producing 84 horsepower.  Optional was a 2.6-liter overhead camshaft Mitsubishi 4-cylinder engine of 93 horses.
1983  (1,520 Town & Country convertibles sold)

As Chrysler Corporation's finances improved during 1982, a Town & Country convertible for '83 was finally sanctioned.    Town & Country convertibles came standard with Mark Cross leather interior packages and the 1,520 sold made up almost ten percent of all '83 rag top production.
Town & Country convertibles all featured the larger 2.6-liter Mitsubishi engine (93 horsepower) standard this year.
1984  (1,105 Town & Country convertibles sold)

The Town & Country's base 2.6-liter 4 cylinder engine received a horsepower upgrade to 101 horsepower.  Optional was a newly-introduced turbocharged version of the 2.2-liter 4-cylinder making 140 horsepower.
Digital instrument clusters replaced traditional gauges as standard equipment on Town & Countrys.
All '84 convertibles gained proper side rear quarter windows, reducing the huge blind spots that plague 1982-83s when the top is up.
Rear windows were now made of glass rather than plastic.
Unchanged up front, all '84 LeBarons featured a revised rear end with new wraparound taillights of a taller design featuring horizontal trim strips.  Steering wheels were redesigned to feature two wider, more padded spokes.
Reportedly, two prototype versions of the Dodge 600 convertible were produced with Town & Country woody appliques and Mark Cross interior identical to the LeBaron.  One such vehicle was featured at the Forney Auto Museum in Denver, Colorado (see pictures below).
1985  (595 sold Town & Country convertibles sold)

Engine choices were the same as '84.  The optional turbo 2.2-liter 4-cylinder got a bump to 146 horsepower this year, remaining unchanged through the end of '86.
Front grilles were updated on LeBarons.  While the new grille's overall shape was unchanged, vertical bars were now split into eight side-by-side sections.  (See picture slideshow for a closer look)
1986 – Styling updates, and the final year for Town & Country convertibles  (501 sold)

Visibly, LeBarons remained the same until front and rear fascias, headlights, grilles, and taillights were updated for '86.  Sharp corners were rounded for a more aesthetic, aerodynamic appearance.
As mandated by U.S. federal law, '86s were equipped with a center mounted brake light mounted atop the trunk lid.
The carbureted 2.6-liter Mitsubishi base engine was dropped this year, replaced by a fuel injected Chrysler-built 2.5-liter 4-cylinder producing 100 horsepower.  The optional 2.2-liter turbocharged 4-cylinder remained unchanged from '85.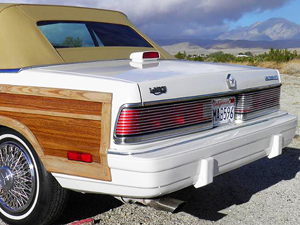 Steadily declining Town & Country sales would make '86 the last hurrah for wood-grain soft tops (501 were sold), although the package remained on wagons for two additional years.  Four-door LeBarons (unlike coupes and convertibles) didn't see redesign until after 1988.
LeBarons were prone to rust, and finding lucky survivors like K.J.'s in Northern states is challenging.  Sought by collectors, T&C convertible values today range from $1,000 to over $10,000 based more on condition than mileage.  With the lowest production numbers and design revisions, final-year '86s command the highest prices.
CLICK ON ANY OF THE PICTURES BELOW TO SEE FULL SIZE IMAGES.  HIT ARROW BUTTONS UNDERNEATH EACH PHOTO TO SCROLL BACK OR FORWARD.
Google Ads